A ceiling fan is one of the most common as well as an important electrical appliance for every Indian household. The reason is only the extreme hot condition almost throughout the whole year in India. Though many of you rely on air conditioners and air coolers, but for those searching for the most effective and energy-efficient cooling solution, investing in a best ceiling fan is absolutely worth.
The modern ceiling fans are designed not only to circulate the airs in the surroundings but also adds a great style to your home interiors. In terms of power saving, this one is the most convenient solution. And thus, serving the needs of everyone from low-class family to medium class family as well as rich class people.
But it is quite overwhelming to choose the best one, as various beautiful options are available. To ease your buying decision, we have come up with a descriptive Buying Guide that covers all the necessary details you need to know while choosing a best ceiling fan.
No more time to read in detail, have a look at our best picked models and their reviews and then choose the one depending upon your preferences.
7 Best Ceiling Fans in India
Best Ceiling Fans in India Reviews
1. Luminous Morpheus Ceiling Fan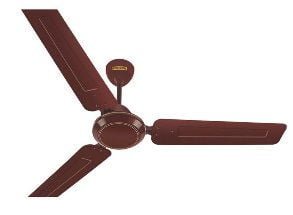 This ceiling fan from Luminous comes at the top of our list with a lot of amazing features. The great visual appearance of this ceiling fan adds a stylish look to your home décor. Not so stylish but a simple classy design gives it an eye-catching appeal.
It is equipped with a powerful copper motor that produces high speed rotation. Therefore, ensures amazing cooling performance all over the room. Even more, the copper construction of the motor enhances the durability of it.
For more efficient cooling, this ceiling fan also features wider aluminum blades that provides strength to the fan and ensures its stability too. There are 3 blades that are designed aerodynamically to deliver wider air flow and thus ensuring better cooling in the room.
The best part is that it consumes very less electricity, so you don't need to worry about the high electricity bill payment.
Key Features
Strong and powerful copper motor
Superior air delivery at low voltage
Pure copper winding
Low Power consumption
Anti-rust aluminum blades offers better performance and enhances durability
12 pole motor enables smooth operation and high rotation speed
Blade Size: 1200 mm; Fan Speed: 380 RPM; Air Delivery: 230 CMM
2 Years Warranty
Pros
Great quality and high efficiency
Durable and sturdy
Provides the best cooling
Consumes less electricity
Worth for the price
Cons
Seems to be noisy if operated on 1 or 2 gear
2. Usha Striker Galaxy Ceiling Fan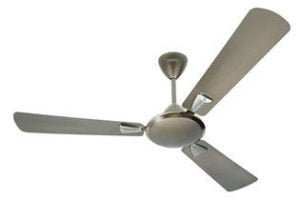 Another best ceiling fan on our list comes from the house of Usha, one of the renowned brands for home and kitchen appliances. This model of ceiling fan from Usha is a great and perfect addition to your home décor as well as for best cooling experience.
The first thing that we liked about this model is its super impressive design in attarctive color options including bright gold, corn silk, peral white chrome, silver sage and ultramarin blue. So, you can choose the best color option suiting your room style perfectly. Moreover, the dust-free coating on it ensures a dirt-free and shiny appearance always.
The fan is equipped with 100% copper motor that is not only durable but also delivers the best cooling performance. It also comes with 3 aerodynamically designed blades ensuring superior air delivery to every corner of your room.
The best feature of this ceiling fan is its low electricity consumption that helps you save a big in your pocket with high electricity bills. The fan is also durable and tough enough as because it is equipped with superior grade electric steel lamination.
Key Features
Three Aerodynamically designed blades for wider air spread
Quiet operation due to V2 grade ball bearing
Tough and durable
Superior grade electric steel lamination for long life
Less energy consumption
Blade Size: 1200 mm; Fan Speed: 385 RPM; Air Delivery: 235 CMM
2 Years Warranty
Pros
Superb high-speed ceiling fan
Looks appealing
Silent operation
The dust coating is a nice feature
Various color options allow you to choose the best one suiting your room style
Great one in this price range
Cons
3. Havells Nicola Ceiling Fan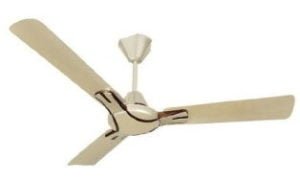 Having a stylish and modern design, this fan from Havells will absolutely a great pick in all manner. Featuring a stunning color combination of gold mist and copper as well as beautiful decorative trims, this ceiling fan is surely a complement to your home décor. Not only style, but the combination of great performance and high durability makes this ceiling fan a worth purchase at all.
This ceiling comes with a high-efficiency motor that provides you the best cooling experience with high performance. Its three blade design provides uniform air circulation and so you will feel cool air all around your room. The sturdy die cast covers and strong aluminium blades provides it a robust built and makes it long lasting and durable.
This ceiling fan is available in different sweep sizes including 600mm, 900mm, 1200mm and 1400mm sweeps, that you can choose according to your room size. Another best feature is its low power consumption that makes it one of the best energy efficient fan over there.
Key Features
Sturdy Aluminum body
Powerful Performance
Innovative modern design
High-speed Air delivery
Low Power consumption
Blade Size: 1200 mm; Fan Speed: 350 RPM; Air Delivery: 225 CMM
Pros
Good looking ceiling fan
Noise-free operation
Nice performance
Reasonable price
Cons
Air circulation is somehow not very perfect
4. Bajaj Edge Ceiling Fan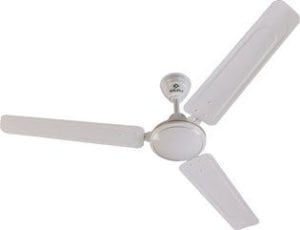 Bajaj is one of the renowned brands for decades and brings us the best and affordable home and kitchen appliances. So, our next pick belongs to the house of Bajaj which comes with a lot of stunning features that will surely impress you. This one is also a great option if you want the best ceiling fan for your home.
Featuring a great stylish and trendy design, this model adds an appealing look to your home décor. Plus, the classy
white color option suits every room perfectly.
The fan features a quick start high torque motor that ensures higher acceleration and thus provides you instant and fast cooling as soon as you switch on the fan. Moreover, the double ball bearing reduces friction and load, thereby enhances and durability and also aids in noiseless operation.
It includes three high quality aluminum blades that offer high air delivery even at low voltage and is durable too. What's more is that it comes with 2 years warranty that keeps you absolutely worry-free for its repair or maintenance if any malfunction occurs within that period.
Key Features
Quiet operation
Low Power consumption
Double ball bearing
Quickstart high torque motor
Rust-free powdered coated finish for long durability
Blade Size: 1200 mm; Fan Speed: 330 RPM; Air Delivery: 205 CMM
2 Years Warranty
Pros
Great ceiling fan in this price range
Works perfectly
Sleek and modern design
Cons
5. Crompton Hill Briz Ceiling Fan

This ceiling fan from Crompton is a perfect combination of style, performance, and durability. If you want an instant comfort from the unbearable heat during summers, this one is a great choice. It delivers high-speed air to every part of the room and ensures better cooling.
The fan is equipped with three high quality powdered coated aluminum blades that protects it from corrosion. Plus, they deliver best air delivery ensuring best cooling to every nook and corners of the room.
Also, the powerful motor adds a great air thrust to lower down the room temperature. And since it combines the double ball bearing, you will experience truly a noiseless cooling that will not bother you. The 100% copper winding motor gives an enhance life to the fan. So, you don't need to worry about changing or replacing your fan every year.
Key Features
Strong and powerful motor
Double Ball bearing
High-speed fan
Ribbed aluminum body
3 Sleek Aluminum blades
Low power consumption
Blade Size: 1200 mm; Fan Speed: 370 RPM; Air Delivery: 205 CMM
2 Years Warranty
Pros
Light weighted and simply designed ceiling fan
Delivers good air
Ideal for small to medium-sized rooms
Cons
6. Orient Electric Apex-FX Ceiling Fan

Orient is one of the best choices when it comes to various electrical appliances. And so our next best ceiling fan belongs to the same brand. Efficient cooling with superior grace is all about this ceiling fan from Orient.
Delivering only the high performance, the Orient Electric Apex –FX Ceiling Fan boasts high reliability and durability as well. The most stylish look of this ceiling fan gives your room a classy appearance. Plus, there are variable color options available that you choose according to your room decor.
It comes with a powerful copper motor that makes high air delivery and air thrust to offer the best cooling in the room. Plus, three metallic finish aluminum blades of 1200 mm are best enough to cool medium to large sized rooms. Moreover its robust built ensures its longevity and durability.
Key Features
Powerful Performance
Noiseless operation
Stylish and elegant design
High-Speed Air Delivery
Less Power Consumption
Blade Size: 1200 mm; Fan Speed: 370 RPM; Air Delivery: 200 CMM
2 Years Warranty
Pros
Great quality ceiling fan
Efficiency is excellent
Delivers high-speed air to offer the best cooling
Nice one in this price range
Cons
Heating issues
The drop rod is small
7. Orpat Air Flora Ceiling Fan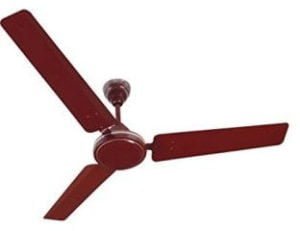 Having a simple design and sober look, this ceiling fan from Orpat doesn't fail to offer the cool breeze. It comes with the high-speed motor that gives strong air flow. Also, it has 3 blades made of aluminum that has the high sweep for the maximum distribution of air.
Crafted from high-quality materials and powder coating for prolonged existence, this ceiling fan features a strong and sturdy body. It also has the ZZ sleeve type double ball bearing that leads to smooth, noiseless and wobble-free operation.
Key Features
Heavy duty and high-speed motor
Good air delivery
Durable construction
Smooth functioning
Pros
Sleek design
Good speed
Great performance
Good value for money
Cons
Quality is not up to the mark
How to Choose the Best Ceiling Fan? (Buying Guide)
Smart Features of Modern Ceiling Fans
The latest models comes in appealing design that adds a grace of appeal to your room decor.
Some are also LED light Ceiling Fans that illuminates your room too while providing cooling.
For your convenience, the latest ceiling fans come with handy remote control operation, so easy to change the speed and light settings by sitting at one place.
The latest ceiling fans also come with many more smart features like fan scheduling, timer, turbo mode, sleep mode, and breeze mode.
The modern ceiling fans also come with a very pretty feature "Reverse Rotation" that you can even use it during the winters. It means they are not only used to cool the surroundings but also used to warm the same surrounding during winters. Are you still confused? Let me explain it better.
Generally, a ceiling fan rotates in an anti-clockwise direction that pushes the cool air upwards creating hot air to move up. And thus cools down the room temperature during the summers.
On the opposite side, during winters various models of ceiling fans are featured that is switched to rotate in the clock-wise direction. It pulls up the cool air and pushing up the hot air downwards. Thus, increasing the room temperature to make you feel warm in winters.
The Basic Structure of a Ceiling Fan
A Ceiling Fan usually comes with a motor, a drop rod, blades, and voltage regular. Now the modern design of ceiling fans also includes under light option, and the remote control to easily operate the fan but are expensive ones. But the feature is same- circulating cool air in your room. So, you can choose them according to your budget preferences.
Let's get understand the feature of every part individually.
Motor
Motor is an essential part of the ceiling fans that helps to rotate the fan. Once we switch the fan on, the electric supply reaches the motor and starts rotating.
Drop Rod
The drop rod helps to attach the ceiling fan from the ceiling. The length of the drop rod matters a lot, as it should not be so closed to the ceiling nor should be too high from the floor. The length should be perfect to get the best cooling in your room.
Blades
The blades on the fan are responsible for circulating the air in your room. A ceiling fan usually comes with 2, 3, 4, and 5 blades option. You can choose it according to the size of your room.
Voltage Regulator
It lets you regulate the fan operation depending on how much you need cooling. There are options to select whether you need your fan at full speed or according to cooling needs.
Light Options
The modern design of ceiling fans are equipped with under lights. It not only circulates the air but also caters your lighting needs. You can easily control the lights by using the remote control.
Features to Look for Before Buying a Ceiling Fan
1. Sweep Size of the Fan and Room Size
The sweep size of the fan is the diameter of the circle covered by the fan when its blades are in motion. The sweep size is an important factor to consider as it determines the cooling capacity of a specific room area.
Generally, the ceiling fans come in variable-sweep sizes, including 900 mm, 1200 mm (the most common size), and 1400 mm. The below table will let you choose the suitable sweep size of the fan depending upon your room area.
| Sweep Size (mm) | Room Size (sq ft) |
| --- | --- |
| 900 | < 75 |
| 1050 | 75-110 |
| 1200 | 110-130 |
| 1400 | 130-150 |
Keep in mind, if the room area is larger than 150 sq ft, then it will be better to install two or multiple ceiling fans depending upon your cooling needs.
2. Number of Blades
The number of blades in a ceiling fan determines its cooling efficiency. Most of the ceiling fans designed for home use come with three (much popular) or four blades; even you may find the fans with five blades as well.
As a rule of thumb, as the number of blades goes up, the fan will be quiet in operation but circulates less air than the one with less blades. We recommend you to choose the fans with only three blades that are much faster and move more air than the one with a higher number of blades, but you must compromise with the noise. And if noise is more concern for you, go with the higher number of blades.
3. Blade Pitch
The blade pitch is measured in degrees and is determined by the angle between a 180-degree horizontal plane and the blade tilt of the ceiling fan. This degree of blade pitch ensures the right amount of airflow in your room. Generally, the optimal degree of blade pitch for a ceiling fan is 12-15 degrees that is ideal for proper air circulation.
Also, an important point to keep note that if this pitch increases beyond the range of 12-15 degrees, it will lower the efficiency of the motor, which in result increases your electricity bills.
It is also important to note that if pitch increases beyond 12-15 degrees, the motor's efficiency decreases and consequently increases your electricity bills.
4. Blade Material
You will find various materials for the fan blades, including aluminum, stainless steel, PVC, or plastic, that all offer the best performance. So, you can choose the one that complements your style. But make sure, whatever material of blade you choose, it should be of high quality that doesn't fade away easily and resists corrosion too.
5. Motor
A motor in a ceiling fan is the most vital part that is responsible for its performance, efficiency, and better airflow. In India, most of the ceiling fan models are equipped with Single Phase Induction Motor that uses a number of winding poles and wires to supply the single voltage to the fan's rotors. The fans equipped with these motors are inexpensive and consume less energy.
Though the latest technological fans are equipped with BLDC motors that rotate at continuous speed and are best over the Single Phase Induction Motor. Not only they are energy efficient, but also ensure noiseless operation. But these are a bit expensive.
Check here, for the Best BLDC Ceiling Fans
6. Downrod Length
To get the appropriate airflow, considering the downrod length of the ceiling fan, is very much important. The downrod is the metal pipe that connects the motor housing to the mounting hardware. It also ensures the proper airflow by maintaining a safe distance between the ceiling and the fan blades as well as between the floor and the fan blades.
For nine feet ceiling height, a six-inch downrod will be ideal
For ten feet ceiling height, a twelve-inch downrod will be perfect
As a thumb rule, the length of the downrod increases by six inches for every foot increment in the ceiling's height.
7. Aesthetics
The latest models of ceiling fans come in various styles and pleasing aesthetics that add a contemporary look to your room decor. You can find amazing color options, various blade options, integrated LED lighting, pull cords to control light and speed, as well as useful remote control operation. All these features not only enhance the appearance of the fan but also adds a graceful appeal to your room interiors.
8. Power Consumption
Power consumption is one of the most important factors before buying any electrical appliances. For the ceiling fans, you must only consider the energy efficient fans that deliver great performance. Thus, you can save your pockets on high electricity bills.
9. Energy Star Rating
If you are concerned about saving high electricity bills, energy star ratings is the most important aspect. Choose the model having more number of stars, means having less consumption of the electricity.
10. Air Flow
Air Flow is another important factor that brings down the room temperature. The best ceiling fans come with an airflow measurement of more than 6000 CFM (Cubic feet per minute).You can also opt for the ceiling fans having airflow measurement from 4000-5000 CFM, which is a good option. But if you want an even better option, then choose the one having airflow between 5000-6000 CFM.
11. Price
Budget matters! After all, it's all about your hard-earned money. The basic range of ceiling fans falls in the price range of Rs 1200- Rs2000. As discussed above, if you want extra features, the price range goes beyond. So, you may first assess your need, and style preferences and then invest in a suitable model that fits your budget too.
Ceiling Fans Maintenance Tips
Regular maintenance of the ceiling fans enhance their efficiency, performance, and most importantly the durability. Here are a few tips to follow for easy maintenance of your ceiling fan.
First thing is the motor that is the most important component of a ceiling fan. Make sure to lubricate it at regular intervals for the smooth operation of the fan.
Change the ball bearings to reduce noise.
Clean the fan blades on a regular basis to keep them dust-free.
If the fan is vibrating or making too much noise, then it may be due to mounting problems. Better to check for the mounting.
Ceiling Fans Frequently Asked Questions (FAQs)
1. What are the best ceiling fans brands in India?

The best ceiling fan brands in India are Crompton, Bajaj, Orient, Usha, Havells, etc.

2. What size of ceiling fan should I buy?

To determine the right size of the ceiling fan, you must consider your room size. The fan's size is calculated by its diameter (or sweep size or blade span), that should be proportional to space.
As a general rule, the 36 inches fan size is pretty enough for an area of up to 75 sq ft. For up to the area of 100 sq ft, 42 inches fan size is ideal, and 52 inches is perfect to cool a room area up to 225 sq. ft.

3. How important is the ceiling fan's motor?

A motor is the most vital component of the ceiling fan that ensures fans' performance, air delivery, and durability. Low-quality motors may offer reduced airflow over time with some noise.
The latest BLDC motors are considered to be the best choice in ceiling fans that are powerful, noiseless, and energy-saving.

4. Can ceiling fans also light the room?

Yes, various latest ceiling fans with in-built lights provide ambient illumination to your room.

5. In which direction must the ceiling fan rotate in summers?

In summers, the ceiling fan must rotate in an anti-clockwise direction to provide better airflow. On the opposite note, many ceiling fans have the option of clockwise rotation that reverses the airflow and provides warm air in winters.

6. Why does my ceiling fan make noise while running?

A soft humming sound is normal for all the ceiling fans. But if you feel some hard noise, it may be due to various reasons like issues in the motor, broken or bent blades, ceiling stability, or loose components of the fan, etc. If you find abrupt noise in your ceiling fan, it is advisable to contact your dealer.

7. Which fan provides the best airflow- a three-blade ceiling fan or four and five blades ceiling fan?

A three-blade ceiling fan delivers a little more air than the ceiling fans with four or five-blade options. The reason is that the low weight of the three-blade ceiling fan makes the motor to spin faster and thus increases the movement of air.
Conclusion
This is all about the best ceiling fans in the budget. All these are equipped with high quality and performance, low price and great features. And I am sure the above-listed models of ceiling fans will make your buying decision easier to select out the best one you want for your room. If you feel anything is missing, write back to us through the comment section.
Read Related Reviews
Buy Ceiling Fans Online
Crompton SUREBREEZE SEA SAPPHIRA 1200 mm (48 ...
46%
Bajaj Frore 1200 mm (48") Star Rated Ceiling ...
54%
ACTIVA 390 RPM 1200mm High Speed BEE Approved...
50%
Orient Electric Apex-FX Ceiling Fan | 1200mm ...
46%
Crompton Energion Hyperjet 1200mm BLDC Ceilin...
45%
Aparna Smart 1200 mm (48 inch) High-Speed Cei...
50%
atomberg Efficio Alpha 1200mm BLDC Motor 5 St...
39%
Crompton SUREBREEZE HILLBRIZ DECO 1200 mm (48...
49%