Scorching summers are here, and you need almost everything that helps you to stay cool and keep away from the scorching heat. Even Air Conditioners and Air Coolers are the best solutions, the Ceiling Fans take a great part in your household to beat the unbearable summers. Since ceiling fans are used for the years as a very convenient as well as economic and affordable solution to get rid of the heat problems, you must need the best of it.
You may be also interested in
LED Ceiling Fans with remote control
Best Table Fans
Ceiling fans are taking part not only to circulate the airs in the surroundings but also take part in adding a great style to your home interiors. In terms of power saving, this one is the most convenient solution. And thus, serving the needs of everyone from low-class family to medium class family as well as rich class people.
The modern ceiling fans also come with a very pretty feature that you can even use it during the winters. It means they are not only used to cool the surroundings but also used to warm the same surrounding during winters. Are you still confused? Let me explain it better.
Generally, a ceiling fan rotates in an anti-clockwise direction that pushes the cool air upwards creating hot air to move up. And thus cools down the room temperature during the summers.
On the opposite side, during winters a ceiling fan is switched to rotate in the clock-wise direction that pulls up the cool air and pushing up the hot air downwards. Thus, increasing the room temperature to make you feel warm in winters.
The Basic Structure of a Ceiling Fan
A Ceiling Fan usually comes with a motor, a drop rod, blades, and voltage regular. Now the modern design of ceiling fans also includes under light option, and the remote control to easily operate the fan but are expensive ones. But the feature is same- circulating cool air in your room. So, you can choose them according to your budget preferences.
Let's get understand the feature of every part individually.
Motor- Motor is an essential part of the ceiling fans that helps to rotate the fan. Once we switch the fan on, the electric supply reaches the motor and starts rotating.
Drop Rod- The drop rod helps to attach the ceiling fan from the ceiling. The length of the drop rod matters a lot, as it should not be so closed to the ceiling nor should be too high from the floor. The length should be perfect to get the best cooling in your room.
Blades- The blades on the fan are responsible for circulating the air in your room. A ceiling fan usually comes with 2, 3, 4, and 5 blades option. You can choose it according to the size of your room.
Voltage Regulator- It lets you regulate the fan operation depending on how much you need cooling. There are options to select whether you need your fan at full speed or according to cooling needs.
Light Options- The modern design of ceiling fans are equipped with under lights. It not only circulates the air but also caters your lighting needs. You can easily control the lights by using the remote control.
Things to consider while buying the Ceiling Fan
Power Consumption- Power consumption is one of the most important factors before buying any electrical appliances. For the ceiling fans, you must only consider the energy efficient fans that deliver great performance. Thus, you can save your pockets on high electricity bills.
Air Flow- Air Flow is another important factor that brings down the room temperature. The best ceiling fans come with an airflow measurement of more than 6000 CFM (Cubic feet per minute).You can also opt for the ceiling fans having airflow measurement from 4000-5000 CFM, which is a good option. But if you want an even better option, then choose the one having airflow between 5000-6000 CFM.
Motor- A motor in ceiling fans determines the performance of it. So choose the one having the only powerful motor.
Energy Star Rating- If you are concerned about saving high electricity bills, energy star ratings is the most important aspect. Choose the model having more number of stars, means having less consumption of the electricity.
Best Ceiling Fans Reviews
Various beautiful options are now available to beautify your home interiors when it comes to select a ceiling fan. But it is quite overwhelming to choose the best one. To ease your buying decision, we have come up with this blog post to make you pick one of the best ceiling fans for your home. The list we have made is based on the features we have discussed have as well as the customer's feedback that already has purchased and used them. So have a look at the full review and buyers review to make your best pick. But before going through the full review, let's have a quick look at our selected models.
1. Luminous Morpheus Ceiling Fan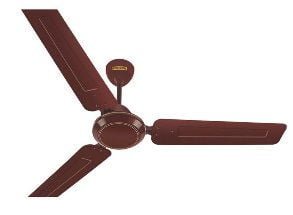 This ceiling fan from Luminous comes in the top our list with a lot of appealing features. The great visual appearance of this ceiling fan adds a stylish look to your home décor. It is equipped with a powerful motor that ensures only the ultimate performance. The best part is that it consumes very less electricity, so you don't need to worry about the high electricity bill payment. It comes with 3 blades that are designed aerodynamically to deliver wider air flow and thus ensuring better cooling in the room.
Key Features
Strong and powerful motor
Superior air delivery at low voltage
Pure copper winding
Low Power consumption
Buyers Feedback
The Good
Great quality and high efficiency
Durable and sturdy
Provides the best cooling
Consumes less electricity
Worth for the price
The Bad
Seems to be noisy if operated on 1 or 2 gear
2. Bajaj Edge Ceiling Fan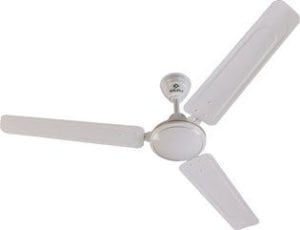 This one is also a great option if you want the best model of ceiling fan for your home. Bajaj is one of the renowned brands and this ceiling fan from Bajaj has a lot of stunning features that will surely impress you. Featuring a great stylish and trendy design, this model adds an appealing look to your home décor. It comes with adjustable speed options to ensure unmatched cooling experience. The fan has 3 blades that offer high air delivery even at low voltage.
Key Features
Quiet operation
Low Power consumption
Double ball bearing
Quickstart
Rust-free powdered coated finish for long durability
Buyers Feedback
The Good
Great ceiling fan in this price range
Works perfectly
Sleek and modern design
View on Amazon View on Flipkart
3. Usha Striker Galaxy Ceiling Fan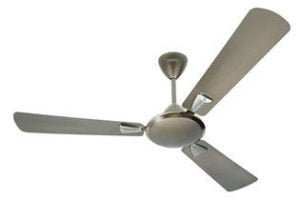 This model of ceiling fan from Usha is a great and perfect addition to your home décor as well as for best cooling experience. It comes with 3 aerodynamically designed blades ensuring superior air delivery to every corner of your room. The best feature of this ceiling fan is its low electricity consumption that helps you save a big in your pocket with high electricity bills. The fan is also durable and tough enough as because it is equipped with superior grade electric steel lamination.
Key Features
Aerodynamically designed blades for wider air spread
Quiet operation
Tough and durable
Superior grade electric steel lamination for long life
Less energy consumption
Buyers Feedback
The Good
Superb high-speed ceiling fan
Looks appealing
Silent operation
Great one in this price range
View on Amazon View on Flipkart
4. Havells Nicola Ceiling Fan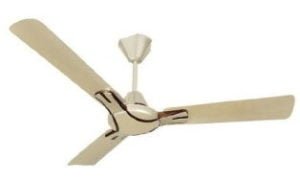 Having a stylish and modern design, this fan from Havells will absolutely a great pick. Featuring a stunning color combination of gold mist and copper and beautiful decorative trims, this ceiling fan is surely a complement to your home décor. It is the perfect combination of great performance and high durability. This ceiling comes with a high-efficiency motor that makes the fan to give the best cooling experience with high performance.
Key Features
Sturdy Aluminum body
Powerful Performance
Innovative modern design
High-speed Air delivery
Low Power consumption
Buyers Feedback
The Good
Good looking ceiling fan
Noise-free operation
Nice performance
Reasonable price
The Bad
Air circulation is somehow not very perfect
5. Crompton Hill Briz Ceiling Fan

This ceiling fan from Crompton is a perfect combination of style, performance, and durability. If you want an instant comfort from the unbearable heat during summers, this one is a great choice. It delivers high-speed air to every part of the room and ensures better cooling. Also, the powerful motor adds a great air thrust to lower down the room temperature.
Key Features
Strong and powerful motor
Double Ball bearing
High-speed fan
Ribbed aluminum body
3 Sleek Aluminum blades
Low power consumption
Buyers Feedback
The Good
Light weighted and simply designed ceiling fan
Delivers good air
Ideal for small to medium-sized rooms
View on Amazon View on Flipkart
6. Orient Electric Apex-FX Ceiling Fan

Efficient cooling with superior grace is all about this ceiling fan from Orient. Delivering only the high performance, the Orient Electric Apex –FX Ceiling Fan boasts high reliability and durability as well. The most stylish look of this ceiling fan gives your room a classy appearance. It comes with a powerful copper motor that makes high air delivery and air thrust to offer the best cooling in the room.
Key Features
Powerful Performance
Noiseless operation
Stylish and elegant design
High-Speed Air Delivery
Less Power Consumption
Buyers Feedback
The Good
Great quality ceiling fan
Efficiency is excellent
Delivers high-speed air to offer the best cooling
Nice one in this price range
The Bad
Heating issues
The drop rod is small
7. Orpat Air Flora Ceiling Fan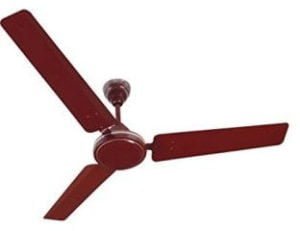 Having a simple design and sober look, this ceiling fan from Orpat doesn't fail to offer the cool breeze. It comes with the high-speed motor that gives strong air flow. Also, it has 3 blades made of aluminum that has the high sweep for the maximum distribution of air. Crafted from high-quality materials and powder coating for prolonged existence, this ceiling fan features a strong and sturdy body. It also has the ZZ sleeve type double ball bearing that leads to smooth, noiseless and wobble-free operation.
Key Features
Heavy duty and high-speed motor
Good air delivery
Durable construction
Smooth functioning
Buyers Feedback
The Good
Sleek design
Good speed
Great performance
Good value for money
The Bad
Quality is not up to the mark
View on Amazon View on Flipkart
Final Words
This is all about the best models of ceiling fans in the budget. All these are equipped with high quality and performance, low price and great features. And I am sure the above-listed models of ceiling fans will make your buying decision easier to select out the best one you want for your room. If you feel anything is missing, write back to us through the comment section.