Summers are specifically the most blistering season in India. And it is going to difficult to bear the scorching heat year by year in the summers. Well, technology has gifted so many useful gadgets to get relief from the sizzling heat during summers, Air Conditioners are the best way to get instant relief in the hot summers. But for any middle-class family, it becomes very difficult to afford the high electricity bills if they only rely upon Air Conditioners. And that's why we tend to look for the most cost-effective options. Here comes the role of Air Coolers, Ceiling Fans, Table Fans, and Pedestal Fans. And this blog is all about the best table fans for your home and office use to beat the intense heat of summer.
Nowadays Table Fans come with the most sophisticated and stylish look rather than the traditional models and also with the most cost-effective budget. So it is better to have at least one table fan to own. The table fans are the affordable option and great enough to cool rooms along with the great ventilation to every nook and corner of the room. The very best is that they are compact and portable, so you can easily move it from one room to another. Some of the table fans come in wall mountable model that you can easily mount on your room wall for excellent cooling.
Pros and Cons of Table Fans
The Good
Compact and portable
Cost-effective
Energy efficient
Wider Reach
Equal distribution of air to every corner
Some of the models also have remote functionalities
The Bad
They are noisy as compared to ceiling fans
Not offers cooling like the Air Conditioners
Things to consider while buying a Table Fan
There are numerous factors you must consider before buying a table fan. A lot of models are now available in the market, each slightly a little bit different from one another. So, go through the following points that will surely make your buying decision easier.
Size of the fan
Size is the most important factor while purchasing a table fan. Generally, Table fan comes in 3 distinct sizes 12, 16, and 20 inches. And it is preferable to choose the large one. The larger the table fan, the quieter is its operation. And also, the larger fan at low-speed setting is quieter as compared to the smaller table fans at high-speed setting.
Noise
Checking for the noise level is another important factor if you are considered to purchase a table fan. So always go for the one having high motor power as well as the great quality table fan. The table fan having low-grade motor causes a lot of noise which is seriously irritating. The second thing we have already discussed in the above point is that opt for the bigger models for less noise.
Removable Grills
Choose the table fan having a detachable grill. This factor ensures that you can clean it very easily as for continuous use; the dust and other particles are stuck on the blades of the fan.
Rotating Grill
You all must want a table fan that offers the best cooling. Some of the models come with rotating or oscillating grills that let you swing the fan in any direction you want. And thus cool air flows in every direction.
Wall Mounting Fans
If space is a constraint, you can go for the table fans that are wall mountable. You can easily make it fix on the wall and enjoy cooling in every direction.
Best Table Fans Reviews
So, are you planning to buy a new table fan for your room, or want to replace the older one, the ultimate guide presenting in the blog will help you in every manner. We have rounded up here the 7 best and latest models of table fans that will give you the utmost cooling experience. All these table fans we have listed are also very budget-friendly. So just have a look at the below-listed model of table fans and pick the one accordingly.
1. Usha Maxx Air Table Fan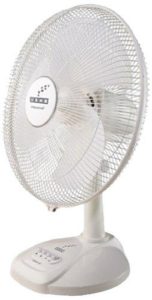 High performance with amazing features is all about this table fan from Usha. It comes with a powerful motor and aerodynamically designed transparent blades that give the best airflow. This table fan has four-speed control system that you can use accordingly to set the speed of your own choice. The very best is its oil reservoir lubrication feature ensuring reliability and long life of all the fan components.
Key Features
Impressive Performance
Uniform Oscillation
Aerodynamically designed semi-transparent blades
High air delivery
Low noise
Powerful Motor
4 Speed Control
Unique Oil Reservoir lubrication
Buyers Feedback
The Good
Innovative, appealing design
Build quality is up to the mark
Powerful performance
Noiseless Operation
Portable and lightweight
Gives excellent airflow even at low voltage
View on Amazon View on Flipkart
2. V-Guard Personal Table Fan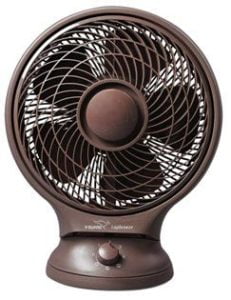 This model of the table fan from V-Guard is the smaller one, but in terms of performance, it comes on the second of our list. Great features with great utilities is all this small table fan boasts about. This fan has three adjustable speed settings that let you adjust the speed according to your convenience. Also, it comes with an oscillating function and has a rotating grill for uniform air delivery.
Key Features
Three-speed settings
Lightweight and compact box fan
Rotating grill
Tilting angle adjustable
Buyers Feedback
The Good
Nice and sturdy built
Awesome quality
Noiseless operation
Oscillating feature is very nice
Great performance
View on Amazon View on Flipkart
3. Usha Duos Mist Air Table Fan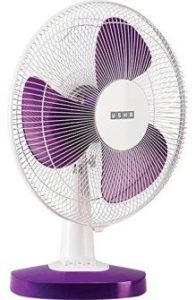 This table fan from Usha is a perfect combination of performance and style. Getting a cool breeze anywhere in the house is now easy and cost-effective with this table fan. It offers efficient air delivery for the better cooling experience. The aerodynamically designed 3 leaf PP blades offer efficient cooling. The very best is its compact design and portability that makes it easy to carry anywhere. This table fan also comes with 3-speed settings that let you control it accordingly.
Key Features
Powerful Motor
Aerodynamic PP blades for better air flow
Jerk-free and uniform oscillation
Soft hand tilting mechanism
Buyers Feedback
The Good
Stylish
Hassle free and easy to use
Noiseless operation
Performance is great
Best air delivery
The Bad
No downsides for the product
View on Amazon View on Flipkart
4. Bajaj Ultima PT01 Small Table Fan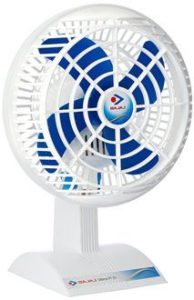 Modern aesthetic look with elegant high air flow is all about this fan speaks about. Although it is a small table fan but in terms of performance, it will definitely be the best buy. It comes with an adjustable head setting that you can easily set according to your convenience for perfect cooling. The powerful air delivery ensures the efficient cooling in your room. This table fan also has a clasp grill for easy maintenance and cleaning.
Key Features
Powerful motor for high air delivery
Aerodynamic PP blades
Adjustable Fan Head
Efficient air delivery
4 Leaf ABS blades
Clasp Grill
Elegant Spiral Mesh
Buyers Feedback
The Good
Compact and portable
Great air delivery
It is small but very powerful
Medium noise
The Bad
No downsides for the product
View on Amazon View on Flipkart
5. Orient Electric Wall Fan with Remote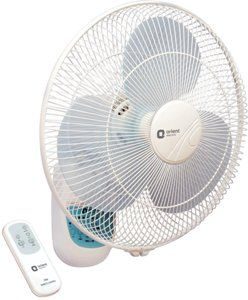 This smart wall mountable fan is perfect enough for best cooling. The remote control operation makes this fan even more convenient and smart to use. You can also control it manually through its high-tech touch button. This wall fan is equipped with a powerful motor that ensures high air delivery. The aerodynamic blades are designed for better air thrust.
Key Features
Powerful Motor
Remote Control Operation
Adjustable upward and downward tilt mechanism
LED Indicator for ON/OFF, speed, timer and breeze functions
Buyers Feedback
The Good
Nicely designed
Pretty silent and easy operation
Great quality product
The remote control operation is a very nice feature
Offers the best cooling
View on Amazon View on Flipkart
6. Havells Birdie Table Fan
With a modern design and contemporary look, this table fan is a perfect choice to get an amazing cooling experience. This table fan comes with a strong structure supporting its functionality. It has three blades for better air thrust. Also, it comes with 2 pole capacitor type motor that is very efficient and gives strong air delivery. The very best is that it consumes very minimal power.
Key Features
Unique rocker design
3 leaf ABS blades
Elegant spiral mesh guard with mesh ring
Powerful energy efficient 2 Pole capacitor type motor
Buyers Feedback
The Good
Pretty solid motor
Good Air Flow
Covers every angle with easy configuration
Compact and portable
The Bad
No fan speed controller
Makes noise
View on Amazon View on Flipkart
7. Crompton High Flo Eva Table Fan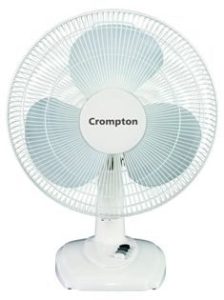 This one is the perfect choice for both home and office. The Crompton High Flo Eva is the compact and portable table fan and is very easy to use. It has an ideal air circulation system that offers amazing cooling experience. This table fan has 4-speed settings for your convenience so that you can easily set the speed accordingly.
Key Features
Wider base with the sturdy look
Plastic base and body
Powerful Motor
4 Speed Settings
Compact and portable
Buyers Feedback
The Good
Nice design
Build quality is awesome
Not so noisy
Awesome performance
View on Amazon View on Flipkart
8. Havells Swing ZX Table Fan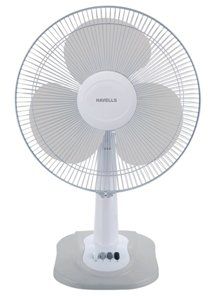 This stylish, elegant, trendy, and portable table fan from the brand Havells is also a great buy for your home. The Havells Swing ZX comes with a 400 mm sweep that offers you a powerful airflow and a directional high performance blowing. Plus the air flow reaches each and every tiny corner making the whole room filled with the cool breeze. And the very best part is its taller base stand that allows the enhanced airflow to reach every corner.
This table fan is equipped with three aerodynamically designed blades for more and enhanced airspeed and reach. And as a bonus, it also comes with Thermal Overload Protector to protect the motor in case of high voltage fluctuation.
Key Features
120 Ribs safety guard
3 Aerodynamically designed blades
Jerk free oscillation
Taller to give enhanced airspeed
400 mm sweep for powerful air flow
High-performance motor for better air delivery
Thermal Overload Protector
Buyers Feedback
The Good
Nice and sturdy build quality
Simple and elegant design
Air delivery of this table fan is too good
Lightweight and portable
View on Amazon View on Flipkart
9. Bajaj Esteem Table Fan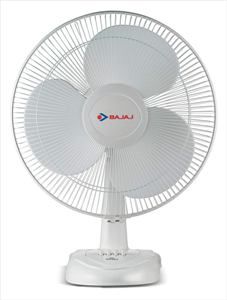 The next is this model of Bajaj Table Fan with its smart features and superb performance. This table fan is equipped with a powerful motor for better and enhanced air delivery. Plus the ergonomically designed three blades make the air flow more powerful. This one not only enhance the aesthetics of your room but its 50 W power consumption makes it the best energy efficient model that saves a lot on your pocket.
The fan delivers cool breeze to every corner in the room and thus now don't need to worry about the scorching summers if this fan is with you. As a more convenient feature, this table fan comes with two-speed settings that you can change accordingly. Moreover, the price is also very reasonable that anyone can afford it very easily.
Key Features
Full copper motor
Motor Speed 1320 RPM
Power Consumption 50 W
2 Speed Settings
400 mm sweep for enhanced air flow
Portable and lightweight
Buyers Feedback
The Good
Strong and sturdy built
The size is absolutely perfect
Great in terms of quality and performance
Powerful Motor
Silent operation
10. Luminous Mojo Plus Table Fan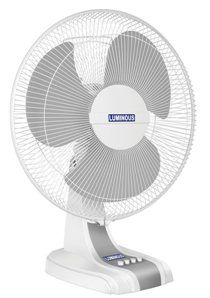 And the last is Mojo Plus table fan from the brand Luminous. It offers you the utmost comfort and relaxation during summers by providing the cool breeze all around the room. Its aesthetic design adds a great appeal to enhance the overall look of your room. And when it comes to air flow, this table fan offers the outstanding performance. This one comes with three blades along with the sweep of 400 mm that efficiently generates a cool breeze to provide you the feeling of comfort. And the adjustable three-speed settings allow you to operate the fan on the desired and convenient speed level.
Key Features
Appealing design
Powerful motor
Motor Speed 1350 RPM
Power Consumption 55 W
3 Speed Settings
Buyers Feedback
The Good
Build quality is very nice
Low noise operation
Super high-speed fan
Performance is outstanding
Low power consumption
Conclusion
This is all about the best and latest models of table fans that will offer the best cooling in your room. Choose the one according to your preference and budget without worrying about the electricity bills. And feel free to share your comments and suggestions if any, in the comment section below.
Related Items
Usha Maxx Air 400mm 55-Watt Table Fan (White)
20%
AmazonBasics - High Speed Pedestal Fan for Co...
39%
iBELL WINDP10 Pedestal Fan 5 Leaf with Remote...
27%
Atman Mini Fan USB and Battery Powered Mini P...
88%
V-Guard Esfera Pedestal Fan with Remote (Oran...
17%
ISABELLA Powerful Rechargeable Table Fan with...
60%