Searching for the most efficient, compact, portable, and economical cooling solution for summers? Table Fans are the right choice to opt for. So, we are here with the reviews of best table fans in India along with a Comprehensive Buying Guide on it, so that you can choose the best one.
Summers are specifically the most blistering season in India. And it is going to difficult to bear the scorching heat year by year in the summers. Well, technology has gifted so many useful gadgets to get relief from the sizzling heat during summers, Air Conditioners are the best way to get instant relief in the hot summers. But for any middle-class family, it becomes very difficult to afford the high electricity bills if they only rely upon Air Conditioners.
And that's why we tend to look for the most cost-effective options. Here comes the role of Air Coolers, Ceiling Fans, Table Fans, and Pedestal Fans. And this blog is all about the best table fans for your home and office use to beat the intense heat of summer.
10 Best Table Fans In India
We have rounded up here the 10 best and latest models of table fans that will give you the utmost cooling experience. All these table fans we have listed are also very budget-friendly. So just have a look at the below-listed model of table fans and pick the one accordingly.
Best Table Fans in India – Reviews
Whether you are planning to buy a new table fan for your room, or want to replace the older one, the ultimate guide and top rated models reviews presenting in the blog will help you in every manner.
1. Usha Maxx Air Table Fan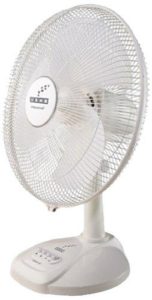 Usha is one of the top-rated and most trusted brands from years serving us with their high-quality electrical appliances. Therefore, this table fan from Usha comes to the top of our list for its outstanding performance and durability.
The stylish and eye-catching design with amazing features is all about this table fan from Usha. Its exceptional design in the most elegant white color matches every home decor. So a beautiful addition to your home for getting a cool breeze at an economical price range.
This table fan comes with a powerful motor of 55 W with the speed of 1280 RPM to deliver you ultimate cooling experience. Even the aerodynamically designed transparent blades offer you the best airflow, with less noise. So, no more annoyance at all.
Also, this fan features jerk-free and smooth oscillation to ensure smooth operation with less noise again.
This model has a four-speed control system that you can use accordingly to set the speed of your own choice. Moreover, the smart button controls allow easy setting of the speed in just one smart push.
One of the best features of this Usha table fan is its oil reservoir lubrication feature, which ensures the reliability and longevity of all the fan components. There is also a unique pivot arrangement for uniform oscillating and tilting. All these features make this table fan from Usha a great choice for your home.
Key Features
Impressive Performance
Uniform Oscillation
Aerodynamically designed semi-transparent blades
High air delivery
Low noise
Powerful Motor
4 Speed Control
Unique Oil Reservoir lubrication
Power 55 W
Speed 1280 RPM
Sweep 400mm
Air Delivery 85 CMM
Warranty 1 Year
Pros
Innovative, appealing design
Build quality is up to the mark
Powerful performance
Noiseless Operation
Portable and lightweight
Gives excellent airflow even at low voltage
Cons
2. V Guard Table Fan- Finesta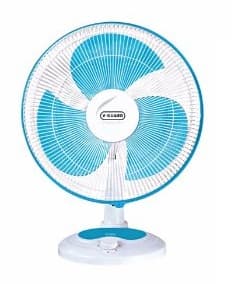 Another best table fan from V-Guard comes to the second of our list for its top-notch performance. Great features with great utilities is all this table fan boasts about.
Featuring a compact and portable design, the fan can easily be used anywhere, whether in your home, office or any small shops.
The model includes a powerful motor of 55 W that delivers strong airflow. And the best part is that it consumes very less electricity, so you don't need to worry about the high electricity bills.
This table fan comes with aerodynamically designed blades that provide efficient and free airflow without any resistance. So, you will get the best cooling without any noise. With a speed of 1350 rpm, this fan provides fresh air to every nook and corner of the room.
It has three adjustable speed settings that let you adjust the speed according to your convenience. The speed buttons are conveniently located at the bottom stand of the fan for easy usage. Also, it comes with an oscillating function and has a rotating grill for uniform air delivery.
Key Features
Three-speed settings
Lightweight and compact fan
Rotating grill
Tilting angle adjustable
Power 55 W
Air Delivery 65 CMM
Speed 1350 RPM
Warranty 2 Years
Pros
Nice and sturdy built
Awesome quality
Noiseless operation
Oscillating feature is very nice
Great performance
Cons
View on Amazon View on Flipkart
3. Usha Duos Mist Air Table Fan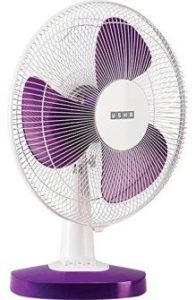 This table fan from Usha is a perfect combination of performance and style. Getting a cool breeze anywhere in the house is now easy and cost-effective with this table fan. It offers efficient air delivery for the better cooling experience.
When it comes to design, the model is very decent and has a classy appeal adding a graceful touch to your room interiors. Plus, the dual-color design makes it more attractive and appealing. The best part is that you have the option to choose from three different colors, including blue, red, and purple.
Featuring the powerful and long-lasting copper motor of 55 W, the fan offers amazing cooling performance. Even more, the aerodynamically designed three-leaf PP blades offer efficient cooling. The very best is its compact design and portability that makes it easy to carry anywhere.
Another best feature of this table fan is its dual pivot mechanism, including knob and ratchet both, that allows easy tilting of it. Even with 3-speed settings, you can set the desired speed for cooling very easily.
The model also includes the fuse for auto-protection of the motor in case of thermal overloading. Though, the jerk-free and uniform oscillation feature, and sturdy base makes it more convenient to use.
Key Features
Powerful Motor
Aerodynamic PP blades for better air flow
Jerk-free and uniform oscillation
Soft hand tilting mechanism
Power 55 W
Air Delivery 60 CMMM
RPM 1280
Warranty 2 Years
Pros
Stylish
Hassle free and easy to use
Noiseless operation
Performance is great
Best air delivery
Cons
No downsides for the product
View on Amazon View on Flipkart
4. Bajaj Ultima PT01 Small Table Fan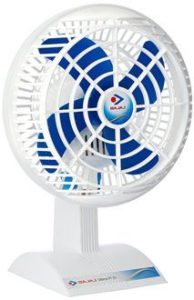 Modern aesthetic look with elegant high airflow is all this best table fan speaks about. Although it is a small table fan but in terms of performance, it will definitely be the best buy. Even if you are searching for a quality product at an affordable price range, this table fan is the best to go with.
The fan comes in a classy white color with blue blades to give it an enhanced, appealing look. Moreover, the construction of the outer body is very sturdy and strong, making it a very durable product.
It includes four blades that are designed aerodynamically to ensure better air delivery. Even, it is a high-speed fan with 2300 RPM for ultimate cooling performance. The fan also comes with an overload protector to protect the fan's motor.
The best is its adjustable head setting that you can easily set according to your convenience for perfect cooling. Moreover, the powerful air delivery ensures efficient cooling in your room. This table fan also has a clasp grill for easy maintenance and cleaning.
Key Features
Powerful motor for high air delivery
Aerodynamic PP blades
Adjustable Fan Head
Efficient air delivery
4 Leaf ABS blades
Clasp Grill
Elegant Spiral Mesh
Power 36 W
Air Delivery 50CMM
RPM 2300
Sweep 200 mm
Warranty 2 Years
Pros
Compact and portable
Great air delivery
It is small but very powerful
Medium noise
Cons
No downsides for the product
View on Amazon View on Flipkart
5. Orient Electric Wall Fan with Remote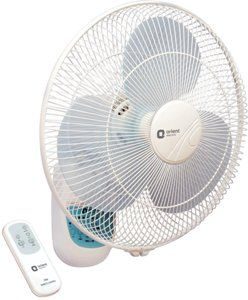 The brand Orient doesn't need any introduction as it is serving us with their lifestyle electrical solutions for years. And so, this model from Orient is another best-rated wall fan with amazing features and functionalities.
This smart wall mountable fan is perfect enough for best cooling. Its sophisticated and stylish design with an appealing color combination surely matches your room ambiance.
The model is designed with high-quality materials ensuring the durability of the product. Even though there is a powder-coated guard and flexible ring that protects it against corrosion.
This wall fan is equipped with a powerful motor that ensures high air delivery. The aerodynamic blades are designed for better air thrust.
The most interesting part is its remote control operation that makes this fan even more convenient and smart to use. The fan also comes with an advanced touch control panel so that you can control the operation manually.
This table fan is enabled with a 90-degree oscillation and comes with an upward and downward tilt mechanism for more convenience and ease of use.
Key Features
Powerful Motor
Remote Control Operation
Smart touch button for manual operation
Adjustable upward and downward tilt mechanism
LED Indicator for ON/OFF, speed, timer and breeze functions
90 degree oscillation
Power 58 W
RPM 1330
Thermal Overload Protection
Warrnty 2 years
Pros
Nicely designed
Pretty silent and easy operation
Great quality product
The remote control operation is a very nice feature
Offers the best cooling
Cons
View on Amazon View on Flipkart
6. Havells Birdie Table Fan
With a modern design and contemporary look, this is another best table fan from Havells that is a perfect choice to get an amazing cooling experience. This table fan comes with a strong structure supporting its functionality. The design includes a spiral mesh guard with a guard ring embellished with a show cap, ensuring the durability of the product. Moreover, the lightweight and compact design make this best not only for home use but also for outdoor camping, picnics, etc.
Featuring a powerful two-pole capacitor type motor with the speed of 2800 RPM, it offers powerful and fast cooling. There are three leaf blades for better air thrust.
The fan head rotates at 360 degrees, so it not only cools a single direction but also ensures a cool breeze all around you. Also, with an easy tilting mechanism, it ensures easy operation of the fan.
Even more, the minimal power consumption of this fan makes it the best choice to save huge on your electricity bills.
Key Features
Unique rocker design
3 leaf ABS blades
Elegant spiral mesh guard with mesh ring
Powerful energy efficient 2 Pole capacitor type motor
Power 40 W
Sweep Size 230mm
RPM 2800
Air Delivery 30 CMM
Warranty 2 Years
Pros
Pretty solid motor
Good Air Flow
Covers every angle with easy configuration
Compact and portable
Cons
No fan speed controller
Makes noise
View on Amazon View on Flipkart
7. Crompton High Flo Eva Table Fan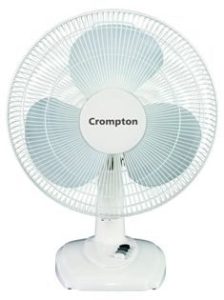 If you are searching for a high-performing and energy-efficient table fan at a pocket-friendly price, this table fan is the ideal choice. This one is the perfect choice for both home and office.
The Crompton High Flo Eva is a compact and portable table fan and is very easy to use. It has an ideal air circulation system that offers a fantastic cooling experience.
When it comes to design, the fan includes good quality and sturdy plastic body construction that makes it durable and long-lasting. There is also a sturdy base that does not shake and is stable on the table or desk or even on the floor.
The fan includes three aerodynamically designed blades to offer enhanced cooling performance. With the powerful motor of 50 W and rotating speed of 1300 RPM, you will surely get amazing and super fast cooling, without worrying about high power consumption.
This table fan has 4-speed settings for your convenience so that you can easily set the speed accordingly. Easy tilting and oscillation feature of this table fan are more smartest features.
Key Features
Wider base with the sturdy look
Plastic base and body
Powerful Motor
4 Speed Settings
Compact and portable
Power 50 W
Sweep 400mm
Speed 1300 RPM
Air Delivery 60 CMM
Warranty 2 Years
Pros
Nice design
Build quality is awesome
Not so noisy
Awesome performance
Cons
View on Amazon View on Flipkart
8. Havells Swing ZX Table Fan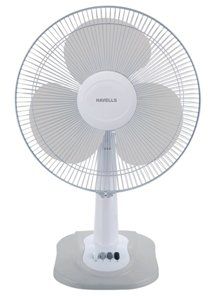 This stylish, elegant, trendy, and portable table fan from the brand Havells is also a great buy for your home. The Havells Swing ZX comes with a 400 mm sweep that offers you a powerful airflow and a directional high performance blowing. Plus the air flow reaches each and every tiny corner making the whole room filled with the cool breeze. And the very best part is its taller base stand that allows the enhanced airflow to reach every corner.
This table fan is equipped with three aerodynamically designed blades for more and enhanced airspeed and reach. And as a bonus, it also comes with Thermal Overload Protector to protect the motor in case of high voltage fluctuation.
Key Features
120 Ribs safety guard
3 Aerodynamically designed blades
Jerk free oscillation
Taller to give enhanced airspeed
400 mm sweep for powerful air flow
High-performance motor for better air delivery
Thermal Overload Protector
Pros
Nice and sturdy build quality
Simple and elegant design
Air delivery of this table fan is too good
Lightweight and portable
Cons
9. Bajaj Esteem Table Fan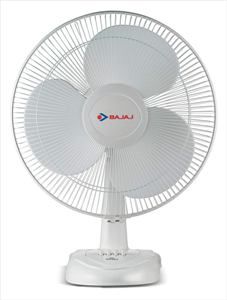 The next is this model of Bajaj Table Fan with its smart features and superb performance. This table fan is equipped with a powerful motor for better and enhanced air delivery. Plus the ergonomically designed three blades make the air flow more powerful. This one not only enhance the aesthetics of your room but its 50 W power consumption makes it the best energy efficient model that saves a lot on your pocket.
The fan delivers cool breeze to every corner in the room and thus now don't need to worry about the scorching summers if this fan is with you. As a more convenient feature, this table fan comes with two-speed settings that you can change accordingly. Moreover, the price is also very reasonable that anyone can afford it very easily.
Key Features
Full copper motor
Motor Speed 1320 RPM
Power Consumption 50 W
2 Speed Settings
400 mm sweep for enhanced air flow
Portable and lightweight
Pros
Strong and sturdy built
The size is absolutely perfect
Great in terms of quality and performance
Powerful Motor
Silent operation
Cons
10. Luminous Mojo Plus Table Fan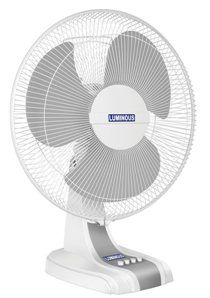 And the last is Mojo Plus table fan from the brand Luminous. It offers you the utmost comfort and relaxation during summers by providing the cool breeze all around the room. Its aesthetic design adds a great appeal to enhance the overall look of your room. And when it comes to air flow, this table fan offers the outstanding performance.
This one comes with three blades along with the sweep of 400 mm that efficiently generates a cool breeze to provide you the feeling of comfort. And the adjustable three-speed settings allow you to operate the fan on the desired and convenient speed level.
Key Features
Appealing design
Powerful motor
Motor Speed 1350 RPM
Power Consumption 55 W
3 Speed Settings
Pros
Build quality is very nice
Low noise operation
Super high-speed fan
Performance is outstanding
Low power consumption
Cons
How to Choose the Best Table Fan? (Buying Guide)
Why Choose a Table Fan?
The latest table fans come with the most sophisticated and stylish look rather than the traditional models and also with the most cost-effective budget. So it is better to have at least one table fan to own. The table fans are the affordable option and great enough to cool rooms along with the great ventilation to every nook and corner of the room. The very best is that they are compact and portable, so you can easily move it from one room to another. Some of the table fans come in wall mountable model that you can easily mount on your room wall for excellent cooling.
Types of Table Fans
1. Regular Electric Table Fans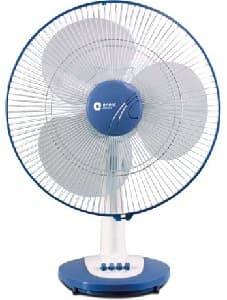 The regular tables fans are highly compact and portable with its small size that you can use anywhere and anytime. You can place it simply on the tabletop for getting a cool breeze all around you. These high-speed table fans can be used to ensure good air circulation in any part of your home, whether it is the living room, kitchen, or any other room. Moreover, they also come in elegant design, adding aesthetics to any room.
2. Rechargeable Table Fan or Battery-operated Fan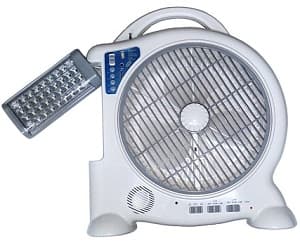 These look similar to the regular electric table fans. The only difference is that they offer you cooling even in case of power cuts also. A rechargeable table fan means the table fan-operated using the battery. It actually comes with a built-in battery that ensures the fan's operation anytime and anywhere, when no power is available. These are great for frequent travelers, family vacations, as well as business tours, etc. The best part is that these are very economical, so you don't need to spend thousands on the inverters and other options.
3. Bladeless Table Fans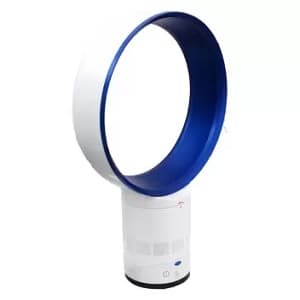 Like the name, these desk fans come without blades and have the most common shapes of a sphere or elongated-oval designs. Since no visible blades are there, these are very great if you have small kids or pets in your home. These bladeless table fans offer powerful airflow without consuming more power, which makes them very energy efficient. Variable speed settings, swing functions are some of the convenience features of these fans.
Pros and Cons of Table Fans
Pros:
Compact and portable
Cost-effective
Energy efficient
Wider Reach
Equal distribution of air to every corner
Some of the models also have remote functionalities
Cons:
They are noisy as compared to ceiling fans
Not offers cooling like the Air Conditioners
Table Fan Vs. Ceiling Fan
| | Ceiling Fan | Table Fan |
| --- | --- | --- |
| Cooling | Cools the entire room | Cools only in a particular direction |
| Efficiency | Ceiling fans are more efficient than table fans | Less efficient |
| Motion | Armature is stationary, and the motor is in motion | Motor is stationary, and the armature is in motion |
| Rotation | Rotates counter-clockwise | Rotates clockwise |
| Installation | Require installation from professional | Easily install by you |
| Features | Many smart ceiling fans come with LED lights and remote control option | No LED lights, but some come with remote control feature |
Table Fan Vs. Pedestal Fan
| | Table Fan | Pedestal Fan |
| --- | --- | --- |
| Placement | Needs placement on a table or desk | Stands on the floor |
| Size | Comes with a detachable longer stand | No stand is there and are shorter |
| Weight | Having heavy blades these are heavier | Pedestal fans are lightweight as they have light blades and the stand is detachable too |
Factors to Consider Before Buying a Table Fan
Choosing the right table fan requires a lot more other considerations too. There are numerous factors you must consider before buying a table fan. A lot of models are now available in the market, each slightly a little bit different from one another. So, look at the below-mentioned features to make sure you will get your preferred choice with all the best features.
1. Size of the Table Fan
Choosing the right size of the table fan is very much important to ensure proper cooling according to the area. The most popular sizes of the table fans are 12-inch, 16-inch, and 20-inches, which you can choose depending upon the area you want to cool.
The smaller-sized table fans are ideal for cooling small areas like small shops, kitchen, or any small room. For any larger areas like the hall or dining area of your home, you can choose the large-sized table fans (20-inches) for effective cooling.
One more interesting fact is that the large-sized table fans are super quiet in its operation, even on the highest speed settings.
2. Noise Level
Checking for the noise level is another important factor if you are considered to purchase a table fan. The table fan that makes a lot of noise while the operation is very irritating. So, always go for the one having high motor power as well as the great quality table fan. The table fan having a low-grade motor causes a lot of noise, which is seriously irritating. The second thing we have already discussed in the above point is that opt for the bigger models for less noise.
3. Build Quality
Checking for the build quality of any product you are buying is as important to ensure its longevity and durability. For table fans, both the blades and outer body must be of good quality.
Traditionally, the table fans were designed with the iron or steel outer body, which tends to get corrosive or rusty very easily. But the latest models are designed using PVC or fiber bodies that are not only cheap but also durable too.
On the positive side, metallic fans are great for outdoor usage as they are very powerful and can work best in an open environment.
4. Oscillation
One of the great features of table fans is the ability to oscillate. It makes the table fan to move, swing, or rotate at 180 degrees to provide airflow in all the directions, not only in a single direction.
So, before buying a table fan, you must check whether it has a swing function or not. The swing oscillation feature provides cooling in multiple directions with just the smart touch of a button. Even, you can also control the speed and movement according to your preferences and cooling needs.
5. Removable Grills or Mesh
With the continuous use of a table fan, it catches a lot of dirt and dust on its blades. And to ensure the efficient performance of it, it must be cleaned at regular intervals. The one having a detachable grill makes it very convenient to clean out the dust, and other particles stuck on the grills and fan blades.
Also, make sure that grills are not assembled using screws, so you can easily attach and detach them. The grills of all the latest tables fans can easily be fitted without any difficulty.
6. Air Delivery
Air delivery of any table fan is measured in terms of CFM or (Cubic Feet Per Minute). It means the volume of air circulated by the fan per minute. In simple terms, how much the fan is capable of circulating the maximum volume of air per minute.
So, before buying a model, check for its CFM. Keep in mind, the higher the CFM of the fan, the higher it can circulate air per minute.
7. Blade Sweep
Blade Sweep, also known as blade span of the table fan is the diameter of the circular motion when the blades are rotating. The higher the sweep size, the more it delivers air. Generally, the table fans come in three sweep sizes including 200mm, 300mm, and 400mm. To get the better cooling, we suggest you to choose the model with the sweep size of 400 mm.
8. Wattage
Check for the wattage of the fan that determines how much power it consumes. I am sure you all want a table fan that consumes less power to lessen your electricity bills. On an average, the good quality table fan consumes 50-100 W. You can check the wattage of the model mentioned at its back or below the table fan.
9. Variable Speed Control
Speed control setting in a table fan is one of the nicest features to get the desired cooling as per your needs. Most of the models come with three-speed settings- low, medium, and high. So, you can easily choose the preferable speed setting simply by just pushing the button.
But some table fans come with even no or only one-speed setting, which is somehow inconvenient if you want medium or low airflow. So, we suggest you to choose only that model with variable speed control options.
10. Wall Mounting Fans
If space is a constraint, you can go for the table fans that are wall mountable. You can easily make it fix on the wall and enjoy cooling in every direction.
11. Ease of use
Though the table fan operation is very simple, yet some more convenient features make it easier to use. The table fans with easy speed control settings, direction control, as well as inclination control allow you to easily control the operation of it as you prefer. Even the latest models also come with remote control features, making it very convenient to operate the appliance in the easiest way.
12. Price
Budget plays a very important role before purchasing any product. For table fans, there are various models from various brands having distinct features. It is sure, the more the features, the higher it is priced. So, first, assess what features you want in the table fan and then choose the model depending upon your budget. Generally, the good quality table fans fall in the price range of Rs 1000 – Rs 5000.
13. Brand
Brand speaks quality, durability, and performance. So, it is recommended to go for a branded model of the table fan. Brand also ensures reliable customer service for ultimate customer satisfaction. The topmost brands like Usha, Bajaj, Orient, Havells, Crompton, etc., offer quality table fans at best prices. Even with their various service centers at major locations, ensures easy servicing for the table fans if required.
14. Warranty
As we have discussed above that branded products are always best performing and durable. One more best thing is that they also offer good warranty terms. Warranty on a table fan ensures that you don't need to pay any extra money if any damage or malfunction occurs during that period.
Most of the brands offer 1-2 years warranty on their table fans, some also come with an extended warranty of 3-5 years. We suggest you not to invest in the model having the warranty for less than one year.
Safety Precautions While Using a Table Fan
Always place the table fan on a flat and even surface to avoid it from falling.
Never touch the fan with wet hands.
Even never place the fan on the wet surface too.
Make sure that the wires and cables are not tangled here and there before plugging it.
Avoid standing too close to the table fan if you have worn loose clothes.
You need to be very careful if you have small kids in your house. The fan blades while rotating are very risky. So, keep an eye on your kids, so that they can't put their fingers on the rotating blades.
Always switch off the fan before cleaning it.
Never touch the table fan when power is on.
Cleaning and Maintenance of Table Fans
Proper cleaning and maintenance of the table fans is very much important to ensure powerful and efficient cooling performance. Follow these simple cleaning and maintenance guides to ensure that your table fan works with the same good efficiency and lasts longer as well.
Unplug the table fan from the power source.
With continuous usage, the blades and the vents of the table fan accumulate dust. Use a vacuum cleaner to clean out the vents.
Now for cleaning the blades of the fan, you need to detach the mesh or grill of the table fan. For this, you must check the model of the fan. Some models come with the grill that is attached via using screws, while some are only clipped onto the brackets for easy removal. Now remove the grill depending upon the model you have.
Take a tub of warm and soapy water and immerse the grill and blades of the fan to it and clean it using a scrubber.
Now clean it with fresh water and allow it to dry completely.
Also, clean the external parts of the table fan using a damp cloth.
Now assemble all the parts again, but make sure that all the parts are completely dried before using it again.
Also, apply lubricating oil to the bearings of the table fan at regular intervals to avoid the rattling sounds if it comes.
Conclusion
Buying a table fan is surely the best and economical way to get cool breeze in harsh summers. Well, the buying guide
guide we have provided in the blog will let you know all the single details on it to make an informed purchase decision.
We have also reviewed the best table fans that will offer the best cooling in your room. Choose the one according to your preference and budget without worrying about the electricity bills. And feel free to share your comments and suggestions if any, in the comment section below.
Read Related Reviews
Also, Check
Buy the Best Table Fans Online
Usha Mist Air ICY 400MM 55- Watt Table Fan (B...
30%
Bajaj Esteem 400 mm Pedestal Fan (White)
39%
AmazonBasics High Speed Table Fan for Cooling...
16%
gaiatop Small Table Fan, 6.5 Inch Ultra-quiet...
53%
Crompton Wave Plus 400-mm (16 inch) High Spee...
2%
Usha Mist Air Icy 400mm Pedestal Fan (Blue)
5%
Bajaj Esteem 400 mm Table Fan (White)
10%
Havells Gatik Neo 400mm Pedestal Fan (White G...
4%