Taking care of a young baby is both fun and tiresome, as they require a lot of attention and care in the early years. One has to stay with them at all times and keep them entertained and sated. In fact, parents have to rock them to help them sleep and also when they feel upset and need attention.
While all of this is necessary, it is not always possible to keep doing so, leaving other important work aside. However, with the help of a Baby Rocker, this feels much easier to deal with. You can go about with your daily chores or professional work, while your baby lays comfortably on a baby rocker and bouncer.
Most of these products come in different styles, each of whom performs different functions, and some have extraordinary features. You can also choose the Best Baby Rocker you want, according to your preference, the baby's weight, fit, and much more.
Some Key Points
There are some basic features that most of these products have, and depending on your needs; you can select your choice. Some of the key points you should consider before purchase are mentioned below.
Safety- One of the main things that you should focus on is how safe the straps are; choose one with restraining straps if possible.
Specifications- Each baby bouncer or rocker would suit certain ages, weights, and heights. Check to see which variety your baby fits well with before buying.
Comfort- Comfort is an important matter to consider, and the reclining feature in some baby rockers provides that. It is especially supportive in regards to newborns.
With the help of our detailed Buying Guide, you can understand these features more extensively.
7 Best Baby Rockers in India
Baby Rockers
Features
Tendercare Baby Bouncer Cum Rocker
Read Review
Adjustable recline position
Compact fold for easy storage
Reclining seat
Calming Vibration
Soothing music
CHECK PRICE

R for Rabbit Baby Rocker
Read Review
Foldout kickstand
Reclining seat back
Calming vibration
Machine washable seat pad
CHECK PRICE
Baby Bucket Newborn to Toddler Rocker
Read Review
Turns to recliner chair
Two point reclining seat
Music and soothing vibration
CHECK PRICE
Mee Mee Baby Bouncer
Read Review
5-in-1 functions- baby carrier
rocker chair & recliner
feeding seat
Soft fabric seat

CHECK PRICE
LuvLap Springdale Rocker Cum Bouncer
Read Review
Three position adjustable backrest
Three Point Safety Harness
Eight different melodies
Adjustable volume & vibration

CHECK PRICE
Joie Meet Serina 2in1 Rocker
Read Review
Two way seat swings
Six swing speeds
Pivoting carry handle
CHECK PRICE
Joie Sansa 2 In 1 Portable Rocker
Read Review
Lift-off seat
Carrying handle
Three position recline
CHECK PRICE
Best Baby Rockers in India- Reviews
1. Tender Care 5 in 1 Baby Rocker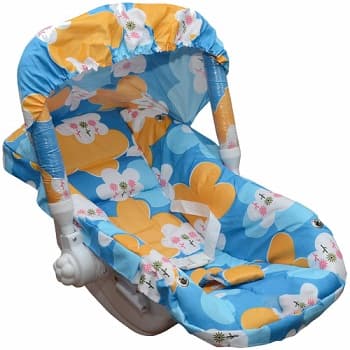 Indeed, in the matter of finding the Best Baby Rocker, one cannot ignore this product from the Tender Care. With a stable and portable build, the functionality of this item is not limited only to the rocking motion. You can use it as a bouncer as well, and the aerodynamic exterior is comfortable for the young ones.
The design is adorable as well, and its unisex theme is appropriate for both young boys and girls. Not to mention, it comes with an entertaining toy bar, which would hold your baby's attention as you work on other things. You can easily recline it too, which is very useful for caring for a newborn.
The soft cushion seatings only add to the overall comfort, and your child can nap without any disturbances. Of course, the non-toxic and breathable fabric that is used to make the seats feels comfortable against their skin.
When speaking of its beneficial features, it is unfair not to mention the ability to turn the angle of the seats. It would allow them to sit more comfortably, and the vibrations give them that extra needed relief. Plus, the beauty of this rocker-bouncer combo is the visual colors, and surely the babies enjoy it too.
And for their proper growth and development, the placement of the toy bar is beneficial, too. Not only do they enjoy playing with it, but it also provides them with good exercise. Plus, looking at the colorful toy and reaching out towards the one they like would enhance their hand-eye coordination.
Key Features
Reclining seat
Aerodynamic design
Calming vibrations for bouncing, and gentle rocking capability
Adjustable for different ages
Rounded-edges and stable build
Easy to carry
Pros
Toys improve hand-eye coordination
Rattles would develop auditory powers too
Wider space
Good quality baby-friendly materials
Good for both girls and boys
Cons
Colors are not too attractive
2. R for Rabbit Rock N Play Baby Rocker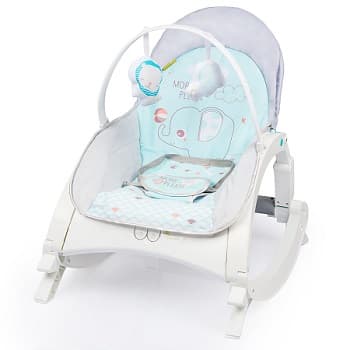 In the race for the best rockers in the market, this R for Rabbit baby rocker is always the right choice. With great features and multi-age support, this infant-to-toddler rocker is worth considering. To elaborate, it has two sitting types, and parents can customize it according to the baby's growth.
The seat is quite deep, made of comfortable fabric that is both comfortable and soft to touch. Plus, you can easily clean it as well, due to its machine-washable properties. The seat itself has a reclining feature, which you can adjust as per your baby's needs. There is also a calming vibration feature within it, and that keeps your baby at a happy and satisfied mood as they nap.
The colorful exterior is another good characteristic of this product, as that looks cute and improves their visual senses. Speaking of senses, the soft clicking sound that this rocker makes helps grow their auditory senses too! That is not where the uses end, though. The toy bar with animal toys hanging on top helps with their muscle development too when they try to reach.
If you do not need the toy bar as they grow up; do not worry. It is detachable. Later, you can raise it to become a toddler seat, and the three-point restraint helps with stability. This way, your child can comfortably fall asleep due to the gentle and easy rocking, and you can then shift them. The controls are stable, the materials comfortable, and the price too is a steal!
Key Features
Machine-washable fabric
Two-seat arrangement
Easy to fit all parts
Reclining seat
Calming vibrations
Comfortable padded seats
Pros
Detachable toy bar
Helps make the muscles stronger
Good for developing kids
Fold-out kickstand
Soft to touch
Cons
The play bar can be more flexible
Exposed sides
3. Baby Bucket Newborn to Toddler Rocker Cum Reclining Chair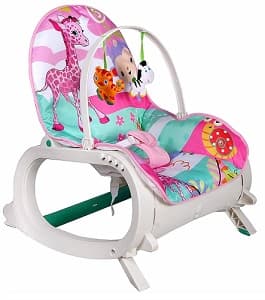 Another product worth thinking about in your quest to buy the perfect rocker for your baby is this multipurpose one. This baby rocker seat can also work as a rocking chair, thanks to its two-partner reclining facility. Usually, you can use this particular choice for a long period, from the time the baby is born to toddler age.
In this regard, the highest aged baby that can sit comfortably on this chair is a 3-year-old. However, their weight does factor in this point; specifically, the product can hold up to 44lbs (or 20kgs) weight. Additionally, the seat's deep cradle effect is spacious and comfortable and great for a growing baby.
Of course, one of the main things that set this product above other options is that you can convert it. As your child develops, their needs change too; they can sit up properly, and that helpful detail is present here. And when you need to feed your baby, but they do not want to get down, you can activate the kickstand feature. The fit is secure, promoting baby safety.
This product runs on batteries, three in total; and it also comes with vibration technology and music. This way, your newborn can stay comfortably in this baby rocker seat and enjoy the sounds and enjoy the gentle feel.
Moreover, you would quite like the removable toy bar as well, with some toys dangling from it. The children would try to reach towards them as they sway overhead, and that would improve their motor skills. Overall, it is an excellent product to invest in.
Key Features
Gentle vibration
Detachable toy bar
Reclining seat in two modes
Holds 20 kgs of weight
Deep cradle for space and comfort
Sound effects available
Pros
The toy bar is entertaining and improves hand strength
Comfortable seat
Good quality material
Stable design
Colors are attractive
Cons
Buttons are not very great
Sound control not present
4. Mee Mee Baby Bouncer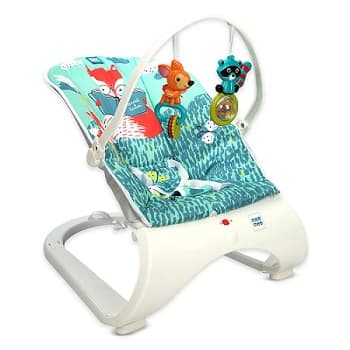 Indeed, there are some products in the market that come with only one feature. However, this one from Mee Mee does one better, coming with 5 separate functions! You can use this Best Baby Rocker as a chair, a carry-cot, and so much more! Also, it is easy to carry as well, which makes it a good deal for those who need to move a lot.
The five positions that this product can hold are a rocker, a feeding seat, a baby chair, a carry-cot, and even a recline position. All of these are appropriate for different situations, and you can arrange according to your need.
The seat cover is very soft to touch, with quilted fabric made entirely of cotton. Plus, there is a storage section present as well, where you can keep the extra things when you are moving with them. However, while you can carry your baby in the carry-cot position, it is best not to travel too far while your baby is sitting inside.
Furthermore, the structure is age-appropriate too, and you can easily use it in different ways. When they are younger, the rocking motion of the rocker would make them feel much more satisfied. It is great for you to get them to sleep, while the seat system is more suitable for older toddlers.
Security is not an issue either, thanks to the three point harness belt, shaped in a 'Y' manner. It holds them perfectly in place. In addition, the colorful and tactile playthings on the detachable toy bar keep your little one engaged and entertained.
Key Features
The handle is easy to hold
The seat cover is double cushioned
You can adjust the seat settings in 5 ways
Stable grip in the belt
Extra storage space
Pros
You can wash cover in a machine
Low cost
Good for many ages
Easy to use
Simple to clean
Cons
Cannot use carry cot method for long
5. LuvLap Springdale Newborn to Toddler Portable Rocker Cum Bouncer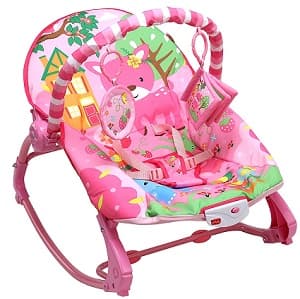 Without any doubt, LuvLap is one of the best baby product manufacturers out there. And they have created this exciting new product that works as both a rocker and a bouncer. The item is also easy to re-position, according to the need of the moment. Like, if you need to feed your baby, you can change the position to a sitting form and stretch it during their nap time too.
In fact, you can change this product into three positions, and the three-point harness holds them in place. Thus, even if you turn away for a little while, your little baby can stay on their rocker without falling off. You can use this product for a long time as well, as the age and weight limitations are not too restricted.
In this regard, if you have a newborn child, you can sit them on this best baby rocker chair and sway them gently. As their age increases and they enter toddler-period, you can assemble the product in a bouncer form. There is a toy bar attached to this as well, and many detachable toys are stuck on it. It is great for developing their motor senses and their muscular strength in a fun way.
Entertainment is not limited either, thanks to the different melodies that are present, and you can modify the volume as well. There is a vibration feature in this rocker plus bouncer too, which adds to the overall comfort.
Of course, another mentionable aspect is the material design itself, which is cushioned for optimal comfort for the baby's rest. The build materials include a steel frame with plastic connectors. This further promises excellent stability to the structure.
Key Features
Eight available melodies
Three-position options
Backrest is adjustable
Can hold up to 20 kgs of weight
The toy bar is detachable
Kickstand feature
Works in a rocking motion
Vibration allows for easier bounce and comfort
Pros
You can adjust the volume
Strong build
Can use for different baby ages
Good comfort
Attractive visually
Cons
Not easy to assemble for new users
Instructions are vague
6. Joie Meet Serina 2-in-1 Baby Rocker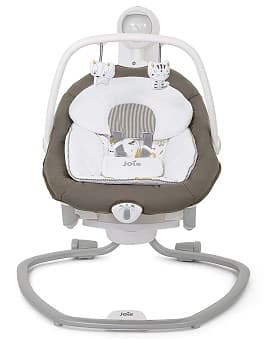 Another useful baby rocker item you should think about buying is this one by Joie Meet Serina. Attractive and comfortable, you can seat your baby easily in this rocker with stands, as long as they are 9 kgs in weight. When necessary, you can remove the rocker seat from the entire body and carry it around easily.
The swing moves in two directions, either side-to-side or backward and forward, and you can set it as per your baby's interest. Luckily, you can choose the speed of the movement too, and there are six settings for that. Therefore, owing to the interesting features it highlights, it is worth putting it in your considerations list!
Key Features
You can pivot the handle
Swing speed settings available
You can lift the seat off when needed
Two swing directions
2 wheels present easier movement
The harness comes with buckles and 5-point attachment
Pros
Adjustable speed
Remove and wash the seats easily
Portable and standing
Sound features present
Can charge with both AC adapter and batteries
Cons
Very expensive
Cannot hold older babies
7. Joie Sansa In The Rain 2 In 1 Portable Rocker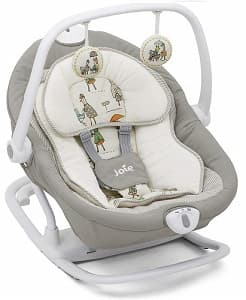 This product is another good choice, thanks to the multi-motion features and comfortable build. While it does come with a frame, you can easily lift the seat off with the baby inside, when needed.
The rocker can recline in 3 ways, and each position is necessary for different occasions playing, napping, and eating.
This product has sound features too, with five pre-fitted lullabies and nature-related sounds. Yet, what sets it apart from other models is the ease with which you can glide the stand around. Whether you want to move the frame front-and-back or side-to-side, you can do so easily, and the baby would enjoy it immensely.
Key Features
Move it around in multiple directions
Can lift off the seat region easily
Sound features available
Durable build
Comfortable fabric
Manual controls
Pros
Zig-zag and front-back motions
Multi-purpose fit
Suits both boys and girls
Durable build
Attractive design
Cons
How to Choose the Best Baby Rocker? (Buying Guide)
Certainly, there is a lot to think about before buying the Best Baby Rocker of your choice. You have to think over the features like the comfort quotient, stability, the size, the build, etc. After all, such products are a great boon to parents of both newborn babies and toddlers. Because of that, one must look through all the specifications and, ultimately, the cost of the product, then make their purchase decision.
If you are wondering about which you would find suitable for you, take a look through the following factors mentioned. But first, you should learn what each available type is, and their main purpose and benefits.
Different Types of Baby Rockers
The basic varieties that are available in the market to provide comfort and motion are stated here. Each has different styles, properties, and uses. Depending on what requirements you need the most, you can make your investment.
1. Simple Baby Rocker
One of the best machines that help with swaying a baby handless-ly is a Baby rocker. Specifically, it does not require any added motors and sways gently in a front and back direction. Some modern models from particular manufacturers do employ the motor system, though.
Since newborns require more support under the back and the head, this particular option is a better fit for them.
2. Baby Bouncer
One of the most popular products for mothers and fathers for their child is a bouncer. As the name suggests, the usual distinction of this machine is that it allows the child to spring on their seat, comfortably. Thereby, they stay entertained for a longer time. And some come with more accessories which further add to your baby's fascination.
There are generally two distinctions under this too.
Regular Bouncers- These are portable and let a baby hop up and down without much effort. While they are very easy to use, they lack a lot of features and have a plain design. However, due to their easy usage capability, you can bring it along with you and your baby while traveling.
Activity Bouncers- These types of bouncers come with more features and accessories, including things like musical melodies, and vibrating seats. They are usually motor-powered, and a baby can comfortably stay in these seats for a longer time. However, they are not very portable and include less bounce technology due to the higher weight limit.
3. Baby Swings
In the question of the best products for young children, a baby swing is a valuable choice. Firstly, you do not have to hold it at all times for it to work; the entire seat is in a suspended manner. Due to this, the area that the swing covers is wider compared to a baby rocker, despite a similar direction.
Another useful factor of this machine is that you can control the range and speed, using a motor.
4. Baby Jumpers
Unlike options like baby rockers, these machines move the baby in an upward and downward motion. The main way that this occurs is when the child pushes up off of the floor, triggering the movement. In this way, it is vaguely similar to baby bouncers.
5. Foldable Baby Bouncer
You can also find some smaller variants of a baby bouncer, and they are portable and detachable. As for the functions, they are similar to their bigger counterparts.
6. Multi-purpose Baby Rocker
There are some versions that simultaneously perform more than one particular function. They can perform both the back-and-front movement, and you can use it as a bouncer too. Although they cost more than a single-use product, the multi-purpose properties are worth the extra bucks.
Things to Consider Before Buying a Baby Rocker
Before going ahead with the purchase order, you should think through the peculiarities that are present. After all, most of the bouncers and rockers with more interesting features do not come cheap. It would prove to be a bad buying decision if you order the product, and then your little one does not like it at all.
Therefore, keep in mind the following points more seriously and see what you need to focus on more.
General Points
Age- Indeed, one of the first things that you should think about is how old your child is. Some of the rockers and bouncers are made for a particular age limit, and so are the types. Something that would work well for a newborn would fit uncomfortably with an older baby. Not to mention, they themselves may not like a particular type (eg., bouncer) as well as another option (e.g., swing). Thus, age is something important to think over.
Space- Another important aspect that you should look at carefully is your room measurements. After all, some products are bigger and require more space, while others you can fold and use only when needed. For example, if you live in a smaller apartment, you cannot comfortably put an activity bouncer seat and not face any issues.
Size- The size and weight of your child is another matter that you should think about carefully. Some smaller products can only hold a limited amount of weight, and anything more can break it. Therefore, do not try to buy a smaller product if your child has a bigger bone structure. Similarly, refrain buying a big-sized bouncer if your baby is of smaller stature; that would not hold them properly.
The Frame
Wide Base- You should definitely look at the frame of the product firsthand before getting it, especially the base. For example, if the frame of the bouncer is more extended than compact, someone can trip over them regularly. Also, if the base is too narrow, the entire structure can fall at any time. To avoid these health hazards, you should keep a look on the base dimensions, and choose a broader one.
The Bounce- In case you are buying a bouncer, you should note the vibration quality and bouncing capability too. Some are sensitive to even the slightest movement, while others are just moderately bouncy. Focusing on what you find more safe yet fun for your child, you can choose what you want more.
Material- To make the rocker more sturdy and powerful, a lot of manufacturers prefer metal bodies over plastic. Surely, this is very important to consider as the metal frames are more strong and last more.
Portability- Another feature regarding the frame of the product is if you can fold it or not. If you have a smaller house and want to neatly place it away when not using, you should choose such rockers or other alternates.
Slip-resistant- Another thing that you should avoid buying is a frame of the baby bouncer or rocker that comes without protective padding. If these are not there, the body of the frame can keep moving too much, and that is harmful. So, buy a product that is slip-resistant, and you can do so by testing the product out.
The Seat
Reclining feature- Certainly, notice if the product you want to buy comes with reclining adjustments or not. If you have an older baby who can raise their heads, they prefer not to sit on reclining items. However, newborns have weaker back support, and you should buy one that can recline as per your performance.
Head Support- As mentioned earlier, smaller babies do not have a strong-enough neck or spine. Thus, you should buy a product that would come with an attachable head-support. When your child starts growing older and starts sitting up better, you can remove the cushioned head-rest.
Padding- In a rocker cum baby bouncer, what you need more in the bouncing capability and more padding allows that. Thus, if you want that feature, you should buy one with a more padded seat all over the frame. Yet, while they are comfortable, these paddings do not give a lot of support. Keep that in your mind as well, when you choose something you like.
Material on the seats- Comfort is definitely something that you should keep as an important factor. Babies like it when the seat is softer, and there are no coarse seams, as that irritates their skin.
Cleanling- Some products have a load of features, but cleaning them is not too easy. Notably, younger children have a habit of having a leaking diaper or spill liquid a lot. If you cannot clean the machine regularly, you would have to throw it away soon, and that is a waste of money. Luckily, there are some that have a waterproof fabric in the seats, and some are machine-washable too. Try to go with such products if you have a very young child.
Entertainment
Theme- Without a doubt, a young baby does not have a very high attention span, and thus, a seat that would entertain them is more necessary. In this concern, you should look at the theme of the bouncer or rocker, too, like the shape and design. For example, if your child is a boy, they would love a car-themed product with the related features and look. Of course, this is more preference-based; you should choose one that your child shows more interest in; e.g., dinosaurs.
Toy Bar- One of the common accessories that many of such products include is a toy bar that stretches overhead. Different toys hang from there like cars, teethers or rattles, and little babies enjoy playing with them as they lay. You can add some toys too. Also, in some items, you can adjust the toy bar manually, while others come pre-fitted. Based on what you find easier to deal with, you can make that decision.
Vibration- You can choose a seat that comes with a vibrating feature, especially in a baby bouncer and even a rocker. The dual movement features of bounce and vibration in the former would interest a child a lot. Plus, a very young child just starting out with this product would not know how to bounce yet. The vibration feature would act as the perfect alternative and provide a comfortable movement too.
Lights- Some of the more expensive baby rockers or bouncers have the feature of multi-colored lights. The various patterns that they appear in would keep your child engaged for a longer time. However, make sure to buy a product in which you can switch off the light when not needed. Too much exposure to the rays can cause discomfort to a baby, specifically when they are napping.
Music- Similarly, many of these products include a sound system that plays soothing sounds and music. You can get one such machine for your little one, and try to pick one that has a variety of choices. Many of the children would not like listening to the same song repeatedly as they grow older.
Safety Factors
Shade- When you are out with your child, the sun's rays can cause discomfort to your child. While one normally uses a baby rocker at home only, the placement of your rocker in the balcony or near a window is worth considering. Thus, if you want to enjoy the sun while taking care of your child, buy a product with a sun-shade. It would protect them from the sun, and let them sit comfortably.
Straps- The foremost thing that allows for better stability in a rocker or a bouncer is a security harness. Whether you are using a baby swing or a baby bouncer, keep a note that the straps are durable. Also, make sure that they are made of a comfortable fabric, as the babies would like that highly.
Safety Tips to Keep in Mind While Using a Baby Rocker
Safety guidelines are an important thing to keep in mind when using any product. That is the same in the case of baby swings, bouncers, and rockers. In this respect, do follow these following few safety measures properly.
You should look at the certification that the bouncers or rockers have and its validity too. It is available in some select brands that undergo safety checks for each singular part.
Do not skip on reading the fine print stating all the weight, height, and age limitations, and follow them accurately.
Carefully assemble the parts in products that come in the detached form. You should follow the instructions properly and calmly, and call the helpline in case of any issues.
You should not carry your baby in one of these products even if they come with a handle.
Place the buckles and the belts properly around your baby's body, and check that it is stable every time.
Always stay near your child when using these products, and never let them sleep in it for hours either.
Only use these products in a good and safe region, like the floor. Do not leave them on uneven spots like the table or the sofa.
Important Tips About Baby Rockers
Here are some additional tips that would improve both your and your baby's experience extremely.
Buy those with multi-stage seats; this is because babies would eventually outgrow the regular models after some months.
While a basic rocker or baby bouncer is easy to use and has good features, there are multifunctional seats present too. They look good and have more features, including motor power in more high-end varieties.
Before buying a product, you should consider their return policy too. It is important as your child may not feel comfortable in certain models after using it.
Baby Rockers Frequently Asked Questions (FAQs)
1. What is the best age group for using baby rockers?

Usually, babies up to the age of 6 months can comfortably use a baby rocker. As for the youngest age, you would not have any issues while using the rockers for newborns, either. The age that each product is suitable for is mentioned in its description text; you should read it carefully before buying.

2. What is the right way to clean a baby rocker?

You can easily clean this product by wiping it with a wet cloth and drying it using a separate dry cloth. You can also use a non-abrasive cloth with a non-toxic cleaner, granted the cloth fabric is cotton. The seat's fabric is generally made of water-proof fabric; thus, not much effort is required for cleaning. Remember to wipe the handles and the frame with a cotton cloth and some soap too.

3. Is using a baby rocker applicable for newborn children?

Indeed, most baby bouncers and rockers come with various safety features, and the motion it provides is comfortable for sleeping. The reason behind adding these features is for using them to support and rock newborns.

4. Is it safe to use a rocker for babies?

The features of baby rockers are usually reliable, and they come with adjustable straps. Thus, it is generally safe to use this product, as long as you refer to the instructions from the manufacturers.

5. Is it okay to let your child sleep in a rocker overnight?

No, you need to keep a watch on your child while using a bouncer or rocker. Ergo, you should not use it as a sleeping area for your newborn baby.

6. Till what age are baby swings usable?

While there are some baby swings that you can adjust according to your baby's needs, most newborns outgrow it at some point. The usual age this happens at is around nine months.

7. What do babies prefer out of the different types?

The preference of the baby is also important to think about, and it takes some time for them to become accustomed. One can like the bounce more, while another may feel more comfortable with the back-and-forth motion. The best option is to try both, as preferences are subjective in nature.

8. Who are rockers and bouncers best for, respectively?

The main point of concern here is the need of the child. Notably, bigger babies require something that would help in making their muscles stronger. Thus, the bouncers are better for them, and they can keep their heads up too. On the other hand, newborns need more support, and rockers are better suited for that.

9. How long can a baby stay on a rocker?

A Baby Rocker is okay to use for a limited period of time when one needs a reprieve from carrying them around. The average time limit for this is around 30 minutes, under supervision.

10. What is the power behind the motor of most bouncer seats?

Many of the baby swings and bouncers that come with motorized parts require power cards or plug-in features. One can use batteries too, but the former options require less frequent changes and are cost-effective.
Conclusion
Indeed, buying a rocker or swing takes a lot of thought and consideration, given their attractive features. Nonetheless, you need to judge a lot more than that to know if you are buying the right product for your child. You should acquire something that is safe to use and comes with an extensive amount of features.
Some of the best options in this regard include Fisher-Price Infant-to-Toddler Rocker Redesign and Baby Bucket Newborn to Toddler Rocker Cum Reclining Chair, as mentioned above.
However, each product listed has a good amount of value to it and is the right one for different people. Overall, take a good look at the specifications and related factors, and then decide which suits your situation the best.
For any queries and suggestions, please pen down to us in the below comment section.
Read Related Reviews
Buy Best Baby Bouncer Online
Goyal's 12 in 1 Musical Baby Feeding Swing Ro...
35%
AULI LIFESTYLE Baby Swing Jumper or Bouncer E...
25%
Graco Soothe 'n Sway LX Baby Swing with Porta...
JoyRide 12 in 1 Premium Musical Baby Feeding ...
36%
EVOHOME Evoshine Baby Carry Cot Bouncer 12 in...
70%
GURU KRIPA BABY PRODUCTS Baby Bouncers and Ju...
34%
EVOHOME Evoshine Baby Carry Cot Bouncer 12 in...
70%
EVOHOME Evoshine Baby Carry Cot Bouncer 12 in...
70%