Every coffee lover knows what a good coffee can do, and they'll do everything in their capacity just to get a cup of a perfectly brewed, sweet-smelling, and delicious coffee. But what really is the secret of making a good coffee? Is it the coffee beans? Or is there a secret recipe? Perhaps it is the preparation technique!
Well, there is no specific answer to that question, but you'll agree with me that a good coffee can only be made from a high-performing, good quality, Coffee Maker Machine. Just like the way "a man is as good as his tools," a barista is as good as his coffee machine. So, what are the best coffee making machines in India today?
We have researched for you and bring this blog with our top picks of best coffee makers in India and a Comprehensive Buying Guide on it. So, get deep into it to make your best pick.
Top 7 Best Coffee Makers in India
Below is the list of well-researched and best-performing coffee making machines in India.
Best Coffee Makers in India – Reviews
1. Russell Hobbs 190713A Coffee Maker (Best Overall)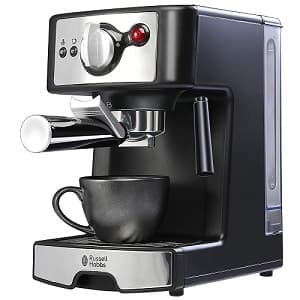 The first on our list is Russell Hobbs 190713A -1250 watts, a 15 bar pressure coffee maker, and a top-notch machine that produces high-quality and delicious coffee with an authentic taste. It has a one-liter detachable and transparent water tank, a removable drip tray, and an ultra-thermo heating system block, that is instrumental in attaining and retaining a perfect coffee temperature.
Its ability to brew multiple cups of coffee at a go, makes it one of the best commercial coffee makers in the market. Another impressive thing about this machine is that it takes only 35 seconds to achieve a temperature of 70 to 80 degrees Celsius.
Moreover, it comprises an aluminum alloy cast boiler with a manually operated knob with illuminating indicator lights. Its frothing arm enables the machine to steam the milk faster. With this machine, you can brew a minimum of 50ml and maximum 100ml coffee.
In terms of appearance, Russell Hobbs 190713A has an attractive physical appearance with a shiny smooth finish and impressive shape. It is a perfect fit for a modern kitchen, and it will definitely boost your kitchen general outlook.
Pros
Great eye-catching appearance
Pocket-friendly price
Delivers multi-cups coffee
Has a two years warranty
Easy to clean
Cons
2. Coffeeza Finero Coffee Making Machine (Runner Up)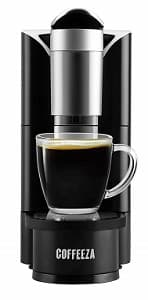 Coffeeza Finero is a true definition of a quality coffee maker machine. It is every coffee lover's dream appliance as it has almost everything you'd want in a coffee maker. It is a premium coffee machine that makes it possible for you to make a barista-like beverage by yourself. Its magnificent Italian design is a beauty to behold, especially when surrounded by gorgeous modern kitchen décor.
With this machine, you can brew any type of coffee you want, be it Americano, Latte, Cappuccino, Espresso, and the list goes on.
It features a 19-bar Italian pressure that helps to excerpt the right flavor and crema from the coffee beans. As if that is not enough, it also has an in-built Flo-meter and heats-up in a record 45 seconds. When it comes to compatibility, this coffee maker works well with both Nespresso and Coffeeza original coffee capsule pods.
For the capacity, you will surely love it. the appliance can make 20 cups at a time, that makes it a best choice for home, small offices and institutions, etc.
Additionally, it boasts of a grind, a drip tray, and dishwasher-safe components, which make it easy to clean. It also has an 'auto-turn off' feature that allows it to automatically switch itself off when left unattended for more than three minutes.
It offers versatility and consistency whenever you make coffee. The model also comes with a one year warranty and a free ten capsules box which is an added benefit.
Pros
Appealing exterior Italian design
It can brew multiple types of coffee Latte, Americano, Cappuccino, and the likes
It takes a few seconds to heat up, and it's pretty fast
Comes with one year warranty
Also includes ten free coffee capsule box in the package
Cons
3.Black Decker BXCM1201IN (Best Budget Pick)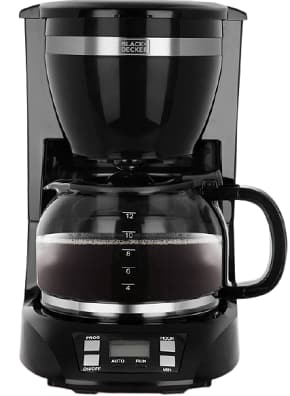 If you are looking for a budget-friendly espresso machine that has the capacity to produce multiple cups of coffee without compromising on quality, then Black Decker BXCM1201IN is the one for you.
Featuring 1.5 liters high-temperature carafe, digital display, an electronic control that comprises four functional options and heat-resistant lid, this is an ideal coffee maker for a family.
Other features include; a removable filter that is easy to clean, an automatic shut-off option, and a keep warm feature that keeps coffee warm for a maximum of two hours. It also has an innovative and stylish outlook that looks great on a kitchen counter. Its power consumption is relatively low (900 watts) and operates on a residential electricity of 200 to 240 volts.
The appliance measures 64.6 cm in-depth, 40.2 cm in length, and 24.5cm width with a weight of 2.62kg. Thus, doesn't take much space in your kitchen and ensures easy storage as well. Even more, the two years warranty makes it worth the purchase.
Pros
Strong and heat resistant lid
Auto Switch feature that enables it to switch off on its own
Ability to produce 12 cups of coffee
Magnificent and stylish design
Cons
It has no steam nozzle
Lacks frother
4.De'Longhi ECAM44.660.B Fully Automatic Coffee Maker Machine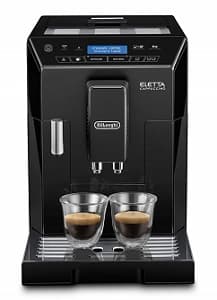 De'Longhi is a popular Italian brand that is well known to produce high-quality coffee making machines. And De'Longhi ECAM44.660.B is no different. This espresso coffee making machine, is an all-round machine in regards to features and functionality.
It has an original automatic coffee brewing system that includes a unique LatteCrema Micro-form technology which is quite effective in producing great Cappuccinos, Flat White, Latte Macchiato, Espresso Macchiato, among others. Additionally, it has a hot water spout that comes in handy during infusion or when making tea.
Another outstanding feature of this coffee maker machine is its one-touch control that is possible due to its thermo block technology. This feature makes it easy for you to adjust your coffee from medium to piping hot temperatures that meet your taste. By simply pressing a button, you can have the best brewed, bean to cup quality, sensational cappuccino, or espresso.
The machine has numerous options (long, medium, short, from extra strong to extra mild, enjoy it lower, medium, or piping hot temperatures) that makes it possible to personalize your coffee. Another great thing about this machine is that it offers you the option of selecting your favorite milk on its milk menu. It has options such as espresso macchiato, flat white, and hot milk for a customized drink.
It even has the automatic cleaning option that is incorporated in its froth adjustable dial for easy cleaning. Its smart and smooth control panel, consisting of a beautiful display, makes it easy to select the options and adjust the settings to your preference. A controllable height espresso dispenser allows for either espresso or full-size cups, depending on your coffee mood.
When it comes to flexibility, this coffee maker machine has a two-liter water tank and an optional filter that offers exceptional quality right from the beginning. Additionally, its coffee holding container tap comes in a design that preserves flavor, keeping your coffee beans flavorsome and fresh.
In terms of pricing, De'Longhi ECAM44.660.B is slightly expensive as compared to similar machines on the market. However, it is worth every penny.
Pros
Elegant, stylish, and pretty effective design
Has a wide-ranged, pre-programmed options
Comes with a high-class burr grinder
Has an integrated milk frother that makes creamy, rich milk
Easy to clean
Comes with a two years warranty
Cons
No cup warmer
Relatively expensive
Available in only one color
5.Philips HD7431/20 – 360 Watt Coffee Maker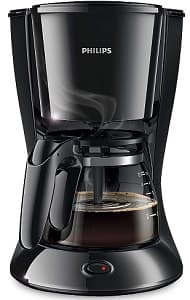 Philips is one of the most respected and trusted companies on the market today, particularly when it comes to home and kitchen appliances. Philips HD7431/20 is one of its best coffee making machines available on the market today.
And with the relatively cheaper price range, it is the best choice for your delicious coffee making needs.
The appliance is the ideal coffee maker for coffee shops, offices, homes, and other commercial purposes. It's super versatile with the ability to make coffee using various kinds of coffee beans. Apart from its amazing functionality and durability, it also has a smooth and stylish outlook that can add to your kitchen décor.
It can make 7 cups of coffee at a go and has an aroma twister that thoroughly mixes the coffee, giving it a consistent aroma and a smooth taste. It uses a drip-stop technology that helps to prevent wastage via dropping and spillages – with this machine, each coffee drop matters. Its dishwasher-safe components make it easy to wash and clean.
In terms of portability, the machine is relatively light, making it easy to carry and transport. Its other features include; power switch, non-slip feet, and a removable filter holder. The removable filter holder is instrumental in sieving out impurities and can easily be removed for cleaning or wiping out dust and coffee stains.
Pros
Dishwasher-safe parts that are easy to clean
Has a water level mark that helps to prevent overflow
Contains non-slip feet that prevents it from slipping
Comes with a 2 years warranty
Has a relatively cheaper price
It makes top-quality coffee
Cons
It doesn't have strength and temperature controls
A bit noisy
It takes a longer time (10 minutes) to brew
6. Morphy Richards New Europa Cappuccino and Espresso Coffee Machine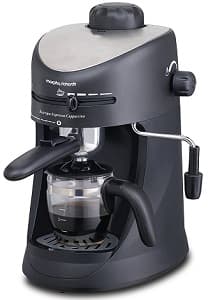 Morphy Richards is another popular brand that is well known for its remarkable kitchen and home appliances. It is popular to produce high-quality, efficient, and durable machines, and it's New Europa Cappuccino and Espresso Coffee Machine embodies this spirit.
One of the key features that makes this machine stand out among its competitors is it's steam and coffee selection options. If you are one of those coffee lovers who love strong tasting coffee, then this is the perfect machine for you.
This coffee machine has been perfectly designed and equipped with modern technology that helps prevent it from overheating. It has been made in such a way that it automatically adjusts itself to a malfunction protection mode. It is built to generate four cups of coffee at a time, making it an ideal choice for a small family or office.
Additionally, stainless steel filter and a turbo Cappuccino nozzle enable it to produce a consistent and smooth-tasting coffee.
Pros
It makes four cups of coffee at one go with milk frothing
Has an overheating protection system the ensures the safety of the user and appliance
Offers value for money since it provides the option of choosing coffee strength
Has a detachable drip tray that's easy to clean
It has a strong built and knob, making it tough and durable
Has a beautiful glass carafe
Cons
The glass carafe is relatively small
7. Preethi Café Zest Coffee Machine (CM210)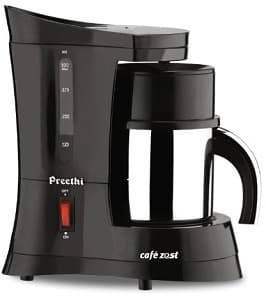 Preethi Café is one of the original CM 210 coffee makers. It produces strong, sweet-tasting, aromatic coffee with ease. It is a top-performing compact coffee maker fitted with a powerful motor that brews great coffee.
Its ABS shockproof and heat resistant plastic body offers some safety to the appliance and user. Apart from its safety features, it has a Microline filter, thermal fuse, heating element, and an accurate temperature controller.
Additionally, it has a 500ml capacity stainless steel jar that holds a maximum of three to four cups of sweet-tasting coffee at a go. In terms of appearance, Preethi Café has a smooth, shiny finish, with an eye-catching exterior design that is well suited for a modern kitchen. Its anti-drip feature is useful in preventing wastage from coffee drips and spillages, which helps to keep the machine clean.
Moreover, it consumes 450watts power and works well on 250 volts current. Its transparent glass jar makes it easy to estimate the amount of water needed to brew a rich-tasting, mind-blowing coffee. It comes with a one-year warranty, which is clear proof of its reliability.
Pros
It's a lightweight, portable machine
Easy to use
Pocket-friendly price tag
Has an impressive anti-drip technology
Precise temperature controls
Has a magnificent exterior outlook
Offers safety, thanks to its ABS shockproof body
Has a water level indicator for accurate water measurements
Cons
Has a low capacity as compared to the other top-performers in the market
It is bit slow as take roughly 15 minutes to brew
How to Choose the Best Coffee Maker Machine? (Buying Guide)
Different Types of Coffee Machines
There are five main types of coffee making machine in the Indian market today as mentioned below:-
1. The French Press
The French Press can be described as a stylish, methodical, and gentle type of coffee making machine. They function by gently soaking the coffee ground in moderately boiled water. The longer you soak, the stronger the flavor. The recommended time is roughly four minutes. After four minutes, the coffee grounds are pushed down to the carafe by gently pressing down the plunger.
Most French Press coffee making machines are fairly priced compared to the rest. Their cost of maintenance is also pretty low since they usually don't require filter replacement, and neither do they use electricity.
On the flip side, it's Achilles heel is the fact that it might not produce the fine, perfectly brewed coffee, especially if it's not submerged and brewed for a longer time. You might also find some impurities (coffee ground) in the coffee.
This type of coffee machine is ideal for coffee fanatics who cherish the taste of high-quality, fully-flavored coffee.
2. Cappuccino and Espresso Coffee Machines
These are expert level coffee machines that produce fine-tasting, high-quality, flavor-rich coffee that will leave you yearning for more. They are the coffee making machines that are commonly owned by baristas and coffee shop owners. It is one of the most expensive types of coffee makers available in India. But price aside, it is the best coffee machine to own …it's worth its weight in gold.
With this kind of coffee machine, you can serve different types of coffee drinks, i.e., Macchiato, Cappuccinos, Lattes, and the list goes on.
However, its main disadvantage is that most of the espresso machines present in India produce one shot of espresso at a time, though the new models serve two shots at a time.
Espresso Coffee machines have several features such as portafilters, water boiler, coffee pod availability, automatic settings, and a pressure pump. It is the best Coffee Machine for those coffee lovers who truly appreciate the value of quality coffee.
Check here, for the Best Espresso Machines in India
3. Single Cup Coffee Makers
As the name suggests, this type of coffee maker produces one cup of coffee at a go, and they are also referred to as pod coffee making machines since they use pods to brew coffee. They are relatively new in the Indian market, but they are gradually growing in popularity. They're available in different flavors and can be customized to meet your preferences.
One of the main advantages of single-serve coffee machines is that they are simple to operate as all you are required to do is to add the coffee pods and wait. They are instant coffee machines that take less than a minute to brew a cup of coffee. They are ideal for small coffee shops with limited space – thanks to their compact size.
The price of this type of machine is dependent on the brand and features. Generally, its buying price is relatively low. However, the maintenance cost can be a bit higher. You will also have to buy the coffee pods, which can also be pricey, depending on where you buy them. The good thing about it, however, is that you can substitute (particularly the modern models) the coffee pods with ground coffee though it might be a bit messy hence requiring regular cleaning.
It is best suited for those coffee aficionados who like experimenting with new flavors.
4. Drip Coffee Makers
This is the most popular coffee maker machine in India thanks to its simplicity and cheaper price. Some of the modern models have multiple features, which makes it even more attractive. For example, with the modern models, you can brew light, decaf, strong, plain, or any other of your favorite blends.
The automatic drip coffee makers comprise a filter basket for loading coffee grounds and a tank chamber. When you switch on the machine, the water is directed through the coffee ground and settles on the carafe. This entire process usually takes roughly 5 to 10 minutes, depending on the water quantity. The beauty of using this machine is it spreads that magnificent aroma of coffee around the house, giving an ambiance of a barista or a coffee shop.
Drip coffee makers are the best coffee machines for serving a big number of people as it produces a maximum of 12 cups of coffee at a go. Additionally, it has a relatively low maintenance cost since the price of its filter is fairly priced and lasts for a longer time.
It is the right machine for a family that takes coffee every morning.
5. Percolators
Percolators are another type of coffee-making machine available in India, and it works almost the same way as the electric coffee pots. It has a small coffee brewing chamber located close to the heat source. The machine can produce as much as 30 cups of coffee at a go. It can either be used on a stovetop or powered by electricity.
It has a simple working process where water is driven through a tube and continuously soaks or saturates the coarse coffee grounds on the topmost part of the machine. The greatest thing about this machine is that it produces super-hot coffee with a fantastic aroma, and it is pretty fast compared to other machines.
However, some people have criticized it for producing very hot coffee that makes the coffee taste as if it's burnt. Moreover, it's a bit challenging to regulate the temperature on the stovetop model.
It is the best coffee machine for those individuals who love their coffee hot.
Different Types of Coffee Brewing Techniques in India
Each country has its own coffee culture and how they brew their coffee though most of it is borrowed across countries. The popular styles in India include; espresso, cappuccino, channi coffee, French press, among others. Read along for more detailed information on this.
1. Espresso
This is one of the most popular coffee brewing styles not only in India but across the globe. It is a technique that produces a star buck or café coffee experience. The coffee-making machine that uses the espresso technique gives you the option of choosing the flavor you want. Learning how to use the espresso technique to make top-quality coffee is quite challenging, but it is worth the trouble. Preparing an espresso involves moving 18 gms of coffee powder in hot water for approximately 25 to 30 seconds.
2. Channi Coffee
This is one of the best techniques for those coffee lovers who don't have a brewing machine but want to experience a barista type of coffee. In most instances, this method produces coffee that tastes watery though it can be rectified by adding more coffee powder. You will need a coarse coffee ground for you to make the best Channi coffee.
3. French Press
This is more of a classic coffee-making technique that offers a consistently heavy kind of black boiled coffee. The good thing about this method is that it is easy to learn, and it is a fast and affordable technique.
4. Pourover
This coffee making technique is another popular technique among many coffee lovers. With this technique, you can regulate the four important elements, i.e., time, temperature, grind, and dose.
5. Moka Pot
This is the ideal method for making a concentrated, strong coffee. It is one of the compact and less expensive techniques of making a concentrated coffee. However, it's main undoing is that you cannot get the same taste every time you use it. It can taste perfect or bitter.
Features to Look for Before Buying a Coffee Maker
Apart from price, size, and performance, there are several other things to look for when purchasing a coffee machine. It also depends on what you want the machine to do for you. For example, if you want a coffee machine that produces coffee with an accentuated flavor, your focus should be on the temperature feature. Coffee machines that have a maximum temperature of around 195 to 205oF are more effective in producing flavor-rich coffee.
There are some machines that contain a warming plate, which helps to keep your coffee hot after brewing. It is essential, especially if you don't want to take your coffee immediately, it's brewed, or if you want the remaining coffee maintained warm for later.
Let's discuss about some more smart features that is important while choosing a Coffee Maker.
1. Filter
Another important thing to note is that impurities in the water you use to brew your coffee can have an effect on the coffee taste. To avoid this, you will need a coffee maker that has an efficient carbon filter. However, this won't have a major impact if your water has no impurities and has a perfect taste.
2. Quantity
If you need a coffee machine for commercial purposes or a large family, then one of your priority features should be on the quantity of coffee produced. You'll realize that coffee makers have different capacities of coffee they can produce per serve. For instance, some can produce a maximum of 8 cups at a time, while some have the capacity of around four cups per serve. You'd probably need to establish how much coffee you take per day and how regular you take them.
3. Budget Range
Another thing to consider is your budget range. How much money are you willing to spend? To get the best, high-performing, and multi-functional coffee maker, you will need to part with a good amount of money. However, there are some affordable coffee makers that produce good quality coffee – though they might not have a lot of features as the expensive kind.
4. Brewing speed
Brewing speed is an important factor to consider when buying a coffee machine, especially if you are one of those people who are almost always running late or in a hurry. Even if you have all the time in the world, you still wouldn't want to always spend more than 30 minutes waiting for coffee. Coffee makers have different brewing speeds. Some take a bit longer to produce a cup of coffee, while others take seconds to deliver.
It is also wise to check the ground and water fill if you're always in a rush to grab a cup of coffee. How fast can the coffee maker take to replenish itself?
5. User-friendly Interface
Interactive capabilities and interface usability make the coffee machine more convenient and easy to use. In most cases, we usually don't have the time to go through the user manual, and therefore, a good interface and simplicity of use is preferable. Few words (preferably one word) instructions, right icons on the buttons make it faster to understand.
Some of the buttons that should be visible enough include; the button for refilling water to the stipulated level, button for regulating the coffee strength, the one for brew pause, button for regulating the heater plate, and lastly, the button for clean-up once the coffee is brewed.
6. Extra Features
The best coffee makers are the ones that have extra features beyond the normal ones. These extra features may include; thermal carafe that helps to keep the coffee hot, auto shut-off, and the feature for controlling the time needed for the coffee to brew. Moreover, some modern, high-end coffee machines have advanced features such as milk frothing, bean grinding, pause and serve, and an in-built water filtration system.
The pause and serve feature enables you to pour the coffee into your cup directly from the carafe, avoiding spillage.
The in-built water filtration system is ideal for people who live in places with unreliable water quality.
As for the grinder, most of the latest models have an in-built coffee grinder. This is an important feature, particularly for those coffee enthusiasts who love the flavor brought by the freshly ground beans.
7. Other Things to Consider
When it comes to choosing a coffee making machine, take your time to identify what you really need. If you're buying your morning coffee at a coffee shop once or twice a week, a coffee machine will definitely pay itself in a couple of weeks. To help you decide on what kind of machine you want, here are some questions you may need to consider.
Are you always in a hurry and need your coffee on the go? Consider a machine with a "pause brew option." One that you can schedule .to start brewing at a given time automatically
Do you take more than one cup of coffee a day? Check out a Coffee maker with an insulated carafe.
Do you prefer fresh grounds or K-Cups? Although most machines are either of the two, there are some that are more versatile.
Do you have a small kitchen or a counter with limited space? There are coffee makers that are lightweight and small in size that can fit in a small or limited space.
Are you making coffee for yourself or for several people? Look for a machine with a bigger carafe size.
How to Use a Coffee Maker Machine?
If you've never used a coffee maker machine before, don't sweat it. Here is a guide on how to go about it.
Ensure that the appliance is connected to a power source, i.e., electricity.
Place some grounded coffee beans in the cup filter.
Pour some water into the jug in proportion to the quantity of coffee you want.
Press the start button and wait for around five minutes for the coffee to brew.
When should you replace your old coffee machine?
If you've been wondering whether or not to replace your old machine or whether it's the right time to upgrade to a new model, then below are indicators that you need to change.
Costly Coffee Pods: Some old model coffee makers only work with specific coffee pods, which can be highly-priced and are not available in different types or varieties. Moreover, the maintenance cost for some old models can be quite costly. If this is the case, then it is high time you consider buying a new one.
Faulty or incorrect Water Temperature: If your current coffee maker doesn't achieve the right temperature, thus affecting the coffee flavor, then it is the right time to purchase a new one.
No Longer Produces Fresh Coffee: This is a red alert and a clear sign that it needs replacement. There are multiple reasons why it behaves that way, including; a faulty pump, broken or leaking tank, etc. Repairing all these issues might be quite costly and might not be worth the trouble unless the warranty is still valid. If it is not, then getting, a new one would do you good.
Coffee Makers Frequently Asked Questions (FAQs)
1. Which is the best coffee maker machine in India?

The above-mentioned coffee-making machines, i.e., Coffeeza Finero, Russell Hobbs 190713A, Black Decker BXCM1201IN, De'Longhi ECAM44.660.B, Philips HD7431/20, and Preethi Café Zest, are some of the best coffee machines in India. The best for personal or home use is Black Decker, Preethi Zest, and Philips HD7431. But it is dependent more on your preferences and the type of coffee you want.

2. What should I consider when buying a coffee making machine?

There are several things to consider when choosing a coffee machine to buy. These include price, features, type of coffee brewed, capacity, amount of coffee produced, quality of coffee, maintenance cost, and machine size. If one cup of coffee is enough to get you started, then a one or two-cup drip model will do for you. If you need more than one cup, you can opt for the automatic or the specialty machines like the French press types that produce 10 to 12 cups at a time.

3. What are the temperature ranges for coffee making machines?

Generally, most coffee makers brew coffee at a temperature of between 195 to 205 degrees Fahrenheit. However, there are some coffee-making machines that have a broad temperature range, which gives you the option of choosing the temperature you want. According to the Specialty Coffee Association of America, the ideal temperature for brewing coffee is around 200 degrees Fahrenheit, minus or plus five. That's why you find most of the coffee makers brewing temperatures are within that range.

4. Why are drip coffee makers regarded as the best?

The primary reason why drip types of coffee making machines are considered because they have an automatic system which makes it possible for you to do other things while brewing coffee. They also have an impressive short (almost instant) brewing time in addition to its ability to produce top-quality coffee.

5. What is the ideal durability range of a coffee maker?

The durability or lifespan of a coffee machine is dependent on various factors such as maintenance, brand, model, and how often you use it. Regular cleaning is essential for the machine to last longer – if you don't perform routine maintenance and cleaning, the machine might not last that long. Additionally, the type of material the machine is made of also matters. Coffee makers that are made of stainless steel last longer than their plastic counterparts, as the plastic ones tend to get deformed or damaged in the long run by the frequent high brewing temperatures.

6. Is it recommended to clean your coffee maker regularly, and are they easy to clean?

Yes, and yes. It is advisable to clean your coffee machine after use, and most of them are pretty easy to clean. When cleaning, you need to unplug the appliance from the socket, detach the removable components/parts (decanters, basket, carafe), wash them with running water, and thoroughly dry them.
Some machines have dishwasher safe parts (check the label or user guide). Please, please, do not submerge the entire machine in water – you'll damage it. Apart from the detachable parts, the other parts of the machines should be occasionally wiped with a wet cloth (the exterior parts). Ensure that the detachable components are thoroughly cleaned to avoid a bitter or strange coffee taste.

7. What is the right energy consumption range for coffee machines?

The electricity consumption rates for most coffee makers range from 750 to around 1500 watts, and these are the ones that produce six to ten cups of coffee per serving. However, if you have a large family or you are using the machine for commercial purposes, it may have an impact on your electricity consumption rates. But if you are brewing four to five cups of coffee per day, then it'll not have a major impact on your overall electricity bill.

8. What are the price ranges of coffee machines in India?

The prices of coffee making machines are dependent on the type, brand, model, size, and the features it contains. The price of coffee making machines in India varies from 1500 Rs to 10,000 Rs. The more features the machine has, the higher the price. The cheapest top-quality coffee machine in India is Black & Decker, which goes for around 2000 Rs, while the most expensive is the Morphy brands, with their prices ranging from 5,000 Rs to around 10,000 Rs.

9. What are the right coffee roasts and coffee beans present in India for making a good cup of coffee?

The most common varieties of coffee beans available in the Indian market are; Robusta, Arabica, or a mixture of the two. Apart from these two, the other varieties though they are less popular and thus are rare to find. For enhancement of quality, texture, and taste of the coffee, sometimes, Chicory is added. Regarding coffee roasts, there are different kinds, as listed below.

Light Roast: This coffee roast is light brown in color and has an acidic flavor.
Medium Roast: It is one of the popular roasts in India and is well known for its high caffeine content.
Medium-dark roast: It has a relatively low caffeine content.
Dark Roast: Chocolate in color, and it is the best roast if you want coffee that has less caffeine.
Conclusion
What should you take with a delicious cup of coffee? That's simple…
Another cup! ~Henry Rollins
A good coffee machine doesn't only produce quality coffee, but it is also easy to operate, i.e., you can use it without reading the manual. It applies to all types of coffee makers: Cappuccino, Mocha, Café, Latte, or any other. It is a machine that enables you to make coffee within a short time; it's easy to clean and has all the other features you'd want in a Coffee machine. When choosing a coffee machine, you need to consider your need; what type of coffee do you like? What flavor? The quantity of coffee you need, your budget range, and so on.
Now that we've highlighted the seven best coffee making machines in India, it is now upon you to choose the one that best meets your preferences. Our personal recommendation is to go for Russell Hobbs 190713A Coffee Maker best for everyone.
Remember that a "barista is only as good as his machine." Enjoy your drink, won't you!
Read Related Reviews
Buy Coffee Makers Online
Morphy Richards Europa Drip 600-Watt 6-cup Dr...
42%
AGARO Royal 4 Big Cups Drip Coffee Maker, 600...
36%
AGARO Imperial Espresso Coffee Maker, Coffee ...
45%
PHILIPS Drip Coffee Maker HD7432/20, 0.6 L, I...
12%
Morphy Richards New Europa 800-Watt Espresso ...
17%
INALSA Espresso/Cappuccino 4Cup Coffee Maker ...
41%
AmazonBasics 650 Watt Drip Coffee Maker With ...
40%
PAJAKA South Indian Filter Coffee Maker 200 M...
40%