Inverter ACs are very popular nowadays because they consume very less energy with efficient cooling to provide ultimate comfort during hot and humid conditions. When it comes to capacity, 1 ton Inverter AC is the most preferable choice to get the ultimate cooling experience in small spaces. In this blog, we have covered the reviews of the best 1 Ton 5 Star Inverter AC for your home and office.
Though for larger spaces, you may opt for 1.5 Ton Inverter AC or 2 Ton Inverter AC as well according to space, you want to cool.
Our Best Picks of 1 Ton 5 Star Inverter AC in India
For detailed review of all these models, please head to our Review Section.
But Why Inverter AC?
Traditionally, for most of us, Air Conditioners are being considered as the pain point due to high electricity bills. But now, no more to worry about this pain factor as the technological advancement has come up with new advanced Inverter ACs that eases your stress. They consume very less energy as compared to the traditional versions without affecting the cooling performance.
Even more, if they are equipped with 5 Star Energy Rating, it will be the biggest plus for you in saving more on energy consumptions.
Purchasing a new Inverter AC requires a lot more considerations. It is better to go with our Comprehensive Buying Guide on it to make your buying decision much more easier. If less on time, check these three most important factors while deciding to purchase an Inverter AC.
What is Inverter AC?
If you want to save a huge on your pocket, switch towards the Air Conditioners equipped with Inverter technology. The inverter ACs are designed in such a manner that can save about 30-50% of power rather than the regular air conditioners. Since Inverter ACs come with shifting speed motors that adjust their speed depending on the requirement and so it is obvious that they consume less power than the normal split ACs. Let me explain it more thoroughly.
In a normal Air Conditioner, the compressor is either on or off. It means when the compressor is on, the AC works at its full capacity and consumes full power. And when the thermostat reaches the temperature level you have set in the AC, the compressor stops working, and the fan in the AC begins to operate. Again when the thermostat senses that the temperature has increased, the compressor starts again.
On the other hand in inverter ACs, the compressor is always on. And it consumes only that much power that is required to maintain the temperature stable at the desired level. Thus, automatically adjusts its capacity on the basis of the requirement of the room it is cooling. And so consumes less power and less units of electricity.
So, I hope you have understood it better why Inverter ACs are now more preferable than the normal ACs. The most important point to be noted is that Inverter technology is available only in split ACs.
What is Energy Star Rating
For any electronic appliances like Refrigerator, Televisions, etc., the energy rating is the very much important factor to consider. The higher the star rating of any electrical appliances, the more it is energy efficient.
BEE Star Rating, the term given by the agency Bureau of Energy Efficiency is now available with almost all the electronic appliances that shows how much power the appliance consumes. In a simple way, BEE Star Ratings are available with all the major kind of electronic appliances in the form of a label. These energy star ratings to any appliances are given out of five. And that rating decides the energy efficiency of any appliance.
The appliance having 5 star energy rating is the most highly energy efficient and saves a big on your pocket while paying electricity bills. To understand BEE rating see the below image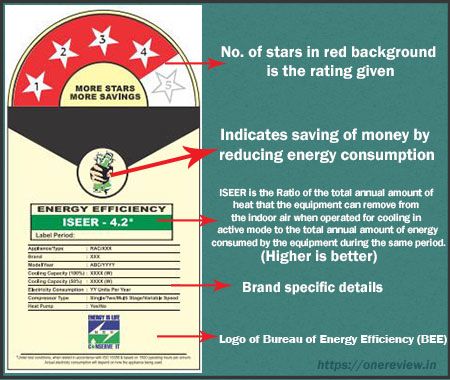 Inverter ACs with Copper Condenser
Now, the question comes why the inverter AC with copper coil or copper condenser is preferable. The simple reason behind this is an AC with copper coil offers more effective cooling than the AC with aluminum coil. Though the inverter AC with copper coil is more expensive than the AC with an aluminum coil, but they have the low maintenance cost and are more durable. Thus copper coil inverter split ACs are now more in demand.
Best 1 Ton 5 Star Inverter ACs Reviews
It is very much important to install an appropriate sized air conditioner in your room. First, evaluate the size of the room and then decide for the capacity of the air conditioner you want to install in your room. Now, if you are planning to switch over your old regular Air conditioner model or want to buy a new one for your bedroom, this blog is the perfect place to stay.
Here, we have compiled and reviewed the best and latest models of 1 Ton 5 Star Inverter ACs that is ideal for medium sized bedrooms, small conference rooms, as well as for office cabins. One more important thing that we have focused on these 1 Ton 5 star Inverter AC is that all these models are having with copper condenser. So, let's have a look on these 1 ton inverter ACs with 5 star energy rating and pick the best one for your bedroom or office.
1. LG 1 Ton 5 Star Inverter Split AC (LS-Q12YNZA)

This split AC from LG is one of the top models equipped with inverter technology with nominal pricing. With a 1 ton of capacity, this inverter split AC offers superior cooling while saving maximum energy at the same time, even in extreme weather conditions.
Featuring copper condenser, the AC offers you uninterrupted cooling performance that is unmatchable. The copper coil is also more durable and requires very less maintenance. Even with the ocean black protection, the coil does not get affected by rust and corrosion, and thus become more durable.
The dual inverter compressor comes with it, automatically adjusts and maintains the ideal temperature level in your room for more efficient cooling. Again, it helps in saving more energy consumption that is the biggest plus.
One of the best features of this 1 ton 5-star Inverter AC is its 4-in-1 convertible cooling. It lets you adjust the temperature as per your need. At each mode, it offers the best cooling performance while maintaining the optimum energy consumption.
The model also comes with a unique Himalaya Cool Technology. The feature ensures the best cooling in a jiffy as soon as you switch on the AC. Moreover, the 4-way horizontal and vertical swing allows uniform and even cooling all around your room.
It comes with an R32 refrigerant that does not affect the Ozone layer. Hence it is very eco-friendly. Even the AC also comes with low gas detection, so you can refill it when it is low for uninterrupted cooling performance.
Moreover, the stabilizer free operation of this AC is a nice feature for protection against voltage fluctuation without buying a separate stabilizer for this.
Key Features
Dual Inverter Compressor
Copper condenser with ocean black protection
4-in-1 convertible cooling
Monsoon comfort technology to provide ultimate comfort during humid situations
Himalaya cool technology
Four-way swing
EZ clean filter
Environment-friendly R32 Refrigerant
Low gas detection
Smart diagnosis system
High temperature cooling
Stabilizer free operation
Warranty 1 year on product, 1 year on condenser, and 10 years on compressor
Buyers Feedback
The Good
Excellent cooling even at high temperature
Super quiet operation
Copper condenser ensures better cooling with less maintenance
4-in-1 convertible cooling is a nice feature
Minimalist design with user-friendly controls
Very energy efficient
View on Amazon View on Flipkart
2. Godrej 1 Ton 5 Star Inverter Split AC (GIC 12GTC5-WSA)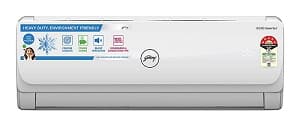 Godrej brings this smart inverter AC with the capacity of 1 ton to let you enjoy pleasant cool air whenever you want. This AC is perfectly ideal for any small room or space at a cost-effective price.
The model with its 5 Star BEE rating consumes very less energy, so you don't need to worry about the high electricity bills. Even having the inverter compressor, it adds more savings on electricity consumption.
For heavy-duty and more efficient performance, the AC comes with a copper condenser that is anti-corrosive in nature. So, no more rusting at all, thereby increasing its durability and, at the same time requiring less maintenance.
To offer you purely fresh and germ-free cool air, the AC comes with a tri-filter air purification system. It includes an anti-bacterial filter, anti-dust filter, and active carbon filter to provide healthy and clean air only.
The best is its super quiet operation that does not create annoyance in your quality sleep. There also comes a smart diagnosis feature that lets you easily detect the error in case it occurs.
This Air conditioner uses an eco-friendly R32 refrigerant. It not only ensures powerful cooling but also saves power at higher ambient temperatures compared to other refrigerants. All these fantastic features make this AC a perfect choice for any home.
Key Features
Inverter Compressor
Copper condenser
Tri-filter air purification system
Environment-friendly R32 refrigerant
Smart Diagnosis
Warranty 1 year on product, 1 year on condenser, and 10 years on compressor
Buyers Feedback
The Good
Quality product from Godrej
Very efficient air conditioner
Low noise operation
Budget-friendly AC
The Bad
Customer Service is not good
3. Daikin 1 Ton 5 Star Inverter Split AC (FTKF35TV )

Now this 1 ton 5 star inverter AC from Daikin comes next on our list. Packed with a lot of amazing features and excellent energy-saving technology, this can be a great addition to any room.
It not only provides exceptional cooling but also features great energy-saving technology. Moreover, its classy design adds a touch of graceful appeal to any room decor.
The model features a Neo Swing inverter compressor that ensures smooth and efficient operation. It also includes a built-in stabilizer, so there is no need for any external stabilizer for its operation. It protects your AC from voltage fluctuations.
There comes a unique Coanda Airflow operation that offers cool air to every nook and corners of the room, making you feel comfortable. A distinctive Econo mode is also there that minimizes the power consumption.
If you want immediate cooling in your room, you can use its Power chill mode that rapidly drops down the room temperature for instant cooling.
Moreover, you will also like its Self Diagnosis Operation. It allows the machine to automatically detect the malfunction or error and shows it on the remote screen. So, you can report it to the authorized service center for a quick resolution of the issue.
Key Features
Neo swing inverter compressor
Copper condenser for better cooling
1 ton capacity
In-built stabilizer
Econo mode limits the maximum power consumption
Power chill operation for instant cooling
Coanda airflow for best cooling to every corner
Environment-friendly R32 Refrigerant
Self-diagnosis function
Smell proof operation
Warranty 1 Year on Product, 1 Year on Condenser, 10 Years on Compressor
Buyers Feedback
The Good
Power-efficient 1 ton AC
Super silent indoor and outdoor unit
An in-built stabilizer is a great add-on
The Bad
No clock on the remote. You can only set an on and off timer in hours.
4. Hitachi 1.0 Ton 5 Star Inverter AC (RSFG512HDEA)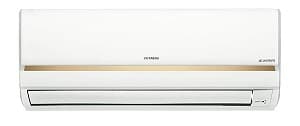 If you are planning to buy an energy-efficient air conditioner for your home, office, or workplace, this 1 Ton 5 Star Inverter split AC from Hitachi is a great buy.
Both interior and exterior impressive design is really eye-catching. The 5 Star BEE rating saves up to 30% of energy, and thus saves a huge on your pocket while paying the electricity bill.
The very best part of this AC is that it is equipped with a copper condenser coil that reduces the maintenance cost and further offers an efficient cooling.
This one is an expandable air conditioner that is one of the most unique features of this model. It allows the AC to expand its capacity in extreme hot conditions and cools the room faster.
The model also features a smart and intelligent Penta Sensor technology that provides ultimate cooling even in the hottest conditions. The best is that it also optimizes cooling in load variation and protects the critical components of AC from any damage.
You need to clean the filter of AC at regular intervals for uninterrupted cooling performance. For this, the AC comes with a filter clean indicator to remind you that it needs cleaning. Even more, the AC has a complete stabilizer free operation with full protection against power fluctuations.
Key Features
Expandable Inverter Air Conditioner
Stepless compressor control for uninterrupted cooling
Copper condenser
Penta Sensor Technology
Wave blade design
Auto coil dry technology for odor-free air
Auto filter cleaning technology
Filter clean indicator
Maximum cooling capacity at 43 degree celsius
Stabilizer free operation
Warranty 1 year on product, 1 year on condenser, 5 years on compressor
Buyers Feedback
The Good
Looks stylish and sturdy
Outstanding cooling performance
Noise levels are low for both indoor and outdoor units
The Bad
The remote control has very less options
It has a full up-down swing only; there is no segment swing option
5. Blue Star 1 Ton 5 Star Inverter Split AC (IC512DATU)

Presenting the best energy-efficient air conditioner from Blue Star to ensure fresh, clean, and cool air around you. This model from Blue Star with 1 ton of capacity and 5 Star BEE Rating offers efficient and fast cooling once you switch it on.
It has a lot of amazing features like two-stage purification process, an ECO Mode, and a Four-way Aero Swing for effective and quick cooling. All these features make it one of the best 1 Ton 5 Star Inverter ACs in our list.
The appliance comes with a high-performance rotary compressor for smooth rotation and less vibrations while saving a lot of energy at the same time.
One of the best features of this AC is Dual User Setting Preference. It allows two different users to personalize and save their preferred climate setting mode so that they can instantly set their desired temperature.
There is also an advanced Electronic Expansion Valve system that intelligently controls the refrigerant flow rate and ensures precision cooling. What is another best feature of this appliance is amazing Climate Control. The AC includes a fuzzy logic program that can automatically set the desired cooling temperature depending upon the climate conditions.
Key Features
5 Star Energy Rating
Copper Condenser
2 Stage Air Purification
Precision cooling technology
Dual rotor inverter technology
Brushless DC motor
Dust Filter
4 Way Aero swing for uniform air flow
Buyers Feedback
The Good
Awesome product with fast and efficient cooling
Best energy saver
Copper coil condenser for easy maintenance
Noiseless operation
The Bad
No downsides for the product
6. Sanyo 1 Ton 5 Star Inverter Split AC (SI/SO-10T5SCIA)

It is another best-in-class inverter AC with 1 ton of capacity and 5 Star energy ratings from Sanyo that offers efficient and fast cooling as well as best energy saving. It comes with a unique turbo cool function that cools your workplace immediately after switching on the AC.
This air conditioner has the copper coil condenser that offers energy-efficient cooling with easy maintenance. Also, equipped with the comfort technology, it helps in preventing overcooling and saves energy.
A unique Eco function of the AC optimizes performance for the energy-efficient operation to save you on paying high electricity bills. For more energy savings, the AC comes with full inverter technology that reduces the power cost while providing efficient cooling performance.
If you want instant cooling at medium mode, the AC has a unique glacier mode for this. It ensures higher fans speed to provide fast cooling in just a smart touch of the button.
The model also comes with a Smart diagnosis function that shows the error code on display for easy troubleshooting of the issue.
Key Features
5 Star BEE Star Rating
Copper Coil Condenser
High-quality R410A Environment-Friendly Refrigerant
Anti-dust filters
Digital Display
4 Way Swing
Two Way drainage
Turbo Cooling Mode
Multifold evaporator coil
Dehumidification Process
Sleep Mode
Auto Restart
Buyers Feedback
The Good
Fast and efficient cooling
Great energy saver
Copper coil for easy maintenance and best cooling efficiency
Auto restart is a nice feature
Worth for the price
The Bad
No downsides for the product
7. Carrier 1 Ton 5 Star Inverter Split AC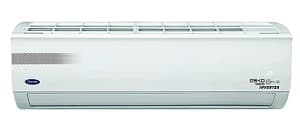 Experience an efficient cooling with this one of the best 1 Ton 5 Star Inverter ACs from Carrier. This 1 Ton 5 Star inverter split AC is crafted in such a way that regulates the temperature of your room according to your convenience and so offers an efficient and fast cooling.
The 5 star BEE Star rating for energy helps you to save as much as possible with the huge electricity bills. Also, the copper coil condenser equipped with it offers efficient cooling with minimal maintenance.
Featuring FlexiCool Hybridjet Inverter technology, it lets you operate the air conditioner in four different modes according to your cooling requirements. And the best part is that, all these modes ensures less energy consumption proving to be very energy efficient.
Even the low voltage operation as well as stabilizer free operation makes this AC to run without need of any external stabilizer. At the same time, it protects the critical components of AC from getting damage due to voltage fluctutations.
Key Features
5 Star Energy Rating
Copper Coil Condenser
Environment-friendly refrigerant
Sleep Mode
Auto Restart
High ambient working
Flexi Cool Hybridjet inverter technology
Low voltage operation
Stabilizer free operation
Warranty 1 year on product, 1 year on condenser, 10 years on compressor
Buyers Feedback
The Good
Best AC with best features
Fast and efficient cooling
Copper coil for easy maintenance and best cooling efficiency
Auto restart is a nice feature
Highly energy efficient product
The Bad
No downsides for the product
View on Amazon View on Flipkart
Conclusion
This is all about our best picks for 1 Ton 5 Star Inverter AC with copper condenser. All these are the latest models with latest 5 Star BEE Rating. So get your favorite one right now and experience the best and fast cooling while saving a lot from your electricity bill at the same time. Also, the list we have made are all equipped with copper coil condenser, so no worry about the maintenance.