A great textured cup of coffee in the morning makes your whole day refreshing and energizing. But making a perfect cup of coffee is extremely state of the art. Well, if you are an intense coffee lover, it is really obvious that you really go down for its perfect texture, aroma, and taste. Now if you thought that you can get a perfectly textured, brewed, and aromatic coffee only in coffee shops, you are absolutely wrong. Say thanks to the smart Coffee Machines/Espresso machines that is the best gift to all coffee enthusiasts.
You can incredibly make amazing super rich coffee whether it is cappuccinos, espressos, or plain coffee very easily from the comfort of your home with these espresso machines. Now you don't need to regularly visit the coffee shop when you own the best coffee machine at your kitchen countertop. Make the coffee of your own taste whenever you want without any hassle.
Types of Coffee Espresso Machines
Espresso Machines are the most versatile units that make a unique shot of coffee rich in flavor and texture. Basically, it comes in three different types to choose from.
Manual Espresso Machines- These machines give you the full flexibility to make any type of coffee of your own choice whether it is espresso, ristretto, latte macchiato, or cappuccino. These are mostly found in the coffee shops. A filter basket is there to place the coffee grounds, and then the coffee grounds are compressed down. The machine then flows down the hot water over the coffee ground with pressure, resulting in a shot of espresso. The only downside with these machines is that you need manually to grind the coffee beans and froth the milk.
Bean-to-Cup Espresso Machines- These are the most convenient units that take care all of your coffee grinding to pouring coffee automatically. You just need to pop out the water and coffee beans in the machine and get a shot of espresso coffee in just one touch of a button. The only downside is that these units require some extra care and maintenance. And you have to clean it regularly and empty the coffee grounds after every use.
Pod Espresso Machines- These are the most costlier option, but in terms of convenience Pod Espresso Machines are the best choice rather than the other two. The machine runs on the pods of coffee that you drop into it. Just tap the button and get your perfect espresso coffee ready in no time. The best part is that you can make a variety of drinks on the basis of flavors and choices available depending on your mood.
Best Espresso Machines Reviews
Well, this blog is dedicated to all coffee lovers in which we have covered the best and latest models of espresso machines. So if you are planning to buy the perfect one, just go through the list we have made as well as the full review of each model. And get a perfectly home-made coffee of your own choice whether it is cappuccino, macchiato, espresso, or just plain white coffee like the professional coffee makers.
1. Mr. Coffee ECM160 Steam Espresso Machine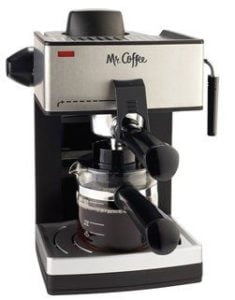 The brand Mr. Coffee has been involved in brewing coffee since 1970, and so for this espresso machine, the quality is fully assured. This wonderful espresso machine lets you make not only espresso but also cappuccino and latte in just one touch of a button. The machine comes with a powerful frother that whips up the cappuccinos and lattes and gives it a smooth, frothy and light texture. It also has the removable drip tray and frothing aids that make the cleaning of it super easy.
Key Features
Makes up to 4 servings
Compact size
Powerful Milk Frother
Easy to pour decanter
Removable drip dray and frothing aid
Cup Storage
On/Off Indicator Light
Buyers Feedback
The Good
Nice stylish design
Durable and easy to use
It makes a lovely latte
Good for the price
The machine is pretty compact and does not take too much counter space
2. Morphy Richards Fresco Espresso Coffee Maker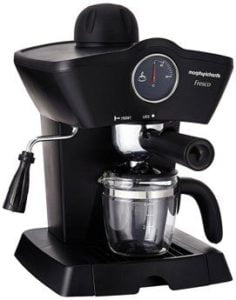 This one in our list is also the best choice for your kitchen. Get an extremely super-rich, and smooth textured coffee in no time with this espresso machine from Morphy Richards. It comes with a sleek glass carafe that is equipped with a heatproof handle letting you hold it properly and safely. There is a detachable drip tray that you can easily remove to clean it. It also comes with a stainless steel 2-Cup filter ensuring that you can only get the filtered and clear coffee every time.
Key Features
800 W Motor
Turbo Cappuccino Nozzle
Removable drip tray
Coffee Strength selector
Heat Resistant carafe
Stainless steel 2-Cup filter
Temperature Range 0-90 degree Celsius
Overheat Protection
Buyers Feedback
The Good
Superb quality
Excellent brewing quality
Less maintenance is required for this espresso machine
Performs very well
The steamer also works very well
The Bad
The switch for coffee dispensing must be improved
View on Amazon View on Flipkart
3. Tecnora New Classico TCM 107 M Espresso Machine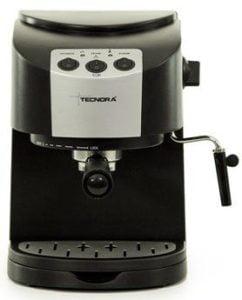 Bring the coffee making process to the next level with this espresso machine from Tecnora. Get the cafe experience from the comfort of your home with this advance Espresso Machine. It comes with 1050 W of power that boosts the efficiency of the boiler and also gives a greater consistency of steam to froth milk for a perfectly textured coffee. The machine also comes with a single boiler thermoblock that makes sure the correct temperature setting so that your coffee cannot get burn.
Key Features
Compact and lightweight
Smart Auto Switch-Off
Built-In Steamer
Detachable Water Tank
Two Espresso Shots at a time
Buyers Feedback
The Good
Build quality is awesome
Easy to use and assemble
Makes excellent espresso shots
The stainless steel accessories come with it are quite sturdy and durable
The Bad
The machine vibrates too much while running
There is no timer for the shot
The pour area will not fit the big coffee mugs
View on Amazon View on Flipkart
4. Black + Decker BXCM0401IN Espresso Machine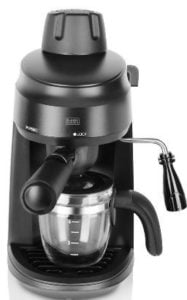 Make your favorite latte and cappuccino in just one touch with this smart espresso machine from Black&Decker. The machine makes 4 espresso shots in one go. The stylish and classy look of this machine appeals to your kitchen interiors. The machine performs the perfect frothing and thus offering the perfect coffee experience.
Key Features
4 Cup Espresso Maker
Steam knob for coffee and frothing
High Temperature Carafe with water level indicator
Detachable drip tray for easy cleaning
Die-cast aluminum alloy boiler for long life
Auto Switch Off
Buyers Feedback
The Good
Lightweight and compact
Easy to use and clean
Quality is superb
View on Amazon View on Flipkart
5. Havells Donato Espresso Coffee Maker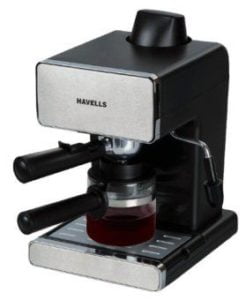 Havells Donato Espresso Machine is one of the best choices for all coffee lovers who want extremely rich coffee from the comfort of their home. This machine is designed so sophisticatedly that even a pro can use it without any hassle. It comes with a glass carafe along with the neat handle to hold it properly and make 4 cups in one go. The machine also comes with a detachable nozzle and drip tray that makes the cleaning of it super easy.
Key Features
5 Bar Pressure
Overheat and over pressure protection
Detachable drip tray and steam nozzle
Frothing function
Aluminum alloy filter attached with stainless steel filter
Buyers Feedback
The Good
Wonderful machine and makes great espresso shots
Quality of the product is awesome
Minimal maintenance
View on Amazon View on Flipkart
Final Words
This is all about the best espresso machines you can buy to make a perfect cup of coffee from your own hands. No hassle and no mess, these machines are even the affordable option for your full day refreshment. So pick the best one on the basis of your budget preferences and requirement. And if you think anything is missing, or if you have any suggestion regarding the blog, please pen down to us in the comment section below.