A Hair Dryer is one of the must-have tools for our regular hair styling needs. A lot of people are finding it essential for salon-like styling at home. After all, style matters.
But, finding the best hair dryer in India is not easy as there are multiple brands and products available in the offline and online markets. And choosing one of the best out of them could be a tricky thing. Therefore, we have this guide for you with the top-rated models, their reviews and specifications, so that you can easily choose the one suiting your needs. But before digging into deep, let's first know what a hair dryer is?
What is a Hair Dryer?
A hair dryer is an electro-mechanical device that blows hot air to dry your hair quickly. It uses an electric fan to generate and blow hot air. That's the reason a hair dryer is also called as Blow Hair Dryer. The device is great to use for both men and women for a quick and neat hair styling. After shower, you can use it to quickly dry out your hair for any styling. Even it also adds volume to your hair making your hair look bouncy and supple.
To know in-depth information on Hair Dryers, skip to our Comprehensive Buying Guide.
7 Best Hair Dryers in India
Best Hair Dryers Reviews
1. Wahl 5439-024 Super Dry Professional Styling Hair Dryer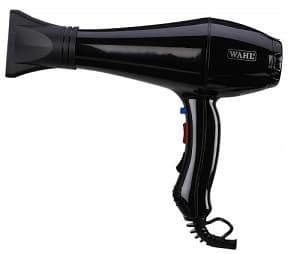 This model from Wahl is an excellent choice for professional quality results. Having a powerful 2000 W motor, this hair dryer meets all the needs of professionals in styling salons, meanwhile a good option for your regular hair drying needs.
Wahl 5439-024 Hair Dryer comes with tourmaline ion technology that is useful for not only thick and curly hair but also for thin hairs. The solid build quality and a reliable performance stand this hair dryer out of the league.
Pretty good use of twice or thrice a week of this Hair Dryer will keep you stylized. As most of the hairstylists suggest using Hair Dryer only if needed, this is the one that does the job every single time.
The model comes with three heat settings and two-speed settings. Heat settings to control the air temperature and speed settings to control the speed of air blow.
Powered with 2000 watts motor, it can handle salon-like drying and styling quickly. If you and your friends need a quick style, this is your companion to beat out everyone. It is quite a heavy product, but very easy to handle and care.
It also comes with two nozzles and a diffuser. Therefore, you don't need to buy any of the attachments separately.
Key Features
2000 Watts power
Comes with two nozzles and one diffuser
Cold Shot Feature
Latest Tourmaline Technology for curly and thick hair
3 Heat Temperature Control Settings (Low, Medium, High)
2 Air Blow speed control settings
Pros
Powerful and versatile product
Best for salon-like styling at home
Comes with 3 Attachments (2 Nozzles, 1 Diffuser)
Ceramic Coating for Better Handling
Perfect for thick and curly hair
Cons
2. VEGA Pro Touch Hair Dryer (VHDP-02)
This model from Vega is one of the best hair dryers that you can use for salon-like quality and usage at home. Vega is one of the most prominent brands in India that makes beauty and care products. Although Vega is a non-Indian company, still trusted by a larger section of Indian users.
Vega Pro Touch is no less than a salon-product, also a great choice to use at home.So, if you and your friends are in a hurry for quick drying and styling, Vega touch pro will help you without a second thought.
Featuring 1800-2000 W motor, it can work continuously for a longer time than other products. Even in this price segment, Vega Pro Touch is an excellent choice for those who are searching for a budget model.
It is a blow hair dryer type that uses thermal air technology. It comes with two temperature control settings, two fan speed settings, and a cool shot added for final styling shots.
The brand warranty for this hair dryer is two years, and you can claim your warranty any time by contacting the customer care.
This hair dryer is best to use for a person with thick, curly, or frizzy hair. Furthermore, it is useful for soft, thin, and straight hair too.
Key Features
1800-2000 Watts Motor
Ionic air Technology
Ceramic Coated tourmaline grille
Professional AC Motor
2 Nozzles included
2 Hot, 2 Speed Setting
Cool Shot Feature
Auto-cut on high temperature
Pros
Salon-like drying quality
Powerful motor for mid to heavy usage
Ideal for all hair types
Cop guard with hanging loop
Automatic air cut
Cons
Only 2-Heat Control Setting
Not foldable
3. Havells HD3151 1600W Foldable Hair Dryer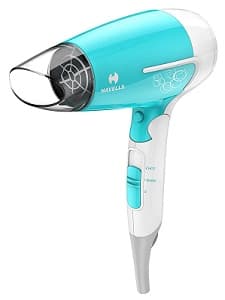 Havells has been serving the Indian Market since 1958. Being a pure Indian Company, the brand has established its name in every corner of the country.
Havells HD3151 is one of the most selling blow hair dryers in India. The product was first available in the market in 2017. And it didn't take much time to reach our styling tables.
Available at a very affordable price, the dryer does the job like any other professional hair dryer. In actuality, Havells HD3151 is the most versatile hair dryer available in the market today.
In this price range, it not only provides you with sufficient drying but also helps you out in quick hair styling.
This Hair Dryer comes with three temperature control settings (low, medium, high) that is quite good for a dryer. It also has a cool shot feature, which is missed in many other hair dryers in this segment.
The hair dryer is perfect for better comfort and easy handling of your beautiful hair. A 1.6 meters cord is quite helpful, and you can use the dryer even if your electric switches are away from your dressing table.
Having a convenient hook, the dryer can easily hang on a wall. Moreover, you can also fold the dryer and put it in a drawer easily to save the space.
Key Features
1600 Watts powerful motor
3 heat control settings
Cool shot feature
Concentrator nozzle included
Honeycomb inlet
Double-layer heat protection
24 Hours Home Service
2 Years Product Warranty
Pros
1.6 Meter long wire for easy use
Solid Dual-Layer Heat Protection
Cool Shot included
A budget-friendly Hair Dryer
Cons
Only a moderate build quality
4. Havells HD3201 Hair Dryer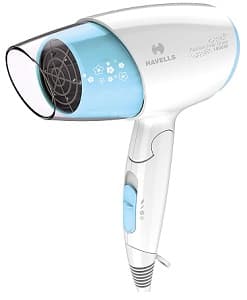 So now, we have another gem from Havells. The model HD3201 is again a great hair dryer on our list.
For its top-notch performance, Havells HD3201 Hair Dryer will never disappoint you. Although it is priced at a bit higher in the segment, it delivers the punch you require while drying out. Most importantly, it fits into your budget too.
The HD3201 Hair Dryer is not for heavy usage. However, it can keep your style ready-steady all along.
This Hair Dryer uses ionic technology that is very best to keep your hair shiny. It gives double protection against overheating. As a result, it eliminates frizz and keeps soft, glossy, and managed hair.
It is one of the products that come with heat and cool shots together. Therefore, putting a few more bucks in buying this is not a bad deal either.
Equipped with a concentrator nozzle, it gently directs the airflow in specific sections for precise and detailed blow-drying.
This hair dryer comes with a foldable option too. Therefore, you can carry it while traveling. Also, it comes with a 1.6 meters cord that is helpful in easy use.
Key Features
1500 Watts Motor
Ionic Technology
Storage hook for wall mounting
3 Temperature Control Setting
Cool Shot feature added
Concentrator with a fixed nozzle
Pros
2 Years Home Service Warranty
Ideal for Smooth and regular Hair Drying
Nice buid quality
Lightweight design makes it easy to handle
Cons
5. Panasonic EH-ND11-A62B 1000W Hair Dryer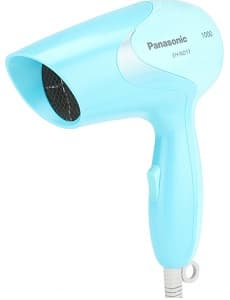 The next on our list, we have the Panasonic EH-ND11-A62B hair dryer model. Though this model is advertised as a salon-like styling, it is just a moderate use hair dryer for normal hair.
This lightweight and ergonomic Hair Dryer is very easy to use for your travel styling.
The product has a 1000 watts motor which is moderate enough for moderate use. This product is strictly not for heavy usage or to use on curly and thick hair.
Moreover, it also comes with a turbo dry mode. So, if you are in a hurry and require quick drying of your hair, the turbo dry mode dries your air in a jiffy.
Panasonic EH-ND11 Hair Dryer combines two heat control settings. A 1.8 Meter long cord is more than good if you have your electric supply switch is away from your dressing table.
Like other hair dryers in our list, this also comes with a 2-year warranty, and you can easily avail the warranty at your nearest Panasonic service center.
Key Features
1000 W motor
Concentrator Nozzle attachment
1.8 Meters long Cord
2 Speed Heat Control settings
24 Months Brand warranty
Turbo Dry Mode for quick drying of hair
Pros
Excellent drying speed
Useful for moderate use
Compact design
Sturdy and durable
Cons
6. AGARO HD-1214 Premium Hair Dryer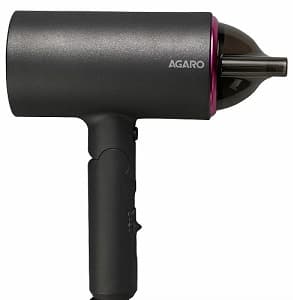 Agaro is not a very common name when we think of purchasing from top brands. But Agaro has been involved in making personal care products for long, especially the hair styling products. The products from Agaro have proved their worth in a really short span. So, here comes a product from the same brand which will surely be worth for your money.
Agaro HD 1214 Hair dryer is barely a year old in the market. But, it has impressed everyone with the performance. Also, sitting in a low and mid-budget range, the Hair Dryer is proving its worth.
The model comes with 1400 Watts motor, which is quite impressive in this budget. Also, there are three temperature control and 2-speed control settings pretty worth useful.
A cool shot feature and auto cut at high temperatures make it stand out in the league. It is really a good and recommended hair dryer for general and moderate use.
Key Features
1400 Watts Motor
Concentrator nozzle
3 Temperature Control Settings
2 Speed Control Settings
Honeycomb Air inlet
1.8 Meters Cord
2 Years Warranty
Pros
Travel-friendly Hair Dryer
Powerful motor
Autocut at high temperature to avoid damage
Hanging loop and foldable
Cons
7. Syska HD 1610 Hair Dryer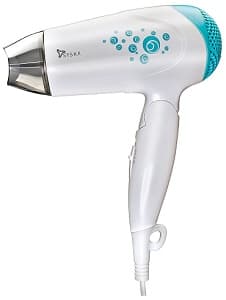 Now last but not least, this hair dryer model from Syska can be a great addition to your hair styling kit. You can easily hold it for convenient blow-drying due to its lightweight construction and ergonomic design.
Featuring a big wind inlet, the model reduces the air swirl to provide you quiet and efficient drying of your hair. It also keeps your soft and lustrous.
The device also features a unique heat balance technology to protect the device from overheating. Even more, the narrow concentrator offers more targeted airflow for quick hair drying.
Having a foldable handle, the device makes you worry-free about the storage issues. A hanging hook is also there, so you can easily hang it on the wall.
Key Features
1200 Watts Motor
Overheat Protection
3 Variable temperature settings
2 Speed Settings
Bigger Air Inlet
Cool Shot Feature
Heat balance technology with low noise
2 Years Warranty
Pros
Easy to Carry and travel-friendly
Uniform temperature to avoid damage
1.6 Meters long cord
Cons
Hair Dryers Buying Guide
Before making your decision to buy the Best Hair Dryer for you or your family member, you must understand what you are buying. If you make a decision in a hurry, you might end up buying the wrong product. Better if you read the Best Blow Hair Dryer buying guide shared by us.
So, let's start with it that can help you in choosing a suitable product.
Things to Consider Before Buying a Hair Dryer
With the grown technology in this era, the features in a hair dryer have changed drastically. At present, we can avoid going salon every time and prefer drying and styling sitting at home.
So, let's discuss the features a hair dryer should carry for general usage.
1. Different Types of Hair Dryers
First of all, you have to make sure you buy a retail product, not a salon product. Generally, salon Hair Dryers are for heavy and prolonged usage. For home, we need a normal hair dryer that is easily available in the offline and online markets.
We usually see handheld and wall-mounted hair dryers. If you have enough space in your room, then you can opt for a handheld hair dryer. But if you are looking to make some space for other things, you can have a wall-mounted one.
Now, let's see about different types of hair dryers and how they impact our hair styling. So, you can easily find which type of hair dryer suits your hair styling.
Ceramic or Porcelain Hair Dryer

Always consider buying a Ceramic or Porcelain Hair Dryer if you have dry and fine hair. This type of hair dryer is also the best choice for those who dry their hair on a regular basis.

The ceramic or porcelain Hair Dryers produce a thermal heat that's less harsh and more consistent. It also stabilizes the temperature very quickly. Therefore, it is an excellent choice for women who has sensitive, weak, or damaged hair.

These actually use negative ions to prevent frizz and allows you to dry your hair very quickly than other dryers. Thus, it makes your hair look shiny, full, and bouncy.

Ionic Hair Dryer

Ionic Hair Dryers are ideal for women with thick and fizzy hair. An ionic dryer is suitable for any type of hair that is difficult to dry or penetrate easily.

Ionic hair dryers use negative ions to break up the water droplets on your hair for faster drying. As a result, your hair won't go fizzy once dried out. If you have thick, frizz-prone hair, always look for a dryer that has an ionic interior.

Tourmaline Hair Dryer

Tourmaline Hair Dryer is excellent for those who have thick and frizzy hair. For quicker drying of hair, these are absolutely the best choice, meanwhile healthy for your hair too.

The tourmaline hair dryers emit negative ions that break down the positively charged water molecules the same way as an ionic hair dryer does. This way, it does not use much heat to dry out your hair. Therefore, it ensures much healthier and less damaged hair.

Though these are typically more expensive than a regular ionic dryer, these hair dryers are highly recommended for extremely thick or frizzy hair.

Titanium Hair Dryer

Titanium Hair Dryers are highly recommended for the Extremely Thick or lots of hair. Generally, this type of hair needs more time to dry, and Titanium Hair Dryer does the job for them.

Titanium Hair Dryers are very light in weight and portable than others. Overall, a person with fine regular hair or damaged hair must not use this hair dryer as it generates more heat than any other.
2. Motor, Power Consumption and Wattage
A blow Hair dryer's wattage measures how hard and fast its motor works. Generally, most of the hair dryers come with AC motors.
With higher wattage, a dryer can dry your hair quickly. Hair Dryers with a low wattage motor are usually cheaper. For usage at home, one must look for a dryer with wattage around 1500 watts.
For most hair types, a dryer between 1,300 and 1,800 wattages should be sufficient. To get the best results, it is better to opt for a higher wattage hair dryer only if you are going to buy it for multiple users at your home.
3. Temperature and Heat Control
A good hair dryer must include a temperature or heat control function. This feature regularly measures the air temperature and makes adjustments to keep it under control and protect hair from heat damage.
Always look for a dryer with multiple heat settings. Search for a dryer that provides at least three different controls as low, medium, and high heat settings. It allows you to use the precise amount of heat that your hair requires.
The low heat setting works well for fine, thin, or dry hair.
For normal hair, the medium heat setting is useful.
For frizzy, thick hair, use the high heat setting.
4. Weight
Weight consideration is a very important factor before choosing a hair dryer model. Keep in mind that a bulky and heavier blow dryer will strain your arms while blow-drying to your hair. It will also be difficult for you to handle. On the other hand, a lightweight blow dryer is easy to handle in any direction you want without straining your arms.
5. Dual Voltage Feature
For anyone who loves traveling internationally, considering a hair dryer with dual voltage feature is an excellent choice. This feature allows them to use the dryer both in India and abroad too. The main reason is that the plugs shapes in abroad are different than in India. Also, the voltage setting in India is different than abroad.
So, the hair dryer with dual voltage feature allows you to change the voltage setting easily so that you can use it anywhere.
6. Cool Settings for Frizz Control
If you are looking for shiny, sleek hair, choose a blow dryer that comes with a cool shot feature. The Cool Shot setting allows you to blow your hair with cool air when you're about to finish drying your hair to seal the cuticle for smooth, shiny hair.
7. Auto Shut Off
The hair dryer having an auto shut off feature protects your device from getting damage to overheating. It automatically turns off the device when there is excess heat generated. As a result, it also protects your precious hair from damaging and hair loss.
8. Price
Budget consideration is very important in case of buying any product. Though the hair dryers are not very expensive, you can easily choose the best one according to your budget preferences. Normally, the good quality hair dryers for home use range from Rs 500 – Rs 10,000, the professional ranges exceeds up to Rs 50,000. You may choose the one depending upon the features you mostly want and then spend in a suitable model. For professional quality results, you may invest in professional models too, if budget allows.
9. Warranty
Warranty determine the longevity of the product. In the case of hair dryers, always choose the branded models that come with minimum 1-2 years warranty. It assures you that if any malfunction occurs in the device during that tenure, you will get free servicing or replacement without spending extra.
Hair Dryer Accessories (What They Do?)
Using the proper hair dryer attachments is very much important for perfect styling. Even the right nozzle in the right way maximizes your hair style. So, have a look what different attachments come with a hair dryer and how to use them properly.
1. Concentrator Nozzle
It concentrates the airflow into the specific area of your head. Thus, you can get more control over the hair styling. The concentrator nozzle reduces the frizz and can help you dry your roots upwards to create more volume to it.
2. Diffuser
The diffuser attachment is great to use on the curly and wavy hair. It comes in a bowl-shaped design with holes in it that allow the air to pass through. It actually reduces the intensity of the airflow of the blow dryer and smoothens your hair while drying. The best part is that it keeps your curl intact.
3. The Picks Attachment
This attachment is used to create volume on your hair. If you have shorter strands, the shorter picks are best. On the other hand, for longer hair, you must use longer prongs.
4. Styler
It combines the blow dryer and hair brush in one. So, you don't need to hold that traditional rounded hair brush in one hand and the blow dryer in one hand for styling. With this specific tool, you will get both the work to be done using the same attachment.
5. Comb Attachment
It helps you to style your hair at the same time while blow drying it. Make sure to choose the one that glides smoothly on to your hair and leaves no tangles at all.
6. Hair clip
It keeps the layers of your hair separated and easy to manage as well. Even more, it prevents the damage caused by overdrying.
Advantages of Using a Hair Dryer
Using a hair dryer have lots of benefits. Have a look at some of them:
Time-Saving: Drying hair using a thermal air consumes less time than the traditional method.
Styling: We can have easy styling at home without going to a salon and paying a hefty amount of money.
Silky Touch: Hair remains silky as the Blow dryer produces ionization.
Frizz less Hair: Hair remains constant and doesn't go to frizz while you are in bed.
Disadvantages of Hair Dryer
It is quite obvious to have cons in using a Hair Dryer. We can point out a few below.
Overheating: Exposing your hair to heat regularly can damage your hair. You can lose your hair color, weaken the hair, or reduce the volume of your hair.
High Airflow Rate: A Hair Dryer can cause hair stratification if you use the High Airflow of the blower of Dryer. Therefore, hair might strongly split.
Weak Threads: Hair Dryer can weaken the Hair threads, roots, or ends.
How to Use a Blow Hair Dryer (Easy Steps)?
Shampoo your hair well before using a blow hair dryer.
Now pat dry your hair using a towel. But not do it aggressively as it causes hair fall and damage to it.
Apply a heat protectant to your hair to protect it from any damage.
Then separate your little damp hair into sections as it allows faster drying.
Turn on the blow hair dryer and aim it onto your hair.
Pick a section of your hair to dry it first. Keep in mind to start blowing on each side from the bottom and use the lower heat setting first.
Now do the same with other sections as well.
Change the temperature settings as desired.
When done, comb your hair and finish by misting a hair serum or shine spray to get a smooth and shiny look to your hair.
Safety Tips while using a Hair Dryer
A regular Blow Hair Dryer uses thermal air technology that can harm your skin and hair as well. As a dryer has become routine in our styling, it is really necessary to take care of all safety measures. We are writing a few points that can help in avoiding any harm.
Touchcool Technology: Always prefer a Hair Dryer with Touch Cool Technology. As the Dryers use thermal technology to generate hot air, it can be felt by our hands and head.
Start with Low Air Blow: Always start with Low point air blow. Hitting wet hair with High Temperature can damage your hair instantly.
Avoid Wire Breakage: Always keep your Hair Dryer away from Sharp Edge types of equipment like blades, scissors as they can cut the wire. Using a Dryer with a broken wire may harm you.
Use Towel Drying Method: Always dry your hair partially using a towel for 10 minutes, at least. Using Hair Dryer on 100 percent wet hair might damage your hair instantly.
Change directions: Using the hair dryer in one direction for a long time may damage your hair. So, move it constantly to other directions as well to avoid hair loss.
Use Attachments: Always use Magnetic attachments like a nozzle or Diffuser while drying your hair.
Cleaning and Maintenance of Hair Dryer
Owning a Hair Dryer at home is quite useful for personal styling. But a Hair Dryer tends to go worse quickly if it is not maintained in a better way. Therefore, we need to know how to maintain our Hair Dryers and How to clean them for more prolonged usage.
A dirty and clogged hair dryer may get damaged itself on the run. The vents can become blocked or damaged by multiple things. The dirt, dust, and our hair protector products can harm the vents easily. Therefore, it is quite necessary to clean the vents properly.
Let's check how to clean and maintain your Hair Dryer.
You must ascertain that the Hair Dryer is unplugged before start cleaning
Remove and open up the filter fitted at the back of a Hair Dryer.
Now wash the filter properly and gently.
Dry the filter with a cloth or paper-cloth.
Make sure the filter is completely dried before re-attachment.
If you find it difficult to clean the Filter with water or it clogged more than normal, you can use a toothbrush to clean it properly.
Wipe the outer body with a clean cloth.
How often should we clean the filter?
It depends on our usage. For home-dryer, we must clean our Dryer's filter 8 to 12 usages. As it is not a complicated process, we can do it easily. Moreover, it will increase the life of our Hair Dryer.
Hair Dryers Frequently Asked Questions (FAQ's)
1. Whether using Hair Dryer damage our hair or not?

Yes, excessive use of any care product may cause damage. And multiple types of research have suggested that the use of a Hair Dryer causes damage to Hair.

2. Is a Hair Dryer produces radiation?

Yes, as most of the Hair Dryers use thermal air production technology, they produce radiation.

3. What's the cost of a Hair Dryer?

Generally, A good Hair Dryer falls between 500 to 10,000 INR.

4. What are the common attachments in a Hair Dryer?

Concentrator nozzle and diffuser are the most common attachments of a hair dryer.

5. What is a Concentrator Nozzle in a Hair Dryer?

It points out the blower to blow air in a specific area or section of your hair.

6. What is Diffuser Attachment?

Diffuser attachment is used stylized the frizzy, thick, and curly hair.

7. Is it safe to use hair dryer on a regular basis?

No, we should not use a hair dryer daily.

8. Does the use of Hair Dryer cause Hair Fall?

Yes, using a hairdryer in an inappropriate manner can cause hair to fall.

9. Is a Home Hair Dryer good enough for multiple people?

Yes, there are pretty handy Hair Dryers available in the market that can handle longer usage than regular.So, they are ideal for multiple users at your home.

10. How should I clean a hairdryer?

It is quite easy. Just remove the filter and clean it with the help of running water and Tooth-brush.
Conclusion
That's all on our picks of best hair dryer in India, their reviews and complete specifications. We have listed ten products so you can make your decision in a better way instead of going after a single product. Reading the pros and cons of a product always helps in identifying the right product. Moreover, the buying guide we have detailed here will ssurely let your all confusions away in choosing the right model.
If you love to travel a lot and use Hair Dryer on general note only, then go for Either Philips HP8100/46 Hair Dryer or Agaro HD-1214 Premium Hair Dryer. And if usage is more than a normal user, then choose Remington D5000 Hair Dryer or Wahl Professional Hair Dryer.
If you have any queries or suggestions regarding any product, please do let us know in the comment section.
Read Related Reviews
Buy Best Hair Dryer Online
URBANNOVA Professional Stylish Hair Dryers Fo...
32%
Philips Essential Care Hair Dryer (HP8120/00)...
27%
AGARO HD-1120 2000 Watts Professional Hair Dr...
40%
VEGA Insta Glam Foldable 1000 Watts Hair Drye...
25%
Havells HD1903 1200 Watts Powerful Hair Dryer...
53%
SKMEI Stylish Hair Dryers For Women Hair drye...
62%
AGARO HD-1211 Hair Dryer 1100 Watts, 2 Heat S...
25%
AGARO HV2179 1200 Watts Professional Volumize...
53%