Smooth, silky, and hair-free skin is all that every woman wants. Though, there are various forms of hair removal choices, using an Epilator is now one of the trendiest and most convenient methods overall. Threading, waxing, or shaving for hair removal have already been tried, but if you are looking for a safer and less messy option, then choosing an epilator is the best deal.
Ever keep wondering how to remove body hair without screwing it up. Okay, that is something an Epilator can do. They do not give you a blade or toleration of hot wax, but strip your hair from its roots to reduce your hair production.
What is an Epilator?
An epilator is a mechanical (electrical) hair removal device that can effectively remove unwanted hair from roots. It includes a set of tweezers on a rotating wheel that quickly removes the hair from your arms, legs, and other large areas while you slide it on your skin. The best part of this device is that it can grab the shortest hair that is not possible using the waxing method.
Epilators are both battery-powered and plug-in devices that you can buy as per your needs. Also, they come with many smart accessories to ensure painless hair removal. Some models facilitate dry use only, and some advanced models can offer both dry and wet use so that you can use them in the shower too.
The selection of an epilator may rely on your needs, but there are some criteria you need to consider before you purchase. Better to read our Comprehensive Buying Guide on Epilators, so that you can know well how to choose the best one.
7 Best Epilators in India
Best Epilator in India- Reviews
1. Braun Silk-Epil SE 5-500 Wet and Dry Cordless Epilator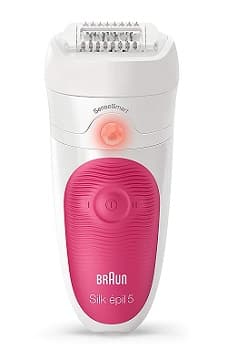 Braun is own of the renowned brands for small electrical devices like shavers, electric toothbrushes, etc. It offers excellent quality products with exceptional performance. Therefore, this wet and dry epilator from the house of Braun comes to the top of our list.
This model is one of the wonderful addition to Braun's Silk Epil's range that can perform well both in dry and wet conditions. It includes a MicroGrip tweezer technology that effectively removes the hair of your skin from roots. The best is that you will feel ultimate comfort while epilating.
Its design includes a skin contact cap and a pivoting head that curves and adapts to your body contours for the most effective epilation.
For your convenience, this epilator also comes with two-speed settings. So, you can select the desired speed depending upon whether you want a smooth or thorough epilation.
Moreover, this epilator offers 40 minutes run time in one hour charge.
The model comes with a shaver head and trimmer attachment that turns your epilator into a highly performing electric shaver too. And it is the biggest benefit of this device, making it a great addition to any women's grooming kit.
Key Features
Anti-Slip Grip
28 Micro Grip Tweezers
High-Frequency Massage System
Easy to handle, even in humid conditions.
Extract hair as minute as a grain. (0.5 mm).
It facilitates the skin to make it feel more relaxed.
Smart light
2-speed settings
Lithium-ion battery
Charging time 1 hour
Run time 40 minutes
Accessories Included: Skin contact cap, massage head, shaver head.
Pros
Usable on dry and wet skin
Strong pulsing vibrations provide extra gentle epilation
Smart light
The smart head offers maximum precision
Cons
2. Philips BRE245/00 Corded Compact Epilator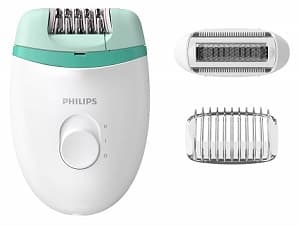 Philips is a trustworthy company, and it will never fail to satisfy its clients. Therefore this corded epilator from the house of Philips comes the next on our list. It will surely be a great addition to any women's grooming kit for its top-notch performance and ease of use.
The epilator head of the device includes gentle tweezing discs for completely safe and comfortable hair removal. There also comes a sensitive area cap with the epilator, allowing you to gently remove the hair from sensitive areas like armpits or bikini.
Having an ergonomic handle, the device ensures very simple and efficient hair removal. Moreover, there are 2-speed settings to strip heavy and thin hair.
The epilator is both cordless and fully waterproof, so you can use it in the bath or shower for ultimate convenience.
It also comes with a shaver head to offer quick and easy on-the-go shave. Moreover, the accessories included with it can be quickly washed off after-epilation session. So that you may get clean and hygienic hair removal in each session.
Key Features
Effective System for Epilation
2-Speed Settings
Ergonomic Grip
Washable Epilation Head
Shaving Head and Comb
2-speed settings
Cord length of 1.8 m
Attachments Included: Shaving Head and Comb
Pros
Available at two speeds for thin and thick hair
Ergonomic handle
Two-year Warranty
100 % water-resistant
Very easy to use and clean
Long cord to give you freedom in case the power socket is far away
Cons
3. Philips BRE624 Satinelle Advanced Cordless Epilator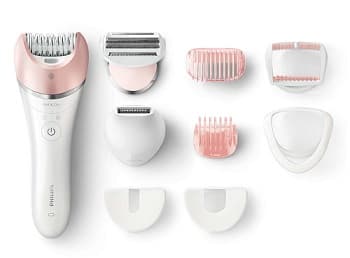 Now again, an excellent quality epilator from the house of Philips. This mid-ranged product offers easy, quick, and convenient hair removal of your legs, arms, and bikini zones from the comfort of your home.
So, you can explore enduring smoothness with the Philips Satinelle advanced epilator. The model is capable enough to extract hairs gently as little as 0.5 mm from the base. Thus, it makes your skin feel smooth and silky.
It is again a wet and dry product that you can use on-the-go and even in the shower, at your convenience. This cordless epilator ensures a run time of 40 minutes in one full charge of 90-minutes.
What makes it a more convenient device is its S-shaped handle and ergonomic grip that makes it easy to handle while epilating. The wide epilation head covers a wide area in one stroke that ensures quick and easy hair removal.
There come two specially adapted caps proving to be very nice for upper lip and chin. A bikini trimming comb is also there, to facilitate smoother performance around the bikini area.
An opti-light feature is a great add-on of the device that lets you achieve the best hair removal results in case of dim-light too.
Key Features
Efficiently strip the facial hair
With a delicate hair removal cap for gentler action
Extra broad epilator head
Wet, dry and cordless use
Anti-slip grip,
S-shaped ergonomic handle
Opti-light
2-speed setting
2-year warranty
Lithium-ion battery
Charging time 1.5 hour
Run time 40 minutes
Attachments Included: shaving head, trimming comb, facial cap, delicate cap, skin stretcher
Pros
Excellent build quality
Usable on dry and wet skin
Opti light allows epilating the toughest hair
It provides four weeks of smooth skin
S-shaped ergonomic handle ensures easy handling
A host of attachments and accessories make it suitable for whole-body epilation
Cons
Preferably works best on dry skin than wet
A little noisy
4. Veet Sensitive Touch Expert Trimmer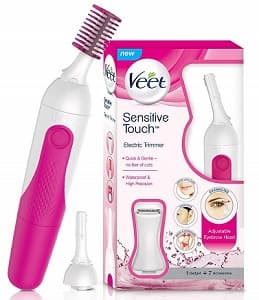 Our next product is the Veet Sensitive Touch. This product is great to use on sensitive body parts such as lips, side-whiskers, and eyebrows. It carefully cuts hair and outlines the delicate sections of the body with its horizontal trimmer, as the name goes.
The device is very easy and simple to operate. It gently removes hair because the cutter has no direct skin touch, so there is no risk of cuts. Even, you don't feel any pain with the device.
Being versatile and stylish, the device is handy too that can easily fit in your quick-to-use handbag wherever and whenever you want.
The Veet Sensitive Touch Expert Beauty Trimmer is water-resistant and can, therefore, be used in a shower too.
The device lets you enjoy an impressive performance and a lovely finish. You can also trim your underarms using this device. Add the preferred trimmer head by inserting it into the upper body of the device and rotating it until it is accessed.
A lot of handy accessories making it a multi-functional device. Moreover, the carry pouch included ensures easy and neat storage of all of them together in an intact way.
Key Features
Multi-purpose trimmer
Suitable for delicate areas like upper-lip, sideburns, and eyebrows
AA battery
Waterproof
Comb lengths 2mm, 4mm
Battery run time 45 minutes
Attachments Included: precision head, bikini head, comb, beauty cap, and cleaning brush.
Pros
Sturdy and durable product
Very easy to use
The caps provided with the epilator are very useful
Worth for the money
Cons
Don't give you a clean shave
5. Philips BRE235/00 Corded Compact Epilator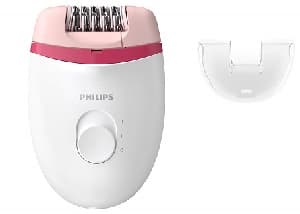 The next product on our list is Philips Corded Compact Epilator. This Philips epilator promises to offer completely hairless and smooth skin for weeks. It can remove the shortest hair from the base, which is as short as 0.5 mm.
Its ergonomic design makes handling the device super easy. For easy hair removal, the rounded shape fits beautifully into your palm. Moreover, its easy to clean top ensures optimum hygiene. There also comes a shaving head and peg that offers a cleaner and more natural shave.
The device comes with two-speed settings for removing thinner, thicker hair for custom hair removal.
The epilator includes an easy-to-clean epilation head. For better hygiene, the head may be washed in running water. It also consists of a delicate area cap for quick removal of unnecessary underarm and bikini area hair to increase softness in different areas of the body.
Key Features
2 Speed Settings
Long cord
Sensitive Area Cap
Easy-to-clean epilation head
Streamlined epilation method
Attachments Included: shaving head & comb
Pros
Sturdy and durable product
Lightweight for easy handling
2-speed settings for thin and thick hair
Ergonomic handle
Three-year Guarantee from Philips India
Cons
6. Philips Bikini Genie BRT383 Bikini Trimmer
Again pleased to have our next product from Philips, known as Philips BRT383 Bikini Trimmer. Feeling annoyed with skin infuriation, scratches, and cuts? Keep your bikini segment in good shape using this bikini trimmer from Philips.
The Philips Bikini trimmer is designed to deliver great results. It is a fast and convenient way to style, trim, or shave your bikini line.
It is a cordless trimmer, so you can use it anywhere without searching for the power socket to plug in. Even more, the wet and dry shave ensures to use it almost anywhere, in and out of a bath.
There comes a top head of trimmer, comb, and mini shaver, making it a complete package. Moreover, a handy pouch included with the package allows you to put it all in one place.
Key Features
Click-on trimming comb
Mini shaving head
Bikini trimming head
Dry & wet use
Optimum Portability
Attachments Included: cleaning brush, 3mm trimmer head
Pros
Ergonomic style to maneuver around the bikini region with ease
Elegant blades cut hairs efficiently while shielding the skin
Click-on comb included cutting hair as short as 3 mm in length
Bikini cutting head trims hairs accurately to 0.5 mm
Cons
7. Remington Smooth & Silky 4 in 1 Epilator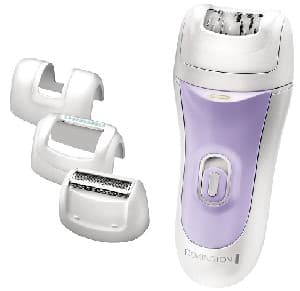 Our next product is from a slightly new brand on the list. It's the New York Company, Remington. For the most successful performance, this deluxe epilator & shaver is ergonomically designed to reach the curves easily.
Its advanced tweezers technology softly, easily, and effectively pulls your hair to produce excellent hair-free results, leaving your skin velvety and shiny. In addition to its ergonomic form, it also has a slip-resistant grip, which allows the device to be handy during epilation. For narrower and fragile areas such as bikini sections or underarms, the detail cap addition is better to use with the trimmer.
Aloe Vera massage cap is excellent for use during epilation as it soothes and softens your skin. It leads to less traumatic epilation. Those who don't care about spending more money can also get a better version of the Remington Smooth and Silky epilator for shaving and massage purposes.
Key Features
Extracts even the tiniest hairs (0.5mm)
Hair-free up to 4 weeks
Non-slip tweezers technology
Anti-slip grip
Attachments Included: massage cap, angle cap, detail cap, shaver head, cleaning brush, beauty bag.
Pros
Nice and compact design
Precision light is a nice feature
2-speed setting is very convenient
Easy to operate
Cons
It is corded, so it's not portable
Can't be used during a bath or shower
Epilators Buying Guide
Purchasing an epilator is not an easy process. Which is what you need to know about it. Also, the top epilator is expected to meet all your needs. However, we 're here to help you with our amazing epilator review and purchase guide, though. Below you'll find all the things you need to learn when purchasing an epilator.
Why Choose an Epilator?
Although there are several methodologies for hair removal, you can know from experience that some approaches are better than others. Tweezing, plucking, waxing, and shaving can all remove excess hair, but the results can be lower than you expect.
Since you are searching for something special, the hair removal tool you were searching for could be an epilator. This electrical tool is designed to remove hair from the roots directly. Methods involve a dry epilator that can be used in the bath or shower without water or a wet epilator if you want the ease of removing hair during bath or shower.
Moreover, this tool lets you remove unwanted hair from the comfort of your home whenever you want. Even, it can remove the shortest hair that is the biggest benefit.
Trying to remove root hair can sound awful. And yes, some people, particularly during the first time, encounter a level of discomfort with epilation. Some parts of the body are probably more sensitive than others. Nevertheless, the further you epilate, the less pain that you may endure.
Now, check the various advantages and disadvantages of using Epilators.
Pros of Epilators
Durable results
One of the best benefits of epilation is its long-lasting results. Epilation removes the hair from the base, and it takes more time to grow again. Epilate only twice a month to have a lustrous skin.
No interim days
When you wax, you know that you need to grow your hair for a while before you wax. This is not the case with epilation. Epilators are easier than waxing when you're taking really short hair. Some epilators will extract as little as half an mm of hair.
Could be less unpleasant than getting waxed
Many epilators are gentler and may cause less discomfort than waxing. Most epilators come with integrated mechanisms, such as massaging heads, these days, which make you feel less painful. You can also use a hot bath or a shower that reduces discomfort and gives you a greater sense of relaxation.
It's one of the most cost-efficient hair removal strategies
If you bought an epilator, that's it. There is no need for more expenditure. A standard epilator can be purchased for an approximately modest amount and will last for at least 1-2 years. Some of them are going to last longer.
Contrast that to a waxing session that could cost more or the price of blade replacement per month, and you can easily see how much money you are saving with epilation compared to other hair removal approaches.
Home hair removal strategy
You can use an epilator conveniently at your home without any need of booking an appointment to highly-priced salons for hair removing. Even it is very easy to use, no matter whether you are a beginer or a pro, both can use easily.
Cons of Epilators
Pain or discomfort
It is one of the most feared elements of the epilator. The epilator's pain hurts. The first few sessions can be very bad. A lot of people try to epilate and realize that they just can't do that. Your skin should be red after you have epilated. Epilation at night, however, is a convenient way to overcome this. It gives the skin time to heal until it becomes visible again. At the end of the day, most people who epilate do not feel pain, only slight discomfort.
Cost
Many people may have problems with early epilation funding. It's certainly more expensive than a pack of cheap razors and cream. However, even the best epilator on the market today can be a little expensive. But many epilators are as cheap as a few bucks if you're on a limited budget.
Charging time & batteries
Cordless epilators are the best option to have but you need to charge them before using. Some models, even don't come with the rechargeable batteries. So, you need to replace the battery when it dies. And surely, it adds a more cost to buy extra batteries. It is better to have some extra batteries with you, so that you can replace them as sooner when the battery dies in the middle of epilation.
Different Types of Epilators
1. Cordless epilator
These are, as the name implies, epilators that you can use without plugging in. They come with a charger that allows you to charge the battery if necessary. It's remarkably simple to carry and work with them. A cordless epilator is an ideal choice for a bath or a shower. Yet you need to consider charging them before those who use what we consider to be a serious factor.
2. Corded epilator
These epilators have a cord that you need to attach to the power cord while in operation. It's cool because your charge never dies. At the same time, holding the cord while working with the epilator can be frustrating. It can also be challenging to use when you take a shower.
3. Waterproof epilators
Other types of cordless epilators are waterproof epilator. It is perfect for use in the bathroom or during the bath due to its waterproof features. They're also very easy to clean because they can be properly washed with water.
How to use an Epilator? (Tips And Precautions)
The removal of hair from the body is often a difficult task for all of us. It can, however, you can achieve without any inconvenience by using an epilator. The use of the epilator is not a major challenge. Follow the steps below to make convenient use of it.
Find an epilator which will fit your requirements.
Exfoliation or scrubbing is an essential aspect of the process. When not done correctly, this will cause faster regrowth of hair after epilating. To prevent this, you need to scrub your skin correctly before you use the epilator. Also, you'll have to exfoliate your skin properly.
Hold the epilator at 90 degrees. But keep in mind not to forcibly press it onto the skin. The tweezers drive the hair out of the root. Deep pressure may increase the risk of damaging skin cells. Stretching can also alleviate pain and give you a complete epilation.
The epilator should be used against the hair growth and will allow you to remove your hair properly.
You should be very careful when using an epilator. Be patient to have the best outcome when epilating.
It is best to epilate in the night because the next morning, the skin will look healthier, more radiant, and smooth. Epilation will turn the skin red for a couple of hours. Therefore, epilating the night before will give you exceptionally perfect skin.
Comparison of Epilator with other Hair Removal Techniques
Epilator Vs. Waxing
Both methods, you can easily do at home with the right tools.
Epilator suits all skin types, while waxing is not ideal for sensitive skin.
You can easily remove from long to shortest hair using an epilator. On the other hand, waxing can't remove the shortest hair.
Buying an epilator is relatively expensive than the waxing tools. But in the long run, an epilator proves to be cheaper over the waxing.
Epilators are best for larger areas with tough skin, like arms and legs. On the other hand, waxing can be used anywhere on the body, including arms, legs, torso, face, and bikini area.
Epilators are very convenient to use, while waxing requires a lot of preparation.
Waxing is less painful than epilating.
Epilator Vs. Shaver
Epilators offer complete hair removal from roots while a shaver can leave itchy stubble.
Shaving leads to fast regrowth of hair. On the other hand, using an epilator ensures slower regrowth of hair.
There are no blades in the epilator, so no chances of cutting, while with the shaver, there are high risks of cuts.
Unlike shavers, there is no need for blades replacement in epilators.
Shaver's are faster than epilators.
Epilators can cause pain to sensitive areas while shavers are painless.
Epilator Vs. Trimmer
Epilators remove the hair from the root while trimmer leaves some stubble.
Epilator ensures no growth of hair for a long duration. On the other hand, trimmers ensure faster regrowth of hair.
Trimmers are absolutely painless, while the epilator is somehow painful.
Trimmers are less expensive over the epilators.
Things to Consider Before Buying an Epilator
1. Wet & Dry
One aspect that you should consider before buying an epilator is that whether it does or does not have a wet and dry functionality. It's the easiest way to epilate your skin effortlessly.
The positive side of using the epilator in moist skin is that the pores are more open, making it easier to remove the hair. You can also use it while taking a shower, which is a great choice. A wet and dry epilator slithers on the skin effortlessly without inducing red marks, swelling, scratches, and bumps compared to a dry epilator.
2. Mighty tweezers
Modern tweezers come with rotating metal plates to tweeze the hair away from the tips. The more tweezers you're getting, the more you're tweezing out your hair. It may be more painful, however, because it works faster than average.
But if you are looking for a sensitive area epilator, a tool with a select set of tweezers will do it. Before you scan for the tweezers, remember the area of your body you're trying to cover.
3. Heads or Caps
When choosing the right epilator, ensure that the epilator comes with many head changes so that you can get best results in epilating. It helps you to cover all parts of the body that you want to epilate.
Usually, there is a sensitive area cap for delicate parts, such as underarms or bikini areas, and a face cap for facial hair. Such caps cover the tweezers in such a way that they reduce their number in use. Certain caps, such as efficiency and relaxation caps, can make the hair removal process smoother.
4. Cord or Cordless
Many modern and advanced epilators are cordless. One of the main advantages of a wireless epilator is that it is waterproof. You may use it on dry or wet skin. You can move it without the need for a source of electricity.
Consumers want more portability and convenient access to the product at any time, wherever. It can be used securely for up to an hour. They are often charged with a cord before use, however. Most epilator designs work with batteries that can be easily removed and replaced.
On a marginal basis, customers can expect a one-hour charge of approximately 40 minutes of life. The newer epilators are more sophisticated than their older counterparts and have more powerful and faster rechargeable batteries.
5. Speed settings
Almost all of the best epilators have dual-speed configurations. They 're perfect for newbie consumers. The speed of the epilator depends on the level of speed it has. This consideration is particularly important if you are a beginner and do not know what pain it can cause during epilation.
You can use the epilator on different parts of your body with several speed settings. If you epilate a sensitive area, you can use low speed. When you epilate wide areas, you should turn to a high speed. Selecting a wet epilator to be used in the shower will also help with discomfort. Hot water helps to stretch the skin and make it easier to pull the hair, which reduces the feeling of impact/discomfort.
6. Lighting
Some epilators have an integrated light mounted just underneath the tweezers to show the hair in the immediate surroundings. It helps to remove all hair strands, including hair that is difficult to see or touch. It will also allow you to see any specific area in which epilation is further required.
7. Warranty
The warranty is a high-quality and high-value stamp. Since the warranty period determines the quality of the product, a longer warranty period most of us expect. The duration of the warranty of the epilator must be at least one year. It guarantees the good quality you're paying for. It will also allow you to contact the Customer Service Department for any type of restoration or replacement.
8. Noise level
When you purchase an epilator, you have to test whether it causes any noise or not. To avoid upsetting others around you, the noise frequency should be lower. So, it is important to check whether or not your epilator would sound when working. That's what you need to ensure.
9. Budget
Quality is a key factor in the field of electronic goods. If you're spending your hard-earned money, you need to know that it meets your needs. Go for trustworthy brands with a decent warranty duration. If there is a malfunction, you can go to the nearest service center or claim a new one. More tweezers (80-100) are pricier than normal ones. The price also depends on the available features. So make a wise choice for the one that fits your budget and requirements.
Tips for Cleaning and Maintenance of Epilators
You must shut it off, unplug and disassemble before you begin to clean your epilator.
The majority of epilators have a small brush with long bristles that can quickly reach nooks and corners. Another option would be to blast the hairdryer on your device to get rid of your extracted hair!
Use running water with a waterproof epilator to wash and remove excess hair. And now make sure there's no soap residue left and shake the excess water out.
Dip the cotton ball into an alcoholic content to clean the epilator and brush it over the surface. It destroys the harmful bacteria that can cause inflammation on to your skin.
Eventually, all sections of the epilator must be completely dry.
Epilators Frequently Asked Questions (FAQs)
1. How long will the smoothness last?

The effects last for up to 4-6 weeks. It all depends on the hair and body growth period. Some people are just growing their hair fast.

2. How can I reduce pain?

When your skin slowly begins to feel comfortable, you become less sensitive, and pain is more of a nuisance than an unbearable one. Without any discomfort, hair cannot be separated from the roots, so using an epilator is one of the simplest ways to remove unwanted hair.

3. Would epilating frequently lessen the pain?

After the first session, epilating is less painful., epilating is less painful. Many patients experience little to no discomfort with the use of an epilator after a few sessions.

4. What are the side-effects of using an epilator?

Redness, pain, and possibly ingrown hair are side effects of epilation. By applying cream and lotion on your skin, these side-effects can be cured after epilation or exfoliation approximately a day in advance. After about 30 mins, Redness typically reduces.

5. Do epilators work on all hair types?

Epilators can be used to remove hair from arms, legs, and pubic region. If you are searching for the option of facial hair removal, epilators are made especially for soft and fine facial hair.
Conclusion
Finally, to conclude, I would like to say that in this modern era where everyone wants to be stylish & dashing, buying an epilator is worth it. Well, we have reviewed the top-rated and best models of epilators in India, so you can easily choose the exact epilator that best fits your needs. These all ensure to deliver optimum performance and overall output.
Moreover, the buying guide we have covered on epilators will surely help you to choose the right product and give you a complete insight into the product.
For anything you want to share with us, please do write to us in the below comment section.
Read Related Reviews
Buy Electric Shaver Online
Philips HP6306/00 SatinShave Essential Women'...
25%
Braun Face Mini Hair Remover FS1000, Electric...
30%
QONETIC Mini Portable Electric Shaver for Men...
66%
Caresmith Bloom 4 in 1 Face & Body Hair Trimm...
53%
VEGA Mystic Lady Shaver For Women, 90 Mins Ru...
30%
Electric Razor for Women Bikini Trimmer, MKIO...
45%
GADGETRONICS Painless Electric Razor for Wome...
83%
Painless Electric Razor for Women, 2 in 1 Wom...
70%