Maintaining health has become more important than ever. The hectic and competitive social lifestyle has brought its challenges for common middle-class people in India. Pollution, lazy lifestyle, and less physical work has increased heart and bones related problems, especially after crossing 35 years of age. When it comes to cardiac or obesity-related issues, nothing beats exercise cycle or exercise bike.
In our experience and consulting with many health experts, a fitness cycle or bike is a perfect exercise machine to stay fit and healthy at home or gym. You can use it as standalone exercise equipment or use it with other exercise machines like home gyms to do cardio exercises.
Along with doing cardiac-related exercise, these fitness bikes are also great for toning legs and arms. If you want to learn more about exercise cycles, read our buying guide below.
Before you make your final decision, we have listed these essential points to help you choose your next best exercise cycle in India.
Main Deciding Factors
Build Quality and Portability
For a sturdy and long-lasting exercise cycle, always choose steel built body and frame. A steel made cycle will be value for money in the long run for vigorous and daily workouts. Adjustable foot straps and anti-skid foot pedals will play key roles for optimum comfort and safety.
It should be lightweight and foldable so that you can easily store or carry it. Remember, portability and storage are important factors.
Choose the Right Type of Exercise Cycle
Exercise bikes come in many types; choosing the right type is essential. Depending on your requirement, physical condition, and budget, you should select one of the types mentioned below.
Upright: Very similar to traditional bicycles, you sit upright and start doing exercise. It has no back support, so if you have a problem related to back, don't go for it.
Recumbent: If you need back-rest while exercising, this type of bike is perfect. People with back pain or injury should go for this.
Spin Type: It is very similar to Upright models but comes with a heavier flywheel. If you need more intense workout in less time, consider this spinning exercise cycle.
Air Bike: It has a fan wheel, which uses air resistance while doing exercise. Unlike other types, the handles move with pedaling, which means you get a full-body intense workout session.
Mini Peddler: Well, if you need a light cardiovascular workout session and portability, mini bikes are the best choice. But remember they burn very few calories.
Read more details on how to select an exercise bike in the below-buying guide.
Choose According to Your Weight Requirement
If your weight is under 100 Kg, you will find that most of the models mentioned here will suit you. But in case your weight is more than 100kg, you should check the maximum weight capacity of the exercise cycle, and make sure it has plus 10 kg extra weight support that your weight.
Note: We suggest riding a real regular road bicycle for at least 5 km daily. It will have almost the same impact and will feel more natural. Though going outside is not ideal for everyone, there could be several reasons like pandemic (COVID-19), polluted environment, or lack of time. If this is the reason, you should buy one of these exercise cycles for home.
Best Exercise Bikes in India – Reviews of Best Models
Below is the list of top home exercise cycles/Bikes (Fitness Bikes) in India. It is a quick comparison table for a casual look. Below this table, we have reviewed all of them in more detail.
1. Cosco fitness CEB Wave 60U Upright Bike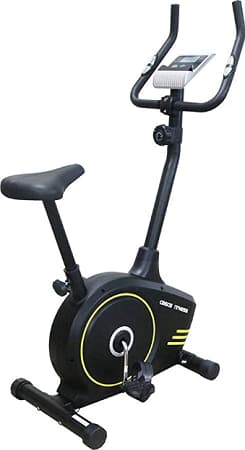 CEB Wave 60U is a very balanced and latest exercise bike from COSCO. It is a well-established brand in India and pioneers in producing sport and fitness products.
The type of this model is Upright. Built quality is robust and sturdy, and it weighs 25 Kg. It is only 30 Cm wide and 174 Cm in length. Overall, it takes very little space and is easy to move.
It has 24 resistance levels for doing high-intensity workouts to build lower body muscle and lose calories with auto tension control. 6 kg flywheel is a significant advantage of this model over other models in the same price range. Heavier Flywheel means you have to pedal harder, and this is good for cardio workouts.
The maximum user weight capacity of this stationary bike is 100 kg, which is ideal considering the average weight of Indians.
This bike has 24 programs built for various exercise and fitness goals. It includes a preset program for burning belly fat, Heart rate control, Hand pulse, and U1-U4 profiles, etc.
It has a nice display console to measure time, speed, calories, distance, pulse, scan, and many other things.
You can adjust the seat height. It has a pedal strap to avoid slipping while pedaling. It also comes with a stand for holding a phone or tablet.
The warranty on this product is 6 months on display and motor parts. You have to assemble the product yourself, and the installation manual is provided for assembling.
It is one of the best exercise bikes for home gyms currently available in India. If your aim is a cardiovascular exercise, burning a few calories, and strengthening the muscle, you can buy this or a similar model.
Key Features
24 resistance levels
6 Kg Flywheel
Maximum user weight 100 Kg
Sturdy and robust frame
24 preset programs
No noise
Pedal strap
Big display console
Adjustable seat
Pros
Easy to move and store
Useful information on the console
Lightweight
A trusted brand in India
6 kg flywheel in this price range
Cons
Not for long-duration HIIT
Assemble yourself
2. Fitkit FK727 Spinner Exercise Cycle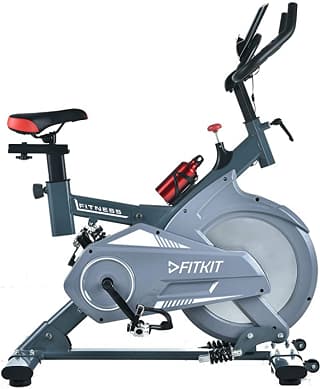 Fitkit FK727 is an economical exercise bike in the spinning bike category. The spin type stationary bike is generally expensive due to the heavy Flywheel and durable body frame.
The most noticeable feature of this cycle is its 13.5 Kg flywheel and a multi-level resistance system. It is fantastic for those who love to challenge themselves with varying intensity workouts.
The display console is big and bright for monitoring real-time data such as calories, odometer, speed, time, distance, and pulse rate. It has an inbuilt Heart rate sensor near the handlebars to track your pulse.
The pedals have straps that ensure your comfortability and protection from accidental slippage.
The maximum user weight of FitKit FK727 is 150 Kg, and this is more than enough. As a general rule of thumb, max user weight capacity should be 15-30 Kg more than your weight. It is crucial because during the workout, the impact weight increases.
Fitkit provides a dietician and personal trainer for free (3 months) to all its customers. You can also consult a doctor if you need a consultation.
They have a FitPlus App on Android and IOS platforms to track your daily progress and keep your data in one place. It also connects with Google Fit, Apple Health, and Fitbit. It has many advanced features like Training videos, diet plans, and chat support.
There is a 6 months standard warranty against manufacturer defects with this model. They provide installation services in more than 650 cities across India. Call on 1800-572-6402 after purchasing the product.
FITKIT is a well-known brand in India for making quality products in the health and fitness niche. They have built quality treadmills and elliptical trainers, and their exercise bike is no exception.
Key Features
Wheel support to move
Adjustable seat height and position
Stable base
Robust and sturdy body frame
Programmable preset for the fitness goal
FitPlus App on Android and IOS
150 Kg of weight support
Big display console
13.5 Kg(30 lbs) Flywheel
Pedal straps.
Pros
Belt drive mechanism
Free installation service provided
Economical
Nutritionist and personal trainer by company
Free doctor consultation
Cons
3. Cockatoo CUB-01 Smart Series Magnetic Exercise Bike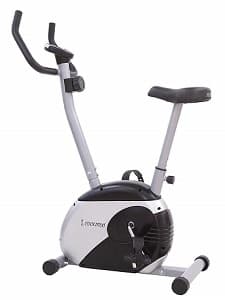 When you need an air bike for exercising the upper body part and your lower body part, we recommend the Cockatoo CUB-01 exercise cycle without any second thought.
The magnetic exercise bike has a maximum user weight capacity of 100 Kg and is suitable for up to 195 cm tall people. The body frame is built with steel material ensures the bike's durability.
Like other models, it has an adjustable seat height for comfortability. It has an anti-skid floor grip for stability when doing exercise. The long handlebars are perfect for push and pull motion.
The console shows distance, time, speed, and calories information. It has a scan mode that shows all metrics in the sequence.
One can also stand when riding, but if you're an overweight person, we don't recommend doing it. It is not suitable for taller people because the handlebar is not high enough to pull and push action.
It has no back-rest, unlike other similar models. Having a back-rest can be helpful for some people.
The installation has to be done by yourself. There is a video showing how to install on the Amazon buying page.
It is slightly expensive when compared to other air bikes. Still, then you get a trustable brand name, excellent build quality, and properly designed exercise bike for an effective workout. The rating of this bike is also impressive.
Key Features
Steel sturdy frame
3 Kg Flywheel
100 Kg of weight capacity
Long movable handlebars
8 resistance levels
Display console showing important metrics
Pros
Very lightweight
Take very less space
Easy to install
Cons
Alternative:
If this product is not available or you don't like this bike, we recommend Kobo AB-6 (Air Bike). It is also an excellent air bike from the well- known brand Kobo.
4. MAX SPORTS 870 Recumbent Stationary Bike
MAX has many indoor fitness products like Treadmills, Elliptical machines, and Exercise bikes. SPORTS 870 is a recumbent type exercise cycle with the latest features and technologies.
The best thing about this model is that it has friction-free magnetic resistance. You can control the tension up to 8 levels manually for different fitness targets.
10 Kg magnetic inner flywheel is perfect for tough workout sessions. It has a belt-driven mechanic system that is quiet and smooth.
Perfect of home or gym use, the maximum user weight it can take is 130 Kg.
It has a hand grip pulse sensor located near the seat. Use the pulse sensor for measuring heart pulse rate while exercising.
The big and clear display console shows reading for distance, speed, time, pulse, calories, and RPM. It has G1-G4 training modes and 3 racing games installed.
Frame material is the steel for durability. It has an adjustable seat, and the paddles are equipped with straps for extra protection. It has an adjustable cap at the bottom to make the balance if the floor is uneven. Also, with the wheel attached, you can move it quickly from one place to another.
The extra padded seat and cushioned back-rest are best in this price range. It is very comfortable for cycling even for people with back pain and other minor injuries. You can use the back-rest to support your back when taking a short break while exercising.
Recumbent bikes are known for their comfort level. This type of indoor bike is also perfect for senior citizens.
The drawback of these types of bikes is that they are expensive. Compared to other types of bikes, A decent low-end recumbent cycle will cost you around Rs 25,000 – 40,000.
Key Features
3 pieces of crank assembly.
Sturdy steel material.
Big console
10 Kg Flywheel
Magnetic resistance
Pre-programmed training presets
Heart rate sensor.
8 Level of resistance
Pros
Low impact
Perfect for old age people
Big luxury saddle
Comfortable
Up to 130 kg weight support
Cons
So far, we have listed the best exercise cycles in India. Now, let's see some cheap but good quality indoor bikes. These bikes have fewer features as compared to above, but they are suitable for those who are looking for a budget exercise cycle.
5. Leeway Exercise Cycle with Back Support & Twister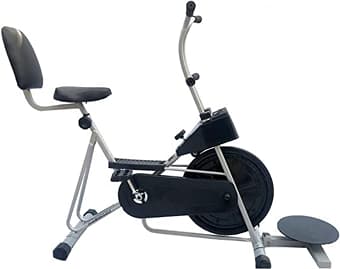 This model is perfect for those looking for cycling indoors but doesn't want to spend lots of money.
This model is an air type bike, but unlike a real air bike, its handlebars do not move back and forth.
This bike can take maximum user weight up to 120 Kg. The body frame is robust, and it comes in 3 colors (Green, Red, and Silver).
It has back support for comfortability and is suitable for old age people. You can increase the resistance via the knob provided below the console.
One can adjust the seat vertically for maximum comfortability. It has a chain built mechanism, and its pedals are strong enough for fast riding.
The digital display is elementary and displays the reading of speed, distance, time, and calories. It has an attached twister for twisting your body when doing different types of workouts.
You have to do the installation yourself. For installation of leeway stationary bike watch this YouTube video.
Key Features
Inexpensive
Comes in 3 colors
Max user weight 120 Kg
Variable resistance
Twister available
Adjustable seat
Pros
Lightweight
60% pre-installed
Cons
Chain driven mechanism
Assembling take times
6. Lifelong LLF27 Fit Lite Airbike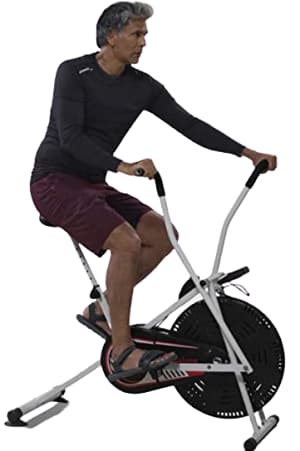 Lifelong is an Indian brand for making low-cost fitness products. LLF27 is an inexpensive indoor stationary bike which is perfect for doing cardiovascular exercise as per your convenience.
This model comes with an adjustable seat height, perfect for family members with different heights. The pedals have foot locks to avoid slipping during the workout.
120 Kg is the supported maximum user weight. It has a belt-driven system that makes very low noise when cycling. The handlebars move to and fro, making it perfect for upper body exercise.
The digital display meter fitted at the front shows the basics metrics like rpm, distance, speed, time, calories, etc. The tension control knob lets you increase or decrease the resistance levels as per your fitness goal.
The seat's saddle is very basic and may feel uncomfortable when exercising longer. It is advised to buy a padded saddle to avoid pain.
Lifelong LLF27 comes with a 1 year warranty on manufacturing defects and parts. If you have a problem, contact them at [email protected]. You can also watch this video to assemble or install the cycle at your home.
Key Features
120 Kg of weight capacity
Steel body frame
Varying resistance level
Display console
1 year warranty
Pros
Lightweight
Take less space
Made in India
Easy to install
Cons
Now, we will review a few expensive high-end bikes. These bikes have better features and built quality. If you want a professional option with maximum utilization, consider buying one of these recommended exercise bikes.
7. Kobo SB-8 Fitness Bike – Spin Type Exercise Cycle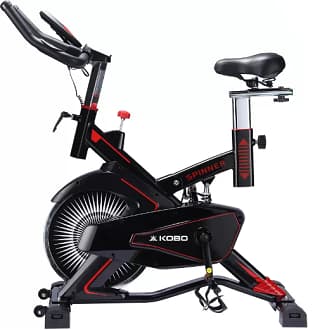 Kobo SB-8 is a spinner fitness bike for beginners and a good choice for cardio exercises, muscle strengthening, and leg toning. Let's review it in detail.
The Flywheel is 13 Kg, suitable for burning fat when you regularly take high-intensity sessions. Higher flywheel weight means better for losing weight. Combining it with a proper diet will yield faster results.
Resistance type is friction, which is common in this price range and considered to be second best after the magnetic resistance. The resistance knob, present above the Flywheel can adjust the tension levels as per your convenience. An added safety knob is provided to stop the cycle immediately from spinning.
The provided seat is better. It is padded, wide, and comfortable enough for long-duration workout sessions. You can adjust the seat not only vertically but horizontally too. If it is still hard on your butt, you can buy a saddle separately.
It has a belt-driven system with 2 ways of rotation. Below the seat, there is a spring system for absorbing shocks making it more comfortable riding and especially useful when doing HIIT (High-Intensity Interval Training).
Pedals look robust and lightweight since they are made from aluminum alloy. It has an attached strap; you can adjust it to fit according to your foot size.
It has vertically adjustable handlebars with pads and heart pulse rate sensor. The LCD monitor is good enough to show various relevant readings like pulse, calories, distance, and scan.
The maximum weight capacity is 120 Kg, which makes it the best home exercise bike.
It has a 6 months warranty on the mainframe. The installation manual is present to help you install it yourself.
Key Features
13 Kg flywheel
120 Kg max weight limit
Variable tension with controlling knob
LCD monitor
Moving wheels for easy moving
Floor leveling
2 ways the adjustable seat
1 Kit assembly tools
Steel body
Pros
Shock absorption system
Kobo is a famous brand name
Padded seat
Take 45-60 minutes for assembling
Suitable for Home Cardio Gym Workout
Cons
Bottle holder is not available
View on Amazon View on Flipkart
8. Evolution Fitness EVF606 Commercial Magnetic Spin Bike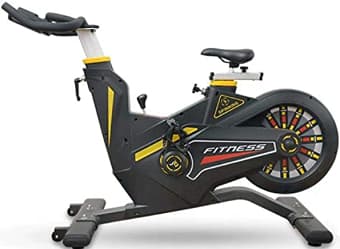 It is a higher-end spin bike and a bit expensive when compared to other spin bike models mentioned in this review. Evolution Fitness makes premium quality fitness equipment, and they run their own gym too.
The best thing about this model is that it has 25 Kg heavy premium quality flywheel and magnetic resistance, making it perfect for gym or commercial places.
It has extremely good build quality due to the use of a heavy and robust steel body frame. The weight of this bike is 75 Kg, which makes it a bit heavier.
The magnetic resistance makes this bike noise-free ideal for both home and gym. It has a manual controller to increase and decrease resistance. At this price range, we were expecting electronic resistance controllers instead.
The pedal is made of aluminum. It has an anti-slippage grip and strap. Magnetic driven mechanism (also a reason making it expensive). What makes it different from other spin type bikes is that you can adjust the braking power.
The max user weight is 150 Kg, making it perfect for high intense cycling and losing belly fat.
The biggest downside is it has no display monitor. You have to invest separately on a console to track your progress. Also, the seat is adjustable but only in the vertical direction.
Key Features
Electrostatic powder coating with adhesive force.
Superior quality steels and tubes
Gas springs below the seat
Seat cushion with PU leather
High-quality rubbers in handlebars
High-quality bearing in moving parts
Pros
Heavy 25 kg flywheel
Adjustable seat
Perfect for Gym
4 resistance level
Braking system
Cons
No display monitor
Bit heavy machine
View on Amazon View on Flipkart
9. Spirit Fitness XBR55 Recumbent Exercise Bike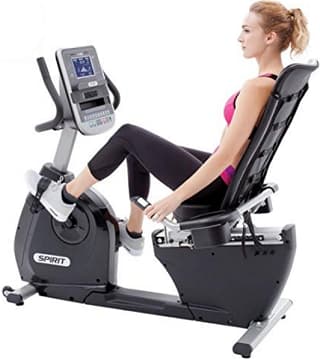 Before you read this review, we want to inform you that this is a costly magnetic exercise cycle. So why did we include this bike on our review? Because it has excellent features, best in class, and very premium quality.
It has a large 7.5 Inch bright blue backlit LCD console. You also get HR % Profile LED displays and muscle activation profiles. 10 programs included for Fat burn, Cardio, Strength, Hill, Manual, and Interval.
It has a rack to hold a tablet or mobile if you love to read or watch something when doing exercise. The dual speaker with audio jack is perfect for entertainment during exercise.
Below the LCD, there is an adjustable cooling fan to get rid of sweating when exercising hard, allowing you to extend your session for a couple of more minutes.
The handlebars attached to the seat have a remote control feature to control the resistance level without leaving off the hands from handles. It has two options for monitoring your heart rate; first is via hand pulse grip (contact method), and the second is via a wireless HR chest strap.
The back seat is excellent. Like any other recumbent exercise fitness bike, you can adjust the seat back and forth. Unlike any other model, it has a recliner for comfort. The seat is made of a high durometer foam pad, and the back-rest is made with a nylon mesh for air passing.
The body frame is built with extra-heavy-gauge steel tubing for a stable base and high quality bearing for smoother and longer life.
It has 10 Kg of Flywheel and 20 levels of magnetic resistance. Use the electronic button to control the brake.
The package contains the exercise bike, manual to install, and a toolkit set.
Key Features
20 levels of magnetic resistance
Reclining back-rest
Oversized and self-balancing pedals.
Maximum user weight is more than 150 Kg
Mesh back seat
2-degree pedal inversion
Advance feedback from the console
Crank: 3 pieces, sealed bearing, and Axel.
Powder coat paint.
Pros
Wireless heart rate chest strap provided
Bottle holders on both side
Seat adjustment
Spirit Fit app for tracking workout
1 year warranty
Swivel cooling fan
Cons
The last one is the mini pedaler, not perfect for most fitness freaks, but suitable for senior citizens or people recovering from injury.
10. Mini Pedal Exerciser or Mini Pedaler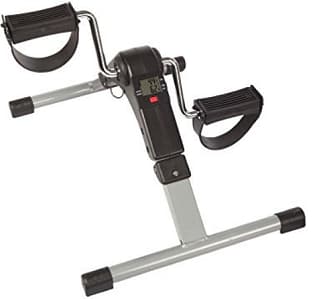 The mini bike will be the last option a real cyclist would choose. The fitness benefits, when compared to any exercise bike types, are minimal. It is not perfect for cardio exercise or burning calories, but it is good enough for glute and leg work.
The small display console present in the middle to show workout duration, burn calories, RPM, distance, and other essential metrics.
No installation needed, and it takes less space to store. It's portable and foldable, which makes it easy to carry with.
You can adjust the tension with the help of a knob provided. Since you can vary the resistance, it is the right choice for low impact workouts.
Pedals have an anti-skidding grip to avoid slippage when cycling. It has adjustable toe loops and molded finger grips. The anti-scuff rubber feet make it stable at different types of surfaces.
People can pedal not only with legs but also with their hands, making it the perfect choice for leg and arm exercises. Also, if you have a joint injury on leg or hand, you can use it as per your physiotherapist consultation. This model is especially useful for old age people with joint problems.
It comes with 6 months of warranty on manufacturing defects.
Key Features
Console display with feedback
Durable and sturdy
Adjustable resistance
Low impact
Anti-scuff rubber feet
Pedal with strap
Pros
Portable and Foldable
Leg and arm exercise
Easy to carry with
Inexpensive
Cons
Fewer calories burn
Not suitable for cardio exercise
Exercise Cycle(Bike) Buying Guide – How to Choose the Best Exercise Cycle for Home in India
We have listed a few crucial factors at the top, but now we will cover in-depth buyer's guide. Once you read, it will help you to choose the best fitness cycle. Why selecting a good model can be overwhelming and confusing at first? It's because there are dozens of companies with a wide variety of home exercise bikes. Let's start with the type of bikes first.
Types of Exercise Bikes
We mainly categorize exercise bikes in 5 categories. Based on the level of exercise, you need to choose one carefully. From leg toning to intense full-body workouts, you have to choose according to the training you are planning. It also depends on your comfort level, physical or health conditions, and targeted body muscles.
1. Upright Exercise Cycle
If you are looking for a simple alternative to regular bicycle riding, then an upright exercise cycle is the best choice. You will experience a similar feeling during the workout. Sitting posture is identical, i.e., upright without any back-rest.
These cycles are best for average workouts like cardio exercise, toning glute, abs, and legs or non-intense regular sessions.
They have different resistance levels, which can be adjusted to increase or decrease the intensity of workout sessions. Still, it is not perfect for long-duration high intense training.
In general, they are compact and take less size to store. If you have storage problems, the upright fitness bikes will be easy to store. Price-wise, these types of cycles are very affordable and budget-friendly.
Due to the lack of back-rest people with chronic back pain may feel stiffness after doing exercise. So we recommend to start with slow training and with time, build up your exercise routine. It means you will not irritate any existing back stiffness. Apart from this, one major drawback of this type of Upright fitness cycle is that you can not pedal while standing.
For some people, especially old age, the small seats may be uncomfortable if used for a longer duration.
2. Recumbent Exercise Bike
Unlike Upright models, Recumbent fitness bikes have back-rest, which can lean back as per your requirement when doing a cardio workout. The seat is comfortable, cushioned, and wide enough to let you feel relaxed. The pedal is moved in front so that you can do pedaling while taking support from the back-rest.
It is more comfortable because your whole upper body is relaxed. You can do some casual light work like reading a book or magazine.
People with a back injury or joint problems should select a recumbent fitness bike; due to the presence of back support, they will not feel any stiffness. They can take rest while doing the cardio workout.
Not everything is good with stationary recumbent cycles. These are not good for heavy and intense cardiovascular training. It helps you to tone your legs, build glutes, and strengthen your legs since most of the work is done (pedaling) by your leg muscles.
To get the heart rate up, one needs to work harder. It is less effective on the upper body part and burns fewer calories. If you are a professional or passionate trainer, looking to burn maximum calories or doing a high-intensity workout, check spin types of exercise bikes instead.
Unlike Upright or spin types, you can not lift your body to put more excretion or force while pedaling.
Recumbent bikes are costlier. It takes more space than others, so before making the final buying decision, check your size and dimension of the intended model.
3. Spinning Exercise Cycle
These indoor stationary bikes come with a heavier flywheel in front and work on Flywheel's mechanic's principle. It comes in two forms of resistance, magnetic resistance or frictional resistance. The inertia produces the resistance when you pedal, and the Flywheel starts rotating.
By adjusting the knob, you can change the resistance. To maintain the RPM(Revolutions Per Minute), you need to push the pedal harder. They have a fixed gear, so when you stop paddling, it still keeps rotating and slows down after a certain duration, just like a regular road cycle.
If you need a very similar workout of riding an actual cycle outside, then these types of fitness cycles are the closest choice. While riding, it mimics the body postures of those who do cycling as a sport. So, if you want to train indoors as an actual cyclist, go for these types of models.
Other benefits of spin exercise bikes are that you can pedal in sitting, standing, or hunched positions. It is easier to adjust and configure as per your need and easy to assemble. The handlebar can be adjusted as your body size to better support while doing training.
These bikes are better for high-intensity interval training (HIIT). Better workout for glutes, legs, quads, hamstrings, calves, abs, and upper body muscles.
They are a better choice for people having joints or injury problems when compared to uprights cycles. However, we still don't recommend them over the Recumbent Exercise Cycle.
On the downside, these bikes (especially the modern ones) are costlier. Need more space than the upright exercise bikes.
4. Air or Fan Bike
An air bike, alternatively known as a fan bike, is an indoor stationary fitness bike with a large air or fan wheel driven by the power produced by the pedal and handles. The faster you work, the higher resistance will be produced. Thus, to build higher resistance, the air is used against its rotation.
The handlebars of an air bike are movable. The person doing exercise can pull and push (back and forth) the handlebars and pedaling simultaneously, which is good for the upper body part workout.
The surface area of the seat is larger in air bikes in general. So it is more comfortable for the few people.
Overall this is the best type of exercise bike for full-body heavy workout sessions. A real air exercise cycle has almost no requirement of powers, electronics, or settings. Unlike Spin bikes, the resistance level is set by your speed. The harder you pedals or pull and push the handlebars, the higher will be resistance.
The downside is that it is costlier and takes more space. These bikes are not compact and not foldable. They are large and heavy.
So if you want cardiovascular exercise, work out on glutes, arms, thighs, and calves muscles with simplicity, we recommend buying one such exercise bike.
5. Mini Exercise Cycle
It is the smallest exercise bike. These types of bikes only have pedals to work on your glutes and legs. A small display panel is present to show the speed, calories burned, and time elapsed.
They have stabilizers to have a firm grip on the ground while pedaling. To do the workout, you need to sit on a chair, keep the mini fitness bike at a distance where your legs feel comfortable, and then start pedaling.
You can adjust the chair (back and forth) according to the space needed to move your leg.
The benefit of these bikes is that they cost very less, take very very less space and are suitable for people in therapy. It is good for old age people with knee joint problems who need gentle leg movements.
The big downside is that they are almost useless for cardiovascular exercise and calorie burn. So these bikes burn very few calories. They are just the pedal section of other types of fitness bikes described above. They are not suitable for weight loss and toning.
6. Hybrid Exercise Cycle
Hybrid exercise bikes are a combination of two types of bikes or elliptical trainer and a bike (links this). The most common is a mix of upright and recumbent bikes. Proform is one of the leading brands making hybrid of an exercise bike and elliptical cross trainer.
The biggest problem with them is availability. These Hybrid bikes are not available in India, so if you are looking for one of these types, you have to import it from another country. These hybrid bikes are also not easily available in countries like the US.
AFG has launched 3.0 AH, which is a combination of recumbent and upright exercise bikes. This bike provides back-rest for comfort, and at the same time, you can pedal in a cycle riding position.
We still think these hybrid bikes are not suitable for high-intensity interval training(HIIT). You can prefer it over recumbent or upright types of bikes, but it is not a replacement for the spin exercise cycle or air bikes.
7. Orbitrek Exercise Bike Trainer
Orbitrek is a hybrid of elliptical cross trainer and spin type exercise bike. Just like cross trainers, it has steppers (pedal stand) and moving handlebars. It also has a seat and varying resistance along with a belt-driven mechanic system, just like regular indoor bikes.
Most people often consider Orbitreks and elliptical cross trainers the same thing, but it is a combination of the best of both worlds. Also, you will notice word orbitrack instead of orbitrek in some places.
The Orbitrek is better for a full-body workout. It is effective for biceps, triceps, abdominal, and chest. It targets more muscle groups and is equally useful for cardio training.
Orbitrek also simulates walking with zero impact on joints and knees.
We have not added any Orbitrek fitness machine in our review, but if you like to buy online from amazon, check this link.
Resistance Levels
Resistance level feels like pedaling a regular outdoor cycle on an inclined slope. The higher resistance is similar to pedaling on a steeper surface. In other words, the higher the resistance level, the harder is to rotate the pedal.
Having a variable resistance level is an important factor for an exercise bike. Based on age, injury, endurance, and workout goals, different people need different resistance levels.
Also, after getting accustomed to a certain resistance level, muscle strength will stop growing further. You may have to increase the resistance level to achieve more endurance and strength.
Based on the type of workout and your comfort level, you have to adjust your resistance level.
For a high-intensity interval training workout, you should use higher resistance levels. You need to challenge your limit in each session, and hence you have to work harder.
If you plan a longer duration workout, set the level at the lower end; otherwise, you end up tiring earlier.
Avoid straining too hard. You may injure yourself, and thus, your progress will halt.
Depending on the brand and cost of bikes, most exercise cycles provide resistance levels between 4 to 25.
Types of Resistance in Exercise Bike
As of the present time, there are primarily 3 types of resistance in exercise bikes, namely, magnetic type, direct contact type, and fan-based.
Magnetic Resistance
The latest resistance system in bikes is magnetic resistance. It is available in high-end bikes and makes no noise when operated. It works in the principle of electromagnets. Some bikes provide tension knobs, while others have digital buttons to control the resistance.
The Flywheel and 2 magnets control the mechanism of magnetic resistance. The Flywheel acts as a magnetic conductor. It does not touch the Flywheel but opposes the rotation effort.
Direct Contact Resistance
At present, this is the most common resistance mechanism in the spin or upright bikes. It is also called friction-based resistance. The brake is applied to the Flywheel to reduce the rotational speed. The brake pads come in contact with the flywheel and friction principle is applied.
They wear out with time and also produce noise in the lack of lubrication.
Fan-based Resistance
In this type, a huge resistance fan rotates, and the surrounding air creates resistance as you pedals. The resistance is directly proportional to the pedaling speed. Fan and pedal are connected with a belt and pulley system.
Basically, it is the magic of air which resists if you pedal faster. All air bikes are using this technique. Also, a bigger fan will produce more resistance, so the size of the fan also matters.
Seat of Fitness Bike
Having a comfortable seat is an essential factor when buying your next exercise cycle. A more extended duration workout session needs comfortable seating.
With a wrong seat selection, you may start feeling uncomfortable within a few minutes of exercise because of pain in the back, hips, or butt muscles.
The seat of Upright, spin and air bikes is similar and designed to sit in a bent position. It may not be ideal for every person. The seat of a recumbent bike has a back-rest, which is comparatively more comfortable.
Some bikes come with adjustable seats, and this helps seating in a comfortable position. You can set it according to your hand and leg comfortability so that it reaches the handlebar and pedal without any problem.
There are chances you already have an indoor stationary exercise bike, whose seat is not comfortable or you have liked a cycle and planning to buy it, but it is not up to the mark.
In this situation, you can buy a seat separately with gel padding, which helps you in extended workout sessions. There is also the option of purchasing a padded-seat cover.
Narrow seats are more comfortable than wide seats because your hips can't move freely on a wider seat.
Also, consider using Anti-Chafe cream (chamois cream). You should apply to your bottom since it gives relief from aching, irritation, rashes, and soreness.
Bike Pedal and Strap
To avoid accidental slipping while cycling on your indoor exercise bike, it should have an adjustable strap to hold your feet tight. A wider pedal is comfortable, and with the strap provided, it can fit on different sizes of feet.
The ideal strap should be simple to local and unlock quickly. Durable material like nylon makes the strap long-lasting when doing long-duration workout sessions continuously.
Pedals are different types too, flat, toe clip, clipless, etc. Most people are comfortable with whatever they have in their fitness bike, but as they develop a routine, these small details become important to have a perfect workout experience.
Maximum User Weight
Most of the models mentioned above have a maximum weight load capacity of 90-110 Kg. Your ideal exercise bike should have a maximum weight capacity of at least 10 Kg more than your weight.
Additional weight capacity acts as a buffer if the person doing exercise gains weight due to some other reason. It prevents accidental damage to the machine due to more pressure than allowed.
For example, if your weight is 70 kg, then the bike's maximum user weight limit should be at least 80-90 Kg. It is crucial if you are an obese person, or your weight fluctuates 20-30 Kg.
If you are not getting an exercise cycle with maximum user weight higher than your weight, we suggest selecting a heavy and sturdier bike. It could be a little expensive, but we have found that these sturdier built bikes can hold overweight persons during workout sessions.
Use it with caution when your weight is more than the maximum limit. Do the small duration workouts and check your bike after doing the training.
Tracking Monitor
Tracking details like RPM (rotation per minute), heart rate, calories burned, strides count, duration of the workout, speed, distance, and resistance level helps in setting and reaching workout goals. Therefore having a tracking monitor is essential.
A scan feature keeps showing different metrics at certain intervals continuously. A pulse monitor is essential for a cardio workout.
The size of the display should be large enough to show all details clearly, no mess up.
Having a backlit display will be useful in dim light conditions. The new models come with an LED display rather than an LCD.
The feature is more important than display types, so instead of choosing LED or LCD, look for screen size and details it can show while doing exercise.
Warranty and Service
If you choose a high-rated, well-built, and quality indoor fitness bike, probably, you will not need support often.
But since it is a costly investment, we recommend getting a warranty for at least 1 year. Few brands provide 2 or even 3 years of warranty to some of their selected models.
The installation of bikes is straightforward and hardly takes 15-30 minutes. But sometimes you may need assistance in setting basics, maybe with a console, connecting to WiFi or something else. So check for their service availability, at least on the phone.
Best Brands For Exercise Bike
If you need quality stationary bikes, then we suggest choosing it from a well-known brand. The best brands of exercise cycle are: Coacktoo, Schwinn, Proline, Welcare, Decathlon, Fitkit, Lifelong, Cardio MAX, Kobo, Monex, Cosco, Reach, Evolution, Spirit, Leeway, Healthex, and Lifeline.
The after-sales service, support, and other facilities are better from the brands mentioned above. Still, the brand name should not be the most important factor while selecting a fitness bike.
There are many new brands, and they have built models with superior quality, more features in less price tag. Check for the points that we have described in this buying guide.
A few good brands like Fitkit provide home installation service and their personalized app to track the progress of health-fitness.
Exercise Cycle Price
In India, if you exclude mini exercise bikes, the general price range for exercise cycles is Rs 5,000 to 60,000. There are some imported models from established fitness brands whose prices can vary from Rs 50,00 to 2,00,000 (2 lakhs).
Pricing of an exercise bike depends on the brand, built quality and features. Depending upon your fitness goal and budget, choose the one.
The simple models from upright or air bikes are cheaper, and you can purchase it for Rs 5000 to 8000.
The spin type bikes start from Rs 12,000, and a decent one comes in the price range of Rs 18,000 to Rs 30,000. But some more advanced models will cost you more than Rs 50,000.
The recumbent exercise bikes are generally pricier. The basic starting models are around Rs 25,000 and above. If you need a feature-rich cycle, you should spend at least Rs 60,000 in this category.
The main price-determining factors are Flywheel's weight and its material, Resistance type, and material used in making body frames. Generally, a bike with heavier Flywheel and magnetic resistance will cost you more. But this is also important if you aim to lose belly fat.
If a bike has more features and the latest technology, it will become costlier automatically.
Heavy and sturdier built fitness cycles will be costlier but will be durable and useful even if someone with more than the maximum allowed weight limit is using it.
The brand name is also a deciding factor for the price. Well-reputed brands cost you more for generally the same models.
So, decide your budget, choose the bike type, and its features before you purchase it.
Stationary Bike Maintenance
Having an indoor stationary bike is a good sign that you are eager about fitness. But to keep it running longer you have to maintain it, which is less exciting. Below are some essential points for the maintenance of a stationary bike.
Clean your indoor bike after each workout session. It is necessary to remove sweat from the seat, handlebars, sensor, etc. Sweat causes whitish spots. Also, wiping prevents building rust in the long run.
Use any metal polisher and protectant, or you can use a mixture of soap and water. Soak and squeeze a soft and clean cotton cloth, then wipe it gently.
Once in a month, lubricating the seals, bearings, brake pads, etc. extends the life of the various parts. You can also use an oiled cloth and rub on the areas where it contacts.
If your exercise bike has a chain, make sure you check its tension and, if required, do proper lubricating.
The other things you can do are clean the belt, check the brake unit, check handrails, check the tightness of screws, check electrical connections, and perform functions tests.
If you notice grinding noises, don't wait, start inspecting properly (or you can hire a professional) and lubricant or fix the part making noise. Regular preventive maintenance of your exercise cycle extends its life and saves you from frequent, costly repair.
Risks and Injuries
The risks involved with exercise bikes are mainly due to its chain and Flywheel. The modern exercise bikes come with necessary safety measurements and are designed keeping children and pets in mind.
Chances of getting injured are high if the seat and material used are of poor quality. During high-intensity training or increasing the tempo, a poorly built bike may lose balance, causing serious injuries.
Some Other Points to Consider
All the points mentioned above are enough for you to make your buying decision. We have mentioned a few more factors that you can look for. But don't make it mandatory in making the final buying decision.
Size and Mobility
If you lack storing space, then the size of the exercise bike becomes an important factor. Some newer generation indoor stationary cycles can be folded to save space.
Brands like Cockatoo have launched comparatively small-sized bikes, and you can also fold it to store in relatively less space.
If you choose heavier and sturdier models, then see if it has wheels to move it easily. Wheels could come handy to move your bike around your house. Store it wherever you like.
Programmable Workouts
The higher-end models come with a range of preset programs. You can program and set your fitness goal.
If you don't know where to start and what goal to set, you should follow the built-in training programs.
The built-in training programs change the resistance setting automatically to simulate different terrains like hilly or plain. The Heart Rate Control programs change the resistance lower or higher to keep you in the heart rate target zone.
The fat burning program will monitor your workout and will tell you when to increase your pace. Also, there are random programs that change the session with different combinations.
You can set your age, gender, and weight to get the best out of your programmable fitness bike.
Bike Noise
All the magnetic resistance exercise cycles do not produce any kind of noise while you use them. It is because they are friction-free. The other type of resistance produces some level of noise due to the frictional force.
The noise produced by any kind of bike is minimum and bearable. In Fact, you will hardly notice it if you are focused on your training.
If still, noise is a problem, listen to music or watch TV.
How to Use the Exercise Cycle
Keep your leg on the pedal; if it has strap available, place it over feet for extra security. Take support from the back-rest (if available) and then place your hand on the upper handlebars or on the side handlebars, whichever makes you comfortable.
Increase the resistance level by using the knob or electronic button for more intense training. Decrease the resistance if you need little rest, or you feel uncomfortable.
Adjust the seat to match your comfort level. In most cases, when the pedal is at its lowest position, your leg should be almost straight or slightly bent in knees. When it is in the upper position, your knee should feel comfortable.
Adjust the handlebars so that your hands and shoulders are at the same level. If you have side handlebars, we recommend using them for beginners.
A common mistake is hunching, which causes back pain in the long run. Don't do this; instead, keep the body straight and make sure the chest is up.
Benefits of Using a Fitness Bike
Doing any form of physical exercise is beneficial. The indoor stationary cycle mostly provides the same benefits as the regular outdoor cycles. But equipped with modern technologies, stationary exercise bikes come handy for achieving fitness levels.
1. Boosts Heart Fitness
Cycling is a cardiovascular exercise which not only makes your heart healthier but also the lungs and muscles. Pedaling exercise bike improves the blood and oxygen flow throughout the body.
Doing cardiovascular exercise makes your heart better in pumping blood, which, in turn, regulates blood sugar level, lowering the high blood pressure and the stress level. You feel energetic, helps in better sleep and a good mood.
2. Help With Weight Loss
Indoor cycling is an excellent workout option for burning calories. Depending on the user's weight, intensity, and duration of the workout, one can burn 200 – 600 calories.
Anyone wanting to lose weight will find a fitness bike very beneficial. Simply burn more calories than you consume, and you are good to go.
Some studies also show that a low-calorie diet and indoor cycling are very effective in reducing body fat. We suggest reading these 2 case studies.
Case Study 1
Case Study 2
3. Strong Muscles
Stationary bikes strengthen muscles, especially lower body area. When pedaling at a higher resistance level, it strengthens the glutes, calves, quadriceps, hamstrings, back, and core muscles.
Using air bikes also help in building upper body muscles like biceps, triceps, and shoulders. So if you are looking to strengthen your muscle, exercising on an indoor bike is highly recommended.
4. Best for Toning Legs
Along with strengthening the lower body muscle, it also helps in toning. Your legs look amazing and in shape because of the workout on calves, glutes, and quads.
Women, generally crazier for toned legs, should use fitness bikes to get beautiful legs.
5. Low Impact Workout
One of the benefits of indoor stationary bikes is that it has a very low impact on the joints and bones. It exerts very low pressure in these areas.
Doing a high-impact aerobic exercise like Zumba, jogging, running, or jumping puts stress on joints like knees, hips, and ankles. Pressure on joints could be a problem for people with joint issues and injuries.
Pedaling a stationary bike puts no excess stress on joints because you don't lift your leg throughout the workout, and you have a comfortable but effective training session.
6. Allow High-intensity interval training (HIIT)
High-intensity interval training (HIIT) helps in burning calories fast. It combines short bursts of intense exercise alternated with rest or low-intensity exercise.
Since you can change the resistance from low to high or high to low, this makes it ideal for HIIT to bring up your cardio fitness.
7. Other benefits
Some other benefits include reduced diabetes risk, reduced stress, boost brain functioning, enhanced stamina, and increased endurance.
Bikes are very convenient. Use it irrespective of outside weather conditions like rain, hot or cold, and even odd terrains. Cycling indoor exercise means avoiding outside pollution and dust.
Keep it wherever you want, start the workout whenever you can. Watch TV, listen to music, or keep an eye on the most important things.
Indoor cycling is safer than road cycling without any tension of traffic or road conditions.
Safety Tips
Fitness bikes are relatively safer than the regular road cycles, but still, there are few risks involved. Here are a few essential safety tips one should consider
If you are new to exercising, don't push yourself too hard. Starting with high resistance can be stressful on joints and muscles, causing muscle fatigue or injury. Start with low resistance, and then as you progress, step up the level.
A little warm-up and stretching before starting cycling creates momentum for your workout.
Sitting posture is important. A wrong posture can give back pain. If you are not sure about the correct body posture, ask a professional trainer.
Don't compete when cycling in a group class. Newbies feel compelled when trying to keep up with the group.
If you feel pain in muscles and joints or irritation in your buttock, take a break and allow your body to recover.
When doing high-intensity exercise, make sure to use the strap attached with the pedal for security from sudden slipping.
Blood pressure, sugar, and heart patients should first consult with doctors or a well-qualified trainer.
If you have problems with balancing, feeling sleepy or intoxicated, don't do cycling or you could hurt yourself due to accidental falling.
The Alternative of Exercise Cycle
The alternative to an exercise bike is either an elliptical cross trainer, a treadmill, or an orbitrek. If you don't want to use any kind of fitness machines and still want to have its benefits, you should join aerobic classes.
You should Include walking, running, and jogging in your daily routines. Skipping rope is an excellent way to increase endurance and build calf muscles. But if you have a knee injury or any other problem, avoid doing this.
You can also consult with a professional physical trainer and take advice on any particular fitness exercise you are aiming for.
There are a few other similar fitness machines like stepper with twister and air walk trainer which you can use, and they are cheaper.
You can go with what we suggest here, but they won't give you the same range of effective workout as you can get from a good indoor stationary bike.
Stationary Bike VS. Elliptical Trainer
Elliptical Trainer (also called cross-trainer) is another popular choice for doing cardio and aerobic exercises. Regarding fitness, no one is better than the other; stationary bike and elliptical are just different.
Both are excellent choices for cardiovascular exercises, improving endurance and low impact on joints.
For older people or someone with knee problems, an indoor bike is a better option as it lets them sit and has no impact on joints.
For muscle toning and weight loss, an elliptical machine is better. Since elliptical work on the upper body part as well and involve almost 80% of the body, it is a slightly better option. If your goal is only the lower body part, then a fitness cycle is a better option.
But, if you do longer duration training at higher resistance on a stationary bike, It shows better results than an elliptical trainer. Also, if you have a balancing problem, an exercise cycle is a better option.
If you consider some less important features, like pricing(budget) and storing space, then stationary cycles are a better choice. It is cheaper and takes less space to store. Not only this, but the maintenance of indoor cycles is also effortless.
Stationary Bike VS. Treadmill
Treadmills are a better alternative for doing complete body exercise. If you aim for losing weight fast, a treadmill will be a better option. If you do an intense workout on treadmills, you burn comparatively more calories than a stationary bike.
But, treadmills involve a high risk of injury. A stationary bike is safer and a low impact workout. It strengthens the muscles better, especially at the lower body part.
If you prefer aerobic exercise like running, jogging, and walking, then Treadmill is a better choice. Different types of workout with incline and decline features.
Exercise bikes take less space and are very compact. It is way cheaper than treadmills. Also, its maintenance cost is less, and It is comparatively more durable.
Frequently Asked Questions(FAQs)
1. Which is the best exercise bike for use at home?

Use a spin type of bike at home for indoor cycling. Go with FitKit FK727 or Kobo SB-8, as reviewed above. People with the condition should go with a recumbent fitness machine because it's very comfortable.

2. Is cycling good for weight loss?

Yes, cycling is good for weight loss. It burns calories, and hence you lose weight. But alone cycling is not enough; you have to take low calories diets.

3. Which is better: cycling or Treadmill?

If your goal is just to lose weight, then go for a treadmill, you will burn more calories. But treadmills are riskier than stationary bikes. Bikes have a low impact on joints and muscles.

Stationary bikes work better at lower body parts with a very low injury risk factor.

4. Does a stationary bike reduce belly fat?

Yes, high-intensity interval training helps in reducing belly fat. You can burn 150-350 calories in 30 minutes of the workout session. So combine a proper diet with HIIT to reduce belly fat.

5. Is cycling as good as walking?

No, cycling an exercise bike reduces more calories than walking. It also strengthens and tones leg muscles. Walking burns half the calories you can burn with an hour of fitness bike workout.

6. Is 30 minutes on an exercise bike enough?

Yes. If your goal is to lose weight and reduce belly fat, you should do an intense workout for a minimum of 30 minutes. Make sure you sweat in these 30 minutes of training.

7. Is it Ok to ride an exercise bike every day?

It depends if you are doing high-intensity training to strengthen the muscles for a minimum of 30 minutes, take one day off weekly to build muscle effectively.

8. Does an exercise bike help in building muscle?

Yes. It builds and strengthens the muscle, especially at lower body parts. Among all bike types, Air bikes also help in building upper body muscles.

9. Is riding a stationary bike bad for knees or joints?

No, In-fact, a stationary bike is much safer than similar aerobic exercises like Zumba, jogging, running, etc. But if you have problems in the back or other joints, consider buying a high-end exercise bike like a recumbent type bike, which has the back-rest support.

10. How long should you ride an exercise bike a day?

Aim for at least more than 2 hours of exercising per week. Better if you can make it even by doing 30 minutes of workout every 6 days, followed by a gap of a day. Doing moderate-intensity exercise on a stationary bike will help you to reach your fitness goals.

11. What part of your body does an exercise bike tone?

Pedaling an exercise bike tone up your leg. It works on muscle areas on quadriceps, hamstrings, glutes, calves, etc. and gives you toned legs like sprinters.

12. Are mini exercise bikes any good?

For lightweight aerobic workout mini exercise bikes can work, but do not use them if you are serious about losing weight, burning calories, toning legs. They don't have resistance levels and stability for moderate to high-intensity exercises.

It is still a good option for old age people for light impact workout on knee joints. But if you are already in shape, further improvement of fitness level is highly unlikely.
Conclusion
We have reviewed the best exercise cycle in India. If you ask us just to mention one for you, then we suggest FitKit FK727 spinner bike. Why this? FitKit also provides installation services and support in many cities in India. This exercising cycle is value for money.
Consider using a treadmill or elliptical trainer if you need to do a full-body workout. A regular bicycle is still better if you can ride it on different types of terrains. Cycling exercise helps in muscle strength, leg toning, and improves cardio.
Sports and exercise are necessary to remain fit and healthy, and your eating habits also play an essential role.
We hope this article serves the purpose you sought after. If you have any questions or feedback, leave a comment below.
Read Related Reviews
Buy the Best Exercise Cycle Online
Reach AB-110 BST Air Bike Exercise Cycle with...
38%
Reach Digital Pedal Exercise Machine | Mini F...
63%
Lifelong LLF135 FitPro Stationary Exercise Be...
66%
Reach AB-110 Air Bike Exercise Cycle with Mov...
42%
beatXP Tornado Airborne 1F(AB90) Air Bike Exe...
52%
SPARNOD FITNESS SAB-05 Upright Air Bike Exerc...
64%
beatXP Vortex Energize 1M Air Bike Exercise C...
69%
Kobo Air Bike Exercise Cycle For Home 120 Kg ...
63%