Good health and fitness is now the primary concern of everyone. Doing workouts and engaging yourself in regular physical activities is the best way to keep you healthy and fit. But due to our regular hectic schedules from 9 to 7, it is not possible to join the gym every day. Imagine- How good if you have the best exercise equipment at your home. It really feels that you are working out in a gym without spending much. Now, most of the people are more concerned about their weight and trying different ways to maintain their weight. But when it comes to weight loss, nothing is ever best than the Exercise Cycles/Bikes. So, welcome to this new blog that is all about the best exercise cycles for weight loss.
About Exercise Cycles/Exercise Bikes
Exercise cycles are completely different than the regular outdoor cycles. We all know that outdoor cycling is the best way to stay healthy and fit but for everyone, it is not possible to go for the outdoor cycling. And here comes your perfect companion- The Exercise Bikes/Exercise Cycles for a perfect workout a home.
An exercise cycle is the same as a stationary cycle and comes with a saddle, handlebars, peddles, a monitor to record your heart rate and work done, and some other useful options. The very best part is that it is very easy to use, as no balance and coordination are required like the treadmills and conventional bikes. And thus it is the perfect workout equipment by which you can lose calories and stay fit.
Check More On Fitness Equipment
Benefits of Exercise Cycles/Exercise Bikes
Beginner friendly and easy to use
Convenient exercise equipment
Low-risk exercise
Helps in losing weight
Build Muscles
Improve endurance
Increase metabolism
Increase mobility
Strengthens your joints like knees, ankles, and hip joints
Types of Exercise Cycles/Exercise Bikes
There are different types of exercise cycles or bikes, each having its own benefits and drawback. Let's have a detailed look at different types of it:
Upright Stationary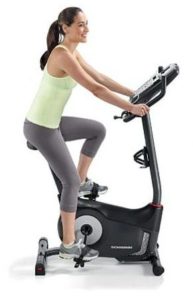 These exercise cycles are designed the same way like traditional road cycle. Here the seat is positioned directly over the pedals and handlebars are located to the equal height of the seat.
Pros
Very easy to use
Cheap and more versatile
Offers effective fat blasting workouts
Cons
Uncomfortable for users suffering from neck and back pain
Also difficult for elderly people to use
Recumbent Stationary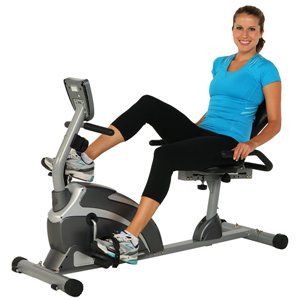 In these exercise cycles, the seat is positioned nearly in line with the pedals and is very comfortable to use than the upright stationary exercise bikes.
Pros
Very comfortable
Ideal for the elderly people to use and also for the people suffering from neck and back pain
Cons
It doesn't allow the user to stand up
Dual-Action Stationary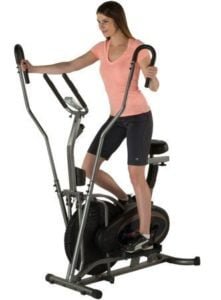 These type of exercise cycles/exercise bikes are designed in such a way that combines the movement of the handlebars and the pedals. Thus, allowing you to clutch an upper body workout along with the lower body workout. And so, it's a great way to build up muscles.
Indoor Exercise Cycles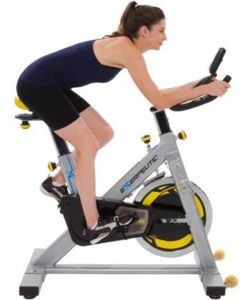 These look very similar to the upright stationary exercise cycles or like the normal road bikes. Here both the upright seat and forward handlebars are used. These exercise cycles generally use a weighted flywheel that is connected to the pedals via a transmission system for the resistance.
Best Exercise Cycles/ Exercise Bikes Reviews
If you are searching an exercise cycle for your home gym, you are absolutely visiting the right place. Getting confused among different models and types of an exercise cycle? Don't get worried as we came with this blog post mentioning the best and latest models of exercise cycles/Exercise Bikes from the topmost brands. So have a quick look at the below-listed models before diving into the full review of each one.
1. Kobo Ab-1 Exercise Cycle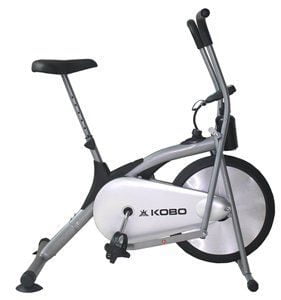 For both upper and lower body workouts, this exercise bike is a perfect choice. If you want a comfortable, smooth, and fairly full body workout, this one is absolutely a must-have in your home gym. It comes with a comfortable and adjustable seat that makes your workout even more comfortable. The very best part is that this exercise cycle is preferable for all age groups, shape and size.
Key Features
Easy to adjust seat position
Ergonomic adjustable-reach arms with padded grips
Smooth whole body workout
Best for toning of muscles and burning fat
Buyers Feedback
The Good
Robust design and steel frame
Handlebars are very comfortable with padded hand grips
Comfortable saddle
Easy to assemble and use
2. Cardio Max JSB HF73 Exercise Cycle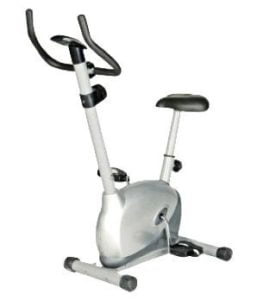 Looking for a cost-effective solution for your everyday fitness needs, this exercise bike is the best to go for. It is equipped with 4 Kg flyweight that offers a smooth cycling experience. Also, the 8 tension control levels suit different athletic needs. The seat is comfortable and adjustable that you can easily adjust according to the height. It comes with a display meter that displays your speed, time, distance, pulse, and calories.
Key Features
4 Kg flyweight
Non-skid foot pedals with adjustable foot strap
8 level tension control
Comfortable and adjustable seat
Buyers Feedback
The Good
Efficient performance
Noiseless operation
The foldable option saves a lot of space
The height adjustment feature is great that even kids can go for the workouts
The side arms, mobile phone holder, and a groove on the display panel is a nice add-on
Easy to assemble
The Bad
No specific directions were there to join three connectors of LCD display. They require 'trial and error' method
3. Lifeline Exercise Cycle 102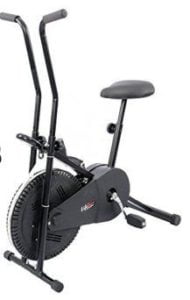 This Exercise cycle is an excellent choice for every health-conscious people at an affordable rate. Get on with your health regime by purchasing this decent exercise bike for your home gym. It comes with ergonomic adjustable-reach arms with padded grips that make it more comfortable to use. The adjustable seat and handle position makes it a great choice for all age-groups.
Key Features
Non-motorized exercise bike
Portable
The electronic meter displays your stats including speed, distance, time, and calories burned
Manual tension knob for strength adjustment
Steel frame construction
Adjustable seat and handle position
Buyers Feedback
The Good
Quality of the product is outstanding
Great equipment for indoor exercise to lose weight
Easy to assemble
The Bad
No downsides for the product
4. IRIS Fitness Exercise Bike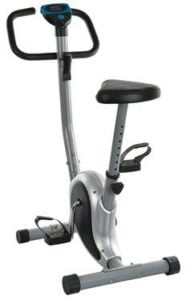 For all your fitness cravings at an affordable cost, this exercise cycle from Iris is the best choice. Get an amazing workout experience at home like the top-quality gym with this exercise bike. This exercise cycle is appropriate for all age groups. And is an ideal choice for building muscles, fat loss, improving cardiovascular health, and blood circulation.
Key Features
Sturdy steel frame
5 Kg cast iron flywheel
Adjustable seat and resistance
LCD display shows distance, speed, time, calories burned, and scan
Non-slip feet for safety
Buyers Feedback
No reviews yet. Will be updated when available.
5. Onlineworld Fitness Exercise Cycle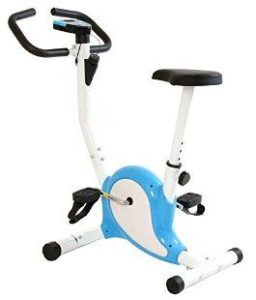 Crazy about the weight loss? This Exercise bike from Onlineworld is absolutely the perfect buy for all your fitness needs. It comes with a sturdy steel frame for its long life and equipped with a belt drive that ensures smooth pedaling. There is also an LCD display panel that tracks your distance, calories burned, and time.
Key Features
Sturdy and robust design
Greater stability
Dual tension strap for varied resistance
Nonskid pedals with adjustable foot straps
Adjustable height saddle
Handlebars with foam paddling
LCD monitor
Buyers Feedback
The Good
Easy to assemble and use
Works great
Quality of the product is awesome
The Bad
Little bit noise while cycling
Conclusion
This is all about our best picks for the latest exercise bikes/ exercise cycles that you can use at home to stay fit and healthy. These are very cost-effective as well as eco-friendly exercising equipment that offers amazing health benefits. I hope the above buying guide will surely help you in picking out the best exercise bike for your home gym.