For all the fitness enthusiasts, having a treadmill at their home gym is one of the best solutions to achieve all their fitness goals. Since treadmills come in two types- Motorized Treadmills and Manual Treadmills, so which one to choose is quite overwhelming? Each of these treadmills come with their own benefits; the choice preference totally depends on you. But do you know the Manual Treadmills come with so many fitness benefits at the very cheaper prices over the Motorized Treadmills? So why don't you invest in a Best Manual Treadmill if you get all the great fitness advantages at a cost-effective price?
The manual treadmills are gaining recognition amongst many athletes, health enthusiasts and fitness centers due to its conveniences of no power requirements and compact size as well as a balanced workout routine at economical prices. So, welcome to the blog which is all about our best picks of manual treadmills in India, their full reviews, and also the complete buying guide to make your buying decision easier.
What is a Manual Treadmill?
As the name shows, Manual Treadmills are the exercise equipment that operates using your own power. Unlike the Motorized or electrical treadmill that comes with the motor to run automatically, the manual treadmills don't have an electric motor to drive the belt. All you need to use your own power for walking and running. However, running is somehow difficult on the manual treadmills, but if running is your primary concern, it is even best to invest in a Motorized Treadmill.
A Manual Treadmill usually comes with a frame as well as a platform along with the belt going around it. Some advanced models also come with a display monitor but are simpler than its motorized counterparts. The faster you walk on it, the faster it will move. And the very best part is that the manual treadmills are super easy to store and are portable machines ideally best for small workout areas.
If you want an in-depth information on Manual Treadmills, check our
Buying Guide Section.
Best Manual Treadmills in India
Best Manual Treadmills in India Reviews
1. Lifeline 4 in 1 Deluxe Manual Treadmill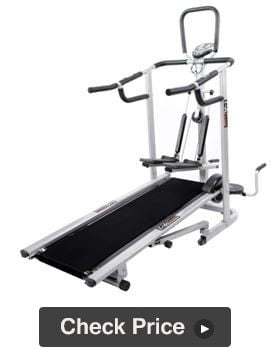 Designed with top quality materials and user-friendly features, this manual treadmill from Lifeline comes the first in our list. Get fulfill all your fitness regimes from the comfort of your home by bringing this magnificent manual treadmill. Talking about the design, this one has a stepper and a twister to tone your abs and leg muscles. With the convenient longer handles and wider running surface, your workout experience will really get amazing with this treadmill. Its dashboard comes with the LCD display to show your fitness stats including speed, distance, time calories burnt, and pulse.
Now coming to the other features, this treadmill is also featured with 3 different levels of incline making your workout even more challenging. It also helps you to burn more calories in a short span. There is also a hand pulse system that determines your heart rate.
Equipped with the wheels for easy portability, this machine lets you do the workout in your favorite room or wherever you want. Even at such an affordable price, this manual treadmill is one of the best and more convenient options for an effective workout at home.
Key Features
Non-motorized treadmill
3 Level Manual Incline
User-friendly dashboard with an electronic meter to show speed, distance, time, calories and pulse
Wider jogging surface
Twister to tone your muscle
Stepper to strengthen leg muscles
Hand Pulse system to monitor the pulse rate
Wheels for moving the machine
Pros
Nice durable product with sturdy construction
Longer handle for comfortable grip
Large and wide tracks
Foldable option for easy storage
Easily movable from one place to another due to the wheels
Stepper is perfect in improving heart & circulatory function and also ideal for strengthening leg muscles
Twister helps to slim the thighs, waist, and hips
Cons
2. Lifeline LYSN5213 Manual Treadmill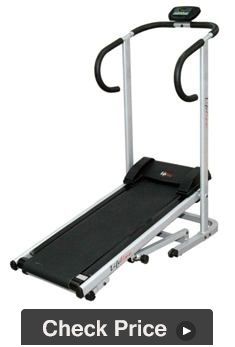 If reducing excess fat is your primary aim, this best manual treadmill is absolutely the great choice. This Lifeline treadmill is a perfect combination of unique style, aesthetic appeal, and great performance. With the durable, stable steel frames, it comes with the robust and sturdy design. This manual treadmill comes with a user-friendly dashboard equipped with a decent LCD that is used to track your health stats. You can check your speed, distance, time, calories, burnt, and pulse to keep an eye on your fitness and health.
For a more convenient walking or jogging, there comes a wider running platform that puts you on ease while running. It also comes with a precisely balanced cast iron pulley that makes your running motion smooth, efficient, ad noise free.
Even for the enhanced safety, this one has a self-locking main frame for the safe workout, and also the upright bars add greater support and stability to the treadmill. This treadmill is lightweight and portable and additional wheels are also there making it convenient to move it from place to place.
Key Features
Dashboard with an electronic meter to show your speed, distance, time, calories, and pulse
Long and wide jogging surface
3 Inclination level
Durable design
Self-locking main frame for added safety
Foldable and easy to store
Portable
Pros
Nice and sturdy construction
Offers smooth and efficient running
Easy to assemble
Tracks all important stats and motivates you to achieve your health goals
The wide running platform enables the users to run comfortably
Cons
The handle is somehow uncomfortable to grip
3. Kamachi Manual Treadmill-101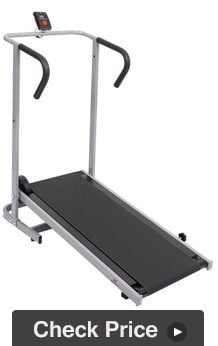 The next is Kamachi 101 Manual Treadmill that comes with amazing and top-notch features for a perfect aerobic workout at home. It has an electronic monitor that keep tracks of all your stats including speed, distance, time, calories burnt, and pulse. And thus helps you in maintaining a certain fitness standard. However the width of the running platform is even smaller, its increased length adds a great advantage while running. The rails on the front and the side come with a padded foam construction that provides you with the utmost level of comfort.
Coming to the design, this manual treadmill is lightweight and portable. Additional moving wheels are also embedded in it, so that you can conveniently move it from one place to another. Now it is easy, to burn more calories, slimming down your legs, thighs, and hips, and getting in shape with this affordable piece.
Key Features
Large running surface
Display monitor to track speed, distance, time, calories, and pulse
3 Inclination levels
Foldable and easy to store
Safety lock feature
Wheels for easy portability
Pros
Great treadmill in this price range
Sturdy and strong construction
Great in terms of quality and performance
Adjustable inclination levels make your workout a bit more challenging to meet your fitness goals
LCD for showing fitness stats is awesome
Cons
You cannot run so fast on this treadmill
4. Kamachi 4 in 1 Foldable Multipurpose Manual Treadmill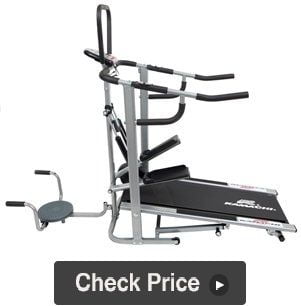 This is another best manual treadmill from the brand Kamachi. For a comfortable and smooth running experience, this one is a good buy for your home gym. This multipurpose manual treadmill is not only ideal for jogging but also come with the features including aerobic twister, stepper, and push up bar for the whole body workout. Its wider running surface is extremely good for comfortable walking or running. It features a pulse sensor on the handle that keeps you know about your pulse rate while jogging or running on it.
This treadmill comes with multiple inclination levels to adjust accordingly to get a more challenging workout. With these inclination level setups, you can burn more fat in a short period. It is also equipped with an advanced electrometer display that shows you different stats including speed, distance, time, and calories burned.
This non motorized treadmill is well designed with a foldable feature that lets you conveniently store in a small area.
Key Features
Treadmill, aerobic twister, stepper, and push up bar- All in one
LCD display
Hydraulic stepper for toning up leg and calf muscles
Twister for shaping waist, thighs, and hips
Multiple Inclination levels
Foldable and easy to store
Pulse Rate Sensor on the handle
Pros
Offers a variety of workouts at such an affordable price range
Quality and performance is extremely good
Great buy for your home gym
Easy to install and use
Long lasting and durable
Offers easy storage option
Safe to use
Cons
5. Powermax Fitness MFT-410 4 in 1 Multi-function Manual Treadmill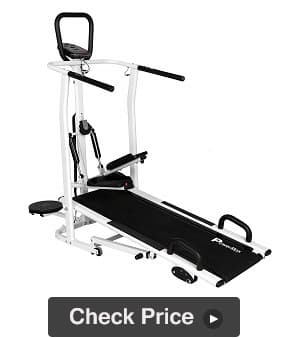 This is our next pick for the best manual treadmills that is loaded with a ton of awesome features. This foldable, portable, and non-motorized treadmill from Powermax is the perfect way for exercising and toning up the body muscles at your home. It's convenient longer handles provides you with the most comfortable grip. There is an LCD display that accurately shows your fitness stats to keep you motivated towards attaining your fitness goals.
It comes with 3 levels of manual inclination that you can adjust accordingly for your workout sessions. There are 4 target based modes too, to make your workout more challenging. And this will let you even burn out more calories in a less time span. When it comes to durability and stability, it is indeed the best choice. This exercise machine is also equipped with the jogger, stepper, twister, and push up bars for a perfect toning of body muscles.
Since this manual treadmill can be folded, storage has ever been easier. Also, with the embedded wheels, the portability from one place to another is really a breeze.
Key Features
3 levels of inclination
4 target-based modes
Foldable and portable
Twister to slim thighs, waist, and hips
Thick and robust metal rods for heavy pounding
Wheels for easy moving of the machine
Wide surface for running
Pros
Sturdy and strong construction
Decent design
Affordable price range
Great in terms of performance
Cons
Running belt is bit noisy
6. Aerofit HF940 ST Manual Treadmill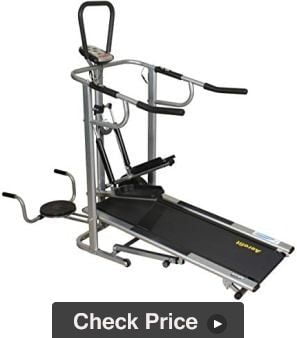 Aerofit is also one of the best brands for selling quality fitness equipment. And this non-motorized treadmill from Aerofit can be your best choice for doing quality workouts at your home gym. Featuring longer handles, this one is ideally suitable for comfortable gripping during your workout session. With the handgrip pulse sensor feature, you can get updated with the heart rate as well. Twister, Stepper, and push up bar also included in this treadmill for an effective whole body workout.
Now if you are looking for something that tracks all your stats correctly, this one manual treadmill never fails in doing that. With the user-friendly dashboard, it comes along with an LCD display that shows all your fitness stats including speed, distance, time, calories, and pulse. There also comes the Mode/Set option that you can use to set time, distance, and calorie as per your requirement.
With an easy foldable option, this treadmill never makes you worry about its storage. Additional transportation wheels are also included for those looking to move it from one place to another. Not only durable but also with amazing multifunction features, this is a great treadmill to buy for doing the workout at home.
Key Features
Longer Handle
Large running platform
LCD display to show pulse, time, speed, distance, and calories
Twister, Stepper, and push up bar
Heart rate control with hand grip pulse sensor
Foldable
Additional Wheels for easy transportation
Pros
Good and sturdy construction
Longer handles for comfortable gripping with heart rate pulse sensor
Large running surface makes it ideal for runners
Stepper, twister and push up bar is the nice added features for whole body workout
Installation is very simple
Cons
7. Kobo MT101 Treadmill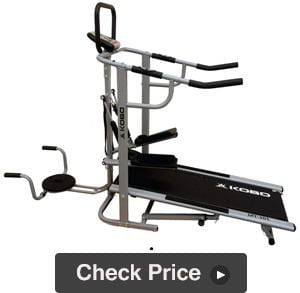 Last but not the least this is another great option to workout at home. Featuring robust and smart design, this treadmill from Kobo comes with all the necessary features you need to be in a manual treadmill. This one is an incredibly affordable option to keep your fitness at the right level. It comes with comparatively longer handlebars equipped with built-in pulse sensor. Great multifunctional device for the full body workout including running platform, twister, stepper, and push up bars.
The anti-skid foot side rails allow you to do workout very safely. With the LCD display attached to this treadmill, you can check your fitness stats like speed, distance covered, time taken, and calories burned. In terms of weight and size, this one can easily be folded quite nicely and can be packed with ease.
Key Features
Wide running platform
Electrometer to display time, distance, speed, and calories burned
Hydraulic stepper to lose weight
Twister gives shape to hips, waist, and stomach
Push up bars to tone arm muscles
Adjustable incline level
Foldable
Wheels for easy portability
Pros
Build quality is extremely up to the mark
Sturdy and strong construction
Great to use in a small workout area
Easy installation
Cons
Not ideal for the old age group
Manual Treadmills Buying Guide
How does Manual Treadmills work?
The Manual treadmills use the manpower for its operation since it doesn't have the motorized components like the automatic electrical treadmills. It comes with the handrails, frame, deck, rollers, belt, and flywheel. To walk or run on it, you need to get on the deck and start walking for an effective workout session. It also comes with the sensors to compute your speed, time taken and calories burnt. The best is that it is pretty simple to use. Some of the latest models of manual treadmills come with the magnetic resistance technology that aids in adding resistance to the belt.
Types of Manual Treadmills
Flat-Belt Manual Treadmills: The flat belt manual treadmills have a flat walking platform that is activated by walking and deactivated by stopping. You can walk or run very easily to complete your workout session in these types of manual treadmills.
Curved Manual Treadmills: These treadmills come with a curved platform that lets you run in a natural style on the balls of your feet. It pushes your body forward to create the momentum for turning out the treadmill belt.
Manual Treadmills Vs. Automatic Treadmills
Manual Treadmills Pros & Cons
Pros:
A cost-effective option over electrical treadmills
The maintenance cost of manual treadmills is very low
When it comes to safety, manual treadmills offer higher safety margin rather than the automatic treadmills
Compact and easy to store
Manual treadmills are ideal for lower body exercises as most of the strength comes from your feet to operate the machine
No electricity is needed to operate the manual treadmills
It offers full user control
Cons:
It creates joint stress
User Weight limit is less than the automatic treadmills
Manual treadmills lack in some smart features like built-in workouts, apps, musics, etc. like the automatic treadmills
These are only ideal for walking, not for fast running
Automatic or Motorized Treadmills Pros & Cons
Pros:
These come with the longer deck for easy running
Not causes strains at all
Offers easy speed and incline adjustments during the workout
Motorized Treadmills come with more workout features like inbuilt workout programs, apps, and music to make your workout more challenging and interesting
Ideal for long workout sessions
Great for both running and walking
Cons:
Motorized Treadmills are expensive than the manual treadmills
Motorized is needed to operate them
These have safety hazards, so you must wear a safety cord to avoid slip and fall
Factors to Consider Before Buying a Manual Treadmill
So, before you rush upon buying a manual treadmill for your home gym, it is very much important to look into the following factors for a perfect piece:
Size: This is the foremost factor you must look upon before you are investing in a good manual treadmill. It is important to consider your room size or workout area and then buy the one that easily fits your workout area. Always go for the one having folding feature that is pretty nice thing for easy storage option.
Maximum User Weight: However, manual treadmills come with lower Maximum User Weight over their electrical counterparts, it is ideal to buy the one with maximum user weight ranging from 220 lbs- 440 lbs.
Resistance Type: The latest and advanced models of manual treadmills come with the magnetic resistance feature that lets you customize the level of difficulty you want in your workout. It also offers a smooth ride.
Handle Length: For a comfortable grip, it is better to go for the one with larger handles. It will offer a more convenient workout.
Incline setting: The manual treadmills with incline settings are great option to burn more calories in a short span. You can choose your own incline setting for the more challenging workout.
In-Built Workout Programs: Some of the latest models also comes with the inbuilt workout programs designed by the professional to make your workout experience more amazing. This feature is really very beneficial for the beginners for an effective workout starting.
Stat Tracking: It is best to invest in the manual treadmill with stat tracking feature. Some advanced models come with the small onboard consoles to display your speed, distance, time, calories, burnt, and much more. It keeps you motivated to achieve your health goals.
Price: Although manual treadmills are the cost-effective option over motorized treadmills, but still price is an important factor to keep in your mind. Choose the one that suits your budget and meet your exercising requirements at the same.
Conclusion
Well, this is all about the reviews on best manual treadmills to get the best and safe workout from the comfort of your home. However the choice depends on you, but I am sure our best picks, their reviews, and buying guide will surely help you out in exploring the best one to meet your health and fitness goals.
Read Related Reviews
Buy Manual Treadmill Online
PowerMax Fitness MFT-410 Non-electric Manual ...
40%
Fitkit by cult.sport FT801 4 in 1 Manual Mult...
46%
Cultsport quickrun Antony Manual Treadmill fo...
38%
Life Line Fitness LT-201 Foldable Manual Trea...
45%
Reach T-90 Manual Treadmill for Home Workout ...
Fitkit FK90 Manual Treadmill, Black
42%
Lifeline LYSN5213 Manual Treadmill
48%
Monex Manual Jogger Treadmill| Roller Jogging...
45%