Massage is the best way to get rid of all your stress and getting relaxed. And when it comes to face, the Face Massager Machines comes with innumerable benefits. Our face is one of the sensitive regions of our body, so it needs some extra care. Also, everyone wants to retain their youth as well as wants an attractive appearance as long as possible. That is where the face massagers are very helpful in rejuvenating your facial skin.
So, here we are with reviews of Best Face Massager in India along with a Comprehensive Buyers Guide on it, so that you can choose the right one only.
10 Best Face Massagers in India
Best Face Massager in India – Reviews
So, here is the full review of each models of the face massager machines that we have listed above.
1. Lifelong LLM126 Electric Face Massager Machine (Best Overall)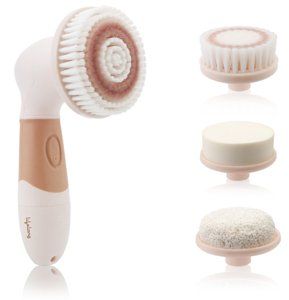 This face massager from Lifelong comes the top of our list for its outstanding features and performance. The Lifelong LLM23 electric face massager machine is a multifunctional device for getting soothing relaxes to your facial tissues and muscles.
Its cordless structure makes it easy to use for both face and body cleansing. The extended handle easily reaches even on hard-to-reach areas for proper cleaning and massaging. Also, the brushes are very soft and smooth that offers a very smooth massaging without causing any irritations to your skin. It comes with 4 interchangeable heads including:
Facial Brush for removing impurities and perfect cleansing of the skin
Body Buffing Brush for exfoliating dead skin cells
Cosmetic Sponge for massage and moisturizing application
Pumice Stone to remove hard skin under foot and elbow
Key Features
Easy one-touch button operation
4 detachable attachments with 360-degree rotation
Suitable for both face and body massage
Moderate rotational speed
Battery operated
Pros
Nice build quality
Ergonomic design and portable
The brushes feel really very soft
Very effective in facial cleaning and massaging
Ideal for both face and body massage
Cons
2. Lifelong LLM720 Rechargeable Cleansing Face Massager (Runner Up)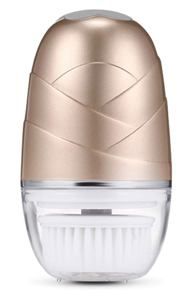 The next best face massager machine on our list is again a model from Lifelong. This multi-functional facial massager helps to relax your facial tissues and muscles. It comes with 3-in-1 detachable heads including soft fiber brush, deep cleaning brush, and makeup sponge that suits any facial profile while being hygienic.
The device also comes with the two-speed rotation that deeply cleanses your skin, and the rotary motion gently removes up all the oil, dirt, impurities and dead skin cells. It is very easy to operate the device with its smart on/off switch, plus the compact design makes it very handy and convenient to use. This Lifelong facial massager also comes with the in-built rechargeable battery that you can continuously use for 45 minutes with a recharge of 2 hours.
Key Features
3 interchangeable heads
360-degree rotation
Stylish and elegant design
Highly compact and portable
Water resistant
2-speed rotation for deep cleaning
Pros
Great rechargeable facial massager
2 speed modes are very handy
Compact size, sleek body, and cute looking device
Bristles are very soft, perfect for cleansing and not harsh on skin
Battery backup is very good
Cons
3. JSB HF16 Facial Massager Machine (Best Budget Pick)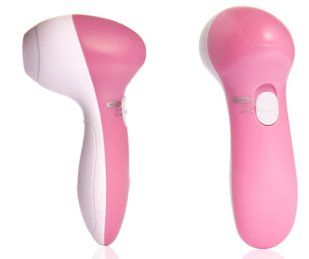 If beauty comes to your priority, this face massage machine from JSB is the best buy. Not only a facial massager machine, but it is also a thermal body massager device that offers an absolutely perfect relaxation to your muscles and facial tissues. The best is its affordable price tag making it a best face massager machine with quality feaures.
It comes with 5 accessories including:
Crude Polish Accessory for ripping off the tough skin
Latex Soft Sponge for cheeks and eye massage
Make-Up Sponge for effective massage and cleaning of your skin
Rolling massager for making better blood circumstances from skin aging
Soft brush to clear all the scurf clings from the skin surface.
These all provide you ultimate facial massage for getting complete relaxation.
Key Features
Streamline design
Compact in size
Ideal for home and travel use
Waterproof massage attachments
Skin-friendly
Deeply cleanses your skin
2 AA batteries more convenient to operate
New generation motor rotation frequency for effective cleaning and care of your skin
Pros
Quality is extremely up to the mark
Sturdy and durable
Ergonomic design makes it easy to use and carry everywhere
Great product for best facial cleaning and massage
Cons
No downsides for the product
4. Vega VHFC-01 Face Massager Cleanser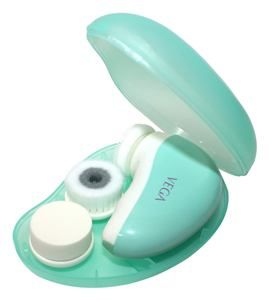 This rechargeable facial massager machine from Vega is a great buy to achieve great skin in just a few minutes. It effectively removes all the dirt, oil, makeup, and other residues from your skin pores to make it bright and shiny.
The device comes with three head attachments including a silicone facial brush, soft PBT brush, and latex sponge for deep cleaning. And the facial brush comes with tiny and soft bristles for effective cleaning of your skin pores.
Its compact size makes the device very convenient and handy to use. And the very best part is that you can easily rotate all of it's attachment head up to 360 degrees to get the spa-like facial massage.
Key Features
3 head attachments
Clockwise and counter-wise rotation
Deeply and gently cleanses the skin
Water resistant
Comes with USB rechargeable cable
Storage case included
Pros
This tiny little device offers the best facial massage and cleaning
Smart and compact design
Build quality is very nice
Very convenient and easy to use
Rechargeable battery is a nice option
Cons
5. Caresmith Sonic Facial Cleansing Massager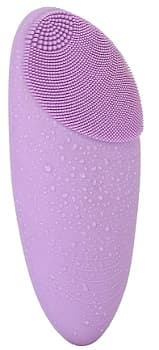 For young and lively skin, you can rely on another trusted brand and, i.e., Caresmith. The handy Caresmith Facial Spa Massager provides beautiful skin as it effectively cleanses the clogged skin pores. The massager proficiently massages facial muscles and promotes blood circulation. In return, it gives you healthy and soft skin.
The super-soft Silicon bristles provide deep cleansing and are very hygienic too. The bristles are made of food-grade silicone, which is very helpful in preventing bacteria build-up. It is based on sonic vibrations technology that provides 7000 vibrations per minute and is enough to reach the depth of the pores directly. The high-frequency pulsations make your skin soft, gentle, flexible, and rejuvenated.
The tiny ergonomic design of the massager fits nicely in your hand, and you can smoothly glide over your skin without any pause. Above all, it offers all the benefits of deep yet gentle cleansing.
The battery backup of this device is also very good that can last 300 minutes or more after being fully charged for 2 hours. Furthermore, it is available in 3-different dazzling shades. Hence, allow this super-soft cleansing brush to rub your skin delicately and provide you revived and glowing skin.
Key Features
Ergonomic design
Sonic Vibrations Technology
7000 vibrations per minute
Two-Zone Bush, super-soft silicone bristles
Hypoallergenic
Rechargeable, 2-Hour charge lasts up to 200 uses
Portable, IPX7 waterproof
No replacements head required
Pros
Light-weight with ergonomic design
Five modes of vibrations help in reducing wrinkles and open the clogged pores effectively
Easy to use and cleanse the skin properly
Rechargeable battery that lasts up to 200 uses after 2-hours continuous charge
It effectively massages facial muscles and promoting blood circulation
Different modes of operation can be adjusted accordingly with less effort
Cons
6. Generic Face Vibratory Massager

The product is in our search list just because of its tremendous features that provide instant facelift and eliminate dark circles very effectively. To rejuvenate your skin, you can give a try to this face massager as it helps in skin tightening, reducing wrinkles, and gentle massaging deeply. Moreover, the high-frequency vibration of this massager positively accelerates the blood circulation of the skin. It brings back the flexibility of the skin and gives you smooth and delicate skin.
To use this massager, you just need to apply cream or essential oil over the face and leave the rest for a circular facial massager. Glide it in a circular motion to spread well the cream/oil. The high-frequency vibrations open up the clogged pores of the skin and rejuvenate it in no time. The ball roller eye massager can help in soaking the eye cream into eye skin easily.
Being a cordless and battery-operated device, you can take it with you anywhere and give your skin perfect brighten up complexion instantly. This is a compact massager that allows you to get better the uneven makeup as well.
Key Features
Ergonomic design and user-friendly device
High-efficiency vibration
Instant face-lift and skin tightening massager
Eliminate dark circles effectively
Cord-less and battery operated
Ball roller eye massager
Pros
Good for anti-wrinkle and skin tightening
Being Cordless, the device allows you to enjoy face massaging anytime, anywhere
It restores the flexibility of the skin and makes it more delicate and young
Cons
7. Srxes Electric Facial Massager Machine
For a perfectly smooth and glowing complexion, this best face massager machine from Srxes is again a great buy. The best part with this machine is that it suits all skin types without causing any irritation. The face massaging with it cleanses and relaxes your skin without any hassle. It comes with 11 attachment heads each of them works really great. Not only a face massager machine, but it can also do a lot more including professional pedicure and manicure, feet-clean, and skin-care, etc. The different attachments include:
Soft Cleansing Brush for deep cleansing of pores
Loofah for gently cleansing and massaging your skin
Rolling Massager for making better blood circumstances against skin aging
Fine Polishing Disc to remove the dead skin cells from the skin
Natural Polishing Stone to exfoliate and polish away the dead skin cells around the elbow and joint areas
Coarse Polishing Disc for removing dead skin cells on hands and other parts of the body
Medium Pedicure Shaping Disc for a pedicure
Foot Smoother Disc to gently repairing the skin and also smoothing the feet
Diamond Crystal Polish Disc to rip off and cut in the tough skin
Key Features
11 in 1 Electric Massager
Suitable for all skin types
Cleans and rejuvenates your skin for a smooth complexion
360-degree rotation for effective massaging and cleaning from head to toe
Water Resistant
Includes storage case perfect for travel
Pros
Great quality product with really great performance
Nice build quality
Soothes your skin perfectly
Runs on 2 AA long-lasting batteries
Comes with a storage case that is ideal for travel
Easy to use and gentle on the skin
Cons
No downsides for the product
8. Nova NFM-2507 5 in 1 Compact Face Massager Machine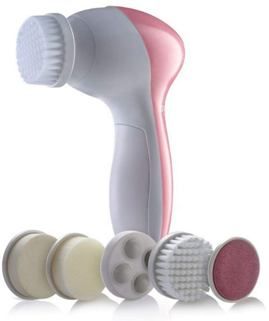 This compact and best face massager machine from Nova is an excellent purchase for absolute and perfect glow and radiance on your facial skin. With 5 different varieties of massage heads, it offers the significant benefits in facial massage. The massager works very gently on your facial muscles and thus offering a comfortable and powerful massage therapy from the comfort of your home. The different attachments include:
Soft Sponge Cleaning Head
Ball Massage Head
Sandpaper Massage Head
Soft Massager Head
Brush Cleaning Head
Key Features
5 in 1 Facial Massager Machine
Effective for head, face, and eyes massage
360-degree rotation
2 AA batteries making it more convenient to operate
Compact in size
Pros
Skin- friendly Face massager machine
Effective on all skin types
Makes your skin look healthier and glowing
Very gentle on your skin
Cons
Quality is not up to the mark
9. Buyerzone 5-In-1 Smoothing Facial Massager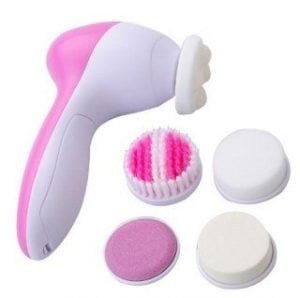 This 5 in 1 facial massager machine from Buyerzone is the best buy and comes with five features in a single one. It comes with a crude polish accessory to rip the tough skin and cut in off; Latex soft sponge for cheeks and eye massage; make-up sponge to massage and clean skin; soft brush to clear all the scurf clings on the surface; and roller massager to make better blood circumstances fro skin aging.
Key Features
Rolling massager
Soft brush
Crude polish accessory
Latex soft sponge
Make-up sponge
Pros
Easy to use
No reactions on face
Skin friendly product
Handy facial massager
Cons
No warranty on the product
10. JSB HF15 Facial Massager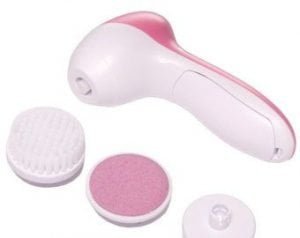 This facial massager from JSB is an economical solution for peoples of all ages. The device can take care of all your personal care needs from the comfort of your home. It can also take daily care of your skin and keeps your skin healthy and glowing. Its soft brushes cleanse your skin very deeply. It also comes with the make-up sponge that helps in removing makeup at night. Also, the crude polish accessory helps to clean up rough surfaces like elbow, ankle, and knee joint.
Key Features
3 attachments including make-up brush, soft brush, and crude polish accessory
Best for both men and women
Cleanse your skin very deeply
Pros
Works perfectly
Rotating heads are very strong for good exfoliation of the face
Massage very gently and not too harsh on the skin
Good for the price
Cons
How to Choose the Best Face Massager Machines? (Buying Guide)
What are Electric Face Massager Machines?
These face massager machines generally use battery power to operate and then automatically massage your face. These machines are nowadays very popular for face massaging and are available in huge ranges with a variety of brands, designs, and functions. The electric face massager machines come with a variety of accessories including different heads for different kinds of massage etc.
You can effortlessly perform a variety of facial massage including anti-aging and anti-wrinkle massage, face lifting massage, skin detoxifying massage, cleansing pore massage and stress relieving massage with the same gadget. And the very best part is that the electric face massager machines are not very expensive, so you can easily afford it for all your beauty and youth regimes.
Benefits of Using Face Massager
Using a face massager machine helps in relieving and releasing tension
It gives your skin a youthful appearance
A routine facial massage using face massager machine prevents wrinkles also
A circular motion massage around your face using facial massager machine improves the blood circulation and thus resulting in a more rejuvenating skin as well as an improved skin texture
You can also feel a natural facelift by using facial massager machine regularly
Muscle movement through a regular facial massage also detoxifies your facial skin
A regular facial massage using face massager also lets your skin care products to absorb your skin better, making your facial skin more glowing and youthful
Activate sluggish skin
Different Types of Face Massager Machines
Face Massager machines come in a variety of forms depending upon your needs. Basically, there are three types of facial massager machines that are as follows:
1. Roller Face Massager Machines
This is the most basic type of face massager at the most budget-friendly prices. These machines have the handle along with the rollers or balls at the end which are pressed on the skin for facial massage. You just need to hold the handle and run the roller or ball end over your face for massage.
2. Mechanical Face Massagers
These face massager machines use battery power to massage your facial skin. These are the most popular face massagers today and are available in a huge variety of brands, designs, and functions.
3. Ultrasonic Face Massagers
The Ultrasonic Face Massagers are the expensive ones and are battery-operated machines. If you need deep effect and elaborate massaging, these are very great. The ultrasonic face massager machines use high-frequency sound to cleanse deep and stimulate your face area.
Different Massage Techniques Offered By a Face Massager Machine
There are different face massagers available with unique massaging features. Let's discuss some important techniques:
1. Kneading Massage Technique
It is a very effective massage technique and is very popular among exhausted people. You can do this technique in two ways: Open & Closed. In this technique, the massager head normally spins clockwise and anticlockwise direction. It is based on reflexology that gently rubdown the skin and accelerates the blood flow of your skin.
2. Oscillating Massage Technique
In this massaging technique, the face massager typically moves back and forth on the surface of your face. Consequently, it will gracefully open the pores and helps to regulate the blood flow. This technique is beneficial to relax facial tissues and open up areas that may be blocked.
3. Tapping Massage
It simply makes you feel like tapping on your face. Tapping reduces stress and helps your face to become revitalize and fresh.
The face massagers come with different attachments that include these massaging techniques. Based on your facial preference, choose the best for your need.
Factors to Consider Before Buying a Face Massager
Every face requires different face massagers. Skin problems are many, and so are unique massagers there. Once you identify your skin problems, go with the massager that suits your purpose. For your convenience, below are some briefly described features so that you make your selection with ease.
1. Ergonomic Design
A face massager should have an ergonomic design with a comfortable grip so that you can hold it comfortably, even for a longer duration. The comfy grip helps in easy handling, so you don't get tired while doing facial.
2. Light-weight and portable
Face massager should be handy and light-weighted too. It will be convenient and easy to carry wherever you want if it is portable and light-weighted. Hence, check these features if you travel a lot.
3. Power
Face massagers can be battery-operated or electric plug-in. Both of them have advantages but with some disadvantages as well.
If you want to avoid plugging-in devices and cables, you can go for cordless battery-operated face massagers, and it is a great choice, of course. It offers you portability and much more convenience. Furthermore, a rechargeable device is an ideal option if you travel frequently and love to carry this device with you.
But it would help if you had some spare batteries while traveling to reduce the risk of low power supply. You need to buy new batteries from time to time if you go with a rechargeable or cordless face massager.
On the other hand, it is also good to choose plugged face massagers. Like battery-operated massagers, it will never run out of power in the midway of your facial. But naturally, you can't take it with you while traveling.
4. Ease of Use
Easy operation of any device is always recommended. Face massagers are generally easy- accessible, but you need to check out the manual before using the device. It will be easy to operate if you get familiar with the different features and settings carefully. Hence, read the guidebook before operating the massager.
5. Ease of cleaning
Except for ease of usage of the device is considered before purchasing, it should be easy to clean too. The face massagers have plenty of accessories, including soft bristles, roller, sponge, and others. Make sure it is easy to clean so that it gets hygienic after every use. It might cause infection on your skin if any accessories or parts are left unclean after use.
You need to know if it is cleaned with simple water or any detergent or chemical solution. Always prefer water cleaning because of its easy availability in place of alcohol or detergent. Easy cleaning face massager is always convenient and suitable to use.
6. Stability
Face massager should be steady and secured while in operation. The vibrations should be limited so that it will not bother you while getting a massage. The face skin is pretty soft and sensitive, so the face massager you choose must provide even vibrations. It should be gentle on your face as well.
It is always recommended not to do too much massage; otherwise, it will damage your skin. Always follow the prescribed time given in the manual.
7. Timer
Every massage therapy requires a specific time, and so with the face massagers. Some massage will require 10 minutes, and some can last for 15-20 minutes. Please don't do it too long; otherwise, you can damage your skin. To keep your skin safe and sound, always stick to the precise time.
Most of the latest face massagers have a timer and LCD with backlights. The backlights will illuminate automatically when the time is up. That's why; always prefer a model that has good timer for easy control.
8. Durability
It is recommended to go for the best-reviewed product or branded products so that it will last long. Don't choose a cheap or poor-quality product. After all, it's all about your skin. A substandard product is required to replace in a few months while good quality runs for last. Hence, always trust branded products and choose the best of them. Ensure the product you choose comes with a Warranty, and that will give you surety for its permanence and stability.
How to use Electric Face Massager Machine at your Home?
Massaging your face on your own is one of the enjoyable and relaxing tasks that delivers fresher, brighter, and tighter complexion and makes your facial skin more glowing and rejuvenating.
Gone are the days when you depend only on the spas for all your beauty treatments. A lot of electric face massager machines are now available that you can use very simply and conveniently. You can also use these machines efficiently at home to get an effective spa-like skin treatment without spending more pennies. Using a facial massager machine is not a rocket science, just switch on the button and roll over your face around for few minutes. And done.
Just use these machines a couple of minutes and get incredible results including a supple, smooth, and brighter skin and the plus part is you feel very good. Using a face massager machine also lets your favorite skincare products to absorb more deeply in your skin that offers even more glowing complexion.
Face Massager Frequently Asked Questions (FAQs)
1. Does vibration of a face massager rejuvenate your face?

Your skin feels more refreshed, toned, lifted, and younger after high-frequency vibration with face massager. Your facial muscles get more relaxed with the vibrations held by face massagers than traditional face rolling techniques.

2. Does high-frequency vibration make tighten your skin?

Facial with face massager removes acne or gives you glowing skin and helps in tightening your skin. With its high-frequency vibration, the facial muscles get tighter, and increased blood flow can make skin younger and healthy. It also reduces wrinkles and gives you firm and tone skin.

3. Are LED face massagers harmless to your skin?

We can't deny the fact that light therapy can damage your eyes. During photo rejuvenation treatment, the lights are extremely bright, and this can affect your sight for a while.

4. Is ultrasonic face massager useful, or is it safe for skin?

It is a gentle treatment and is completely safe for all skin types. It is a non-invasive treatment for severe skin conditions like acne, rosacea, wrinkles, etc. In this movement, the sound waves go through the skin and making the process very effective. It does not cause any adverse side effects, redness, pain, or discomfort.

5. How high-frequency pulsation helps in getting healthier skin?

Massage therapy always works, and vibratory massage technology stimulates your skin to remain flexible and moist. Vibrations help to improve skin tightening, facelift, improved blood circulation, and skin revitalization.
Vibratory massage technology also helps to get better under eye areas. It will effectively reduce wrinkles around the neck, eyes, lips, and forehead.
Conclusion
This is all about the best face massager machines to make your skin healthier and getting relaxed from the stress. Attending a beauty salon is very costly and not affordable for everyone. So pick your desired piece from the above-mentioned face massager machines which are an affordable solution for all your facial massage needs from the comfort of home.
Read Related Reviews
Buy Best Face Massager Online
PIARA 5 in 1 Face Facial Exfoliator Electric ...
71%
PIARA 5 in 1 Face Facial Exfoliator Electric ...
71%
Veentus Ultrasound Face Lift Machine Led Ligh...
51%
THRIVE Tonic Face Massager, Personal Care Mas...
50%
HOMENZA 5 in 1 Portable Electric Facial Clean...
47%
AGARO 3-In-1 Electric Rose Quartz Face Roller...
57%
Ladista Facial Massager Jade Roller & Gua Sha...
3%
GENERIC 5 in 1 Electric Wash Face Machine Fac...
52%