Massage is the best way to get rid of all your stress and getting relaxed. And when it comes to face, the Face Massager Machines comes with innumerable benefits. Our face is one of the sensitive regions of our body, so it needs some extra care. Also, everyone wants to retain their youth as well as wants an attractive appearance as long as possible. That is where facial massager machines are very helpful in rejuvenating your facial skin.
Our Best Picks of Face Massager Machines
To get the detailed description, specifications, and buyers feedback of all the above listed models, check our Review Section.
Benefits of Facial Massage
Give your skin a youthful appearance
Relaxes your facial skin
Releases wrinkles and gives you a healthy glowing skin
Stimulates the blood circulation
Cleanses the skin impurities
Activate sluggish skin
Relieves muscle tension
Different Types of Face Massager Machines
Face Massager machines come in a variety of forms depending upon your needs. Basically, there are three types of facial massager machines that are as follows:
Roller Face Massager Machines- This is the most basic type of face massager at the most budget-friendly prices. These machines have the handle along with the rollers or balls at the end which are pressed on the skin for facial massage. You just need to hold the handle and run the roller or ball end over your face for massage.
Mechanical Face Massagers- These face massager machines use battery power to massage your facial skin. These are the most popular face massagers today and are available in a huge variety of brands, designs, and functions.
Ultrasonic Face Massagers- These are the expensive ones and are battery operated ultrasonic face massagers. If you need deep effect and elaborate massaging, these are very great. The ultrasonic face massager machines use high-frequency sound to cleanse deep and stimulate your face area.
Best Face Massager Machines Reviews
So, here is the full review of each models of the face massager machines that we have listed above.
1. JSB HF101 Facial Massager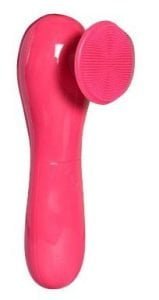 This JSB HF101 facial massager machine is the perfect addition to all your facial massage needs. This one is ideal for both men and women. The device comes with two-speed vibration settings so that you can select the ideal speed according to your need. Its soft silicon brush lets you do the massage very comfortably and easily.
Key Features
Compact pocket sized facial massager
Silicon Brush Head
Two-speed vibration for effective massage
Washable and reusable soft silicon brush
Buyers Feedback
The Good
Perfect massager with strong vibration
Easy to handle
It is so soft and very effective even on sensitive skin
Nice product at this price range
View on Amazon View on Flipkart
2. Buyerzone 5-In-1 Smoothing Facial Massager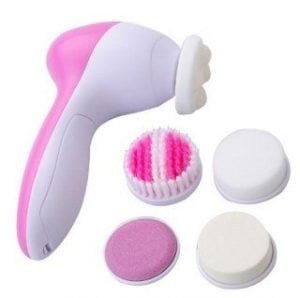 This 5 in 1 facial massager machine from Buyerzone is the best buy and comes with five features in a single one. It comes with a crude polish accessory to rip the tough skin and cut in off; Latex soft sponge for cheeks and eye massage; make-up sponge to massage and clean skin; soft brush to clear all the scurf clings on the surface; and roller massager to make better blood circumstances fro skin aging.
Key Features
Rolling massager
Soft brush
Crude polish accessory
Latex soft sponge
Make-up sponge
Buyers Feedback
The Good
Easy to use
No reactions on face
Skin friendly product
Handy facial massager
3. JSB HF15 Facial Massager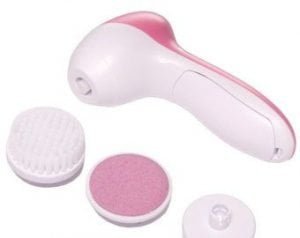 This facial massager from JSB is an economical solution for peoples of all ages. The device can take care of all your personal care needs from the comfort of your home. It can also take daily care of your skin and keeps your skin healthy and glowing. Its soft brushes cleanse your skin very deeply. It also comes with the make-up sponge that helps in removing makeup at night. Also, the crude polish accessory helps to clean up rough surfaces like elbow, ankle, and knee joint.
Key Features
3 attachments including make-up brush, soft brush, and crude polish accessory
Best for both men and women
Cleanse your skin very deeply
Buyers Feedback
The Good
Works perfectly
Rotating heads are very strong for good exfoliation of the face
Massage very gently and not too harsh on the skin
Good for the price
View on Amazon View on Flipkart
4. MCP 5 In 1 Face Cleaner Massager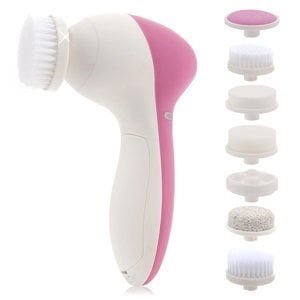 This Face Massager Machine from MCP is the best one for treating anti-aging and removing dark spots as well as acne scars. It is a very lightweight facial massager machine that you can use daily at home for maintaining a good and healthy skin. It comes with 5 features to help you in getting an effective facial massage.
Key Features
Latex soft sponge for eye and cheeks massaging
Make-up sponge to massage and clean your skin
Rolling massager
Soft brush to clear the scurf clings on the surface
Crude polish accessory to rip the tough skin and cut in off
Buyers Feedback
The Good
Performs very well
Cleanse your skin perfectly
The accessories included with it are great
The Bad
Quality is not up to the mark
View on Amazon View on Flipkart
5. Estilo 5 In 1 Facial Exfoliator Electric Massager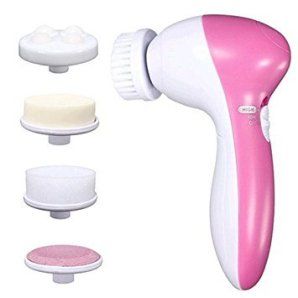 It is also one of the best face massager machines from the brand Estilo. If you want a glowing skin, this one is absolutely perfect. Its effective facial massage helps you with the better blood circulation. The regular use of it makes you feel the lighter skin.
Key Features
Helps with better circulation of blood
Glowing skin with regular use
Lightens the skin
Latex sponge massager helps for better spreading the light cream
Buyers Feedback
The Good
Sturdy and durable
Works very nicely
Easy to use
Compact and portable
The Bad
Rotating portion is slightly loose
Conclusion
This is all about the best face massager machines to make your skin healthier and getting relaxed from the stress. Attending a beauty salon is very costly and not affordable for everyone. So pick your desired piece from the above-mentioned face massager machines which are an affordable solution for all your facial massage needs from the comfort of home.
Explore More Related Products
Weltime Beauty Care Brush Deep Clean 5-In-1 P...
67%
GAHI Beauty Care Brush Deep Clean 5-In-1 Port...
72%
HEMIZA 5 In 1 Face Messager for facial for Wo...
13%
Lifelong LLM720 Rechargeable Face Cleaning Ma...
50%
EAYIRA 5 in 1 Face Facial Exfoliator Electric...
80%
EGJQI Devanshi Enterprise 5 in 1 Facial Exfol...
63%