Whether it will be a stiffed neck, aching back, or painful shoulders, a relaxing massage is the best way to relieve the tight muscles. But making an appointment at the massage salon is not possible every day as it is time-consuming and costly as well. So you need something handheld to get relief from the body ache and to reduce strain, also that you can do it on your own. Here comes the most awesome device Body Massager Machines that are such a wonderful addition to living a healthy and stress-free life.
Body Massager Machines are meant to tailor the target area and intensity of your massage so that you can achieve the maximum relaxation and revitalization. You can easily use the body massagers anywhere on your body including back, neck, shoulders, arms, legs, thighs, etc. to soothe your painful muscles. The body massager machine can also help in relieving headaches and anxiety.
Best Body Massager Machines Review
In this blog post, we have covered the 5 best body massager machines that will definitely make you feel better after a workout and even your hard day's works. Just go through the full review of our best-picked body massager machines of 2019.
1. Dr. Trust Physio Powerful Double Head Body Massager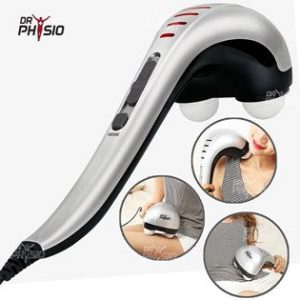 If you want a professional grade massaging at home, this one body massager from Dr. Trust will absolutely be your best choice. Simply turn it on, and this handheld electric massager lets you perform the process by yourself. It comes with a non-slip handle that makes it easy to use. So get ready to relax and enjoy a powerful massage that will leave you feeling relaxed and rejuvenated as well as alleviated painful muscles.
Key Features
Double head design with 3 sets of removable free massage heads for a variety of massaging options
Professional strength massager
Customizable speed settings
Non-slip and comfortable grip
Therapeutic and fatigue relief
Buyers Feedback
The Good
Great for use on areas like neck, back, legs, and foot
Great performance
Easy to use
2. Stvin Body Pain Relief Massager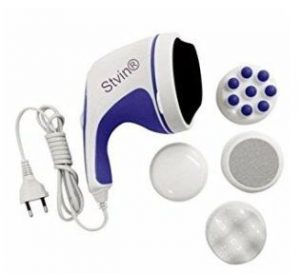 The Stvin body pain relief massager is all the new full-relax tone back massager for the body. It is very helpful for relaxing your back tone, losing weight, and burn fat. Also, an extremely powerful device to help you in relieving stress and body pain. It relieves the pressure and restores energy as well as vitality. It also comes with unique rapid rotation and powerful massage to relieve pain. You can use it on areas including shoulder, abs, calves, underarm, hip, and feet.
Key Features
Power speed regulator
Handheld and very easy to use
Easy to carry anywhere
Buyers Feedback
The Good
Light, convenient, and comfortable body massager
Very useful for body massage and muscle relaxation
The Bad
The grip is short, so somehow uncomfortable to hold it
3. JSB 03 Body Massager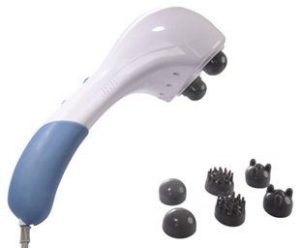 This powerful body massager from JSB is an effective device to relieve the muscle stiffness and to get a relaxing massage. With this massager, you can experience a soothing massage entangled with a therapeutic approach. And thus, you can make an instant relief to every tired and aching part of your body.
It offers versatile functionalities which are capable of relaxing your body. Also, featuring a Massage Intensity Controller, this massager comes with different intensity levels. And so, you can choose the desired settings in accordance with the intensity of your body ache.
Key Features
Heavy-duty full body massager with dual heads for wide coverage
Powerful vibration
Body massager with intensity controller
Nonslip rubber grip for easy handling
Ideal for use in muscular pains
Buyers Feedback
The Good
Wonderful device for body massage
Very easy to handle
Powerful vibration for effective pain relief
4. UltraCare PRO US-111 Portable Ultrasound Massager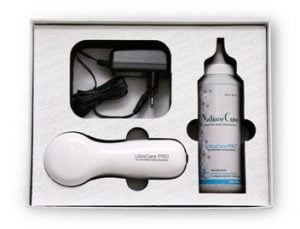 This body massager from UltraCare is the best one to relieve your muscle stiffness as well as body pain. It incorporates ultrasound therapy that produces a deep heat, so it is very effective for pain management. The handheld massager US 111 make ultrasound treatments completely portable & give you the ability to treat at home or on the go very conveniently. Its feathery weight and slim appearance increase its durability.
Key Features
Portable ultrasound massager
Cures Back, Neck, Shoulder, Arm, Wrist, Hip, Elbow, Leg, and Foot
Pain and all kind of Joint Pain
Safe and natural healing of pain
Easy to operate
Buyers Feedback
The Good
Excellent for deep-rooted pain relief
Natural healing and no side-effects
Easy to carry anywhere
Drug-Free solution
Easy to use
5. Ozomax Professional 17 in 1 Body Massager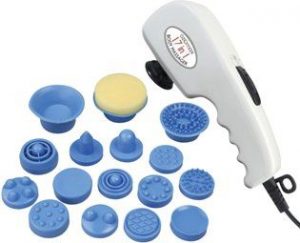 This body massager from Ozomax is a complete solution for relaxing your tensed muscles and getting complete pain relief at home. With an ergonomic and streamlined design, this massager comes with 17 attachments to be useful while massaging your neck, face, shoulder, and back. This body massager is designed to offer you a comfortable and powerful vibrating massage therapy that can help in relieving fatigue, relax the whole body and also ease stress. It also comes with 2 adjustable massage speeds so that you can enjoy the massage very flexibly.
Key features
Powerful massager with 17 different attachments for every part of your body
Absolute pain reliever and muscle relaxer
Easy to use
2 adjustable speed settings
Buyers Feedback
The Good
The two-speed setting is a nice feature
Powerful massager
Very handy and easy to use
Worth value for the money
View on Amazon View on Flipkart
Conclusion
This is all about the best body massager machines of 2020. All these are picked from the well-known brands, so quality is fully assured. Get ready to soothe your sore muscles and release your body stiffness by picking one of the above-mentioned body massager machines. You can also share your experiences and comments below.
Related Items
Dr. Trust Physio Electric Full Body Massager ...
40%
Lifelong LLM27 Electric Handheld Full Body Ma...
73%
Birud® Electronic Dolphin Massager
47%
HEMIZA ZT Stylish Full Body Massager Machine ...
27%
Maharsh enterprise Powerful Whole Body Manipo...
32%
Right Choice Maxtop 7-In1 Magic Complete Body...
40%