Massaging different parts of your body is the best way to reduce stress, relieve muscle tensions, relieve soreness and muscle pain, improve sleep and overall mental as well as physical health and a lot more. Visiting an expensive spa for this is quite not possible in our daily routine. So what if you get the same comfort of relaxation at home by spending only a few pennies? Isn't it an awesome thing? Of course Yes. Ranging from body massager machines to face massager machines and also leg and foot massager machine, everything is now available in this technological era. All you can buy very easily to get the amazing benefits of spa-like massage from the comfort of your home at very cost-effective prices. So, welcome to the blog that we have bring for you with the best models of Foot and Calf Massagers you can buy to use at home.
Foot and Calf Massagers are especially used to make you get relief from pain and stiffness on your foot and calf. And it is best for the regular exercise people, athletes, sports person, and even for those who experience the achy feet. Foot and Calf Massagers ultimately relax you and also treat the soreness and stiffness in your feet and legs. So, getting a foot and calf massage is extremely best to get more relaxation and relief from the stress gathered on the legs area.
To get more detailed information on Foot and Calf Massagers, please check our Buying Guide Section.
Our Best Picks of Foot and Calf Massagers
Here, we have lined up the best models of foot and calf massagers with distinct features and prices. So, just go through the quick list to make your best pick.
Also, Check
Best Foot and Calf Massagers Reviews
Now to get the full details of the working mechanism, benefits, and features of all the above models, check the detailed review here.
1. Robotouch Classic Plus Shiatsu Foot and Calf Massager
This foot and calf massager from Robotouch is a complete leg massage solution including food and calf areas, and that's why comes in the top of our list. With its novel appearance and stylish design, it not only gives an aesthetic look but also offers a great massage to your leg area. The Robotouch Classic Plus massager has been designed in two sections the up and down section with overturn function. It combines the intense kneading and vibratory reflexology massage that takes away your pain around the leg and feet area in few minutes.
Key Features
Designed with 2 sections and an overturn function
The detailed control panel on the top of the panel
3 intensity options
3 Air Massage options
Built-in roller function
Foot rollers with three pre-set auto modes
46 airbags with full airbag massage
Kneading and rolling movements
Automatic shut-off after 15 minutes of massage
Carbon fiber heating on thigh, legs, and ankles
Buyers Feedback
The Good
Nice and sturdy built
Gives a very good massage to foot and heel
Airbags for calf massage is extremely good
The adjustable frame can be used either for the calf muscles or the thigh
The mild heat and pressure massage is also very nice
Performs excellently
The Bad
Moving the machine to another place is very tricky and tough
Higher on the price side
2. Lifelong LLM99 Foot and Calf Massager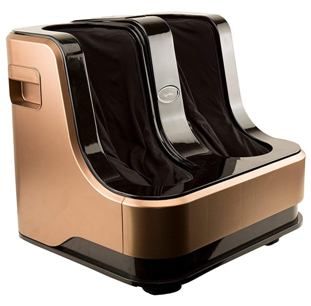 This is another best model of foot and calf massagers from the brand Lifelong. With its flexible rubber kneading pads, you can get an absolute spa-like massage experience. It comes with the roller massage technique that perfectly massages your foot area along with ankles and calf. It is also equipped with heat and vibration technologies that you can use accordingly on the basis of your preference.
This Lifelong Foot and Calf Massager also has 4 customizable massage modes including kneading, vibrating, rolling, and, heating programs. With its special design to provide electronic simulation on the required pressure points at the sides of the sole, it helps your feet to get relax, maintains blood pressure, strengthens muscles, improve balance and flexibility.
Key Features
3 Auto Programs
3 Personal Preference Programs
LED Display for easy operation
15 Minutes Auto-Off function
Focuses on Acupressure Points
Mild IR Heating Feature
4 customizable massage modes – Kneading, Vibrating, Rolling, and Heating
Reflexology Technique
Cures Emotional Stress
Buyers Feedback
The Good
Nice build quality
Three automated modes plus heating option is very good that relaxes your aching feet and legs
Easy to set up and use
Superior performance
You can easily select between the operations of heat or vibration with its customized feature
It also lets you select on what part of your leg and foot you want to get a massage on – Foot and Calf, Foot or just Calf
3. JSB HF05 Foot and Calf Massager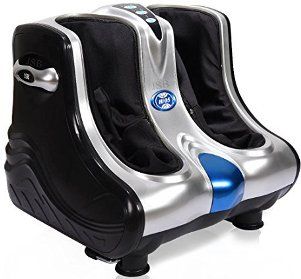 This is another smart choice for foot and calf massagers that work amazingly on achy feet and sored legs. This high-quality electric massager comes with a number of awesome features to provide more relaxing foot and calf massage. The number of preset programs and service levels in it works perfectly for different stress and muscle type.
When it comes to design, it's fashionable appearance is the most eye-catching one. With the Rubber Kneading Pads, it effectively massages foot, ankle, and calf at the same time. It works on the principle of reflexology for easing the tensioned muscles.
This foot and calf massager from JSB has 2-speed settings and vibratory mode that you can choose accordingly depending upon your comfort level. The very best part is that it can recline up to 45 degrees and can be used while sitting or reclining on a chair.
Key Features
Rubber Kneading Pads for effective foot, calf, and ankle massage
3 Modes of vibration and 3 Modes of kneading
Relaxing Reflexology Vibration Plate on the sole of the foot
Recline up to 45 degrees
15 minutes auto shut off
Gentle vibration system
Environment-friendly
Removable and washable foot cloth
Buyers Feedback
The Good
Great in terms of performance
Awesome build quality
Various massage modes are really very nice to choose accordingly
Easy to use
Best for elderly people
Consumes very less power
The Bad
Not ideal for people of height above 5'8"
4. HealthSense LM 350 Foot and Calf Massager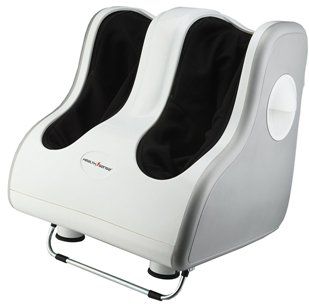 This foot and calf massager from HealthSense comes next in our list for its amazing wonder on leg and foot pain. With lots of awesome features, it promises to deliver the best leg, foot, and calf massage with the utmost relaxation. The machine is designed in such a way that provides electronic stimulation on the required pressure points around the leg and foot areas. And the very best part is that you can adjust the massage intensity accordingly.
Key Features
3 customized massage options individually designed for leg and feet
Powerful rollers to deliver robust under-foot reflexology for heels and archs
Flexible adjustment options to change speed and intensity accordingly
Wrap-around squeeze massage for instant relief
Extended height for maximized massage coverage
Auto shut off feature
Removable and washable foot clothes
Buyers Feedback
The Good
Build quality is extremely up to the mark
Assorted leg and foot massage with 3 intensity levels
Adaptive leg and foot size
Very handy and easy
Nominal voltage consumption
The kneading mode does work the calf and foot with a squeezing/pressure action that is helpful for circulation very relaxing
Vibration mode pushes small needles into foot sole this really helps apply deep massaging pressure to the bottom of your foot
The Bad
Need extra options to increase heat intensity
5. Robotouch Ortholite Leg and Foot Massager
This is really an innovative foot and calf massager with unbeatable customized massage features. It comes with 4 flexible kneading discs that knead lower foot and calf very effectively. This massager also combines the kneading and vibratory actions, heat therapy, and foot rollers to give you the most relaxing massage experience. With the deliberately placed buttons on the switch panels, you can easily control the massage function with ease.
Key Features
4 flexible kneading discs
3 intensity adjustments
5 massage programs
17 variable massage combinations
Automatic detection
Memory function
Detachable fabric cover with zip for easy cleaning
LCD display
15 Min Auto Shut off
Buyers Feedback
The Good
Durable and sturdy
Very nice and comfortable
Gives too much relief to the leg, ankle, knee, and calf pain
Easy to use
6. Agaro Foot and Calf Massager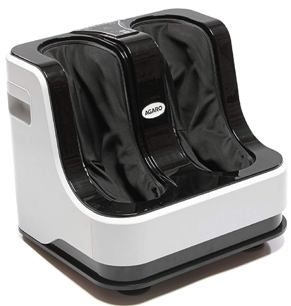 This is another great piece of technology from the brand Agaro. This foot and calf massager is one of the complete devices to bring your massage experience to the next level. It comes with specifically designed massaging pads to recreate the sensation of nice wavy massage on your feet, calves, and ankles. The great combination of kneading and vibratory actions gives you the most relaxing and revitalizing massage, along with the beneficial reflexology effect.
Key Features
Magnetic therapy
4 flexible kneading discs
Customizable massage nodes
Compact design
LED display with touch button
Adjustable seating position
Detachable fabric cover with zip
Auto 15 Minutes Shutoff
Buyers Feedback
The Good
Compact and lightweight
Quality of the product is very nice
Easy to control
Best to reduce leg and feet pain
The Bad
No remote control
The cord length is small
7. JSB HF60 Shiatsu Leg Foot Massager Machine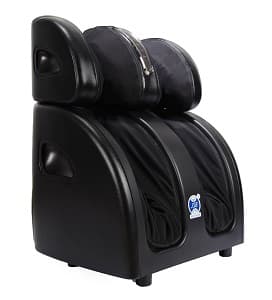 The JSB HF60 Foot and Calf Massager Machine is a multi-functional massager with lots of awesome massaging features. It is absolutely a decent choice for those who have lower body circulation problems. It comes with the kneading pads for an in-depth therapeutic massage. This massager helps you to get a relaxing kneading massage on the feet, ankles, calves, thighs, and arms. It can also be used as a dedicated massager for calves or thigh when you lie down on a flat surface for massaging these areas.
Key Features
Fully functional compact massager with heat
Kneading Pads for deep massage
3 kneading massage programs
3 modes of vibration
Auto shut-off after 15 minutes of massage
Buyers Feedback
The Good
Build quality is very nice
Works excellently to kill the pain around legs and feet
Removable foot covers ease the cleaning process
Compact and portable
Easy to operate
The Bad
Only ideal for users upto 5'6″ height.Above that height this leg massager will not cover some part of upper calves
How to Choose the Best Foot and Calf Massagers? (Buying Guide)
Benefits of Foot and Calf Massagers
Induces a deep state of relaxation
Stimulates muscles and reduces tensions
Helps in recovering after workout sessions
Prevents Migraines
Improves blood circulation, surging the targeted area with nutrient-rich blood that will also boost the natural healing capabilities of your body
Speeds recovery after injury or surgery or disorder like plantar fasciitis by relieving the pressure and strain on your arches
Frequent foot massages also reduce the effects of depression and anxiety and lower blood pressure as well
How Foot and Calf Massagers Work?
Foot and Calf massagers are designed to work on the leg area especially on feet, calves, and ankles. These are the chair-type machines that massage your legs area while sitting down in it. Usually, it comes in different shapes and styles, but the most popular one is the double massager where both your legs are placed into the machine that completely surrounds your feet and the back of the legs to halfway up the calf. And thus you can get a perfect leg massage with this machine.
Here is a quick video demonstrating how Foot and Calf Massagers work.
Features to consider before buying a Foot and Calf Massager
Buying Foot and Calf Massagers depend on the requirement of the users. It consists of different beneficial features. So, go through the following points for making the best purchase:
Operation Mode
The foot and calf massagers generally come with two operation modes- Manual and Automatic. With manual operation mode, you will have to manage the buttons or scroll feature manually to get the massage. And on the other hand, the foot and calf massagers with automatic operation mode functions automatically. So you can choose accordingly as per your ease and convenience.
Size and weight
This is the most important point to consider if you are buying the foot and calf massager for home use. If you want to fix it at one single place only, go for the heavier models. And if you need something portable, then go for the lighter and compact models.
Mechanism
Different models come with different working mechanism. Some works as vibrators, and some works on the principle of kneading. So what you like the most, you can choose accordingly.
Heat Function and Variable Massage Speeds
It is preferable to choose the model with variable speed settings as well as heat function so that you can get a massage in a more impeccable manner. The heat function helps to release the stress on the tight muscles. They also play an important role in providing relaxation to the limbs.
Comfort feature
The foot and calf massagers come with the cushion surface that offers ultimate comfort to the affected portion of the limbs. The Soft foam is injected with the gel and or plastic pads that provide comfort during the process of massage.
Non-slippery foot Pads
Also check whether the machine has pads or not and even the machine with non-slippery foot placements are the ideal options.
Final Words
This is all about our best picks for the latest models of foot and calf massagers featuring great technology to use at home for an effective leg massage. All these models are capable of offering a great advantage with the thighs, foot, calf, and ankle massage. And also promises to bring the massage experience of your legs to the next level. So, it's up to you. Choose your favorite model and get an amazing experience of leg massage from the comfort of your home.