The scariest thing in the winters is to wait for hot water in your bathroom tap for a shower. But now, no more. An instant water heater is one of the best solutions to overcome this issue. Although there are many versions of geysers available, including storage geysers, gas geysers, immersion rods, etc., but none can deliver the fast, hot water than the best Instant Water Heater can.
What is an Instant Water Heater?
Instant Water Heaters are also known as on-demand water heaters, tankless water heaters or tankless geysers. These water heaters are the low-storage capacity water heating units that are available basically in 1 liter or 3 liters to a maximum of 6 liters capacity. And it can heat a small quantity of water instantly. The power ratings for instant water heaters are typically 3000 Watts and 4500 Watts and are suited for smaller families.
The most important question comes how to choose the best instant water heater for your needs. We recommend you to read our Ultimate Buying Guide, so that you can find the best one for your daily hot water needs in kitchen and bathroom.
Top 10 Best Instant Water Heaters in India
Best Instant Water Heaters – Reviews
Now, its time for the complete review of all the 10 best instant water heaters that we have listed above. These are highly efficient models and also very cost effective. So get your best pick by reading the reviews of all these models.
1. Crompton Solarium Vogue 3-Litre Instant Water Heater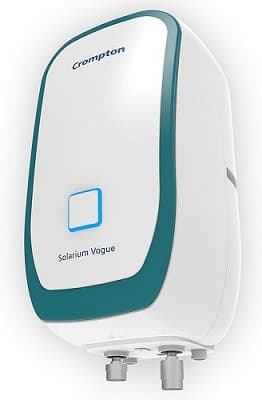 This model from Crompton Solarium is our top pick in the list of best instant water heaters in India. It comes with impressive features and performance that makes it a best solution for all your winter heating purposes. The 3 liters capacity of this geyser makes it suitable for an instant shower. No matter what is the family size as you receive continuous hot water supply from the tap.
It includes a copper heating element that accelerates the heating process without wasting much energy. Also, it adds to the durability of the geyser.
This water heater also comes with a built-in coil to raise the water temperature. And the glass coating tank prevents the rusting and makes the water heater scrape free. Moreover, the sleek design of this water heater adds to the contrast of your modern bathroom. Being light weight and reliable, this instant water heater is surely a unique buy.
Key Features
Sleek design and anti corrosive body
Steel tank water heater
Long lasting copper heating element
Fusible plug and Thermal cut-out
Reset knob for minimal water consumption
Pros
Nice and sleek design
Instant heating due to built-in coil that raises the water temperature instantly
Durable
Small in size and easily portable
Easy to install
Best in class safety features
Cons
Consumes heavy electricity
There is no temperature control from outside
2. Bajaj Flora Instant Water Heater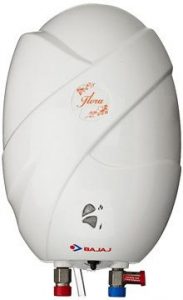 Just get a soothing warm water bath and get relaxed after a tiring day using this instant water heater from Bajaj. It heats the water instantly, so you don't need to wait for long time. And the capacity of 3 liters of this water heater makes it an ideal choice for small and medium sized families.
This instant water heater is made from rust-proof and high impact resistant thermoplastic that ensures its durability for the years. Also, the device is equipped with neon indicators for power heating functions.
Further, its triple safety system and fire proof cable protects you and your family from accidents. The very best part of this instant water heater is that it is suitable for use in multi-storey and high rise buildings.
Key Features
High impact resistant plastic body
Neon indicators for power on and heating function
Long life heating element
Multiple safety features
Pros
Good and quality product
Compact design
Heats water very quickly and automatically switches off when hot
Cons
Consumes more electricity
3. AO Smith EWS-3 Instant Water Heater
This model of the instant water heater from AO Smith works very well for all your water heating needs in the very efficient manner. The capacity is 3 liters which is adequate for small and medium sized families.
Just get instant hot water within minutes with this water heater. Its steady flow not only used for bathing purposes but also for washing dishes and clothes and also for other household chores.
This AO Smith water heater has a highly efficient glass coated heating element that prevents the sediment or scale build-up on the surface. And thus increasing the life span of the heating element. This durable water heater also has a thermal cut-out feature that prevents your appliance from overheating.
Key Features
Compact design
Glass coated heating element
Rust-proof exterior body
High rated pressure of 6.5 bar that makes it ideal for high rise buildings
Hi-tech thermostat and cut-out
Pros
Decent design
Starts working within minutes
Works well at low pressure
Cons
Consumes high electricity
4. Singer Fonta Instant Water heater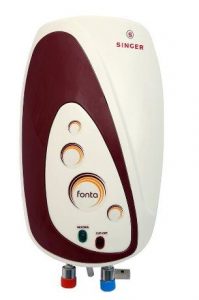 This trendy looking smart appliance from Singer will bring all the water heating solutions you desire. The water heater comes with a 3- liter capacity and its compact design ensure that it will fit into small bathroom areas as well as the kitchen.
This high-quality geyser comes with a non-corrosive, shock-proof and sturdy ABS outer body along with a stainless steel water tank. It also boasts about a long lasting nickel plating heating element that is designed to withstand the extreme temperatures. And also be resistant to corrosive elements in hard water.
Heat retention is one of the best features of this Singer Instant Water Heater. It comes with a resin bonded glass wool insulation that is very effective material for retaining heat. This light-weight and easily installable instant water heater can be easily unfitted and transported with convenience.
Key Features
Stainless steel tank
Non corrosive shock-proof ABS outer body
Thermal Cut Out
Nickle Plated heating element
Pros
Heats water instantly
Works very well
Great geyser in this price range
Energy efficient water heater
Cons
Consumes more electricity
5. Havells Instanio 3 litre Instant Water Heater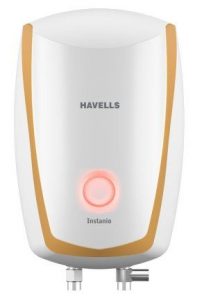 Get an amazing experience of the warm water bath and even do all your kitchen chores related to warm water with this water heater from Havells. This awesome water heater has a host of unique features which will ensure that you can get hot water whenever you want it.
The applinace is made up of high material ensuring that it is long-lasting. The geyser also offers an ISI marked heating element which is perfect.
An over heat cut-off feature is also there that ensures the water does not get too hot. Once the water reaches the desired heat, the geyser will automatically shut off ensuring that you get exactly the temperature you want.
Key Features
Compact and easy to install
Rust and shock proof ABS outer body
Non-ferrous pressure plate
High precision pre-calibrated thermostat, safety valve, and preset thermal cutout
Ultra thick stainless steel inner tank of superior grade
Fire retardant power cord
Pros
Nice product with decent look
Heats water instantly
Start working in minutes
Consumes less electricity than others
Cons
6. V Guard Iris Instant Water Heater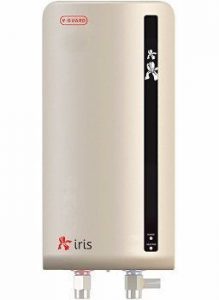 This technologically advanced instant water geyser from V Guard is the safe and effective way to get hot water instantly. With many more outstanding features, it is again one of the best water heaters in India.
The outer body of this appliance is rust proof. And the inner water tank is made with high-quality stainless steel tank that ensures the sturdiness and durability of the geyser.
This instant water heater works well at a pressure of up to 6.5 KGcm/2 that makes it ideal for even multi-storey buildings, high rise buildings with high pressure of water supply. It also comes with the superior PUF insulation that helps to minimize the heat loss and so you don't need to worry about the higher power consumption.
Key Features
Instant hot water solution for bathroom and kitchen
Ideal for high rise buildings and multi-storey building with high-pressure water supply
Long lasting rust proof outer body
Long life heating element
LED Indicator
Pros
Inbuilt quality is awesome
Great in performance
Low power consumption
Cons
7. Kenstar Jacuzzi KGT03W2P Instant Water Heater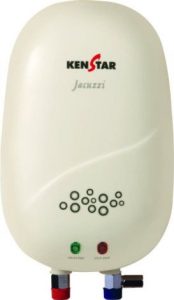 Get hot water instantly with this Kenstar instant water heater. It comes with a storage capacity of 3 liters with the high power output that helps in quick heating of water. The elegant design of this water heater imparts an organized look. And also the compact size of it aids you to comfortably place this water heater in your bathroom as well as the kitchen.
This water heater has the rust-free exterior that makes it corrosion resistant and thus increasing the life span of the heater. The heater has also a unique Penta-safe technology that protects from electrical hazards.
Key Features
Compact and elegant design
High energy efficient
Anti corrosive body
Copper Heating Element
Fire Retardant Cable
Long lasting heating element
Multiple thermal and safety settings
Pros
Works efficiently
Low electricity consumption
Auto cut-off feature, so no electricity is wasted
Cons
8. Morphy Richards Quente 3-Litre Instant Water Heater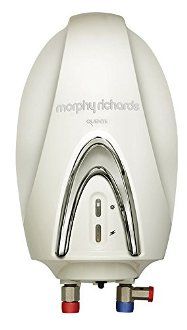 The next comes in our list is the Morphy Richards Quente Instant geyser with the capacity of 3 liters. Its prismatic design offers an optimum balance of height, width, and depth ratio, thereby providing the higher efficiency. The classy vertical wall-mountable design is ideal for large spaces and also adds a great style to your bathroom and kitchen decor. It comes with a rust proof body and a superior heating element that is not only durable but also protects the water heater from damage due to hard water. So, start your day with the refreshing warm water bath with this instant geyser.
Key Features
Capacity 3 L
Rust Proof Body
Prismatic Design
Superior heating element
Indicator Lights for Power On
6 Bar Pressure
Pros
Stunning, appealing look
Very fast heating
Great performance
Quality is superb
Useful for kitchen and bucket bath
Cons
Ideal for small family only
9. Racold Pronto Neo Instant Water Heater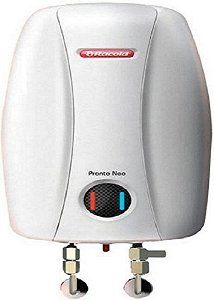 The Racold Pronto Neo Instant geyser is another smart choice for all your warm water needs in the kitchen and bathroom during the chilly winters. With an elegant, stylish design, it combines both technology and style. This instant geyser is made up of ABS body material that offers toughness, high impact resistance, and high heat resistance. Its high power heating element allows the geyser to warm water instantly.
This instant geyser also comes with multiple safety features against high pressure and temperature with cut out, thermostat, and safety valve. The best is its 6.5 bar high pressure withstanding capacity that makes it an ideal choice for high rise buildings and high-pressure pump applications.
Key Features
Rust Proof exterior
5 Star BEE Rating
Anti syphoning system to prevent the backflow of water from the container to avoid dry heating
Elegant design
High power heating element
Multilevel safety features
Thermostat and cutout for enhanced safety
High density and thick PUF for better energy efficiency and reduced electricity bills
Pros
Good and compact for small uses
Heats up water very quickly
Electricity consumption is moderate
Unmatched quality and design
Cons
10. Venus Lava Instant Geyser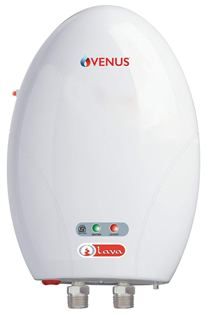 Now coming to the next amazing choice for instant water heaters is Venus Lava. Fulfill all your hot water needs at the flick of a switch with this instant geyser. With an easy and compact wall-mountable design, you can easily connect it with your taps and showers for instant hot water. Also, its instant heating mechanism lets you save a big on your electricity bills.
This instant geyser has a corrosion free and shockproof ABS plastic exterior body that makes it more durable. And when it comes to safety, this one proves out to be the best. It has a thermostat feature that makes the geyser automatically switch off when the desired heating level is reached. It also comes with a thermal cut-out feature that protects the geyser from overheating and dry heating.
Key Features
99.9% pure copper tank for durability and corrosion free performance
ABS outer body
6.5 Bar Pressure, makes it suitable for high rise buildings
Disc Thermostat
Thermal cut out
Multi-functional valve
Automatic power cut off to ensure power savings
Pros
Quality of this water heater is outstanding
Best one to heat water instantly
Copper tank is the biggest advantage for hard water
Nice safety features
Installation is easy and comfortable
Cons
How to Choose the Best Instant Geyser? (Buying Guide)
1. Size of the Instant Geyser
Basically, instant water heaters come in the capacity range of 1-3 liters, ideal for small families. Well, some latest models are also available in 6 liters capacity, so any medium or big-sized family can also use it for their hot water needs in the bathroom and kitchen. Thus, depending upon your family size and how much hot water you need on a daily basis, you can choose the desired capacity suiting your requirements.
2. Flow Rate
The flow rate of the instant water heater is also very important to look for that determines whether it will fulfill your hot water requirements during peak demand or not. Peak demand means using the hot water in the kitchen sink, while doing laundry, or while taking a shower at the same time.
The flow rate of the instant geyser is measured in terms of Gallons Per Minute (GPM). It is better to opt for a model that can deliver between 2-5 gallons of hot water per minute to fulfill your peak demand. Generally, the flow rate is written on the manufacturer's manual of a particular model or sometimes stamped at the product itself. So, you can better know whether it is suitable for your needs or not.
3. Power
The heating time of water in an instant geyser is directly proportional to the wattage it has. It means, the more the wattage it has, the fast it can heat water. Also, the name itself suggests that it can heat water instantly, so it is obvious that it comes with high wattage. So, keep in mind before buying that it will consume a lot of electricity.
4. Energy Efficiency
Though the instant water heaters consume high power over the other versions of water heaters, you should pay close attention to this factor while choosing the one for your needs. Water heaters are amongst those electrical appliances whose efficiency is measured in BEE Star Rating. The higher the rating, the more it will be energy efficient. Instant water heaters with 5 Star BEE Rating are considered to be the best in terms of energy efficiency.
5. Fuel Types
The tankless water heaters work on two fuel sources, either gas or electric. But in India, you may find mostly electric instant geysers.
Gas heaters are more energy-efficient and heat water quickly than an electric geyser. Also, these are less expensive than electric types. But these require proper ventilation for installation as well as gas pipelines.
On the other hand, if you seek long-term efficiency, electric geysers are the best choice. These are even easy to install anywhere in your home for all your daily household needs.
6. Bar Pressure
A bar pressure determines the water pressure that hits the water tank in the geysers. And this pressure varies from building to building. It's already known that the water pressure at the lower ground floor is higher than the one at the fourth or fifth floor and the upper ones.
So, it is very much important to consider the model with higher bar pressure that can tackle the water pressure for high rise buildings easily. If you are the one living in a high rise building, better to consider the model of the on-demand water heaters that come with 8 bar pressure. For the ground floor or 1st or 2nd floor, the model with 6 or 6.5 bar pressure will work better.
7. Heating Element
The best quality heating element determines the longevity and durability of the instant geysers. Most of the models come with copper heating elements that are rust-proof and durable. Some also include glass-coated Incoloy heating elements as they are far better to make it corrosion resistant. Even a far better choice is a glass-coated copper heating element that works better and is durable, too, even if you use the heater in hard water.
8. Material of the Tank
It is also very important that you must choose an instant geyser with a quality water tank. As you all know that hard water can cause scaling in the water tank that decreases its lifespan. Also, it can damage the heating element. So, you might have to spend extra on its maintenance very frequently or buy a new one.
To protect yourself from investing extras in the maintenance of a water heater, you may choose the one that comes with a good quality tank. Generally, the water tank that is either glass lined or vitreous enameled coated is the best choice to protect it from corrosion.
9. Quality of the Drain Valve
The drain valve in tankless water heaters is made up of either plastic or brass. Brass valves are the best choice over the plastic ones in terms of durability. They do not crack or break easily. Thus, rests in good condition for years.
10. Temperature Controller
Most of the high-end models of instant water heaters come with easy temperature adjustment knobs. The feature allows you to set the desired water temperature as per your need. Keep in mind that this feature is not available in all the models. The basic models only come with a default water boil temperature setting.
11. LED Indicator
Digital display or LED Indicator is the best option that will let you know about the geyser's operational conditions. It shows you about the water temperature, flow rate, power on/off, etc.
12. Auto Shut Off
When it comes to safety, an auto-shut off feature is very important in any electrical appliance. In an instant geyser, the appliance switches off automatically after reaching a certain temperature. The feature ensures energy saving as well as protects it from overheating and damage caused by it.
13. Price
The good quality and branded models of water heaters come in the price range of Rs 2500 to Rs 3500 and go up depending upon the tank capacity, higher wattage, and some more high-end features. So, you can invest in the one depending upon your requirements with the best-fitted budget.
14. Warranty
Warranties on tankless geysers vary from model-to-model or manufacturer-to-manufacturer. Comparing warranties before purchasing a model is very important to check the quality and reliability of the appliance. Generally, the warranty that Indian manufacturers provide on their tankless geysers includes 10-15 years on heat exchanger, 2-5 years on parts, and 1year on labor.
Advantages of Instant Water Heater over Storage Water Heater
It occupies less wall mounting space than a storage water heater.
It instantly gives the hot water as soon as you switch on the device.
Very compact in size and suitable for smaller kitchens and bathrooms where space is a constraint.
It is more energy efficient as compared to storage water heater.
It comes with longer life span since very small tank is available with it that is easily replaceable.
Disadvantages of Instant Geysers
It requires more power than the storage water heater.
Effective only for soft water as the hard water makes the heater got damaged.
It comes with higher installation charge.
Components of Instant Geyser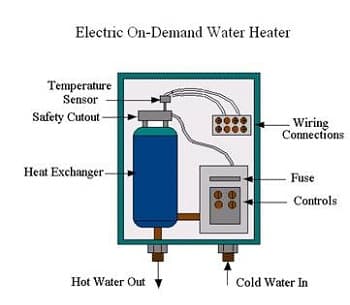 The main components of tankless water heaters are:-
A cold water inlet and a hot water outlet
A flow switch
A heat exchanger containing the electrical heating element;
A water flow control device;
A hydraulic pressure relief valve
How does an Instant Water Heater Work?
An instant water heater or on-demand water heater heats the water only on your demand. These can be installed in a closet, on an exterior wall, or any other convenient place in your home. Depending upon the installation, they can heat the whole house fixtures or appliances or a single point of use like shower, sink, or appliance.
The working principle of an instant geyser is very simple. When you switch on the hot water tap, the cold water runs into the unit, and then it starts the heating process by means of the electrical heating element. Once the heating is over, the hot water leaves the unit and is ready to be used.
These water heaters deliver a constant supply of hot water; however, they are limited by the flow rate of the unit.
Important Tips for Cleaning and Maintenance of Tankless Water Heaters
Regular cleaning and annual maintenance are important jobs to retain your instant geyser in good condition. Here are a few tips that you can follow to enhance the durability of the on-demand water heaters.
Check the manufacturer's manual about the frequency and time period for performing maintenance.
Most of the manufacturers recommend to perform maintenance on their units every 6-24 months, but the actual maintenance time period depends upon the hardness of the water in your area. If you live in an area with a heavy hard water supply, it is very important to perform flushing your geyser every six months.
Hard water can cause mineral build-up inside the tank leading to corrosion or damaging it. So, you can also use a water softener to prevent this issue.
Clean the in-line water filter on a regular basis so that your heater's performance can not get affected.
For exterior maintenance, you can use a non-abrasive cleaner and a soft cloth to keep the unit free from dust as well as to prevent rust development.
Instant Geyser Frequently Asked Questions (FAQs)
1. Which water heater type is best- storage or instant?

Both types of water heaters have their own benefits. However, the choice depends upon your hot water needs on a daily basis. Instant water heaters are ideal choices for bachelors or small families with 2-3 people only where you need not more than 120 liters of hot water per day. Even they offer faster heating time and don't require much space for installation. All these features make an instant geyser the best purchase. But to fulfill the requirements of medium to large-sized families, a storage type water heater will be the best. It comes in a large capacity with the water tank to store water for long duration.

2. Are instant geysers worth it?

Yes, they are absolutely worth the price range. You don't need to wait for hot water for long hours as they instantly heat the water as soon as you switch it on. Also, they come in an economical price range over the storage water heaters.

3. Which is the best instant or tankless water heater in India?

All the mentioned products in this review guide are the best instant water heaters available in India. Though if you ask us to select one particular for you, then it is Crompton Solarium Instant Water Heater hands down.

4. Can you connect the instant water heater to your shower?

Yes, of course. Instant Water Heaters can easily connect to your kitchen sink, tap you use while doing laundry, or with your shower pipe. So, you can use them all at the same time.

5. How long does an instant geyser last?

With proper care and maintenance, an instant water geyser can be durable from 8-12 years; however, the durability also depends on the brand.
Conclusion
That is all for our best pick of instant water heaters to get ready to use hot water instantly. We have mentioned all the specifications and feedback from the buyers for each model to make your buying decision easier. All the above mentioned instant water heaters are also very reasonably priced. So pick the one that fits your budget and need.
Explore more on Water Heaters
Buy Instant Water Heaters Online
Crompton Gracee 5-L Instant Water Heater (Gey...
52%
Crompton Instabliss 3-L Instant Water Heater ...
41%
Bajaj Splendora 3 Litre 3KW IWH Instant Water...
51%
Havells Instanio 3-Litre Instant Geyser (Whit...
38%
ULTinoPro® Brand) Instant Electric Water Gey...
46%
Hubsch Electric Water Heater And Tankless Fas...
35%
CSI INTERNATIONAL Instant Water Geyser 1 L Po...
60%
V-Guard Zio Instant Water Geyser | 3 Litre | ...
40%