With our daily hectic and busy schedules, it is very difficult to manage with all our health and fitness goals on a regular basis. It's now a norm to work 9-5 for all who are working in a corporate office and so we all are leading an increasingly stressful life. Therefore, to reduce our daily stress, it is very much necessary to put some efforts towards our health and fitness goals. A lot of fitness accessories are available nowadays, and treadmills are one of the most popular cardio fitness equipment among them.
So, we came with this blog post for all our best picks of treadmills for home use to cope with your cardio fitness needs.
Since nothing beats an outdoor jogging, treadmills come closest, kindling you the experience of an outdoor jogging from the comfort of home. Also, treadmills are the best options when it comes to cardio fitness equipment and best for the people who need to keep a check on proper cardiovascular functioning. The treadmills for home use are sized for convenience, powered by strong motors, and equipped with the right features for your workout guidance. And the best feature is that you don't need to go outside for jogging, as it offers a steady and smooth ride from the convenience of your room.
For an in-depth information on Treadmills for home use, check our Buying Guide Section.
Our Best Picks of Treadmills for Home Use in India
With lots of options available in the market, it is quite difficult to select the best one. So, for your ease and convenience, we have rounded up here the best treadmills for home with an aim to help you find the best one that fits your budget, health goals, and lifestyle. Here is the quick list of best treadmills for home use.
Explore More On Exercise Equipment
Best Treadmills for Home Reviews
1. Powermax FitnessTDM-98 Motorized Treadmill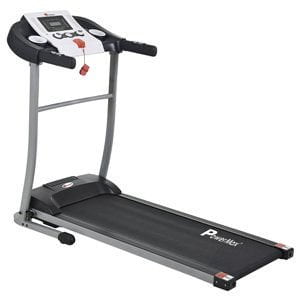 The TDM-98 motorized treadmill from Powermax is the best overall, packed with tons of excellent features. Get a gym workout experience from the convenience of your home with this treadmill. Starting with the design, it comes with the 1.5 HP continuous motor that allows a smooth ride. The LED Display attached to it tracks your distance covered, time, speed, calories burnt, as well as heartbeat etc.
Featuring lightweight, compact and foldable design, this treadmill offers the perfect space saving solution for your home gym. It also comes has the steel crowned rollers with dynamic balancing that keeps the belt centered and ensures smooth movement of running belt as well as increases life of bearings and running belt. This treadmill is also featured with aux and USB input to listen music while exercising and keeps you in a good mood.
Key Features
LED display to track speed, time, distance, calories burned and heart rate
Running surface (l X w) – 43 x 15.75 inches, 1100 x 400mm
12 preset workout programs for efficient workout
1.5 HP (3 HP peak) continuous green efficient DC motor
Speed range of 0.8 to 14.8 km/h with heart rate sensors on handle
90 degree folding for more space saving
Maximum user weight capacity – Walking – 90 kg, Running – 65 kg
Wheel for transportation, foldable and easy installation, aux and USB input and speaker
Buyers Feedback
The Good
Great quality product
Durable
Easy to install
Worth value for money
2. Powermax Fitness TDM-100S Motorized Treadmill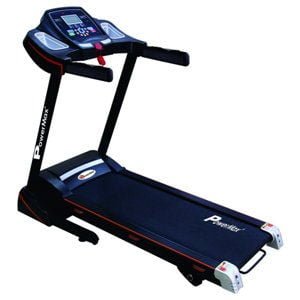 This one is another great option for all your exercising and fitness needs at your home. This folding treadmill from Powermax is an ideal choice for everyday running workout fitness. When comes to its designing, TDM – 100S is a lightweight, compact and foldable treadmill that offers the perfect space saving solution for your home gym.
It also comes with LCD screen that makes it easy to track your progress including speed, time, distance, calories, and pulse.The 12 Built-in workout programs enable you to see your results, and so you can get motivated and on pace.
Key Features
5.5″ LCD Display
Maximum user weight capacity of 110 kg
Running Surface (L x W) – 1120 x 400mm / 44 X 16 inches
Speed, Time, Distance, Calories burned, Heart rate and FAT + BMI measurement
1.5 HP Continuous GREEN efficient DC Motor
3 level manual incline settings allow for the maximum variety
Speed Range of 0.8 to 12.8 km/h with Speed control FAST KEY provided on handrail
6 Big shock springs for better shock absorption with 2 Jumping Wheels and Double Layer running board
12 preset workout programs for efficient workout
Includes MP3 and USB input for Music, Speakers
Wheel for transportation
IPad holder
Auto Lubrication
Buyers Feedback
The Good
Quiet energy saving motor
Performance is very good
Easy to set it up and assemble
Easy to move from one place to another
The soft drop hydraulic mechanism ensures safe and hassle-free unfolding every time
3. Healthgenie 7in1 Motorized Treadmill 4112M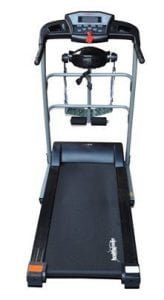 This 7 in 1 motorized Treadmill from Healthgenie is a complete solution for your home gym. This complete fitness solution pack comes with a massager, a twister, a resistance tube, sit-ups, and a set of dumbbells. It has a two steps manual incline that provides you to explore options. Also, the 12 built-in programs allow the users to try it on different modes while hitting the treadmill.
This sophisticated treadmill also comes with a low noise DC drive motor and delivers the good speed range of 1-14 Km/Hr. If you are getting bored of your workout, don't get worried as this treadmill comprises of the quality speakers that make your workout less boring. Also, its bright blue LCD showcases multiple actions like speed, distance, time, calories, heart rate, etc.
Key Features
Running Surface: 123.5 X 42 Cm
Motor Power of 2 HP
Speed Range of 1-14 Km/Hr
Bright blue LCD that offers time, distance, calories and heart rate
Quality Speakers enabling a Good Sound Experience while you are running on the Treadmill
Max User Weight: 110 Kg
12 Preset Programs
This 7 in 1 treadmill comes as a complete fitness solution pack with a massager, a twister, Sit-ups, a resistance tube and a set of dumbbells
Buyers Feedback
The Good
Good quality treadmill
Very easy to set up and use
Low noise DC drive motor
The Bad
The width of the belt could be a bit wider
4. Quantico FS Treadmill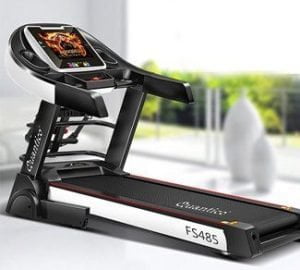 This treadmill from Quantico is simply a wonderful solution for exercise and workouts at your convenient location. It comes with 2.0 HP Continuous (4.0 HP Peak) Motor that offers a convenient and smooth ride. The LCD attached to it helps you in tracking time, distance, speed, calories burned, as well as the heart rate. The treadmill also comes with an extraordinary foldable feature along with the hydraulic release, children's room, or sliding under the bed whenever you are not using it.
It has a safety lock option that holds the machine in a folded position and prevents it from falling over when stored in an upright position. Transport wheels attached to it make it more convenient and easy to move around. The Auto Inclination feature helps to incline or decline the running board from 0%-15% on a single command. And finally, the Auto Lubrication feature ensures zero friction and smooth movement of the running belt and hence increasing the life of the belt & the motor.
Key Features
2 HP continuous (4HP Peak)
Running Area (1260mm X 420 MM)
Max User Weight (110 Kg)
Speed (1 Km/hr-14Km/hr)
Digitally adjust your incline up to 15 percent
7-inch Color Display to track Time, Speed, Distance, Heart Rate, Calories
Auto Lubrication
Auto Inclination
6 Level Shock Absorption
12 Built-In programs
Buyers Feedback
The Good
Nice treadmill for the home gym
Provides more functionality at an affordable price
Easy to operate
Functionally very well
Reliable
The Bad
Belt is small in width which creates problem while running
Height of the handle is quite low
5. Lifeline 4 in 1 Deluxe Manual Treadmill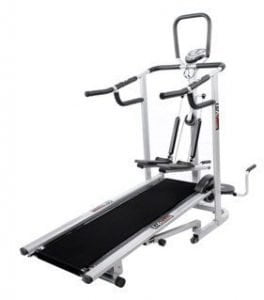 This extraordinary 4 in 1 Deluxe manual Treadmill has been designed by Lifeline for experiencing an all-around fitness control. The treadmill comes with a user-friendly dashboard along with electronic meter display. And the electronic meter is equipped with pre-installed functions including speed, distance, time, calories, and
pulse. Its wider jogging surface and the extra space allows the easy leg movement.
This ultra-modern Treadmill also comes with a well-balanced twister helping you to slim the thighs, waist, and hips. The other smart features are 3 level manual incline, easy to fold, and easy to move.
Key Features
User-friendly dashboard with electronic metre
Flaunts a wider jogging surface
Hand pulse system monitors pulse rate
Foldable, portable, non-motorized treadmill machine
Provision of 3 Level Manual Incline
Thick and robust metal rods for heavy pounding
Wheels for moving the machine
Buyers Feedback
The Good
Easy to assemble and use
Performs very well
Nice build quality
The Bad
Cycle works better than the treadmill
6. Powermax Fitness TDA-125 Motorized Treadmill
This is another best model of treadmills for home from the brand Powermax to get a perfect commercial grade workout session. With a set of unique features, it also comes with durability, affordability, efficiency as well as great performance- All in one. The Powermax Fitness TDA-125 treadmill is equipped with the smart run function that easily records your activity for your next time workout. With 18 levels of auto-inclination, you can make your workout even more challenging. Also, there comes the set of 12 pre-defined programs that lets you do a variety of challenges with your workout.
When it comes to the design of this treadmill, it has a comfortable running track providing you a huge running environment. Also, the 6-Ply running board damping system offers the more responsive and bouncy surface for your energy conservation. It also has a thick 1.8mm multi-ply polyester satin interlaced multi-layer running belt that reduces shock. With its 5.5" Bright Blue LCD display you can easily read your time, distance, calories, speed, pulse, and inclination.
The handlebars of this treadmill are equipped with hand grip pulse sensors that let you monitor your heart rate in the real time. And the very best part is that it makes your workout even more enjoyable as it comes with built-in speakers along with AUX/USB Connection. This feature lets you listen your favorite MP3 songs while doing the workout.
Key Features
Motorized Treadmill
Smart Run Function
5.5" Bright Blue LCD Display
Maximum User Weight 115 Kg
12 Preset programs
Heart Rate sensor on crossbar handles
Auto Inclination
Built-in Speakers with AUX/USB Connection
ComfortTech 6-Point Commercial Grade Damping System
Anti-Skid Running Belt with 6-Ply Running Board
Hydraulic Soft-drop System (HSS) Folding
Quiet Energy Saving Motor
Comfortable Running Track
Auto Stop Safety Function
Roller for easy movement
Auto Lubrication
Buyers Feedback
The Good
Build quality is very nice
A decent treadmill for daily workout at home
Easy to install and use
Works very smoothly
The foldable feature is a nice option for easy storage
7. Fitplus FSAM0709 3HP Motorized Treadmill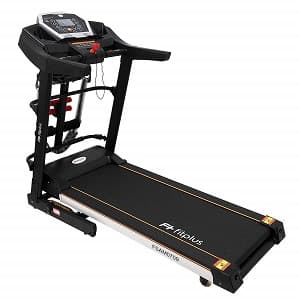 For all your walking, jogging, running, and daily fitness routine, this treadmill from Fitplus is the best choice not only for the professionals but also for the novice too. It is perfect exercise equipment for your home gym loaded with plenty of features for an amazing workout experience. This one offers a wide area for running along with comfortable and cushioned running mode.
It is equipped with an advanced digital dashboard that shows your speed, distance, calories, time, and heart rate. The treadmill is even very easy to operate with its easy to use start and stop buttons. With multipe preset programs, this treadmill offers more challenging workout to reach your fitness goals. And the most exciting part of this treadmill is its compatibility with the bluetooth feature that easily connects with the fitplus app. It lets you track distance, time, calorie count, and heart rate along with 6 months fitplus diet and fitness plan.
Key Features
Motorized treadmill
Wide running area
Speed Range 0.8-16 km/h
Maximum User Weight 110 Kg
Hydraulic soft landing system
Cushioned system
3.0 HP Heavy duty motor
Ready to access button
Includes massager and dumbbells
Big LED display to show time, distance, speed, pulse, calorie, incline
MP3 support
Bluetooth connectivity with Fitplus App
Buyers Feedback
The Good
Built quality is very robust
The treadmill is very smooth and user-friendly
Elegant style LCD Display
Easy to assemble
Awesome functionality
Wide running surface with shockers makes running very comfortable
The fitplus app is very advantageous
8. Kobo TM-201 Motorized Treadmill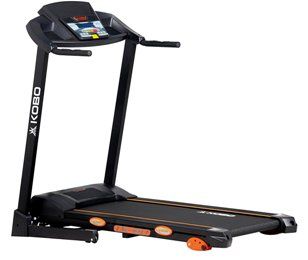 Kobo is one of the well-known names in fitness, and sports industry and this motorized treadmill from Kobo is a great purchase for your home gym. It offers an easy and affordable solution for your entire cardiovascular workout at home.
Talking about the design, this one comes in a lightweight and foldable design that offers a space saving option. Also, there come the wheels for easy transportation means you can easily move it from one place to another. For a comfortable running experience, it comes with the wide running surface as well as rubber cushion for extra more comfort.
Now coming to the functionality, this treadmill comes with an LCD display along with six functions to check speed, distance, time, calories burnt, hand pulse and the inclination. Also, eight workout programs are there letting you do an easy workout at different levels. The best part is that it comes with a safety lock feature allowing you to stop the treadmill in case of emergency and thus preventing accidents and injuries.
Key Features
3 Manual Level Incline
2 HP DC Motor
Wide Speed Range
Wide running surface with rubber cushion
LCD display with 6 functions
8 Workout programs
Grip Pulse Sensor
Safety lock system
Foldable with wheels
Maximum User Weight 120 kg
Buyers Feedback
The Good
Great quality treadmill
Performs very well
Easy to carry from one place to another as it is cylindrical foldable
Offers easy transportation due to the wheels
Easy to assemble and use
9. Cockatoo Velocity Series 1.25 HP (2.5 HP Peak) & 1.5 HP (3 HP Peak) DC Motorized Treadmill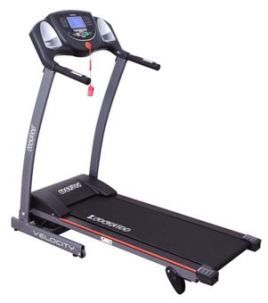 If you want a commercial grade workout experience at your home, this one motorized treadmill from Cockatoo is absolutely a smart buy. With an amazing irresistible features, it is a must-have product for your home gym. Its 1.25 HP DC Motor with 2.5 HP DC peak is more powerful, ultra-quiet, and energy saving and provides the speed range of 0.8 to 12 Km per hour.
With a foldable design, this treadmill for home offers a space saving option and can be stored easily once you are done with your workout session. Moreover, this efficient treadmill also comes with LCD display providing you with all the vital information about speed, distance, time, hand pulse, calories, and body fat burnt. Featuring 12 programme settings as well as a versatile computer function, this one keeps you motivated towards your health and fitness goals. Also, its manual incline feature makes it the best choice to optimize your workouts.
Key Features
Motorized mechanism
Manual Incline
Shock Absorbing Belt
LCD display
12 Program Settings
Speed 0.8 -12 Km/hour
Soft-drop folding
Maximum User Weight 100 Kg
Buyers Feedback
The Good
Great product with strong and sturdy built
Built-in programs are really very awesome
Easy foldable option for easy storage
Great treadmill in this price range
The Bad
The platform is little less wide
The pause button is missing
10. Durafit Heavy-Hike 2.5HP (Peak 5.0 HP) Motorized Treadmill
The next comes in our list is the Durafit Heavy Hike motorized treadmill that is perfect to take heavy loads, high speeds and intense training sessions. This compact sized treadmill is the best space saving option and ideal for those living in a small house/apartment. The 2.5 CHP extremely quiet motor of this treadmill is designed to support your prolonged workouts without even heating or slowing down. It is also equipped with an amazing range of 48 workout programs so that you never get bored and stay engaged during your workout sessions.
When it comes to safety, this motorized treadmill comes with special gravity pads on the sides that make it an ideal choice for older age people for a safe workout. Plus, it also has Dura-Spring Shock Absorption along with the Gel Cushioning System that offers excellent support for the knees and reduces shock on the knees at the same time. With its 16 levels of inclination, you can add more variety and challenges to make your workout more challenging and fun.
Key Features
48 Preset Training programs (24 with incline and 24 without incline)
16 level auto incline
Aux cable to listen music while workout
Wide LCD display
Maximum User Weight 120 Kg
Vertical Hydraulic Folding System for easily moving and storing the Treadmill
Dura-Spring Technology & Gel Cushion for additional Shock-Absorption
Hand-Rail Controls
Speed Range 1-16 km/hour
Buyers Feedback
The Good
Sturdy and strong built
Width of belt is 19 inch which is very comfortable for running
Auto inclination, speed adjustments, and speakers all are very handy to use
Easy controls on handle and panel
Wide running space
The Bad
No downsides for the product noted yet
11. Welcare Wc2266 Motorized Treadmill
Make your workout sessions more fun and relaxing with this motorized treadmill from Welcare. It offers an efficient and straightforward aerobic workout from the comfort of your home. It comes with an easy folding mechanism as well as a soft drop system that makes the folding and unfolding of this treadmill a breeze. With its three levels manual incline system, you can burn more calories, tone more muscles, and build greater endurance.
Being available at such an affordable price, the Welcare WC 2266 doesn't lack in the features that you want in a feature-packed treadmill. This treadmill comes with the speed ranging from 0.8-12 Km/hour, and you can easily select the speed level according to your physical condition and exercise based. Its comfortable cell cushioning feature minimizes the stress on joints by absorbing the maximum impact of each stride. Featuring an LCD display, this one comes with 12 preset programs for a more effective workout.
Key Features
1.5 HP Green Motor
Maximum Weight Capacity 100Kg
Foldable and adjustable inclining design
Soft drop system
5 layer Running Platform
3 Levels Manual Incline
12 Preset programs
Blue Backlight LCD display
Safety Key
Cushioning design
Buyers Feedback
The Good
Nice quality and sturdy built
Great for an effective workout session at home
Comfortable to use
Foldable option for easy storage
Performance is great
12. Fitkit FT100 Series Motorized Treadmill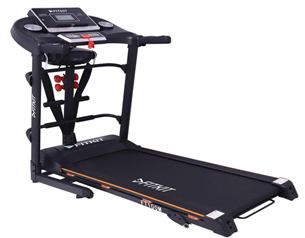 This is yet another best treadmills for home With an affordable price range, this treadmill from Fitkit comes with a host of unique features. It offers a great advantage to make your workout even more enjoyable and awesome. This treadmill comes with 12 pre-loaded workout programs to enhance your workout productivity. It also has 3 levels of manual inclination settings that offer multiple options when you start running on it.
Also, no more worrying about the maintenance of this treadmill as it comes with an auto-lubrication feature. And the very best part is that it is featuring aux input to listen music, which is an added bonus for all fitness freaks who love listening music while their workout sessions.
Key Features
3 levels manual incline settings
Maximum User Weight 110 Kg
Speed Range 0.8- 14.8 Km/hour
Wide running surface
12 Preset workout programs
LCD display
Wheel for transportation
Auto Lubrication
Aux Input to listen music
Buyers Feedback
The Good
Great in terms of quality and performance
Quick and easy to assemble
Simple and intuitive operation
The electric motor drives the treadmill very quietly
Collapsible feature makes it easy to store
Great treadmill in this price range
Treadmills for Home Buying Guide
Benefits of using the Treadmills
Ease of use
Treadmills for home are one of the easiest exercise equipment you can use at home without worrying about the curbs, trails, and sidewalks as they come with a flat surface.
Tracking your progress
Some treadmills have special features like step counters and heart rate monitors so fitness progress can be tracked. Some also lets you create multiple users and save your stats so that you can see your improvement.
Weight loss
Running on a treadmill helps you in reducing your weight and if you combine your workout sessions with a healthy diet, you can reach your weight loss goals in no time.
Cardiovascular Health Improvement
With the cardiovascular workout on treadmills, you can easily improve your heart health.
Improved Muscle Tone
Running or walking on the treadmills strengthens and tones your muscles, and the incline feature will help tone your legs even more.
Improved Joint Flexibility
As a moderate-intensity exercise, treadmills helps in keeping your joints flexible. And since walking on a treadmill is smooth, you can reduce the impact on your knees and joints. Also, if you have arthritis, the treadmill is an excellent way to prevent your joints from unwanted pain.
Things to consider while buying the Treadmills for Home
Price
Treadmills comes with different brands and models satisfying almost every feature and price level. If you are going to buy a treadmill for home use, the price is one of the most important factors. The lowest price models will definitely lack some features, and the models with high price tags will come with varying features as per their price ranges. So you can choose the model as per your need and requirement.
Usage and health goals
Choose the model that will better satisfy your needs for jogging, walking, weight loss, training for runs, etc.
Heart Rate Monitoring
The option of heart rate monitoring is almost available with every treadmill, but its accuracy is extremely important. You can monitor your heart rate through the thumb sensors, contact sensors on the grips, and chest straps as well. The most accurate and convenient for them are the chest straps that lets you get into your running style.
Helpful tech Features
Treadmills equipped with hi-tech features offers you the programmed workouts designed by the professional trainers. These workouts will automatically speed up the treadmill and adjust incline ensuring an optimal workout. Also, the best models are connected with the fitness apps that allow you to download the exercise data so that you can easily track your improvements.
Treadmill Incline
This feature comes with nearly all the treadmills, but there are some varied incline features you should take care of. A good degree of incline should be 15% on any treadmill. So you must look for an electronically adjustable incline treadmill so that you can increase or decrease the intensity of your workout without any stop.
Stability and Durability
Well, quality is one of the most important thing, people looking for, in any of the products. While purchasing a treadmill, you must consider about its stability and durability. Also, check the guarantee and warranty of the model you are going to purchase.
Conclusion
With many brands grabbing your attention, choosing treadmills for home use is quite overwhelming. I hope the list provided in the blog for the best treadmills for home as well as the buying tips will help you in narrowing down your search. Stay fit and active with our great picks of Treadmills and choose the best one as per your convenience. Don't forget to share your thoughts in the comment section below, if you feel anything is missing.
Related Items
FITKIT FT097 Steel (1.5 HP Peak) Motorized Tread...
MAXPRO PTM405M 2HP(4 HP Peak) Multifunction Fold...
Fitkit FT200S Series (4.5 HP Peak) Motorized Tre...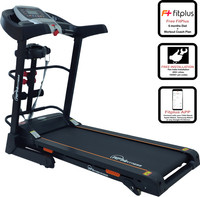 RPM Fitness RPM3000 3.5 HP Peak, Multi Function ...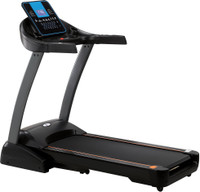 Durafit Royal 3.0 HP DC (6.0 ) HP Motorized Trea...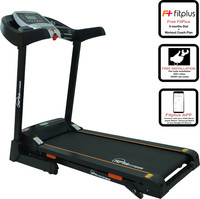 RPM Fitness RPM2000 3.5HP Peak Motorized with Fr...