Are you looking to buy the best Treadmill in India? This guide will help you to look for the most important features one should consider before buying a treadmill for home.
The treadmill is the best fitness equipment and the number one choice among instructors, gym trainers, and fitness freaks for home exercise. Using its advanced feature, you can lose weight fast. Get all the health benefits you can imagine running outside but with added safety and no hindrance due to weather.
The best home treadmills use a strong motor, and they are sized appropriately to save space. The key features like display monitor and preset programs, should be present in a treadmill.
The key deciding factors in a treadmill selection are:
Decide your purpose
Are you buying a treadmill for walking, jogging or running? Yes, depending on what type of usage you have, you can pick a model. Runners should buy a motorized treadmill with at least 2.5 CHP(continuous horsepower) motor, a good cushioning, and a large track.Joggers should choose a lighter variant treadmill made for runners. For those who like to walk can buy a cheaper treadmill with motor power 1.5 CHP or above. We recommend a manual treadmill for walkers as well. They are more affordable and convenient to use.

If you are planning to lose weight along with running, then inclination should be a must-have feature.

Motor and Track
The motor is the most crucial element of a treadmill. It decides the durability and longevity of a treadmill. You should check for motor CHP value (Companies often advertise the motor's peak value but hide the CHP) and its warranty. We recommend a motor with a minimum of 2 CHP and a warranty of 3 years or more.Track size should be more than 50 inches in length and 20 inches wide for running. Look for cushioned tracks to lower the impact on joints.
Space and Storage
When buying a treadmill for home, you should check the available space and treadmill size. People realize this only after buying a treadmill. If you have problems with space, buy a foldable treadmill.
The above points are the key factors, but there are several other points. We have covered a detailed buying guide below, which includes some additional features you should check.
10 Best Treadmills in India
Preview
Treadmill
Key Points
PowerMax Fitness TAC-400
Read Review
Max User Weight: 120 Kg
AC Motor: 4 HP (Peak 6 HP)
Auto Inclination
CHECK PRICE
Kobo Motorized Treadmill (TM-312)
Read Review
Max User Weight: 140 Kg
AC Motor: 3 HP (Peak 5 HP)
Auto Inclination
CHECK PRICE
Fitkit FT200 Series Treadmill
Read Review
Max User Weight: 120 Kg
AC Motor: 2.25 HP (Peak 4 HP)
Auto Lubrication
CHECK PRICE
Powermax Fitness TDA-125 Treadmill
Read Review
Max User Weight: 115 Kg
DC Motor: 2 HP (Peak 4 HP)
Auto Inclination
CHECK PRICE
Durafit Heavy-Hike Treadmill
Read Review
Max User Weight: 120 Kg
DC Motor: 2.5 HP (Peak 5 HP)
Auto Inclination
CHECK PRICE
Viva Fitness T-1200 Treadmill
Read Review
Max User Weight: 150 Kg
AC Motor: 4 HP (Peak 8 HP)
Largest Running Area
CHECK PRICE
Kobo TM-201 Treadmill
Read Review
Max User Weight: 120 Kg
DC Motor: 2 HP (Peak 3 HP)
Foldable Design
CHECK PRICE
Powermax FitnessTDM-98
Read Review
Max User Weight: 90 Kg
DC Motor: 1.5 HP (Peak 3 HP)
Foldable Design
CHECK PRICE
Cockatoo Velocity Series
Read Review
Max User Weight: 100 Kg
DC Motor: 1.5 HP (Peak 3 HP)
3 Level Manual Inclination
CHECK PRICE
Healthgenie 7 in 1 Treadmill 4112M
Read Review
Max User Weight: 120 Kg
DC Motor: 2 HP (Peak 4 HP)
Extra Exercise Accessories
CHECK PRICE
Best Treadmill in India – Reviews
The review of each model covers key features, pros, and cons in detail. The first one is overall the best pick which we recommend to buy, and the other two are the best alternatives if the first one is not available. Read the remaining seven if you are looking for some additional features.
1. PowerMax Fitness TAC-400 Motorized Treadmill (Overall Best Pick)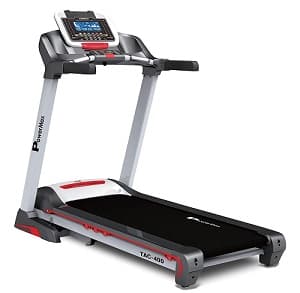 The brand Powermax always comes first when you think of fitness equipment. And so we have come up with the model TAC-400 as our top pick for best treadmills in India. This motorized treadmill comes with all the advanced features giving you a gym-like workout experience from the comfort of home.
As this treadmill is categorized as a semi-commercial motorized treadmill, you don't need to worry about durability, safety, and comfort. It includes a heavy gauge steel mainframe construction along with three layers of quality paint to prevent corrosion and ensure the longer lifespan of the treadmill. Even it is powered with a 4.0 HP motor to offer amazing performance.
Featuring a large running deck, it provides the users easy leg movement and comfortable workout session. The best thing that differentiates it from other models is its octo flexi rubber cushion proving to be more comfortable.
The next thing you will surely like about this treadmill is its thick multi-layered running belt. It reduces shock and also minimizes the impact on your joints. Moreover, the PVC non-slip surface allows you to enjoy a safe and secure workout session without worrying about falling down.
Coming to the basic design, the treadmill includes a 7-inch blue LCD display. It ensures an easy reading experience of your time, distance, calories, speed, pulse, BMI, and incline.
There are also 12 different console programs so that you can vary your workout to reach your fitness goals. As a bonus, you will also get 18 levels of auto-inclination along with the top speed of 18 Km/h. So you can challenge yourself in different ways to boost your cardiovascular performance. Plus, the target based modes allow you to set time, distance, or calories to burn goals.
Now talking about convenience, it is exclusively designed with a Hydraulic SoftDrop system to easily fold and unfold the treadmill as per your needs. This foldable option also allows easy storage of the treadmill.
Another amazing feature of this treadmill is built-in speakers with AUX/USB connection so that you can listen to your favorite music using an iPhone or MP3 player while doing exercise. All these features make it an overall best purchase for your cardiovascular fitness needs.
Overall this is our top pick and recommended over any other treadmill mentioned here. If this is not available you can check our second option which is a perfect alternative to this one.
Key Features
Powerful 4.0 HP AC motor offers unmatched performance and ensures easy treadmill operation for long hours. Peak HP value is 6 HP.
Large 53.5" x 18.7" running deck for comfortable running or jogging
0% to 18% auto inclination level for an intense workout
Maximum user weight is 120 Kg and also offers an extra 25 Kg buffer for running
12 different preset workout programs with 3 target based modes offer varied and challenging workout sessions to achieve your fitness goals
Speed Range- 1.0 to 18.0 km/h and can be changed easily with Speed Select Hot Keys
Convenient Hotkeys buttons allow you to adjust your intensity instantly while doing workout
7-inch blue LCD display for giving a clear view of various stats like time, distance, calories, speed, pulse, BMI, and incline
Hand pulse sensor on the crossbar handle to keep you within the targeted heart rate zone
Built-in auto-stop safety function to automatically stop the treadmill if you fall or drift back dangerously on it
Octo-Flexi Rubber Cushion with Double Layer Running Board that provides impressive impact absorption, a softer landing, and unparalleled support
Mobile and tablet holder for safekeeping of these devices while doing exercise
Cooling fan for getting fresh air while doing the workout
Hydraulic SoftDrop folding system for easy folding and unfolding of the treadmill
Bluetooth connection with Android and iOS app
Built-in speakers with AUX/USB connection allows you to get entertained while using the treadmill
Wheels for easy transportation
1-year parts warranty, 3-years motor replacement warranty, and lifetime frame warranty
Pros
Very sturdy and durable built
Various options for inclinations and challenging workout programs to reach your fitness goals
Very powerful and silent motor
The unique suspension system of the treadmill is very smooth on joints
Powerful AC motor ensures long-lasting usage of the treadmill every day
Cons
View on Amazon View on Flipkart
2. Kobo Motorized Treadmill TM-312 (Runner Up)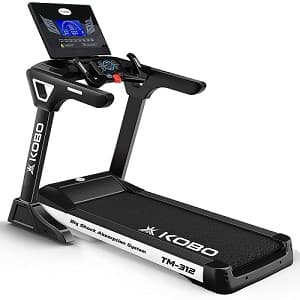 If the first one is not available and you need an equally good alternative then Kobo TM-312 is the best pick. Kobo is one of the well-known names in the fitness and sports industry, and this motorized treadmill is a great purchase to offer a fantastic gym-like workout experience at home.
This treadmill comes with a ton of excellent features while ensuring comfort, safety, durability, and performance all in one. It makes the treadmill best among the rest.
Moreover, the heavy-duty construction of this treadmill assures that it is made for prolonged usage without any wear and tear. The iron frame and steel rollers provide stability to the treadmill.
It comes with a powerful 3 HP AC motor to deliver amazing performance with no noise at all and also ensures low electricity consumption as well.
The most important is the running surface, that is 55.11 x 20.47 inches in area to offer a comfortable walking or jogging track. The running belt is also supported by a super shock reducing function that is easy and smooth on your joints.
You will find a heart rate sensor on the handrails that keeps you within the targeted heart rate zone while using the treadmill. A large 7 inch blue LCD display is pretty big enough to clearly show your stats, including speed, distance, time, calories burned, and heart rate.
Controlling the functions of the machine-like speed and others is at your fingertips with smart control buttons.
You can easily follow from the choices of 12 variable preset workout programs to get a challenging workout experience. Plus, 15 levels of auto inclination adds more benefit to reach your fitness goals faster. You also have the option of choosing the best suitable speed of the treadmill that is ranging from 1 to 20 KM/h.
As an added bonus, the model is compatible with the FitShow app that you can easily connect with your treadmill and get regular updates on all your data.
In case you find them expensive, don't worry our third recommendation is budget friendly and best in class treadmill for average Indian users.
Key Features
Powerful and noiseless 3 HP AC Motor for outstanding performance
Large and clear 7 inches blue LCD display to show your speed, distance, time taken, calories burned, and heart rate
Large and wide running surface of (l x w) – 55.11 x 20.47 inches for comfortable walking and running
Maximum user weight capacity for walking – 160 Kg and for running – 140 Kg
MP3 USB input for music with high-quality speakers
Bluetooth connectivity for FitShow app to track all your data on mobile
Speed range 1-20 Km/h
Auto Inclination levels 0-15 to reach your target fitness faster
HSS folding system to easily fold and unfold the treadmill
Wheels for easy transportation
3 Year Motor Warranty, 1 Year Parts Warranty, and Lifetime Frame Warranty
Pros
Outstanding quality and performance
Noiseless operation
Very easy to assemble
Offers a low impact cardiovascular workout
Easy to store because of the HSS folding system
Easy to move from one place to another because of smooth transportation wheels
Cons
View on Amazon View on Flipkart
3. Fitkit FT200 Series Motorized Treadmill (Best Budget Treadmill)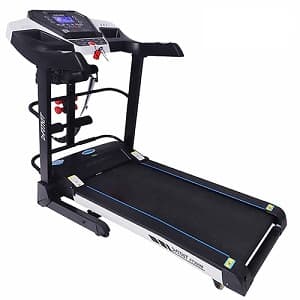 If the above two options are expensive and getting over your budget, then FitKit FT200 is our best cheap treadmill choice. This is our budget pick with all the high-end features you search for. So, you can maintain a healthy and fit lifestyle without spending much.
The design of this treadmill includes a high-quality steel frame that provides it strength and durability. As it comes in a 90 % assembled state, you don't need to worry about the installation. In case you are not able to assemble, the company provides free installation to its customers.
The best is its 2.25 CHP motor that delivers outstanding performance and goes up to 4.5 HP at peak without consuming more electricity. This powerful motor ensures that the treadmill can easily tackle the speed from 1-16 Km/h and, at the same time, supporting the maximum user weight of 110 Kg. The model also comes with an additional feature of a massager that you can use when your exercising is over.
Keen to achieve your fitness goals faster? Worry not, as this comes with 12 pre-defined workout programs and changeable modes, so you can create a customized exercise routine. Plus, 15 levels of inclination makes your workout more challenging that you can set accordingly.
The very best feature of this treadmill is its auto-lubrication mechanism. So, you don't need to worry about its maintenance or lubricating it manually.
One more thing that most of the users prefer is high quality as well as large and vivid display, and so this model is well-equipped with that. The blue-colored clear display shows your time, speed, distance, calories, and heart rate easily. Even more, the connectivity with the FitPlus app is a bonus that tracks all your daily workout data and compiles it in one place for your convenience.
Key Features
Powerful 2.25 2.25HP (Continuous) and 4.5HP (Peak) efficient DC Motor for outstanding performance
12 preset workout programs for an intense workout
Variable speed range of 1-16 km/h, suiting the needs of beginners to pro runners
15 levels of inclination for more challenging workout sessions
Smart LCD display to show speed, time, distance, calories burned, Fitplus app, heart rate
Auto lubrication for easy maintenance
Maximum User Weight 110 Kg
Running surface of 48 x 16.53 inches ensures comfortable running
Comes with a massager for muscle relaxation after workout
Easy connectivity with the Fitplus app to know real-time stats
HSS folding system for easy storage
Built-in high-quality speakers
Wheels for easy transportation
1-year motor warranty, 1-year warranty on parts, 3-year warranty on the frame
Pros
Less priced and feature-rich treadmill
Super quiet and energy-saving motor
Massager for muscle relaxation is a nice add-on
Professional grade shock absorbing multi-layered running belt
Build quality is up to the mark
Cons
Speaker quality is quite poor
View on Amazon View on Flipkart
4. Powermax Fitness TDA-125 Motorized Treadmill (Best Mid-range)
This is another best model of treadmills for home from the brand Powermax to get a perfect commercial grade workout session. With a set of unique features, it also comes with durability, affordability, efficiency as well as great performance- All in one.
The Powermax Fitness TDA-125 treadmill is equipped with the smart run function that easily records your activity for your next time workout. With 18 levels of auto-inclination, you can make your workout even more challenging. Also, there comes the set of 12 pre-defined programs that lets you do a variety of challenges with your workout.
When it comes to the design of this treadmill, it has a comfortable running track providing you a huge running environment. Also, the 6-Ply running board damping system offers the more responsive and bouncy surface for your energy conservation. It also has a thick 1.8mm multi-ply polyester satin interlaced multi-layer running belt that reduces shock. With its 5.5" Bright Blue LCD display you can easily read your time, distance, calories, speed, pulse, and inclination.
The handlebars of this treadmill are equipped with hand grip pulse sensors that let you monitor your heart rate in the real time. And the very best part is that it makes your workout even more enjoyable as it comes with built-in speakers along with AUX/USB Connection. This feature lets you listen your favorite MP3 songs while doing the workout.
Key Features
Smart Run Function
5.5" Bright Blue LCD Display
Maximum User Weight 115 Kg
12 Preset programs
Heart Rate sensor on crossbar handles
Auto Inclination
Built-in Speakers with AUX/USB Connection
ComfortTech 6-Point Commercial Grade Damping System
Anti-Skid Running Belt with 6-Ply Running Board
Hydraulic Soft-drop System (HSS) Folding
Quiet Energy Saving Motor
Comfortable Running Track
Auto Stop Safety Function
Roller for easy movement
Auto Lubrication
Pros
Build quality is very nice
A decent treadmill for daily workout at home
Easy to install and use
Works very smoothly
The foldable feature is a nice option for easy storage
Cons
5. Durafit Heavy-Hike 2.5HP (Peak 5.0 HP) Motorized Treadmill (Best Auto Inclination)
The next comes in our list is the Durafit Heavy Hike motorized treadmill that is perfect to take heavy loads, high speeds and intense training sessions. This compact sized treadmill is the best space saving option and ideal for those living in a small house/apartment.
The 2.5 CHP extremely quiet motor of this treadmill is designed to support your prolonged workouts without even heating or slowing down. It is also equipped with an amazing range of 48 workout programs so that you never get bored and stay engaged during your workout sessions. With its 16 levels of inclination, you can add more variety and challenges to make your workout more challenging and fun.
Its wide and large running area of 50X19 inches offers you enough space for easy leg movement, irrespective of your weight and height. And the maximum user weight of 120 Kg make it an ideal choice for almost all runners.
When it comes to safety, this motorized treadmill comes with special gravity pads on the sides that make it an ideal choice for older age people for a safe workout. Plus, it also has Dura-Spring Shock Absorption along with the Gel Cushioning System that offers excellent support for the knees and reduces shock on the knees at the same time.
Key Features
48 Preset Training programs (24 with incline and 24 without incline)
16 level auto incline
Running area of 50X19 inches
Aux cable to listen music while workout
Wide LCD display
Maximum User Weight 120 Kg
Vertical Hydraulic Folding System for easily moving and storing the Treadmill
Dura-Spring Technology & Gel Cushion for additional Shock-Absorption
Hand-Rail Controls
Speed Range 1-16 km/hour
Pros
Sturdy and strong built
Width of belt is 19 inch which is very comfortable for running
Auto inclination, speed adjustments, and speakers all are very handy to use
Easy controls on handle and panel
Wide running space
Cons
No downsides for the product noted yet
6. Viva Fitness T-1200 Commercial Treadmill (Highest Quality)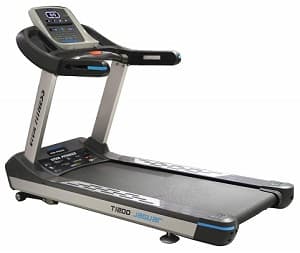 Though this treadmill from Viva is expensive over the others we have mentioned here, but for the quality and performance, it's a wonderful buy. It is a commercial-grade treadmill that comes with all the high-end features. So, if your budget allows, it can be a great addition to your home gym to cater to the cardiovascular fitness needs of all your family members.
It is equipped with 4 CHP AC motor that delivers the peak output of 8 HP for efficient performance. So, you can use the treadmill for long hours without worrying about the treadmill getting hot. This powerful motor allows you for a variety of predefined workout programs and count-down modes to meet your fitness goals.
You can also get precise incline controls ranging from 1-18 % for more challenging workout sessions. Plus, the speed range from 0.5-22 km/h, allows you to set it accordingly as per your convenience.
The best is its large and wide running surface having the area of 22-inch X 63-inch that is designed to suit almost all users type. No matter how long or weighted you are, it is best for running and jogging both.
Moreover, it also has a double phenolic heavy cushioned deck that has excellent shock absorption. So, it is very smooth and easy on your knees and joints while doing the workout.
You will find a heart rate sensor on the handlebars that maintains your heart-rate within the best training zones by giving you accurate real-time readings. There also comes a large screen with six small windows that clearly shows your time, speed, distance, incline, calories, and heart rate.
As a convenient feature, there comes quick buttons on the handle for easy starting and stopping the treadmill as well as changing the speed as required. Sweat-proof console design, two mobile and bottle holders, as well as five years warranty on the motor, makes it an absolute bang for the bucks.
Well, this is an expensive buy for Indian users but every part of this treadmill is of the highest quality with latest features. No other treadmill in this list has better offering than this treadmill. The only reason we keep it down in the list is its price otherwise it is a top notch product.
Key Features
Efficient and strong 4.0 HP AC continuous (8.0 HP Peak) motor
Various preset programs and count down modes to reach your fitness goals
Speed range of 0.5-22 Km/h
Maximum User Weight 150 Kg
Wide and large running surface of 22-inch X 63-inch, suiting all types of users
Heavy cushioned deck for excellent shock absorption
Easy and smooth on joints and knees
Precise incline control from 0-18%
Large and clear screen to show speed, time, distance, calories burned, heart rate, and incline
Quick buttons on the handle for speed control and start/stop the machine easily
Sweat-proof console design
Two mobile and bottle holders
iPad Holder
Built-in high-quality speakers
iPod/MP3 auxiliary jack/USB slot
There is also an indication of fault for easy after-sales service
Emergency stop button
5 Years warranty on motor
Pros
Great performing treadmill ideal for both home and commercial uses
Powerful motor ensures efficient performance
Heavy-duty construction makes it sturdy and durable
Best for almost all types of users
150 Kg of Max. user weight is pretty good
Good warranty and after-sales service
Cons
7. Kobo TM-201 Motorized Treadmill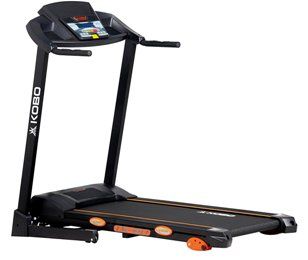 Again a model from Kobo, can be your best purchase to fulfill all your cardiovascular fitness needs. It offers an easy and affordable solution for your entire cardiovascular workout at home.
Talking about the design, this one comes in a lightweight and foldable design that offers a space saving option. Also, there come the wheels for easy transportation means you can easily move it from one place to another. For a comfortable running experience, it comes with the wide running surface as well as rubber cushion for extra more comfort.
Now coming to the functionality, this treadmill comes with an LCD display along with six functions to check speed, distance, time, calories burnt, hand pulse and the inclination. Also, eight workout programs are there letting you do an easy workout at different levels.
The best part is that it comes with a safety lock feature allowing you to stop the treadmill in case of emergency and thus preventing accidents and injuries.
Key Features
3 Manual Level Incline
2 HP DC Motor
Wide Speed Range
Wide running surface with rubber cushion
LCD display with 6 functions
8 Workout programs
Grip Pulse Sensor
Safety lock system
Foldable with wheels
Maximum User Weight 120 kg
Pros
Great quality treadmill
Performs very well
Easy to carry from one place to another as it is cylindrical foldable
Offers easy transportation due to the wheels
Easy to assemble and use
Cons
8. Powermax FitnessTDM-98 Motorized Treadmill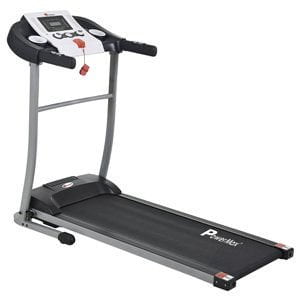 The TDM-98 motorized treadmill from Powermax is the best overall, packed with tons of excellent features. Get a gym workout experience from the convenience of your home with this treadmill. Starting with the design, it comes with the 1.5 HP continuous motor that allows a smooth ride. The LED Display attached to it tracks your distance covered, time, speed, calories burnt, as well as heartbeat etc.
Featuring lightweight, compact and foldable design, this treadmill offers the perfect space saving solution for your home gym. It also comes has the steel crowned rollers with dynamic balancing that keeps the belt centered and ensures smooth movement of running belt as well as increases life of bearings and running belt. This treadmill is also featured with aux and USB input to listen music while exercising and keeps you in a good mood.
Key Features
LED display to track speed, time, distance, calories burned and heart rate
Running surface (l X w) – 43 x 15.75 inches, 1100 x 400mm
12 preset workout programs for efficient workout
1.5 HP (3 HP peak) continuous green efficient DC motor
Speed range of 0.8 to 14.8 km/h with heart rate sensors on handle
90 degree folding for more space saving
Maximum user weight capacity – Walking – 90 kg, Running – 65 kg
Wheel for transportation, foldable and easy installation, aux and USB input and speaker
Pros
Great quality product
Durable
Easy to install
Worth value for money
Cons
9. Cockatoo Velocity Series 1.5 HP (3 HP Peak) Treadmill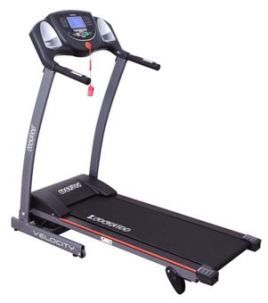 If you want a commercial grade workout experience at your home, this one motorized treadmill from Cockatoo is absolutely a smart buy. With an amazing irresistible features, it is a must-have product for your home gym. Its 1.5 HP DC Motor with 3 HP DC peak is more powerful, ultra-quiet, and energy saving and provides the speed range of 0.8 to 12 Km per hour.
With a foldable design, this treadmill for home offers a space saving option and can be stored easily once you are done with your workout session.
Moreover, this efficient treadmill also comes with LCD display providing you with all the vital information about speed, distance, time, hand pulse, calories, and body fat burnt. Featuring 12 programme settings as well as a versatile computer function, this one keeps you motivated towards your health and fitness goals. Also, its manual incline feature makes it the best choice to optimize your workouts.
Key Features
Motorized mechanism
Manual Incline
Shock Absorbing Belt
LCD display
12 Program Settings
Speed 0.8 -12 Km/hour
Soft-drop folding
Maximum User Weight 100 Kg
Pros
Great product with strong and sturdy built
Built-in programs are really very awesome
Easy foldable option for easy storage
Great treadmill in this price range
Cons
The platform is little less wide
The pause button is missing
10. Healthgenie 7 in 1 Motorized Treadmill 4112M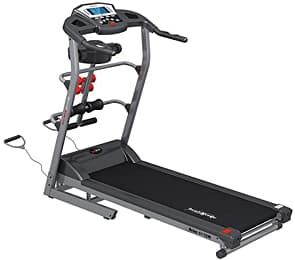 This 7 in 1 motorized Treadmill from Healthgenie is a complete solution for your home gym. This complete fitness solution pack comes with a massager, a twister, a resistance tube, sit-ups, and a set of dumbbells.
It has a two steps manual incline that provides you to explore options. Also, the 12 built-in programs allow the users to try it on different modes while hitting the treadmill.
This sophisticated treadmill also comes with a low noise DC drive motor and delivers the good speed range of 1-14 Km/Hr. If you are getting bored of your workout, don't get worried as this treadmill comprises the quality speakers that make your workout less boring. Also, its bright blue LCD showcases multiple actions like speed, distance, time, calories, heart rate, etc.
Key Features
2 HP DC Motor (4 HP at peak)
Speed Range 1-14 Km/h
Running surface (l x b): 48X16 Inches
Maximum User Weight 110 Kg
12 preset programs
MP3 speakers
AUX port and cable
Bright Blue LCD
It comes with a massager, a twister, Sit-ups, a resistance tube and a set of dumbbells
3 years warranty on frame and 1 year warranty on motor and other parts
Pros
Good quality and performance
Sturdy and durable
Strong and powerful motor and is very quiet
Comes with a variety of other gym equipments that is pretty useful
Cons
View on Amazon View on Flipkart
How to Choose the Best Treadmill? (Buying Guide)
Our treadmill buying guide aims to help you choose your next perfect treadmill for home. Since the market is full with lots of options in treadmills, you will feel overwhelmed and confused. Reading this treadmill buyer's guide will save your time and will let you make an easy decision.
A treadmill is an expensive investment. To make most of your money, read this guide thoroughly to understand what to look for when buying a new treadmill.
Below we have mentioned some essential factors to consider before buying a treadmill for setting a home gym.
Decide Budget: Set your budget according to your capacity. Treadmills are expensive, and you should be sure how much you want to spend.
Usage Type: What you will do most of the time? Running, jogging, or walking? Depending upon how you will use it, you have to choose the right treadmill.
Number of People Using: When deciding on a treadmill, always think about how many people in your family will use it and how often.
Features: Treadmills are getting smarter and can give you feedback on your workout; they have many features and with different options. We suggest making a list of minimal features and check it against the treadmills in your buying options.
Space and Storage: Treadmills take space, the gym is another thing, but home can be congested if you have not enough space. The ideal place would be a hall.
Practice in the Gym: Before trying an advanced fitness machine like treadmills, we recommend to practice and get familiar with it in a gym.
Decide Your Usage
The first thing is that you have to decide how you are going to use it? For walking, for jogging or running? A treadmill good for walking is not necessarily good for running.
Also, how many people are going to use it, and how frequently? You will need a higher-end expensive treadmill that is durable and stable for rough usage.
You need to decide the fitness goal and what type of exercise you and other users will do. If daily usage is more than 4 hours, get a treadmill with high continuous horsepower.
Runners need a longer and wider track in the treadmill for comfortable running. Walkers don't need long and wide tracks; they can choose a smaller one, which is cheaper.
So it is important to think carefully about your usage type when buying a treadmill for the home.
Treadmill Size and Workout Space
When buying a treadmill for home, measure the space where you are going to keep it. Finding an ideal place in your home can be challenging if your rooms or hall is not spacious.
You should check the dimensions (L X W X H) of the selected model and then measure it against the available space. You should also have extra space around the treadmill, especially at the backside, when using the treadmill. The recommended minimum space is 3 Feet around the front and both sides, for the backside, at least 5 Feet.
Treadmill dimensions vary as per their price or use case. If the treadmill is for running, it will be longer and wider than those used for walking or jogging. They are generally 3.5 to 7 feet long and 2 Feet to 3 Feet wide.
Even if you buy a foldable treadmill, It still takes a considerable amount of space. Whether a treadmill is foldable or not, it will take full space when in use. A taller person needs a longer treadmill, and hence the workout space needs to be bigger.
A hall in your room is the best place to keep and use a home treadmill. If you have a big balcony, you can use it there too.
Think About the Features You Need
Treadmills come with various features like TVs, Bluetooth speakers, fans, and preset workout programs. To know the right treadmill, you need to assess the things honestly you need most during training and think carefully to figure out the features you will not use. Having more features means the price will go up.
Types of Treadmills
Treadmills can be categorized into two categories, motorized and manual. But some treadmill experts further divide them into the foldable and commercial class, which is not a different type, but a variant of a motorized or manual treadmill. Folding Treadmill is a popular choice among people having space problems in their homes. The most popular treadmill types are:
1. Manual Treadmill
In a manual Treadmill, the belt does not move by itself. The trainee has to move the belt and roller with their effort. Since an electric motor does not power it, the belt on these treadmills turns by your leg movements.
These are smaller and lighter with the option of folding and unfolding in a few models, providing you convenient storage at the same time. It is also a budget-friendly option for doing the cardio workout at home.
But on the downside, the manual treadmills are not as powerful as the motorized treadmills. Moving the belt depends on the movement of your legs. So it can run as fast as your legs move. Thus, it strains your hips, knees, and legs. These treadmills even don't include smart and luxurious features like the motorized treadmill.
This type of treadmill is safer and a better option for beginners or older adults. If you are interested in buying a manual treadmill, read our reviews on the best manual treadmill in India.
| Pros | Cons |
| --- | --- |
| Cheaper | Not for runners |
| Smaller and Lighter | Average quality tread belt and other parts |
| No electricity required | Smaller deck size |
| Take less storage space | Less durable |
| Simple to use | No training programs |
2. Motorized Treadmills
As the name suggests, the motorized treadmills run using a motor equipped with it. These are also known as electric treadmills or automatic treadmills. You just need to set the speed and level of inclination as per your exercising needs for exercising. It is best for walking, running, and jogging, all.
With so many hi-tech features, these are best over the manual treadmills. Also, it doesn't strain your legs because of the motorized movement of the belt. These are bulky and heavier over the manual treadmills, but again due to foldable options, it ensures secure storage.
The motorized treadmills offer you a variety of inclination settings and a wide range of speed settings. So, you can quickly achieve your target goals. For all these reasons, the motorized treadmills are becoming very popular for home use as well as for the gym.
On the downside, an electric treadmill is expensive, heavy, and not beginner-friendly.
This post is all about motorized treadmills.
| Pros | Cons |
| --- | --- |
| Durable and Stable | Heavier |
| Best for runners | Expensive |
| Preset programs for advance training | Maintenance required |
| Less impact due to cushioning | Make noise |
| Advanced console with fan, mp3 and other gadget support | |
3. Other Types
Some experts divide the treadmill further in the following two categories.
Foldable Treadmills: Since a treadmill takes a significant amount of space in your home, some companies launched the foldable manual treadmill. Later, companies also started giving foldable options in motorized treadmills. These treadmills have the Hydraulic system to fold and unfold it as per requirement. The folding option is generally available in low to mid-range motorized treadmills.
Commercial Treadmills: Gyms and Clubs mostly uses the heavy-duty commercial treadmills. They have high power motors, motorized inclination, bigger cushioned running area, and advanced console with heart rate training. A fully commercial treadmill is durable and can be used for 12 hours a day. They have a long warranty period and are built on high-quality materials.
Component of Treadmill
1. Treadmill Motor's Horsepower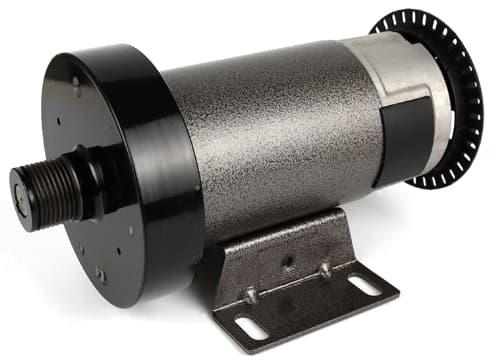 The motor is an essential machinery part of any treadmill. It powers the track motion. For beginners, the horsepower metric can be confusing because it has two types of slightly different metrics. First is the continuous-duty horsepower (CHP), and second is the peak-duty horsepower (Peak).
Continuous-duty HP is a more useful metric than peak because it tells how much power a treadmill motor can put out when used continuously.
Home treadmills in India come in the range of 1 to 3 CHP. The weight of the user is also crucial as it affects the power output of a treadmill.
If your weight is under 90 Kg, check the below recommended continuous-duty horsepower:
Walker: 1.5 or above CHP
Jogger: 2.0 or above CHP
Runner: 2.5 or above CHP
If your weight is above 90 Kg, add 0.5 CHP. Using the peak horsepower for longer will shorten the motor life.
Branded companies offer a lifetime warranty on the motor for their high-end models. Unfortunately, in India, we have not found any good models with a lifetime warranty. You can still get a 5-10 years warranty on motors if you choose an expensive cardio training machine (Treadmill).
The lower-end models have 1-3 years of motor warranty in India available on Amazon or Flipkart.
So, look for actual horsepower that is CHP value and warranty when deciding your next treadmill.
2. Track Size
Track size or running belt area is the most important factor for runners or treadmill users with strides. The track should be 50 inches long and 20 inches wide if you will run on it. A tall person should look for a track longer than 55 Inch.
For walkers, track size doesn't make any difference, but we still recommend a Treadmill with belt size 45 inches. If you are over 6 feet, you need a 48 to 50 inches long track in your treadmill.
Most brands available in India provide 18 to 20 inches wide tracks. A wider track is vital for heavy trainees.
You have to spend more money if you are looking for a longer and broader track size in treadmills. Look for higher-end models in popular brands like Viva fitness, Welcare, Reach, etc.
3. Console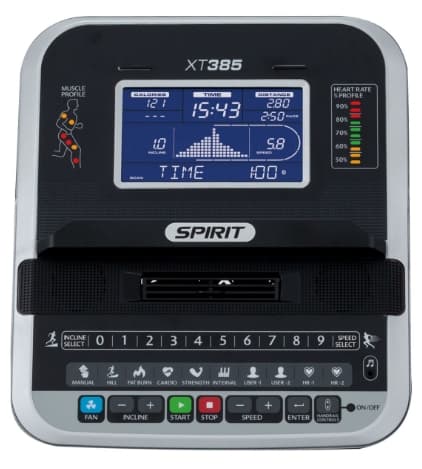 A treadmill console displays key information which is useful for trainees. An ideal console has a quick start, motion controls, tactile dome keys, multiple language mode, unit selection, etc.
Console shows, speed, distance, time, pace, incline, calories, time elapsed, time remaining, heart rate, and many other necessary metrics.
They also have a preset for weight loss, increasing stamina, and improving heart health.
More advanced treadmill's consoles have additional features like TV, Bluetooth speaker, USB, WiFi connectivity, etc. We don't recommend going after these features if budget is an issue.
The console panel is either LCD or LED, depending on the model and price.
4. Handrails
You get Handrails at the front side of almost every Treadmill in India. It is handy and useful when you need support while running or walking. But few treadmills, also known as medical treadmills, provide adjustable side handrails for patients.
These side handrails provide extra safety from sudden or accidental falls. One can adjust the height and width of the side handrail as per their requirement. Stroke patients in clinical practice use the treadmill with a side handrail.
So if you are looking for a treadmill for people who need extra safety and support while walking on a treadmill, consider buying a treadmill with side handrail.
Heart Rate Monitor and Control
The option of heart rate monitoring is almost available with every treadmill, but its accuracy is crucial. You can monitor your heart rate through the thumb sensors, contact sensors on the grips, and chest straps. The most accurate and convenient for them are the chest straps that let you get into your running style.
Heart Rate Monitor gives you vital and accurate information about your heart's health. It improves the quality of workout and assesses your fitness progress.
Exercise between 50 to 85 percent of your maximum heart rate for the best result of cardiovascular fitness. You can read more here about the target heart rate for exercise. Some pro trainers advocate exercising in different heart zones.
A few treadmills also have the facility to control the exertion level based on your heart rate to maintain the workout.
Heart rate control keeps the intensity level for a longer duration and maintains the optimum workout pace.
Different treadmills have different heart rate control programs. The higher-end models come with options of interval training, extreme heart rate, and incline training.
Types of heart rate monitor
The two popular and widely used methods to measure your heart rate are handgrip sensor and chest strap transmitter.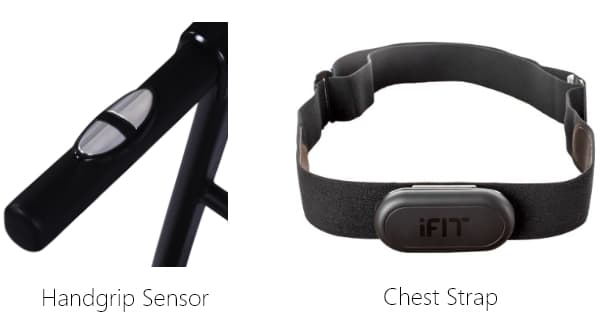 Handgrip sensor: Treadmill in India uses a pulse monitor connected with a handgrip sensor. The sensor is located at the handrail, and you need to hold it to get the reading on the HR monitor.
Chest strap transmitter: This is more accurate and comfortable to use. It uses wireless technology to transmit the reading on the monitor. You attach the strap around your chest, and the sensor is located at the top of your heart area.
Using the Handgrip sensor while running on a treadmill is difficult; you need to stop and then check the heart rate. Your hand should be clean, and you need to hold the sensor for several seconds, which we think defeats the purpose of exercising.
Features to Consider Before Buying a Treadmill
The Treadmill in India comes with a variety of features. Some of these features are more important than others and can affect your experience while other features might motivate some of you, but it may cost some extra bucks. You can look for the below-mentioned features when buying the best Treadmill in India.
1. Weight Capacity
The maximum user weight capacity of the treadmill is another important point. Lower-end models have 90-110 Kg of maximum user weight. In comparison, higher-end stable models can take it up to 150 Kg.
Always buy a treadmill that can handle 20 Kg more weight than your body weight; this will ensure no motor strain. Also, when you run the impact, weight increases. So keep these points in mind when selecting your next running machine.
If your weight is higher, then you have to buy expensive commercial treadmills because they can support your weight.
2. Maximum Speed
What type of trainee are you? A walker, jogger, casual runner or marathon runner? Answering this question will help you select the treadmill you are looking for.
If you aim to walk or jog, maximum speed may not be a matter of concern for you because most of the models have enough top track speed for this purpose. 10-15 Kmph (Km per hour) is more than enough.
If you are going to use your treadmill for running, we recommend 16-18 Km/hr top speed. For sprint runners, look for a treadmill with a top speed of 18-20 Km/hr.
3. Track Cushioning
Track cushioning absorbs shock and protects joints from high impact due to running. Runners will find it most useful, but it also helps in walking or jogging by promoting stamina and reducing injury risk.
Cushioning also lowers the belt's movement or vibration due to an intense foot strike on its deck.
High-end premium models provide facilities to adjust the cushioning hardness according to the trainee's convenience. If you compare it with road running, you will find the impact on your leg is 30% lower due to cushion on the treadmill deck, and this could increase the overall workout session.
4. Treadmill Belt Durability
For a stable and durable treadmill, you need a durable running belt. The three key points that enhance the tread belt's life are thickness, rollers, and lubrication.
Thickness: Most commercial grade treadmills have 2-Ply PVC belts (between 2.0 mm to 3.00 mm). Home treadmills in the budget have 1-Ply belts (around 1.1 mm thick). Some Premium quality commercial grade treadmills have 4-Ply belts as well. Thicker belts make less noise. Also, a 2-Ply belt needs a more powerful motor than a single-ply belt.
Metal rollers: The recommended roller diameter is 2 inches for optimum performance. Rollers with larger diameters reduce the pressure on the motor. Rollers used in treadmills come in 2 varieties, one is a solid roller, and the other is a hollow roller. Solid rollers are better and more efficient.
Lubrication: You need to lubricate your treadmill belt from time to time for smooth performance. If you feel glitches or noises, scrutinize the belt and lube it with wax. The best treadmill for home comes with self-lubricating wax or silicone lubrication for maintenance fee experience.
5. Inclination of Treadmill
A treadmill with an incline is a mandatory feature for those who want to burn calories while running (We recommend watching this video if you want to lose fat). They are similar to the resistance of exercise bikes. Using the inclination feature of a treadmill helps in building and strengthening muscles.
Most treadmills can incline 10, 15, 20, or 30%. In India, the inexpensive treadmills models have 3 levels of manual inclination. In contrast, expensive models can have 3-5 levels of motorized inclination.
Some models also come with a decline feature, which can be useful to simulate outdoor running conditions.
6. Space and Portability
In the past, storing or moving a treadmill was quite challenging, but not now. You can fold and move it easily to keep anywhere in your home. A compact treadmill is preferred over bulkier and heavier Treadmill among Indians.
The hydraulic system allows the treadmill to fold and unfold without effort. Power assist technology, and the soft drop mechanism assures hassle-free folding or unfolding. With the folding option in hand, you can free up floor space after the workout session.
For relocation, built-in transportation wheels are handy. You can move it behind the door or under the bed with the help of wheels.
Moving a treadmill can be challenging even with the support of portation wheels; this is because you have to tilt and lift it, and then push or pull to move it.
7. Safety Features
The latest treadmill models have an auto-stop safety feature consisting of a cord with a clip or a panic button. It could be useful for frail or older people when using a treadmill for health purposes. The auto-stop function reduces injury risk.
When exercising, the cord is attached to your body, and if you stumble or drift back, the clip will detach, and the treadmill will turn-off.
8. Preset Programs
Home treadmills available in the market have preset programs for the workout. Depending upon the model, the number for preset programs can be 10 to 30 and can hold multiple user profiles to track an individual's overall progress.
Preset programs help trainees achieve different fitness goals like endurance, weight loss, and cardiovascular strength. Reasons for using preset workout programs are:
It allows you to be accurate with your running, walking, and training.
They motivate you to continue your progress and challenge yourself further.
By using preset programs, you become more disciplined and punctual in following the routine
You can enter your details like age and weight and get personalized workout session
9. User Profile
Multiple user profiles feature is useful if a treadmill is used by many users (Family members Or Gym users). It lets you create records for different users (age, height, weight, level, etc.) and then help them track overall fitness progress.
A user can log in to his profile before starting his workout session and can continue from where he/she left last time.
10. Shock Absorption
Treadmills use different methods to reduce the impact due to shock when running. Exercising, especially the running, is painful for those with knee or ankle injuries. A good shock-absorbing treadmill will put less stress on your joints if joint pain is an issue.
We recommend consulting your doctor or physio trainer if you are suffering from any leg problem. The old and cheaper treadmill have below two options for shock-absorption.
Thick tread belt: Many old models claimed having a thick tread belt means a better shock absorption and hence lower impact. But this is not true, a thick belt is not a cushioning technology, and therefore it is not recommended.
Spring Technology: A treadmill with spring lowers the impact of keeping your feet back on the deck while running. The bouncy surface is not the optimal absorption technology.
The quality treadmill uses the cushioning method in some way to give the best shock absorption experience while running. It uses elastomer shock absorption with rubber grommets. The size and quality of grommets differ as per the treadmill. Below are some shock absorption methods used in high-end models for better results.
Full tread-deck cushioning: The cushioning is the same across the entire deck surface.
Variable cushioning: Softer and larger cushioning in front to absorb the footfall and firmer cushioning in the back where you lift off. So it is uneven.
Adjustable cushioning: Allows you to adjust the amount of cushioning on a treadmill deck.
11. Wifi Connectivity
WiFi is available in some treadmills models to connect with the internet for various purposes. You can use multiple health programs and apps connected to the internet and get personalized training programs to achieve fitness goals. You can have virtual experience by using google map to draw routes.
Treadmill Price in India
Budget is one of the main factors for Indian consumers when buying expensive things, and treadmills are no exception. Prices on Amazon or FlipKart start with 10,000 INR and can go beyond 3,00,000( 3 Lac) INR. Some premium imported models can cost you 5 to 7 Lac INR.
We strongly recommend looking for a treadmill above 25,000 INR If you seriously care about product durability and fitness goals. The ultimate goal is to get the highest quality treadmill in your budget.
Under 25,000 INR
The lower-end treadmills, in a price range of 10,000 – 25,000 INR is gambling. Warranty and after-sale service on these models are poor in general. These treadmills are not durable and stable. You need to do self-maintenance periodically to keep up the performance. We don't recommend these lower-end models for runners because they may break down on heavy use.
Under 50,000 INR
For models in the price range of 30,000 – 50,000 INR, you get better options. The models in this price range are more durable and can last longer. Still, they lack all-round quality and advanced features. A customer often has to compromise either with the quality or engaging features. You can use these models for jogging and walking frequently.
Under 1,00,000 INR
If you are looking for important features and durability, your price range for a treadmill in India for the home should be in the range of 60,000 – 1,00,000 (1 Lac) INR. Models in this price range are not only durable but stable too, and you can use a variety of features to do different types of fitness workout. You get high power stable motors and various exercise options for different people, i.e., it is also perfect for families with different age groups.
You get a better warranty, fitness guide and after-sale service in this range. This model is also suitable for heavy runners and can be used for an intense workout.
Above 1,00,000 (1 Lac) INR
There are premium treadmills in the market that can cost you above 1 Lac INR and go up to 4-5 Lac INR. These treadmills are better for calorie burn, marathon run, and other similar heavy-duty fitness training programs.
Motors are high power (6-8 HP) and durable. The track is wide and long, which is suitable for runners and taller people. The belt is of the highest quality.
It requires very little maintenance and is highly durable and stable. You get around 10 years warranty on motors and 5 years on body parts. The display screen can be 10 inches LED with a variety of workout programs.
Some advanced features include absorption of shocks and sound, WiFi connection and touchscreen, very high maximum speed settings, integrated TV, and many more advanced features.
Best Treadmill Brands
Brands matter, because a branded treadmill is more durable and stable than locals. Best brands have their research and technical team, which keep working to improve their products. You get better after-sale service and support.
The best treadmill brands in India are PowerMax Fitness, Kamachi, Welcare, Cockatoo, FitKit, Decathlon, Durafit, Kobo, Lifeline, and Lifelong.
Unfortunately, some of the world's top brands are not available in India. These brands are NordicTrack, ProForm, Bowflex, HealthRider, Horizon Fitness.
Nordictrack treadmill and proform treadmill are the best selling fitness machines in the US and other countries. Indians don't have these options, but Powermax Treadmill, FitKit Treadmill, and Durafit Treadmill are good alternatives.
Tips for Care and Maintenance
Always wipe down the treadmill after every workout.
Some treadmills require oiling or lubricating, which must be done regularly. But some of the best treadmills can lubricate themselves. So, you must do the lubrication only to that treadmill, which needs lubrication.
Always keep your treadmill in a climate-controlled environment because excess moisture, heat, and humidity damage the treadmill's mechanics.
Clean the dust and other particles from under the treadmill area using a vacuum cleaner every month
The treadmill belt wiggles and stretches out after continuous use. So, if you feel like that, tighten the belt when needed for a smooth workout.
Always use the treadmill on a level surface to make the belt in an aligned position.
If you feel a vibration while doing workout on the treadmill, you may opt for the treadmill mats.
Warranties
A treadmill is an expensive investment, so make sure you get the best possible warranties on it. Longer warranties or guarantee (yes, some brands provide the guarantee) means you are buying a durable and hasslefree treadmill.
A treadmill warranty covers four things: Motors, Parts, Frame, and Labour. Let's see how much you get the warranty in each of them.
Motors: Mid-range treadmills in India provide 3-5 years of warranty on motors. There are few brands which can provide up to 25 years of warranty (rarely available in India)
Parts: It varies a lot, a treadmill with more features provides less duration on body parts. Its range varies from 0-12 months. We recommend checking for a minimum of 6 months warranty on body parts.
Frame: Almost all treadmills give a lifetime warranty on body frames. So never compromise on it.
Labour: Good companies like PowerMax provide up to 12 months for Labour for free. While few ask for charges, you can get 6 months to 3 years of labor service on brands depending upon the treadmill. Also, always check this information with the dealers.
In India, some treadmill companies provide a lifetime warranty against manufacturing defects. We recommend buying the above mid-range treadmill to get the best warranty on your fitness machine.
Benefits of using the Treadmills
Weight loss: Treadmill workout helps in reducing your weight, and if you combine your workout sessions with a healthy diet, you can reach your weight loss goals in no time.
Cardiovascular Health Improvement: With the cardiovascular workout on treadmills, you can easily improve your heart health.
Improved Muscle Tone: Treadmill workouts strengthen and tone your muscles, and the incline feature will help tone your legs even more.
Improved Joint Flexibility: As a moderate-intensity exercise, treadmills help in keeping your joints flexible. And since walking on a treadmill is smooth, you can reduce the impact on your knees and joints. Also, if you have arthritis, the treadmill is an excellent way to prevent your joints from unwanted pain.
Tracking your progress: Some treadmills have special features like step counters, and heart rate monitors to track fitness progress. Some also let you create multiple users and save your stats so that you can see your improvement.
Ease of use: Treadmills are one of the most straightforward exercise equipment you can use at home without worrying about the curbs, trails, and sidewalks as they come with a flat surface.
Treadmill Alternatives
A treadmill is a preferred choice for cardio and aerobic exercises. But many people might want to consider alternatives for various reasons, like the risk involved when running, high impact on joints, space it takes, money it costs, etc. Let's see what other choices you have.
Elliptical Machine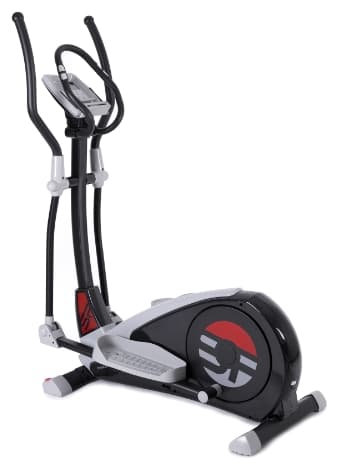 Ellipticals are a popular exercise machine for doing overall body workout. It has a lower impact on joints due to the legs' elliptical motion instead of running on the tread belt.
These cross trainers are perfect for cardiovascular exercise and work on muscle groups of upper and lower body parts.
Since it has a minimum impact on joints, it is better for people with injuries, or the beginners.
Other benefits of an elliptical trainer include less cost and space when compared to a treadmill.
If you are interested to know more about it, read our best elliptical trainer reviews and buying guide.
Stationary Bike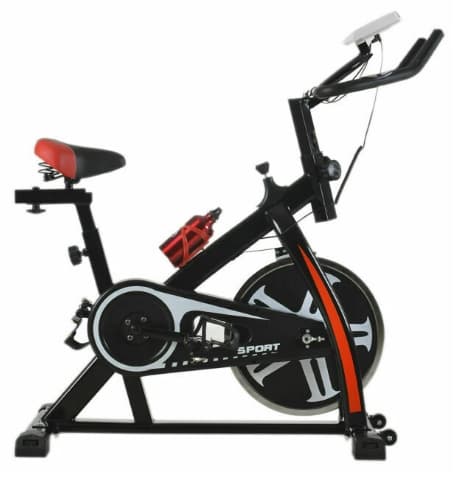 Using a stationary bike (also known as an exercise cycle) is best for your leg and heart. Compared to the treadmill, it has a very low impact on joints, and you are safer while doing the workout.
The main benefit of the exercise cycle is that you can do HIIT workouts more efficiently, and it helps in burning calories.
Also, you have many choices with stationary bikes like Air bike, Spin bike, Recumbent bike, etc. They all have slightly different goals and goals.
Not to mention, it takes less space and is easily movable, even better than elliptical. Read our review and buyers guide on the best exercise bike.
Other Exercise Machine
If a treadmill is a problem for you and you are looking for an exercise machine other than an elliptical trainer or exercise bike, below are the few options.
Rowing machine
Stair Stepper
Freestrider Trainer
Tread Climber
Outdoor Activities
Some people find treadmills and other indoor exercise machines boring. Below, we have listed a few outdoor activities you can do to get the same benefit as of a treadmill.
Swimming
Skipping or Jump Rope
Hill Sprints
Martial Arts or Fighting
Zumba
Outdoor cycling
Football/Badminton/Squash/Tennis
These outdoor activities help in improving cardiovascular and burn fats.
Treadmill Accessories
You can use a number of accessories to enhance the experience of your treadmill usage and riding. These are not necessary at the time of buying a treadmill, but you can purchase them later. Check the below list to weigh your options for treadmill accessories.
Lubricants: If you own a lower-end or mid-range treadmill, you will need to lubricate your treadmill to keep it working smoothly. Make sure you buy the correct type of lubricants. Check out treadmill lubricants on amazon.
Treadmill Mats: If you have uneven flooring, it's a great idea to buy a treadmill carpet. They provide stability and reduce the noise produced by the treadmill vibration. Easy to clean the surface after using the treadmill.
Cleaning Accessories: Based on the manuals provided, you can buy cleaning accessories to have endured through time.
Treadmill Desk: Some people often like to work when exercising on a treadmill. For this, you need a treadmill desk to keep your laptop, iPad, or MacBook on it. We do not recommend doing any task while exercising on the treadmill. It could be dangerous and cause serious injury.
Additional Accessories: You can buy a tablet holder, reading rack, TV stand, bottle holder, Workout Fans, etc. These accessories may be convenient for increasing the duration of workout sessions and removing the boredom when exercising on a treadmill.
Apart from the accessories mentioned above, you can buy safety key and knee cap compression support for safety.
Running on Treadmill vs. Running Outside
So the question is, which is better running on the treadmill or running outside? It is the most asked question among the runner and health freak. The short answer is both have their pros and cons, and some prefer one over the other.
Running Outside
Running outside helps to achieve stability, and overall you will feel more energetic and enthusiastic. Below are some good and bad points of running the outside when compared to running on the treadmill.
| Benefits | Drawbacks |
| --- | --- |
| You get fresh air and beautiful terrain. | There are health concerns when running outside in a polluted city. |
| More realistic conditions for racing and marathon. | The changing weather is not suitable for running, especially when raining or snow falling. |
| No expense on machine or gym membership. | Not everyone has enough time to go outside daily, this is especially challenging for women or any busy person. |
| More muscle activation due to posture before running. | It can be dangerous and risky if you are running the roadside due to vehicles running all around. |
| Big strider and variation is possible. | If you sustain injury and need someone to look after, running outside is dangerous. |
| Running on a stiffer surface is better for bones. | |
| You become adaptive to different weather and terrains. | |
| Great for mental health and getting Vitamin D from the sun. | |
Running on Treadmill
It is perfect for achieving your fitness goal in a consistent training environment. If winning a race is not your aim and you care about your cardiovascular condition, start running on a motorized treadmill. Below are some benefits and drawbacks.
| Benefits | Drawbacks |
| --- | --- |
| Running on a treadmill is more convenient with a lot of adjustments. | You can not simulate uphill or downhill running better. It is limited. |
| It comparatively puts a low impact on joints than running outside. | Also, treadmills have a maximum speed limit. |
| Irrespective of weather conditions like rainy, windy, or cold, you can run on a treadmill inside your home comfort. | Running on a treadmill is boring. |
| Useful for achieving fitness goals slowly and steadily under the supervision of a professional instructor. | Some people will find it a little challenging when starting and may get injured if not careful. |
| If you lack time during day time, you can run at night without any risk. | |
| You control the pace and tempo of exercise by adjusting the speed, inclination, and other features. | |
| Entertainment options like listening to music and watching TV. | |
Treadmill FAQs
1. What is the best treadmill for home use in India?

Right now, PowerMax Fitness TAC-400 is the best treadmill according to our review. If this is not available, you can buy Kobo TM-312, It is equally good and alternative for the TAC-400. If you need the best treadmill on a low budget check the Fitkit FT200 Series.

2. For how long can a treadmill be used continuously?

It depends on the motor type. A mid-range treadmill with an AC motor can be used 6-10 hours continuously. On the other hand, a treadmill with a DC motor needs to rest 20-30 minutes after 1-hour continuous usage.

If the runner is overweight or more than the manual's recommended weight size, then continuous usage duration should be shorter.

3. Any special wiring or power socket needed?

Most home treadmills can work with standard wiring in the home with 5 Amp plugs. However, some heavy-duty commercial treadmill with high motor CHP value may need 15 Amp plugs.

4. Can you lose weight on a treadmill?

Yes, you can lose weight if you use a treadmill daily. 30 minutes of high-intensity exercise is recommended. If you have a model with a preset program, you can choose a weight loss program and follow the instructions.
You can lose more than 300 calories per day if you aim to workout properly. Make sure calories burned is more than what you consume each day.

5. What is CHP in a treadmill?

CHP stands for the continuous horsepower of treadmill motors. It indicates the minimum power a treadmill's motor can deliver during its constant use.
Motors also have peak horsepower value, which is higher than the CHP value, but you can not use the treadmill on its peak motor power for a longer duration because it may burn out.

6. Is the CHP of a motor in a treadmill important?

Yes, the continuous horsepower (CHP) is essential. Depending upon the CHP value, you can use a treadmill for walking, jogging, or running. For runners, we recommend a CHP value of 2.5 or more.

7. Should I use a foldable treadmill?

If you have space constraints in your home, you should buy a foldable treadmill. Also, if you are not going to use it for running, you can buy a treadmill with shorter dimensions. You can fold and unfold a foldable treadmill when needed.

8. Does a treadmill reduce belly fat?

Yes, running on a treadmill reduces belly fat. Using it regularly will also make the visceral fat go away. But keep in mind, it will not happen overnight; it takes time and dedication to get a flat belly.

9. What is the inclination, and when is it important in a Treadmill?

If you want a faster result and a more intense workout from your treadmill, you need an inclination feature. It is like running on the slope of a hilly area. Some treadmills have a manual setting of 3 levels of inclination, which you can set when doing workouts. Few high-end models have the auto inclination.

10. Do we need a treadmill stabilizer?

If you live in an area where voltage fluctuates a lot, we recommend using a stabilizer to save electric parts of the treadmill. Every expensive electrical item should use a stabilizer if the voltage is inconsistent, treadmills are no exception.
Conclusion
At the end, we will repeat the most important points one should look at when buying a treadmill. First, assess your needs carefully and then check for space and budget. Once you decide these things, look for motor Horsepower, running area, Warranty and Maintenance carefully for each treadmill in your checklist. Always try to go with reputed brands like PowerMax or Durafit.
We have already checked these things for you and based on that we recommend PowerMax Fitness TAC-400, no doubt it is one of the best models in all departments. If you find this one costly, We suggest go for Fitkit FT200, which is affordable and value for the money.
We hope you like our review of the best treadmill in India. If you have any suggestion or query please leave your comment below.
Check More Related Reviews
Buy the Best Treadmill Online
PowerMax Fitness TD-M1 2HP (4HP Peak) Pre-ins...
58%
Sparnod Fitness STH-1200 Motorized Treadmill ...
57%
Reach T-90 Manual Treadmill for Home Workout ...
Fitkit by cult.sport FT801 4 in 1 Manual Mult...
46%
PowerMax Fitness MFT-410 Non-electric Manual ...
40%
PowerMax Fitness TDM-98 (4.0HP Peak) Motorize...
59%
Fitkit by Cult.Sport FT98 Carbon (2HP Peak, M...
63%
WELCARE MAXPRO PTM405 2HP(4 HP Peak) Folding ...
50%