Treadmills are now becoming a very popular piece of fitness equipment for achieving high-grade cardio workout with a lot of smart features. However the manual and electric versions of residential treadmills are the ideal choice for your home gym, but if you need something durable, it is better to invest in a commercial treadmill.
Commercial treadmills are absolutely the smartest investment if you want something for the long run. With the highest grade materials it is constructed, you can use it ultimately for many years.
Commercial Treadmills are highly demanded in health and fitness clubs or gyms, hotel fitness rooms, physical therapy clinics, etc. Even if you are ready to spend a little expensive price to get the most reliable and professional type of treadmill, commercial treadmills are better options for your luxurious home gym also.
To get in-depth information on Commercial Treadmills, Check our Buying Guide Section.
7 Best Commercial Treadmills in India
Commercial Treadmills
Motor Power
Max User Weight
Warranty
Powermax Fitness TA-C4
Read Review
3 HP (6.0 HP Peak)
140 Kg
5 Years on Motor
1 Year on Parts & Labor
CHECK PRICE
Viva Fitness T-2200
Read Review
4 HP (8.0 HP Peak)
150 Kg
5 Years on Motor
1 Year on parts & labor
CHECK PRICE

Viva Fitness Omega 5
Read Review
3 HP (6.0 HP Peak)
135 Kg
5 Years on Motor
1 Year on parts & labor
CHECK PRICE
PowerMax Fitness TAC-515
Read Review
4 HP (6.0 HP Peak)
150 Kg
3 Years on Motor
1 Year on Parts & Labor
CHECK PRICE
Healthgenie Commercial Motorized Treadmill
Read Review
2 HP
150 Kg
3 Years on Motor
1 Year on Parts & Labor
CHECK PRICE
Cardiofit CF58
Read Review
4 HP (8.0 HP Peak)
160 Kg
3 Years on Motor
1 Year on Parts & Labor
CHECK PRICE
Cockatoo CTM-01
Read Review
8 HP Peak
150 Kg
1 Year Comprehensive
CHECK PRICE
Best Commercial Treadmills – Reviews
1. Powermax Fitness TA-C4 Motorized Commercial Treadmill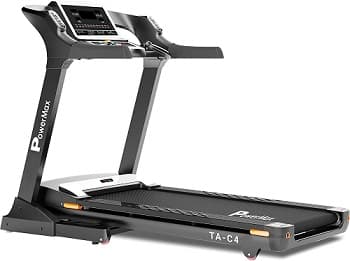 Great features, quality, and performance all these defines this treadmill from Powermax Fitness. The model TA-C4 is equipped with all the smart features making it a great solution for an effective cardio workout. Whether it is a home gym or any fitness center, this one is an absolute buy. This motorized commercial treadmill comes with a 3.0 HP continuous motor for the smooth ride. Also, the wide and long-running deck provides you a spacious running environment. Featuring 5 window LED Display, it shows your speed, distance covered, time taken, calories burned, heart rate, and fat burn with the swipe of a finger.
When it comes to the performance, this commercial treadmill has 99 Pre-set Programs and 3-Custom Programs to vary your workout each time you step on it. With its 20 levels of auto inclinations, you can make your workout even more challenging. This treadmill also has a ComfortTech 6-Point Damping System for amazing shock absorption. And in addition, it comes with dual shock spring absorption that reduces stress on knees, ankles, and hips. This multifunctional treadmill also comes with the powerful massager to massage your hips, thighs, and stomach.
Talking about the safety features, this one has a built-in auto stop function that reduces the risk of injury. Even there also have the steel crowned rollers with dynamic balancing that keeps the belt centered to ensure smooth movement of the running belt and also ensuring enhanced safety while jogging.
Key Features
3.0 HP Green Efficient Motor (6.0 HP PEAK)
Speed range 1.0 – 22.0 km/hr
20 levels of auto inclination for an intense workout
99 Preset workout programs
3 custom programs
Comfortable running track with 54.3"x 22" running area
Heart Rate Sensor on the joystick
Built-In Speaker with AUX/USB Connection
Wi-Fi for Internet, Multimedia for Music, Videos & Many more
Maximum User Weight 140 Kg
Multifunctional with massager, twister, dumbbells & sit-up bar
Auto Lubrication
ComfortTech 6-point Commercial Grade Damping System
Diamond Strip Anti-static Running Belt with 6-Ply Running Board
Hydraulic Soft-drop System (HSS) Folding
Auto Stop Safety Function
Independent CPU
Rollers
Pros
Nice and elegant design
Sturdy construction
Excellent preset programs
Great in terms of performance
Quiet energy saving motor
Cons
2. Viva Fitness T-2200 Commercial AC Motor Treadmill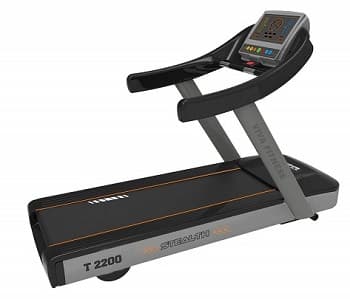 This high performing gym treadmill from the brand Viva comes the next on our list of best commercial treadmills. However the cost is very high, but for its amazing features, it is really a must have exercise equipment for the gym owners, fitness center owners, and even for the trainers for their home gym. Equipped with the powerful 4.0 CHP motor (8.0 HP peak), it never fails you down to use for up to 6-7 hours continuously.
Now coming to the design, it comes with the medium density double-faced fiberboard that has the shock absorption system to protect your knees. The aluminum footrail, pre-waxed heavy duty running belt, and the ergonomic panel handle offer the most comfortable and safe workout experience. There is also a large LED dot matrix and scrolling text that lets you monitor your workout.
Talking about the smart features of this commercial treadmill, it is countless. It comes with the touch sense technology with the blue back lighted sensor buttons that indicates you to start your workout easily. Even there are 20 built-in workout programs to fulfill your different training requests. With its built-in heart rate bar system, you can monitor your heart rate very precisely and accurately.
Key Features
Powerful AC 4.0 HP continuous (8.0 HP Peak) motor with DK drive motor control
Speed range 1-20 Km/hour
Max User Weight 150 Kg
Precise incline control from 0-18%
Intelligent shock absorption system
Precision steel rollers
Aluminum footrail
20 Built-in Workout program
Hand pulse on the handle
The heart Rate bar system
Pros
Strong and sturdy built
Stylish look
Great and heavy-duty commercial treadmill with smart features
Easy to use
Cons
3. Viva Fitness Omega 5 Semi Commercial Treadmill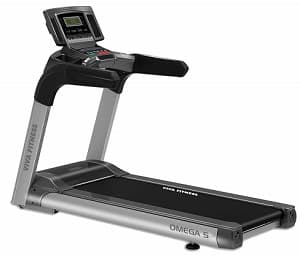 This is another best commercial treadmill from the brand Viva with a ton of superb features. With the smart and decent design, it is a perfect addition to any fitness centers as well as your luxurious home gym. Its robust and strong construction, as well as the high-quality parts, make it the most reliable model to endure with the rigors of the busy gym environment.
With a wide and long running surface, you can effectively work or jog for a long time without feeling any discomfort. Also, the deck is double phenolic and heavy cushioned that protects you from any type of injuries to knees and joints. This one commercial treadmill also has the heavy duty orthopedic running belt.
Now when it comes to the smart features, this one is outstanding. It comes with an iOS compatible 15.6" LCD touch panel with WiFi and Bluetooth connectivity. This feature lets you do surfing on the internet, checking emails, and also connecting to various social networking sites. This treadmill also has the E-Scape virtual video workouts that engage and motivate the users. With its different motivating programs, you can fulfill your different workout programs.
Key Features
AC driving system with adjustable variable frequency
3.0 HP continuous motor (6.0 HP peak)
Maximum User Weight 150 Kg
Speed Range 1-18 Km/hour
Precise incline control from 0-20%
15.6 inch LCD touch panel with WiFi and Bluetooth connectivity
Excellent shock absorption
Emergency stop button
Sweat-proof Console design
Pros
Nice and durable
Smart design with smart features
Great in terms of performance
Inclination range is best for making your workout more challenging
Cons
4. PowerMax Fitness TAC-515 4HP (6HP Peak) Motorized Treadmill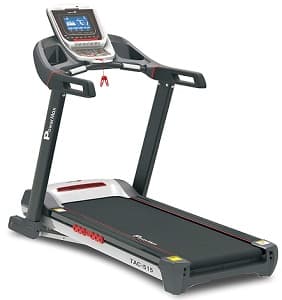 Now, the next one is Powermax Fitness TAC-515 motorized treadmill for commercial and home use both. With best-in-class features and unparalleled durability, it is a perfect combination of both performance and quality. It comes with a 5.0 HP AC Induction motor for the smooth working; even it can run for 6-7 hours per day without any wear and tear. Moreover, its unique motor design makes it more energy efficient as compared to the normal treadmills. The running deck is thick enough and composed of high-density fiberboard core. With the wide and long-running surface, it makes your run very comfortably on it.
This commercial treadmill is equipped with a large LED console providing you out the key workout metrics including time, distance, speed, calories burned, and heart rate. The 8-inch color touchscreen includes internet connectivity allowing the users for website browsing, video streaming, and music listening. It also has the ability to make your workout more difficult with its 0-18 % changeable inclination level. This cardio fitness equipment comes with 24 pre-set programs along with HRC healing function that lets the users to enjoy a wide range of workouts.
When it comes to safety, this treadmill provides a natural running experience with its pro cushioned double-layer running board for better shock absorption to reduce the stress on joints. The running belt comes with a PVC non-slipping surface for enhanced safety.
Key Features
5.0 HP AC Induction Motor
24 Preset workout programs
Speed Range 1.0-18 Km/hour
Inclination range 0-18%
Maximum User Weight 250 Kg
8 Inch LCD screen to show speed, distance time, calories burned, and heart rate
Multi-ply polyester satin weave running belt with a PVC non-slip surface
Precision-machined steel tapered rollers to keep the belt centered
Shock absorption
Connectivity with TV signal, Play HD movie, and music
Pros
Decent smart design
Great for both commercial uses as well for your home gym
Nice safety features
Easy to use
Requires less maintenance
Durable and sturdy construction
The Bad
5. Healthgenie 4612C Commercial Motorized Treadmill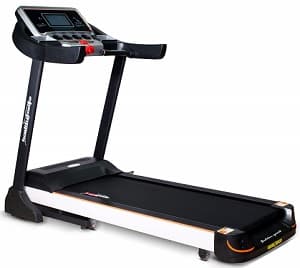 Coming to the next, this piece from the brand Healthgenie is yet another smart choice for commercial treadmills. Designed with comfort, reliability, and performance, it is an ideal purchase for all gyms and fitness centers, physical therapy clinics, and even for your home gym. Equipped with the powerful 2.0 HP AC motor (5.0 peak), it runs very smoothly for long hours. There comes a touchscreen on the console of this unit that lets you track your stats in real time including your speed, running time, distance covered, the amount of calories you have burned, and the rate of incline you are running on as well as your heart rate too.
This smart commercial treadmill is equipped with 12 preset profiles enabling you to do different types of workout to achieve your fitness goals. Even its 0-15% inclination level range that you can set accordingly makes your workout more challenging and difficult. To get an enjoyable experience of your workout, this treadmill also has built-in speakers with MP3 and USB connector.
Key Features
2.0 HP motor
12 preset programs
Inclination Range 0-15%
Speed Range 1-16 Km/hour
Maximum User Weight 120 Kg
Wide and long-running surface
2.0 Hi-Fi Speakers with MP3 and USB Connector
Handrail heart sensor
Body fat teat function
Shock Absorption
Pros
Nice cardio fitness equipment in this price range
Smart features
Easy and safe to use
Strong and sturdy built
Cons
6. Cardiofit CF58 Motorized Commercial Treadmill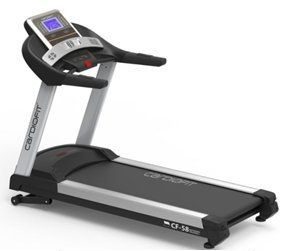 The Cardiofit CF 58 is yet another best commercial treadmills with the high-tech, durable and robust design and of course with the smart features. In addition to the stylish aesthetics, this commercial treadmill offers a smooth running experience with its enough running area. That is why it is an ideal choice for gyms, fitness centers, and for home use. It comes with an 8.0 HP powerful AC grade motor (4.0 HP Continuous) that works very quietly and smoothly. Moreover, the large LCD display with blue back light is a great addition to get all your fitness stats including speed, distance, time, calories burned, and heart rate.
It also offers you the various challenging workouts with its 24 preset workout programs. Even you can use its 20 levels of inclination to make your workout more challenging. When it comes to comfort, this one has the heavy-duty running belt and wide and long running surface for the most comfortable workout. For enhanced safety, it comes with 8 pieces high-class suspension shock absorbing deck to protect you against injury.
If you feel bored during your workout session, don't get worried as it comes with built-in speakers with MP3 that lets you enjoy your favorite music while exercising. And finally, thanks to its foldable and space saver design that makes it convenient for the user to move and store this treadmill.
Key Features
8.0 HP AC grade motor
Large LCD screen with blue backlight
Maximum User weight 160 Kg
24 preset programs
Speed Range 1-24 Km/hour
Precise Incline control from 0-20%
Heavy duty running belt
Running Surface: 22.8″ X 62.5″
Built-in speakers
High-class suspension shock absorbing deck
Pros
Stylish space saver design
Great in terms of quality and performance
For both commercial and home use
Large comfortable belt and running surface
Safe to use
Cons
Should have more weight capacity
7. Cockatoo CTM-01 Semi-Commercial Treadmill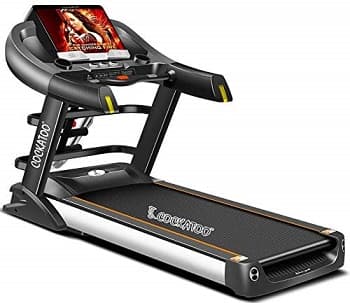 Last but not least, this model from Cockatoo is another best commercial treadmill in our list. It comes with a continuous 6.0 HP peak motor which is quiet and efficient to work continuously in a busy gym environment. This fitness machine has a long and wide running surface making it ideal for any runner with different shape and size. With its advanced 12 preset workout programs, the users can meet their training goals very efficiently. Even the auto inclination range from 0-15% helps you more to attain your fitness goals.
This commercial grade treadmill comes with a special deck providing advanced shock absorption and stability. Plus, it has a 10.1″ TFT touchscreen display that shows your stats including time, speed, distance, calories burned, and pulse. Moreover, the compatibility of LCD with Wi-Fi and Bluetooth connectivity makes your workout very interesting and enjoyable.
Key Features
6.0 HP Peak continuous motor
Speed Range 1-20 Km/hour
Inclination range 0-15%
12 Preset workout programs
Maximum User weight 150 Kg
10.1 inch blue LCD screen
Bluetooth and Wi-Fi connectivity
Pros
Smart design with smart features
Great in terms of quality and performance
Ideal for commercial use
Awesome safety features
Cons
Commercial Treadmills Buying Guide
What are Commercial Treadmills?
Commercial Treadmills are the smartest exercise equipment packed with a lot of smart features for an interesting workout experience. However, they are highly priced but designed to last longer than those for residential treadmills. These treadmills also come with the more powerful motor, bulkier frame, and high-quality resistant belt to cope with wear and tear.
Benefits of Commercial Treadmills
Commercial treadmills are the highest quality treadmills that you can use for many years without spending more on its maintenance.
Since commercial treadmills come with the high weight capacity, it can suit the requirement of almost every trainee.
Commercial Cardio trainers also feature a good range of workout program.
These fitness machines come with a choice of the console along with the options including streamlined and advanced workout technologies.
Commercial treadmills come with a long and wide track ensuring comfortable and safe running strides for every trainer.
The commercial grade treadmills are equipped with high power motor than the home treadmills, and that's why they can run for many hours a day without overheating.
Pros & Cons of Commercial Treadmills
Pros
Top-notch performance
Great for long time use
Suitable for avid runners and walkers both
Less maintenance is required
High Weight Capacities
Cons
Unlike the residential treadmills, commercial treadmills don't come with the foldable option. So you must have the proper space to keep them
These are expensive over the residential treadmills
Features to Consider Before Buying a Commercial Treadmill
1. Size
Size is the foremost factor before buying a commercial grade treadmill. It is important to check the size of the treadmill and then opt for the machine size that ideally suits the space to keep the treadmill conveniently.
2. Speed
Always go for the commercial treadmills that offer easy speed adjustment and come with both high and low-speed options so that you can walk or run accordingly. Some of the high-grade models come with integrated speed changers on the handlebars and some on the center console. So choose the one that suits your need.
3. High-Quality Motor
A commercial treadmill equipped with the quality motor is the most decent purchase. About 4.0 CHP to 5.0 CHP motor is good for the treadmills used for commercial purposes. It lets the treadmill to withstand for up to 6 hours a day without putting stress on the motor. And hence increase its durability. But still, if you want a light commercial treadmill for residential use, the low powered motor is sufficient that withstand for up to 3 hours per day.
4. Spacious track
Even though commercial treadmills usually come with a longer deck for comfortable jogging or walking, checking for the spacious track is still important. A treadmill with 60 inches long and 20 inches wide track is ideal for commercial use. But you can also opt from the range between 58 inches to 62 inches long and 22 inches wide treadmill.
5. Incline
Setting of the inclination level in a treadmill can make your workout more challenging. Most of the commercial treadmills come with the automated incline system ranging from 10% to 15%. Some units have manual inclination adjustment, and some come with a hydraulic button press design to set the desired level of inclination.
6. High-Quality Cushioning
Commercial treadmills have the feature to absorb impact for minimizing the risk of joint problems. Choose the one with the stable and firm deck that feels softer but not too spongy or bouncy that can also create joint pain.
7. Built-in workout programs
The low-end models of commercial treadmills usually come with six to ten built-in workout programs. And on the other hand, high-grade commercial models have more than ten workout programs that make your workout definitely more challenging and exciting.
8. Wireless Heart Rate Monitor
The advanced models of commercial treadmills come with the chest straps to monitor the heart rate of the trainees.
Some More Smart Features
Commercial treadmills have built-in tracking feature to let you know about the speed, distance covered, time taken, and calories burned.
Some have the tracking features onto their screens and some lets you track your progress via your phone or other electronic devices.
The smart commercial treadmills come with built-in Internet browsers, high definition TVs and integration with popular fitness apps.
Some advanced commercial treadmills come with the built-in sound system to listen to music while doing the workout.
These machines also have a built-in USB port to charge your phone.
Some of the high-end models also even come with the built-in fan to help you stay cool during your workout session.
If you are interested in knowing more about Treadmill in general and what to look for when buying a new treadmill, we recommend reading our detailed Treadmill buying guide on another page.
Conclusion
So, that's all on best commercial treadmills in India, their reviews, and complete buying guide. Rather you will have to spend more to purchase one of them, but believe me, its quality and the durable feature will surely balance the extra cost you have paid in purchasing. Well, I have mentioned all the necessary points to make you understand better about the commercial treadmills. And hoping the blog will surely help you out in picking the best commercial treadmill for all your smart fitness needs.
Explore More On Treadmills
Buy Best Commercial Treadmill Online
PowerMax Fitness TDA-230 (4HP Peak) Smart Fol...
50%
Let's Play® Automatic Treadmill 3.HP AC Moto...
50%
Afton BT22 AC Motorised Semi-Commercial Tread...
22%
Cultsport c7 7HP Peak AC-Motorised Treadmill...
57%
Cockatoo CTM02 6 HP Peak AC Motor Commercial ...
30%
OneFitPlus by cult.sport OFP-3500 (7HP Peak) ...
35%
PowerMax Fitness TAC-3500 4HP (6HP Peak) Moto...
30%
Viva Fitness Virtual-X Premium Commercial Tre...
27%