Getting fit and healthy is very important to lead a healthy lifestyle. For this, regular exercising is one of the best fitness mantras for all of us. If you want to get in shape as well as muscles build up, joining a gym is a great solution. But what if you don't have time to go to the gym on a regular basis? Here comes the best time saving and great solution- Home Gym Machine.
With multiple ranges of exercises in a single machine, a home gym offers the best solution for a consistent fitness routine. Read the reviews of best home gym machines in India with a complete buying guide.
What is a Home Gym Machine?
A home gym machine is the combination of various gym machines into a single multi-functional unit. So, why to join a gym if you own a home gym. Whether to build the strength, to tone your body as well as increasing your chest size, this multi-functional machine lets you do all.
Even, you don't need to buy different exercise tools separately, as it allows you to do many exercises for the whole body in a single machine. Some of the basic exercises you can do on a home gym machine include chest press, lat pull-down, lateral raises, bicep curl, tricep pushdowns, leg extensions, and much more.
Want to know more about Home Gyms, please head to our Buying Guide Section.
10 Best Home Gyms in India
Check out the quick list of best and latest home gyms before diving into the full review of each model.
Best Home Gym Reviews
Lets check the detailed review of each of our best picked models of home gyms or multi gym machines to pick out the preferable one.
1. Cosco Fitness CG 600 Six Station Gym (Overall Best)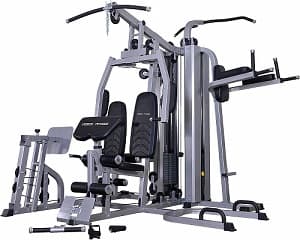 This all in one multi gym machine from the most trusted fitness brand Cosco is our top pick for its outstanding performance. Even with so many remarkable features, it is undoubtedly the best choice for many home gym users.
Having a heavy-duty construction with an 11-gauge steel frame, military-grade aircraft cables, and high-grade construction tube, the machine offers plenty of ways to hit each muscle group. Moreover, its contoured, deep padded seat and backrest provide ultimate support and comfort while doing the workout.
One of the best features of this home gym machine is that it is a six-station multi gym. It means six users can use the machine for multiple exercises at the same time. These various stations are used for multiple exercising functions.
You can perform a variety of exercises using this multi-gym machine. It includes – tricep extension, leg extension, high pull Ab crunch, tricep push-down, lat pull-down, bicep curl, pectoral fly, seated press bar row, preacher curl, bench press, leg kick back, seated shoulder press, dip arm, upright row, standing leg curl, standing shoulder, knee raise and dip arm chin up, sit up dumbbell exercise with lat pull bar and ankle strap, power tower.
Key Features
Heavy-duty steel construction for ultimate strength and durability
Dual Powder coating finish
Heavy-duty tube
Two Sets 70 kg steel weight stacks
Five stations home gym
Max. User Weight 150 Kg
Pivot point on leg developer correctly align with knee joint for biomechanics
Contoured deep padded seat and backrest
Pros
Durable construction
Looks stylish
Very comfortable seat and backrest
Six gym station ensures six users to use the machine at the same time
Easy installation
Cons
Takes a lot of space
Expensive
2. Cosco Fitness CHG 405 4 Station Gym (Runner Up)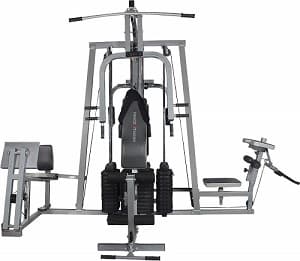 The next model in our list comes again from the same brand Cosco with a lot of impressive features for an intense workout.
This multi gym delivers outstanding performance to get you in shape. Moreover, if you are in a search for the home gym machine not only for you but also for your family members, this one is a great choice.
The machine has so many striking features to offer strength training and muscle building so that you can look perfect. This multi gym setup is designed with an oval tubing frame that is sturdy and durable.
This one comes with four stations, means four users can use the machine at the same time for different workouts. It also comes with four weight stacks of 150 lbs each.
Another remarkable features include pec-dec high floor pulleys, unique low pulley design to exercise on either side of the main frame, curling bar ankle strap, optional safety steel cover, and pulley wheel with bearing.
This home gym is specially designed for the exercises of the chest, back, shoulder, neck, abdomen, biceps, and triceps. And you can perform abdominal exercises, lat pulldown, leg press, shoulder press, pec dec, low Row, bicep, tricep, leg curl, low row in a single machine. Thus, you can enhance your workout sessions with this smart home gym machine.
Key Features
Sturdy oval tubing frame
No cable change
Four station home gym
Special low pulley design to exercise on either side of the main frame
Four weight stacks of 150 lbs each
Optional safety steel cover
Pulley wheel with bearing
Includes: lat bar, curling bar ankle strap
Pros
Excellent quality home gym
Simple, streamlined design
Home gym for multiple exercises
Adjustable seat
Affordable
Cons
3. Kamachi HG-33 Home Gym with Ab Exerciser (Budget Pick)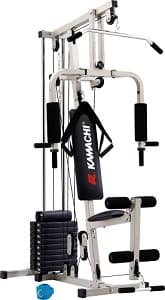 This stylish exercise machine from Kamachi is a great way for strength training and bodybuilding at home. Its state-of-the-art infrastructure with heavy gauge construction ensures durability and strength. Even the feature and performance it provides at such a reasonable price range, makes it absolutely a best choice for your home gym. Another best feature is its compact and space saving design that can easily gets fit even if you have tight spaces too.
This multi gym machine provides perfect angles for accurate workouts to provide stress on desired muscle group. So, you can achieve your targeted health goals easily.
The machine also comes with proper adjustments to accommodate different size users very easily. Thus it can become a great deal if you are seeking such a fitness machine not for you only, but also for your family members too.
The users can perform a variety of workouts on it, including vertical bench press, leg stations, bent over row, military press, precher curls front, reverse grips, shoulder shrugs, pec dec flyes, triceps extensions, lat pull front/rear, upright row, leg curl, rear deltoids, and bicep curl.
Key Features
Multi-functional machine for different flat and incline exercises
Heavy-gauge construction
Space-saving design
Large comfortable foam leg rolls
Continuous loop cable system
Quality and easily operable weight stacks
Perfect Angles for Accurate Workouts to provide Stress on Desired
Muscle Group
Adjustable weight
Pros
The build quality of this home gym is very impressive
Stylish and fancy design
Excellent stability
Cable tractive movements is also very nice
Can take heavy weight loads easily
Cons
Complaints of poor aftersale service
4. Kobo MHG-1002 Steel Multi Home Gym
This multi-functional home gym from Kobo is a one-stop solution for all your fitness needs. It comes with all the features and functionalities to provide you health club like performance. Plus, the affordable price point makes it one of the best choices to workout at home.
It comes in a heavy gauge and heavy-duty steel tubing design for ultimate strength and durability. And the compact footprint makes it fit easily, even in the smallest room.
This machine allows you to perform a variety of workouts to gain endurance and increase your strength. The multiple exercise functions include chest extension, low pull, rowing, peck-deck, high pull, and leg extension.
No matter what your age is, and what your size is, this home gym can accommodate every user to tone their body muscles. Thus, it will surely be a great purchase for your entire family.
Key Features
Single weight stack machine
Heavy gauge steel tubing construction
Compact design
Large comfortable foam leg rolls
Continuous loop cable system
Easily operable weight stacks
Max. User Weight 120 Kg
54 kg weight plates set included with 12 plates of 10 pounds (LBS) each
Adjustable seat height
Easy-open pulley locks
Pros
A neat home exercising tool
Well built
Quality of all the parts are extremely good
Can be used by everyone
Easy to assemble
Cons
5. Lifeline Hg 002 Square Home Gym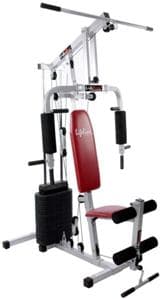 Full body workout is now getting easy with this home gym set up from Lifeline. It is an ideal way to perform strength training exercises as well as body toning in a more efficient way. An elegant design of this machine offers a great appeal to your home gym.
It is designed with 2.5″ round heavy-duty steel tube making the machine sturdy and durable. Plus, the compact design takes very less space than most of the other home gym setups. The another best feature is its adjustable seat with comfortable cushioning. So, every user from tall to short can easily use the machine.
You can perform a lot of exercising activities using this home gym. The exercises include chest extension, high pull, low pull, rowing, leg extension, and many more. Installation of this home gym machine is also very easy. The package comes with an installation manual so that you can do it on your own with ease.
Key Features
All steel body construction
Square home gym
Total body conditioning and superior endurance
Space-saving design
No cable change
More than 18 exercising option
Multiple Exercise Functions: Chest Extension, High Pull, Low Pull, Rowing, Pec-Deck, Leg Extension, etc.
Pros
Space-saving and clean design
Perfect for regular gym sessions
Build quality is outstanding
Very easy to install and use
Great for both home gym and commercial gyms
Ensures full-body workout
Cons
6. Lifeline LIT1 Steel Home Gym with Tummy Trimmer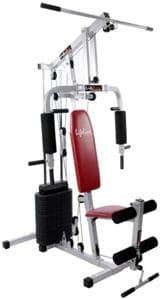 This fantastic fitness machine can be the next best choice if you search for something affordable. Outstanding performance, unbeatable quality, and durability is all this home gym boast about. Plus, it's clean, streamlined, and space-saving design makes the machine to fit best at your home and even at commercial gyms.
When it comes to design, this multi gym comes with 2 inches square heavy-duty steel tube construction to provide ultimate strength, function, and durability. There also comes a double spring steel coil bar and contoured foot pedals that work as tummy trimmer. It means you can easily reduce your stomach fat with this.
With more than eighteen exercise options, this home gym machine is an excellent choice for a full-body workout using only a single machine. The multiple exercises you can do on it include chest extension, low pull, rowing, pec deck, high pull, and leg extension, etc.
Key Features
Space-saving, no-cable-change design
2″ square heavy-duty steel tube construction
Total body conditioning and superior endurance
More than 18 exercise options
Tummy Trimmer
Multiple exercise functions: Chest extension, high pull, low pull, rowing, pec-deck, leg extension
Pros
Simple and smart design
Strong and sturdy home gym
Multiple exercise options for a full-body workout
Easy to use
Great for both home and commercial gyms
Affordable price range
Cons
Assembly is pretty difficult
7. Viva Fitness KH-312 Multi-use Home Gym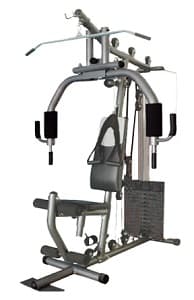 Viva is another best and premium fitness equipment brands to meet all your fitness needs. So, this complete multi-gym station can be a great addition to your home gym that will take care of your fitness regime. With multiple workout options, this one offers to get in shape and stay fit and healthy.
The model comes in a very simple and elegant design with a compact profile that easily gets fit to your workout area. What makes it more appealing is its high-end construction with quality materials. Plus, the powder-coated finish enhances the quality and appearance.
This home gym station comes with 150 lbs weight plates with a metal cover that makes you carry out various exercises. Also, it comes with heavy upholstery, including high-density foam padding that ensures great comfort.
Various exercises that you can perform with this gym station includes pec dec fly, bench press, chest press, shoulder press, tricep extension, tricep pull and push down, lat pull-down, seated rowing, bicep curl, etc.
For the price, it is an affordable model with good quality build and features, thus a great home gym station out there.
Key Features
Oval tubular steel frame
Durable powder-coated finish
150 LBS weights plates with metals cover
Seats and handle adjustments
Heavy upholstery with high-density foam padding
Multiple workout options
Pros
Beautiful and appealing design
Build quality is outstanding
Foam seat pads are very comfortable
Rollers are very good and can handle weight up to 110 Kg
Bench press is a nice addition
Cons
8. Prime Fitness PR 601 Imported Home Gym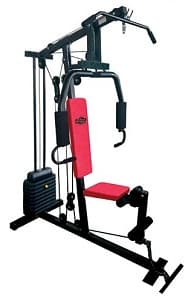 This compact multi home gym machine from Prime Fitness boasts many more advanced features for a complete workout session at home. The best is that it comes with an affordable price tag, making it a great buy for multi-gym lovers. It looks stylish and decent and has sturdy construction; therefore, it is a great choice for getting decent strength and muscle gains.
This home gym machine comes in a compact size that does not take much installation space. It is featured with a high, middle, and low pulley system, along with a leg developer and multi-grip pressing arms for twenty-four multiple workouts with the same machine.
So, it allows you to perform high cable crunch, leg extension, standing hamstring curl, side leg kick, lat pull-down, biceps curl, chest fly, cable row, standing triceps extension, shoulder raise, chest press, upright row, and many more movements.
While advanced users may need a heavier load, the 100 lbs plastic weight stack will offer plenty of resistance for most people. It also includes a special pulley with a rope guide that is of ultimate strength and durability.
Key Features
Heavy duty multi gym machine
Multi-function home gym
Single station home gym
Weight Stack 100 lbs
Heavy gauge steel construction
Special Pulley with rope guide
High density cushion
Aircraft rated cables
Comfortable seat and backrest
Pros
Sturdy and durable construction
Compact home gym machine
Professional grade workout experience
Multiple workouts with the same machine
Cons
9. CARDIOFIT Single Station Home Gym GT600S
The Cardiofit GT600S model is another must-own home gym equipment for any fitness freak. With a compact profile, this multi-gym ensures effective full-body training. It's premium quality, outstanding performance and durability make it one of the best home gym stations out there.
When it comes to design, it is crafted with an overall steel framework that can withstand your rigorous daily training. Also, it makes the machine sturdy and durable for prolonged use. Not only best for commercial gyms, but it can also easily fit anywhere in your home.
This home gym machine comes with ten weight stacks, each weighing 15 pounds. Thus, it offers each user to adjust the weight as per their capacity and comfort level.
It is a complete workout station that offers multiple workout functions to target the full body. The users can do triceps push down, butterfly, lat pull-down, leg extension, standing triceps extension, shoulder girdle, decline bench, push-ups, boxing exercise, standing arm curl, and much more.
Key Features
Steel framework for stability and durability
Compact design
Complete workout station for a full-body workout
10 weight stacks each of 15 pounds
Safety grips
Max. User Weight capacity 120 Kg
Pros
Excellent design
Quality of the home gym is up to the mark
Great for beginners and standard trainers
Performance of the machine is also outstanding
Adequate stacking options
Cons
Assembly is pretty difficult
10. Hashtag Fitness 20 in 1 Bench & Home Gym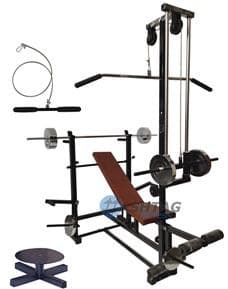 Now, last but not least, this home gym from Hashtag is a perfect combination of quality and performance. The best is its price tag that makes you buy it easily without worrying about the budget.
This machine has a heavy-duty construction that ensures its durability.
It is designed with a double supported pipe, and the bench is also thick and wide for the more efficient workout. To provide you extra comfort, this home gym comes with a padded foam seat. The foam rollers are also soft padded to protect your joints while doing the workout.
You can perform a variety of exercises on it, including incline, decline, flat, leg curl and leg extension, chest press/butterfly, lat pull-down, ground pulley, dips, and arm curl. Thus, a perfect muscle builder at an affordable price range.
Key Features
20-in-1 gym equipment
Heavy-duty construction for safety and stability
Thick, wide and scientifically designed bench
Comfort and soft rollers
Used for Flat/Incline/Decline/Leg Curl/Leg Extension/Lat pull Down /Ground Pulley/Arm Curl/Chest press/Butterfly/Dips/Twister
Pros
Strong and sturdy construction
Durable and long-lasting
Offers comfortable workout experience
Bench and seats are also very comfortable
It comes with a very well built pulley system to complete your biceps, triceps, back and thighs workout
Easy to assemble
Cons
How to Choose the Best Home Gym? (Buying Guide)
Benefits of Home Gym
For various workouts and strength training workouts at home, a home multi gym is one of the most valuable pieces of fitness equipment. So here are some of the great benefits, a home gym offers:
1. Safe and simple
Here, you don't need to worry about the injury as all the exercises are guided, and weights are blocked.
2. Always ready to use
The home gym is an indoor exercising machine that is always ready to use. So, bad weather doesn't bother you to do exercise. Or even if you don't want to drive for a gym, this fantastic kit lets you do workouts from the comfort of your home anytime.
3. Multiple Exercises in one single machine
This one compact station allows a multitude of exercises for every body part. Thus, it offers a great muscle tone and strength. So, investing in a multi-gym is really a great deal.
4. Great for Beginners
A home multi gym is an excellent tool for newcomers. So if you are a beginner, have a little knowledge about exercising technique, or less confident, the home gym is a solution. Even if you feel a little embarrassment in doing exercises in front of a lot more people at the gym, it's a great choice.
It ensures complete peace and privacy. You can confidently do various workouts from the comfort of your home without worrying about people laugh at you for your wrong exercising techniques.
5. Easy to use
Since most of the exercises at home gym offer a fixed path of motion to control your direction, thus ensures ease of use for any user. You don't require any specialized knowledge to use the machine. Plus, with a great range of fundamental exercises and multiple exercise attachments, you can easily increase your exercise range.
6. Suits every user
This fantastic machine is best for almost any people with different shapes and sizes. No matter the shape of the user, whether be the fat or thin, and regardless of the size- tall, short, or medium, everyone can use it. It is fully adjustable to fit any user with ease.
Some models also allow 2-3 people to workout at the same time.
7. Cost-effective solution
The home gym spares you from the expensive gym membership. Especially when there are a lot of people in your home to use the machine, investing in such a piece is a wise choice. Plus, it also comes with a set of exercising tools, saving you from additional purchases.
The Downsides of Home Gym
These machines take a lot of space
These are bulky and heavier and are not easily portable
Different Types of Home Gyms
Home gyms vary in appearance, price, and definitely the range of exercise options. So, there come four different styles of a home gym.
1. Single Station Style Home Gym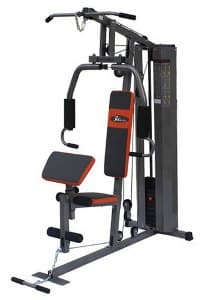 The simple single station home gym comes with a single weight stack design. These are the most popular and affordable types of home gym. Even they don't take much space in your room. Plus, with varying price ranges, it is great for both beginners as well as advanced users.
2. Dual Stations or Multi Stations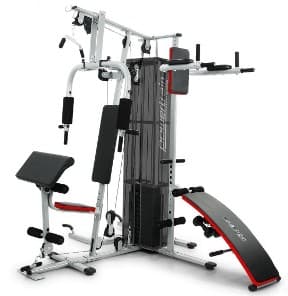 This home gym style features more than one exercise area as well as more than one weight stack. Thus, it allows multiple users to use the machine at the same time. These are pretty expensive over single station home gym, but featuring additional highly effective exercises, it justifies the price range.
3. Functional Trainers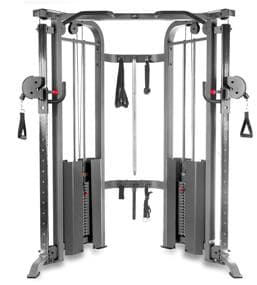 For the people who are serious about weight training exercises, functional trainers are the most ideal choice. Featuring two height-adjustable cable columns, each with its own weight stack, it provides you a great range of exercises. Some models also come with the removable weight bench to offer you more diversity. But these machines are quite expensive.
4. Leverage Machine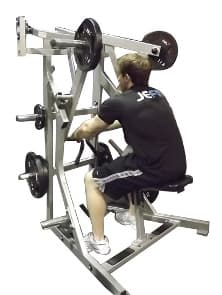 The leverage machines, also known as a multi-gym or weight bench, are the best out of all. Instead of a fixed weight stack, it utilizes slide weight plates for resistance. These machines mimic the barbell and dumbbell exercises with added and increased isolation. Here, all the workout stations are pre-fitted into a fixed plane of motion regardless of pull or push.
One of the great benefits of the leverage machines is its safety feature while exercising. You don't need to worry about the injury while lifting heavy weights, as you can easily return the weight to its original position.
What does a Multi Gym include?
Well, a home multi gym comes with the following attachments to perform various workouts.
Stacked metal weights with pin selection for load
Adjustable bench for sitting and reclining
Pull down bars for the lat pull-down back exercise
Press bars for pressing and pulling back, shoulders, and arms
Seated cable row system for arms and back exercise
Leg extension system for quadriceps muscles of the thigh
Leg curl system for exercising the hamstrings at the back of the thigh
Bicep curl system to target your biceps
You can also do a variety of cable and isolation exercises, including triceps extensions, calf raises, high pulls, abs cable crunches, bicep curls, and wrist curls, etc.
Home Gym Workout Stations for Multiple Exercises
Despite the design, variety, as well as the price range of home gyms, there are some standard workout stations that you will find in each piece to do multiple exercises.
1. Chest Press
The chest press station on the home gym allows you to target the muscle groups of chest, shoulders, and triceps.
How to do: Each model differs in design to do the chest press. With some machines you can do it by lying flat on your back and then pushing the handles upwards. Some allows you do it by reclining at an incline and then work arms diagonally away from your body.
2. Pec Deck
It is a seating exercise that ensures to strengthen a number of muscle groups in the upper body. It targets your pecs and your chest muscles.
How to do: For this, you need to hold the levers. Then push your arms on the machine away from you and into the center, and then slowly return to the starting position.
3. Lat Pull Down
A long bar connected at the top of a multi gym with the pulley system is the lat pull-down bar. It focuses on your muscle groups, including upper lats, lower lats, and shoulders.
How to do: Sit down on the machine, grip the bar, and pull it vertically downwards in front of you. It also engages your arms and shoulder muscles. Again, to target different muscles, you can also use its different attachments for the diversified use of this station.
4. Weighted Row
This exercise station is also known as a low pulley row. It targets your back and upper body and is a great way to improve your strength and stamina.
How to do: You can do it by gripping the row handles either sitting on the floor opposite the home gym or on the seat and then pull into your torso like you do in a rowing machine.
5. Lateral Raises
For this, you need to use the D-handle station, and it targets your shoulders.
How to do it: You should stand to the side of the gym and lift the handle straight up to your side away from the multi gym. Then keep your arms straight and hold at the top before bringing down slowly in a controlled motion.
6. Leg Developer
The leg developer in a home gym allows both the leg curl and leg extension. Thus, you can tone up your hamstrings and quads.
How to do: For this, you need to sit on the machine's seat. Then select the right position for your legs and your desired weight. After you can follow your workout.
7. Preacher Curl Pad
However, not all the multi gyms come with this workout station, but it is a beautiful addition in most of the models. It works hard on your biceps and with more effective results.
How to do: To do this workout, you must need some free weights like dumbbells, a barbel bar, or an EZ curl Bar. First, take the seating position and then rest your arms on the curl pad in front of you. Then hold the weights and pull them towards you.
Features to Consider before Buying a Home Gym
1. Determine your Goals
It is the preliminary feature to consider before going to purchase a home gym machine. First, figure out your personal goals. If building muscle is your goal, a weight-based gym is an ideal choice. But to burn calories or to tone your body, you will need a resistance-based home gym.
Also, if you want a multi gym setup not only for you but also for your family members, discussing each person's goals is very important. It will make you invest in a machine that will withstand the use of multiple family members.
So, make sure that the machine will best fit your end goal, as it is an expensive investment.
2. Space and design
Home gyms come in different shapes and sizes that we have already discussed above. So, whether you need a big one, a small one, or something in between, it fully depends on the space you have.
It is very much important to check the dimensions of the area where you want to place the machine. Measure the length, width, and height of the home gym machine and then decide which one best fits your place.
Some machines are also easily foldable, ensuring easy storage, and some are quite portable.
3. Fit and adjustability
Feeling comfortable while doing the workout on a multi-gym is an important factor. So, check it first whether you can reach all the arms and pads comfortably. Also, test your multi gym in various positions to decide whether you will feel easy or not.
Almost all the models of home gyms come with adjustable seats, backrest, pec deck, chest press, etc., so you can overcome the fit problems very well.
4. Weight Stack
This feature is yet another important consideration before choosing the right home gym for you. It must be essential that you must go with the one that comes with plenty of weight, allowing you to increase your strength without hindering your progress. It is because if you have once reached the maximum weight plate, you can't add any more.
So, if you are just starting out, opting between 60 to 70 kg should be sufficient. In the case of intermediate to advanced weight trainers, you can go above 80 Kg.
5. Workout Stations
We have already discussed above the different workout stations that any basic machine has. A good home gym station comes with at least chest press, pec deck, low pulley, high pulley for lat pull down, and leg developer.
But if you can afford for multi-station, functional trainers, and leverage machines, it will be more beneficial for you. These home gym setups come with more workout stations than a basic model to offer more workouts.
6. Cables and pulleys
Cables and pulleys in the home gym play a significant role. The cheap models use poor cables made up of plastic nylons, or bushings resulting in vibrating and grinding motion. Thus, it makes you uncomfortable while doing the workout.
So, you need to choose the model that comes with good quality cables and pulleys for a seamless and smooth workout. Most of the affordable models use bearings and also use tensile aircraft cables for long-lasting use.
7. Budget
The budget plays a very important role before deciding to purchase any product. In the case of home gym, you can find a great range of options from top featured models with high price tags to some basic and standard models. It's up to you which model suits your budget as well as functionality both.
For a significant investment, you must ensure to invest in such a model that balances quality, performance, and functionality with the price tag.
Some Extra Bells and Whistles
Regardless of the price, some advanced models of home gyms come with the workout charts to show you how to do the exercise on it. In some models, the charts are already stuck to the machine while some offer to stick it on the wall.
Some models also offer full DVD workout guides. So if you are a beginner, it becomes easier for you to know how to do the exercise on that. Even some also come with diet and nutrition advice.
However, these extras are not very much important to decide your purchase, but definitely, an excellent addition providing great value to your purchase.
Conclusion
That's all for our best picks of home gyms to do multiple exercises in one single machine and from the comfort of your home. If you think that you can't afford a home gym, you are absolutely wrong. You can own a home gym machine from the cost of an expensive gym membership.
Now, no need to deal with the crowds in a commercial gym or even wait for a machine to spare, if you have a home multi gym.
We hope this ultimate buying guide will help you in deciding the best for your purchase. Still, if you think anything is missing, please do share it with us in the comment section below.
Read Related Reviews
Buy Best Home Gym Machine Online
Zorex HGZ-1002 Home Gym Machine All in one eq...
66%
Zorex HGZ-1002 Home Gym Multi Machine All in ...
66%
Lifeline Fitness Multi Home Gym Multiple Musc...
53%
Lifeline HG-005 Home Gym with 72kg Weight Sta...
48%
Reach Digital Pedal Exercise Machine | Mini F...
63%
TOPPRO Fitness Multi Home Gym X-Power | Multi...
43%
SPARNOD FITNESS SAB-05 Upright Air Bike Exerc...
64%
Kobo Multi Home Gym Exercise Square Pipe Tonn...
51%