Any gym or fitness center is incomplete without the best pieces of exercise equipment. The same goes for your home gym too. These fitness tools make your workout fully commendable and allows you to stay fit, healthy, and in shape, as well.
So, get ready to grab the best pieces of Home Gym Equipment with our latest picks, we have detailed in this blog.
Want more detailed information on home gym equipment? Read our Buying Guide Section.
Related Reviews on Health and Fitness Machines
List of Best Home Gym Equipment
We have listed out here the ten best home gym equipment that will meet all your fitness needs.
1. Jump Ropes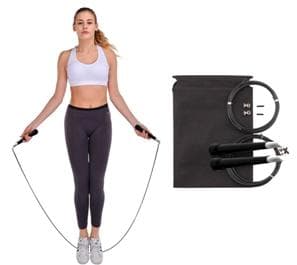 A jump rope is a great addition to any home gym if burning calories is your main concern. It is such an inexpensive piece of home gym equipment that offers an excellent cardio workout. It can let you burn more calories as compared to walking, jogging, or swimming.
The jump ropes have the ability to increase your cardiovascular health, footwork, rapidity, and overall stamina. Plus, it targets the full-body workout, including arms, shoulders, back, wrists, and legs. Our top five picks of jump ropes are:
| Brand | Features | Buying Link |
| --- | --- | --- |
| Sportland | Durable, Adjustable, Lightweight, and Premium Quality | View on Amazon |
| Humble | Lightweight, Comfortable Grip, Fully Adjustable, and Premium Quality | View on Amazon |
| Ilarte | Lightweight, Portable, Tangle Resistant, and Comfortable | View on Amazon |
| Cockatoo | Lightweight, Portable, Easy to use, Premium Quality | View on Amazon |
| Reebok | Fast smooth motion, Durable, Portable, Adjustable | View on Amazon |
2. Dumbbells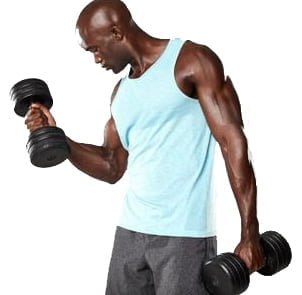 A good set of dumbbells is ideal for weight training workouts. It is the best way for strength and muscle-building, fat-shredding, as well as sweat-inducing exercises. You can do a variety of exercises using dumbbells. It includes dumbbell bench press, dumbbell shrug, dumbbell curls, dumbbell bent-over rows, dumbbell calf raise, and dumbbell lunges.
With the various varieties available, including fixed weight dumbbells, adjustable dumbbells, and selectorized dumbbells, you may opt for the preferable one. Here are our top picks of dumbbells.
| Brand | Features | Buying Link |
| --- | --- | --- |
| RUBX | Durable, Easy and Anti-Slip Grip, Chrome Coated Handles | View on Amazon |
| Body Maxx | Adjustable, Solid Iron Dumbbells, Chrome Finish, PVC Moulded Weight Plates | View on Amazon |
| Kore | Adjustable, Durable, PVC Moulded Weight Plates | View on Amazon |
| Aurion | Rubber Coated Cast Iron Dumbbells, Chrome Steel Handles, Durable | View on Amazon |
| BodyGrip | Adjustable, Durable and Long Lasting, Easy Grip | View on Amazon |
3. Punching Bags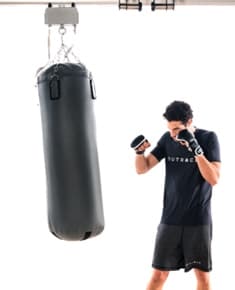 Punching Bags are also a great addition to your home gym that will keep your fit. This one boxing tool not only be a good target practice tool for your punches, but also improves your muscle growth, power, and speed.
It also improves your endurance, upper-body strength as well as strengthens your bones and ligaments too. So, to enhance your fitness level, core strength and stability, coordination, stamina, and endurance, punching bags are the most efficient home gym equipment.
With various shapes, sizes, weights, and fillers (grains, sand, and rags), you can choose the appropriate one as per your preferences. Here are our top picks of punching bags.
4. Exercise Ball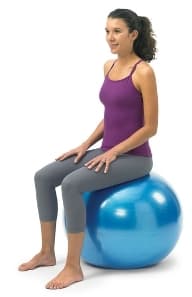 Again to improve your muscle strength, cardio endurance, and balance, an exercise ball can be the next best addition to your home gym. These balls are also known as balance balls, Swiss balls, fitness balls, or stability balls. Filled with air, these are best to use for fitness workouts.
It can improve your flexibility, strengthen your core muscles, and also improves your balance. Choose one of the best from our list of best exercise balls.
5. Rowing Machine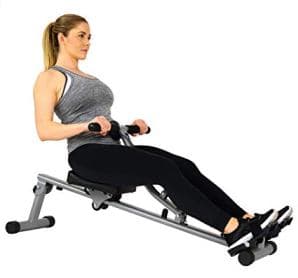 Whether to get in shape or stay fit, a rowing machine is another home gym equipment to take care of your fitness goals. If weight loss is your primary aim, a rowing machine is absolutely a great choice.
It can also build and tone muscles, strengthen your cardiovascular health, and improves your endurance as well. The best part is that you can do exercise on it without any fear of pain on your joints and back, as it creates very little strain on these areas.
Our top picks of rowing machines are :
6. Multi Gym Machine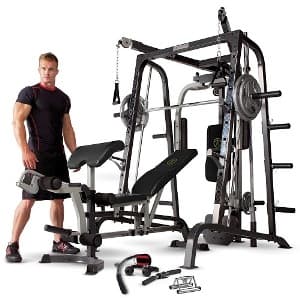 Besides purchasing various multiple kits for your home gym, investing in a home multi gym is fully worth. Multi Gym machine, also known as all in one workout machine, is one of the best home gym equipment out there. It offers you a wide range of workouts in less space. It means it comes with various workout options for multiple users at the same time.
The multiple workout stations a multi gym comes with include chest press, low row, lat pulldown, and leg extender, etc. in one compact unit. These machines are great for full-body workout from the comfort of home. Check our top five picks of home multi gym.
7. Treadmill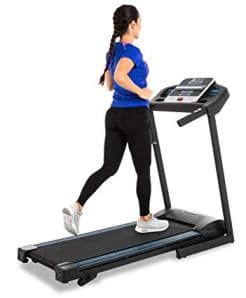 When it comes to your cardio fitness needs, a treadmill is the best piece of equipment to have in your home gym. With these, you can target your cardio workouts, including walking, jogging, and running for all your weight loss and fitness goals.
It makes you lose weight, improves your heart health, helps in gaining muscles, and also increases your endurance.
The best part while doing the workout on the treadmill is that you can also talk on the phone, watch television, and work on your laptop. It makes your workout more fun and exciting. Check for the best treadmills listed below.
8. Exercise Bike/Cycle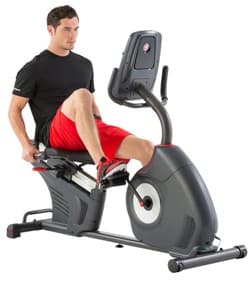 Whether to lose weight or improve your overall health, cycling is one of the best exercising methods. Riding a bicycle 3 to 5 Km per day proves to be very advantageous for your overall fitness. But for most of us, it is not possible to ride a bicycle daily on the streets. Here comes the most handy solution- Stationary Cycle, also known as Exercise Cycle or Indoor Bike.
It offers you the experience of cycling from the comfort of your home without moving here and there. Have a look at the below list of best stationary cycles.
9. Elliptical Machine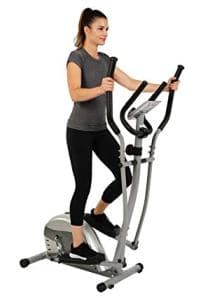 Having an elliptical cross trainer at your home gym makes you do a variety of cardio and strength workouts. The elliptical machine is a combination of exercise cycle, stairmaster or step mill, and a treadmill. So you can get the benefits of all these three machines in a single one.
It offers both upper and lower body workouts at the same time. The best thing is that it doesn't put pressure on your knees, joints, back, or hips. Check our latest picks of elliptical cross trainers below.
10. Foam Roller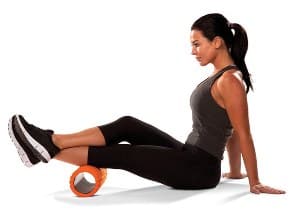 After a tough workout session, soreness in your body is very common. Then, self-massage is the best way to get rid of this soreness. Here comes a great equipment to get relieved from this issue – a foam roller.
The foam rolling technique lets you get rid of muscle tightness, soreness, and inflammation, and it also increases your joint range of motion. You can also use a foam roller to warm up or cool down before and after exercise. Our five best picks of foam rollers are:
Home Gym Equipment Buying Guide
Why you need Home Gym Equipment?
Getting ready to go for the gym early morning is one of the most daunting tasks for almost all of us, especially during winters and rainy season. But, for being fit and healthy, regular exercising is also very much important.
So, if you have been fed up of joining the gym every day, why don't you make your own home gym? Yes, this is the most efficient solution to follow your exercise routine from the convenience of your home. Thanks to advanced home gym equipment that will help you a lot in setting your own home gym even if you have a shortage of space.
Instead of purchasing separate gym equipment, you can also opt for the home gym combos, as well. These combos come with all the necessary exercise tools that work on your whole body. Thus, for your home gym setup, it will be a smarter choice.
Types of Home Gym Equipment for Various Workouts
Cardio Equipment
Cardio workouts are very important for your overall health and well being. Now, what is a cardio workout? Any exercise that increases your heart rate, aids in fat burning, and much more are termed as cardio workouts.
The cardio workout is also an important part of the heart, lungs, and circulatory system health. Walking, jogging, running, rowing, or jumping rope are some of the best cardiovascular workouts. So, you can use Treadmills, Ellipticals, Jumping Ropes, Rowing machine, etc. as a cardio equipment to do the cardio workout.
Weight Equipment
Weight and strength training are also as much important as the cardio workouts. It aids in muscle building, improves flexibility and endurance. Dumbbells, weight benches, home gyms are the few examples of weight equipment.
Bodyweight Workout Equipment
Bodyweight training is the simplest and most effective way to improve flexibility, balance, as well as strength and muscle building.
The bodyweight resistance equipment ensures to increase strength and build muscle without putting strain on your joints. These equipment are not very expensive as the cardio equipment. Some of the common examples of bodyweight workout equipment are pull up bars, push up bars, gym rings, resistance bands, jumping rope, dip station, etc.
Features to Consider Before Buying Home Gym Equipment
Decide your specific needs
What do you want to achieve with your home gym equipment? Do you want only cardio workout or looking for weight lifting and bodyweight resistance training? First, determine your specific health goals, and then invest in a required home gym equipment to fulfill your needs.
Budget
Then next comes the budget that decides how much you want to spend to set up your home gym. Each equipment has different functions that are specifically ranging from low cost to higher cost depending upon the heaviness, build, and function of the machine.
Some basic tools are not very expensive, like punching bags, exercise balls, jumping ropes, etc. But if you can spend much, you can also buy treadmills, ellipticals, exercise cycles, etc. Their budget-friendly models are also available that you can easily buy for your home gym.
Space
Do you have any specific area to set up your home gym? Whether you want to invest in such pieces of home gym equipment that requires less space. Deciding on the space you have is very much important before purchasing the home gym equipment.
If you have a lot of space, you can go for the heavy and big models. Some compact machines are also available that you can opt for if you have a lack of space. Even you can buy a home gym or multi-gym machines that not only take less space but also offers multiple exercises in one single machine.
Quality
Quality is, of course, an important factor before purchasing any home gym equipment. Check for the material it has made up of. Also check, whether it is comfortable for you, have ergonomic grips, adjustable and comfortable seats, etc. if yes, then you may definitely go for that.
Durability
It is better to invest in a home gym equipment that not only has good quality but also can be intended for long term use. Heavy equipment constructed with materials like cast iron, titanium, anodized aluminum, and multiple layers of steel are pretty good. Tools like dumbbells and other weight equipment with heavy cast iron construction are the ideal choice.
Some Other Features
Besides the above-mentioned points, some other features are also very important to consider. It includes weight limits, safety, assembly time and difficulty, reliability, warranty, etc.
Final Words
Sticking to a gym or fitness center to get in shape is somehow an expensive deal. Also, gyms are crowded and need a huge time commitment. In this case, setting up your own home gym is much more affordable, as well as a time-saving solution for all the fitness freaks.
It makes you start your workout whenever your mood strikes if you have a home gym. For this, you don't need to travel, and even wait for the equipment to spare.
I hope the blog is pretty good enough to let you pick out the desired pieces of home gym equipment to carry out your fitness routine without going anywhere.
Still, if you feel anything is missing, please do share it with us in the comment section below.