Doing workouts at home is now becoming very popular rather than joining a gym due to the busy and hectic schedules of our daily routine. Everyone wants to stay fit and healthy and are more conscious for their health regime. Various exercise equipments (Exercise Cycles, Treadmills, etc) are available now that you can easily use at your home without worrying about their storage, as the latest models are very compact and portable. If you are serious about your cardiovascular health, various exercise machines are there for you, and Elliptical Machines are one of the best amongst them. So presenting the blog with the best Elliptical Machines for home to fulfill all your cardio fitness needs.
What are Elliptical Machines/Trainers?
Elliptical Machines, also known as ellipticals or cross trainers let you do the workout for your cardio fitness. It is the best alternative to improve your stamina and overall performance. It allows you to lose your weight, firm your muscles, as well as build up your muscles very effectively.
This Cardio fitness equipment comes with two long handles and foot pedals and offers a comfortable exercising experience with its smooth motion. The very best part of the elliptical machines is that it let you build up your cardio fitness without putting any stress on your joints. And that's why it is well known as low-impact workout equipment.
For getting an in-depth information on elliptical machines for home, check our Buying Guide Section.
Our Best Picks of Elliptical Machines for Home
Navigating the best option for Elliptical Machines for home is a daunting task especially when there are lots of models with different features are available. Ranging from a basic machine to a standard aerobic workout or to the high-end models, which one to buy is very confusing? So, for your ease and convenience, we have rounded up here the best and latest models of elliptical machines for home that will surely make you to have your best pick.
Explore More On Fitness Equipment
Best Elliptical Machines for home Reviews
1. Aerofit Elliptical Cross Trainer HF94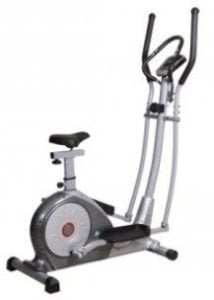 This elliptical cross trainer from Aerofit is a top-notch model with a lot of unique features. For a super smooth ride, this unit comes with a 6 Kg flywheel. It also comes with the 8 levels of variable resistance ensuring enough customizability to you during the workout session. This machine has self-balancing and impact absorbing foot pedals, so no more stress on the joints only great movement. The non-slipping pedals allow more safety even if you are going for the long training sessions. This elliptical machine also has a large LCD monitor display that shows off your time, speed, distance, calories, and scan. Also, the in-built pulse sensor on the handlebars of the machine ensures an effective cardio monitoring.
Key Features
6 steps vertical adjustments
Non-slip foot pedals
Adjustable and comfortable seat
LCD monitor to display speed, time, distance, calories, and scan
Built-in pulse sensor
Buyers Feedback
The Good
Superb elliptical trainer in this price range
Offers an effective and smooth workout without stressing your joints
Different levels of adjustable resistance
Non-skid pedals ensure a safety workout
2. Welcare Elliptical Cross Trainer WC6044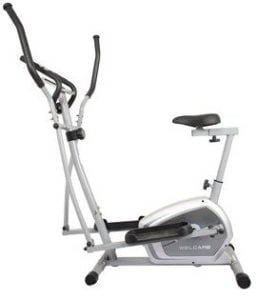 This is one of the best elliptical machines for home suitable for both the beginners and professionals. It comes with 4 Kg flywheel weight that boosts the momentum of your speed and thus making your workout easy and effortless. The unit also has a bigger stride length of 16 inches to offer smooth workout without impacting your knees. Its 8 level manual magnetic resistance control lets you adjust the intensity of your workout accordingly. You can also keep an eye on your speed, distance, time, calories as it comes with a large LCD monitor.
Key Features
Large LCD Window Monitor
16 inches bigger stride length
4 Kg flywheel
8 tension control level
Adjustable seat
Smooth handles
Buyers Feedback
The Good
Very comfortable to use
Easy to assemble
Offers a smooth ride
The smooth handles give an excellent workout experience
3. Lifeline Orbit 4 in 1 Elliptical Trainer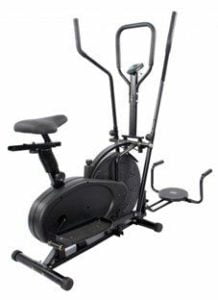 The Lifeline Orbit 4 in 1 elliptical trainer is one of the best fitness equipments in your home gym with a unique, innovative design. If you are a beginner, this one is the great buy. This superior quality elliptical machine offers a comfortable and smooth workout from the comfort of your home. It comes with an adjustable and comfortable seat along with adjustable moving handles and thus offers a natural elliptical motion. The unit is also equipped with a large LCD monitor that tracks your speed, distance, time, calories, and scan.
Key Features
The dual action of rowing and cycling
LCD display
Comfortable saddle
Foam-fitted adjustable handle
Micro-adjustable tension knob for strength adjustment
Provision of wheels for high portability
Buyers Feedback
The Good
Decent product
Lots of tuning knobs are there to adjust the resistance accordingly that is a nice feature
Comfortable to use
Good price point
The Bad
Assembly is quite difficult
4. Schwinn 430 Elliptical Trainer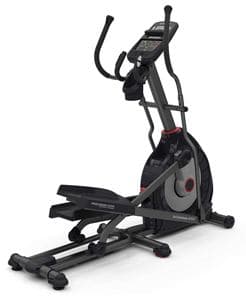 This model of elliptical machine from the brand Schwinn is quite an impressive piece of gym equipment packed with a set of features. With a strong, durable, and solid construction, this one comes with a 20-pound flywheel. In terms of good ergonomics as well as quality, and a range of workout program variety, this machine is outstanding. This elliptical machine is equipped with Precision Path Foot Motion Technology that ensures a natural running motion of the user.
The Schwinn 430 Elliptical Trainer comes with the dual track 2 LCD display that lets you monitor up to 13 feedback categories including time, distance and calorie goals. The console can also store up to 2 user profiles. It also has 22 preset workout programs including heart rate control programs, fitness tests, and custom options all you can choose accordingly. These programs even include a manual mode, two fitness tests, nine profile programs, and eight heart rate controlled workouts.
It comes with 20 levels of adjustable resistance that uses an electromagnet near the flywheel to produce resistance. Even there is also 10-degree motorized incline ramp to make your workout more challenging. To support multimedia, this Elliptical Machine console comes with a tablet-sized shelf, a USB charging port, and built-in stereo speakers.
Key Features
20-inch elliptical stride
20 Pound flywheel
Moving handlebars for total-body toning
2 user profiles
Power Incline up to 10%
20 resistance levels
Smooth magnetic braking
22 Customizable workout programs, including 9 with heart rate control
Bluetooth for sharing workout data with SchwinConnect app
Buyers Feedback
The Good
Build quality is strong and sturdy
Compatible with heart rate chest straps
Great for both home use and commercial use
Smooth and easy to use
Assembling is super easy
5. Cockatoo CE-02 Elliptical Trainer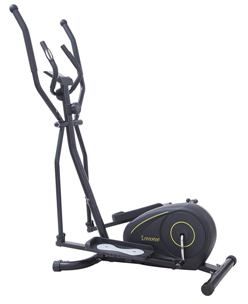 Now the next smart cross trainer in our list is Cockatoo CE-02 with a lot of smart features. This advanced elliptical trainer is a great buy for those who want an amazing cardio workout experience and fat burning. It comes with the manual tension of up to 8 levels that you can change accordingly to meet your fitness goals. Equipped with the 4 Kg flywheel and 2-way bearings, it offers the quiet, smooth and maintenance free workout sessions. This one is really great exercise equipment that offers a no impact and smooth workout for both your upper and lower body.
Coming to the design part, this cross trainer comes with an LCD monitor that shows your speed, distance, time, calories burned, pulse rate, and scan. It is also featured with large, textured, and slip-resistant foot platforms that can accommodate all users very easily. Moreover, the center handlebars ensure extra balance and safety. There also comes the built-in hand pulse sensor on to the stationary bars to monitor and maintain a steady heart rate. Plus the incorporation of transportation wheels in this elliptical machine makes it ideal to move from one place to another.
Key Features
Elliptical Trainer with manual tension
8 level tension control
4 Kg flywheel and 2-way bearing
Non-slip foot pads
Anti-skid pads to increase stability
Digital display to show speed, time, distance, calories burned, and pulse rate
Adjustable resistance dial
Built-in hand pulse sensors
Phone and tablet holder
Wheels for easy transportation
Byers Feedback
The Good
Nice build quality
Assembly is too easy
Smart aesthetic appeal
Worth for the money
Mobile and tablet holder is a nice add-on
Compact and easy to store
The Bad
Mobile and tablet holder pocket must be more positive so that due to little vibration it will not slide
6. Afton FX-100 Elliptical Trainer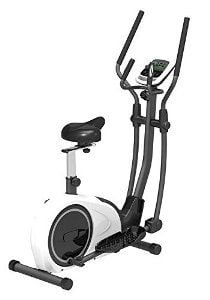 So, stepping to the next, this is another best elliptical machine for your home gym from the brand Afton. This is a great buy for all high-level athletes and fitness enthusiasts. It comes with 8 levels of manual resistance control and has 10 Kg of the flywheel for quiet and smooth workout experience. It also has an LCD display that shows your stats including scan, speed, time, distance, calories, RPM, THR, pulse, body fat, clock, temperature.
Key Features
Stride Length 14 inch
8 levels of manual resistance control
10 Kg Flywheel
LCD display
Transport wheels for moving from one place to another
Buyers Feedback
The Good
Good quality product
Awesome performance
Wheels for easy mobility
Assembly is very simple
7. Welcare Elliptical Cross Trainer WC6020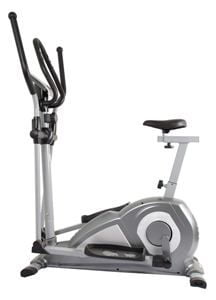 With an affordable price range plus great quality and performance, this elliptical cross trainer from Welcare is a great buy. It comes with a large 18 inches screen that lets you keep an eye on your speed, distance, and calories burned. The built-in dual-grip monitor also keeps you in the target zone for goal-specific workouts. This elliptical machine has a bigger stride length of 18 inches that makes your workout smoother and minimizes the impact on your knees.
This one is equipped with 7 Kg flywheel that increases the momentum of your speed and making your workout effortless. It also has 8 level of manual magnetic resistance control that you can adjust accordingly. The very best part is that it comes with an adjustable seat option that you can adjust according to your convenience level. The oversized foot pedals are designed in such a way that keeps your feet in place plus built-in straps increase stability.
Key Features
18 inches large screen to show speed, distance, time, and calories burned
Bigger stride length for the smooth workout
Oversized pedals
Hand pulse on handrails
Adjustable seat
7 Kg flywheel
6 Display programs
Buyers Feedback
The Good
Superb build quality
Smooth handle for an excellent workout experience
The ergonomic design keeps your workout more comfortable
Convenient to sit with its cushioned seat
Installation is super quick and easy
Multiple options to workout at such an affordable price
8. Kamachi Magnetic Cross Trainer CT-500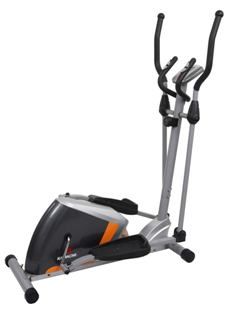 This is one of the best economical options for elliptical trainers. The Kamachi CT-500 elliptical machine features an 8 kg flywheel providing a decent level of stability. Furthermore, it is also equipped with the dual action magnetic flywheel for a smoother motion. This magnetic cross trainer comes with 8 levels of magnetic resistance to ensure enhanced adjustability and customizability.
There comes a built-in heart rate sensor that measures the heart rate of the user. It also has a large LCD screen with 3 buttons that shows your time, speed, distance, calories burned, and heart rate. With the wheels incorporated in this cross trainer, you can easily move it from one place to another.
Key Features
Magnetic cross trainer
4 Kg flywheel
Extra large LCD screen with 3 buttons
Dual Action magnetic elliptical trainer with hand pulse
8 level resistance control
Large non-skid foot pedals
Heavy duty one piece crank system
Built-in transportation wheels
Buyers Feedback
The Good
Smooth and quiet operation
Durable and compact design
Product quality is very nice
Comfortable to use
Assembly is super easy
9. Proline Fitness 335E Elliptical Trainer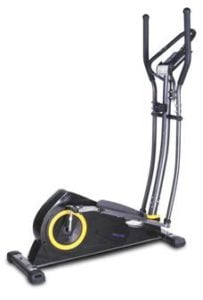 This elliptical trainer from Proline will be your best purchase that will offer a comfortable ride with some awesome features. If you want a full body workout with the moving arms, you can easily change the resistance with a dial attached to the machine. This is the perfect option for your home gym and the best way to reduce excess fat, and best for all cardio fitness needs.
Key Features
8 Level Manual Tensions
Hand pulse, outer magnetic
6 functions computer
5 Kg flywheel
Large non-skid pedals
Wheels for easy moving
Buyers Feedback
The Good
Sturdy Built
Premium look
Doing workout is very easy with this elliptical trainer
No noise
The movement is also very smooth
Nice and compact
The Bad
Installation is quite difficult
10. Propel Fitnessone's Cross Trainer HDA54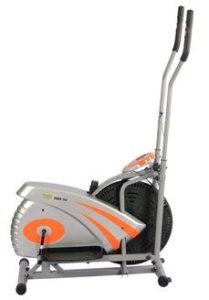 This elliptical cross trainer is a great buy for your home gym if you need a super-smooth ride. This one is a front-drive type elliptical machine. It comes with 8 levels of adjustable manual resistance that offers a comfortable workout. Also, it is equipped with an LCD display that shows speed, distance, time, calories, and scan. A pulse sensor is also there in the handle that comes very handy for cardio monitoring.
Key Features
Front drive Motor
Ideal for both men and women
Big LCD display that displays time, speed, distance, calories, and scan
8 Resistance level
Buyers Feedback
The Good
Excellent product in this price range
Assembly is pretty easy
Very comfortable to use
Elliptical Trainers for home Buying Guide
How Elliptical Trainers Work?
If you are a beginner and want to know how the elliptical trainers work, the following video demonstrates how to use it.
Benefits of Elliptical Trainers
Offers low impact exercise
No more stress on the joints
Provide weight-bearing exercise
Burn more calories in less time
Low maintenance is required
Types of Elliptical Trainers
Elliptical Trainers or cross trainers or elliptical machines are categorized into two main categories:
1. Different Drive Systems
Front-Drive Elliptical Trainers- This is the most basic design of elliptical trainers and is the most affordable option. Here a large wheel housing is there in front of the machine that lets you experience a workout like you are climbing on the stairs. But they are quite noisy and vibrates often.
Rear-Drive Elliptical Trainers- The Rear Drive Elliptical Trainers better imitates walking and jogging. In these machines, the flywheel is positioned at the back of the machine behind the foot pedals and thus offers the most balanced and centered workout experience.
Center-Drive Elliptical Trainers- These elliptical trainers are the newest models in the market having the flywheel or drive mechanism located at the center of the machine. This one is the best option for the smooth and quiet workout.
2. Foldable and Non-foldable option
Foldable Elliptical Trainers- These machines are best for those who have limited space. You can easily fold it out when not in use. Thus, it is an ideal choice for those who have a limited storage space and yet want a complete training experience.
Non-Foldable Elliptical Trainers- This is the most common type of elliptical trainers, yet no folding option is available. For the extra performance in your workout, this is an ideal choice. However, you need extra space for storage.
Elliptical Trainers Pros and Cons
Pros
Offers a smooth upper and lower body workout at the same time
Good on joints, knees, hips, and back
Low Impact workouts
Great for cardio workouts
It builds up your stamina and burns calories at the same time
Cons
Exercise options are limited
Elliptical machines require electricity to run, so in case if there is a power outage, you can't work out on it
Expensive
Things to consider before buying Elliptical Machines for home
Budget
Budget is the most important factor before purchasing anything. In case of Elliptical Trainers if you have a low budget, go for the inexpensive models. However, they just work okay and maybe not as durable and sturdy as the high-quality models. Also, you can opt for the smaller models, if you have the smaller build. But if you have a larger build, you must go for something sturdy that is high on budget.
Workout Space
If you have a large workout space, go for the bigger models. And if space is a constraint for you, you can opt for the foldable elliptical trainers also.
Elliptical Styles
Different elliptical styles are available that we have already discussed in the above section. So you can choose accordingly on the basis of your preference.
Some Must-Have Features
Go for the one that offers smooth motion, having an adjustable resistance and adjustable incline, not so noisy and offers both upper and lower body comfort.
Some Extra Features
If you want your workout more enjoyable, then you must opt for the elliptical trainers having some bonus features. Some of the top quality models are equipped with heart rate monitors, wi-fi feature, fitness tracker apps and various motivational software making your workout a fun.
Conclusion
This is all about the best and latest models of elliptical machines for home gym. All these listed elliptical machines for home are ideal for an effective cardio workout from the comfort of your home. Now no more worries for your cardiovascular health if you have an elliptical trainer at your home. And I am sure the list we have made in this blog, will surely help you out in picking the best one according to your budget and preference. So what are you waiting for? Pick your favorite one and enjoy an amazing cardio fitness exercise…..
Related Items
Cockatoo CE03ADVANCE Smart Series Elliptical ...
37%
Cockatoo OB-06 Elliptical Cross Trainer, Exer...
36%
REACH CF-200 EM Electro Magnetic Resistance E...
24%
Xterra FS 4.0e Cardio Fitness Elliptical Cros...
19%
Stunner Fitness SCX-595 Elliptical Cross Trai...
46%
Reach Elliptical Cross Trainer Machine for Ca...
7%