Monitoring and keeping track of your heart rate is one of the essential parts to lead a healthy lifestyle. Heart rate tracking is also important to keep an eye on your overall fitness and as well as improving your fitness training.
Nowadays it is pretty much easier to keep track of your heart rate, as most of the smartwatches and activity trackers available in the market come with built-in heart rate monitors.
Keeping tab on how your heart is performing during the workouts, by working in specific heart rate zones, lets you exercise more effectively. Also, it maximizes your training efficiencies to reach your desired training goals. Thanks to the Best Heart Rate Monitor Watch that can make you track your heart rate, and thus provide an overview of your health as well.
5 Best Heart Rate Monitor Watch in India
We've compiled here some of the best heart Rate Monitor Watch giving you plenty of options depending on your preferred wearing style as well as the training methodology. So, have a look at the below listed models of latest and best Heart Rate Monitor Watch.
Best Heart Rate Monitor Watch – Reviews
Now, here is the detailed review of each of our best pick so that you can decide upon easily which one is absolutely perfect for you.
1. Mi Smart Band 5-1.1″ AMOLED Color Display (Best Overall)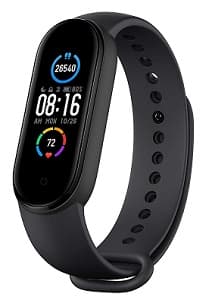 The Mi Smart Band is our top choice in the list of best heart rate monitor watch because of its impressive features. It enables 24-hour smart heart rate monitoring, sleep monitoring, stress monitoring, sports Mode, and personal activity tracker, making it a best fitness tracker at all.
It is featured to track eleven workout modes including freestyle workout, skipping rope, rowing machine, elliptical, treadmill, indoor & outdoor cycling, outdoor running, power walking, pool swimming and yoga. And keeps you in the targeted heart rate zone.
This one also comes with a magnetic charging feature making charging very fast, easy and convenient. Also, it offers the run time of 2 weeks in one charge. Another best feature of this smart watch is its large AMOLED color display making it convenient to read your fitness status very conveniently.
Mi Smart Band provides ECG-accurate heart rate data at performance speeds without a chest strap and along with the distance, calories, and pace. It can easily connect to smart devices through Bluetooth 4.0 and thus provides you with all the training as well as tracking features of your favorite fitness apps. The best in heart rate technology and cool new features are packed into this comfortable and easy to use heart rate monitor.
Key Features
Tracks 11 professional sports mode
1.1″ AMOLED display
Precision heart rate taken at wrist, no chest strap is needed
Configurable heart rate zones
Colored LED to indicate the heart rate zones
Bluetooth Smart connectivity to iPhone and Android fitness apps
Works with Mio PAI App
Water resistant to 30m
Magnetic charging makes charging a snap
14 day extra long-life battery
Pros
Most accurate fitness smartwatch
Works perfectly during exercise
Connectivity with the Smartphone fitness apps is a great add-on
Cons
Vibrating feature is missing for zone monitoring
2. Garmin vivosmart 4 Heart Rate Monitor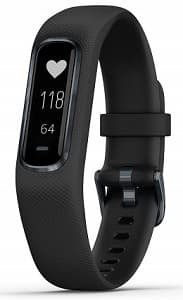 This model from Garmin is another best heart rate monitor watch that is our runner pick pick and stands best in terms of features and performance.
Reaching your fitness goals is now getting easier with this heart rate monitor from Garmin. Its one-touch technology gives ECG heart rate readings accurately. Also, with its target heart rate zone program as well as calorie-burn monitor, you can easily stay and track and get the most benefits from your cardiovascular activities.
Another best thing about this fitness tracker is its super slim design that blends to your style. A wrist-based pulse OX sensor allows you to estimate blood oxygen saturation while you are sleeping. Also, you can spot-check your oxygen levels anytime during the day with this smart watch. The device is water proof that lets you use it easily while swimming or taking shower.
It also comes with a large digital backlit display, countdown timer, a three-beat speed sensor, and an out-of-zone alarm that makes it easy to use.
Key Features
Slim, smart activity tracker blends fashionable design
Features dedicated activity timers for walks, runs, strength training, yoga, pool swims and other
Easy to read large digital backlit display
12 and 24 hour time settings
3 beat speed sensor
ECG accurate heart readings
Out of zone alarm
Countdown Timer
Offer vibration alerts for all notifications, including calls, text messages and more
Pros
Easy to use
Accurate and responsive
Comfortable heart rate monitor watch
Syncs to phone and cloud without any issues
Cons
3. Fitbit Charge HR Heart Rate and Activity Wristband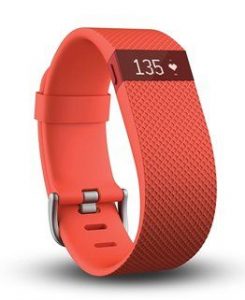 Fitbit Charge HR is a high-performance wristband that is designed to give you an automatic and continuous heart rate as well as activity tracking right on your wrist. Make your every beat count with this device. Watch your heart rate all day even during workouts to get the more accurate calorie burn. And also reach your target workout intensity and maximize training time with this great heart rate monitor. The very best feature of this heart rate monitor from Fitbit is that it also wirelessly syncs to your Smartphone and computer by which you can easily monitor your trends.
Key Features
Continuous, wrist-based heart-rate tracking
24/7 heart rate tracker and monitors calorie burn and workout intensity
Auto sleep and silent alarm
Bright OLED display
Access real-time stats
Sleek and comfortable design
Wireless syncing
Pros
It is very useful in keeping track of step count and heart rate
Small and stylish
Wireless syncing is a great feature
It comes with a vibration feature to let you know when your phone is ringing
Cons
4. Pyle PHRM34 Heart Rate Monitor Watch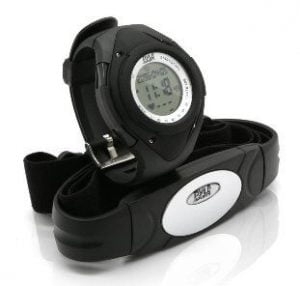 This chest strap heart rate monitor is a great addition to your cardiovascular training program whether it is running, jogging or any strenuous exercise. It is featured with 1/100 second stopwatch, alarm function, and an LED backlight to use easily at night. It also includes a heart rate monitor chest strap and data functions including minimum, maximum, average, and present heart rate monitoring.
Key Features
Time/Date/Present heart rate
Maximum heart rate
Average heart rate
Calories Burned
Target zone setting
1/100 sec stopwatch
Daily alarm
User setting
LED backlight
Energy-saving function
Display off
Pros
Great features and functions
Comfortable to wear
Measures heart rate accurately
Best heart rate monitor watch at affordable price tag
Cons
5. Polar FT1 Heart Rate Monitor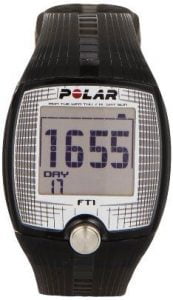 If you are looking for a simple and best heart rate monitor watch that performs its job well, then this one is the perfect buy. It provides the continuous and accurate heart rate that will help you workout safely at the right intensity. It comes with a large and an easy-to-read display to show your heart rate. Its one-button functionality makes operation a simple task. It also comes with the coded T31 transmitter that transmits your heart rate to your wrist unit with accuracy.
Key Features
Large and easy-to-read display to show your heart rate
One-button functionality
Improves your fitness with manual heart rate target zone
Displays a summary of your latest workout
Coded heart rate transmission to avoid cross-talk
Pros
Very easy to use
Affordable in terms of price
Excellent and simple heart rate monitor
Comfortable for chest strap
Cons
How to Choose the Best Heart Rate Monitor Watch? (Buying Guide)
Uses of Heart Rate Monitor Watch
A heart rate monitor watch is designed to use with a wide range of cardiovascular activities and exercises. It can be used by those people who are engaged in running, walking, skiing, climbing, hiking and other cardio exercises. Most of the latest models are paired with Smartphone apps or software. They integrate with the apps through Bluetooth and ANT+ and thus allowing you to share your heart rate data in spite of the app of your choice.
Inside the app, you can easily find the stored information that will help you in keeping track of your fitness levels. Also, studying the app's data letting you move towards your fitness goals over time.
Types of Heart Rate Monitors
Chest straps and optical wrist sensors are the most common types of heart rate monitors.
Chest strap Heart Rate Monitors are the most consistent ones. They provide the most accurate readings because of higher sampling rates and less fluctuation in its positioning on your body. However, they are not more comfortable than the wrist sensors.
The wrist devices use optical technology to observe the blood pulsing through your veins. These are undoubtedly more comfortable and convenient.
Also, there are Heart Rate Monitors you can wear in your ears too. These are easily integrated into headphones. If you are a fan of working out or running to music, this one is the great option. They are also more consistent than the wrist trackers, and they better lend themselves to heart rate readings.
Conclusion
This is all about the best heart rate monitor watch in India. These heart rate monitor watch will help you in keeping track of all kinds of fitness information and also aiding you to determine the intensity of your workout. And thus, you can look back at your progress over time. The above-mentioned heart rate monitors are also budget-friendly. So what are you waiting for? Get your best pick now…
Read Related Reviews
Buy Best Heart Rate Monitor Watch Online
Crossbeats Ignite LYT Smart Watch for Men & W...
64%
Huawei Band 6 Fitness Tracker Smartwatch for ...
60%
Dr Trust Signature Series Finger Tip Pulse Ox...
51%
Noise ColorFit Pulse Spo2 Smart Watch with 10...
70%
Noise ColorFit Pulse Smartwatch with 1.4" Ful...
70%
M1 Smart Watch for Men Women, Bluetooth Smart...
70%
Fitlastics Fingertip Pulse Oximeter Machine w...
88%
Mi Smart Band 5- India's No. 1 Fitness Band...
34%