Wearing neat, clean, and hard-pressed clothes is always an attraction. It will keep you well-dressed and presentable all day. But, it is not possible to get laundry service daily as it is expensive and not easily available on a daily basis. Therefore, every house must have an Iron box, especially if you have an office going person or school going kids in your home.
But choosing from its variants including dry iron box or steam irons is might confusing. Well, they both have their own advantages and disadvantages, but if you want something cost-effective, dry iron box is the most ideal choice.
So, we are here with our reviews of best dry irons in India as well as a Comprehensive Buyers Guide on it, so that you may find the right one.
10 Best Dry Irons in India
We have compiled here the list of best dry iron box on the basis of their specifications, price, as well as their positive and negative feedback from the buyers for your convenience to filter out the best options. Have a quick look at our best picked models.
Best Dry Iron Box Reviews
1. Panasonic Heavy Weight Dry Iron Box 22Awt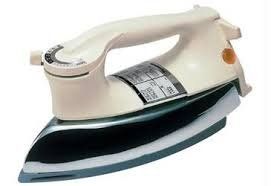 This one from Panasonic come at the top of our list for its exclusive and modern features as well as great performance. It is a deluxe automatic heavy weight dry iron that comes with a pressing power of 6 Pounds. With 1000 Watts of power and a deluxe metal cover, this one is great in removing all the toughest creases and wrinkles in one go.
This automatic iron box comes with a big thermostatic pilot lamp and heat resistant cotton-cord. Also, it has an easy to operate 6 temperature settings as well as big metal temperature setting guide to iron the fabrics accordingly. Its adjustable swivel cord makes ironing more easy and comfortable. Features like Heel Rest Stand By Position, Big Secured Grip with Thumb's Rest, and Button Hole make it the best dry iron box out there.
Key Features
Non-stick coated soleplate
Deluxe metal cover
Thermostatic pilot lamp
6-Temperature settings
Adjustable swivel cord
Pros
Heavy iron box and slides very easily, so there is no need to apply extra pressure
Excellent quality
A decent water mist spray
Steamer not inbuilt so there is no mess of water splashing
Cons
View on Amazon View on Flipkart
2. Rico Heavy Weight Dry Iron Box AI11 Plancha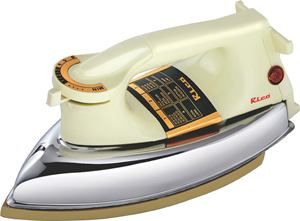 And the next is AI11 model from the brand Rico making ironing a simple and hassle-free task. This one dry iron box has a sleek design with a sturdy base to offer a smooth and easy movement on all type of fabric. As it is a heavy duty iron box, it offers you the high durability and thus proving to be a great device towards your valuable money.
It comes with a non-stick coating soleplate that runs smoothly on your fabric and offers them absolutely a crease-free look. Not only this, but it also doesn't cause additional pressure on your wrist, and thus you can use the iron very easily without worrying about pain. The non-stick coating also ensures that the fabric doesn't get stick to the soleplate due to the excess heat.
This dry iron box also comes with various temperature control settings to set accordingly for different types of fabrics like silk, rayon, linen, cotton, and others, etc. Plus, the safety thermal fuse and automatic shut off feature enhanced extra safety elements while using the iron.
Key Features
High-class heavyweight iron
Instant quick heat technology for fast and smooth ironing
Double protection with thermostat and fuse overheat protection
Premium chrome plated metal cover
Shockproof body
Multiple temperature settings for different type of fabrics
Light indication
3 Years Warranty
Pros
Build quality is extremely good
Sleek design
Heavy duty iron for toughest crease removal instantly
Heats up quickly
Auto shut off feature for extra safety
Perfect soleplate with nonstick coating
Cord length is pretty good
Cons
View on Amazon View on Flipkart
3. Usha EI 3302 Gold 1100-Watt Lightweight Dry Iron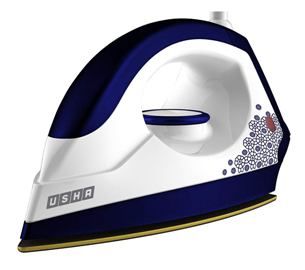 Elegant design, ultra light-weight, and powerful performance- all these features describe this superb iron box for getting a crip and wrinkle-free attire. The iron is equipped with DuPont coated black American Heritage soleplate that ensures smooth gliding over all fabric type. Its automatic thermostatic temperature control feature lets you choose the temperature accordingly depending upon the fabric type.
For easy handling, the iron box also comes with the 360-degree swivel cord. The whole body is made up of high-grade plastic to prevent electric shocks. And the plus point is that its super lightweight doesn't cause any strain to your arm and wrist. And so offering you a quick and easy ironing experience.
Key Features
Elegant design and powerful performance
Ultra lightweight
Quick heating
Plastic body to prevent electric shocks
Button groove for easy ironing under buttons
Dual color LED indicator light for power (On/Off) and heating (On/Off) detection
Snap action thermostat with accurate temperature control for different fabrics
360-degree swivel cord for easy operation
2 Years Warranty
Pros
Great in terms of quality and performance
The iron box is very handy and moves very smoothly on all fabric
The LED light is too good that turns green when thermostat stops working and turns red when it starts back
Heats very quickly to give a wrinkle-free look to your clothes
Ergonomic design makes it easy to handle
Cons
View on Amazon View on Flipkart
4. Philips Diva GC83 750-Watt Dry Iron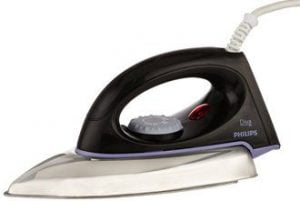 This affordable piece of dry iron box from Philips is bound to make your clothes look neat, crisp, and well pressed. It is equipped with the most awesome features that you look for in an iron box. This dry iron comes with a linished coated soleplate that ensures smooth gliding along your clothes and the fabric does not stick to the surface of the iron.
This Philips iron box is also equipped with Built-in temperature control that lets you change the temperature for different fabrics as required. One of the most awesome features of this iron is its low power consumption technology that ensures the ironing job is done without consuming much more electricity. Its uniform heating panel ensures better coverage of the fabric and a more uniform finish to your clothes.
Key Features
Linished coated soleplate
Built-in temperature control
Multiple temperature settings
Compact and lightweight
Energy efficient
Pros
Handy and easy to use
User-friendly device
Heats up very quickly
Excellent power saver feature and saves energy
Cons
5. Orient Electric Fabrijoy DIFJ10BP 1000-Watt Dry Iron Box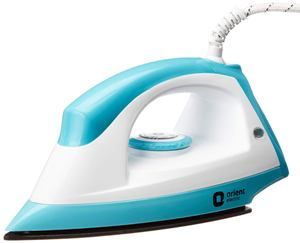 The Orient Electric Fabrijoy DIFJ10BP dry iron box is another best choice for getting a crisp and neat wardrobe in a hassle-free manner. It is very light in weight, so handling is super easy. This one comes with the high quality non-stick American heritage soleplate ensuring the smooth and easy gliding over all fabric type. And the nonstick coating resists the fabric to get stick from the soleplate.
This iron box consumes only 1000 W and heats up very quickly to offer you the best ironing results. Also, it comes with variable temperature control settings to choose the desired temperature according to the fabric type. There also comes an indicator lamp to inform the user when the iron has reached the required or preset temperature.
Key Features
Streamlined design
Non-stick soleplate
Easy to grip handle
Variable temperature control
360-degree swivel cord
Fabric selector knob
Cord winder for easy storage
LED Indicator with temperature control
2 Years Warranty
Pros
Stylish and efficient
Smooth grip
Easy to use
Quickly heats up
Cons
View on Amazon View on Flipkart
6. Philips HI114 1000-Watt Dry Iron Box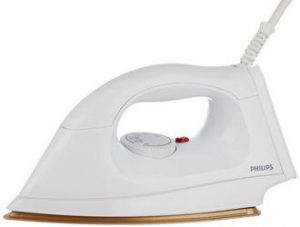 If you are looking for an affordable and modern looking best iron box, this one will be a great choice. Get better quality and better experience with this Philips Dry iron that is very efficient to use. This high-performance iron box is very light weighted and is ideal for all your daily pressing needs.
This dry iron from Philips is equipped with the Button Groove feature that lets you reach into the tricky area of your clothes and also makes ironing easier around the buttons and seams. The Golden American Heritage Soleplate ensures easy movement on all types of fabrics.
Key Features
Sleek and lightweight
Golden American Heritage Soleplate for easy gliding
Button Groove feature
Intelligent temperature control
2 Years Warranty
Pros
The iron box is very handy and light weight
The soleplate is too good ensuring no sticking of clothes to it
Temperature control is very effective
Cons
View on Amazon View on Flipkart
7. Havells Era 1000-Watt Dry Iron Box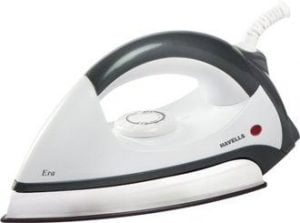 This new and unique Havells Era Dry iron box is the perfect one all that you need for catering the wide ironing requirements at your home. Its American heritage coated soleplate makes the use of iron very easy and even without any worry of fabric sticking to the iron. This iron box has also been installed with a thermostat control that helps to iron the clothes accordingly.
It comes with an indicator light and temperature control for ease of use. Its comfortable grip makes you iron your clothes very conveniently for a long period of time. This dry iron is made up of high-quality PVC that gives it strength and long life without much maintenance.
Key Features
American heritage nonstick coated soleplate
Temperature control dial for various fabrics
360-degree swivel cord
Easy grip fabric selector knob
Indicator light
2 Years Warranty
Pros
Nice design and quality
Works great so worth for the money
Easy to handle and carry
Cons
Not good to iron heavy clothes because of its light weight
View on Amazon View on Flipkart
8. Bajaj DX 7 1000-Watt Dry Iron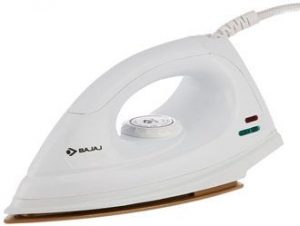 This is again a best dry iron box from Bajaj is one of the economical options with a trendy look and neat features. This one is very handy, portable, and lightweight dry iron that gives you quick ironing sessions. It comes with a non-stick coated golden color soleplate that prevents the fabrics from sticking to the iron due to overheating. Also, its comfortable hand grip gives you relaxed ironing experience.
This dry iron is also equipped with double indicator system that ensures additional safety and convenience. The very best part of this dry iron is that it comes with multiple temperature setting options so that you can customize your ironing according to the fabric type.
Key Features
Nonstick coated soleplate
Double Indicator System
Adjustable Temperature knob
Safety thermal use
360-degree swivel cord
Compact and lightweight
2 Years Warranty
Pros
Build is good and looks decent
Safe to use on all type of fabrics
The non-stick coated soleplate works perfectly
Quick heating and fuse for protection
Cons
Indicator does not work properly
View on Amazon View on Flipkart
9. Morphy Richards Inspira 1000-Watt Dry Iron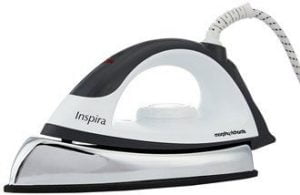 This dry iron box from Morphy Richards is a perfect combination of all the features you seek from your regular iron including durability, dependability, versatility, and convenience coming straight from a trusted brand. This light weight iron is big on performance and gives effective crease removal from all your fabrics.
It comes with a non-stick coated soleplate that is easy to clean and allows a smooth gliding effect over all types of fabrics. This iron box also features a power indicator that tells you when the power is on.
Key Features
Nonstick coated soleplate
Adjustable thermostatic control
360-degree swivel cord
Sharp Beak
Power Indicator
Pros
Nice design
Light weight and easy to use
Thermo controller is excellent
Power consumption is nominal
Cons
The handle is small so a bit uneasy to hold it
View on Amazon View on Flipkart
10. Orpat OEI 187 1200-Watt Dry Iron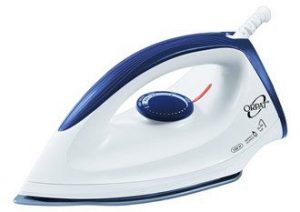 This extremely user-friendly electric dry iron box from Orpat makes ironing clothes at home very easy. Its indigenous design, a comfortable grip, and easily manageable swivel cord let you use this iron not only with ease but also serve the purpose of providing you the most neatly ironed linen and fabrics.
This iron box is equipped with variable temperature control settings to monitor and maintain the temperature you choose. Its convenient 180-degree power cord lets you enjoy easy, and tangle-free ironing from any direction.
Key Features
German grade non-stick coated soleplate
Thermostat for variable temperature control
Shock Proof Plastic body
Power Indicator
Silk Braided, 180-degree swivel power cord for easy movement
Reaches into tricky areas
Pros
Excellent iron box in this price range
Light weight with instant heating
Ergonomic design for ease of use
Nice bottom plate material
Cons
Very light weight iron so not give crisp ironing to heavy fabrics
Consumes high power
View on Amazon View on Flipkart
How to Choose the Best Dry Iron? (Buying Guide)
Here, we have come up with a detailed buying guide on Dry irons. The brief description covers almost everything that you need when buying dry iron for home use. You need to evaluate your requirement first and then its features before taking one.
What is Dry Iron, and how does it work?
A dry iron has a soleplate that comes with a strong and handy box. After proper heat up of soleplates, you can press it onto your clothes and get a clean, wrinkle-free smooth outfit. A dry iron doesn't produce steam like steam irons. You need to move it many times on fabric to remove wrinkles.
It is the most commonly used irons for daily needs with excellent pressing capabilities. The light-weight and easy accessibility make this a popular choice. It has basic controls so that you can regulate it according to your fabric. The latest technology models are a better choice if you are going to purchase one.
Key Factors to Look for When Buying a Dry iron
The traditional dry irons are bulky & heavy, and it causes inconvenience while ironing clothes. The latest models are not like that. It becomes light-weight, ergonomic, and provides no difficulty to remove wrinkles. Most dry irons are not bulky and come in a small size, so it is good to take them along while traveling. The common features you need to weigh up first are given below:
1. The Weight and Design
No one wants a big or weighty iron for daily use, so it is important to consider the iron's weight. Dry irons can be weighted if it has a metal base. But, the latest models are light-weight and safe. Being light-weighted, the dry irons are easy to use and reduces the load on the arm while ironing.
Other than the weight of the dry iron, considering the frequency of ironing is also very important. If you iron many clothes on a daily basis, then a weighted iron will only upset your arm. But you can prefer heavy-weight iron only if you iron cotton clothes frequently because cotton fabric requires much pressure. Ensure about its comfy handle before opting for one because easy gripping can make your hectic ironing task easy.
2. The Soleplates
Soleplates of dry iron is of many types. It may be stainless steel, ceramic, aluminum, and non-stick. Ensure that the dry iron you choose has corrosion-free and scratch-resistant soleplates.
The ceramic and stainless steel soleplates are a good choice if counting durability and even-ironing features. The soleplates made of stainless-steel are more durable, light-weight, and rust-free than others.
3. Power Consumption
Even-ironing is well worth only when it consumes less power consumption. Iron boxes consume much power, but we can't skip ironing daily if we have office going persons in our home. Hence, choose the models that consume less power. Maybe it becomes costly, but compare the features with others, and it will undoubtedly value the money you pay for.
4. Thermostat Protection
When Dry iron is your ironing choice, you must check this feature to prevent your clothes from burning. The thermostat is a very significant element that is fixed inside the iron. It regulates the heat by automatic On/Off function and holds on to the ideal temperature. It saves the iron from overheating, and so your fabric also from burning.
5. Variable Temperature Control and Automatic Shut-off
Dry iron must have variable temperature control function, and these should be precise and user-friendly. Every fabric requires a definite temperature while ironing. Too much heat can damage your clothes, or low temperature doubles your effort for ironing. Hence, it's a wise preference to choose a dry iron that comes with variable temperature control functions and an auto shut off feature.
The adjustable heat setting for different fabric provides easiness while ironing. You will need to use different temperatures on each cloth material, and changeable temperature controls will help you out.
On the contrary, once you set the desired temperature for fabric, it should discontinue heating. And here, a shut off feature will work. Hence, cover both the features if you buy dry iron for home use.
6. The Cords
While using iron, the cords can cause inconvenience if not having proper length and 360-degree cord mechanism. For easy maneuverability and better convenience, you should go for one with the most extended cord and a 360-degree swivel mechanism. This will help you move the iron box in any direction, but the cord remains unchanged.
According to your suitability, you can also go for cordless rechargeable iron. It has a separate heating plate that evenly spreads heat to the soleplate without any inconvenience of cord swivel moves.
7. Durability
Whichever model you choose in a dry iron, you have to consider the most crucial feature which is its durability. Compromising the stability and permanence of a dry iron leads to further trouble in ironing. It would be best if you prefer a durable model to the cheaper one; after all, you have to spend your hard-earned money on it.
8. Brand
For dry irons, you can trust any reputed brand because they have already maintained a respected name and status among customers. Still, you are thinking of spending money on a local one; we suggest you don't waste your money. Why lay bets!! When brands assure you durability, safety, and excellence….
9. Price
Budget always matters when buying any electrical appliances. The costly ones never disappoint you with their performance. But, if you can't afford expensive models, go for dry iron that will be easy on the pocket but remember that you do not compromise on feature and excellence.
10. Warranty
Mostly every branded dry iron comes with a warranty of a year or two. Warranty on a product gives a surety of its endurance. So, it is advisable not to buy a dry iron without checking its warranty period. The higher the warranty period, the higher is its performance. Hence, you are always suggested to prefer a higher warranty period, especially for a frequently used product.
Advantages of Having the Best Dry iron
Having the best dry irons gives you many benefits, especially if you need them on a daily basis:
It reduces your dependency on Dhobis and Laundry shops, typically when you are in a hurry.
It makes it possible to iron the outfits at any time as per need and convenience.
You can get crease-free and hard-pressed clothes all by yourself, and thus, it saves your hard-earned money on laundry expenses.
Precautions While Using Dry Iron
Whether using any electric appliance, you need some precautionary measurement to avoid any mishaps. For dry irons, some of the safety measures are:
Always use the iron on a flat surface. Secured and even base prevents accidents while ironing. Ensure that you let-up on heel rest.
Use proper three-pin connection or power board for iron.
Make sure not to leave the iron unattended once it is switched on.
Don't use the iron with tangles or broken cord to avoid electrical shocks.
Sometimes the iron box falls while handling. It can damage its internal components. Apart from that, it can be unsafe for further use. Hence, make sure you handle it carefully.
Lastly, it is safe to keep your children away from this electric device.
Dry Irons Frequently Asked Questions (FAQs)
1. Which soleplate is best for dry iron?

It's all about your requirement and frequency of ironing. If you iron denim or cotton once a week, stainless steel soleplates will be an ideal choice. But, if you iron frequently, then choose ceramic soles. Ceramic soleplates are suitable for fabrics like polyester.
If you want an Iron that fits all fabrics and is durable and light-weighted, choose Dry Iron with titanium soles.

2. What to do if the iron is not heating enough?

It is a common problem with Dry iron. This is due to the incorrect thermostat settings, some electronic issues, or maybe a problem with the power switch. To tackle any of the issues, you need to check the entire connections and switches properly. Cross-check once all by the instruction booklet.
If the thermostat settings are low, then how you may get enough heat. You will require to set the thermostat to a reasonably higher setting or an accurate level to get proper heat.

3. What is the difference between Dry iron and Steam iron?

Dry iron follows traditional ironing methods but with the latest features and functioning. It has a soleplate that heats up, and after pressing it onto clothes, you will get smooth and wrinkle-free fabric. Dry irons are ideal for ironing silk fabrics.
On the contrary, steam iron comprises many holes and a water tank above the box. The holes emit hot steam evenly on the fabric to remove wrinkles faster. Steam irons are suitable for all fabrics but need to press gently on silk fabrics to avoid damage.

4. How do you clean Dry Iron?

Cleaning dry iron is very simple. You can make it sparking just by wiping the soleplate with a damp cloth. After that, clean it with a dry duster.
Sometimes, the fabric gets stick due to high heating; in that case, you should heat the iron to a high. Press the iron on a rough cotton cloth so that the adhered fabric gets melts and the soleplate will be clean.

5. Does water required while using dry iron?

You don't need water unless the fabrics you press have tough creases. You will require water only when ironing rigid cotton clothes such as jeans, pants, etc. And for this, you will have to spray some water on creases and press it to get the best results.

6. What to do if dry iron is not working properly?

First of all, you need to check the Power cord. Sometimes a broken or damaged cord could be the reason for dry iron's functioning. Another reason could be limescale deposit on the soleplate. If your Dry iron is not working, then the reason would be the wrong settings also. Cross-check all before taking it to the repairing shop.
Conclusion
Buying Dry iron does not need a second thought. After all, it's a daily use appliance. You can trust brands like Phillips, Morphy Richards, Usha, Bajaj, Orpat Havells, etc. Dry irons are user-friendly and rapid to get the job done. It is also portable and does not take up a huge storage space. So get a clue from our detailed buying guide and reviews of best dry irons in India and get the right one for your home needs.
Read Related Reviews
Buy Best Dry Irons Online
Bajaj DX-6 1000W Dry Iron with Advance Solepl...
57%
Bajaj DX-7 1000W Dry Iron with Advance Solepl...
48%
Bajaj Majesty DX-11 1000W Dry Iron with Advan...
36%
USHA Armor AR1100WB 1100 W Dry Iron with Blac...
39%
Havells Dazzle 1100W Dry Iron Press German Te...
37%
Havells D'zire 1000 watt Dry Iron With Americ...
54%
Crompton InstaGlide 1000-Watts Dry Iron with ...
33%
SYSKA Iron Press | 2 Year Warranty | Iron Box...
12%