Because of the advancement in ironing technology, a lot of new varieties of irons are now available in the market. Whether it will be a dry iron, steam iron, or even a cordless iron, all comes with some great and improved features to make this household chore more quick and convenient. We came with this blog post to help you in picking out the best cordless steam irons.
What is a Cordless Iron?
Want to get an iron without string attached. If yes, cordless iron is a perfect choice. A cordless steam iron is exactly like your conventional steam irons. The only difference is that it comes without a cord. In spite of a cord, it has a charging port that connects to the power socket. Before ironing, you must keep the iron placed on the port to get it heated and then it can be used freely without any power connection. A cordless iron is required to be placed on the port frequently to maintain its heat.
Our Best Picks of Cordless Steam Irons
It will be very overwhelming when you go to the market to purchase a new iron because a wide variety of choices are available. And you will get confused among the various varieties and at the same only one thing strikes in your mind "Which product is right for me?"
For your ease and convenience, we have listed some of the best cordless steam irons with their specifications. It will surely make your buying decision easier, and you can also purchase the best one from your home in just a few clicks.
Here is the list of 5 best cordless steam irons
Best Cordless Steam Irons Reviews
1. Black+Decker BD BXIR2201IN 2200-Watt Cord & Cordless Steam Iron
Black & Decker is one of the best brands that offer great quality of home appliances based on innovative technology and modern production set up. Their appliances are designed in such a way that are very easy to use in this fast paced world.
The model BD BXIR2201IN from Black & Decker is one of the best cordless steam irons with a host of features and utilities. It is featured with both cord and cordless function. This cordless iron makes you remove the stubborn creases not only from clothes but also from table linen, bed linen, cushion covers, and curtains. This one comes with a Teflon coated soleplate, a unique steam burst function, and temperature control.
Some other unique features of this iron include a leak-proof water tank, indicator light, 360-degree base rotation, steam adjustable, and steam features that make it the best cordless steam irons out there.
Key Features
Cord and cordless convenience for easy and hassle free movement
Powerful burst of steam
360-Degree rotation of base
Safety cut-out
Leak-proof water tank
Temperature adjustment with pilot lamp display
Transparent water level window
Buyers Feedback
The Good
This cordless steam iron is very easy to use
Perfectly gives smooth ironing experience
Time saver and cost effective
The thermostatic control feature is quite awesome
The Bad
As fast it heats up, it does loose heat faster
2. Sheffield Classic cordless steam cum dry Iron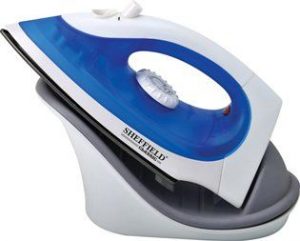 This cordless steam iron from Sheffield comes with a host of unique features that you can use with full ease and convenience. It is designed in such a way that effectively produces steam, spray, and burst of steam.
Features like thermostatic level and variable steam control also come with this Sheffield Classic Cordless steam iron that lets you adjust the temperature according to the type of fabric. This iron also has a self-cleaning function for less maintenance. All these amazing features make this model one of the best cordless steam irons.
Key Features
Non-stick coated sole plate
360-degree rotation of base
Transparent water level window
Multiple adjustable thermostatic levels
Variable steam control
Dry ironing, spraying, and steam adjustable
Buyers Feedback
The Good
Nice built and design
Very convenient and easy to use
Dry ironing along with steam ironing is an awesome feature
The Bad
Heat hold up for few seconds only and has to be charged back again
3. Skyline Cordless Steam and Spray Iron VT-7025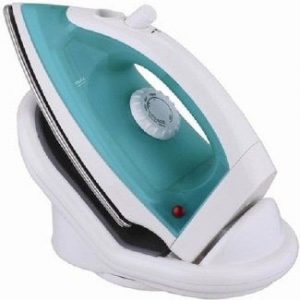 If you are seeking an efficient as well as ergonomic cordless steam iron, your search is likely to end here. Just get a crisp and wrinkle free clothes for all occasions with this cordless steam iron. Features like steam burst and the powerful spray of this cordless steam iron lets you get rid of the most stubborn creases all the time. It comes with a non-stick coated soleplate for smooth and easy gliding over all types of fabrics.
This cordless steam iron is designed in such a way with dedicated space that can be used to roll down and tuck in the wire. Its automatic shut-off function ensures safety and also eliminates the chances of accidents. Also, it comes with variable Temperature control settings that allow you to set the temperature accordingly on the basis of fabric type.
Key Features
Nonstick coated soleplate
Automatic shut off function
Thermal Fuse
Thermostatic control
Lightweight
Buyers Feedback
The Good
Nice product in this price range
Handy and easy to use
Works very well to remove the toughest wrinkles
4. Panasonic NI-WL602-N Champagne Cordless Steam Iron
It is another best rechargeable cordless steam iron from the brand Panasonic with a host of unique features. It comes with a nonstick soleplate that ensures the smooth gliding of the iron over your clothes. Featuring an adjustable thermostatic control and indicator as well as two steam settings, this one is absolutely your great pick. The thermostatic control feature with indicator makes ironing a lot easier.
It comes with a 360-degree rotation base along with cable storage to neatly pack away when you have finished your ironing. Just place the iron simply on the base to power up your iron for an easy and effortless cordless ironing.
Key Features
Nonstick coated soleplate
2 steam settings
Dry and steam function
Adjustable thermostatic control and indicator
Spray facility
Swivel power base
Buyers Feedback
The Good
Very easy to use
Heats up very quickly
Works very well
5. Skyline Cordless Steam & Spray Iron
This iron will absolutely be your great choice if you are seeking for the most efficient and feature full of cordless steam irons. It comes with the effective dry, burst steam, as well as spray function to get rid of the stubborn creases at all. Its auto shut-off function ensures the overheat safety protection.
The nonstick coated soleplate of this cordless steam iron lets you iron your clothes more smoothly and remove the toughest wrinkles. The base stand of the iron is designed with the most dedicated space for keeping wire.
Key Features
Nonstick coated soleplate
Different temperature modes for different types of fabric
Power Indicator
Temperature control
Auto cut off
Buyers Feedback
The Good
Nice and trendy design
Quickly heat and reheat
Great value for money
The Bad
The charging cord is very small
Water leaks into the charging holder which is hazardous
Conclusion
So, just dive into the experience of effortless ironing with the above listed cordless steam irons. Just pick out the one and eliminate the twists and tangles of a power cord as well as enjoy the freedom of cordless ironing. All these listed cordless steam irons are definitely the worthy choices as well.
Check More
Currently no product available, please check after some time.