Have you been fed of the traditional ways of ironing your clothes using a dry iron or a steam iron? Garment Steamers is all the new way to replace your boring ironing methods. Get the perfectly wrinkle free outfits without much effort with this great new appliance.
Steaming is one of the best-kept secrets in the fashion and garment industry, now this tool is available for your household use in the form of a garment steamer. But how to choose the right garmnet steamer for your needs is a big hassle? Read our reviews of best Garment Steamers in India and a comprehensive Buying Guide on it to find out the right one.
Top 10 Best Garment Steamers in India
Best Garment Steamers in India – Reviews
1. Rossmann BG570 Professional Garment Steamer (Best Overall)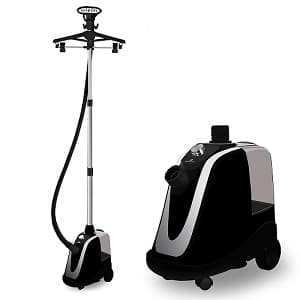 Our top pick belongs to the house of Rossmann that is a best buy for both professional as well as home use. This energy efficient ultra premium garment steamer provides you the best cloth steaming results with ease. What is especially best about this device is its quick heat up time that delivers strong steam to remove wrinkles from shirts, business suits, trousers, etc. This versatile garment steamer can be used with any type of fabric, drape, upholstery, and curtains.
Auto-cord rewinder, auxiliary heating in the steam brush, low water warning with auto stop with a beep sound, and digital LCD display are some of the smart features; this device is equipped with. These features make this garment steamer an outstanding product out there.
The device features an adjustable double pole to adjust the height as per your convenience. And this feature also provides stability to your garment steamer. It also comes with the pleat making accessory to handle the task of pleat making more easily. Plus, the fabric brush makes deeper penetration on thick garments. And thus you can get only perfect attire every time.
Key Features
3 levels variable steam control
3.5 l large water tank capacity
2400 Watts High Power Continuous Steam
Auxiliary Heating in Steam Brush with On/Off
Heat Insulated Steam Pipe for extra safety
Multiple steam vents for a continuous flow of steam
Auto Cord re-winder
Digital LCD Display
Low Water Warning with Auto Stop with Beep Sound
Self Cleaning Function
Fabric Brush for Deeper Penetration on Thick Garments
Adjustable double pole
Pros
Excellent build quality
Great to use
Powerful steaming
Best and safe to use on all fabric type
Convenient to assemble and disassemble
Self-cleaning function is a nice add on
Cons
2. Havells Glanzo Garment Steamer (Runner Up)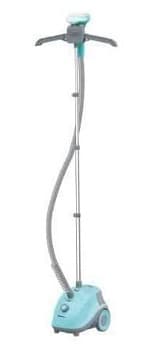 Coming to our runner up pick, this garment steamer from the brand Havells offers you the convenient and hassle-free ironing experience. Now it becomes so easy to wear smart and wrinkle-free clothes using this garment steamer. The device is equipped with six steam settings letting you steam iron your clothes on the desired setting depending upon the type of fabric. And the best thing is that its powerful steam output offers an extra smoothness to all fabric type.
There also comes a telescopic pole letting you easily adjust the height according to your convenience. And the rotating hanger with clips attached to it allows the easy placement of clothes.
You can easily handle this garment steamer as it comes with rotary wheels offering you extra mobility while working with the steamer. The device also comes with the large water tank ensuring the continuous steamy performance. Plus, the water tank has the detachable feature that allows you for easy and neat refilling.
Key Features
Powerful steam jet
6 steam settings
Telescopic pole for height adjustment
Wheels for easy portability
Rotating hanger for completely and evenly steam of the clothes
Removable water tank for easy refilling and cleaning
Pros
Nice build quality
Easy to assemble and use
Garment steaming for wrinkle-free fabrics
Good to use on all type of fabrics
Cons
Water leakage issues from the tank
3. Inalsa Steam Master 1600-Watt Garment Steamer (Best Budget Pick)

This garment steamer from the brand Inalsa is yet another smart buy for your home to tackle the ironing chore of your daily needs easily. Plus, its affordable price tag fits everyone's pocket. The device offers you the perfect crease and wrinkle removing for any type of fabrics including upholstery and curtains. The best part with this garment steamer is that you don't need to wait for a long time as it gets ready to use within 40 seconds.
The device also has four different steam output setting for different fabrics including cotton, linen, polyester, and silk. For effective crease removal, it is featured with an XL steam plate with powerful continuous steam that offers you the quick and best results. With its adjustable pole with hanger, you can easily hang your clothes while steaming your garment. Plus the unique 360-degree foldable swivel hanger with clips makes steaming more quick and easy.
The Inalsa steam master comes with the large detachable water tank for easy refilling and cleaning. This lets you steam even large pieces of garments without refilling water repeatedly. And the wheels equipped with it allow you easily to move the device from one place to another.
Key Features
XL steam plate for powerful continuous steam
Vertical steam for quick wrinkle removal
1.5 l detachable and transparent water tank
Detachable Fabric brush
Gloves for extra protection
360◦ Folding Swivel Hanger with Clips
4 steam output setting
Adjustable pole height
Boil dry protection
Wheels for easy movement
Auto shut off
Power On/Off Indicator
Pros
Versatile and effective garment steamer
Great in terms of quality and performance
Provides strong steam for effective crease removal from the garments
Adjustable height of the pole is a good option
Can be used to steam most of the fabrics
Best garment steamer at an affordable price
Cons
A little bit difficult to assemble or disassemble
View on Amazon View on Flipkart
4. Philips EasyTouch Plus Standing Garment Steamer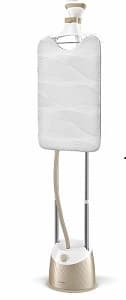 The next best garment steamer in our list comes from the house of Philips. This Philips EasyTouch Plus Garment Steamer is designed in such a way that effectively removes creases and wrinkles even from the most delicate of the fabrics in a matter of minutes. It comes with a garment hanger to place your clothes while you steam them back to smoothness. This garment steamer is convenient, portable, and very effective and that's why a perfect fit for every occasion.
Various design features are equipped with this Philips Garment Steamer that makes its use convenient and simple. The adjoining clothes hanger is one such a convenient addition to the design. An adjustable pole is also there to set the height of the hanger depending on the length of the garment. And the pole is also collapsible for easy storage.
This Philips Garment Steamer eliminates wrinkles and creases effectively as it is also featured with an XL steam plate that helps you out to cover more area. It comes with a glove to help you protect your hand while steaming your clothes.
Key Features
Powerful Continuous steam
XL Steam Plate for quick results
Adjustable Double Pole
Special garment hanger
Large detachable water tank
Safe to use on even the most delicate fabrics like silk
PVC free silicone steam hose
Pros
Sleek and elegant design
Easy to use
Works well for every fabric types especially for winter clothes
User-friendly product
Easy to carry from one place to another
Cons
Not great for synthetic fabrics
Check More Philips Garment Steamers
5. Wipro Handheld Garment Steamer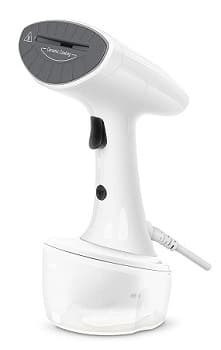 This stylish product from Wipro is another best garment steamer out there. This revolutionary appliance is ideal for all types of fabrics including garments, upholstery, and curtains. The powerful steam output of this garment steamer gently and effectively removes the creases and wrinkles. It has an ergonomic handle that lets you use the steamer easily and conveniently.
This cloth steamer heats up very quickly and keeps your garments fresh and wrinkle free. Apart from removing creases and wrinkles, it also sterilizes your clothes by killing off the germs and bacteria.
It also has an adjustable pole as well as the hanger for your convenience. Two-speed setting is also there for effective steaming of the garments. It's beautiful and futuristic design is ready to fit with the interiors of your modern home.
Key Features
Impressive and powerful vertical steaming
Ergonomic design
Germ-Free ironing
Continuous and easy refill
Overheat Protection
Comes with brush attachments to remove dirt from the clothes
Pros
Awesome product with great heating abilities
Effective on every type of fabrics
The quality of the plastic and material used in the product is very nice
Cons
The steamer is very noisy
The power cord is very small
6. Russell Hobbs RGS1800-Professional Garment Steamer

This garment steamer from Russell Hobbs will absolutely be your perfect pick if you want your clothes to be steamed professionally. It comes with a cloth suspension hanger that eases the process of steaming. And you can adjust the appropriate amount of steam accordingly as per the garments you wish to press through its steam controlling options.
The powerful steam output of this garment steamer not only conditions and freshens the effects of clothes but also clears out wrinkles and irons them perfectly. If we talk about the convenience, its high stability wheels give you a strong grip and control. An adjustable and long cord further adds to the aspect of convenience.
It's auto shut-off feature secures your garment when the steamer is left unattended for a long. It also comes with the double insulated hose that helps in maintaining the temperature of the steam and also controls the surface heat as well.
Key Features
Powerful steam
180-degree swivel cord
Dual telescopic bars
Auto shut-off function
All fabric settings
Pros
Professional grade product with good results
Very effective for woolens, blazers, and jackets
Easy and comfortable to use
Cons
The height is inappropriately less
Can steam the clothes only while standing
View on Amazon View on Flipkart
7. American MICRONIC-Imported-Floor Standing Garment Steamer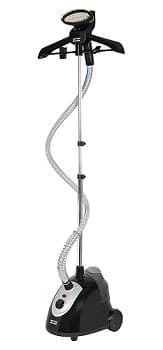 Get relieved with the toughest creases and wrinkles with this garment steamer from American Micronic. With stylish and slender frame, this garment steamer comes with a host of exclusive features. This steamer blows out the ample amount of powerful steam directly on the creased area of clothes to flatten the creases area effectively. The variable steam control functions let you use it even to the most delicate fabrics.
Its high stability wheels give you a strong grip, greater control, and ease of use. The cloth suspension hanger attached with the device eases the process of steaming. This garment steamer also comes with a self-cleaning function. A transparent water tank along with an indicator is also there that helps to manage it on your own.
Key Features
Powerful steam burst
Roll coaster for easy movement
Telescopic plug for easy maintenance
Flexible insulated hose
Removable fabric brush attachment to sweep away the unwanted threads and lint
Pros
Easy to assemble and use
Does the ironing of delicate fabrics very well
Time-saving and cost effective
Cons
8. Black & Decker GST2000-B5 2000-Watt Garment Steamer

This one model from Black & Decker is one of the best garment steamers out there. Get your clothes steamed safely and efficiently with this garment steamer. It comes with the three levels of continuous steam that enables the rapid removal of the most stubborn creases. Moreover, you can also let the appropriate amount of steam based on the type of fabric.
This garment steamer comes with a foot operated on/off switch with the light indicator that ensures the ease of use. Its adjustable aluminum double telescopic poles perfectly suit different ironing needs. Some other unique features of this garment steamer include auto cord winding, anti-calc system, and over heat protection.
Key Features
3 level of continuous steam
Cloth suspension hanger
Collar aid for that finishing touch
Lint remover to remove small fibers from the garments and upholstery
Fabric brush to remove dust
Pleat maker and hanger for perfect trouser creases
Pros
Gently providing a crisp finish to your clothes
Effective on almost all types of fabrics
Nice built and design
Easy to use
Cons
View on Amazon View on Flipkart
9. Russell Hobbs RGS160M 1600-Watt Garment Steamer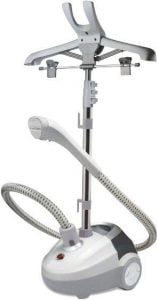 The well-ironed clothes speak about your personality and wealth. And this garment steamer from Russell Hobbs is a perfect solution for all your needs in this direction. Get a clean and crisp wardrobe with this best garment steamer from Russell Hobbs.
The device refreshes and sanitizes all your delicate fabrics perfectly and also aids in quick and easy crease removal. It comes with an adjustable pole to steam the garments on the basis of their height. It also comes with the bigger wheels for high stability and so it is very easy to maintain this device.
Key Features
360-degree rotating hanger with clips
Adjustable pole height
Ceramic face plate to remove creases and eliminate odors
Cloth suspension hanger
Easy to use nozzle with bristle brush
Pros
Nice built and also very presentable
Super easy and convenient
Works well for all types of fabrics
Great for vertical steaming
Cons
Water droplets is a problem, so keep the spout slightly away from expensive clothes to avoid the stains
View on Amazon View on Flipkart
10. Nova NGS 2282 1600-Watt Garment Steamer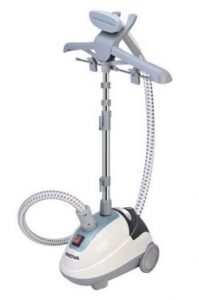 Modern household deserves modern appliances. And this one garment steamer from Nova is perfectly fit to add great style to your home. This effective steamer not only aids you in removing out the toughest creases but also sanitizes them and eliminates odors as well.
Featuring powerful steam output function, this garment steamer removes the stubborn creases very quickly and effectively. The separate attachments enhance its functionality. This garment steamer is designed with an integrated cord so that you can also store it very conveniently.
Key Features
High steam burst
For various textiles
Nonstick coated soleplate
Ironing hanger with adjustable height
Removable wheels for easy movement of the steamer
Pros
Heats quickly and has a steady steam flow
Best for quick straightening of creases
Perfect for using on curtains
User friendly
Cons
Water drops come from the brush
Garment Steamers Buying Guide
What is a Garment Steamer?
Garment Steamer also known as Fabric Steamer or Clothes Steamer is all the new way to get rid of toughest creases and wrinkles from the fabrics by means of steam. With garment steamers, you can effortlessly get rid of the unsightly wrinkles from clothing, freshen the fabric types, eliminate odor from clothes, and also remove dust from the clothes. This amazing appliance operates on the simple method of heating water until it turns to steam and then allowing this steam gently and effectively to eliminate wrinkles from all kinds of fabrics.
Why to Choose Garment Steamers?
Since an iron box with steam just flattens out the garment, that's why the new garment steamers have taken over the place of steam irons for so many reasons. This one appliance gently relaxes the fibers of your clothes and evens it to make the fabric absolutely wrinkle free. The powerful steam of a garment steamer makes your clothes look like new by restoring its shape, and also removes the unpleasant odor, bacteria, and stains.
The handheld models of garment steamers are now becoming very popular as they are very compact and easy to use than the traditional iron boxes.
Types of Garment Steamers
Garment steamers come in two variants: Upright or Floor models and Handheld Garment Steamers.
1. Upright Garment Steamers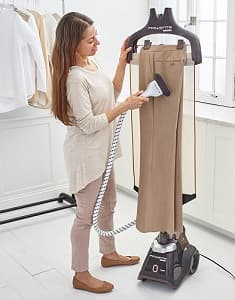 Upright cloth steamers are also known as Floor Steamers as their base sits on the floor. These are of standing types that are incredibly stable, providing you the most effective and powerful crease removal for a perfect attire. It includes a base with the water tank on it and a hose attached to the nozzle. It also comes with a built-in hanging solution to hang your clothes while steaming them.
These garment steamers are ideal for both home and professional use.
Pros:
It comes with a large water tank capacity to steam a lot of clothes in one go. So, no need to refill it again and again.
These are also great if you want to keep them in one location, in your laundry room, or wherever you want.
With the castor wheels attached, these are easy to move around.
It comes with various useful attachments like poles for hanging the clothes and different types of brushes for different types of fabrics.
Very convenient to use.
Cons:
These are a bit expensive over the handheld models.
Not easily portable due to bulky size.
It takes more time to heat up.
2. Handheld Garment Steamers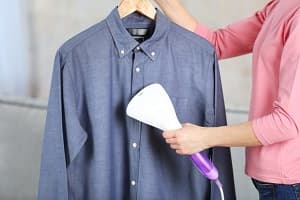 The Handheld Garment Steamers are the portable solution for all your clothes steaming needs at home and even on-the-go. It heats up very quickly for effective crease removal and also safe for the delicate fabric types. The unit comes with the water tank and nozzle combined in one unit.
Pros:
Light in weight for easy steaming.
Less expensive over the upright models.
Most advanced models come with various useful attachments like different nozzles and lint rollers.
Suitable to use on the go.
Heats up very fast
Cons:
Not very effective on thick garments
Do not come with a hanger for hanging the clothes
The water tank capacity is typically low, thereby need frequent refilling to steam a lot of clothes in one batch.
Things to Consider Before Buying a Garment Steamer
1. Type
Selecting the type of garment steamer is very much important before buying it.
The Upright Garment Steamers are very convenient if you want to use them at a fixed location. These comes with many more advanced features and are ideal for both home and professional use. But, if you want the portable solution for all your clothes steaming needs at home and even on-the-go, the handheld garment steamers are the ideal choice.
2. Performance
Check for the warm-up time of the garment steamer. And then choose the one that has less warm-up duration. The model that heats up fast offer the more efficient performance over the model having the larger warm-up duration.
3. Water tank capacity
Go for the one having a decent sized water tank. It means the larger the water tank capacity, the more it will be ideal for bulk steaming sessions. And those with smaller water tanks require frequent refilling, so it is better to invest in the model with a large water tank.
4. Automatic Shut Off
For enhanced safety, the advanced garment steamers come with automatic shut off feature that switches off the device automatically when the machine runs dry. And this way, it keeps the device safe from any motor burn out. The feature also ensures that if you are not near the device, it will not continue to run.
5. Caster Wheels
If you prefer the full-sized floor steamer or upright steamer, choose the one having wheels for easy carrying from one place to another.
6. Multiple steam settings
Some of the garment steamers are also featured with multiple steam setting option that you can choose desirably depending upon the type of fabric you are going to steam.
7. Accessories and Extras
The advanced model of garment steamers also come with interchangeable nozzles, attachable brushes, multiple hangers/hooks/holders, clips and long hoses that make the device much more convenient to use.
Pros & Cons Of Garment Steamers
Pros:
You don't need an ironing board out there
The handheld models are ideally suitable to use for the travelers
Provides gentle steam over the regular steam irons
Some high-end models also refresh and sanitize your clothes
Ideal for upholstery and curtains
The upright models come with built-in hangers and clips to hang your clothes as well
Large water tank than regular steam irons for providing continuous steam
Cons:
Higher on the price side over regular irons
They often leave the clothes damp, so you need to wait until they become dry before wearing them
Do not reach at the corners and edges of the clothes properly
Garment Steamer Vs. Steam Iron
Though both the appliances offer the same job of eliminating the wrinkles from fabrics, the main difference is their functioning.
A clothes steamer directs a flow of hot steam that passes through the fabric, including clothing, upholstery, or draperies, etc. from a hand-held component connected to a water reservoir. This steam then loses the tightened thread and fibers from the clothes and removes wrinkles effectively. On the other hand, a steam iron uses heat, pressure, and steam to move flat onto the fabric and remove wrinkles from it.
Both appliances have their pros and cons. So have a look at the differences between them.
A garment steamer works by hanging the item on a hanger and then moving it up and down without touching the clothes or fabric to remove wrinkles. On the other hand, an iron box needs an ironing board or table to lay out the clothes on it and then moving the iron flat on it to remove wrinkles.
The clothes steamer is easily used on different fabrics like silk, satin, polyester, etc. And the steam irons offer more control over the fabrics like denim or wool.
You need to monitor the temperature of iron using the temperature settings available to avoid the burning of the fabric. On the other hand, garment steamers typically heat the water to generate steam to about 200 to 400-degrees. You can use the higher setting to steam wrinkles out of the dense and sturdy fabrics like wool and cotton. And the lower settings offer steaming of more fragile fabrics like silks without doing any damage to them.
Clothes steamers work great on the intricate areas of the garments like skirt folds and midies with pleats. On the other hand, a steam iron lets you iron in the precise pleats and crisp creases of clothes like jeans, trousers, jackets and dress shirts.
An iron can burn you or your valued clothing if it is too hot or not used carefully, while this is not the case with a garment steamer.
Garment Steamers are good to use on the garments having prints, embellishments, and sequins that are pretty difficult doing by using the iron.
A cloth steamer can also be used to get rid of dust mites and bed bugs. With a steam iron, you can't do that.
Steam irons are more affordable over the garment steamers.
Clothes Steamers are great to use if you have limited surface space.
How to Use a Garment Steamer?
First, add the water to the water tank of the garment steamer. Remember that different models have different sizes of water tanks that you can choose on your requirement. Upright or floor models have bigger water tanks as compared to the handheld steamers.
Then plug in the device and turn it on to heat up and wait until the steam comes out of the nozzle by pulling its trigger. Let it run for at least 30 seconds to make sure the device is ready for steaming the garments.
Hang on the clothes which you want to steam using the garment steamer. If you're using the floor model, most of them include a clothes hanger. On the other hand, the handheld steamers do not come with the cloth hanger. So, in this case, you need to hold the garment with your one hand, or even you can also hang the clothes on the wall.
Now for steaming, press the steamer's head against your clothes to remove the wrinkles from it. There is no need to press hard on the material.
Finally, give your freshly-steamed clothes enough time to dry up completely before putting them in the closet. If not dried completely, you will find water spots on your clothes.
Tips for Better Clothes Steaming
Keep a few inches distance between the steamer and the fabric.
Don't use the steamer at the same place of cloth for a long time.
Steam any sort of lining first to get better results.
It is good to start steaming on clothes from top to bottom.
Never use a steamer on the clothes you wear.
It is good to steam the delicate fabrics like silk from the underside.
Do not overfill the water tank to avoid splattering.
Short and slow strokes of steam are the most efficient way to get creases out.
Maintenance Tips for Garment Steamers
Cleaning and maintenance of the garment steamer is very important to maintain its longevity and uninterrupted performance. Here are some useful points to keep in mind.
Always use distilled water for its cleaning. It ensures no bacteria or harmful chemicals build up their way in the water tank or steam outlets.
Do not use hard tap water if there in your area as it can contribute to the faster build-up of calcium inside the steamer.
While filing the water tank, make sure that the water level is between the minimum and the maximum mark.
Make sure to empty the water tank completely to avoid mildew build up inside it.
Never allow the steamer to run without water, as this can lead to overheating and damage the machine.
How to Clean the Garment Steamer?
One of the best methods of cleaning the garment steamers is using white vinegar and distilled water mix. Follow these simple steps to clean your garment steamer the right way at home.
First, turn off the machine and let it cool if you are going to clean it just after the use. Then remove the hose and pole (in case of upright steamers).
Ensure to empty out the water tank completely, no matter what model you are going to clean.
Now, fill the water tank with a solution of one part white vinegar and two parts distilled water.
Then turn on the steamer and allow this distilled water and vinegar solution to steam.
When the steam is coming out properly, unplug the steamer and leave it for about 30 minutes to let it cool down completely.
Now, empty the water tank using the drain valve and rinse the water tank with clean water.
Fill it again with water and run the steamer until at least half of the tank has steamed, to clean the remaining vinegar from the valve if any.
You can also clean the reservoir using a soft brush to eliminate calcium from inside.
Finally, empty the water from the water tank completely and let it dry up completely before storing it for further use.
Conclusion
This is all about the best garment steamers to get wrinkle free clothes without laboriously ironing and potentially damaging your clothes. The above-mentioned fabric steamers offer different benefits to you. All of these are quite efficient, reduce wear and tear on your clothes, restore the specialty of delicate fabrics, and will save you a lot of money in dry cleaning bills. So, just dive into the ultimate convenience by picking out the best garment steamer from the list.
Check More Related Reviews
Buy Garment Steamers Online
PHILIPS Handheld Garment Steamer STH3000/20 -...
7%
Goodscity Garment Steamer for Clothes, Steam ...
41%
Philips EasyTouch Plus Standing Garment Steam...
27%
AGARO Signify Handheld Garment Steamer, Horiz...
54%
Black + Decker Handheld Portable Garment Stea...
30%
Philips Handheld Garment Steamer GC360/30 - V...
20%
INALSA Garment Steamer Speedy Steam – 1700 ...
37%
INALSA Handheld Garment Steamer Steamax | 120...
26%