A comfy sofa or chair is the first thing you need after a long day of tiredness. But, not the standard chairs or sofas bring the level of satisfaction like a recliner does. It vanishes your all day long worries, exhaustion, and fatigue.
So when you come back home after a hectic day of work and sinking onto the recliners putting your legs up, the relaxation you feel matches nothing at all.
But how to find the best recliner for your needs, may be quite tricky. To let your confusion away, we have covered here the Comprehensive Buying Guide on it. Also, we have rounded up here the best recliner chairs and recliner sofas with their complete reviews, so that you can pick the best.
10 Best Recliners In India
Best Recliners In India – Reviews
So, let's get into the detailed review of the best models of both the categories: Recliner Chair and Recliner Sofas here. It will let you pick the best one for your needs.
1. Duroflex Avalon Single Seater Recliner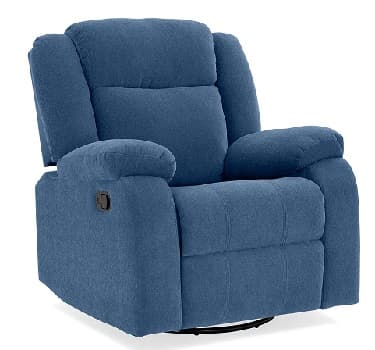 The top on our list is this single seater recliner from one of the most renowned brands Duroflex. It relieves all your stress and offers ultimate comfort and relaxation. When it comes to design and look, this one is surely a great addition to your living room, home library, or anywhere else.
This premium quality manual recliner includes excellent hardware construction, making it durable and long-lasting. The exterior rich suede fabric feels very soft and comfortable. And the combination of high-quality and high-resilient Duroflex foam offers thick padding to the seat cushions. Thus, you will only get the relaxation and cozy feeling when you sit on it. The recliner is also upholstered with premium fabric and uses high-quality virgin polyester fibre for superior back support. Moreover, an extra cushioning on the armrest, making it absolutely perfect for extended seating hours.
It comes with various reclining positions letting you opt for the best angle suiting your neck and back. Moreover, the leg rest is also very comfortable and reclines easily so that you can put your feet up for a relaxing lying position.
This recliner doubles up as a rocker too, which is an added benefit at such an affordable price point. As a bonus, there are various color options that you can choose according to your preferences.
Key Features
Sturdy solid wood hardware construction
Rich and soft faux suede fabric looks premium
German recliner mechanism for ultimate comfort
Thick padding
Pocket spring provides extra comfort
Several reclining positions
Rocking function too
1 Year warranty
Pros
Sturdy construction makes it durable
Looks very appealing
Rocks comfortably when the elevated footrest is not used
Backrest reclines at different angles
Very soft material and comfortable padding
Easy cleaning and maintenance
Lightweight to move around
Cons
Getting up is a bit difficult especially for older people
Requires professional to assemble it
2. HomeTown William Single Seater Electric Recliner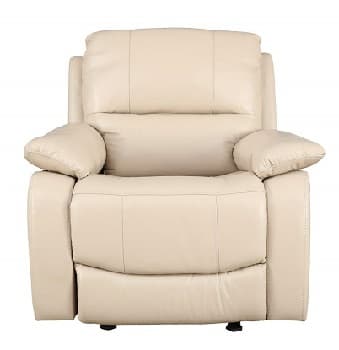 Hometown is one of the leading Indian brands for furniture, home decor, and furnishings, etc. So, if you want to get the perfect seating solution for multiple people, this single-seater recliner is the best to go with. The model combines style, elegance, functionality, and comfort all in one.
It is available in classy beige color option that matches best to your home decor. However, you can also choose from its double-seater and three-seater variants as per your preferences.
With this stylish piece of furniture, you no longer have to compromise the space while watching a movie with your family in your home theater. It is also a great addition to your living room and can be a good replacement for your old sofa as well. The easy manual reclining feature lets you get the most comfortable position for ultimate relaxation.
This electric recliner is designed with quality engineered wood making it robust and durable. And the robust legs make the recliner to stand stable. Even the solid frame offers optimum body support.
The model comes in an ergonomic design and includes polyester fabric upholstery that feels very soft and comfortable. Plus, the sturdy and well-padded armrest provides comfortable support. Moreover, the angled bolster cushions allow you to get a relaxing seating experience along with the sturdy backrests that support your body posture.
Key Features
Single seater Recliner
Electric Reclining Mechanism
Spacious seating depth
Stable core support
Sturdy and well-padded armrest
Nice and firm cushion
Sturdy and comfortable backrests
One year warranty on manufacturing defects
Pros
Ergonomic design
Stylish
Comfortable to use
Outstanding quality and durability
Cons
Requires assembly from professional
3. Innovate Motorized Recliner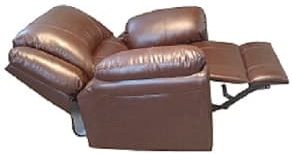 Again from the most reputed Indian furniture brands Innovate, this motorized recliner chair can be a great addition to your home. Though the price is a bit high, in terms of its classy appeal and comfort, you will surely don't hesitate in buying it.
Combining elegance, sturdiness, and comfort, this recliner is ideal for all age groups. Whether you want to watch your favorite movie in your home theater, or read your favorite book in your home library or even want to get relieved from your whole day of stress and take a nap, this one is the best place to do all that.
The solid wood and iron construction makes the product durable and long-lasting. Moreover, the foam and fiber combination offers premium comfort and relaxation. And the leather material makes it look premium.
This model is available in three vibrant color options, including brown, burgundy, and cream. So, you can select the preferred color choice suiting your room decor.
It offers various reclining positions suiting the comfortable positions for your neck, shoulder, and back. So, you can get relaxed anytime when you want. Operating the recliner is also very easy by using its motorized mechanism.
One thing that you will surely like about this recliner is that it comes pre-assembled. So, no more hassle of assembly, just ready to use.
Key Features
Motorized recliner
Leather material
Solid wood and iron construction
Various reclining positions
Comes pre-assembled
Three color options to choose from- brown, burgundy, and cream
One year warranty
Pros
Classy and comfortable
Durable construction
Easy to use
Easy cleaning and maintenance
Cons
4. WellNap Motorized Recliner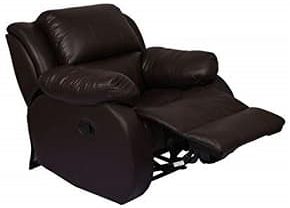 Now, this motorized recliner can be a good option for you if you are searching for something best for senior citizens in your home. It consists of all the comfortable features you need in a good recliner. This luxurious recliner fits your budget too at such a pocket-friendly price range.
The recliner is not only comfortable but also very appealing and has a nice design. Featuring dark brown leatherette upholstery, it adds a touch of grace to any room of your home. The upholstery also feels very soft, and the thick foam padding provides extra comfort to your body.
The excellent quality hardware construction makes this recliner long-lasting and durable. Even with its various reclining positions, you can get the best suitable relaxing position whenever you want. No manual operation, the electrical push-button allows easy operation of the product.
Key Features
Classy and comfortable
Supreme cushioning
Excellent upholstery for superior comfort
Durable hardware construction
Needs electricity for operation
Various reclining positions
Pros
Great in terms of comfort
Reasonable price and value for money
Works well
Durable
Cons
No more color choices available
5. Amazon Brand – Solimo Delphi Three Seater Recliner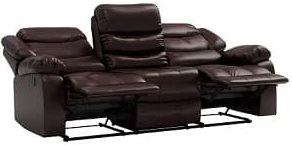 Solimo, the Amazon's brand brings this excellent quality and comfortable three-seater recliner to fulfill all your relaxation needs. This one looks very premium and adds a touch of grace and style to your home decor.
Featuring dark brown leatherette upholstery, the color never fades away, making it look new always. And it also offers a soft and comfy feeling. Plus, its three seating options allow more space to accommodate more people.
The backrest and seat have proper cushioning again give you ultimate comfort when you sit on it. Its sturdy framework ensures longevity and durability of the recliner. One of the best features of this three-seater manual recliner is its lightweight. So, you can easily move it around.
Key Features
Three seater recliner
Manual reclining mechanism
Strong and durable framework
High-quality leatherette fabric
Maximum weight load per seat 160 Kg
Lightweight recliner
Three years warranty on manufacturing defects
Pros
Looks very nice
Outstanding quality
Very comfy and durable
The leather is very soft
Reclining function is too good
Cons
The center seat do not reclines; only the side seats offer reclining positions
6. AE Designs Rocking Recliner
This one from the brand AE Designs is the best budget recliner with all the awesome features to provide you ultimate comfort. Its stunning design makes it a great piece of attraction in any room of your home.
It is designed with good quality solid wood framework making the recliner study and for prolonged use. Moreover, the fabric upholstery in olive brown color is very soft and defines a luxurious and modern contemporary look.
The very best thing about this recliner is that it is great for the people having neck pain and back pain, people recovering from surgery as well as elderly people.
The other best feature of this recliner is that it comes with swiveling and rocking mechanism both. You can move to and fro using its rocking mechanism. It can also revolve around the base through its swiveling feature, so you can easily spin around.
Key Features
Manual recliner
Swivel revolving
To and Fro rocking mechanism
Sturdy solid wood structure
Fabric upholstery
An easy pull-push mechanism for front seat
Firm cushioning
Adjustable leg rest
Six months warranty on manufacturing defects
Pros
Solid and sturdy construction
Fabric looks durable with firm cushioning
Reclining, revolving and rocking all the features are too good
Very comfortable and relaxing
Easy to clean and maintain
Cons
The manual reclining feature is pretty difficult to operate for elderly or weak people
Seating depth is little short
7. bi3 Multifunction Adjustable Recliner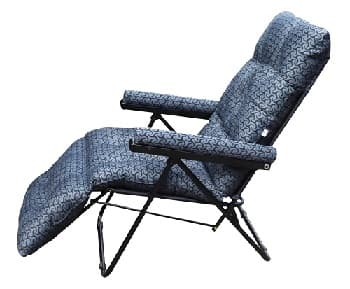 This recliner chair from bi3 combines comfort, durability, and function all in one. Thus, surely a great addition to your home interiors. It's simple and classy design easily catches anyone's attention. Plus, the comfort it offers is exceptionally matchless.
One of the best features of this folding recliner chair is its lightweight design. So, you can not use it only inside of your home but a great product to use outdoors as well. It works like a lounge chair in your balcony, yard, poolside, back deck, camping, or picnics, etc. and thus a great piece of relaxation.
The chair is designed of a reinforced steel frame that ensures the sturdiness and durability of it. Its covering includes textoline fabric that is super soft and comfy. Also, the cushion seat of 3.5 cm draped with a double bungee system proves to be more comfortable and durable. This lounge chair comes with padded headrest and armrests again to provide maximum support and comfort.
Its ergonomic design always promotes good posture. So, it is an excellent chair for the people having back pain issues. The chair can be reclined fully along with the locking system, so you will feel a comfortable zero-gravity experience. There are three reclining positions that you can lock as per your comfort level.
Key Features
Durable reinforced steel frame construction
Built-in thick padded extendable leg rest
Cushion cover
Adaptive armrest for perfect arm support
Adjustable fully reclining design
Double bungee support system
Weather-resistant fabric
Maximum load capacity of 150 Kg
Pros
Spacious and comfortable
Looks nice
Don't take too much space
Great for both indoor and outdoor use
Durable construction
Comes fully assembled
Easy mechanism with flexible seating positions
Offers good back and head support
Cons
The footrest gear is pretty difficult to adjust
8. Furlay Recliner Chair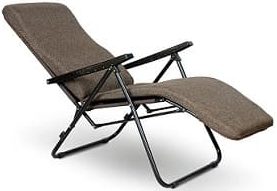 This simple recliner chair from the brand Furlay is the most cost-effective solution for those who are tight on space. The model, with its modern and contemporary design, adds a graceful appeal to your interior space. Moreover, its lightweight and foldable design allow easy portability of the chair on picnic, camping, or any other places.
The construction of this recliner chair includes heavy-duty steel frame construction, unbreakable fiber armrests, and extended leg rests for durability and longevity. It is available in three beautiful color options, including coffee bean, cobalt blue, and cloudy apple red. So, you can choose the preferred color option.
This folding recliner chair includes a moulded cushion that offers ultimate support to your spine and lumbar areas. Even more, the high-density foam fill ensures a more comfortable sitting position.
It comes with six adjustable reclining positions that is great for either watching movies, reading your favorite book, or even taking a nap. What you love most is its removable zipper cushion cover that is washable and thus easy to clean and maintain.
Key Features
Slim and modern design
Easily foldable
Six adjustable reclining position
Maximum load capacity of 110 Kg
Moulded cushion for ultimate orthopedic support
High-density foam cushioning for comfort
Extended leg rests
Powder-coated heavy-duty steel frame construction
Lightweight for easy portability
Unbreakable position adjustable handle
Removable zipper cushion cover for easy cleaning
Two years warranty
Pros
Economical reclining solution
Nice build quality
Smart fit and finish
Very flexible seating positions, from straight back to almost flat
Good back and head support
Simple and convenient reclining mechanism
Cons
The seat cover is not very soft
9. Livzing Adjustable Recliner Chair
The Livzing adjustable recliner chair can be your next best choice if you are searching for ultimate comfort at such a pocket-friendly price tag. This chair is perfect for relaxing after a long and stressful working day, while watching TV, reading a book, or having a quick nap.
The heavy-duty steel framework provides the chair durability and sturdiness. And the super soft fabric cover lets you sit comfortably on it. Its seat includes the cushioning of high-density soft foam that adds more degree of comfort.
The best is its ergonomic design that is great for soothing tired muscles of your back and lumbar areas. It also offers three adjustable reclining positions so you can either sit or sleep whatever you like. Even the comfortable reclining angles reduce pressure on your back and eliminate back pain. Thus, this is a great recliner that provides ultimate orthopedic support.
The chair takes very less space, so if you are tight on space, it is an ideal buy. Plus, the foldable option allows easy storage as well as easy portability of it. So you can take it along with you on camping, picnics, beach, garden, or poolside, etc.
Key Features
Heavy-duty durable steel frame construction
Water-resistant textile fabric
High-density foam seat cushion
Maximum weight capacity of 150 Kg
Three adjustable reclining positions
Can be transformed into bed as well
Comfortable adjustable padded pillow headrest and armrest
Great for orthopedic support
Removable cushion cover for easy cleaning
Pros
Sturdy and durable
Extremely comfortable
Lightweight design
Flexible seating positions
Provides good back and head support
Easy to clean
Cons
10. EQUAL Mild Steel Reclining Easy Chair
Now last but not least, this recliner chair from Equal provides maximum comfort with mesh seating that adjusts to your body. It helps in relieving pressure off the spinal cords. Therefore, it is an excellent choice for seniors, post-operative patients, and those suffering from spinal problems.
The construction of this zero gravity lounge chair includes powder-coated mild steel frame and high-quality, durable fabric that makes the product sturdy and durable. It is also stable and safe for your use. The breathable waterproof fabric is also removable for easy cleaning.
Not only does it offer an unparalleled level of comfort, but its special design also gives you a weightless feeling. With numerous reclining adjustments, you will get a perfect body position and a balanced posture. These reclining positions offer you the best angle suiting your comfort level.
Key Features
Sturdy steel tube frame
Durable fabric and cushion pad for extra comfort
Double Bungee support system
Adjustable reclining position
Easy locking levers adjust and lock the chair to any position
Sturdy mesh polyester material for maximum support
Maximum load capacity of 150 Kg
Lightweight and portable
One year warranty
Pros
Very handy and comfortable
Sturdy construction
Cushion is of very good quality
Easily transportable
Various color options are available
Cons
Best Recliners in India Buying Guide
Why Choose Recliners?
The first thing that makes the recliners loved by most of the people is their degree of comfort that you can't get on couches or normal sofas. Plus, the comfortable reclining position offers you the relaxing state to your back and body.
This one is not only comfortable but also a great piece of attraction to your living room, den, or your home library, and home theatre, etc.
The recliners are good for people with back pain issues or older age groups. Even this is also an excellent choice for pregnant women and new mommies. It relieves all your tension and soreness. And makes your spine in a comfortable position.
Some recliners even come with an in-built massage system, to provide ultimate relaxation and comfort to your body. Now look at some more benefits offered by the recliners:
Benefits of Recliners
Provides excellent comfort and support
Offers you a good posture
Relieves mental stress
Relieves back, shoulder, neck and leg pain
Improves blood circulation in your body
Reduces the discomfort of swollen and stiff joints
Increases your productivity
Good for elderly people
Easy to stand and sit down
Drawbacks of Recliners
The recliners take more space over the normal chairs
These are expensive too
How do recliners work?
The recliners offer you a comfortable sitting position through its lifting mechanism. The bottom half of the recliner elevates up either manually or by pressing the button and brings your footrest up. And it allows your back in a comfortable backward or downward position. Thus, you can either relax in an upright position or lying flat on your back; the choice is up to you as per your comfort.
But how does the reclining motion work? Some recliners are operated manually, and some are powered.
The manual recliners come with a button or lever that you will find at either end of the sofa. By pushing the button or lever, you can lock your favorite position.
On the other hand, the powered recliner or electric recliner uses a motor power to lift or recline. You can control these recliners either using a remote control or the built-in controls present on them. Most of these models come with bonus features, including USB outlets, massage features as well as heating options.
Manual Recliner Vs Electric Recliner- Which is better?
We have already discussed above about these recliner types and how they are operated. Here are some other points of differentiation.
Price
The electric recliners come with so many advanced features, though the manual recliners do only normal reclining functions. Therefore, the electric recliners are more expensive as compared to the manual recliners.
Versatility
The electric recliners not only offer the reclining position but also provides many more benefits like heating, massaging, charging base, etc. But, the manual recliners lack all these features. So, in terms of versatility, electric recliners again come ahead over the manual one.
Mobility
The manual recliners are lighter and smaller over the powered versions. Even they don't have wires and do not require the placement near a power outlet. Therefore, in terms of mobility, manual versions are best.
Ease of use
To use an electric recliner, you don't need to put your physical effort or exertion like the manual recliners. You only need to push the button for experiencing smooth and easy reclining features. Therefore, the powered recliners are very convenient for elderly people and people with disabilities.
Operation
The electric recliners do not work if there is a power outage or motor failure. On the other hand, the manual recliners work easily without electricity as it doesn't need any charging or power source for operation.
Maintenance
With a simple and straightforward operation, manual recliners are less prone to damage, thereby requiring less maintenance. On the other hand, the electric recliners come with many electric components for its functioning. And when these components may damage or fail, it will cause the recliner to stop functioning. Thus, it includes an expensive repair or part replacement.
Durability
The constant use of the level in the manual recliner tends to its damage that stops the functioning of the recliner. Therefore, in terms of durability, electric recliners are best over the manual recliners.
Different Types of Recliners
1. Two-Position Recliners
Like the name, these recliners offer two positions, including upright and fully reclined. These come with limited functionality, but if you want a recliner in the budget, the two-position recliners are the best bet. But keep in mind that these models take a lot of space in its fully-reclined position. So you must have enough space in your room.
2. Rocker Recliners
With several reclining angles, the rocker recliners offer you the optimum comfort. It allows your footrest to go up and rock back and forth. You can position them close to the walls, so an excellent buy for those with small spaces. Due to its rocking motion, the rocker recliners are a very nice option for nursing mothers and those who find it difficult to sleep at night.
3. Push-Back Recliners
These recliners, also known as flex-back recliners, do not come with a footrest. It allows you to push back into the seat only for getting the reclining motion. It means, here only the back part of the chair moves. Further, to need a footrest, you can pair it with a footstool or pouffe.
4. Riser Recliner
Like the name, the riser (lift) recliner uses the motorized lift mechanism to push the chair from a flat seated position to a more upright angle. These recliners are ideal for those with weak knees, legs, or hips, or head injuries, or any disabilities. But these are typically expensive.
5. Wall-Hugger Recliner
These are the most ideal space-saving options that you can simply position close to the wall. It comes with a limited range of motion, and the seat will be pushed forward when reclined. Thus, it is very compact and easy to use.
6. Massage Recliner
Offering you the benefit of various reclining positions, the massage recliners also offers the bonus of massaging various body parts. It allows the massaging of the back, leg, foot, and calf with just a simple press of the button. Even some offer heating functions too for more added comfort.
Features to Look for Before Buying a Recliner
1. Dimension of the Chair and Size of the Room
Recliners usually are bulkier and heavier and take more space as compared to regular chairs or sofas. Therefore, considering the dimension of the recliner is the first thing you may consider. You can choose the dimension depending upon the size of the space you have in your room.
While measuring the dimension, make sure to measure it not only in an upright position but also in the reclined position too. Also, keep in mind that every recliner will need around 1 and 3 feet of space approx. from your room's wall. Since it varies from recliner to recliner, you must consider how much it reclines.
If you have a lack of space, wall-hugger recliners are the best to go with.
2. Seat Measurement and Your Body Size
If the seat doesn't fit you properly, then the purchased recliner is fully worthless. So, first, measure yourself and then look for the seat measurements. It is also important to go for the seat size with some extra inches to your body size. Also, check for the armrests, footrest, and headrest to fit you comfortably.
If you are buying a recliner sofa for your living room, first consider how many people do you need to fit on your sofa? It includes your family members, as well as how frequently you have the guests.
3. Weight capacity
After size and dimension, weight capacity is another most important factor before buying a recliner. It ensures the durability and longevity of the recliner. For the larger and heavier person, the recliner must be chosen that can tackle the weight capacity of the person without proning to damage. If the recliner doesn't have the right capacity limit, it will break or damage shortly. Keep in mind that recliners with higher capacity are always built up of high-quality materials.
4. Weight of the recliner itself
Too heavy or bulky recliner is worthless if you don't have enough space in your room. It is even difficult to move it here and there or downstairs and upstairs, if you want to do so. If you are in need of a heavy and bulky recliner, make sure you have enough space to keep it. Though the lighter recliners can be easily put anywhere in your room and are also quite easy to move around.
5. Material of Construction (Cover)
The material of the cover defines the luxury, style, and most importantly the comfort. So, you must pay close attention towards the cover material that may be highly comfortable for you. Leather is the most widely used cover material for the recliners that enhances the style, durability, and comfortability of your skin. But with different types of leather which one should you choose?
The real leather is an excellent choice if you want to find something durable. These are quite expensive over other materials, but for the durability it provides to the recliner, is appreciable. On the downside, these are not very breathable and get sticky on a hot day.
PU (Polyurethane) leather is another best option that is pretty affordable over real leather. However, the material is not quite durable, like real leather, but if you want to spend less, this material is a perfect choice.
Microfiber is the cheapest material of construction for recliner covers. These are highly breathable and soft on your skin. But on the downside, these are not much durable like the real leather and PU leather. It also gets dirtier often in comparison to either leather types as well.
6. Frame Construction
Now, after the cover material, considering the frame construction is also as much important to ensure the longevity of the recliner. Different types of recliners use different frame construction.
The recliner frame is made out of wood, including chip wood, solid wood, or plywood. Some are even also constructed with the mixture of all three, chip wood, solid wood, and plywood. So, here is the difference:
Plywood is made up of multiple layers or plies of thin solid wood that are glued together to form a solid sheet. It uses both hardwood and softwood for construction. It is cheaper than the solid wood and less durable over the solid wood.
Solid Wood is made up of slabs of wood that are carved from logs and then kiln-dried. This drying process reduces the moisture content of the wood and increases its strength and dimensional stability. The solid wood is stronger and more durable than the plywood and also sags less. It is also expensive over the plywood.
Chip wood is also known as particle boards that are made up of wood chips, wood shavings, or sawdust, which are bound together using a synthetic resin or binder and then formed into the boards. These are cheaper than the plywood and solid wood but are less durable also.
7. Seat and Back Support
Different types of recliners come with different materials for seat and back support. Some use rubber webbing, and some use steel springs to support the seat and back.
Rubber webbing is inexpensive but not as durable as the steel springs. But at the upside, it eliminates the discomfort that some springs can cause by poking through cushions.
On the other side, the steel spring for back and seat support , creates a bouncy feel. It is very much important to look for heavy screws construction to ensure the durability of the recliner.
The back and footrests of many recliners are supported with metal that makes it to hold heavy weights and also enhances its durability.
8. Some Extra Comfortable Features
Heating- Some advanced and hi-tech recliners come with heating features that offer nice warmth and relax your stress. It is great for those who feel neck and back pain by relieving pressure from these areas.
Massage- The massage feature in recliners soothes all your aches and pains of your back, neck, foot, or calf. Also, these recliners are great for elderly people to provide ultimate comfort.
Swiveling- The swiveling feature in a recliner allows you to swivel around or rotate the chair in any direction you want.
Rocking-The rocking function allows the recliner to rock back and forth along with the reclining. It is very comfortable for the insomniacs helping them to fall asleep. It is also good for nursing mothers and the mothers with young children.
Flat Lay- Some also come with the option to recline fully in a flat position, so you can sleep on them.
9. Some Advanced and Hi-tech Features
Adjustable headrests
Glass or Cup Holder for your coffee or glass of juice, etc.
Pocket to keep your remote control
Charging station with AC outlets and USB charging ports
10. Warranty
Checking the warranty terms is very much important to ensure that you will get relief from paying extra against the faulty mechanism and electronic parts of the recliner. A good warranty also covers the materials and reclining mechanism too. However, the manual recliners are less prone to mechanical defaults, you must check that the warranty covers padding and frame defects.
Some Tips for Care and Maintenance of the Recliners
Always leave the recliner in an upright and closed position after use.
Avoid sitting on the armrests of the recliner.
Do not keep hot items directly on the surface of the recliner.
Always keep the recliner indoor only, not under direct sunlight.
To remove out any stains, use only mild soap solution and a damp cloth.
Do not use harsh cleansers for its cleaning.
Recliners FAQs
Are recliners good for your back?

Yes, recliners are good to get you relieved from back pain if they are fitted with the lumbar support feature. The feature allows proper cushioning to your back and support the spine. It also allows proper blood circulation in your body reducing stress and tension. This way it offers proper comfort to your back.

Is the power recliner better than manual?

Both have their own benefits and disadvantages. However the ease of operation depends upon the reclining mechanism. A powered recliner offers more easy operation over the manual one. It means the manual recliner uses some manual effort to recline while the electric recliners can easily recline in just one push of the button. The electric recliners are good for elderly people and pregnant women.

Are recliners difficult to assemble?

Actually No. The recliner comes with multiple parts. For easy assembly of them, you must go through the detailed instruction manual and then install it in some easy steps. After completing the assembly, make sure that all the parts are securely locked into the position for use.

How to clean the recliner?

You can clean your recliner, simply like you clean your other furniture. For removing the stains, you can use mild soap and light scrubs only. Also, to remove the dust and pet hair from the fabric, you can use a soft brush to clean them.

How do you know what size of recliner to buy?

Recliners come in different sizes. First assess your weight and height and then choose the model that fits your size.
Conclusion
Providing optimum comfort is the main objective whether it is a reclining chair or a reclining sofa. It offers you more and more comfortable seating positions also bringing innovation in your lifestyle.
The models we have reviewed for the best recliners have attractive pricing and added comfort. So, we feel that all are the perfect option for you that you can choose according to your style, preferences and budget.
Also, the buying guide we have covered includes all the factors of considerations that will surely aid you in making the final choice for the top recliner for you.
If you feel that anything is missing in the blog, please suggest us via the comment section below.
Read Related Reviews
Buy Best Recliner Chairs and Sofas Online
@home by Nilkamal Matt 1 Seater Fabric Manual...
72%
Wakefit Recliner Chair | 3 Years Warranty | R...
35%
duroflex Avalon Fabric Single Seater Recliner...
45%
The Couch Cell Multi-ply Hazel Recliner Leath...
19%
Sleepyhead RX6 - Single Seater Suede Fabric R...
23%
BOLDESCAPE Premium Outdoor Patio Reclining Lo...
17%
FURLAY Foldable Recliner Easy Chair For Home ...
25%
JORDYBLUE Single Seater Manual Rocking Revolv...
62%