A full body massage is the best way to get relaxed and rejuvenated again after a whole hectic and tiring day. And if you want a spa-like massage at home, nothing is better than investing in a best Massage Chair.
But why a massage chair?
Unfortunately, we all are living a busy and frenetic lifestyle, where it is very difficult to find time for ourselves. And in such a case, if your body even does not allow you to lift your finger, a small massage therapy can lighten your stress and make you energetic again. Though many people rely on electric body massager machines for regular usage, but if budget is not an issue for you, you can opt for the massage chairs for best results.
With amazing massage techniques, these chairs provide you effective massage from shoulder to foot and relieve you from fatigue and pain.
I am sure you all have seen those luxurious body massage chairs at spas, massage parlors, and malls. But visiting there regularly is almost impossible. The best way is to invest in a full body massage chair for your home use.
So, we have this guide for you on How to choose the best massage chairs in India? Also, we have lined up and reviewed the top-rated models of zero gravity massage chairs, so that you can pick the best one for you.
10 Best Massage Chairs in India
Massage Chair
Key Features
Warranty
JSB MZ16 Full Body Massage Chair
Read Review
Kneading, Tapping, Shiatsu, Knock, Air Squeeze, Thumping ; Wide Roller Coverage
1 Year
CHECK PRICE
Robotouch Echo Pro Zero Gravity Massage Chair
Read Review
Dream mode, health recharging, vertical care, swing mode, full-body stretch, neck & shoulder, waist care, lady mode, worker mode, cybraian mode
1 Year
CHECK PRICE

JSB MZ24 Massage Chair for Home
Read Review
Kneading, Tapping, Shiatsu, Knock, Rubbing and Vibration
1 Year
CHECK PRICE

SB MZ21 4D Massage Chair Zero Gravity
Read Review
Kneading, Tapping, Shiatsu, Knock, Rubbing and Vibration
1 Year
CHECK PRICE
Robotouch Urban Full Body Massage Chair
Read Review
Kneading, Flapping, Shiatsu, Knocking
1 Year
CHECK PRICE
Irest Full body Massage Chair A-300
Read Review
Rolling Massage, Air Pressure Massage
-
CHECK PRICE
Health & Fitness_Hub Sobo 2020 HJ 77
Read Review
Vibration, Rolling Massage, Lumbar Heating
1 Year
CHECK PRICE
Best Massage Chairs in India – Reviews
1. JSB MZ16 Zero Gravity Full Body Massage Chair (Best Overall)
When it comes to the health and fitness industry, the brand JSB always comes as our best healthcare partner. So, this JSB MZ16 full body massage chair comes to the top of our list for its super impressive performance and quality features. It is one of the best zero gravity massage chairs that offer an amazing massage of your whole body and delivers maximum comfort and pain relief. Let's have a quick look at its top features:
Key Features
The first impressive feature is its aesthetic appearance. It is designed with quality materials that ensure the durability of the product. Plus, its smart space-saving design easily fits in your living room. It needs only 6cm space at the back to recline fully so that you can use it with ease, even in tight spaces.
This massage chair combines a unique L-track system and an air bag and roller massage to relieve you from pain and muscle tension.
A unique heating function is another great feature that makes the model a best massage chair over there. The feature offers soothing heat to get relief from back pain easily.
The chair comes with 3 D Rollers that provide you ultimate comfort by providing a variety of massage styles like kneading, tapping, shiatsu, or knocking.
It also includes five auto modes, including ache relief, comfort, demo relax, upper body & lower body massage. So, you can just sit back and relax.
Another best feature of the JSB MZ16 full body massage chair is the inclusion of two memory modes. So, if you like any specific massage mode, you can simply save that to enjoy it in the future, whenever you need it.
It also comes with the foot roller massage to relax your achy feet.
The magnificent pressure point stimulation of this massage chair improves blood circulation in your body.
Customization of modes, speed, and intensity is very easy due to its handy remote control operation.
It offers a one-year on-site doorstep warranty that removes the hassle of taking this heavy object to the service center in case any malfunction occurs.
Pros
Quality performance and user-friendly features.
Luxurious, soothing, and relaxing experience.
Added heat massage ensures more comfort while massaging.
The auto massage function is very nice.
Easy to understand instruction manual.
Cons
Higher on the price side.
2. Robotouch Echo Pro Full Body Massage Chair (Runner Up)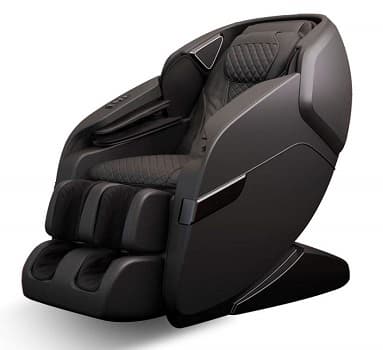 This zero gravity full body massage chair from the most renowned brand Robotouch is the runner up product in our list. The model is a perfect combination of style, comfort, and therapeutic luxury. Moreover, it's great set of features and massage styles makes this massage chair a must-have addition to your home. Now have a look at its specialized features.
Key Features
The Robotouch Maxima Luxury full body massage chair is featured with full body airbag, upper body airbag (4 airbags in the upper arm, E airbags in hand and lower arm), lower body airbag (12 airbags), with 3 strength options that provides you a fantastic massage session from top to toe.
There are a host of automatic modes for your convenience, including dream mode, health recharging, vertical care, swing mode, full-body stretch, neck & shoulder, waist care, lady mode, worker mode, cybraian mode. So, you can go for your preferred one with an easy selection of modes.
Another best feature of this zero gravity massage chair is auto 2D shoulder detection. It ensures an accurate shoulder position to provide you an intensified massage.
What makes it more beneficial is its added heat massage therapy that gives your back an added level of comfort and relief from pain.
The chair mimics the intelligent muted massage hands that can move up and down to offer you knead and flap functions.
The best is its smart space-saving design that easily fits even in a tight space. The reclining angle occupies zero space, plus the extendable calf rest and adjustable leg rest are all for your enhanced comfort.
It also comes with a foot rolling massage and calf kneading massage that takes care of your achy feet and sole and provides instant relaxation.
This massage chair for home use comes with a one-year warranty that provides you a full relaxation over repair and maintenance cost within that period.
Pros
Nice design with sturdy and durable build.
It offers both upper and lower body massage at the same time.
Very comfortable and relaxing chair.
Easy to assemble and use.
This massage chair is powered by a set of vertically movable, four-wheel driven muted intelligent massage hands for an enhanced full body massage
Worth for every penny because of its outstanding features and performance.
Cons
Many complaints that this massage chair is not good for older people.
3. JSB MZ24 Full Body Massage Chair (Best Budget Pick)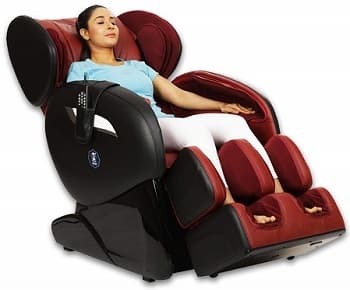 Searching for the best massage chair for home and office at a cost-effective price? Then nothing is better than this model from JSB that describes the true definition of luxury and comfort at a pocket-friendly price tag. This full body zero gravity massage chair enhances your wellness and natural feeling through its amazing massage styles. Just sit on it in the zero gravity position and feel comfort and relax after a whole tiring day.
Key Features
This massage chair combines roller and air pressure massage function to offer a full body massage, including neck, back, shoulder, arms, thighs, calves, and feet.
Equipped with body sensors, the chair detects the individual body shape and thus delivers the right amount of pressure to the precise points.
It features the largest roller reach to accommodate almost every user. Even you can adjust the shoulder and height according to your need.
The spot massage feature of the product detects the massage point in specific pain areas in the back and lumbar region and thus provides the massage accordingly.
It comes with three auto modes for massaging specific areas of your body.
The ankle and foot roller massage helps in relieving pain from the foot, ankle, and soles. As a bonus, the foot is easily expandable according to the user's height.
For an enhanced massage experience, the chair also comes with thermal heat therapy to relax your back.
With zero gravity and soft rollers, the massager can facilitate smooth blood flow throughout the body.
Wireless remote, in-built Bluetooth and voice recognition system are the most advanced features of this massage chair for your ease and convenience.
One year warranty on the product makes you stress-free for its service or maintenance without paying any extra cost.
Pros
Smart space-saving design with nice aesthetics.
Great quality materials are used in the construction.
Good choice for short people as you can adjust the chair according to your height.
With zero gravity and soft rollers, the massage chair facilitates smooth blood flow throughout the body.
Best budget massage chair in India.
Cons
4. JSB MZ21 4D Massage Chair Full Body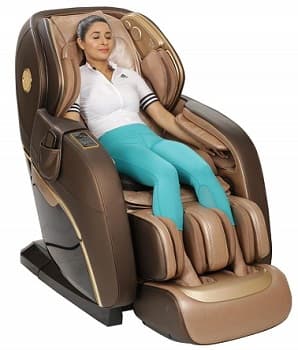 It is another best massage chair in India again from the same brand JSB. The model comes with a host of unique features and is designed for your comfortability. It perfectly covers all the muscle aches of your body and promotes good health. Its 4D massage technology and outstanding performance make this zero gravity massage chair different from others. Other specialized features are:
Key Features
It comes with patented 4D rollers movement to provide you the closest and soothing massage session. The best part is that these long rollers easily reach to your back and hip area for an effective massage to these areas.
There are various massage techniques to choose from, including kneading, tapping, shiatsu, knock, rubbing, and vibration.
It also offers other best massage styles like 3D kneading and rubbing massage on the calf, strapping massage to improve blood circulation in calves and foot soles, X-twist waist massage, and stretching massage to soothe your tired and knotted muscles.
There are quick launch buttons and a handy remote control with full customization to operate the massage chair the way you want.
You can also operate the chair via your voice command, which is another convenient feature of this product.
It comes with a one year warranty.
Pros
Quick, comforting gadget, a boon for tired mind and body.
Smooth rollers.
Very relaxing, and especially the foot massage part is awesome.
Bluetooth music sync with speakers allow you to listen to your favorite song while taking massage on it.
Spot massage for massaging specific pain areas.
Super silent operation.
Cons
Very expensive
Lacks caster wheels, therefore difficult to move around
5. Robotouch Urban Zero Gravity Full Body Massage Chair
This model is yet another smart choice for the best massage chair in India. From the house of Robotouch, this chair comes with all the fantastic features to provide you a full body massage from the comfort of your home. Even more, its cost-effective price fits easily in your budget. The advanced features are:
Key Features
Mechanical massage hands mimic the massage done by a professional.
Body scan sensors detect the individual body shape and then provide an effective massage to the pressure points.
Various massage modes are there, including kneading, tapping, flapping, knocking, shiatsu, etc., to get the preferred one.
Zero gravity massage function releases the pressure of the whole body for complete relaxation.
You can easily adjust the air pressure intensity up to three levels as per your needs.
Massage speed is also adjustable up to three levels.
Easy remote control operation.
Pros
Very comfy and relaxing chair
Durable construction
Budget-friendly price tag
Cons
6. Irest Full body Massage Chair A-300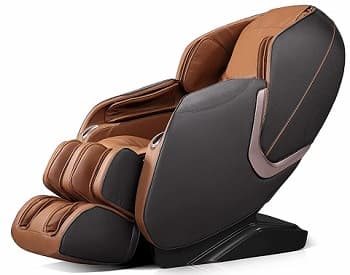 This model is the perfect definition of a feature-rich massage chair that offers just the right amount of massage for complete pain relief. No matter how high or wide you are, the chair can easily accommodate you to provide a deep relaxing massage. The key highlights include:
Key Features
It includes an S roller track that follows the contour of your spine and makes your back massage more pleasing.
Its wide seating area allows any user to easily sit on it to enjoy a soothing and relaxing massage.
The chair comes in an innovative space-saving design with a reclining feature that doesn't take much space to the back of the wall.
Three adjustable speed and intensity levels allow you to customize your massage session accordingly.
Sitting in a zero gravity position on this massage chair releases the pressure of the whole body and offers unmatched relaxation.
Pros
Durable and quality construction
Good for both younger and older peoples
Zero wall proximity to minimize space
Remote control operation to operate the chair easily
Cons
No warranty details provided
7. Health & Fitness_Hub Sobo HJ 77 Zero Gravity Massage Chair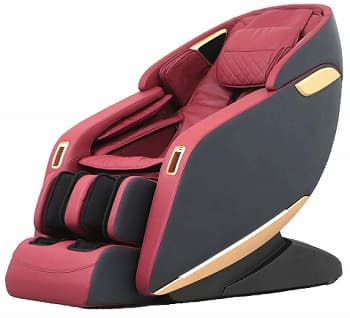 Now, last but not least, this zero gravity massage chair is an excellent pick in every manner, from features to performance. The construction includes superior quality materials, and the elegant finish gives you a premium and rich feel while relaxing on it. Plus, the red and black color combination perfectly matches your home interiors. Its smart features are:
Key Features
It is featured with three zero gravitational angles that perfectly elevates your legs in a reclined position to release pressure from head to toe and thus consequently relaxes you.
A unique shoulder detection feature to provide you a soothing shoulder and neck massage.
Spot massage feature to target the specific pain areas on your back and then massage it using any mode.
One-touch adjustable speed and intensity option.
Smart remote control operation eases the way you use it.
Pros
Equipped with the latest feature and technology for best-in-class massage
Looks nice and stylish
Very comfortable and relaxing
Easy to install and use
Cons
How to Choose the Best Massage Chair? (Buying Guide)
I am sure you all are thinking that a massage chair is such a pricey investment, but believe me, the benefits it offers on a daily basis, totally justifies the price. However, before investing in such an expensive piece, you must make proper research as well as consider the most important factors before buying the one. We have made the job easy for you with this detailed buying guide, so that you can easily choose the best massage chair in India.
Different Types of Massage Chairs
There are different types of massage chairs available in the market with different benefits and price tags. Look at the below-mentioned variants to know better which one suits your needs best.
1. Zero Gravity Massage Chairs
Like the name, these massage chair models allow you to feel the same zero gravity space feeling to your body while massaging. These chairs actually put you in a weightless position while you relax on them.
It reclines your legs and feet over your heart to alleviate all the stress and pain from your legs, spine, and muscles. Even in this zero gravity position, it completely relaxes your body, improves blood circulation as well as lung function, and a lot more. The only downside is its high price range over other types of massage chairs, but the benefits it offers validate the cost.
2. Recliner Massage Chairs
A recliner chair is the best way for relaxation, and when it comes with the benefits of various massage techniques, it's definitely an outstanding purchase. So what is a recliner massage chair?
These versions are much similar to the zero gravity massage chairs with a comparatively lower price tag. It not only offers various reclining positions but also massages various parts of your body, including back, leg, foot, and calf, and thus offers ultimate relaxation from pain to these areas.
The only thing that makes it different from the zero gravity massage chair is that it does not allow your leg and heart to be at a similar height. So you may miss the advantages of a zero gravity massage chair.
The recliner massage chairs are best if you want to enjoy a comfortable massage experience while watching TV, or reading a book in your favorite reclined position.
3. Full Body Massage Chairs
Not only back, foot and calf, a full body massage chair takes care of your whole body from top to toe and relieves stress and pain effectively. So, if you want a neck, shoulder, arms, hand massage as well as calf, and foot massage, it is best to invest in the full body massage chairs. Well, these are expensive, but you can reap a lot more benefits from them.
It allows for various adjustments the way you want, and more than that, you can easily specify which part you actually need to get massaged. So, isn't it beneficial?
Also, check for the Best Foot and Calf Massagers
4. Ottoman Massage Chairs
A recliner with a separate footstool that combines massage rollers or air bags, describes best the ottoman massage chairs.
5. Seat Pad Massager
Don't have enough budget to buy the above-mentioned variants of massage chairs; massage seat pads are the best option.
You can easily attach them on to your favorite chair or to your bed while working to get the benefits of back massage at the same time. The seat pads come with various massaging techniques like rollers, nodes, or air chambers, or combines all for an effective relief from back pain.
Various Massage Styles in Massage Chairs
Various massage styles found in the massage chair are responsible for stress and pain relief from the specific body parts. So, before investing in a model, you must know which massage style it can provide. Though most of the massage chairs combine two or more massage techniques, some of the common styles are mentioned below:
1. Shiatsu Massage
Shiatsu (originated in Japan) is one of the best massage techniques that involves manual pressure to be applied on specific points on your body to relieve pain, stiffness, and tension. In a massage chair, this massage style is performed by the rollers and air bags present on it.
2. Kneading Massage
This massage technique involves the application of pressure on the muscles in a circular motion to relieve pain. In a massage chair, the method is achieved by nodes and air bags that are inflated and deflated to apply pressure in a circular motion. Thus, this style is ideal for increasing flexibility, curing tight muscles, and relieving pain.
3. Tapping
Among various massaging techniques, tapping is the most traditional style. It is generally used by the professionals by their fists to stimulate your muscles. A massage chair mimics this style using the rollers that move around your back, and you feel like the same striking and pounding movement of the fist. Some massage chairs also make use of the air bags by inflating and deflating them to improve blood circulation in different parts of your body.
4. Rolling
The rolling massage style is a way where a professional uses his/her finger and thumbs to roll and lift your skin. The process helps in treating muscular tension, loosens the skin, and provides ultimate relaxation from pain.
In a massage chair, this massage style is performed by a roller that is aligned behind the lining of the chair. And these rollers roll out over your entire body by exerting a gentle pressure and mimics the same as a professional does. This way, you feel an ultimate massage experience as well as comfort and relief from pain.
Some advanced models of massage chairs included heated rollers for more comfort and relaxation. This technique is very helpful in relieving neck, hip, and back pain.
5. Vibration
Almost all massage chairs come with this feature as they include high-frequency vibration plates to stimulate the pain area in your body and improve blood circulation. Thus, with this massage style, you can get relief from stress and muscle tension.
Some Other Special Massage Types/Styles in a Massage Chair
1. Reflexology Massage
Reflexology is a foot massage therapy that involves applying pressure to the soft tissues of the sole and foot. It improves relaxation and relieves tension in your foot. Most massage chairs come with this style on their footrest to provide you a great foot massage session.
2. Muscle Stretch
Muscle stretch is one of the best massage styles that is performed by built-in air bags in a massage chair. It strategically holds you in place, allowing you to take a deep stretch. This way, you can get ultimate relaxation from pain in your body.
3. Heat Massage
Heat therapy in a massage chair dilates the blood vessels of the muscle and thus increases the flow of oxygen and nutrients that are essential to heal the damaged tissue. Therefore, you will get soothing relief from back pain and calf pain.
4. Air Compression Massage
Massage chairs with air compression massage feature use air bags that compress and decompress against your muscles to massage them.
5. 3D Massage
For a more in-depth massage experience, many high-end models of massage chairs offer 3D massage. For this, the chairs use combined action of rollers and air bags to provide you ultimate relaxation.
Important Factors to Consider Before Buying a Massage Chair
1. Size of the Massage Chair
Quite bigger in size, the massage chairs take a lot of space than the normal chairs. So, if you are supposed to purchase a model for your home use, you may first consider whether you have enough space for keeping it or not.
Well, it is better to analyze the area where you want to keep it and then check the size of the massage chair. It will let you decide whether it will fit in the space you have or not.
If you are purchasing a recliner massage chair, make sure it can recline freely in the area where you keep it. Most of the models need 18-24 inches clearance space between their back and the wall adjacent to it.
Many latest recliner massage chairs come in a space-saving design that is best for the people living in tighter spaces.
2. Weight of the Massage Chair
Massage chairs are bulkier and heavier than the normal chairs and weigh around 20 Kg to 50 Kgs; even some weigh more than this. You can choose the one depending upon your preferences.
3. Build Quality
Build quality is extremely an important consideration that ensures how long the product will run. Generally, the massage chairs made up of faux leather are far better and runs longer than the ones constructed with real leather. Faux leather has the capability to easily handle the air bags and roller pressure. Also, make sure that the chair includes a thick layer of leather in its construction to ensure more durability.
4. Compatibility With Your Size
It is very important to choose the correct massage chair that is compatible with your size. Most of the models come in a design that fits almost every user, no matter whether they are tall or short. But, it is better to check the maximum height and weight capacity of the user before buying a massage chair. Many models are not ideal for short people; better checking will allow you to invest in the right product.
5. Body Scan Technology
Many advanced and hi-tech models of massage chairs come with body scanning technology that reads or scans your body and thus identifies the user height as well as where your muscles are tight. Therefore, it adjusts the custom massage accordingly to provide you an effective massage experience. The best part of body scanning technology is that you will get a personalized massage experience.
6. Massage Rollers
The high-end massage chairs include massage rollers for a more pleasant and comfortable massage experience. These rollers replicate the human hand's movement for a relaxing massage on your back and thus stimulates your back blood circulation.
7. Roller Tracks
For the massage chairs with rollers, you may consider the track type of the rollers suiting your massage preferences perfectly. It is actually the mechanism of rollers moving along for massage, and it better describes the massage feel. Generally, there are two types of roller tracks you may choose from:
S-Track: Most of the high-end massage chairs are featured with S-track rollers. These rollers move in the shape of S to replicate the natural curvature of the spine. Therefore, the models with this track type are ideal to choose if you have back pain. These models cover your muscles from the neck to the tailbone.
L-Track: These roller tracks are comparatively better than the S-track rollers. The reason is that the S-track rollers move up and down only on your back while an L-track roller goes to your glutes as well as to the back of the thighs. So, it is a better choice for the people having lower back pain, calf pain, and pain or soreness in the thighs as well.
8. Coverage of the Body Parts
People with different medical conditions require a soothing massage on different parts of their body. So, if you are the one with any of these medical conditions, check whether your massage chair delivers the massage to the affected area or not.
Head Massage- The massage chairs with built-in head massager allow you to get relief from headaches and migraines.
Neck Massage- It treats soreness and pain in your neck.
Shoulder, Arm, and Full Hand Massage- Your hand is the most affected area from pain as it tackles your day to day heavy workout. In such a case, make sure to choose a massage chair that massages your full hand, including arms and shoulders, to get instant relief from pain and soreness. For this, the massage chairs use rollers and air bags for a proper massage to these areas.
Hip Massage- For this, you need to choose the model that comes with air bags to cover your hip as well as spine area. Some even also come with heat massage therapy to provide relaxation to these areas.
Leg Massage- If you are the one who spends a lot of time standing or traveling, choosing a model that covers your leg area must be very important. It allows calf massage, foot massage, while some covers the whole leg to get relief from pain. Many massage chairs come with a foot massager either included or as a separate ottoman to provide you an effective leg massage.
9. Predefined Programs
The massage chair with a range of predefined automatic program settings is always the biggest plus. These predefined programs come with variable features and massage techniques to offer you the best massage experience. Even these massage styles contribute to the specific area of your body for complete relaxation from pain.
The best part is that you don't need to manually select the program, as the feature allows the massage on its own without worrying about the settings.
10. Customized Option
Though predefined programs have a lot of benefits, it is also important that a massage chair should have some customized options for massaging. It will be beneficial in the case if you want to target the painful area only. Thus, the customized option allows the massage rollers to automatically move to that painful spot and massage that area only for effective pain removal.
11. Intensity Settings
Each one of you has a different tolerance level for the massage strokes to relieve pain. Someone like a soft massage while someone like hard massage strokes depending on the level of pain they have. But what if I say you can customize the intensity as per your preferences? Isn't it good? Yes, the high-end massage chairs allow you to customize the massage intensity settings according to your tolerance level and needs.
12. Speed Settings
Like the same as intensity, somebody prefers a slow and deep massage for relaxation, while some need quick massage sessions. So, it is better to choose the massage chair that comes with variable speed settings. So that you can choose the preferred speed setting according to your needs.
13. Auto-shut Down
This feature is again as important to protect the unit from overheating. Also, another reason that makes it important is that if you use the massage chair for a long duration, it can lead to skin discoloration. In such a case, an auto shut down feature turns off the unit after a pre-set time and protects you from this issue. However, the chair that comes with auto-shut off for a small duration can be irritating or frustrating as it takes a bit long for the massager to reach the pain source.
14. Portability
Better to have the ones that include caster wheels for easy mobility. This makes the heavy massage chairs to easily move from one room to another.
15. Is it silent or very noisy?
No one likes to purchase those noisy chairs that bother you and your family members. Better to look for those models that have a noiseless operation.
16. Opt for the Branded Ones
The branded product always ensures quality, great performance, and durability. So, if you want to save your money in the long run, it is better to choose a branded model. Some of the best brands of massage chairs in India are Lifelong, Robotouch, JSb, etc. These all offer the best customer support and aftersales service.
17.Budget
The massage chairs are quite an expensive purchase, so determining your budget is very important. The best quality massage chairs in India are ranging from Rs 1,00,000 to Rs 4,00,000, depending upon the features present. So, you can choose the best one depending upon the budget you have as well as what features you want in your massage chair.
18. Warranty and Return Policy
What if you have to spend some extra cost on repair or replacement of parts after spending too much money while purchasing a massage chair? Isn't it fair? Of course not. In such a case, a warranty saves you from a big loss. Almost all the massaging chairs come with a 1-5 years warranty depending upon the brand. Also, check the warranty policy for what it covers? Some provide warranty on material, while some also cover structural frames and defects.
Talking about the return policy, most of the manufacturers provide a 30-day return policy on their products.
19. Other Smart Features to Consider
Bluetooth and Music Player: Many of the advanced models of full body massage chairs include this feature that allows Bluetooth connectivity to connect over your phone or tablet. Plus, the in-built music player allows you to listen to your favorite songs while having a massage session.
Cup Holder: If you love to enjoy a cup of tea or coffee as well as your favorite drinks, having a cup holder in your massage chair proves to be very beneficial. It allows you to hold your cup or glass while enjoying the massage on the chair.
Remote Control: Many models come with a built-in remote control, while some come with the wireless remote operation so that you can easily operate the chair.
USB Port: Many advanced models also have an in-built USB port to charge your phone while having the massage on your massage chair.
How Does a Massage Chair Work?
A massage chair combines the motor, gears, rollers, and a vibrating mechanism that all works differently to relax your muscles and relieve pain.
Some low-end models use only vibrating mechanisms. They come with the motors that generate a vibrating motion, which is then transferred to various parts of your body, including back, legs, shoulders, neck, etc., to provide a relaxing massage.
Most of the advanced models come with the rollers and air bags for massaging. The rollers in the massage chair replicate the massage like human hands. These rollers behind the linings of the chair can move up and down back of the chair. Even in some chairs, the rollers can also move left or right and in circles for better massage patterns.
The massage chair that includes expandable air bags, squeezes, or rolls on to your muscles to relax muscle strain and improves blood circulation.
The most important thing is their reclining mechanism. It allows the electric massage chair to operate in multiple positions. It means you can recline the chair in your favorite position by just pressing a button.
Benefits of Using Full Body Massage Chair
A massage chair for home use gives you immediate access to massage sessions anytime whenever you want. It offers many health and lifestyle benefits, which are as follows:
It reduces anxiety, stress and offers calm and relaxation.
The use of the massage chair also helps in improving the blood circulation.
You can also use a massage chair for ultimate pain relief in various parts of your body, including head, neck, arms, shoulders, back, hip, and leg area.
A Massage chair also benefits you by relieving you from muscle tension and knots.
You can use a massage chair to improve your posture as well.
Good for older people suffering from joint pain and arthritis.
It helps in removing body stiffness.
It controls your blood pressure.
A massage chair also helps in boosting your immunity.
Drawbacks of Full Body Massage Chair
The only downside of these massage chairs is that they are expensive for normal Indian buyers. Generally, people from the gilded class or who love luxurious living prefer to buy these chairs.
Safety Tips to Follow While Using a Massage Chair
Using a massage chair with some important safety tips can lead to a better massage experience. Here are a few that you must follow:
Never overload the massage chair by exceeding its weight limit. This may lead to malfunctioning of the chair; even you will not get the better massage, though.
Make sure to plug the massage chair directly into the power outlet. Never plug it into an extension, as it may increase the risk of a short circuit.
Massage chairs are electrical devices, so if you have any heart-related problems, you must consult the doctor before using it.
Using public massage chairs in spas, or massage parlors, etc., make sure that it must be disinfected properly, or either you may use it with a towel or cloth over it.
Avoid using the massage chairs for more than thirty minutes.
Massage chairs help in lowering down the blood pressure. In case you have low blood pressure, consult your doctor before using a massage chair.
If you find any defect or malfunctioning in the massage chair, stop using it immediately and contact for its repair or maintenance.
Cleaning and Maintenance of Massage Chairs
To maintain your massage chair in the tip and top shape, cleaning upholstery is the foremost thing. Make sure to clean the surface on a regular basis to avoid the accumulation of dirt and dust. You can use a microfiber cloth to clean it, or else you can also use a vacuum cleaner to remove dirt and dust from it.
Use a fabric conditioner to maintain its shine and brightness.
If you feel any of the issues like strange noises, difficulty in turning on and off, or failure to perform included massage nodes or functions, etc., then contact a technician to repair it. Never try to fix it on your own.
Use your massage chair regularly so that its internal parts like motor and gear will work in harmony and not get jammed.
Avoid keeping the massage chair in direct sunlight as it can fade or crack the upholstery.
Massage Chairs FAQs
1. What is the best massage chair in India?

Brands like JSB, Robotouch, Lifelong, etc., offer the best and high-quality massage chairs in India. The massage chairs from these brands are great in terms of performance and quality both. They also offer good customer service and support.

2. Is a massage chair worth buying?

Yes, massage chairs are worth the money. Though these are expensive pieces, the benefits they offer make them absolute value for money. No matter how stressful your day is, sitting on a massage chair at the end of the day provides you ultimate relaxation, calm, and relief from pain in various areas of your body. Also, it saves the extra cost that you spend in expensive spas or massage parlors.

3. Is a massage chair good for health?

Yes, Massage chairs are designed to offer you relief from back pain, headache, muscle pain, and promote your blood circulation for a healthy lifestyle. But you must use it moderately.

4. Can massage chairs be harmful?

Prolonged sitting on it can be harmful. Also, for those people with serious medical conditions, broken bones, infectious diseases, etc., a massage chair could be harmful.

5. How long should you sit on a massage chair?

Prolonged sitting on a massage chair may cause unnecessary stress on the central nervous system. Even sometimes, it may cause some kind of damage and inflammation in the body tissues. So, it is recommended to use a massage chair for not more than 15-30 minutes per day.

6. Are massage chairs safe during pregnancy?

Studies reveal that there are no side-effects of using the massage chair for a pregnant woman. But it will be better to consult your doctor and use it under his recommendation only.

7. What is the price of a massage chair in India?

Massage chairs are an expensive piece of furniture. In India, the best quality massage chairs range from Rs 1,00,000 to Rs 4,00,000, depending upon the brand as well as the features present in it.
It is not recommended to buy a massage chair below Rs 1,00,000 due to its poor quality and after-sales service. For a decent and in-depth massage, we recommend buying a massage chair up to Rs 2,00,000. If you want more advanced features like extra rollers, heat therapy, music, etc., you may opt for the pricier ones.
Conclusion
Massage chairs are the wonderful gift of technology to the modern era people as it helps in dealing with your daily stress and tension. Instead of booking an appointment at massage parlors or spas, it is best to buy the one for your regular home use. The above buying guide and reviews of the best massage chairs in India will let you find out the most preferred choice. As our personal recommendation, you can go with JSB MZ16 Full Body Massage Chair that is our best pick because of its top-notch performance and quality.
Related Reviews on Personal Care Products
Buy Best Massage Chair Online
RoboTouch Echo Plus Full Body Massage Chair (...
48%
Robocura Full Body Massage Chair,Foot massage...
57%
Health & Fitness_Hub Sobo HF21 4D Full Body R...
48%
INDOBEST Leather 4D Bluetooth Connectivity | ...
47%
SOBO JH 77 4D Full Body Massage Chair Automat...
68%
SOBO Massage Chair for Home 3D Zero Gravity F...
68%
SPINE JADEX COMPLETE SPIN SOLUTIONS Massage C...
38%
RoboTouch Echo Pro Plastic Full Body Massage ...
53%