In India, there are various places where the temperatures are extreme. The summers are unimaginable without air conditioners. The same way, blowers and room heaters are an integral part of our household during the chilly winters. So, isn't it awesome that you can get both cool air in summers and hot air in winters with the same appliance? Yes, Of course! the latest Hot and Cold ACs are meant for this purpose only. No need to buy separate heating appliances for winters and cooling appliances for summers if you have the best Hot And Cold AC in your home, office or workplace.
Key Takeaways
Here is the summary of this Hot and Cold AC reviews and buying guide(TL;DR Version).
The best recommended models by OneReview team are LG 1.5 Ton and The Daikin 1.5 Ton.
Always prefer copper condenser, BEE rating 5 star, and Inverter type compressor when selecting a hot and cold ac.
There are very limited models with 5 star ratings or above 2 Ton.
If temperature is very low (less than 4 degree centigrade) then do not buy hot and cold AC because its heat pump does not work.
What is Hot and Cold AC (AC With Heater)?
The hot and cold AC, also known as AC with heater can handle both hot and cold climatic conditions to provide relief from these situations. These come with a heater that provides you heat during the winters. The best part is that you don't need to spend extra on purchasing separate heating devices for winters. Also, the dual air conditioners come with a thermostat that ensures the room is heated to an optimal comfortable temperature.
So, if you are planning to buy a best hot and cold inverter AC for your home or office, keep reading as we have reviewed some of the top rated models as well as Comprehensive Buyers Guide on it. But, before going into detail, check these important key points.
Room Size and Capacity: Your room size is directly related to the capacity of the air conditioner you want to buy and the right capacity will also help save electricity. So if your room needs 1.5 tons of air conditioner, then buying 1 ton or 2 ton AC will result in wastage of electricity. More on this in the buying guide below.
Warranty and Service: Air conditioners are expensive items, so you must make sure you are getting the best deal. The internal unit's recommended warranty period is a minimum of 1 year and 5-10 years on external units. Whenever possible, buy an extended warranty and always check for service and maintenance availability in your city.
Thermostat: For efficient heating, a hot and cold air conditioner needs a better programmable or smart thermostat. The thermostat helps in setting AC's temperature at optimum levels according to weather in the surroundings. This advanced functionality of thermostat helps in saving energy and, thus, electricity bills.
Best Hot and Cold AC – Tabular View
Best Hot and Cold AC in India Reviews
Here is the detailed review of the above listed models of best all weather ac in India, along with the full product specifications, and buyers reviews.
1. LG 1.5 Ton 3 Star Hot and Cold Inverter Split AC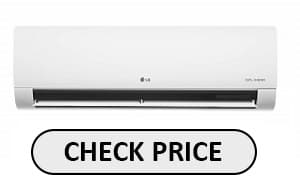 Get comfortable air throughout the whole year (summer, winter, or monsoon) with this advanced and best hot and cold AC from LG. With a lot of smart features and the latest technology, this split AC is an excellent addition to your living space.
Its 1.5 ton capacity covers a large area very efficiently and always provides clean and fresh air. For better airflow, uniform, and even cooling, this AC has 4-way horizontal and vertical swing action.
This hot and cold inverter AC comes with 100% copper condenser with unique ocean black protection. Thus, it ensures exceptional durability in typical Indian regions affected by sand, salt, industrial smoke, and other pollutants.
This LG air conditioner also comes with a dual inverter compressor with a variable speed dual rotary motor. It ensures a higher speed cooling range with more energy savings.
Another best feature of this hot and cold inverter AC is its low refrigerant detection. It automatically detects if the refrigerant is low in the AC and makes your room warm and comfortable. So you can opt for filing the refrigerant again for its better performance.
If you are prone to dust and allergens, no worry with this split AC. Since this AC comes with a Double Filtration System, it provides only clean and hygienic air in your room.
One of the best features of this LG air conditioner is its Active Energy Control. This feature limits up the power consumption from 40-80% of the average usage and thus saves more energy.
Like all smart LG appliances, it also features LG Smart ThinQ that ensures Wi-fi enabled operation for more ease and convenience.
Key Features
Inverter Compressor
Capacity 1.5 Ton
3 Star Energy Rating
Copper Condenser Coil with unique ocean black protection
Anti-bacterial and dust filter
Dehumidifier feature
Refrigerant gas R32
Low refrigerant detection
Four-way swing for even and uniform cooling
Compatibility with LG Smart ThinQ
Active Energy Control
One year on product, one year on condenser, and ten years on compressor warranty
Package Includes: Indoor Unit, Outdoor Unit, Remote Control, User Manual, Warranty Card, 2 Batteries, Connecting Pipes
Pro
Energy-efficient AC
Low noise operation
Great for performance
Nice cooling and heating
Suitable for all the weathers in India
Cons
2. Panasonic 1.5 Ton 3 Star Hot and Cold Wi-Fi Inverter Split AC (CS/CU-KZ18ZKYF)
This Panasonic hot and cold inverter AC perfectly combines sophisticated design, features, functionality, and performance. Thus, making it a great addition for your living space. This AC lets you enjoy a relaxed environment inside your room, no matter what the weather is.
It provides incredible cooling in summers and comfortable warmth in winters. And the de-humidification feature lets you feel more comfortable in the humid season. Plus, the four-way swing offers uniform and even cooling to every nook and corner of the room.
This inverter AC comes with ten-step inverter technology that allows the compressor to operate as per the room temperature. And thus provides adequate cooling and saves more power.
One of the best features of this all weather AC is that it is Wi-fi enabled. It allows absolutely hands-free operation for adjusting temperature, monitoring status and changing modes via the mobile app. The model is also compatible with Alexa and Google Assistant to enjoy voice control feature and hands-free operation.
The inclusion of copper coil condenser in the AC unit again ensures a better rate of heat transfer for the best cooling experience. Also, it requires less maintenance than traditional aluminum coils.
There comes the twin rotary compressor that allows the super smooth and less-noise operation. So no more annoyance and disturbance at all. Moreover, this AC also comes with a self-cleaning feature that automatically cleans the evaporator coil. Thus, no more dust, fungus, and bacteria. You will only get clean and fresh air.
Key Features
Capacity 1.5 Ton
Inverter Compressor
3 Star Energy Rating
Environment-friendly R32 Refrigerant
Copper coil condenser
Smart four-way swing
Bluefin coils
Anti-bacterial filter
Ten step inverter technology for less energy consumption
Electronic expansion valve
Twin Rotary compressor
Self-clean technology
Auto Restart
One year on product, one year on condenser, and ten years on compressor warranty
Package Includes: Indoor Unit, Outdoor Unit, Remote Control, User Manual, Warranty Card, Connecting Pipes
Pros
Energy-efficient air conditioner
Great for medium-sized rooms
Easy to maintain
Great in terms of cooling and heating both
Compatible with Alexa and Google Assistant
Cons
3. Daikin Hot and Cold 3 Star 1.5 Ton Inverter Split AC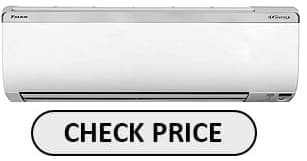 Daikin has launched several models in Hot and Cold AC segments. This Japanese company is now a popular and trusted brand name in India. FTHT50TV16 from Daikin is the latest model with the BEE rating of 3 stars and 1.5 tonnage cooling capacity.
This Daikin model has a copper condenser and it is a highly energy-efficient air conditioner. The annual power consumption is 1046.64 KWh, and the ISEER value is 3.70.
It has advanced features like auto-restart. It produces very low noise levels resulting in a comfortable sleep, and it optimizes airflow speed as needed. Econo mode limits the power consumption when your AC shares the electric circuit with other electrical devices.
You get cleaner airflow because this model comes with a PM 2.5 filter that traps small air particles. Since it is hot and cold AC, its heating function even works in as low as 4°C surrounding temperature.
The heating and cooling capacity is in the range of 2,500-5,000 Watts. You need 230 Volt and 50 Hz Alternating Current to operate. Due to an in-built stabilizer, it can work between 160-265 V.
Main product (indoor unit) and condenser(outdoor unit) comes with 1 year of onsite warranty, while the compressor has 5 years of extended warranty (1 year warranty on refrigerant).
The box contains 1 indoor unit, 1 outdoor unit, remote, manual guide and installation kit. Indoor unit's dimension is 88.5 cm x 29.8 cm x 22.9 cm and its weight is 16 kg. Outdoor unit's dimension is 84.5 cm x 59.5 cm x 30 cm and weight is 43 Kg.
Key Features
Can effectively cool or warm the room size of range 130-180 Square Feet
PM 2.5 filters to clean the airflow by trapping air particulates
Auto-restart if the power shuts off, so no need to set all settings again
Highly energy efficient as it consumes around 1047 KWh electricity in an entire year
Using copper condenser, best in class and easy to maintain
Koanda airflow technique to distribute the air in every corner of the room
Advanced thermostat for the best experience
Pros
R32 refrigerant
Anti-bacteria Filter
Dehumidification feature
Copper condenser
No batteries required
Rotary compressor
Cons
The warranty on the compressor should be 10 years
4. Daikin 1 Ton 4 Star Hot and Cold Inverter Split AC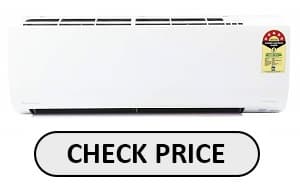 Experience an unparalleled cooling and heating experience with this smart and innovative air conditioner from Daikin. It's not only level up the aesthetics of your living area but also grades up your comfort with its exceptional cooling and heating performance.
From hot summers to cold winters, this Daikin hot and cold AC ensures the perfect temperature all year long. Moreover, with its 4-star energy rating, it brings up the relaxation in paying the high electricity bills.
One of the most unique features of this inverter AC includes Intelligent Eye with its Infra-red sensor. This feature automatically controls the operation of the AC according to human movement in the room.
If you are worried about the noise levels, say thanks to its noise-free operation of both the indoor and outdoor units. The low noise operation of the indoor unit provides uninterrupted sound sleep. And the outer unit with a neo-swing compressor reduces vibration and friction, which in result, ensures quiet and efficient operation.
Another best feature of this Daikin hot and cold AC is Econo mode. So, if you are using the air conditioner and other electrical devices simultaneously on a shared electrical unit, it limits up the maximum power consumption. Thus, saving more energy.
Key Features
Capacity 1 Ton
4 Star Energy Rating
Copper condenser
R32 Refrigerant
Neo swing inverter compressor technology
Intelligent eye to control the operation with human movement
Econo mode for lesser power consumption
Titanium Apatite Deodorising Air Purifying Filter
Self-diagnosis function
One year on product, one year on condenser, five years on compressor warranty
Package Includes: Indoor Unit, Outdoor Unit, Remote Control, User Manual, Warranty Card, Connecting Pipes.
Pros
Aesthetically appealing
Excellent cooling and heating performance
Very less electricity consumption due to 5 Star BEE Rating
Very quiet operation
Cons
5. Blue Star 1.5 Ton 4 Star Hot and Cold Split Inverter AC (IH418SAFU)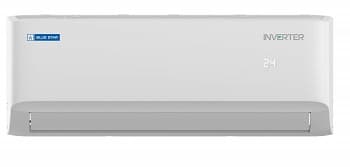 Blue Star finally released its hot and cold inverter split AC in India. The company has listed only one model, which has a capacity of 1.5 Tons and BEE star rating 4. The BEE rating year is 2018 (We are using the 2019 BEE rating in 2020 for AC in India). The ISEER rating is 3.62 W/W.
The condenser coil is copper, which is highly energy-efficient, easy to maintain, and provides the best in class cooling. Inverter rotary type compressor. Dehumidification features. It has a dust filter but no anti-bacteria filter. It has an auto-restart feature, which means you don't need to rest the setting after power failure.
This model consumes 280-1863 Watts, depending on the cooling setting and its range. Its cooling capacity range is 744-5342 Watts. It requires the power supply of 230 Volts and 50 Hz (Alternate current only).
You can schedule the delivery and installation at your convenience. You need to pay the installation charge to the technician, which is capped to Rs 1599. The installation covers drilling holes, fixing the indoor and outdoor unit, and connecting them using the kit provided in the box.
The company provides the on-site warranty, including a 1 year warranty on indoor and outdoor units and 10 years on the inverter compressor. It includes repair of the compressor for 5 years without any extra charge. You need to pay for the refrigerant gas and it has 1 year of warranty.
The box includes one indoor unit, one outdoor unit, a remote, connecting kit, and a user manual.
Key Features
Auto-restart, it means you don't need to restart on power cut
Effective cooling and heating technology
Perfect for 150-180 Square feet room size
Copper condenser for effective cooling and high maintainability
10 years warranty on the compressor and 1 year warranty on the unit
Advanced thermostat panel for effective cooling
Pros
Dust filter for efficient cooling
3 Star BEE rating of the year 2019
Dehumidification feature
Cons
No anti-bacteria filter
No in-built stabilizer
6. Godrej 1.5 Ton 3 Star Hot & Cold Inverter Split AC

Godrej comes with great ranges of split and window ACs with the latest technology and superior performance. And this 1.5 ton model is again a best hot and cold AC in our list, that brings you a lot of comfort all year round. So, if you have a big room to cool, this one is ideally best.
Featuring a copper condenser coil, the AC is more durable and ensures better and efficient cooling. Also, its turbo mode operation provides you instant cooling whenever you want. Not only cooling but also its heating is excellent that offers a warm and comfortable feel.
No more worrying about the allergens and dust as it comes with four-stage filtration. It effectively removes all the allergens, odors, and other harmful particles and gives you only cold and fresh air.
There is a feature of the dual-display that allows you to view both the set temperature and the room temperature simultaneously. Plus, the smart self-diagnosis feature automatically detects the malformation and failures in the AC and reset it automatically.
Key Features
Capacity 1.5 Ton
High Ambient Cooling
Intelligent heating
Refrigerant gas R32
Copper condenser
Four-stage filtration system
Sleep Mode
Self-diagnosis function
Dual display
Turbo cooling mode
LCD remote control
Auto-restart
Built-in Inverter
One year on product, one year on condenser, five years on compressor warranty
Package Includes: Indoor Unit, Outdoor Unit, Remote Control, User Manual, Warranty Card.
Pros
Great AC for both summer and winter
Nice looks and appeal
Easy to maintain
Good cooling and heating
Rust-free and corrosion resistant
Cons
7. Voltas 1.5 Ton Hot and Cold Window AC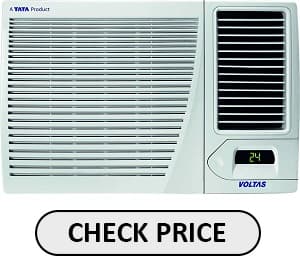 If you have a medium-sized room or office, this hot and cold window AC from Voltas is a great buy. It comes with a ton of awesome features and provides you warmth in winter and cooling in summers. Also, its economical price range and performance, make you love this AC.
This window AC comes equipped with a copper condenser coil that provides you better cooling and ensures less maintenance.
With its excellent cooling and heating power, you will always feel comfortable in any season. Also, there is a dehumidification feature that reduces the humidity in the air and provides you more comfort.
Including a high-quality compressor, this best hot and cold AC ensures longevity. And its low noise level always makes you sleep comfortably without any disturbance.
This Voltas AC also features Turbo mode that offers powerful cooling instantly. The glow light buttons allow easy operation even in the dark too. The very best its self-diagnosis feature, so if there is any malfunctioning or failure in the unit, the AC automatically detects it and reset it again.
Key Features
Capacity 1.5 Ton
Copper condenser coil
Hot and cold operation
Anti-Dust filter
Dehumidifier
Refrigerant gas R22
Eco Mode to optimize the power consumption for less electricity bill
Sleep mode
Glowlight buttons on remote
Self-diagnosis function
One year on product, one year on condenser, five years on compressor warranty
Package Includes: AC Unit, Remote Control, User Manual, Warranty Card
Pros
Looks good
Ideal for installing in a medium-sized room
Nice cooling and heating
Economical price
Copper coil ensures protection from corrosion
Cons
Hot and Cold AC Buying Guide
Buying a new hot and cold AC requires a lot more considerations, so that you may not invest in a wrong product. For your ease, we have detailed here some of the most important points that you may check before buying to get full out of your expectations.
Features to Consider Before Buying an AC for Winter and Summer Both
1. Specify Your Need
Before buying an AC with heater, it is very much essential to decide upon your needs whether you want both cooling and heating from an Air Conditioner. If you live in a place with hot weather throughout the whole year, you don't need to purchase a hot and cold AC. In this case, a regular air conditioner is ideal that offers cooling to your room or living area.
But if you live in a place where the weather is scorching and cold both, then a hot and cold AC is an ideal buy.
2. Capacity of AC and Room Size
Determining and choosing the right capacity of an ac with room heater is again an important factor to consider before you purchase it. The capacity of the AC to choose depends upon the size of the room where you need to install it. The air conditioner for rooms is available in the capacity ranging from 0.75 to 2 tons.
In India, the capacity of an air conditioner is measured in tonnage (ton), while in many other countries, it is measured in BTUs (British Thermal Units). One ton is equal to 12,000 Btu.
Room air conditioners capacity starts from 0.5 tons and can go up to 3 tons (5,000 Btu – 36, 000 Btu). To determine the air conditioner's capacity in tonnage or Btu, you should first calculate the room size. There are two methods to calculate the room size.
1. Volume Size: Multiply the length, width and height of the room (in feet) and divide the result by 1000. The result is the tons required for your room air conditioner.
2. Area Size: Multiply the length and width of the room (in feet), take the square root of the result and now divide the final answer by 10. The resultant number is required tons.
If you have a room 12 feet wide, 15 feet long, and 10 feet high, then the room's volume is 1800 Cubic Feet. Dividing 1800 to 1000, you get 1.8. So you need 1.8 ton AC.
Based on your room size, you can use the below chart to find the appropriate tonnage for your AC.
| Room Size | Tonnage required | BTU's Required |
| --- | --- | --- |
| 100-120 Sq. Ft. | 0.5 Ton | 5,000 Btu |
| 120-150 Sq. Ft. | 0.75 Ton | 9,000 Btu |
| 150-180 Sq. Ft. | 1 Ton | 12,000 Btu |
| 180-250 Sq. Ft. | 1.5 Ton | 18,000 Btu |
| 250-300 Sq. Ft. | 1.8 Ton | 21,600 Btu |
| 300-350 Sq. Ft | 2 Ton | 24,000 Btu |
| 350-500 Sq. Ft | 3 Ton | 36,000 Btu |
Check the following important factors to determine the accurate tonnage/Btu for your air conditioner:
If your room and its walls are in direct contact with the sun, increase the tonnage by 10-15 percent.
If the height of the room is more than 10 feet, increase tonnage by 10 % (Use volume size method to avoid this)
Consider raising tonnage by 0.1 – 0.3 tons, if number of people in room is higher.
Increasing the tonnage by 10%, in case room is at the topmost floors or the room gets direct heat from the kitchen.
3. Type of AC
Another important factor is to choose between split AC or window AC. Generally, window ACs are economical and easy to install. On the other hand, split models look more appealing, and are smooth and quiet in operation, and provide better air distribution. So, you must first check the installation area as well as your budget too. And then go for either a split model or window AC.
4. Energy Star Rating and Saving Energy
Most of the electrical appliances come with Energy Star Rating nowadays. It determines how much energy the appliance will consume. To make it more clear, the higher the star rating, the more the appliance is energy efficient. So, before purchasing an AC, it is better to choose the model with a higher star rating. It will save more energy and also saves your money in paying high power bills.
One of the most important and widely discussed aspects of air conditioners is electricity saving. In India, with increased electricity bills, it is common to purchase electric saving electronic equipment, AC is most important.
BEE star rating measures the energy efficiency for air conditioners. This is the general standard and mostly accepted to rate the air conditioner's efficiency. But this is incomplete information; there are few more important things to consider.
BEE changes the ISEER value from time to time, which means an old 5-star air conditioner is equal to a new 3-star air conditioner. Also, windows AC has a different ISEER value compared to Split or Inverter AC; that is why a 2-star inverter AC is equivalent to 5-star Windows AC. You should check the labeling period of the BEE star rating on your air conditioner. In short, higher ISEER value and recent labeling are vital in determining the energy efficiency of air conditioners.
5. Copper Coil Vs. Aluminum Coil (Condenser of AC)
The models with the copper condenser are better over the aluminum coil. It is because the copper condenser is ideal for efficient usage of electricity and also saves more energy as compared to the aluminum coil.
The role of condenser is crucial in air conditioners. It absorbs the heat from the refrigerant and releases it outside from the external unit. Since condenser is placed outside the room, the material used must make it heat efficient, rust-proof, and resistant to corrosion.
Copper has all these properties. It has a higher heat transfer coefficient than aluminum, which makes it a better heat exchanger. An air conditioner with copper condenser is more energy-efficient and saves electricity. Copper durability is better, and it is easier to repair and maintain than aluminum.
Cost is the only factor at which aluminum condenser is better than copper, that means aluminum condensers are cheaper and hence the air conditioner. We strongly recommend going with copper condenser due to its better heat exchange rate.
There are air conditioners with alloy condensers as well; they are better than aluminum condensers but not better than copper.
6. Air Conditioner Thermostat
Thermostats are getting smarter, and technology like artificial intelligence is making it even better. The programmable thermostat in air conditioners, if set correctly, can save up to 1000 – 3000 Rs a year in electricity bills.
You can set the time from preset to turn off the AC after a certain period. The programmable thermostat has an option of setting to change the mode, temperature, or time of shutting down as per your convenience.
One problem with these programmable thermostats is that it requires manual intervention due to this often consumer does not use this feature much.
Nowadays, some high-end air conditioners have a smart thermostat built-in. Also, a few of them are providing it as an external unit.
These smart thermostats (Using AI technology) can do much-advanced functionality without human intervention; they can start and shut off the AC base on room temperature, weather condition, and human presence or absence. It also regulates the temperature automatically based on external temperatures. This saves energy consumption, reduces carbon footprint, and lowers the bill.
7. In-built Stabilizer
The AC with an in-built stabilizer can works best in the high voltage fluctuation condition without any damage to its parts or mechanism. So, you don't need to purchase a separate stabilizer for its operation.
Having a stabilizer with costlier electronic or electrical equipment is very common. These protect your device from sudden high or low in voltage fluctuations or thermal overload protection.
The primary function of a stabilizer is to maintain the voltage equal to the required electrical power supply and save the equipment from damage.
These days air conditioners are coming with In-built stabilizers, which have few advantages over external stabilizers. You don't need extra space to install, you also avoid the hassle of wiring, and they are fully compatible. These in-built stabilizers are compact but highly effective. They keep air conditioners safe from fluctuating voltage; this increases the overall life of the air conditioner.
8. Inverter vs. Non-Inverter AC Power Consumption
Inverter AC is the latest buzz in air conditioners technology. The motor of the compressor of inverter AC has variable speed, and it changes as per requirement while non-inverter AC has fixed speed.
There is a sensor in the inverter air conditioner which adjusts the speed according to current room temperature. This means less energy consumption and a lower electricity bill.
Inverter AC is quieter and doesn't turn on or off (Like regular AC). Since compressors keep working at low power, it makes the air conditioner's life longer.
The air conditioner with inverter technology is an excellent option nowadays. However, these are extremely higher on the price side but provides a lot more benefits. These provide consistent cooling, consumes less power, and are also more durable. Therefore it is a great option to choose a good quality Inverter AC.
9. Warranty
Warranty is the most important thing when buying hot and cold air conditioners. Most of the brands give limited warranty to air conditioners on different parts, one year on product, one year on condenser, and 5 to 10 years on compressors.
Some companies also provide gas charging in warranty. You can buy an additional year by paying extra.
It's better to check the warranty of the air conditioners part wise, product(inner unit), condenser, and compressor (external unit) from the manufacturer directly before buying. Instead of negotiating the price, you can ask for an extended warranty for the same price.
Most of the reliable manufacturers and brands offer excellent after-sales service and warranty. It is better to read the terms and conditions and all the necessary information on the warranty and after-sales service before purchasing your next ac with blower.
10. Some More Advanced Features
Turbo mode: that offers instant cooling.
Auto Clean Mode: It quickly dries the heat exchanger, and thus prevents the growth of bacteria and mold.
Active Dehumidifier: Reduces the humidity in the air and thus enhances cooling and comfort.
Anti-bacterial filter: It removes harmful particles from the air and purifies it before recirculating it into the rooms.
Sleep Mode: Automatically adjusts the comfortable temperature at night while you sleep. It ensures more energy-saving and lets you sleep more comfortably at a convenient temperature.
Timer function: It allows you to set the time in the number of hours you want your AC to run.
If you need advanced and more in-depth details on how to choose a perfect air conditioner based on various factors, we suggest reading our comprehensive and ultimate AC buying guide.
Advantages and Disadvantages of Hot and Cold AC
Advantages of Hot and Cold AC
It is an ideal purchase for both summer and winter conditions.
These are energy efficient as compared to other heating appliances like room heaters or blowers. It is because they use electricity only for moving heat from outside to inside, over using the electricity to generate heat.
With a thermostat temperature control feature, it adds more energy savings.
No need to buy multiple heating appliances, if you have hot and cold AC in your room.
Disadvantages of Hot and Cold AC
The heat mode does not work well at the places where the temperature goes below 4 degree celsius.
Hot and Cold ACs are more expensive than normal ACs.
Relatively new technology so it's hard to get local mechanics for repair work in small cities.
How a Hot and Cold AC works?
The hot and cold AC includes both heating and cooling (AC and heater 2 in 1) functions using the reverse cycle technology. In general, the regular air conditioner works by taking heat from inside the room and moving it outside. In the case of hot and cold AC, it works the same when you need cool air inside. But for heating the room, it reverses the technology, which means the cooling cycle is reversed.
These air conditioners comes with a heat pump that works oppositely to the regular air conditioners. It reverses the function of the indoor and outdoor unit and thus takes the outside heat and then pushes it inside to make the room warm.
The hot and cold AC includes both heating and cooling functions using reverse cycle technology. In general, the regular air conditioner works by taking heat from inside the room and moving it outside. In the case of hot and cold ACs, it works the same when you need cool air inside. But for heating the room, it reverses the technology, which means the cooling cycle is reversed.
Hot and cold air conditioners come with a heat pump that works opposite to the regular air conditioners. It reverses the function of the indoor and outdoor unit, takes the outside heat, and then pushes it inside to make the room warm.
Reversing valves added in the heat pump of hot and cold air conditioners change the direction of heat transformation. The heating mode in these ACs reverses the flow of the direction of coolant or refrigerant, making the hot coil cold and cold coil hot.
AC's Heat pump is better than the regular heater
Not only do heat pumps save space(You don't need extra space to install a heater in your room), but they also use less electricity. The reason behind this is the science of heat pumps, heat pumps installed in an air conditioner with heater take advantage of thermal dynamics and only power the compressor and fan of the device. The conventional heater produces the heat by converting the electricity into heat.
We recommend reading this discussion that covers how efficient a pump heater is in electricity saving.
In the future, heat pumps will replace the conventional room heater due to its high energy efficiency. So if affordability is not an issue, buying a hot and cold AC is more beneficial in the long run than regular split AC.
AC Heater Price
Pricing of hot AC for winter depends on the star rating, tonnage capacity and brand name. LG hot and cold ACs come in the price range of 35000rs – 55000rs for 1 to 2 ton AC. Voltage heater AC price is a bit cheaper than LG.
Frequently Asked Questions(FAQs)
1. Do Hot and Cold ACs save energy?

Yes, the hold and cold air conditioners save energy as compared to other heating appliances like room heater, or blowers, etc. Since it comes with heat pumps that use electricity to move out the heat from outside to inside. Thus, it is even more efficient than using electricity to generate heat. Also, it has a thermostat to control the temperature. So, it does not consume a lot of electricity like room heaters or other heating appliances.

2. Can AC heat the room in winters?

Yes, the new and advanced hot and cold AC can also heat the room in winters. Just switch on the heat mode to get the benefit of this feature.

3. What is heat pump in AC?

Heat pump in AC offers heating and cooling to the same space. So, the air conditioner that comes with a heat pump not only cools the room but also provides heating when needed.

4. Why an AC with heat pump is good over conventional heaters?

The air conditioners with a heat pump or the hot and cold AC are more energy-efficient than the conventional room heaters. The reason behind this is that the conventional heaters convert the electricity itself into heat. But as a benefit, the AC with heat pump uses electricity only to power up the individual components in the device, but not to create the heat. It makes them more energy efficient.

5. Is the heater in Hot and Cold AC is a reversal process?

Yes, the hot and cold AC has a reversal valve that reverses the flow of energy, which in turn transforms the air conditioner into a heater. There comes a heating mode in hot and cold AC. Once you turn on this mode, the flow of refrigerant shifts direction so that the hot coils become cold and the cold coils become hot. Thus, the warm air gets pumped into the room, and the cold air is expelled outside.
Conclusion
That is all about on best hot and cold AC in India. Well, all the models we have picked are all highly efficient in performance and will surely be a great buy for your home. As they all come with different features and price tags, you can choose the best one as per your needs, budget, and other preferences. As our personal recommendation, you can go with LG 1.5 Ton 4 Star AC that is best in all mannner.
Also, I am sure the points we have considered in the buying guide section are pretty enough to ease your buying decision. Still, if you have any queries or suggestions regarding the blog, please do share it with us in the comment section below.
Read Related Reviews
Buy Hot and Cold AC on Amazon
Panasonic 1.5 Ton 3 Star Hot and Cold Wi-Fi I...
28%
LG 2.0 Ton 3 Star Hot & Cold DUAL Inverter Sp...
37%
LG 1.5 Ton 3 Star Hot and Cold Inverter Split...
39%
Voltas 1.5 Ton 3 Star Hot & Cold Inverter Spl...
34%
Panasonic 2 Ton 3 Star Hot and Cold Wi-Fi Inv...
26%
Daikin 1.8 Ton 3 Star Inverter Split AC R32 C...
22%
Carrier 2 Ton 5 Star AI Flexicool Inverter Sp...
37%
Voltas 2 Ton 3 Star, Hot & Cold Inverter Spli...
43%