Cold, cough, flu, and allergies are the common problems during winters, and we all know that steam inhalation is the best way to get rid of all these issues. Inhalation therapy has been used for many years in maintaining the respiratory functions and is the best way to treat various respiratory disorders. One of the best inhalation techniques is the use of Personal Steam Inhalers that is now becoming very popular to treat the breathing issues.
Steam Inhalers also known as Vaporizers are used to provide steam therapy if you have any of the ailments like cold, flu, sinus, congestion, bronchitis, asthma, and other respiratory problems. Moreover, you can also use the steam inhalation technique to open your clogged skin pores for glowing skin. So, welcome to this blog which is all about the best personal inhalers which we have reviewed on the basis of specifications and customers feedback.
To get the more detailed information on Steam Inhalers, please have a look at our Buying Guide Section.
10 Best Steam Inhalers in India
Steam Inhalers
Application
Warranty
MyPurMist Personal Steam Inhaler
Read Review
Vaporizer, Steam Inhaler
1 Year
CHECK PRICE
Vicks Warm Steam Vaporizer V150SGN
Read Review
Vaporizer, Steam Inhaler
3 Years
CHECK PRICE
Mabis Personal Steam Inhaler
Read Review
Vaporizer, Steam Inhaler
3 Years
CHECK PRICE
Newnik V108 Vaporizer
Read Review
Steam Inhaler, Facial Sauna
6 Months
CHECK PRICE
Dr. Morepen VP06 Steam Inhaler
Read Review
Steam Inhaler, Facial Sauna
3 Months
CHECK PRICE
Healthgenie 3 In 1 Steam Inhaler
Read Review
Vaporizer, Sauna, Steamer
6 Months
CHECK PRICE

Ozomax 3 In 1 Steamer Cum Vaporizer
Read Review
Vaporizer, Sauna, Steamer
1 Year
CHECK PRICE
Vicks Steam Inhaler
Read Review
Steam Inhaler, Vaporizer
1 Year
CHECK PRICE
Dr. Trust Facial Steamer and Vaporizer
Read Review
Vaporizer, Sauna, Steamer
6 Months
CHECK PRICE
Crystal Care CC1045 Vaporizer/Steam Inhaler
Read Review
Steam Inhaler, Vaporizer
3 Months
CHECK PRICE
Best Steam Inhalers – Reviews
Now, have a look at the full reviews of best and most budget-friendly steam inhalers we have picked for you and make your best choice.
1. MyPurMist Handheld Personal Steam Inhaler Vaporizer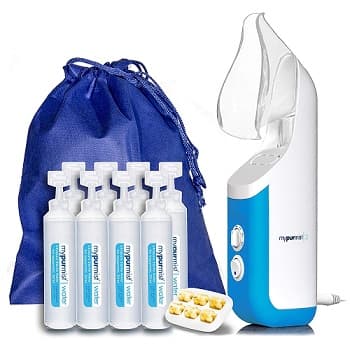 It is one of the best steam inhalers from the brand MyPurMist with lots of amazing features and great performance. The device offers a very fast and natural relief from cold, congestion, sinus, and other breathing issues.
It comes with a patented Capillary Force Vaporizer (CFV) that turns water into vapor even without the need to boil it. The steam it delivers is absolutely germ-free and contaminant-free and is always at the right temperature that is comfortable for you.
This handheld steam inhaler is also compact in size that makes it to use anytime and anywhere, whether, it is home or office or any other place.
Key Features
Handheld portable steam inhaler
Instant fine mist penetrates deep to provide more relief and comfort
Lightweight, compact and portable
99.9% germ-free warm mist
No boiling water is required
Automatic drying cycle
Microprocessor controls multiple safety features
Adjustable temperature control
Pros
Smart handheld design
Great in terms of build quality
Easy to use anytime and anywhere
Offers natural relief from cold and flu symptoms
Good for both children and adults
Cons
Complaints of water leakage
2. Vicks Warm Steam Vaporizer V150SGN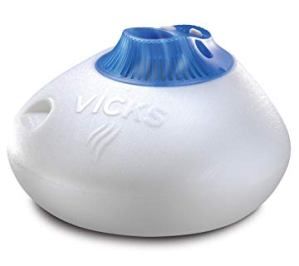 When it comes to the stuffy nose, cold, flu, and infections, the first brand strikes to our mind is definitely Vicks. And so, this steam vaporizer from Vicks can be your next best choice. It comes with a protective steam guard design to provide you the maximum performance and reliability. The device comes with the capacity of 1.5 gallon that makes it run for 18-24 hours per filling. Even the medicine cup included with it allows you to use the Vicks vaposteam or Katz inhalant for more effective medication.
For enhanced safety, this vaporizer also features the automatic shut off when the water reservoir reaches at the minimum level. Plus, it also comes with the large night light offering you added safety and convenience.
Key Features
Protective steam guard design
1.5-gallon capacity
Dual scent pad technology
18-24 hours of operation per filling
Large night light
Automatic shut off
Medicine cup compatible with Vicks Vaposteam or Kaz Inhalant
Pros
Smart design
Strong and sturdy built
Good for cold, cough, and congestion
Water reservoir capacity is good
Cons
3. Mabis Personal Steam Inhaler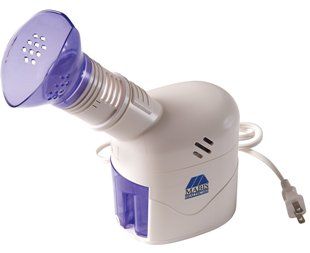 Another best steam inhaler on our list is this model from Mabis. This personal steam inhaler is such a stylish, versatile and great performing device to cure your respiratory ailments naturally. It provides warm and therapeutic steam vapor to gently relieve congestion, clear the lungs, soothe sore throats, break up blocked sinuses, and moisturize the nasal cavities. Also, you can add your favorite essential oils to it to enhance the healing effects of steam.
Key Features
Sleek and stylish design
Adjustable steam control
Filter-free
Relief for throat irritation, cough, and congestion
Ideal for aromatherapy
Auto Shut-off safety feature
Power-On Indicator
Includes: soft and latex-free flexible mask, drain and aromatherapy tank, indicator light, measuring cup and 5′ cord
Pros
Nice build quality
Natural, Safe, and effective
Separate aromatherapy tank for essential oils and fragrance
Easy to remove the tank and also easy to clean
You can easily adjust the steam accordingly that is really very nice
Cons
Spit a little with water
Smell of plastic from the mask
4. Newnik V108 Vaporizer(Steamer)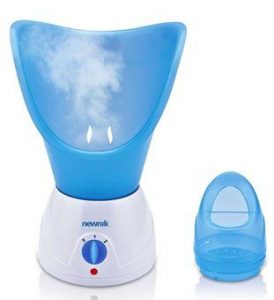 This steam inhaler from Newnik is an ideal treatment prescribed as steam therapy for both health and beauty. Quick, accurate, and easy to use- this steam inhaler is best for both adults and kids. It comes with a power indicator, steam controller, two level heating control (off/low/high), auto power off, exhale outlet, specially designed nasal mask for nose & mouth.
Its warm and moist steam helps in relieving cold and cough. As a beauty care product, it open pores for deep cleaning of skin and cures from acne and pimples.
Key Features
Sleek and stylish
Adjustable steam control with switch
Heat Insulation design
Child friendly
Relief from throat irritation, coughs, and congestion
Deep pore cleansing
Aroma inhalation
Pros
Great build quality
Easy to use without any fear of handling
Child-friendly device
Well designed
No risk of sparks and no burning smell
Cons
The water container is quite small
5. Dr. Morepen VP06 Breathe Free Steam Inhaler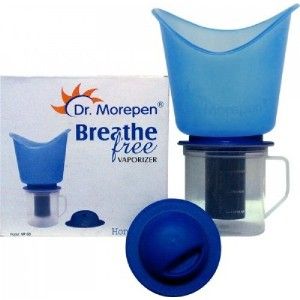 This steam inhaler is the perfect buy to get relief from common cold, bronchitis, sinus, asthma, throat irritation, and nose irritation. Besides being a very effective and best steam inhaler, it is also a best facial sauna. It produces steam vapors in seconds and thus being very effective for facial steam as well as steam for common cold.
Key Features
High end breathe free vaporizer
Can be used for both health and beauty
Helps get relief from common cold, bronchitis, asthma, sinusitis, throat irritation and stuffy head and nose irritation
Steam inhalator cum Facial Sauna
Pros
Easy to use and clean
Great quality product
Good product for winter
Highly effective
Ideal for home and travel
Cons
The length of the input power cable is short
6. Healthgenie 3 In 1 Steam Inhaler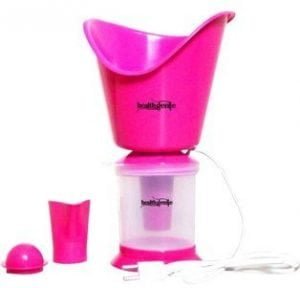 This 3 in 1 steam inhaler, as well as sauna vaporizer from Healthgenie, is useful for both health and beauty. This highly effective steam inhaler is very easy to use. Being very effective for inhalation during cold or breathing disorders, this one also used a facial sauna to clean the pores and remove clogs out of the face.
Key Features
Shockproof plastic body
Comes with 3 attachments including nasal steamer, vaporizer, and facial sauna
Relieve common cold and respiratory disorders
Noiseless operation
Facial sauna to remove clogs out of the face
Pros
Superb product with great build quality
Nice and stylish
Gives a nice steam
Best for hair spa treatment
Cons
The length of cord is small
The capacity of water tank is low
7. Ozomax 3 In 1 Steamer Cum Vaporizer, Nozzle Inhaler, Facial Sauna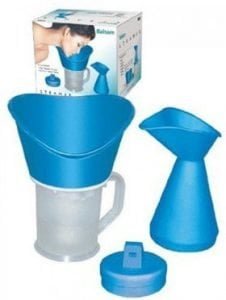 This 3 in 1 steam inhaler from Ozomax must be your perfect buy and comes with 3 different attachments. The first attachment is for vaporizing steam, the second one is nozzle inhaler, and the third one for facial sauna. You can use it for aromatherapy, respiratory ailment therapy, nose and throat treatment, bronchitis, asthma, treatment of cold, and of course ideal for facial steamer.
Key Features
Vaporizer, facial steamer, and nozzle inhaler
Suitable for both personal and professional use
Pros
The material quality is good and well finished
Works very well
Cons
Takes more time to heat water
The rate of production of steam is quite less
8. Vicks Steam Inhaler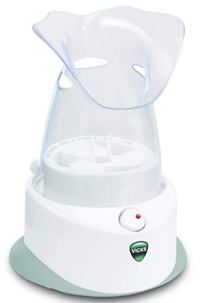 Now, another best steam inhaler again from the brand Vicks. The model is an absolute choice towards a quick relief from cold, nasal and sinus congestion as well as allergies. It's soothing steam targets the nose, mouth, and throat to naturally and effectively help in improving sinus congestion, dryness, and irritation.
Key Features
Comfortable soft and flexible hood
Compact and lightweight
Variable steam control
On/Off Indicator light
Dual scent pad slots for Vicks soothing vapors
Pros
This electric steam inhaler provides the vapor therapy for relief from cough and congestion
Small convenient size for easy portability
The adjustable steam output provides the right amount of steam
Soft hood for personal comfort
Build quality is very good
Cons
Holds a tiny amount of water
9. Dr. Trust Facial Steamer and Vaporizer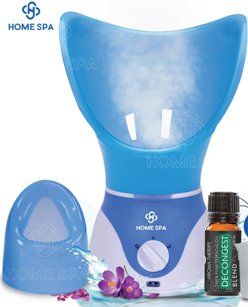 This is another smart choice for not getting only relief from cold and cough issues, but also to make your facial skin healthier and younger. This nasal steamer performs very well to relieve you from cold, throat infection, and congestion issues and also restores the sufficient moisture to the lungs and respiratory tracts. In addition, it also cleanses the face by opening up the clogged pores.
Key Features
Provides vapor therapy for cold, flu, bronchitis, and other respiratory disorders
Opens clogged pores and rejuvenate your skin
Gentle steam flow
LED Power On/Off Indicator
Two-speed level
Wide facial mask
Low Noise
Pros
Nice build quality
Nasal steamer and facial sauna- All in one
Kids-friendly
The adjustable steam control option is very good that lets you choose the amount of steam accordingly
Water goes very smoothly into the unit's easy-to-fill base
Compact for easy storage or travel to work abroad
Cons
10. Crystal Care CC1045 Vaporizer/Steam Inhaler Cum Sauna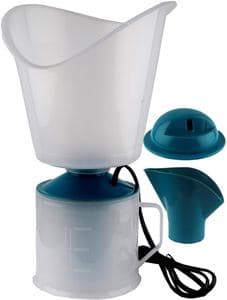 This steam inhaler is designed to intake liquid medications for inhalation to the people who are suffering from breathing disorders like asthma, COPD, and other respiratory issues. This one is lightweight, compact, and easy to use personal steam inhaler. It offers a very fast and effective treatment to open up the respiratory passages. And the best part is that it comes with steam control functions by which you can easily adjust the steam accordingly.
Key Features
Lightweight and compact
Portable steam inhaler
Patented plastic hood
Germ-free steam
Automatic shut off
Pros
Nice design
Build quality is very good
Adjustable steam generation
Offers very fast and effective treatment
Cons
How to Choose the Best Steam Inhalers? (Buying Guide)
What is a Steam Inhaler and how it works?
Steam Inhalers are the electric device that wonderfully works to soothe and open the blocked nasal passages so that you can breathe easily. With this device, you can pump the soothed steam into your throat and lungs through the nose to clear up the respiratory passages. Steam therapy actually means the inhalation of water vapor. The warm and moist air or the steam you inhale loosens the mucus in the nasal passages, throat, and lungs, and thereby makes you to get relief from cold and sinus infections. Besides, personal steam inhalers are also beneficial in improving the blood circulation. When this therapy is done with essential oils or certain herbs, it offers more benefits to the respiratory ailments in a wonderful way.
Now how it works? It is very simple to use at home. You just need to add water up to the level indicated in the electric steam inhaler and switch it on. When the water brings up to boil, you need to keep your head over it, covering with a towel while keeping the eyes closed. And take a deep breath while inhaling the steam for up to 15-20 minutes for effective results.
You can also do the same process by using a bowl of boiling hot water. But, I think Electric Personal Steam Inhalers are the best and convenient way for inhalation therapy.
Here is the video how steam inhalers work.
Uses of Steam Inhalers
Steam Inhalers provide great benefits in curing colds & cough, flu, and allergies. They are also very helpful to reduce the jamming by thinning mucus that builds up in the respiratory tract. The moist air from the steam inhalers alleviates common irritations associated with these diseases like dry and scratchy throat, itchy and watery eyes, and annoying coughs. And thus makes you breathe easily. In addition, steam inhalers also used as a facial sauna to remove the clogs out of the face and gives you a glowing and fresh skin.
Benefits of Steam Inhalers
The benefits of steam inhalers can be explained better by the following points:
If you are suffering from the cold or the flu, steam inhalers can relieve congestion by loosening up the mucous.
Steam inhalers can also help with chronic respiratory conditions, like asthma and breathing disorders
Cleanse your blocked skin pores rejuvenate your facial skin. When some natural oils (eucalyptus, lavender, peppermint, lemongrass, fennel, rosemary, etc.) are added while steam inhalation process, it works amazingly to offer more younger and glowing skin
Steam inhalation improves circulation that some people find helpful for migraines and headaches
When suffering from allergies, the mucous membranes in your nose and throat can become dry and uncomfortable. The steam inhalers are capable of loosening mucus so that dry and irritating coughs can become more productive.
Steam inhalers also aid in stress relief, especially when used with essential oils for aromatherapy
Factors to consider while buying a steam inhaler
Before buying a steam inhaler, you must consider the following points:
1. Function
First think about, for what function you need a steam inhaler and then choose appropriately.
If you want the Steam inhalers to relieve congestion from cold and cough as well as solving the breathing issues, choose the one that is specifically designed for this purpose.
And if you want the steam inhalers for steaming your pores or other beauty-related treatments, choose the one that can serve this purpose.
2. Convenience and Ease Of Use
Make sure to select the one that is convenient and easy to use. Means the cleaning process should be quick and simple. Also, think about whether you need a battery operated steam inhaler or the one with the cord. So select the one according to your need.
3. Kids-friendly
If you are going to buy a steam inhaler especially for your kids, it is very important to select the one that is child-friendly. Make sure to choose a steam inhaler that is safe for your kids to use it with minimal supervision.
4. Steam Generation
Many models of steam inhalers come with adjustable steam released. You can select between the thick, dense steam, or the gentle flow of steam as per your need and preference.
5. Aromatherapy capability
If you want to add essential oils to your steam, be sure to select the one with aromatherapy capability. Some models of steam inhalers can't be used with essential oils but still, have the options for spicing up your steam.
6. Portability
If you want to carry your steam inhaler anywhere, you go, make sure to choose the model having a compact size. Also, if you don't want that it will consume much space, and then the smaller models are perfect.
7. Budget
Budget is one of the most important factors before any purchase. There are various models available with different price ranges based on the features. So you can decide accordingly which one to purchase on the basis of the features you need.
Conclusion
This is all about the best steam inhalers or steam vaporizers of 2021. Hope the blog will help you in picking out the best steam inhaler for relieving out from the breathing and sinus problems and nasal infections. If you have any queries, ideas, or suggestions about the mentioned products, feel free to share your thoughts through the comment section below.
Read Related Reviews
Buy Best Steam Inhalers Online
HealthSense Steamer for Cold & Cough, Vapouri...
17%
Asbob 3 in 1 steamer for cold and cough, vapo...
56%
PharmEasy All In One Steam Vaporizer Machine ...
41%
Wonder Steam Inhaler Sauna Vaporizer for Blac...
5%
AGARO Aura Face Steamer, Vaporizer/Steam Inha...
51%
Crescent Facial and Nose Steamer Vaporiser, F...
33%
Lifelong LLS63 Face, Nose and Cough Steamer|3...
67%
AUGEN Dr.Health 3 In 1 Steamer, Steam inhaler...
63%