A Nebulizer Machine is one of the great devices that are very effective for the people suffering from respiratory or breathing problem. Even when a toddler or child is suffering from cold and has breathing issues, doctors prescribe medicine which can easily be transmitted through a nebulizer machine to ease the child breathing issues. So, we are here with our top picks of Best Nebulizer Machine for kids, their reviews and complete buying guide on it.
Key Takeaways
Here is a quick summary of this article(TL;DR Version) to make a quick buying decision when choosing the best kid's nebulizer machine.
In our research and review we find Mievida Mi-KIDZ and Dr. Trust Junior(this one is cheap too) as the best nebulizer for children. We definitely recommend it.
Agaro NB-22 is our go to recommendation if you need a nebulizer that works for both, kids and adults.
When selecting the best kid's nebulizer, check the size of the facemask, what is the average nebulization rate and what is the capacity of medication. Minimum 1 year warranty is recommended.
Nebulizer with a mouthpiece is not suitable for infants or toddlers. Buy the one which has a facemask support for inhalation.
What is a Nebulizer machine and how to use it
A nebulizer machine is a device that is used to deliver the medicine by converting the liquid medicine into a mist. And thus the medicine can be immediately absorbed and provide relief from the respiratory issues.
The device uses oxygen or compressed air to vaporize the liquid drug into tiny aerosol droplets. These aerosol droplets are the mixture of gas and liquid particles. The nebulizer machine comes with a base that contains an air compressor, a tube that connects the medicine container to the air compressor, and a small container for the liquid machine. A nebulizer mask or mouthpiece is placed above the medicine container that is used to inhale the mist.
A nebulizer machine is the best way to get rid of chronic illnesses like asthma, emphysema, chest infections, COPD (Chronic Obstructive Pulmonary Disease), etc. It delivers the liquid medication to the lungs and thus making people to breathe easily. Various inhalers are available in the market, and the nebulizers are the alternative forms of inhalers.
To get an in-depth information on nebulizer machine, please head to our Buying Guide Section.
Top 10 Best Nebulizer Machine for Kids
We have compiled here the list of latest and best nebulizer machines for your infants and young children. So pick the one and make your child relaxed from the respiratory and breathing issues.
Explore More on Health Devices
Best Nebulizer Machine for Kids Reviews
Now, lets have a detailed look at the full review of each of our best picks to get your favorable choice.
1. Mievida Mi-KIDZ C04 Compressor Nebulizer (Best Overall)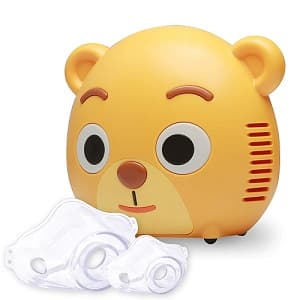 Our first best pick belongs from the house of Mievida. This nebulizer machine will absolutely be your best choice to treat your kids from the cold and flu symptoms, even for treating breathing disorders. This machine is specially designed for kids with a toy shaped design that is most eye-catching. It comes with all the unique features that provide the most effective treatment in the hospital as well as home too.
The machine comes with a built-in thermal protector as a safety feature to protect the device from overheating. A docking station is also there to hold the nebulizer machine. The best is its high performance and helps to reduce the aerosol deposition in and around the child's eyes. It also comes with an attractive bright colored bag for easy storage and transportation.
Package Includes: Compressor Nebulizer, Medication Cup, Filter Cotton, Adults & Kids Mask, Connecting Tube, and User Manual.
Key Features
Child-friendly design
Highly efficient
Consistent performance for up to 12 months
Short treatment times
Sidestream reusable high-efficiency nebulizer
Pros
Great design with superb built quality
Perfect to use for both kids and adults
Great in terms of quality and performance
Nice storage bag
Easy to use and clean
Cons
2. Agaro NB-22 Mini Compressor Nebulizer with Adult and Child Mask (Runner Up)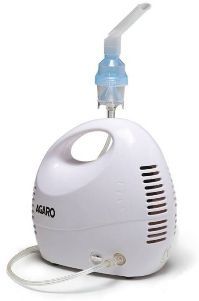 Presenting the next best nebulizer machine for kids from the brand Agaro. It offers reliable aerosol treatment not only for kids but also for adults too. This nebulizer machine converts the liquid medication into an aerosol of microscopic droplets that is easy to inhale. It comes with an ergonomic handle for better handling of the device and efficient medication. So, for the treatment of various respiratory disorders like asthma, bronchitis, cough, wheezing, etc., it is absolutely a great choice.
The machine is compact and travel-friendly that makes it suitable for both home use and outdoor use. There comes a transparent lid to close over the chamber that keeps the components inside it safe and clean. And the very best part of this device is its low noise operation that doesn't irritate you while operating.
Package Includes: Compressor Nebulizer, Nebulizing Cup, Mouth Piece, Adult & Child Mask, Air Tube, 5 Pcs of replaceable filters, Manual & Warranty Card.
Key Features
Compressor nebulizer for kids and adults
Reliable aerosol treatment
Compact and lightweight
Adult and pediatric mask for comfortable use
Particle size 0.5 to 8 microns
Storage compartment for air tube, mouthpiece and medicine cup
Low noise operation
High medication capacity
Ergonomic handle for better handling
Pros
Superb quality and nice built
Great performance to treat various respiratory issues
Easy to use and clean
Low noise operation
Delivers precise medication
Cons
3. Dr. Trust Junior Compressor Nebulizer (Best Budget Pick)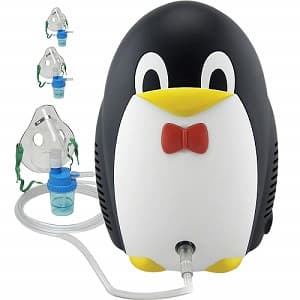 This nebulizer machine from Dr. Trust is specially designed for kids and comes in a cute little toy shape of the penguin. This one is a must-have device to use at home if your child is suffering from any respiratory issues. More than that, it is designed in a way that adults can also use it conveniently.
It features a unique RespiRight technology that ensures minimum wastage of medication while offering maximum relief. The 10 ml capacity to hold the medication is pretty good enough for an effective nebulization session. Even more, it also comes with a flow adjuster, so you can adjust the airflow as per your child's convenience.
It comes in a complete kit that includes both child and adult mask and other useful nebulizer accessories.
Key Features
Child-friendly design
High-quality medical grade nebulizer
Effective medication
Complete nebulizer kit including air tube, child and adult masks, nebulizer cup, mouthpiece, and extra air filters
Pros
Nice design
Not much noise as compared to other nebulizers
Easy to use
Cons
4. Dr. Trust Portable Ultrasonic Mesh Nebulizer Machine for Children and Adults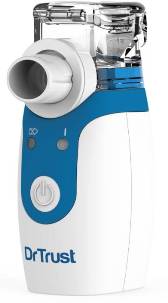 The next is this ultrasonic mesh nebulizer machine for kids and adults both. The device is made with RespiRight technology that facilitates the adequate and complete inhalation of various kind of medications. It converts the drug into an aerosol mist that reaches more deeply into the lungs with maximum absorption of the medicine. Also, it ensures the minimum wastage, of medication.
The very best part of this device is that it can be operated through two power sources: With 2XAA batteries and also with the USB cable. And thus this feature makes the device to carry it easily along with you. Plus, the convenient pocket size option and lightweight model make it more convenient for portability. For the more easy operation, it comes with the smart one-touch operation. Moreover, the power indicator button equipped with it alerts you about the low power supply or battery discharge.
Key Features
Lightweight and compact
Detachable medication chamber
RespiRight technology
2 Power sources: 2 X AA batteries and USB cable
Single one-touch operation
Low noise operation
Portable
Pros
Nice nebulizer machine with strong and sturdy built
Quality of the device is awesome
Great for both kids and adults
Two power sources are a nice option
Easy to carry
Easy to use and clean
Cons
5. Equinox EQ-NL 72 Nebulizer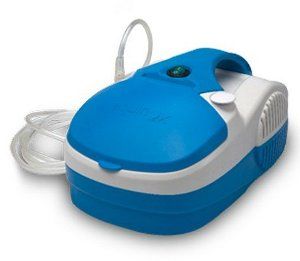 The next best nebulizer machine in our list is Equinox EQ-NL 72. The model makes the respiratory care more easy by treating various breathing disorders like asthma, chronic bronchitis, allergies, and other respiratory issues. The device converts the liquid medication into minute misty particles called aerosol for effective treatment.
It works with the Virtual Valve Technology that aids to inhale more and more medication to get the instant relief from breathing issues. The device comes with the inhalation mask for both kids and adults making it suitable to treat both of them. Moreover, it's easy operation, and compact size makes the machine an ideal choice to have in your home.
Package Includes: Compressor, Nebulizer Kit, Air Tube, 5 pcs Replacement Filters, Mouthpiece, Adult Mask, Child Mask, Carrying Bag, Instruction Manual.
Key Features
Non-heating compressor
Unique Virtual Valve technology
Highly efficient nebulization
Compact and portable
In-built nebulizer kit storage area
Ideal for kids and adults
Pros
Nice performance
Good design with sturdy construction
Quality of the product is too good
Two masks for kids and adults are really helpful
Portable to carry on the go
Reasonably priced
Cons
6. Omron NE-C28 Compressor Nebulizer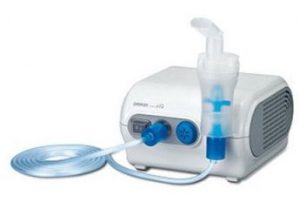 This compressor nebulizer from Omron is the best buy for both kids and adults if they have the breathing and respiratory troubles. The kit is designed for effective management of asthma, chronic bronchitis, and other respiratory disorders. This nebulizer machine provides a dense aerosol in the therapeutic range. It comes with a 7ml medicine cup and leaves minimal residual medication.
Package Includes: Compressor, nebulizer kit, air tubes, 5 pieces replacement filters, mouth piece, adult mask, child mask, instruction manual and carrying bag
Key Features
Efficient delivery of medication
Leaves minimal residual medication, <0.7ml for any medication
Autoclavable nebulizer kit
High nebulization rate ensures optimized treatment duration
Easy to operate and maintain
Safe and easy to clean
Travel convenient
Pros
Works very well
Useful for both kids and adults
Gives complete relief from cold and nose block
Low noise
Cons
7. Nulife Handyneb Piston-type Compressor Nebulizer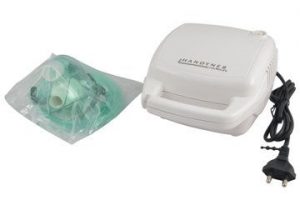 Nulife Handyneb Piston-type Compressor Nebulizer is an ideal one for efficient treatment of respiratory problems. It comes with a mouthpiece and masks for both kids and adults. It also has an adjustable nebulizer bottle and comes with a fine particle dose. This nebulizer machine reaches respiratory tracts more effectively and resulting in a better medication compliance. It is handy and an ideal one for intensive use. Also, it is safe for long use and an ideal addition for every family.
Package Includes: Nulife Handyneb Nebulizer, 1 Bag, Warranty card, Mask Kit, Pump
Key Features
Light and compact
Better Medication
Piston type compressor
Pressure Max 2.5 bar
Air Flow Min 8 LPM
Noise at 1 meter 55 dBA
Pros
Very powerful and reliable nebulizer machine
Best for both professional and intensive use
Compact and portable design
Easy to use
Cons
8. MCP Economy Nebulizer Machine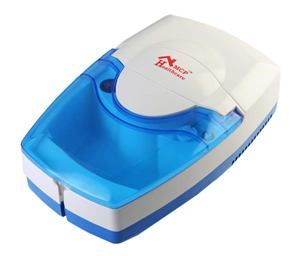 The MCP Economy nebulizer machine is yet another smart choice for your kids to inhale the liquid medication. This compressor nebulizer efficiently manages the issues like asthma, bronchitis, etc., and other respiratory disorders. A special nebulizing chamber is there with the low particle size to deliver the medication more effectively and efficiently. Its powerful piston compressor allows it for longer continuous runs. Plus, the advanced safety features like thermal protector, automatic cut off option, and overheat protection ensures the long life of the piston pump.
Package Includes: Nebulizer, Silicon Air Tube (5 ft), Adult Mask, Mouthpiece, Filters (5PCS), Jet Caps
Key Features
Compact, lightweight and durable
Unique interchangeable jet caps
Powerful piston compressor to produce high-quality respiratory aerosol
Automatic thermal protector and auto cut off
Special nebulizing chamber with low particle size
Dishwasher safe parts
User selectable medication rate
Shorter inhalation time
Pros
Great in terms of quality and performance
Nice build quality
Pretty easy to use
Easy to clean dishwasher safe parts
Ideal for both kids and adults
Cons
Nebulizer Machine for Kids Buying Guide
Types and Features of Nebulizer Machine
A nebulizer machine comes in both electric version and battery run version. Some nebulizers are larger in size that can be plugged into a wall and can be sitting on your side table for use. While the other ones are smaller in size and can be easily portable.
There are basically three types of nebulizer machine:
Ultrasonic Nebulizers- Ultrasonic nebulizers deliver the liquid medicine through high-frequency vibrations that change the liquid medication into a mist to inhale and get relaxed.
Mesh Nebulizers- These types of nebulizers use vibrating membrane to convert the liquid medicine into aerosol form.
Jet Nebulizers- Jet nebulizers are very easy to use and have compressed air for turning the drug into mist form.
The Different Parts of a Nebulizer Machine
Ease of handling of any device becomes more easy if you have full knowledge of their parts as well as the functioning process. The same hold for a nebulizer machine. To handle it more conveniently, let's have a look at all of its parts the machine combines with.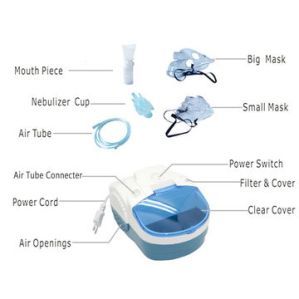 Power Switch- The power switch is available on the device to make the power on and off.
Nebulizer Cup- A nebulizer machine comes with a cup for the easy measurement of medicine to use for the inhalation.
Nebulizer Compressor- It pumps up the liquid medication in the form of mist into the mouthpiece.
Tube- There comes the tube made up of transparent material to deliver the compressed air from the compressor to the measuring cup.
The Mouthpiece or Face Mask- These two attachments are used to inhale the liquid medication by covering your nose and mouth from it.
Pros & Cons of Nebulizer Machine for Kids
Pros
Very easy to use and coordinate
It allows for the immediate application of medicine to the airways, the best for treating asthma, COPD, and other breathing disorders
Easy to inhale liquid medication through nebulizer machine
Ideal for infants, kids, and adults
Available in portable options, so you can easily carry it along with you
Cons
A power outlet is required to operate the nebulizer machine
If the machine is not cleaned properly, it may spread the contaminated mist
Takes longer time for medication over the inhalers
It also results in some side-effects depending upon the medication used
Some tips for using Nebulizer Machine for kids
Hold your baby upright in your lap during the treatment. The upright position makes them breathe more deeply and this way they can get more medication throughout their lungs.
If possible wrap your baby in a towel or cloth to make them more comfortable during treatment.
Always choose the time to use the nebulizer machine on kids when they are sleeping so that they can tolerate the treatment better.
If your child gets disturbed or annoying due to the noise from the nebulizer machine, place the machine on a rug or towel to reduce the noise level. You can also opt for the machine with a longer tube to get your baby away from the machine's noise.
How to clean the Nebulizer Machine
Unscrew the different parts of the nebulizer machine and soak them in warm or soapy water for at least 15 minutes.
You can also use two teaspoons of chlorine bleach to clean your nebulizer machine.
Once the parts are fully soaked, keep them out and let them dry completely.
Always store the nebulizer machine in a clean and dry environment to get it free from germs and infections.
Pediatric Nebulizer Frequently Asked Questions (FAQs)
1. What is a pediatric nebulizer?

A nebulizer is a machine that delivers liquid medication in the form of mist directly to your lungs. It is best for infants and toddlers who are not able to use inhalers. This machine includes an air compressor, a cup for medicine, and a tubing connected to a mouthpiece or face mask. Your child can inhale the medication by wearing a face mask or mouthpiece.

2. When should a toddler use a nebulizer?

The doctor recommends using a nebulizer for your infants when they have swollen airways, cold, cough, or congestion, or any breathing issues like asthma, bronchitis, etc.

3. How much does a pediatric nebulizer cost?

The price range for the good quality pediatric nebulizer is between 1000 to 3000 Rs.

4. Are nebulizers harmful for kids?

No, a nebulizer machine helps your kids to get instant relief from breathing issues as well as cold, cough, and chest congestion. However, improper use of it can be harmful to them. So, it is recommended to read the instruction manual carefully before using it.

5. Which is better for kids – a nebulizer or inhaler?

For infants and toddlers, using an inhaler is a bit more difficult than the nebulizer. A nebulizer, with a mouthpiece or face mask, is far easy to let them feel comfortable from various breathing issues as well as cold, cough, and chest congestion.

6. How many times a day should you nebulize a child?

You can nebulizer your child 3-4 times a day and not more than 15 minutes per session. However, it is better to consult your doctor about the duration of nebulizing your kid.

7. Can a nebulizer be used while your child is sleeping?

Most of the infants or toddlers feel irritation during the nebulization treatment or by wearing the face mask or mouthpiece. So, you can nebulize them while they are sleeping.

8. Is a nebulizer good for cough and chest congestion?

The nebulizer machine allows you to inhale medicated vapors to get relief from breathing disorders like asthma, bronchitis, COPD, etc. For kids and even adults too, the device also works best to get them relief from cold, cough, and chest congestion.

9. Can you use a nebulizer without medicine?

It is always better to use the nebulizer with medication for an effective treatment. But, you can also use it with saline water for getting treatment.

10. Can nebulizer remove phlegm?

Yes, the nebulizer machine delivers medication in the form of fine mist that helps in reducing the thickness of the phlegm. So, the mucus build-up in your chest loosens out, and this way, it reduces congestion and coughing.

11. Can I use a nebulizer with just water?

Though nebulizers offer the best treatment when used with specific medication, you can also use them with saline water (mixture of salt and water ) only. But make sure never to use the device with tap or distilled water.

12. How often should you change the nebulizer mask?

Change the disposable masks after 4-5 uses. For a regular child or adult mask, you can use them for up to 6 months with proper sterilization and disinfection to avoid the spread of germs.

13. How to use a nebulizer with mouthpiece?

Better if you watch this video. It has explain well how to use it with all proper instruction with subtitle.
Conclusion
This is all about the best pediatric nebulizer machines to make your child relaxed from the severe breathing and respiratory problems. Nebulizers are the easiest way to get the respiratory drugs inside the body of the people suffering from asthma and other respiratory issues. And for the toddlers and kids, respiratory issues make them very uncomfortable. So have your best pick right now to make your child comfortable with the breathing issues.
If ask us to pick just one for you then we suggest you to go with Mievida Mi-KIDZ C04 Compressor Nebulizer that is best for your child because of its fast medication delivery rate and less nebulization time. Also, its cute toy-shaped design will keep your kid engaged in playing while taking the treatment.
Buy Pediatric Nebulizer Online
Otica Alpha Pediatric Nebulizer Mask Fits On ...
33%
Control D Pediatric Child Mask Kit with Air T...
49%
Turbo the Bear Nebulizer Pediatric, Lightweig...
25%
KCC Nebulizer Mask Kit Child Pediatric
63%
Nuwik Pediatric Child Mask with Air Tube, Med...
67%
Nuwik Pediatric Child Mask with Air Tube, Med...
74%
Oxiboy Nebulizer Mask Kit (T) Pediatric Dispo...
44%
Pediatric Nebulizer Mask
54%