Even though the winter season is very much enjoyable, you can't deny the fact it comes with a lot of troubles and health issues. So, proper precautions must be taken to enjoy the best days of this season. Installing Humidifiers at our home or offices is one of the best options to keep the inside air moist and healthy. So, welcome to the blog, where we have covered the best and latest models of humidifiers for winter along with their full reviews, specifications, and buyers reviews.
For most of us, room heaters are the favorable choices to get relief from the frosty and cool atmosphere during winters. These appliances are the best options that make you feel warm and cozy, but in spite, there is also the fact that these devices make the air around us very dry. This is where humidifiers take place a great role.
About Humidifiers
A humidifier is an appliance that keeps your room or workplace at the optimum humidity level by adding moisture to the air. In other words, we can say that it put moisture back into the air that is too dry.
Humidifiers for winter season, not only provide the necessary humidity into your rooms or workplaces, but also aid you to get rid of dry skin, cold, and flu, the most common problems during winters. Humidifiers for winter are also used for sinus congestion, dry throat, nose irritation, bloody noses, irritated vocal cords, dry cough, and cracked lips.
Types of Humidifiers
Humidifiers fall under two main categories- Warm Mist Humidifiers and Cool Mist Humidifiers. Warm Mist humidifiers are used to disperse warm moisture from the heated water. And the Cool Mist humidifiers are designed to disperse a cool mist/spray to moisture the air.
Based on these two categories, there are basically five types of humidifiers which you can choose on the basis of your budget, preference, as well as the size of the area you want to add moisture to. Let's have a quick look at all these types of humidifiers for winter.
Central Humidifiers-Central humidifiers are the best choice if you want to humidify the entire house, but it is the most expensive one than others. These humidifiers are built directly into your home's heating units or air conditioning.
Impeller Humidifiers- These humidifiers work with the help of rotating disks that run at high speed to create moisture. They create cool mists, and there is no risk of burns with it. Impeller humidifiers are less expensive than the central humidifiers. The only downside is that they only work for single rooms.
Steam Vaporizers- Steam vaporizers are powered electrically. They create a cloud of hot steam to disperse the moisture into the air. These humidifiers are also very expensive, and since they can cause burns, it can be dangerous to use around the children.
Evaporators- Evaporators use wicking action to evaporate water in the air. A fan powers the unit and expels the humidity into the air from a single unit system. The downside with these humidifiers is that they work only in one room at a time.
Ultrasonic Humidifiers- These type of humidifiers produce cool mist by means of the ultrasonic vibration to moisten the air. Ultrasonic humidifiers are available in both cool and warm mist versions.
Our Best Picks of Humidifiers for Winter
When it comes to humidification, every buyer has different needs. And also with so many models available in the market, it is very much difficult to select the best one that suits your needs. So, just get relaxed as we have picked the latest and best humidifiers for winter that will absolutely suit your needs. Also, these are the best ones with budget-friendly prices.
Best Humidifiers for Winter Reviews
Now just have a look at the reviews of the mentioned models of the humidifiers for winter to pick your favorite one.
1. Honeywell HUL520R Mistmate Cool Mist Humidifier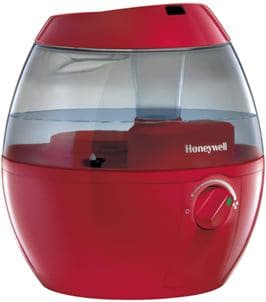 This is one of the best humidifiers for winter that comes the first in our list, for its amazing features and outstanding performance.
Now you can breathe easier with the assistance of this Honeywell Humidifier. This cool mist humidifier features an adjustable mist control. You just need to scroll down the mist output level according to your comfort. It also comes with automatic humidity settings so that you can maintain a constant humidity level with ease.
And the best part is that this humidifier will automatically turn on and off when reaches at the desired humidity level. The Honeywell designer series has an illuminated water window to check the water level with ease. And you can easily adjust the tank light for the desired settings from bright, dim, and off. Also, when the water tank is empty, it automatically shuts off and indicates on display to refill it.
During winters, throat and sinus problem is very common, and this effective device keeps you away from all these issues. It makes your throat and nasal passages hydrated. There also comes an essential oil tray so that you can add some essential oils to it for getting more comfort.
Key Features
Cool Mist Humidifier
Premium finish
Prevents spreading of bacteria
Adjustable mist control
Automatic shut-off
Automatic humidity settings
Wide tank opening
Illuminated water window
Tank Light Bright/Dim/Off
Buyers Feedback
The Good
Well designed
Easy to handle
Quiet operation
No visible mist and no white deposits on the furniture
It lasts long enough to add moisture into the air in a small room and also confirms the level
The Bad
Complaints of water leakage from the base unit
2. Honeywell HWM705B Warm Moisture Humidifier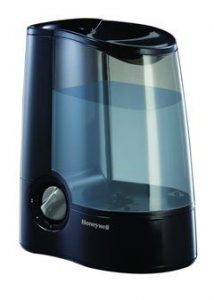 The Honeywell HWM705B model is one of the best warm mist humidifiers for winter with a lot of unique features. With a warm mist humidification technology, this humidifier makes you and your home more comfortable.
It offers an effective solution to neutralize the effects of dry and harsh winter air by adding essential moisture to any small to medium-sized rooms. With the tank capacity of 1.0 gallon, it runs up to 24 hours per refilling. And there is no filter so no worries for the replacement.
Key Features
Filter Free operation
Easy to use manual control knob
Illuminated power switch
2 moisture output settings
Quiet operation
Medicine cup for relief when used with liquid inhalant
Auto shut-off when empty
Refill light illuminates when water tank needs to be refilled
Buyers Feedback
The Good
Filter-free operation so no worries for the filter replacement
Ideal for medium-sized rooms
Works very well and also warms up the room a bit in winters
The Bad
Not ideal for large rooms
3. Philips HU4706/21 Desktop Humidifier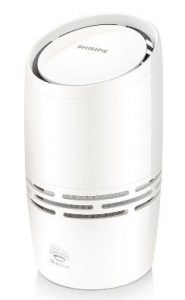 Ensure healthy and pure air around you with this highly advanced model of humidifier from Philips. It is equipped with the advanced NanoCloud technology that offers a three-stage advanced evaporation system to filter out the pollutants like bacteria, viruses, and other fine pollutants in the air. And it also maintains the humidity level in your room.
This humidifier has a healthy air protect lock mechanism that automatically shuts off the device when there is insufficient water in the tank. Between the two humidification speeds- Silent and Standard, you can easily choose to allow maximum flexibility. Get your perfect and peaceful night sleep by activating the silent mode.
Key Features
NanoCloud humidification technology with three stage evaporation system
Even distribution of humidified air
Healthy Air Protect lock
Dual humidification speed
Easy to clean design
Easy to fill water tank
No white dust and wetting floor
Buyers Feedback
The Good
Excellent design
Fighting dry air with maximum efficiency and hygiene
Dual speed settings is the great feature
Great for kids who got frequent nasal blocks in winters
4. Honeywell HUL520B Mistmate Cool Mist Humidifier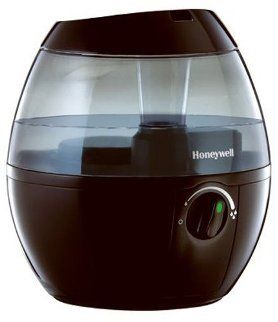 This cool mist humidifier from HoneyWell is the best option to maintain a healthy environment around you. It produces a fine and visible cool mist that makes you and your home more comfortable. While maintaining the proper humidity levels, it aids you in keeping throat and nasal passages hydrated.
The very best part is its compact size that makes it a convenient option to keep it in even small areas like desktops and nightstands.
Key Features
Variable moisture output control
Maintains a healthy environment and reduce the dryness
No filters required
Ultra quiet operation
Large tank opening for easy filling and cleaning
Auto shut-off when tank is empty
Buyers Feedback
The Good
It turns the dry and rough air of the room into the pleasant air without over humidification
Efficient and quiet operation
No filter required
Easy to use control knobs
Consumes very less power
The Bad
Not ideal for medium and large rooms
5. Vicks 1.0 Gallon Cool Mist Humidifier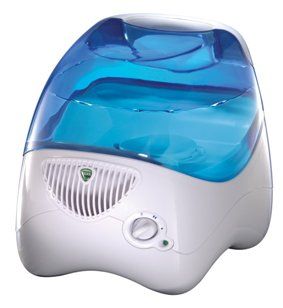 This pure cool mist humidifier from the brand Vicks provides a major relief from most of the health issues caused due to dryness and low humidity levels. It releases a very fine aerosol mist, which disseminates quickly and absorbed into the air flow to maintain the humidity level. Its special evaporative technology ensures proper moisture levels for your indoor plants, furnishings and even the walls of your home.
The moist air from this humidifier reduces the dryness & dust in your room. And your skin and lips also benefit to remain soft and healthy with sufficient moisture content.
Key Features
Energy efficient humidifier
Auto-off function activates when the water tank is empty
Whisper quiet operation
Rotatable nozzle to disperse micro-fine mist in any direction
Low to high humidification levels
Clean control
Special Evaporative technology
2 comfort settings
Buyers Feedback
The Good
Robust and reliable
Great humidifier with aroma diffuser
Easy to fill water tank
Stays relatively clean
The Bad
Not ideal for large rooms
6. Allin Exporters Ultrasonic Cool Mist Humidifier
Superb is just one word to describe this amazing humidifier from Allin Exporters. This advanced humidifier works on ultrasonic humidification technology to humidify the interiors for hydrating skin, effortless breathing, and better sleep all over the night. And thus, it is one of the best choices for your home living room, office, and also for industrial and commercial uses. What is especially best about this humidifier is its 4-way 360-degree rotary mist nozzle heads. These nozzles spread the humidity very evenly to each and every corner of your room interiors.
Another best thing about this humidifier is its large 11 l water tank capacity. And so, it is an ideal solution for improving the indoor air quality of your home and office for the long run. Means, it keeps the air moisturized for 24 hours straight in one refill.
This humidifier also comes with variable mist control knob that lets you adjust the mist output according to your comfort level. Even there comes a built-in safety mechanism, that shuts off the device automatically when it runs out of the water.
Key Features
Cool Mist Ultrasonic Humidifier
Super High Flow for cool mist
4-Side 360 degree rotatable mist outlets
Water Tank Capacity 11 l
Auto shut off
Variable mist control knob to adjust accordingly
Buyers Feedback
The Good
Nice quality product with sturdy built
Aesthetically pleasing design adding a great appeal to your room interiors
Great product to balance moisture in the interior air for ultimate relaxation
The 4-way 360-degree rotary mist nozzle heads is a great add-on for effective and even distribution of moisture all over the room
Easy to assemble and use
View on Amazon View on Flipkart
7. Vornado Evap3 Whole Room Evaporative Humidifier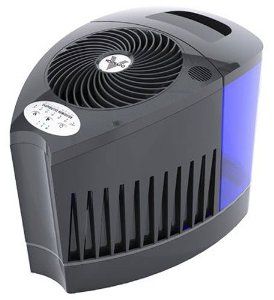 The Vornado Evap3 evaporative vortex humidifier is another best choice to beat cold and flu season. This whole room humidifier can cover the area up to 700 sq ft with the 1.5-gallon water tank capacity. Its deep pitch blade circulator pulls large volumes of harsh and dry air through the unit and then pushes the moistened air further out into the room. And thus providing you a complete and even humidification.
The unit comes with an onboard humidistat that automatically controls the humidity output, or can be set to run continuously for maximum humidification. It comes with three fan speed settings- High, Low, and Auto. Featuring easy to use push button panel with LED lights, the device lets you choose your desired humidity level and fan speed.
Key Features
Evaporative humidification
2 filters included
Whole room humidifier that can cover up to 700 sq ft
1.5-gallon tank capacity
Push control buttons with LED lights
3-speed settings
Fan only operation without humidity output
Humidistat
Spill-Proof water tank
Buyers Feedback
The Good
Stylish design
Awesome build quality
Whisper quiet operation on slow fan setting
Evaporative humidification with circulation for comfort
Easy cleaning and maintenance
The Bad
The high fan setting produces noise
8. Vicks Ultrasonic Cool Mist Humidifier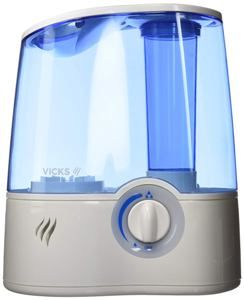 The next is Vicks ultrasonic cool mist humidifier that produces an ultra-fine visible mist to maintain the moisture level into the air around you. And thus, it helps in better breathing and comfortable sleep. This one comes with the 1.5-gallon water tank that makes this humidifier to run for up to 24 hours per filling.
This cool mist humidifier is also equipped with variable mist control that allows you to adjust the output for customized control. You can also use it with Vicks VapoPads for soothing menthol scent. Moreover, its convenient design also comes with the demineralization cartridge that removes the minerals and other impurities from water.
Key Features
Filter-free cool mist humidifier
Variable mist controls
Directional mist outlet to control the direction and intensity of the mist
Scent pad heater provides the soothing comfort for use with Vicks VapoPads
Large tank for easy filling and cleaning
Buyers Feedback
The Good
Nice quality with nice design
Great for large sized rooms
No filter is required
Works very well to humidify the air
9. Dr. Trust Home Spa Cool Mist Dolphin Humidifier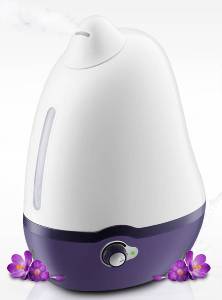 The next is Dr. Trust cool mist humidifier that works on ultrasonic technology to humidify your room. This humidifier provides an ultra fine and smooth, cool mist that softens and moistens the dry and chapped skin in winter. And it also aids to breathe better in the dry air conditions. Holding 2 l water tank capacity, the device can run as longer for up to 8 hours continuously. This diffuser is extremely quiet while working and easily refreshes the quality of the indoor air. And that's why a smart option for your home and office.
Key Features
Cool mist air humidifier
Large water tank capacity of 2 l
Functions up to 8 hours continuously per refill
Super quiet operation
Refreshes quality of the air
Reduces inflammation and skin allergies
Softens and moistens dry and chapped skin
Helps you breathe better
Buyers Feedback
The Good
Good aesthetic look
Nice quality product
Great in terms of performance
Easy to use and clean
Maintenance is also very simple
Noiseless operation
The Bad
Not compatible with aroma oils
View on Amazon View on Flipkart
10. Generic Portable Penguin Humidifier
Being portable, this is yet another best choice of humidifier for the bedroom, baby room, living room, toilet, office, car, beauty salon, spa, yoga room, lounge, conference room, hotels, hospitals, etc. This penguin-shaped humidifier from Generic is a cool mist humidifier that silently infuses your room with clean and moisturized air. So, it is an ultimate solution towards all your winter issues including chapped skin and lips, dry sinuses and other breathing disorders.
It comes with the water tank capacity of 150 ml that can run the device for up to 4 hours continuously. You can also use this lovely penguin mini USB humidifier as a night lamp. And to remove unfavorable odors and smells, just add some drops of aroma oil into the water to make the air fresher.
Key Features
Cool Mist Humidifier
Water tank capacity 150 ml
Spray amount: 30ML/H
LED night lamp
Absorbent filter sticks
USB cable
Buyers Feedback
The Good
Stylish design
Quality is up to the mark
Super easy to use
Great to relieve cold, cough and flu symptoms, itchy dry skin, congested sinuses, chapped lips, dry eyes, headaches by adding moisture to dry air
You can use aroma oils to it for adding fragrance to the air
Easy to clean
Portable
Conclusion
This is all about the best humidifiers for winter. So, assure a better health and comfort of yours and your loved ones with the right levels of indoor humidity by picking one of the above-mentioned humidifiers. Also, get rid of the physical discomforts from chapped skins to cold and flu-related symptoms with these humidifiers.
Related Items
Dr Trust USA 3-in-1 Nano Ionic Facial Steamer...
43%
Newnik V108 steamer for facial and cold/vapor...
29%
Essential Oil Diffusers: Review of top sellin...
Warm Air Furnaces, Duct Furnaces, Humidifiers...
Warm Air Furnaces, Duct Furnaces, Humidifiers...