Air Purifier is now one of the essential requirements of everyone in this polluted environment. Whether to feel fresh air or to take pure breath, Air Purifiers help you achieve the same. It makes your surrounding air clean and fit to inhale.
According to a survey, India is the most heavily polluted country. Cities like Delhi, Lucknow, Kanpur, Allahabad, etc. in India are some of the most polluted cities in the world. Pollution level is continuously rising year to year causing a host of serious health issues to most of us, and it is predicted to be worsening ahead. To overcome all these issues, it is better to invest in a gadget like air purifiers that removes all the contaminants from the air and keeps the air fresh.
So we are here with our Complete Buying Guide and reviews of top-rated models so that you can choose the best air purifier for your home and office.
What is an Air Purifier?
An Air Purifier also known as Air Cleaner is a device that removes the contaminants from the air. These pollutants include dust, mold spores, dust mites, toxin, chemicals, odors, and other carbon-based pollutants. And thereby this amazing device creates healthier and cleaner air in your home and office.
Top 10 Best Air Purifiers in India
Air Purifier
Filter Type
Coverage Area
#1. Philips Air Purifier - AC1215/20
Read Review
HEPA, Activated Carbon
677 sq ft.
CHECK PRICE

#2. Mi Air Purifier 2S
Read Review
PET primary filter, Ultra dense EPA, Activated Carbon
400 sq ft.
CHECK PRICE
#3. American Micronic AMI-AP1-22Dx
Read Review
HEPA, Activated Carbon, Ionizer
200 sq ft.
CHECK PRICE
#4. Honeywell Air Touch i8
Read Review
HEPA
387 sq ft.
CHECK PRICE
#5. Atlanta Healtcare Beta 350
Read Review
Pre-filter, HEPA filter, anti bacterial filter, activated carbon, photo catalyst oxidization, UV light and ionizer
350 sq ft.
CHECK PRICE
#6. Panasonic Nanoe F-PXJ30AHD
Read Review
Air Ionizer (Nanoe)
215 sq ft.
CHECK PRICE
#7. Philips 3000 AC3256 AeraSense
Read Review
HEPA
430 sq ft.
CHECK PRICE
#8. HoneyWell Air Touch HAC35M1101G
Read Review
Pre-Filter, HEPA
450 sq ft.
CHECK PRICE
#9. Mi Air Purifier 2
Read Review
HEPA
400 sq ft.
CHECK PRICE
#10. Philips AC2887/20
Read Review
HEPA, Activated Carbon
851 sq ft.
CHECK PRICE
Best Air Purifier in India- Reviews
1. Philips Air Purifier – AC1215/20 (Best Overall)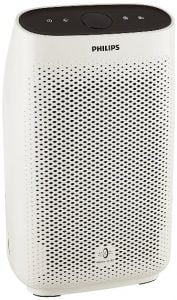 This model from Philips comes at the top on our list of best air purifers in India for its price, features, and performance. Also, the superb aesthetic design and sleek look of this air purifier gives a stylish appeal to any modern home.
Just get a comfortable night sleep with this model of Philips Air Purifier. It has superior purification technology like VitaShield Intelligent Purification System and NanoProtect True HEPA Filter that filters out the harmful gases and even ultra-fine particles. Thus provides the clean and hygienic air in your room.
This Philips Air Purifier comes with smart air quality sensor as well as 4-color air quality indicator. It is also equipped with 4 different fan speeds that include ultra-silent and turbo modes to suit varying room sizes and pollution levels as well.
Key Features
100% ozone free with natural filtration technology
Allergen auto mode for superior allergen removal efficiency
NightSense Auto Mode
Smart Light Control
Fully automatic operation for hassle-free air monitoring and purification
Healthy Air Protect Alert that reminds you promptly to change the filters when required
Multiple fan speeds with ultra-silent and turbo modes suiting varying room sizes and pollution levels
Ultra silent and quiet
Smart air quality sensor
Pros
Excellent product with elegant look
Cleans the air perfectly very well
Noise free operation
Adjusts fan speed automatically
Dust sensor is very powerful
Cons
The product is useful only for small dimension rooms
View on Amazon View on Flipkart
2. Mi Air Purifier 2S (Runner Up)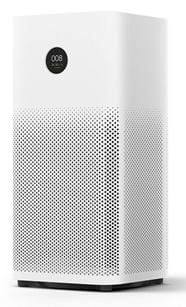 This is the latest addition to Mi Air Purifier with a set of some more advanced features. It comes in an efficient tower structure design making it compact and ensures maximum efficiency. Even though it has 943 intake holes that helps in increasing the air intake space and forms a 360-degree cyclical air filtration pathway.
This Mi Air Purifier is equipped with 3-layer filtration that offers maximum purification of the indoor air. The outer layer is helpful in removing airborne particles such as dust and hair. The middle layer uses H-11 grade filtration technology to remove micron-sized particles and catches harmful bacteria. The inner layer is made up of activated carbon that removes formaldehyde, odor, and other harmful substances.
Coming to the design part, there is an OLED screen on the front of the device that shows the temperature and humidity level. It also lets you check the PM2.5 level to keep track of how clean your air is? The best part of Xiaomi Mi Air Purifier 2S is its Mi Home app connectivity. This feature lets you connect the device seamlessly with your phone so that you can easily control it via the Mi app from anywhere in the world. You can also use Mi Home App to remotely control your purifier to know the air quality and filter status from the app. Even you can adjust the fan strength and set a timer to power on the device.
Key Features
Efficient Tower-Structure Design
3 layer filtration including PET primary filter, Ultra-dense EPA, Activated Carbon
OLED display that shows real-time AQI, temperature, and humidity levels
Coverage area: 400 sq. ft. / 37 sq. mtrs
Smart control through Mi Home App and Alexa
3 different modes- Auto, Sleep and Favourite
Automatic Brightness Adjustment
High-Precision Laser Sensor
Purifies Your Room in 10 mins with a CADR of 310m³/h
Silent and energy efficient
Pros
Smart design with circular filter
Nice and portable
Single cylindrical filter for easiest replacement
Smart App connection to monitor and operate the device through your phone
Works very effectively and efficiently
Cons
Difficult to clean the filter
Noisy in manual mode
3. American Micronic-AMI-AP1-22Dx HEPA Air Purifier (Best Budget Pick)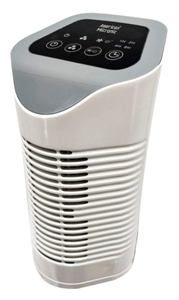 Searching for the best air purifier at budget-friendly price tag? If yes, then this one is the best option for you. This air purifier from American Micronic is the most preferable choice for air purifying needs in your bedroom, baby room as well as the office cabins.
It comes with multi filtration technology along with HEPA filter that removes 99.97% of airborne particles. Also, equipped with an activated carbon filter, this air purifier is capable of removing oil vapors, odor, and other hydrocarbons as well.
This one also has a built-in ionizer that efficiently removes the suspended particles by producing negatively charged ions in the air making it fresh and healthy. Talking about the convenience features, this air purifier comes with 1-2-4-8 hour timer. Also, it has 3 speeds airflow along with sleep mode for effortless and effective air purification.
Key Features
HEPA filter to remove 99.97% airborne particles
Pre-filter to remove large dust particles
Activated carbon filter to remove formaldehyde, oil vapors, odor, and other hydrocarbons
Ionizer to remove suspended particles
Convenience of 1-2-4-8 hour timer
3 Speed air flow with sleep mode
Pros
Nice design and build quality
Yet small in size but very effective
Its pre-filter, HEPA filter, Activated carbon filter, and ionizer improves the quality of the air very well
Silent operation and so offers a good sound sleep
The pre-filter net is removable and washable
Sleep mode and timer mode comes very handy
Cons
Length of the power cord is small
4. Honeywell Air Touch i8 Air Purifier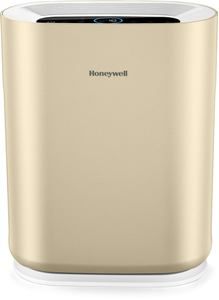 This is yet another powerful and best air purifier from the brand Honeywell to clean the air in rooms up to 450 sq ft. And so it is an ideal choice for your living room, dining space, baby rooms, etc. This air purifier is equipped with the advanced filtration technology combining the pre-filter, and HEPA plus HiSiv for effective air purification. The device promises a CADR of 300 cubic mtrs per hour and thus further promises to clean a 300 sq ft room in just 15 minutes only.
Now coming to the design part, it's so simple and elegant. With the one-touch operation, this air purifier makes the use of device very simple. There comes the touch-enabled controls on the top panel for power on/off, fan speed button, and sleep mode. Apart from that, there is also a display showing the air quality and alerts. And it shows you all about the settings, and a simple numerical display shows you the AQI reading.
The device also has the lock and filter replacement indicators- the lock prevents accidental touches from changing the settings while the filter light shows when to change the filter.
Key Features
3-stage advanced filtration system with combined patented HiSiv and HEPA filter
Activated carbon filter to remove any microscopic pollutant and allergens
Washable pre-filter that removes larger dust particles, pet hair/dander, soil, etc
Intelligent auto mode
Child Lock Feature
Long filter life
Low noise operation
Pros
Well designed and stunning look
Awesome build quality
The fan is quite powerful, and in the night mode it is completely silent
Touch controls are really very awesome
Child lock feature comes very handy
Filter replacement is pretty easy as well
Great in terms of ease of use and performance
Cons
5. Atlanta Healthcare Beta 350 Air Purifier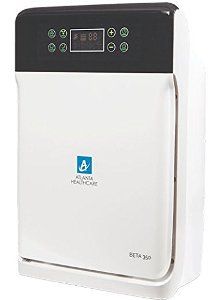 Make your indoor air free from any of the pollutants and impurities with this advanced and best air purifier from Atlanta Healthcare. It comes with 7-stage air purification technology including pre-filter, HEPA filter, anti-bacterial filter, activated carbon filter, photocatalyst oxidization, UV light, and ionizer. And that's why this air purifier is an ideal choice for homes, hospitals, offices, hotel rooms, etc. Besides, its iCluster air purification technology makes your home get rid of the dust, pollens, smoke, allergens, odor, and other airborne pollutants.
Talking about the design part, this air purifier is built with plastic body and comes in decent white color. Even though, there comes the glossy black control panel that hosts the LED display showing different operating modes. And the very nice feature is that it comes with a remote control that makes the operation really a breeze. The device also has basic bells and whistles to notify you when there is a need of filter replacements.
Key Features
7-stage air filtration technology
Best for indoor spaces up to 350 sq ft
3 fan speed modes
LED display
Plug and play operation
Multi-mode operation
Auto start in case of power failure
Odor sensor
Super silence technology
Pros
Build quality is very nice
Multiple stages of filtering offer really very great indoor air purification
Convenient to use with its plug and play operation
The remote control operation is also very good
Easy to use
Easy filter replacement
Cons
The fan is little bit noisy at the high-speed setting
6. Panasonic Nanoe F-PXJ30AHD Air Purifier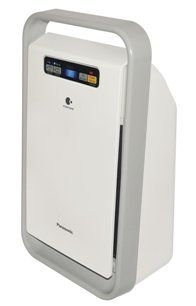 The next comes in our list is the Panasonic Nanoe Air Purifier. This one is equipped with nanoe filtration technology that effectively filters out the dust, bacteria, viruses, odors, and other allergens from the indoor air. And so you can now breathe in a fresh and healthy indoor air environment. The device has effective side and front airflow modes that remove the harmful airborne particles from floor to ceiling.
The device also comes with Composite Air Filter and De-Odourization Filter that works more effectively in improving the indoor air quality. Moreover, this portable air purifier is also featured with auto shut-off mode, night mode, child lock, odor sensor, filter replacement indicator, and a timer.
Key Features
Composite air filter with 3 technology- Super Alleru-buster, Green Tea Catechin, and Antibacterial Enzyme
3D circulation airflow
Coverage area: 215 sq. ft. / 20 sq. mtrs
Clean sign indicator
Odor sensor
Auto mode
8 hours sleep mode
Pros
Excellent build quality
Great in terms of performance and quality
Very quiet operation
Easy to change the filter
Worth for the price
Cons
7. Philips 3000 Series AC3256 AeraSense Air Purifier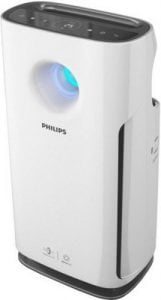 Breathe healthier air with this Philips Air Purifier 3000 series having AeraSense & VitaShield IPS. Its AeraSense technology measures and display real-time indoor air quality (PM 2.5) with professional grade air sensing. And it's VitaShield Intelligent Purification System naturally removes 99.97% allergens and ultra-fine particles as small as 0.02 microns.
It is equipped with new NanoProtectTM S3 Filters including pre-filter, activated carbon filter, and two layers of HEPA filter. This air purifier also comes with three specially designed air inlets for maximum efficiency and performance and extra powerful turbo mode for faster purification.
Key Features
Protects against H1N1 virus
Ultra-silent sleep mode
Precisely controlled auto mode
24-hour digital timer
Healthy air protect alert
Child lock option available
Powerful Turbo mode for faster purification
Pros
Super efficient product with excellent performance
Real-time monitor is a good plus
The sleep mode is almost noiseless
Air cleaning quality is excellent
PM reading feature is top notch
Cons
You have to clean its pre-filter almost very frequently
The product is useful for only small dimensional rooms
The HEPA filter is to replace in a very short period of time
View on Amazon View on Flipkart
8. Honeywell Air Touch HAC35M1101G Air Purifier
This is one of the most efficient Air purifier featuring polycarbonate body and ensures quite operation. It comes with three stages advanced patented filtration system that removes pollutants with more than 99% efficiency.
It is also a completely ozone free air purifier and does not release any harmful gases as a byproduct of the filtration technology. Its patented HiSiv filter comes with a unique honeycomb design that removes formaldehyde, toxic gases, VOCs & odor.
This newly advanced air purifier from Honeywell also features a Clean Air Delivery Rate (CADR) of 300 cubic m/h, as well as an accuracy sensing technology that lets you know the quality of the air you breathe.
Key Features
Multilayered purification filters including HEPA filters and HiSiv filters
DIY filter replacement
Visual Indicator for air quality
Low Power consumption
Low noise operation
Smooth touch controls
Zero blind angle air flow design
Pros
Sophisticated and elegant look
Works well and easy to use
Smart and easy filter replacement
Cons
The sensor needs to be cleaned regularly for optimum performance of the air purifier
9. MI Air Purifier 2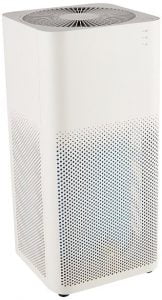 Take a breath of fresh and pure air with this compact and portable Air Purifier from Xiaomi. This one air purifier is equipped with 360 degrees triple-layer filter including primary filter, Toray H11-grade HEPA filter, and activated carbon filter to remove dust, odors, and other respirable particles.
Its high-quality particle sensor offers accurate monitoring to keep the air inside clean and pure. It offers clean and pure air to every corner of your room so that you can inhale purely fresh air. The MI Air Purifier 2 is also ultra quiet and power efficient with seamless speed transitions.
Key Features
Purify 400 square feet area just only in 10 minutes
EPA triple-layer filter
Equipped with strong and silent motor
Quick and precise response to air quality changes
Use your phone as a remote to operate this air purifier by downloading the MI Home app
Pros
Nice built and excellent look
Cleaning quality is excellent
Best air purifier for large sized rooms
The added app feature is too good
Easy to set up and operate, all can be managed from MI app
The product is worth buying if you are allergic to dust and have asthma
It could eliminate the odor around 50%
Cons
Filter price is on higher side
Does not filter Carbon Dioxide, so room is required to open always unless ACs are switched on
The air quality reading is not accurate
10. Philips 2000 Series AeraSense AC2887 Air Purifier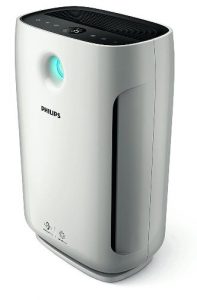 This air purifier from Philips features AeraSense technology. It also comes with a real time 2.5 measurement and display with professional grade sensing technology.
It's PM reading feature and HEPA filter quality makes this one amongst the best options out there. This one air purifier from Philips is also 100% ozone-free.
Key Features
AeraSense technology
CADR (Clean Air Delivery Rate) of 333m3/hour
Dedicated pollution, allergen and bacteria/virus auto modes
Noiseless operation
Thick HEPA filter
Pros
Great value for money
Its allergen mode has been a life saver
Air quality indicator works well
Numeric indicator to indicate the PPM level is great
Soft touch buttons are great
Very low noise
Cons
How To Choose the Best Air Purifier? (Buying Guide)
How do Air Purifiers work?
Air purifiers work on the principle of trapping the indoor air by means of a fan through a filter or combination of filters. And then it blows out the clean and fresh air creating your indoor environment fresh and clean. Different filtration techniques are used in air purifiers for trapping the impurities. So, let's have a detailed look at the type of filters used in air purifiers in our next section.
Types of Filters used in Air Purifier
Different air purifiers come with different filtration mechanism. So, choosing the right filtration technology is very much important. There are 4 most common filtration technologies used in an air purifier which is described hereunder:
HEPA Filters: HEPA stands for High Efficiency Particulate Arresting. These are the most common as well as the most effective filtration technology used in air purifiers. It can trap nearly all the contaminants or pollutants even the finest airborne particles up to 0.3 microns from the air. Air purifiers with HEPA Filters are little pricey but the most effective one. And you need to change the filter per year for effective air purification.
Ozone or Ionizer Technology: The second is ozone or ionizer technology that works by releasing a cloud of negatively charged ions to clump the large particles together. And so, it easily captures the airborne pollutants. The best part of this filtration technology is that it has the ability to capture the ultrafine particles of even 0.01 microns. But the main downside with these filters is that some ionizers create excessive ozone that causes respiratory irritant.
Activated Carbon Filter: These filters are incorporated with chemical absorption technique using activated carbon or sometimes zeolite to remove impurities. Activated carbon filters are best for capturing a plethora of impurities including odor, smoke, chlorine, sediment, pesticides, VOCs, and other harmful gases.
Photocatalytic Filter: These filters use ultraviolet germicidal irradiation (UVGI) for killing germs. And are the best options for commercial purposes. But the major downside with these filters is that it produces a small amount of ozone that is itself a toxic air pollutant. Since it can trigger breathing issues and asthma problems, it is better to avoid purchasing these filters.
Things to Consider before Buying an Air Purifier
1. Room Size
This is the foremost factor before purchasing an air purifier for your room. Large models are ideal for large sized rooms and for smaller rooms the compact ones are an ideal choice. So it is important to check the coverage area parameter of the air purifier you need to install in your room for effective purification.
2. CADR and ACH
These two parameters are most notably to consider before buying an air purifier.
CADR: stands for Clean Air Delivery Rate. This rating lets you know how well the unit can purify the air in a specified room. The rating measures mainly three types of pollutants including dust, smoke, and pollens. The higher the value of CADR, the faster the unit can purify the air.
ACH: stands for Air Changes Per Hour. This rating tells you how many times the air purifying device can exchange the air with clean and fresh air per hour. The higher the value of ACH, the higher the device is efficient in purifying the air inside your room.
3. Type of Air Purifier
We have already discussed about the different type of filters used in an air purifier. So choose the one that fits your need well.
Even there come the portable air purifiers with castor wheels that you can easily move from one room to another to purify the room accordingly. Besides that Whole House Air Purifiers are now becoming very popular that easily purify every room of your house. These units are getting connected to your home's existing HVAC system to purify the indoor air.
4. Noise Level
Some models of air purifiers come with a fan that creates a little bit noise while operation. So, make sure the unit has fan speed adjustment option also, so you can easily mitigate the noise levels.
5. Maintenance
When it comes to maintenance, different types of air purifiers needs different type of maintenance. HEPA filter and Activated Carbon filter needs routine filter replacements. And so air purifiers with these filters are quite expensive. It is important to check the maintenance cost and filter life before buying an air purifier.
On the other hand, air purifiers that use ultraviolet light to purify the air don't need any filter replacement for your convenience.
Some other Smart Features
For the more convenient operation of air purifiers, some other smart features for consideration are:
Caster Wheels and Handles for easy mobility
Digital Controls as well as Remote control operation
Filter Replacement Indicators
Multiple Fan Speed settings
Air Quality Sensors
Programmable Timers
Conclusion
This is all about the best air purifiers in India to get clean and fresh air in your home and office. All the above listed air purifiers are of top notch quality and picked from the well known brands. So get the one according to your budget and requirement.
Buy Air Purifier Online
Coway Professional Air-Purifier, Special Gree...
63%
Mi Air Purifier 3 with True HEPA Filter and S...
25%
Philips AC1215/20 Air purifier, removes 99.97...
15%
Philips High Efficiency Air Purifier AC2887, ...
28%
Mi Air Purifier 2C with True HEPA Filter (Whi...
25%
Sharp Air Purifier for Homes & Offices | Dual...
62%
Dyson Pure Cool Link Tower WiFi-Enabled Air P...
32%
TruSens Z-2000 Air Purifier | Remote SensorPo...
48%