A Water Purifier is now a must-have appliance for every home to get the safest drinking water free from all types of harmful impurities.
Water is one of the primary sources of life. No water, no life. But with the continuous increase in pollution, the water comes with so many contaminants making it unsafe to drink without proper purification.
Removing contaminants by boiling water is a traditional way and time consuming too. Thanks to the latest technology that gifted us the Water Purifiers to get rid of all kinds of water ailments.
So, if you are searching for the best water purifier for your home, this blog will help you to pick the right one. You will find here, the reviews of best water purifiers in India, their full specifications and pros & cons, along with the CompleteBuying Guide.
What is a Water Purifier Machine?
Water Purifier machine cleans and filters out all kinds of contaminants and impurities from water. Thus, it makes it safe, purified, and harmless drinking water. It has inbuilt technologies like RO, UV, UF, as well as TDS regulator that removes the biological contaminants, unwanted chemicals, and suspended solids from impure water.
Top 10 Best Water Purifiers in India
In this blog post, we have compiled the list of the latest and best water purifiers in India with RO+UV technology. Just go through the list to pick the best one and stay healthy and fit.
Best Water Purifier in India- Reviews
Now, let's have a look at the detailed review of the above listed models of water purifiers to pick the best one.
1. LG Puricare WW140NP RO + Mineral Booster Water Purifier (Best Overall)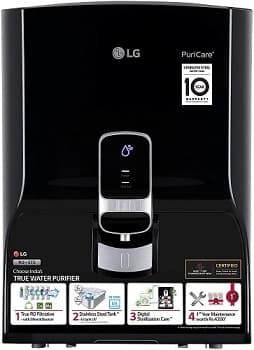 This water purifier from LG is our top pick because of its advanced functionalities and features. If you want clean water with refined taste, the product is the best way to achieve that. This RO water purifier delivers clean, hygienic, and better-tasting water.
Its unique, eye-catching wall-mountable design adds a touch of grace to your kitchen interiors. You can also place it at your kitchen counter. Plus, the large water tank of capacity 8L provides you enough water to fulfill the needs of your family.
It comes with a unique airtight stainless steel tank water tank that is more hygienic over the plastic tank. This stainless steel tank ensures protection from the contaminants caused by dust and insects.
This water purifier includes a five-stage RO filtration process. It filters out all the unnecessary particles, dust, bacteria, viruses, and heavy metals, etc. from the water by maintaining the necessary pH balance.
With the combination of UV and UF, this water purifier sterilizes the purified water for 75 minutes every six hours. Thus, it prevents the growth of germs in the purified water. Moreover, the mineral booster uses carbon black to absorb chlorine, sand, etc. Thus adds the mineral to the water by enhancing its taste.
A smart display is also there on the water purifier to add more convenience. It features a UV sterilizing indicator, water level indicator, and filter change indicator to notify you of the filter replacement.
Key Features
5 stage RO filtration system
Capacity 8 L
Stainless steel tank with airtight sealing
Innovative Digital Sterilizing Care
UV LED protects against germs reformation and revitalizes purified stored water
Water filter change indicator
UV sterilizing indicator
Water level Indicator
Smart display
Wall mountable and counter placement both
Pros
Stylish look
Build quality is extremely good
Mineral booster to add essential minerals to RO purified water
Stainless steel tank is more hygienic
Cons
Expensive
Wastes a lot of water
2. HUL Pureit Ultima RO+UV Water Purifier (Runner Up)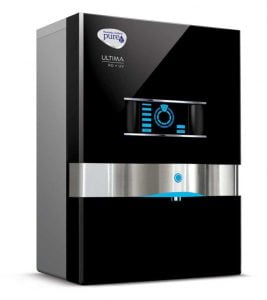 Pureit is very popular for its gravity filters, but now they have also with their RO+UV water purifiers. Pureit Ultima from Hindustan Unilever uses the purification technology of RO+UV to deliver the pure and healthy water for consumption.
This water purifier is featuring the Neon Flash Belt that lights up whenever the water purifier is used. Also, the TDS modulator improves the taste of your drinking water as well. It has a water storage capacity of 10 litres, so a good choice for any medium-sized family.
The six-stage purification technology includes PP melt blown pre-sediment filter, Pre-RO carbon filter, post-carbon sediment filter, reverse osmosis membrane, UV reactor, and post-RO carbon filter. It also comes with an advanced alert system that lets you know some days before the GermKill cartridge stops working so that you can prepare earlier for replacement.
Key Features
RO+UV Purification Technology
Storage tank capacity 10 litres
Purification capacity approx 9-12 litres/hour
Total Dissolved Solids upto 2000mg/litre
Pros
Nice and stylish design
Excellent product
Output water quality and filtration process is good
Cons
Filter replacement is costly
3. Faber Galaxy RO+UF+MAT Water Purifier (Best Budget Pick)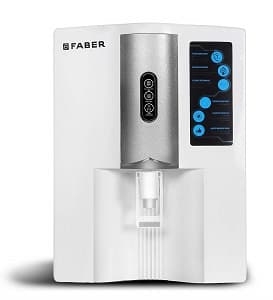 If you are searching for a smart and effective water purifier at an affordable price range, this model from Faber can surely be your best choice. With the capacity of 9 liters, it is ideally suitable for homes with large families.
When it comes to design, this water purifier comes with a clean and simple design along with an easy to use interface. It is both wall mountable and can be placed on your kitchen countertop adding elegance to your kitchen interiors.
To purify the water, it undergoes a seven stage effective purification process. Thus, it filters out hazardous chemicals, pesticides, heavy metals, and other salts from water without degrading its taste.
This RO water purifier works even at high TDS of 2500 ppm in water. And it works best for all types of water sources, whether it be borewell, water supply, or tank water.
Moreover, the Mineral additional technology adds back the essential minerals like copper, calcium, and magnesium in the drinking water. Thus, making the water healthy for your consumption.
Another best feature of this water purifier is its copper guard technology that acts as an antifouling agent to ensure healthy, pure, and better-tasting water. For your convenience, it also comes with indicators for tank full, purification on/off, and low pressure. When the tank gets full, the appliance automatically turns off the power. Thus, it not only saves power but also prevents water wastage.
Key Features
Capacity 9 L
Advance 7 stage purification
Mineral Addition Technology
Copper guard technology
Automatically turns off power when the water tank is full Food-grade Plastic tank with germ-block technology
Tank full indicator
Low-pressure indicator
Purification Process Indicator
Smart display
Pros
Elegant design
Offers the most effective water filtration
Better tasting water
Build quality is nice
Hassle-free installation
Cons
4. Eureka Forbes Aquasure from Aquaguard Amaze RO+UV+MTDS Water Purifier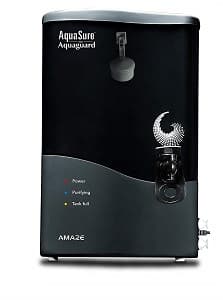 Save your family from various water-borne diseases by installing this best water purifier from Eureka Forbes. With the capacity of 7 liters, the appliance offers pure, fresh, and good tasting water. And its advanced purification technique ensures only hygienic and safe water for your use.
Its unique design and graceful appeal add more sophistication to your kitchen. You can easily install it either on your wall or place it on the table or kitchen countertop at your convenience.
There is a smart LED indicator present at the front, indicating you when the power is on, when the tank fills up with water and when the purification process is on.
This RO water purifier works best up to the high TDS of 2000 ppm in water. The best part of this appliance is its smart energy saving. It automatically switches off the power supply when the tank gets full. Thus, it prevents the wastage of energy.
Key Features
Capacity 7 L
Multi-Stage Purification with RO + UV + MTDS Technology
Long-lasting cartridge
LED Indicators for purification, tank full and power-on status
MTDS regulator for safe and tasty water
Energy saver by automatically switching off the power when the tank gets full
Allows purification of water that has a TDS level of up to 2000 ppm
Pros
Sleek and compact design
Good for family with 4-5 members
Sturdy construction
Long-lasting cartridge
Excellent product in this price range
Cons
5. Havells Max Alkaline 7-Liter RO+UV Water Purifier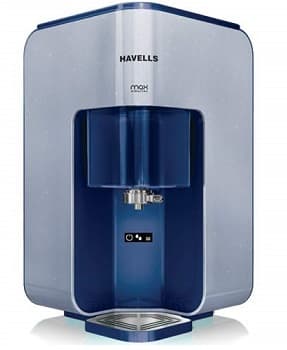 If you are searching to buy the best alkaline water purifier, this model from Havells is one of the best buys. Havells Max Alkaline water purifier comes in a futuristic design that appeals to any modern kitchen. Its vibrant pearl white and navy blue color combination with a transparent water tank add a great style to your kitchen interiors.
It also comes in a space-saving design that is both wall mountable or easily placed on the tabletop or kitchen counter. The corner wall mount feature saves more space.
The appliance provides you best-in-class purification of water for your consumption with its unique seven stages RO and UV purification technology. And the 7-liter capacity makes it one of the best choices for small to medium-sized families.
One of the most advanced features of this appliance is its iProtect purification monitoring. This feature automatically cuts off the water when the cartridge remains no longer to purify the water. Also, it comes with various alerts and indicators, including low water pressure, tank full, and error alerts for UV, SV, and pump failure for all your convenience.
Key Features
Sleek and compact design
Capacity 7 liters
RO and UV purification
Mineral technology to correct the pH level and add natural minerals to the water
iProtect purification monitoring
Purification on/off alert
Tank full alert
Low water pressure indicator
Alerts for UV, SV, and pump failure
Transparent water tank
Water dispenser
Pros
Looks stylish and appealing
Delivers purified water with good taste
Easy installation
Sturdy construction
Cons
No TDS regulator
Lots of water wastage
6. Livpure Glo 7-Litre RO + UV + Mineralizer Water Purifier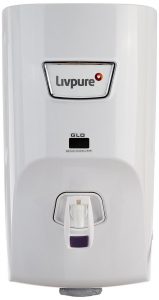 Livpure is one of the rising water purifier brands in India. The model Livpure Glo comes with an elegant and sleek design that adds a better and new style for your home.
This new 6-Stage RO + UV water purifier can work with all kinds of water sources like Borewell, Tap water, River water, etc. and is capable of converting impure water up to 1500 ppm TDS into purified water.
It has a storage capacity of 7 Litres that makes it a best water purifier for medium sized families. The six-stage purification includes sediment filter; pre-activated carbon filter cum absorber, RO membrane, UV disinfection column, silver impregnated post carbon filter and mineral cartridge.
Key Features
Ro + UV + Mineralizer Purification Technology
Storage tank capacity 7 litres
Purification capacity upto 12 litres/hour
Works up to 1500 ppm TDS level
Pros
Modern and stylish design
Taste of water is good
Easy to remove and reinstall
Cons
7. Kent Grand 8-Litre Mineral RO + UV/UF with TDS Controller Water Purifier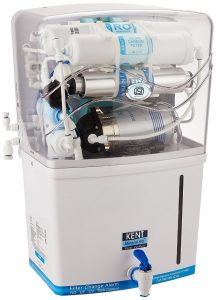 Kent Grand is one of the best water purifiers in India with double purification system through RO+UV+UF and thus offering 100% safe, pure, and tasty drinking water. The double purification system removes even the dissolved impurities like salts and chemicals.
Kent Grand comes with a water storage capacity of 8 litres. Its inbuilt TDS regulator retains the essential minerals in drinking water and thus making it pure and healthy. You can easily install this one on your kitchen wall as it comes with a wall-mountable design.
This fully automatic home appliance also comes with auto on and auto off functionality for hassle-free operation. Kent Grand has two unique features that include filter change alarm and UV fail alarm to notify the users to change the filters.
Key Features
Double purification technology of RO + UV + UF with TDS controller
Storage tank capacity 8 litres
Purification capacity upto 15 litres/hour
Advanced Alert system
Auto-on and Auto-off functions
Pros
Great product in affordable price
Nice design
Water taste is also very good
Cons
Annual repair and maintenance cost is high
8. Kent Supreme RO+UV Water Purifier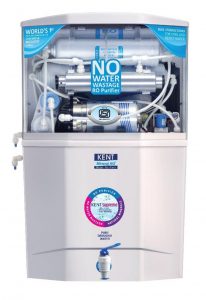 Kent Supreme Water purifier comes with a double purification technology of RO+UV+UF that ensures to purify even the dissolved impurities like chemical impurities, finest dust particles, and bacteria in water and thus giving you 100% fresh and pure drinking water.
Its inbuilt TDS regulator retains the essential natural minerals. It has a purified water storage and rejected water storage capacity of 9 litres each.
Key Features
Double purification technology of RO+UV+UF with TDS controller
Storage tank capacity 8 litres
Purification capacity 20 litres/hour
Fully automatic
Pros
Excellent wall mountable design
Purification is also good
Water taste is sweet
It is able to store the discarded water, which can subsequently be used for washing dishes etc
Cons
Too much of maintenance cost
9. Eureka Forbes Aquaguard Geneus RO+UV 7-Litre Water Purifier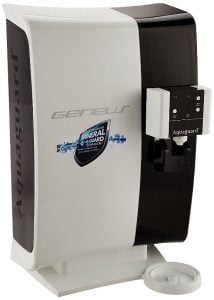 Aquaguard Geneus is a high-end water purifier that can work with any type of water sources including river water, taps, borewells, etc. This water purifier detects the quality of the input water and selects the optimum technology to purify the water.
It has a water storage capacity of 7 litres, and its RO membrane can work with water having the TDS levels up to 2000 ppm. It also comes with a Mineral Guard technology that automatically discards the excess minerals and retains the right amount of minerals in purified water.
This water purifier also has a taste enhancer ensuring that you will get only pure and sweet water regardless of the matter where the water comes from.
Key Features
RO + UV + UF + Mineralizer
Purified water flow rate 15 litres/minute
Storage tank capacity 7 litres
LED display and water level sensor
Pros
Reliable product
Nice and elegant wall mountable design
The taste of water is very good
Cons
UV filter leeks if pressure is slightly higher
Annual maintenance cost is also high
View on Amazon View on Flipkart
10. Livpure PEP Star RO+UV+UF+TE Water Purifier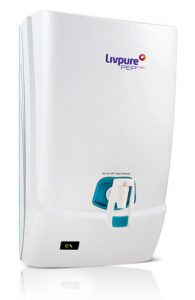 This one from the brand Livpure ia another best water purifier on our list that comes with an advanced seven stage RO + UV +UF water purification technology. It can work with all kinds of water sources like Borewell, Tap water, River water, etc. It also has a Taste Enhancer technology that delivers 100% safe, pure, and tasty water.
Its sleek and modern wall-mount design adds great style to your kitchen interiors. Livpure PEP Star has a water storage capacity of 7 litres which makes it an ideal choice for medium-sized families.
Key Features
RO + UV + UF + TE
UltraViolet disinfection
Water storage capacity 7 litres
Fully automatic operation
Pros
Nice and elegant design
Works very well with tasty water
Cons
Not showing the water level only showing whether the tank is full or not
How to Choose the Best Water Purifier in India? (Buying Guide)
Different Purification Technologies used in Water Purifiers
Now let's have a detailed view of all these technologies used in water purifiers.
1. RO Technology
RO is an acronym for Reverse Osmosis, and this technology is used to remove all the dissolved impurities from water like chemicals, heavy metals, and dissolved salts.
Now the question comes how this technology works in a water purifier. Here, the water is passed through a semi-permeable membrane to remove all the impurities present in water. The pore size (approx. 0.0005 microns) of RO membrane is very tiny that allows only a molecule of water to pass through it, and other contaminants are rejected. This technology requires electricity.
2. UV technology
UV is an acronym for UltraViolet that is used to kill the germs, viruses, bacteria, and other tiny microbes. This technology is highly effective to kill the entire microorganism. The only flaw is that the dissolved impurities cannot be removed by this technology. This technology also requires electricity.
3. UF technology
UF is an acronym for UltraFiltration. This technology is also used to remove bacteria and germs from the contaminated water. The pore size of UF membrane is comparatively bigger than RO membrane, but it does not allow any virus, bacteria, and germs to pass through it.
This technology does not require electricity. The UF technology is not more powerful as compared to RO and UV as they are not able to remove the heavy metals and dissolved salts.
4. MAT
MAT in water purifier refers to the Mineral Addition Technology filter. It is used to add back the appropriate minerals like calcium, magnesium, and copper, etc. that is lost during the RO purification process. Thus, as a result, it improves the water quality.
5. TDS Regulator
TDS means Total Dissolved Solids. In water, the various dissolved minerals, salt, and other dissolved metals like chloride, calcium, magnesium, sulfur, iron, etc., are called TDS in water.
The presence of TDS determines the hardness or softness of the water that affects the taste of water. It is expressed in milligrams per liter of water. So, the TDS regulator in water purifier determines how soft or hard the water is.
In fact, the RO water purifier eliminates approximately all the TDS present in water. So, it ensures the loss of even good and healthy salts like calcium and magnesium from the water. But these salts are good for our overall health. So, it is essential that a certain amount of it must be present in the water.
The water purifier with the TDS regulator ensures the adjustment of the purification process as per the source of water. Thus, it provides completely safe, healthy, and tasty drinking water.
The new MTDS regulator in a water purifier enables it to work with different types of water sources with a max. TDS value of 2000 mg/lts.
Ideal Water TDS level- TDS Chart
| TDS Level (mg per l) | Rating |
| --- | --- |
| less than 300 | Excellent |
| 300-600 | Good |
| 600-900 | Fair |
| 900-1200 | Poor |
| greater than 1200 | Unacceptable |
RO Water Purification System (How it works?)
Reverse Osmosis or RO Water purification system is one of the most widely used and best purification technology used nowadays. Its working includes forcing of water through a semipermeable membrane to remove all the impurities (finest particles) from water.
This membrane denies the entry of particles larger than water molecules to pass through the filter. Thus, harmful microorganisms, viruses, bacteria, and other particles get filtered. And you will get pure, clean, and tasty drinking water.
Reverse Osmosis can remove up to 99% of the contaminants, including lead, chlorine, fluoride, dissolved salts, and much more.
Pros and Cons of RO Water Purifiers
Pros
It removes various impurities present in the water like lead, mercury, arsenic, chlorine, and fluoride, etc.
RO purification technology improves the taste of water
The filter used in RO water purifiers require less maintenance
It consumes less energy as compared to other water purifiers
Cons
It removes some important components dissolved solids like calcium and minerals from water which are essential for the human body
RO water purifier takes a long time in water purification
So much wastage of water with the RO water purification technique
Factors to Consider Before Buying a Water Purifier for Home
1. Check the Water Quality
There come different types of water purifiers with different purification technologies. Checking out the quality of water is the foremost step to consider before deciding upon which purification technology works best.
Check for the TDS level and hardness of water using TDS water meter tester. You can purchase a TDS meter online to measure the TDS level of water at your home.
If the water you are using comes with a high TDS level and high content of salt, you can opt for the RO water purifiers. Water with low TDS levels can be filtered best using the UV water purifier.
Also, there come various combinations for purification that includes RO+UV+UF, UV
UF and RO+UV+MTDS, etc. So, you can choose the best combination depending upon the quality of water.
If the water you are using at your home is soft and has a low level of TDS, you can also opt for the simple carbon water filters.
2. Budget
Determining your budget is also an important factor that helps you in deciding which kind of water purifier you must choose for your home. But not only the purchasing cost, but you may also consider the filter replacement cost and maintenance cost of the water purifiers.
It may help you in choosing the best one in your budget range. But, if it means a higher budget range for you, there are various affordable water purifiers also available to choose from.
3. Purification Capacity of the Water Purifier
This factor depends upon the consumption and usage of water by your family. If you are living in a small family, the water purifier with the purification capacity of 10-15 liters per hour is pretty good enough. But if you are living in a joint family with more than six members, you may opt for the one that comes with the purification capacity of minimum of 55-60 liters per hour.
4. Tank Storage Capacity
The storage capacity of the tank in a water purifier should be that much enough to meet your daily requirements of water usage for drinking and kitchen use. The RO water purifiers come with a storage tank allowing you to access the filtered water whenever you need it.
The water purifier with the storage tank capacity of minimum 7-15 liters is ideal for your home usage.
5. Water Filter Maintenance
Cartridge and filters in a water purifier are the most important components that are essential for water purification. These cartridges and filters need regular maintenance for effective water purification. The cartridges need replacement per year. Some filters also require maintenance half-yearly.
6. Filter Replacement Indicator and Alerts
If you are using a UV water purifier, it comes with a UV fail alert. This alert notifies you when there is a need to change the UV lamp. In case of RO water purifiers, the filter change alert reminds you to change the filter.
Some high-end models also come with the full tank and purification-on indicators. These are some of the convenience features making you notify when the water tank gets full. And the purification-on indicator tells you that the purification is still working on.
7. Installation
Water purifiers can either be installed on a counter or a table, and some are wall-mountable. The smart and stylish appeal of the modern water purifiers blends seamlessly to your kitchen decor.
In case you don't have enough space in your kitchen for its installation, you may opt for under-sink water purifiers. These water purifiers can be easily installed under the sink or under the counter of your kitchen saving space.
Even most of the reliable brands offer free installation. So, you must also consider this point to save the installation cost.
8. Warranty and After-Sales Service
Go for only that brand of the water purifier that offers the best guarantee on their product and excellent after-sales service. It is advisable to read terms and conditions of warranty and after-sales service very carefully. The product with a minimum one-year warranty and two years of free service is ideal.
9. Price
Pricing is another most important consideration before buying a water purifier. If you are low on budget, you can consider the non-electric gravity based water purifiers. But for high-end purification, water purifiers with RO and other purification technologies are best to consider. All the above listed water purifers are of high quality and has decent price tag depending upon the features present in it. Well, you may consider other options too. But keep in mind that a good quality water purifier with high-end purification technologies ranges around Rs 8000 to Rs 25000.
Advantages and Disadvantages of Water Purifier
Advantages
Water purifier makes the water safe for drinking and doing other household chores
Hassle-free process of purifying the water over the boiling method
It removes 99.9% germs, bacteria, and other harmful chemicals present in the water that you can't achieve using the boiling method
The RO water purifiers are specially designed to convert the hard water into soft water making it safe for drinking
Some water purifiers also come with filters, including a TDS controller. It checks the quality of water and makes it the best water safe for drinking
There are also various affordable water purifier models available nowadays so that a nominal income people can also afford
Disadvantages
Expensive over the boiling method
It requires a lot of maintenance to ensure the best performance
Why is Water Purifier essential for Indian homes?
The water we use in our homes comes from various sources like rivers, lakes, dams, etc. But the continuous increase in pollution is degrading the quality of water. Though before reaching our home, these water are cleaned using chlorine and other chemicals, but still contains a lot of impurities and contaminants.
So, drinking them without proper filtration may lead to severe health issues like diarrhea, dysentery, cholera, etc.
Though, in various Indian homes, water is supplied through underground sources that are supposed to be clean and pure water for drinking purposes. But they also contain a high amount of salt and sediment contents. That is, again harmful to your health. So, these water also requires proper purification and filtration before using it.
Thus, only the boiling method is not sufficient to remove the impurities and contaminants present in the water. So, purchasing a water purifier is now essential for every home to get only safe drinking water or for any other purpose.
Frequently Asked Questions (FAQs)
What is the best water purifier for home use?

Water purifiers for home come with different purification technologies with variation in price. It must be purchased depending upon the quality of the water you are using at home. RO water purifiers are always considered to be the best option among various other purification technologies. But you can also opt for RO+UV, RO+UV+UF, and RO+UV+UF+TDS regulator, etc.

Which brand is best for water purifiers?

LG, Kent, Bluestar, Aquaguard, and Livpure, etc. are the topmost brands of water purifiers in India. They come with the unique purification technologies suiting the requirement of every Indian Household. We have covered the best models of water purifiers from only the best brands. So, you can choose the one suiting your needs and budget.

RO water purifier or UV Water Purifier- Which is better?

Both these purification technologies have their own benefits. RO water purifier effectively filters out the TDS content, whereas UV water purifier can effectively kill the germs and bacteria from water. For better results, you can go for the combination of both these purification technologies.

Does RO water purifier waste too much water?

Yes, the RO water purifiers use the forcing of water through a semipermeable membrane to remove all the impurities, even the finest particles from water. This technology ensures only to pass out filtered water and drains out the rest of the water with impurities. This impure water is called waste water or reject water.

How often the filter of the water purifier needs replacement?

Every water filter comes with a filter that you need to change at a certain time interval. This replacement is required because the cartridge gets ineffective by purifying the impurities from water continuously. However, the filter replacement depends upon various factors like impurities present in the water, your daily consumption, and usage, etc. The best thing is that modern water purifiers come with indicators and alerts that notify you when the filter needs replacement.
Conclusion
So, these are our top picks for best water purifiers in India with their full reviews. I am sure the above listed best selling water purifiers will help you in picking out the best one for your domestic needs.
Hope the buying guide we have covered to choose the best water purifier for your home will ease your buying decision. Still, if you have any queries or suggestions related to our blog, please share it with us in the below comment section.
Read Related Reviews
Buy Water Purifier Online
AQUA D PURE Copper RO Water Purifier with UV,...
15%
Aquaguard Sure Delight NXT RO+UV+UF Water Pur...
49%
KENT Supreme RO Water Purifier  | 4 Years Fr...
26%
AQUA D PURE Copper + Alkaline RO Water Purifi...
15%
Faber CUV 8000 Water Purifier | UV+UF+Cu Guar...
63%
Aquafresh Red Candy RO + UV + UF + TDS 17 lit...
61%
Livpure GLO PRO+ RO+UV+Taste Enhancer, Water ...
45%
Urban Company Native M1 Water Purifier | Need...
28%