Living in a large city means you and your family are being exposed to air pollutants and contaminants on a daily basis. Hence you need something very efficient to get rid of this problem. Air Purifier is one of the best solution for this. With alarming pollution level in India, a dramatic increase in sales of air purifier has occurred in the last few years. Among the various brands including Kent, Livpure, Honeywell, Eureka Forbes, Philips Air Purifier comes with a great range of new and improved ones.
We are here with the reviews of best Philips air purifiers in India, so that you can pick the right one for your needs.
Also, choosing the right air purifier requires a lot more consideration. Better to read our buying guide on how to choose the best air purifier.
Top 5 Best Philips Air Purifiers in India
Best Philips Air Purifier – Reviews
Now, have a look at the detailed review of each model that we have listed above along with their specifications, and buyers feedback to make your buying decision easier.
1. Philips Air Purifier – Series 2000 AC2958/63 (Best Overall)

The top on our list is model AC2958/63 from Philips that comes with all the top-notch features and amazing performance, so that you can breathe only clean air inside your room.
This Philips Air Purifier not only removes harmful gases, pollutants, and other contaminants present in the air but also adds a great style and aesthetic to your home. Since the model comes with VitaShield IPS professional filtration system that removes harmful contaminants, allergens, and gases as well, this one perfectly works.
The convenience features of this Philips Air purifier include 6-step fan speed to adjust the air flow accordingly. Because of its fully automatic operation, it is completely hassle free. It is also featuring a smart sensor that measures and controls the indoor air quality.
Key Features
Professional Filtration System
Healthy Air Protect Alert
4 step LED indicators to show air quality level
Smart sensor to give accurate feedback on indoor air quality
Child lock feature
6 fan speed settings
1/4/8 hour easy to set timer
2 Years Warranty
Pros
Light and compact
Works great for small to medium sized rooms
Air is filtered promptly
Air quality indicator gives the clear idea of air quality
Cons
Expensive
It does not show any kind of Numeric PM level
2. Philips Air Purifier – Series 3000 AC3059/65 Air Purifier (Runner Up)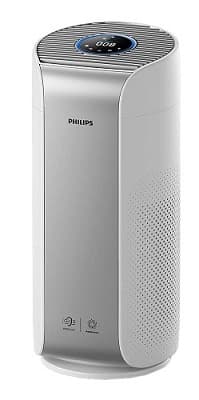 With a lot of good customer ratings, amazing quality and performance, the model AC3059 is another best Philips Air Purifier for your home and office. The first thing that we liked about this product is its superior sleek design that fits easily anywhere inside your room while increasing the aesthetics too.
With this model of Philips Air Purifier just get assured with the cleaner and healthier air always. It is equipped with an advanced filtration system that filters out harmful agents, bacteria, allergens, and other air contaminants. And due to its advanced filtration system, it ensures the better health of you and your family.
It comes with two stages advanced filtration system including the activated carbon filter and the HEPA filter. The activated carbon filter removes the larger dust particles, harmful gases, and unpleasant odors. In the second stage, HEPA filter with antibacterial coating filters out fine dust and allergy causing particles.
Key Features
Healthy Air protect alert
3-step fan speed to adjust air flow accordingly
Sleep Mode where the fan speed and noise level are reduced, and lights go dim
1or4or8 hours easy to set timer
1 Year Warranty
Pros
Cool trendy looks
Cool trendy looks
Low noise operation
Cons
Its filters are not properly locked. So dust particles pass from the corners of the carbon filter
A bit noisy
3. Philips Air Purifier 1000 Series AC 1215/20 (Best Budget Pick)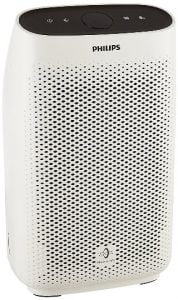 If you are more concerned about your budget, this model of Philips Air Purifier is the best option. Equipped with the VitaShield IPS and NanoProtect Pro filter, this air purifier from Philips is capable of filtering out harmful gases like TVOC, formaldehyde, etc. It maintains the cleanliness and hygiene of your room. Also, keeps the air of your room free from even ultra fine dust particles.
It comes with special Auto Mode, the NightSense Mode, Healthy Air Protect Alert, extra thick Nano Protect HEPA Filter, etc. So, this one promises a comfortable night sleep ensuring that you inhale clean air without even the slightest noise.
Key Features
VitaShield Intelligent purification System Technology
NightSense Auto Mode
Allergen Auto Mode
Smart light control
Multiple fan speeds including ultra-silent and turbo modes
Healthy Air Protect Alert
Child Lock feature
Smart Air quality sensor
Pros
Great quality product
Elegant design and nice look
Work perfectly with quality filters
Compact and handy to shift
Noise free operation
Adjusts fan speed automatically
Best Philips Air Purifier at pocket-friendly price
2 Years Warranty
Cons
Indicator does not show any improvement or change in air quality
4. Philips Air Purifier 3000 Series AeraSense AC 3256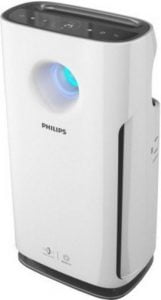 This Philips Air Purifier is equipped with AeraSense and VitaShield IPS technology and just because of these technologies,you and your loved ones breathe healthy and fresh air. AeraSense technology assures you by measuring and displaying the indoor air quality. And also thanks to its VitaShield IPS technology that removes about 99.97% of allergens and ultra-fine particles.
Due to its superior sensing performance that can be benchmarked with professional sensors, this model stands out among the best ones. The four stage purification process including pre-filter, activated carbon filter, and two layers of HEPA filter promises to give you only fresh and pure air.
Key Features
Aero-dynamic Vortex design
Protection against H1N1 virus
Ultra Silent sleep mode
Healthy Air Protect Alert
Child Lock Feature
Easily portable
3 specially designed air inlets
Precise sensor touch panel
Pros
Best product in this price range
Excellent performance
Filters are not very expensive as compared to other companies
Low noise operation
Air quality indicator works well
Cons
Not suitable for mold allergens
5. Philips 2000 Series AC2887 Air Purifier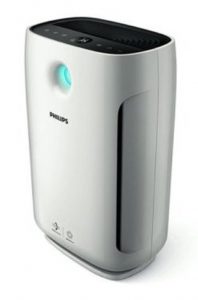 This high-efficiency ar purifier from Philips comes to the next position on our list and rated best for its amazing air purification performance. The model comes in a sophisticated design that appeals your room decor. Plus, the aerodynamic architecture ensures clean airflow all aroud your room.
Its AeraSense technology gives the real time PM 2.5 measurement and displays with professional grade sensing technology. The best part of this model is that it is 100% ozone free.
There are three smart pre-settings including General, Allergen, amd Bacteria & Virus, so you can choose the desired setting in just one smart touch. With a CADR of 333 m3/hour, the model is able to purify any standard sized room only in 10 minutes. Therefore, a great choice for medium to large rooms.
Key Features
Thick HEPA layer
Noise free operation
Dedicated pollution, allergen and bacteria/virus auto modes
CADR (Clean Air Delivery Rate) of 333 m3/hour
Aerodynamic design ensures efficient airflow
Smart light control for easy adjustment of light accordingly
Pros
Great quality product with sturdy construction
Its allergen mode has been a life saver
Great air quality indicator
Numeric indicator to indicate the PPM level is great
Soft touch buttons are great
Cons
The filter inside cannot be cleaned and once it is choked will need to be replaced
Conclusion
That's all on the reviews of Best Philips Air Purifier in India. Well, all the above, listed products are great in quality and performance, you can choose the one as per your preferences and budget. As our personal recommendation, you can go with Philips Air Purifier AC2958/63, that is superior in features and offers efficient purification of air, but a bit expensive. And if you want a best quality Air Purifier in budget, Philips Air Purifier 1000 Series AC 1215/20 is a great choice.
We wish Happy Shopping!
Related Reviews and Buying Guide
Buy Philips Air Purifier Online
Philips Air Purifier - Series 2000 AC2958/63 ...
33%
Philips Air Purifier - Series 3000 AC3059/65 ...
23%
PHILIPS High Efficiency Air Purifier AC2936/6...
30%
PHILIPS Air Purifier AC3055/60, Wi-Fi enabled...
28%
Philips 3-In-1 Air Purifier, Fan & Heater AMF...
19%
(Renewed) Philips 2000 Series AeraSense AC288...
26%
Philips AC4072 38-Watt Air Purifier (White)
25%
Philips Air Purifier NanoProtect Filter FY141...
58%