Winters are around the corner, though the season is pretty enjoyable but also brings a lot of health issues to us. So why don't you invest in a gadget that can make you get rid of not only the health issues during winters but also improves the air quality around you? Is any guess about that? Yes, I am talking about the Air Humidifiers. So, welcome to this blog post that is all about our best picks and full reviews of the latest air humidifiers for healthy indoor air.
What are Air Humidifiers?
Winter comes with low moisture level and dry air that makes you uncomfortable. And here comes the role of an Air Humidifier. Air Humidifiers are the device that can help in increasing the indoor moisture level when there is dry air in the environment. And thus it offers you the most comfortable atmosphere for all your comfort whether in your home, office, or workplace.
Since dry air, especially in winters create issues like dry skin, itchy eyes, dry and coughy throat, unexpected nose bleeds, etc. Also, for those who suffer from asthma and allergies, dry air makes these symptoms even more worse. And besides these health issues, the dry air is also bad for wooden furniture's, doors, and flooring that gets cracked due to lack of moisture. And so, the air humidifiers are proving to be the cost-effective solution to get rid of all these issues in cold climates.
For in-depth information on Air Humidifiers, check our Buying Guide Section.
Our Best Picks of Air Humidifiers
Also check these posts
Best Air Humidifiers Reviews
1. Philips HU4706/21 Desktop Humidifier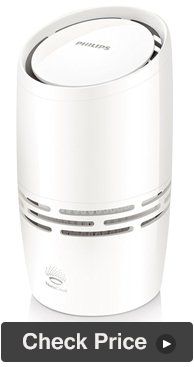 Want to maintain an ideal humidity level at home and office, then bring this advanced air humidifier from the brand Philips. This air humidifier brings you the most unique NanoCloud technology with three- stage advanced evaporation system. And so, it is proving to be the safest way to humidify the air. It offers you the maximum level of comfort with less emission of bacteria and viruses at all. Even the best part is that its NanoCloud's invisible mist of water doesn't create any white dust or patches in your room.
This desktop air humidifier distributes the humidified air evenly and lets you breathe comfortably in the fresh and healthy air around you. And also protects your skin and lips from dryness and eases the breathing symptoms.
Talking about the design part, it comes as a tabletop model with the most sophisticated and classy appearance. Inside the humidifier there comes a filter with the honeycomb structure. This filter or wick allows creating an effective surface that maximizes the intake and release of water. Even the smart design of this air humidifier makes cleaning of filter really a breeze.
Key Features
Uses NanoCloud humidification technology
Water Tank Capacity 1.3 l
Humidification Capacity 150 ml/h
Fights dry air with maximum efficiency and hygiene
Even distribution of humidified air
Hygienically safe
No white dust and no wet desktop
Auto shut off when humidifier runs out of water
Silent and standard humidification to choose accordingly for maximum flexibility
Easy to fill water tank
Buyers Feedback
The Good
Nice quality product
Excellent design
Works very well in both dry and hot climate
Easy to clean
Hygienically safe to use
The Bad
You can't add aroma oils to it
2. Honeywell Top Fill Tower Humidifier with Digital Humidistat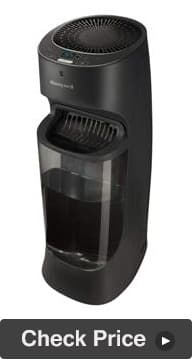 If you are searching for a humidifier to humidify larger space or area, this cool mist air humidifier from Honeywell is one of the best choices. Featuring a slim tower design, this humidifier perfectly fits to any of the room. This cool mist air humidifier can cover an area up to 1050 sq ft and thus an ideal buy for medium to large sized rooms.
The Honeywell top fill tower humidifier comes with a wicking filter to remove impurities from water. Thus it reduces the white dust and provides clean moisture output. Featuring a programmable digital thermostat feature and timer, the air purifier allows you to customize it as per your convenience.
Moreover, the QuietCare technology makes this humidifier 30% quieter than the comparable models. This one also comes with the humidistat feature to adjust the humidity level accordingly. And the very best part of this humidifier is its large water tank capacity of 3 gallons that makes it to run continuously for up to 24 hours.
Key Features
High moisture output
Daily output of up to 3 gallon
Relatively quiet operation
Slim tower design fits in any room
Digital humidistat displays current and set humidity levels
Removable top fill tank is easy to fill
Runtime of up to 24 hours
Auto Shut off
Easy to clean and carry
Buyers Feedback
The Good
Stylish tower shaped design
Build quality is very nice
Super quiet operation
Designed for medium to large sized rooms
Filling water in the tank is very easy
3. Honeywell Easy to Care Cool Mist Air Humidifier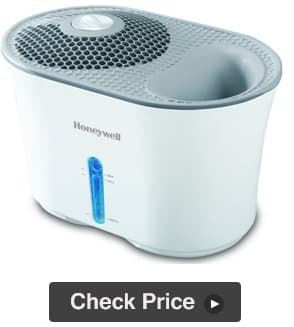 A gentle cool mist with no hassle operation is all this Easy to Care warm Mist humidifier from Honeywell boasts about. This cool mist air humidifier is ideally suitable to humidify the large rooms and spaces including living rooms, large bedrooms, dens, and offices.
As the name indicates this one comes with an easy top fill design that lets you pour water directly into the humidifier using a pitcher or watering can, or any other container.It comes with the capacity of 3 gallons that can work a full 24 hours to humidify the large room.
This cool mist air humidifier also comes with an adjustable humidistat feature that you can easily set according to your comfort level. It also has the option to run the device continuously for nonstop mist in your space. The best part is that you can get only the germ-free cool mist.
Key Features
Easy top-fill direct pour-in design
Cool mist technology with 95% bacteria-free
Water Capacity 1.3 gallon
No white dust
Built-in mechanically adjustable humidistat dial
2 Output settings- High and low
Auto shut off
Refill light to indicate when the unit is empty
No filters
Buyers Feedback
The Good
Stylish and elegant design
Superior build quality
Ultra-quiet operation
Maintenance is very easy as some parts of the unit are dishwasher safe
Good product to humidify larger space
4. Vornado Ultra1 Whole Room Ultrasonic Humidifier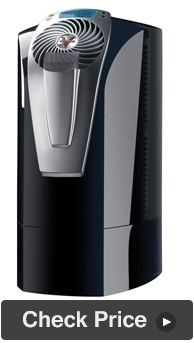 Designed for whole room humidification, this smart ultrasonic air humidifier maintains the humidity up to 1250 sq ft area. It is equipped with the Vortex technology that circulates moist air evenly to the entire room and thus creates a comfortable atmosphere. The bonus point is that this model of air humidifier evens out the room temperature by recovering and re-circulating the lost heat from the ceiling.
Featuring an easy-to-use push control buttons, the device lets you customize operation accordingly. Plus, two humidification speeds allows you to achieve the right amount of humidity in the room. This whole room humidifier comes with the humidistat feature that automatically controls the humidity to the set level. This one also has a mineral cartridge that prevents calcium and mineral build up for the easy maintenance of the device. Moreover, the digital LED display with built-in reminder alerts you when the cartridge needs replacement.
Key Features
Ultrasonic technology
Vortex technology
Digital humidistat
Two humidification settings
Two fan speeds
Auto shut off when the water level is low
Spill-proof water bottle
2-gallon water capacity
Mineral cartridge
Reminder indicator for cartridge replacement
Buyers Feedback
The Good
Smart design with smart features
Easy to use
Large water tank capacity of 2 gallons
You can easily control over desired humidity level and fan speed
The LED display shows all information including fan speed, current humidity level and mode, and mist temperature
Worth for the price
5. Allin Exporters Dt-1618 Ultrasonic Humidifier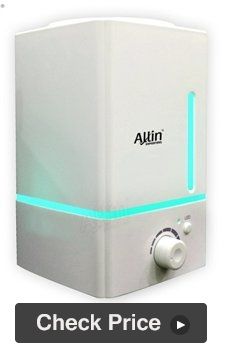 For its amazing functions and features, this model of air humidifier from Allin Exporters comes the next of best in our list. This 5-in-1 ultrasonic humidifier plus aroma diffuser works perfectly as a humidifier, an aromatherapy device, an ionizer, an air purifier, as well as nigh light-all in one. Made up of top-notch quality material as well as state of the art design and technology, this one is a great buy for home, workplaces, aromatherapy centers, and other recreational spots.
The Allin Exporters Ultrasonic humidifier uses the ultrasonic technology to convert the water into the micro-fine mist to acquire a comfortable indoor atmosphere. It comes with the 1500 ml tank capacity that makes it run for 8-10 hours continuously. Moreover, its whisper quiet operation offers the soundest sleep at night. And the best part is that, brings your interior decor a new charm with its exclusive seven different colored LED light mode integrated with it.
Key Features
Aroma air humidifier
Whisper quiet operation
1500 ml tank capacity
Auto shut off function at zero water level
Seven colored LED lights
Variable mist intensity
Simple one-touch operation
Easy to clean
Low energy consumption
Buyers Feedback
The Good
Great quality air humidifier and aroma diffuser with ultrasonic technology
The model looks very good and also a portable one
Very simple operation
Easy to add water and oil for the diffuser
Easy cleaning and maintenance
Works as a beautiful night lamp too with seven different vibrant color options
Great to alleviate the dry conditions
6. Vicks Warm Mist Humidifier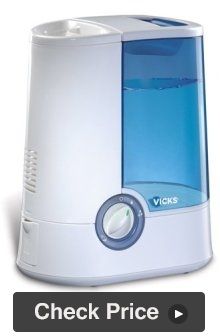 Get ready to beat the various issues of winters with this advanced warm mist humidifier from Vicks. Whether to get relief from low moisture level or fight against the skin dryness, or even fighting with severe cold symptoms and breathing issues, it is an absolute buy. This warm mist air humidifier is ideally suitable for bedrooms, baby nurseries, kids bedroom, and even at your workplace.
It comes with an extra large monitor that shows the temperature and humidity level. There is also two comfort setting to set the desired humidity level accordingly. This Vicks Air humidifier is equipped with 1-gallon capacity, and its large gallon runs up to 24 hours continuously with one fill.
You can use its medicine cup with the liquid inhalants to get relief from the cold symptoms. This one also comes with a ProTec Humidifier Cleaning Ball that features a patented antimicrobial, Aquastat, to keep the device clean and germ-free for a long time.
Key Features
Integrated scent pad heater for use with Vicks Vapopads
Filter Free operation
2 Output settings
Medicine cup for use with liquid inhalants such as Vicks VapoSteam or Kaz Inhalant
Auto shut off when the tank gets empty
Tank handle for easy carrying and filling
Large tank opening for easy cleaning
Translucent tank to show the water level
Removable, dishwasher-safe parts
1-gallon tank capacity that runs up to 12 hours per filling
Buyers Feedback
The Good
Excellent quality product
Quiet operation
Easy to use and clean
The two output settings are very nice means on the high setting you can run it for around 8-9 hours which will last you the whole night and on the lower setting it will last for around 19- 20 hours on average
The Bad
Sometimes water leaks out of the tank
7. Urpower MH501 Cool Mist Ultrasonic Humidifier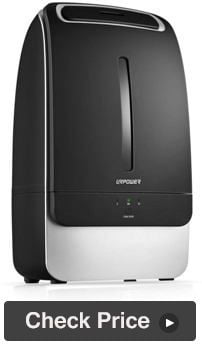 This ultrasonic cool mist humidifier form Urpower is yet another smart choice for humidification of the indoor atmosphere. It is equipped with the smart ultrasonic technology that produces a maximum mist to humidify your living spaces. This lets you breathe better, sleep better, and also hydrates your skin in the dry winter months. Even its sleek and stylish design adds a great aesthetic appeal to your home and office interiors.
It comes with the water tank capacity of 5 liters that makes the device to go up for 24 hours in one refill. The advanced auto shut off feature of this device makes the device turn off automatically when it runs out of the water. This air humidifier also has convenient three working modes to choose accordingly among the high, medium, and low mist settings. Moreover, the whisper quiet operation of this device offers the most comfortable sound night sleep.
Key Features
Simple and stylish design
Adjustable mist settings
Auto shut off for safety
Sleep mode
Whisper quiet operation
Water tank capacity 5 l
Work up to 24 hours on low mist setting
Buyers Feedback
The Good
Matte black body design that perfectly goes your room interior
Large capacity of water tank with 5 l that can emit a cool water vapor all through the night
Ideal for home, bedroom, baby room, and office
Simple operation with its smart one-touch button
Easy to clean
Hydrates your skin and prevents dryness in the winter months
Very efficient performance
The Bad
You cannot use essential or diffuser oils in this ultrasonic humidifier
8. Tesco Cloud Mist Air Humidifier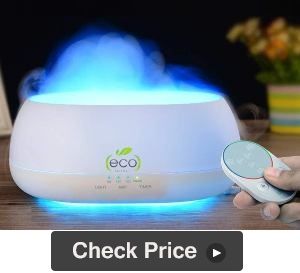 This is our another great pick for best air humidifiers with all the amazing features. The Tesco ultrasonic cloud mist air humidifier aids in preventing dry skin, stuffy air, and flu germs in dry conditions. This smart humidifier lets you humidify the air, makes you breathe easier and relieves you from cough and sinus congestion in cold weather. And thereby a great device for use in the interiors of home, office, workstation, spa, baby rooms, and even in the massage centers.
This 3-in-1 functional device works as an ultrasonic humidifier, aroma diffuser, and ambient night lamp-all in a single unit. The very best is its remote-controlled operation that lets you operate the device effortlessly. You can use the aroma oils, or essential oils to it to spread fragrance around you.
Key Features
Ultrasonic cloud mist air humidifier
Enriches the quality of air by moisturizing it
Multi-colored LED Lights
Remote controlled operation
Adjustable mist control
Smart atomizer
Whisper quiet operation
Made of non-toxic and harmless materials
Buyers Feedback
The Good
Nice build quality
Healthy and eco-friendly device
Quick and easy installation
Remote control operation is a nice add-on
The Bad
Makes a bit noise of boiling water
9. Buyerzone Magic Diamond Humidifier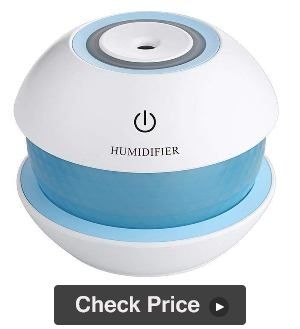 The next best air humidifier is the BuyerZone Magic Diamond. Though this air humidifier is mini in shape but doesn't lack any features that a good humidifier has. With the cute magic diamond design it works very well to your living room, bedroom, baby room, office, computer room, kitchen, and even car. This is a multifunctional device that not only works as an air humidifier but also as an aroma diffuser and LED night light.
It is equipped with an intelligent anti-dry function that fights over the dryness in the atmosphere and providing the best level of moisture around you. The ultrasonic technology used in this device ensures the super quiet operation of it offering the soundest sleep at night. Plus the seven colored LEDs offers a beautiful and soothing environment.
Key Features
Ultrasonic Air Humidifier
Lightweight mini design
Aroma Diffuser
Seven colored LED lights
USB interface
Interface for various kinds of power supply
Auto shut off when there is no water in the diffuser
Simple one-touch operation
Mute humidification
Buyers Feedback
The Good
Decent and sober design
Quiet operation
Easy to use and clean
Great product in this price range
Easy to carry anywhere
10. Generic Electric Dual-use Air Humidifier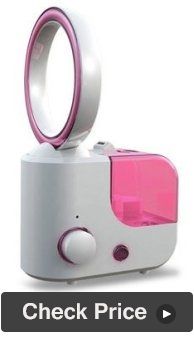 No longer dryness at all with this amazing air humidifier from Generic. This one really works great to provide moisture in the dry atmosphere. So, this is a great buy for your home and office. The best part is that it is kid-friendly, so you can also install it into your kid's room without any fear. This dual function device works both as a humidifier and a blowing fan. It comes with the water tank capacity of 1 l that makes it run for long hours. And its special design makes it easy to clean.
Key Features
Bladeless design
Safe for kids
Water Tank Capacity 1 l
Provides relief from dry air
No noise
Buyers Feedback
The Good
Good design
Quality of the product is also very nice
Safe for kids
Works both as a humidifier and blowing fan
Air Humidifiers Buying Guide
Benefits of Air Humidifiers
Refreshes the quality of air
Restores the moisture in the air
Protects your lips and skin from being dry and scratchy
It helps you get rid of breathing disorders
Prevents from cold and congestion
Prevents also the wooden furniture and wooden flooring from drying and cracking
Types of Air Humidifiers
Air Humidifiers are broadly categorized into two types -Warm Mist Humidifiers and Cool Mist Humidifiers. These two are further sub-categorized in different parts.
Warm Mist Air Humidifiers
Like the name, these devices comes with the heating element to heat the water that releases a warm mist inside the room to maintain the desired moisture level. These humidifiers are ideally perfect to alleviate the symptoms of common cold and other breathing issues. Some models also come with a dispenser to put inhaled medication for getting rid of blocked nasal passages and other respiratory issues.
Pros and Cons of Warm Mist Humidifiers
Pros
Great for improving common cold and breathing disorders
Pretty quiet operation
Can be used as a tabletop humidifier
Works best in smaller places
Also great for medical inhalation
Cons
Not safe for children as there are risk of burns
Requires more electricity
Cleaning is very much essential as it builds up bacteria from the water
Cool Mist Air Humidifiers
These humidifiers disperse the cool mist in the air to moisturize it by means of a filter through the fan. The fan has been soaking up the water from the water tank of the unit. And when the fan blows air, the water in the filter gets evaporated and then dispersed in the room as a humidified air. The cool mist humidifiers are further categorized as:
Ultrasonic Humidifiers- These air humidifiers uses high-frequency sound vibrations to produce fine water mist which then releases to moisturize the air. These are quieter than other types of humidifiers. Even there comes no filter that can lead to mineral scale deposits. Some of the advanced models also come with a pilot light or sound that indicates you when the tank gets empty. These are best for children.
Evaporative Humidifiers- The next is evaporative air humidifiers that come with a reservoir, porous wick, and fan. The wick absorbs water from the reservoir, and the fan then aids in evaporation by blowing on the wick to put moisture in the air. These units are comparatively noisy with a cooler mist and also need the filter to replace on a regular basis.
Pros and Cons of Cool Mist Humidifiers
Pros
Ideal for getting relief from asthma and allergy
Best for children
It uses less electricity
Can cover large areas over warm mist humidifiers
Cons
It must be cleaned very frequently to prevent the growth of bacteria
Features to consider before buying a Humidifier for your home and office
Room Size- This is the foremost thing to consider before buying a humidifier for your home or office. For the bigger sized room, opt for the large (that can cover up to 1000 sq ft) and extra large (cover 1000+sq ft) humidifiers that usually come in console form.
The medium sized models can cover up to 700 sq ft room. And the smaller models are capable of humidifying about 250 sq ft room.
Also, whole house humidifiers are available that circulates moisture to the entire house but are quite expensive.
Humidistat- This is an essential feature that works exactly same like the thermostat feature in an AC or blower, or, room heaters. This feature automatically turns on or off the humidifier to maintain a target humidity level.
Timer- This feature allows you to set your bedroom humidifier to turn on a few hours before this bedtime. This makes your room comfortable when you are ready for sleep.
Ease of use- Opt for the models that come with easy controls for humidifying time, humidity level, fan speed, etc. The models that require less maintenance are more preferable.
Mist Setting- Custom mist settings in a humidifier are helpful if you have allergies, asthma, or dry skin. This feature lets you control the amount moisture you need to make a room more comfortable.
Noise level- Even all the humidifiers have some noise, choose the one according to your preference. The better quality models have less noise while the warm mist humidifiers and the large models are noisier. The choice depends on you.
Safety- Safety is another important aspect before purchasing any device. Opt for the humidifiers having features like Auto Shut Off, Overheat Protection, Automatic Tip Over Switch and Spill Proof Tanks, etc. for ensuring safety.
Final Words
So, that is all about the best and latest brands of air humidifiers in India with all their specs and buyers reviews. I am sure the listed models and the buying guide we have presented in the blog will definitely suit your need. Get the one to make air healthy around you and retain the right amount of moisture in the air with your best pick.
Related Items
Home Spa Luxury Cool Mist Dolphin Humidifier ...
34%
RYLAN Magic Diamond Cool Mist Humidifiers Ess...
38%
Vicks Vapo Steam Vaporizers and Humidifiers (...
18%
Allin Exporters Cool Mist Ultrasonic Humidifi...
37%
ZOSOE Magic Wooden Cool Mist Humidifiers Esse...
46%
Deerma F628 Humidifier with NanoG Ultra Micro...
12%