A soft, shiny, supple, and glowing skin is the dream of every girl whether aged or not. And so we do almost all possible things to make our facial skin shiny and glowing. Having a clear and blemish free skin is the best way to look beautiful. So it is very necessary to eliminate dirt and toxins from your face to prevent the pores from being clogged and keep out blemishes away. Using a facial steamer is the best solution to this.
Since regular face washing is not enough to remove the dirt and clogs out of the surface of the facial skin, you need something very effective. And here come the role of best Facial Steamers. Facial Steamers helps you in getting rid of the deep-seated grime and thus eliminating dullness and blemishes from your face. These are also known as facial humidifiers as they bring moisture to your skin.
To get an in-depth information on Facial Steamers, please check our Buying Guide Section.
7 Best Facial Steamers in India
Though there is a lot of competition in this field, it is very daunting to decide which one to select based on your needs. Budget may be one of the factors, but most of us would prefer to select something that matches our goals rather how expensive it is. We have compiled here the best facial steamers all with the budget-friendly prices. Just have a quick look at our best picks before going through the full review.
Best Facial Steamers in India – Reviews
1. Conair Facial Sauna System with Timer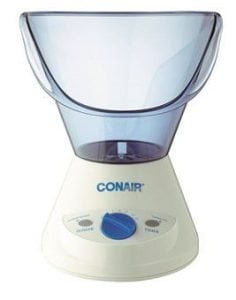 This facial sauna system will absolutely be your best choice if you want a host of features to be included in a reasonable price tag. It has a convenient cone based open plan design that allows the great versatility to not only the concentrate mist on your face but also steam up clogged nasal and sinus passages.
If you want an advanced aromatherapy session you can add essential oils to it. The very best feature of the facial steamer is that it comes with an integrated timer for easy custom settings along with a built-in auto shut-off feature that further optimizes the user's safety.
Key Features
Cone to concentrate mist on face
Auto-off and timer
Includes bonus facial brush tool with two attachments: gentle exfoliating brush and sponge for applying moisturizer
On/off switch
Pros
Easy to use
Quiet operation
Steam is available almost very immediately after switching it on
The steam is not too much, and it works exactly how it is intended to
It is all natural; therefore eliminates the harsh chemicals from your skin care regimen
Best for aromatherapy session
Cons
It does not produce nanoparticle steam
Quite expensive
2. Generic Facial Steamer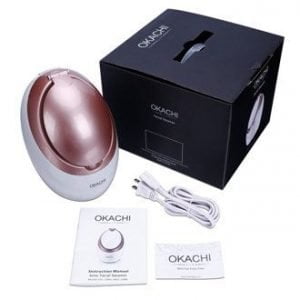 This facial steamer is the best option for anyone who wants a quality steaming without minding the price tag it comes with. This multi-functional steamer is not only good for face cleaning and skin care but also can be used as a humidifier and a makeup mirror. It comes with an anti-creep touch panel for safe and easy to use operation.
This facial steamer also has an auto-shut off feature that automatically switches off the device if the water level downs to the desired level, and so preventing injuries. Enjoy the spa like facial sauna treatments at home, whenever you want with this facial steamer.
Key Features
Powerful steams
Multifunctional steamer
Smart Touch Switch
Auto Shut Off
Spa Facial Treatment
Sleek design with single side mirror
Pros
Good quality
Very comfortable and easy to use
The device makes easier to extract blackheads and acne
Super cute design
Cons
3. Kinga Nano Ionic Facial Steamer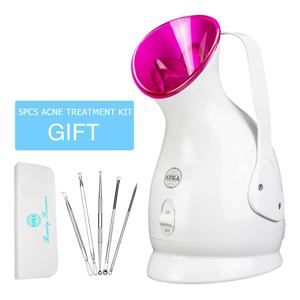 The next in our list of best facial steamers is the Kinga Nano Ionic Facial Steamer. Like other nano ionic facial steamers, it works the same but is more versatile and also acts as a humidifier too.
The device performs very well in improving your skin quality and appearance with its nano ionic steam technology. Plus, it also comes with the complete extraction kit to remove blackheads and blemishes very effectively. And the very best part is its quick start-to-steam program that is a great benefit that lets you start the steaming in about 30 seconds after turning the device on. And you can also add any essential oil or aromatherapy solution to it.
Key Features
Nano-ionic facial steamer
Quick start-to-steam time
Advanced ultrasonic atomizer
Opens clogged Pores, removes dirt, oil, makeup; and dead skin cells
Automatic Shut off
Pros
Nice build quality
Five pieces surgical grade stainless steel blackhead and blemish extractor is a bonus
Supports aromatherapy
Adjustable nozzle
Cons
4. GTC Spray Handy Nano Mister Facial Steamer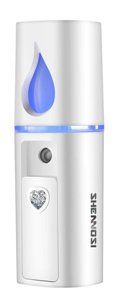 It is a handy facial steamer from the brand GTC that comes with a lot of awesome features. This compact facial steamer is a nice option for those who want the best skin care treatment at such an affordable price range. The device uses nano ultrasonic technology to change water molecules into mist and thus offers a deep cleaning and moisturizing of the skin.
This facial steamer is also ideal for fading fine lines, removing deep dirt and excess oil secretion so that your skin looks charming, glowing, and healthy. The best part of this device is its cooling function that not only shrinks the pores but also relieves the skin irritation. This handy facial steamer also comes with a sleek mirror design to check your makeup.
Key Features
Nano ultrasonic technology
Removes deep dirt and excess oil secretion
Cooling function to relieves skin irritation
Large capacity water tank
Sleek mirror design
Pros
Smart and sleek design
Build quality is very nice
This lightweight device fits perfectly in your pocket and is very easy to carry
It reaches all the areas perfectly especially under eyes
Easy to use
Cons
5. Orbit 2 in 1 Safe Nasal and Facial Steamer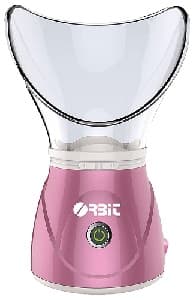 This facial steamer from Orbit is an ideal one if you have never used a steaming machine and not willing to purchase an expensive one. It is very helpful for deep cleansing of your skin, removes impurities and blackheads, moisturizes your skin, and refreshes and softens it as well.
This steaming machine is also very helpful in relieving nasal congestion. Also, it acts as a perfect substitute for an expensive facial spa experience.
Key Features
Strained muscles
Deep Skin Cleansing
Moisturizes the skin
Penetrates deep down to remove makeup
Removes nasal congestion
Pros
Works very quietly
Very easy to use
Improves blood circulation and also unclogs the sinuses
It has a calming effect and relieves your daily stress
Price is very low as compared to other face humidifiers
Cons
Only distilled water is to be used in this facial steamer
Not an appropriate model for aromatherapy
6. HealthSense Nano-Cure FS 550 Facial Steamer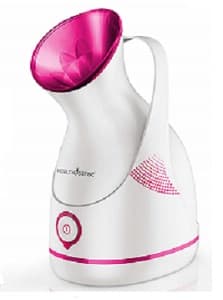 Revitalize your skin with this facial sauna system by HealthSense that gently softens and moisturizes your skin and helps in removing the dead skin cells for smooth and long-lasting results. It is also very helpful in stimulating the blood circulation.
This facial steamer comes with a nasal mask with the double function to concentrate the cleaning into the nose area as well as to perform a warm and therapeutic inhalation using essential oils.
Key Features
UV steam sterilization
Reduce wrinkles by deep moisturizing your skin
Improves skin tone
Unclog the pores
Faster skin penetration
Portable handheld design
Pros
Easy to use and set up
Lightweight and easy to store
Cons
Product smells plastic when in operation
7. Panasonic EH-SA31VP Facial Steamer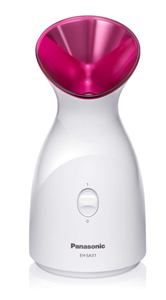 This Panasonic facial steamer is absolutely a great buy if you want spa-like facial treatment from the comfort of your home. With a compact size option, this one also comes with too many astonishing features to offer a great beauty treatment. The Panasonic EH-SA31VP facial steamer is equipped with nano ionic steam that generates warm and soothing waves of fine ionic steam to moisturize your skin gently.
It offers the deep facial cleaning and gently removes makeup, dirt and other impurities from the skin to make it shiny and glowing. And the very best part is its smart one-touch operation that makes it very convenient to use.
Key Features
Sleek and stylish design
Compact size
Nano-ionic steam
Gently removes makeup, dirt and other impurities from the skin
Deeply cleanses your skin
Automatic shut off
Pros
Stylish design complements your bathroom or makeup table
Sturdy and durable
Easy to use
Compact
Cons
How to Choose the Best Facial Steamer? (Buying Guide)
Different Types of Facial Steamers
Generally, Facial Steamers comes in 3 different types which are described here as under:
1. Personal Facial Steamers
This is the most common type of facial steamer that is generally found in departmental stores as well as online. These are small in size and having a cone opening that lets the steam to be directed towards your face while you lean over it.
2. Table Top Facial Steamers
These steamers are generally used in spas and are smaller in size. It comes with a water chamber and heating device but doesn't have the base to stand on the floor. Instead, it is kept on the table, that's why known as Tabletop Facial Steamers. A rod-like steam outlet is extended from the machine, and this can be fixed towards the face in various directions.
3. Nano Facial Steamers
This is the newest one that makes use of nanoparticles to make steam for facial steaming. These steamers do not require water to come to a boil for creating steam. And the best feature is that it makes the steaming process quicker since steam can be produced in a matter of seconds.
Features to Consider Before Buying a Facial Steamer
1. Ease of Use
The easy functionality of any device makes it very convenient to operate. The same holds for a facial steamer. So invest in the one with having easy functionality so that you can concentrate on your skin care rather than worrying about the device.
2. Quick heat up time
Always opt for the facial steamer with quick heat up time. Any facial steamer needs to heat up first to release steam. The more the time it takes to heat up, the more you have to wait for starting with the facial steaming. And that's why it is ideal to choose for the one that comes with quick heat up time.
3. Water tank Capacity
Choose the one with large water reservoir capacity to handle a good amount of water for one steaming session. The one with small water tank breaks the steaming process before the session ends when the water gets empty in the tank.
4. Noiseless Operation
A quiet steamer makes your steaming session more enjoyable. As facial steaming is a calming process on its own, a noiseless device offers more relaxation and soothing experience and helps you get to calm down in a more better way.
5. Automatic Shut Off
When shopping for any electrical device, safety must be your prior concern. While choosing a facial steamer, you must consider the one having an automatic shut off feature to keep away the device from being overheated. Most of the advanced facial steamers are packed with this feature that automatically turns off the device when it runs out of the water. This feature keeps the device away from damaging its own parts or even short-circuiting due to the high amount of heat it is producing.
6. Some other Advanced Features
Multi-angle nozzles to configure the position of steam outlet accordingly
Built-in Mirrors to check your face after the steaming session
Compatibility with essential oils to make your facial steaming more effective with your favorite essential oil
Some also come with humidifier capability to moisturize your room also in the driest days
Even some also come with hair steaming facility to moisturize your hair with the same device
Key Benefits of Using Facial Steamers
Naturally deep cleansing to purify the facial skin
Open the pores
Allows sweating and therefore remove toxins
Melts hardened sebum and remove whiteheads and blackheads
Boosts the blood circulation and prevents signs of aging
Fights dry skin by adding moisture
Allows you to forget the stress of the day
How Facial Steamers Work?
In older days people used to hold a towel in front of their face and then lean over a steaming pot for steaming out their facial skin. But this was quite cumbersome and difficult. Now the technology has changed the whole way and made the facial steaming even simpler.
The Facial Steamers work on the very simple principle. It simply uses the warm water for steaming out your face to clean out your pores and moisturizes your skin gently. The device is being treated as the best one for its non-toxic ability and allowing you to get rid of the obstinate dirt and clogs on your face.
Facial Steamers generate the superfine steam which is easily absorbed by the skin and thus giving you a healthy and glowing skin. Some of the models of facial steamers also come with ozone technology that not only opens up your pores but also act as a disinfectant.
Additionally, if you want to create an aromatherapy session, Facial Steamers are the best option that is compatible with essential oils, and so boost your skin health even more.
How to use a Facial Steamer?
Before steaming your face or facial sauna session, you should first use a mild cleanser to remove all the dirt and makeup from your skin. The Facial Steamers come with a cone-shaped element or a small nozzle where the steam leaves the device.
Now to get started with it, just plug the machine in. Then add mineral or distilled water into the water chamber and switch on the device. Some of the models take a little while to warm up. So wait for few minutes until the steam starts to emit from the top of the device.
When it gets ready, lean your face towards the nozzle or above the cone to allow the steam penetrates your pores. And if you want to increase the sauna effect, you can place a towel over your head in a tent-like style.
Once the treatment is over, switch off the steamer and use a towel to pat your face dry. And don't wait too long after the sauna session as it is the best time to apply the skin care products on your face to remove dead skin cells.
Here is the video to show you how to use a facial steamer.
Tips for best Facial Steaming
Never place your face right next to the steam outlet
Always follow the manual's instruction before using a facial steamer
Avoid over steaming of your skin
Add some essential oils to it for the best results
Always follow your steam facial with a nice skincare routine for better results
Conclusion
I am sure; with this guide presenting in the blog about the best facial steamers reviews as well as buyers feedback, you will definitely pick the best one of your choice. If you feel anything is missing, do share with us in the comment section below.
Read Related Reviews
Buy the Best Facial Steamers Online
HealthSense Steamer for Cold & Cough, Vapouri...
17%
Steamer RYLAN Steamer for Cold and Cough Nano...
33%
Welocity Professional Kingdom K-33S Steamer F...
60%
Asbob 3 in 1 steamer for cold and cough, vapo...
56%
PharmEasy All In One Steam Vaporizer Machine ...
41%
Lifelong LLS54 Face, Nose and Cough Steamer|3...
70%
Rewup Steamer for Cold and Cough Nano-Cure Fa...
65%
Asbob Jumbo 3 in 1 steamer for cold and cough...
62%