In India, summers are always in its full swing, so now Air Conditioners are not only considered as a luxurious appliance but also a necessity for all of us. Because relying only upon the ceiling fans and air coolers are extremely difficult to bear the mercury soaring high. However, the power bills are the major concern for most of us, so it is better to go for the new advanced Inverter ACs that will save a big on your pocket. This blog is all about the new and latest models of 1.5 Ton 5 Star Inverter AC that promises to offer a great power saving.
Choosing the right inverter AC for your home is pretty difficult. So, before you invest your money in buying the best inverter AC, go through our ultimate AC Buying Guide to know every single detail on it. It will make your buying decision very easier.
Why choose Inverter AC?
Buying an energy efficient air conditioner makes much more sense if you highly consider the factor of power consumption. Here comes the role of an Inverter AC that typically consumes less power than the traditional ones. However, they are extremely expensive than their traditional counterpart, but if you want to have great power saving in the long run, inverter AC are the best option.
Now the question comes what energy efficient models are? A star rating is given to all the latest electronic appliances including TV, Refrigerator, etc. to show how much power it will consume. For exp, An appliance having 5 star energy rating consumes less power than the appliances having 4, 3, and 2 star ratings respectively. In other words, we can say that "More the star rating, more the appliance will be energy efficient."
Star Rating Concept
Taking into the matter of primary concern for Energy conservation, The Government of India (BEE- Bureau of Energy Efficiency) has launched Standards and Labelling (S&L) Scheme in May 2006. The main objective of this scheme is to provide the customers an informed alternative about the energy savings of high energy appliances and equipment including refrigerators, air conditioners, computers, submersible pump sets, water heaters, etc.
The scheme also emphasized the industries to make even better appliances and equipment that will save both cost and power.
To turn up the point of this scheme, the concept of 'star label' was introduced on appliances. This star label shows the energy efficiency of the appliance. And thus allowing the customers to compare models first and then choose the best one in terms of energy efficiency.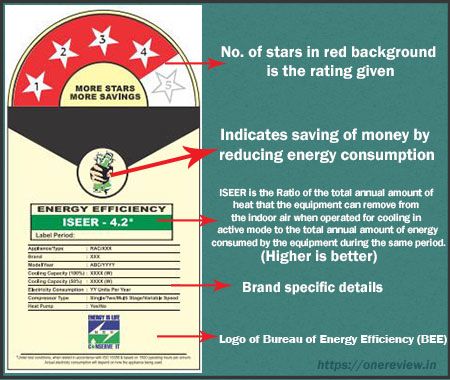 When it comes to the efficiency of air conditioners, it can be better explained in the following terms .
EER and ISEER
Concept of EER (Energy Efficiency Ratio)
The concept of EER, in a more simple term can be explained by the amount of heat removed per hour divided by the power consumed by AC. It means, "Higher the amount of heat removed by the AC per unit, higher will be its efficiency." Thus, we can say that Air Conditioners with higher EER is ideal.
Concept of ISEER (Indian Seasonal Energy Efficiency Ratio)
Basically, the concept of ISEER and EER are same. The minor difference is the seasonal factoring. Let me explain it in a more simple way. We all know that seasons vary from country to country. And ISEER is the rating methodology for air conditioners that factors invariance in a higher temperature in India and rates air conditioners accordingly. Keeping in mind, the performance of air conditioners during higher temperature,ISEER will address with the different climatic zones in India as well as higher temperature.
ISEER is the ratio of the total annual amount of heat that the appliance can remove from the indoor air when operated for cooling in active mode to the total annual amount of energy consumed by the appliance during the same period.
Star Rating Plan Valid from 01 Jan 2018 to 31 Dec 2020
| Star Rating | Minimum ISEER | Maximum ISEER |
| --- | --- | --- |
| 1 Star | 3.10 | 3.29 |
| 2 Star | 3.30 | 3.49 |
| 3 Star | 3.50 | 3.99 |
| 4 Star | 4.00 | 4.49 |
| 5 Star | 4.50 | - |
Best 1.5 Ton 5 Star Inverter AC Reviews
Split AC with inverter technology are considered to be the best choice over Window AC as they look stylish, less noisy, and also don't cover any of the windows in your room. Now as far as the capacity is concerned, 1.5 ton is the ideal option to go for. We have lined up here the best and latest models of 1.5 Ton 5 Star Inverter ACs (BEE Rating 2018) with the copper condenser. So just have a look on these copper coil split inverter ACs of 1.5 Ton capacity and opt for the preferable one.
1. Mitashi MiSAC155INv35 1.5 Ton 5 Star Inverter AC

Bring this summer, Mitashi 1.5 Ton split Inverter AC to your home and say goodbye to the scorching and unbearable heat. With the latest 5 Star energy rating, this Split inverter AC let you offer the maximum energy saving. It is equipped with 100% copper coil condenser that offers the AC reliability, strength, durability, ease of maintenance, as well as better heat transfer. Its turbo cool function ensures the fastest cooling as soon as you switch on the air conditioner.
Key Features
Copper Condenser
High-Quality R410A Environment-Friendly Refrigerant
Anti-Dust Filters
Digital Display for accurate temperature readings and the functions
4-Way Swing
2-Way Drainage
Turbo Cooling Mode for fast cooling
Multi-Fold Evaporator Coil to enhance the cooling efficiency
Energy Saver
Auto Restart function
Buyers Feedback
The Good
Nice and elegant design
Awesome and fast cooling
1.5-ton capacity is pretty enough to cool a large room
Great energy efficient air conditioner
Worth for every penny
View on Amazon View on Flipkart
2. Blue Star BI-5CNHW18PAFU /BO-5CNHW18PAFU 1.5 Ton 5 Star Inverter AC

This split inverter air conditioner from BlueStar is the best buy if you want to save a big on your pocket while paying the electricity bills. The latest BEE star rating makes this model the most energy efficient one. Get superior cooling and maximum energy savings even in the extreme weather conditions with this inverter AC. This air conditioner is designed to regulate the temperature of your room or workplace as per your desired convenience and ensures only fresh and cool breeze around you.
Key Features
Precision cooling technology
Copper condenser coil
Best in class cooling with easy maintenance
Auto restart
Best energy saver
Automatic 4D swing
Dual rotor inverter compressor
Buyers Feedback
The Good
Cooling is amazingly fast
Silent operation
The outdoor unit is considerably big in size
Awesome performance
3. LG 1.5 Ton 5 Star Inverter AC (KS-Q18YNZA)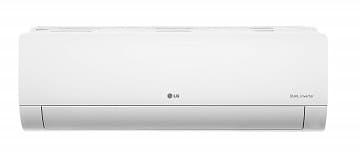 To get rid of the unbearable and soaring high temperature in summers, bring this air conditioner from LG at your home that promises to offer only cool and fresh air around you. With the latest BEE Star rating, this model from LG ensures less electricity consumption without compromising its cooling efficiency. The very best feature of this inverter AC is that it comes with dual inverter compressor that offers proper cooling without any noise issues. It is also equipped with the Monsoon Comfort Technology that offers right cooling even during high humidity and monsoon season.
Key Features
Best-in-class copper condenser
Energy efficient cooling with easy maintenance
Stabilizer free operation
Auto clean function
Energy saving mode
Gold fin condenser
Low refrigerant detection
Monsoon comfort technology
Buyers Feedback
The Good
Eco-friendly Air Conditioner
Consumes less power
No noise at all
Remote control with LED backlit
Awesome cooling
Great value product
View on Amazon View on Flipkart
4. Daikin 1.5 Ton 5 Star Inverter Split AC (FTKG50TV)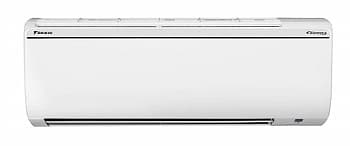 This model from Daikin is a perfect combination of style and performance. With a capacity of 1.5ton, this air conditioner is quite enough to cool medium to large rooms very efficiently and quickly. It comes with a 5 Star latest energy rating, so ensures less power consumption and saves on energy.
It comes with neo-swing compressor technology for smooth and quiet operation. One of the unique features of this inverter AC is its Econo mode that ensures efficient operation by limiting the maximum power consumption. Plus, the power chill operation ensures quick cooling of the room to get instant relief from hot conditions.
Key Features
Delivers high efficiency at low power consumption
Neo-swing compressor technology for smooth and quiet operation
Economo mode for less power consumption
Super silent operation
Advanced air purifier
Sleep Mode
Anti-dust filter
Stabilizer-free operation
Buyers Feedback
The Good
Looks stylish
Sturdy built
Effective cooling
Low noise operation
5. Voltas 1.5 Ton 5 Star Inverter Split AC (SAC_185V_JZJ)

This model from Voltas is also one of the best 1.5 ton 5 Star inverter ACs with a host of unique features. This split inverter AC brings both comfort and style to your home and offers efficient and fast cooling around you. With the latest 5-star energy rating, this air conditioner promises to consume less power and saves big on energy.
Its advanced air purification technology provides clean and healthy air by removing harmful particles and odor. And the unique dehumidification feature removes humidity from the air. Thus, it ensures more cooling and comfort. Its low frequency torque control feature ensures constant temperature and more energy saving.
Key Features
Copper condenser
Multi Stage filtration
High ambient cooling
Sleep mode
Anti-dust filter
Super silent operation
Active dehumidifier
Steady cool compressor
Stabilizer-free operation
Buyers Feedback
The Good
Very efficient cooling
Low power consumption
Strong and sturdy construction
Coper condenser ensures less maintenance
Final Words
This is all about our best picks for the latest models of 1.5 Ton 5 Star Inverter AC with the copper condenser that will definitely take away all your worry about big power bills. Hope the blog makes your task easy to choose the best inverter split AC for your room as well as the workplace. Moreover, all these models are also rated with a 5-star energy rating promising to offer the best energy efficiency. So, make your pick now…