Iron is one of the most useful appliances for every household. Well-ironed clothes make a huge difference when you want to look immaculate and feel confident during any important occasion whether it is a business meeting, job interview or wedding, etc. And the latest steam irons give you the best ironing experience with effective crease removal in a hassle free manner.
What is best about the steam irons is their big shots of steam that smooth creases and makes your fabric absolutely wrinkle free. Also, they are equipped with safety features like automatic shut-off that prevents your clothes from being burnt.
But how to choose the best steam iron is quite tricky? We recommend to read our Comprehensive Buying Guide on it, so that you may invest in the best model.
Top 10 Best Steam Irons in India
Here is the list of latest and best steam irons in India which will absolutely give your attire a complete perfection.
Best Steam Irons in India- Reviews
1. Philips Perfect Care Power Life Steam Iron GC3925/34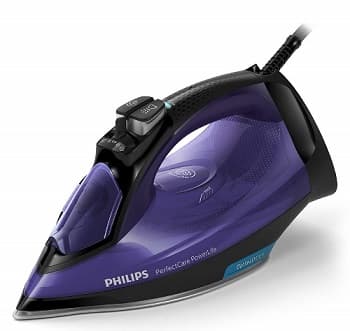 This steam iron from Philips perfectly suits its name as it gives a perfect care to your outfits with quick and speedy ironing experience. Loaded with features like the triple precision tip, even heat distribution across the soleplate, shot of steam, continuous steam, and high power, the model is one of the best steam iron.
No wrinkles are too stubborn for this steam iron as it delivers a steam boost of up to 120 g which is quite enough for removing creases.
The very best part of this appliance is its auto-shut off function that shuts off automatically when you leave it unattended for a while. This steam iron also comes with a calc clean slider that aids you in removing the built-up scale out of your iron very easily.
Key Features
Ceramic soleplate
Safety auto shut off function
Steam boost
Vertical steam function
Continuous steam for efficient ironing
Calc clean slider
Drip drop system
Pros
Steaming is flawless, and even the toughest wrinkles goes off in a single slide
Smooth gliding of the soleplate
No leakage of water
Safe on all fabrics
Cons
2. Bajaj Majesty MX40C Steam Iron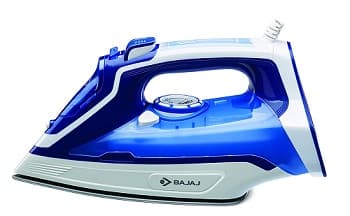 This model MX40C from Bajaj is another best steam iron on our list and is equipped with all the modern features you are seeking in a good quality iron. It easily glides over all the clothes because of its non-stick coated soleplate.
A number of steam vents are also there that helps in the even distribution of steam. It's powerful steam burst lets you get rid of the more stubborn wrinkles and creases from all your fabrics.
Give a pleasant finish to all your fabrics by ironing with this Bajaj Steam Iron. Also, the maintenance of this one model is very easy as it is equipped with the self-cleaning function. Its thermal fuse feature allows you to use the iron with full safety.
Key Features
Non-stick coated soleplate
Self-cleaning facility
Number of steam vents for even distribution of steam
Steam burst function
Self cleaning
Thermal fuse
Pros
Handy and portable
Heats up very quickly
Auto-cuts off the power supply when required temperature is attained
Steam Burst is powerful
Cord length is adequate
Cons
3. Usha Techne Pro 1500 Ceramic 2200W Steam Iron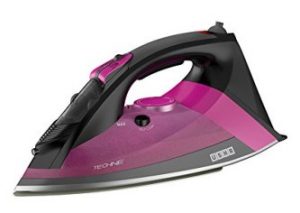 Usha is a well-known brand, and this steam iron from Usha will be absolutely your best pick if you are seeking for the steam iron in budget. This steam iron comes with a ceramic coated nonstick sole plate for smooth gliding and ironing.
What is especially best is its dual steam burst feature that allows you to use both the horizontal steam burst and vertical steam burst as well.
The iron also comes with a self-cleaning function that prevents clogging of the steam vents. Its soft grip handle provides you the great comfort while ironing. The iron also comes with an Anti Drip function to prevent the formation of wet patches on the clothes.
Key Features
Powerful horizontal and vertical steam burst
Extra long cord for better reach
Overheat safety shut off
Quick heating
Nonstick coated soleplate
360-degree swivel cord
Built-in self-clean function
Pros
Innovative and attractive design
Works very well
Cord length is adequate
Super quick heating up time for faster ironing
Cons
4. Black+Decker BD BXIR2202IN 2200-Watt Steam Iron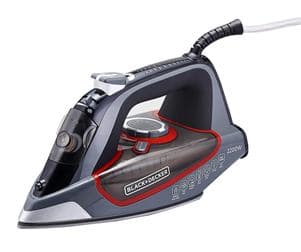 Just get rid of the toughest wrinkles with this Black & Decker steam iron. With its smart steam technology, you can get the perfect setting every time. It's non-stick soleplate glides very easily over all types of fabrics to smooth out the toughest creases.
This steam iron comes with variable temperature settings that give you the accurate performance you are looking for. The variable steam control function along with the fine mist spray provides you just the right amount of power and moisture to take care of any type of fabric.
Key Features
Smart steam technology
True Glide soleplate
Fabric guide to find the perfect temperature for all types of fabric
Steam surge
360-degree pivoting cord
Pros
Nice design
Light weight and easy to use
Quickly heats up
Cord length is enough to use
Cons
5. Panasonic NI-E510TDSM 2320-Watt Steam Iron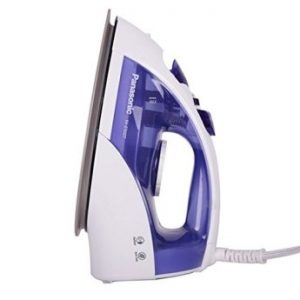 Featuring compact design and superior performance this steam iron from Panasonic will absolutely be your great pick from the list of the best steam iron. It comes with a nonstick titanium coated soleplate helping you out in gliding effortlessly over the garment fabric.
This iron is light weighted and big on performance. It easily tackles the creases by ejecting powerful steam and removing the very stubborn wrinkles at the same time.
This steam iron is featured with vertical ironing, anti calc function as well as auto cleaning function. Its ergonomic design lets you get a comfortable grip on the iron handle. With this handy steam iron from Panasonic, you will absolutely get the professional results at home.
Key Features
Titanium coated nonstick soleplate
360-degree swivel cord
Anti calc system
Vertical steam function
Overheat safety auto shut-off
Pros
Light weight and comfy handle
Heats up very fast and removes creases in just one pass
Cord swivel movement saves from getting it tangled
Cons
Best Budget Steam Irons (Steam Irons Under Rs 2000)
6. Bajaj Majesty MX 20 1200-Watt Steam Iron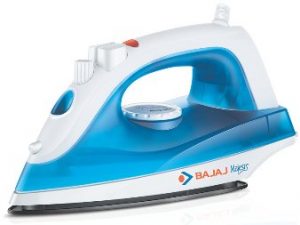 Are you searching for the perfect steam iron for a large household, your search ends here. This Bajaj Majesty steam iron is one of the best steam irons with loads of features. Featuring non-stick soleplate, vertical ironing, a cool touch body, and self-cleaning function, this one is an absolute buy for any modern home.
It flattens out the toughest creases and wrinkles with its multiple features. For uniform distribution of heat, this steam iron comes with 19 vents that deliver out powerful bursts of steams to make your outfit wrinkle free. This steam iron uses 1200 Watts of power for quick heating as well as efficient performance.
One of the best features of this steam iron is the thermostatic control that lets you choose the temperature settings that compliments your fabric you wish to iron. Also, the 360-degree swivel cord makes this one easy to contrive.
Key Features
Nonstick coated soleplate with steam vents
Thermal fuse
Thermostatic control
360 Degree Swivel cord
Quick ironing with built-in safety features
Pros
Heats quickly and works efficiently
Good quality product
Great value for money
Easy to carry and use
Cons
Water comes out while working as the cork is not provided with the iron at filling place
7. Havells Sparkle 1250-Watt Steam Iron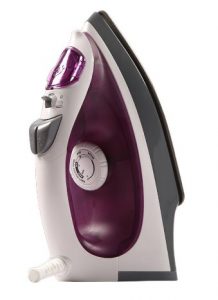 Loaded with awesome features, this one model from Havells is one of the best steam irons and absolutely a perfect pick. This steam iron not only looks stylish but also makes your linens and clothes wrinkle free. This steam iron comes with a non-stick coated ceramic soleplate that is rustproof and corrosion resistant. The nonstick coating of the soleplate helps the iron to glide over the clothes very smoothly.
It is also featured with the thermostatic control that lets you control the temperature according to your convenience. Its lightweight nature makes it even handier, and you can easily carry it out wherever you go. This steam iron also comes with a swivel cord and an indicator light that makes it score high on the aspect of utility.
Key Features
Nonstick coated soleplate
Vertical Steam function
Light Weight
Water tank capacity of 230 ml
Consumes 1250 W power
Pros
Nice design
Works very well
Delivers enough steam for continuous ironing of clothes
Cord length is adequate
Cons
The coating is not very fine; it grips on nylon and silk clothes
View on Amazon View on Flipkart
8. Morphy Richards Glide 1250-Watt Steam Iron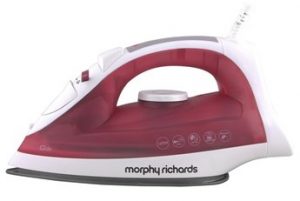 Featuring compact design and superior performance this Morphy Richards model is another best steam iron in your budget. It perfectly suits its name by gliding effortlessly over the garment fabric. This iron is light weighted and big on performance. It easily tackles the creases by ejecting out 15g/min of steam and removing the very stubborn wrinkles at the same time.
This Morphy Richard steam iron is featured with nonstick soleplate, vertical ironing, anti calc function as well as auto cleaning function. Its ergonomic design allows you to get a comfortable grip on the iron handle. With this handy steam iron, you will absolutely get the professional results at home.
Key Features
Ceramic coated soleplate
46 steam holes
Clear view water tank
Turbo steam shot
Vertical steaming
Thermostatic control
360-degree swivel cord
Pros
Design and quality is very nice
Steam is working properly
Temperature control knobs help you for better press
Very handy to use
Cons
Water leakage problem from the water inlet
View on Amazon View on Flipkart
9. Philips Steam Iron GC1905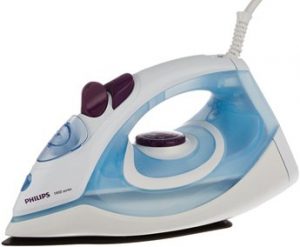 Get the better and quick ironing experience with this one of the best steam irons from Philips. This sleek and stylish steam iron is feature packed with super fast filling and emptying holes, pointed tip, and smooth gliding soleplate. All these features make the ironing very quick and convenient.
It's spray function produces fine steam that evenly dampens the fabric and making it easier to remove out the creases and wrinkles from the clothes.
Key Features
Light and easy to handle
Non-stick coated sole plate
180-degree swivel cord
Easily removes creases
Faster set up and storage
Easy and superfast filling of the water tank
Easy and super fast emptying of the water tank
Pros
Very durable and rigid
Heats up very quickly and auto-cuts the power supply when required temperature is reached
Mode Selection Knob is Easy to Operate
Steam Burst is powerful enough for normal use
Cord length is long enough
Cons
Water Inlet Plug comes off most of the time
It becomes bit bulky when filled with water
View on Amazon View on Flipkart
10. Philips GC1010 1200-Watt Comfort Steam Spray Iron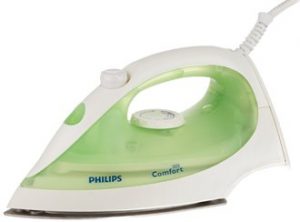 Now last but not least, this is by far one of the best steam irons from Philips. Features like easy to use, easy to clean, superb comfortable grip, and the vertical steam function make this steam iron super awesome. Especially its aluminum sole plate is the best part that never sticks to any type of fabric.
Also thanks to its continuous steam function that lets you iron your clothes much faster. This steam iron from Philips also comes with a calc clean function that flushes out all the calc particles and thus keeping it clean and free of scale.
Key Features
Fast and efficient
Iron temperature-ready light
Linished soleplate
Thin soleplate for better heating
Vent design for uniform steam
Calc clean function to prevent your iron from scale build up
Comfortable ironing
Pros
Light, compact, and does its job well
Build quality is good
Wide range of temperature settings
Cord length is sufficient
Heat up very fast
Cons
Water keeps on leaking
High Power consumption
How to Choose the Best Steam Iron? (Buying Guide)
What is a Steam Iron
A steam iron is designed in such a way that pumps out the continuous steam to remove creases and wrinkles from the clothes. The steam iron contains a holding tank to fill the distilled water and the heating elements of the iron convert that water into powerful steam. The soleplate of the steam iron has some holes where the steam comes out to eliminate obstinate creases without overheating clothes and even affecting their quality.
Different Types of Steam Iron
Excluding traditional dry irons, steam irons are of 5 different types. A basic clothes iron is most common, but steam irons provide a better job than the traditional one as it removes wrinkles more effectively and glides more easily. For your convenience, below are the brief descriptions of different types of steam iron:
1. Usual Steam Irons
Based on the ground search, these are common steam irons that produce hot steam but not much. It removes the creases and irons the fabric well. The conventional steam iron requires normal tap water for making steam. It has resin filters or anti-calcium valves. The only drawback of traditional steam irons is that it is not suitable for stubborn wrinkles or creases.
2. Steam Ironing System
Steam Irons are most popular that include a small section of the water container. This type of ironing function has a continuous flow of steam that comprises high-pressure volumes. Comparing to conventional iron, it takes enough space for storage.
It will remove the severe wrinkles and make it very well finished by the steam. High and even steam production will remove the creases wonderfully, even on cotton or linen fabric. Most of the devices with steam ironing function lacking an automatic turn-off feature. But, the new model comprises a retractable cord with an auto shut-off feature in it.
3. Vertical Steam Irons
Vertical steaming is the most advanced ironing system that you can use horizontally as well. Being innovative and time-saver, you need to spend more on this model. It produces steam like regular steam irons but in a more effective way. You can do away with wrinkles with this useful vertical steam iron. Undoubtedly, it's a better alternative to the traditional irons.
4. Cordless Irons/Travel Irons
Cordless Irons are somehow close to conventional models, but they don't include a power cord. These are best for traveling purpose as these are light-weighted and smaller in size. Travelers found this product very helpful as they are compact, and some of the models comprise a folding feature too. These are free-style irons and are battery-operated. It can be recharged as per requirement.
It is the most compatible one for your personal travel needs that is user-friendly and small in size too. Most of the cordless irons come with a steam feature, while some may not offer this feature. Hence, it is better to check the features first if you go with cordless irons.
5. Luxury Steam Irons
These are the best quality irons that consist of fantastic steam features and easy temperature controls. Most steam iron models lack an auto shut-off feature, but luxury steam irons have this feature. As a bonus, it has a retractable cord, which is almost missing in most other models.
It comprises high-quality non-stick ceramic or stainless soleplates. You can effortlessly fill the water tank and make the most of this steaming feature. The multiple heat holes magnificently help in removing wrinkles from the fabric. These are costly, but definitely a good buy. Hence, weigh up your budget first if you are going to take this model.
Things to Consider Before Buying a Best Steam Iron
Before purchasing any product, you must check some features and functionalities so that it can run for longer, and here are some essential features that you must figure out before purchasing steam iron for home use.
1. Sole Plate
It is the most crucial feature to consider while choosing a steam iron. It is beneficial in deciding the durability of the steam irons. The wider base of the soleplate comprises more number of steam holes, and therefore results in faster ironing. Hence, you can iron huge fabrics in a couple of minutes with less effort.
2. Material of the Soleplate
The soleplates are made of different kinds of materials, and each material is responsible for its endurance and performance. Generally, the soleplate of a conventional steam iron or the traditional one are made of Poly-Teflon, Aluminum, Titanium, Ceramic, and other non-stick coating materials. This coating helps in smooth gliding over the fabrics and prevents the chances of burning. Below are the common sole plate materials that are used in steam irons.
Stainless Steel Soleplate: This is the best option for soleplate as they are useful for conducting heat. Even the traditional irons have stainless steel soleplates. It is ideal for ironing natural fabrics and found better at its performance. Comparing to ceramic sole plates, it can remove wrinkles from cotton or wool more effectively.
The only drawback is that the stainless steel plate may get stick to the adhesive decorative or sticky label while ironing. The situation happens only at a higher temperature. Pressing carefully on adhesive areas can reduce sticking risk.
Aluminum Soleplate: Aluminum is the right dispenser of heat and is reasonably priced too. Aluminum soleplates provide even heat across the fabric. You can also go for aluminum soleplates if you have a low budget.
Ceramic Soleplate: The ceramic soleplate basically covers aluminum material with ceramic coating. It is a better option for ironing synthetic fabric as it resists static. The soleplate made of ceramic is merely a coating on it, and that's why it may weaken due to regular usage. If you use this type of soleplate for ironing natural fabrics like wool or cotton, it can fade the color after some use.
3. Size and Dimension of the Soleplate
Size and dimension of the iron's soleplate is another important consideration. The bigger the size of the soleplate, the large area it covers in a short period. Despite this, the steam holes will also be higher, and these holes promise to provide you even distribution of steam to a larger space.
A sharp end exists in every steam iron as it is useful for ironing tricky corners of the fabrics. The pointy end helps in reaching between pleats, buttons, and collars quickly. Above all, evaluate everything related to soleplates: their types, size, dimension, corners, and edges, etc., for better ironing.
4. Wattage
This specification in steam iron can't be negligible. If you want a high temperature instantly, then it is important to evaluate steam irons' wattage. The higher the wattage, the more rapid and better ironing action is possible due to instant steam production.
Steam iron that provides more than 1800 wattage is always an excellent preference. The powerful wattage steam iron gives rapid heat-up time. Besides, it removes harsh wrinkles on thick fabrics with ease in no time.
So, when you buy a steam iron, ensure the power rating always. A steam iron consumes less power if it runs for a short time. The latest models consume less power than older models.
5. Weight
No one likes to get exhausted while ironing for a longer time. Hence, consider the weight of the steam iron before taking one. Light-weighted steaming irons will be a perfect choice if you iron frequently.
6. Temperature Settings
Nowadays, almost every steam iron comes with this feature. You need to be more watchful if it has options to adjust the temperature for different types of fabrics. Ensure that you regulate the steam flow proficiently. Temperature control should be clearly visible and effective. This feature in steam iron helps in pushing the desired steaming on the fabric.
7. Auto Shut Off
Conventional steam irons lacked this feature, but the latest models are coming up with the Auto shut-off feature. It basically turns off the device if you forget to switch it off. Other than that, it shuts off automatically while in operation only when it reaches a certain point of temperature. This advanced feature can save you and your cloth from any mishap or damage due to inattention. Hence, it is worth buying if you consider the Auto shut-off feature.
8. Water Tank
A water tank is the most imperative feature for steaming. Hence, it is necessary to analyze the water tank's capacity, transparency, shape, and ease of filling it. Make sure it has a full mouth hole for filling it with ease.
Steam iron with a smaller tank can hold 210 ml on average, and it needs to be refilled again and again. On the other hand, steam irons with larger water tanks can hold 300 ml or more of water to save you from frequent filling.
9. Ease of handling
The handles and controls of steam iron should be comfortable and smooth. Make sure to analyze its ergonomic handle, indicators, soft and smooth grip, etc., while buying a steam iron. Furthermore, check the buttons present in the preferred models are placed well. These buttons will help you in reaching out quickly so that you regulate it straightforwardly.
10. Vertical Steaming
If you love to iron your clothes in a standing position, then you should consider this feature. The vertical steaming feature allows you to iron your garments in a standing position. Just place the outfit in a hanger or hook and steam it the way it requires. You don't even need to lie down the fabric on the table or mat. Vertical steaming will also prevent you from bending your knees downward.
11. Steam Settings
Steam iron requires proper steam settings. The garment has to be pressed well with proper steaming, and you will quickly remove the wrinkles and creases from the fabric. The temperature and steam settings must be adjustable also. Excessive heat can burn your fabric, and improper steaming can't help you out in removing wrinkles. You must set both of them according to the fabric.
12. Spray Mist/ Number of Steam Vents
A good steam iron should have proper steam vents to provide steam over the fabric evenly. The number of steam vents is always in evaluation preference if you want the best for your daily ironing needs. The soleplates are implanted with many holes, and it should be 16-46 holes so that you get the powerful steam bursts when required.
You will get even steam distribution over the fabric only when it has a higher number of steam vents. But make sure it has higher power watt to make easy the steam production rapidly.
The latest models come with a large water tank to turn out into steam and distribute evenly and consistently through the provided vents. Some irons have a spray regulator with a push button placed at the top of the iron. These spray regulators produce even vapor for extra humidity for more rigid fabrics.
The iron's sharp end also has these vents to deal with wrinkles at narrow areas such as cuffs, between pleats and buttons, collars, etc.
13. Cord Length
The cord's length is also considerable if you want more flexibility in ironing and easy maneuverability. Sometimes, the socket may not be easily reached while ironing clothes. For such reasons, you may require a lengthy cord. Excluding this, the cord should be of high-quality or else it may rupture, which can be harmful.
The cord's standard size is about 6 feet, but most of the steam irons have cord length up to 3 meters. Longer cord length allows you to have longer strokes and move more freely.
14. Price
No matter what you are going to purchase. The point is to check its features and functions carefully and then decide if it is worth buying or not. Price always matters whether spending money on any product. Hence, evaluate your budget and then pick your preference after analyzing its durability, warranty period, etc., to validate its prolonged existence.
Important Safety Measures While Using a Steam Iron
Steam iron makes easy your ironing task, but some safety features of it can't be ignored while using it. It is advisable to read the given instructions carefully printed on the instruction booklet. Some of the common instructions you should never disregard are as follows:-
The first thing is to never leave the iron unattended on the ironing table after you are done. It may cause injury to your kids.
Never place the iron on an insecure and unstable desk. It may tremble when in use.
The basic safety measure you need to take when filling or emptying the water tank. But sometimes people ignored it, hence make sure that the iron is turned off while refilling or draining the water tank.
Always keep it in a secured place where kids can't reach
If your iron needs servicing or any kind of repair, don't do it by yourself. Always call a professional for additional safety.
Important Tips to Save your Clothes from Burning while Ironing
Steam iron removes the creases and wrinkles from the fabric very effectively. But, the ironing task needs careful movement. Here are some tips:
Always adjust the required setting for the fabric. It may be MIN to MAX; amend it accordingly.
Try it on a rough fabric first.
Don't allow the iron to stay longer on the fabric. It may burn your cloth.
How to Clean and Maintain your Steam iron?
With proper cleaning and maintenance, your steam iron will work more efficiently and also becomes durable too. Watch the video to know how to clean your steam iron.
Best Steam Iron Brands You can Rely on
We are here to recommend you top brands you put your faith in. The most trustworthy name for steam iron is Phillips, Morphy Richards, Black + Decker, Bajaj, Prestige.
The suggested brands are undoubtedly good options. You can show your faith in any of them that fits your budget and requirement list.
Steam Irons Frequently Asked Questions (FAQs)
1. How can we use steam iron as normal iron?

You can simply use steam iron as dry iron. All you need to do is take out water completely from your steam iron. Then change the settings from STEAM to DRY. Furthermore, you need to remain the switch to MIN and preheat first before iron.

2. Is it necessary to vacant the water tank from your steam iron?

Yes, it is. To keep up the performance of the steam iron, it is necessary to empty the water tank. It prevents impurities and dirt particles from staying too long.

3. What type of water is perfect for steam function to iron clothes?

Normal tap water is ideal for a steam iron. Make sure you don't use scented, chemical water, or even starch ironing water with your steam iron. Even distilled water reduces the longevity of the iron and causes harm to the prolonged existence.

4. Which one is best for home needs, Steam iron or Dry iron?

Creases fabrics or wrinkled clothes can be handled better with Steam iron in preference to dry irons. You need to use dry irons cautiously as it may damage your fabrics if not used carefully.

5. Which is the best soleplate for steam iron?

Soleplates are the most important features of the iron. These are often made of ceramic or stainless steel. A non-stick coating of stainless steel or ceramic can help ironing efficiently for better gliding and smooth functioning. The non-stick coating helps in preventing the clothes from sticking.

6. Does steam iron leave a shiny surface on fabrics?

Yes, there is a probability of appearing shiny surface on dark shade clothes. To remain your clothes unaffected, you are advised to iron the dark-colored outfits back to front.

7. What is vertical steam ironing?

It is a very trending ironing function that allows you to iron in an upright position. Vertical steam ironing is an excellent function for dealing with hanging clothes, large gowns, curtains, or even bed sheets. All you need to put the clothes on a hanger or swing in a string.

8. How to use the vertical ironing function?

You can do vertical ironing only when the temperature is very high. To steam garments vertically, heat the iron at a high temperature. Then, hold it straight and gently glide over the garments that are hanging. The warmth of the steam iron softens the fabrics and makes them wrinkle-free in seconds with less effort.

9. How Steam generators work, and how is it different from a steam iron?

Steam generators are also used for ironing and are ideal for commercial purposes. It is suitable for people who do a lot of ironing daily. Steam generators are based on a higher steam rate and a larger water tank. It is the element that separates steam generators from regular steam irons.

10. How to clean steam iron and soleplate?

To clean steam iron, simply wipe the body with a soft damp cloth and let dry. While cleaning the soleplate, wipe the surface with a damp cloth and make sure your mop stroke does not create any scratches. It is advised not to use any chemical cleaner, solvent, or any harsh liquid while cleaning. To clean the water tank, put in a spoonful of vinegar and allow it to heat. Then eradicate the water from the water tank by switching off the device.
Conclusion
That's all for our picks of best steam irons in India. Get the perfect ironing experience by picking out the one from the list of steam irons mentioned above. All these are selected from the well-known brands, and thus assuring you the only good quality of the listed products.
Related Reviews on Ironing Essentials
Buy Best Steam Iron Online
HAVELLS Fabio 1250 W Steam Iron with Teflon C...
57%
Bajaj ABS Mx-35N 2000W Steam Iron With Steam ...
48%
PHILIPS Handheld Garment Steamer STH3000/20 -...
44%
Goodscity Garment Steamer for Clothes, Steam ...
47%
Philips Perfect Care Power Life Steam Iron GC...
29%
Philips Handheld Garment Steamer GC360/30 - V...
27%
Pigeon by Stovekraft Steam Iron Velvet 1600 W...
53%
Philips EasySpeed Plus Steam Iron GC2147/30-2...
33%