Ironing is an essential chore of our daily life and also a tiring job as well. To handle the process of ironing well at your home, the first and foremost thing is to choose the best iron. Then the next one comes to select the best ironing boards that make the task of ironing a breeze.
Even most of us always lay out a folded towel on a table to iron drip-dry shirts, trousers, etc. from the laundry basket that needs pressing. But, an ironing board comes with many benefits as compared to your regular table.
Our Best Picks of Ironing Boards
It is very much difficult to select the appropriate ironing board as a variety of choices are available in the market. But we have made your task simpler with our best selections of the ironing boards from the topmost brands that will definitely give you the best ironing experience. All these latest models of ironing boards are equipped with the features described above.
Here is the list of our latest picks of the best ironing boards.
To get the detailed review of the above listed models, please head to our Review Section.
Benefits of Ironing Board
It provides you smooth and comfortable base so that you can iron a heap with more ease and convenience.
You can fold it compactly and also it is easy to store in a small apartment or laundry room.
It also looks cool in your house and prevents fabrics from sticking.
The fiber of the ironing boards is specially designed for hold and heat reflection that reduces the ironing time and also saves electricity.
The conical front of the ironing surface lets you press out the wrinkles in button-down shirts and slacks more effectively
Ironing boards are the better platform for draping your clothes as well.
Since the ironing boards are designed that reaches to your waist height, so now you don't need to bend over it as you do while ironing on a normal table.
So, just make your ironing task much more pleasant by using the ironing boards which are now becoming very popular.
How to pick the best ironing board?
Ironing boards, as the most household accessories, come in an array of designs. If you iron regularly, you will require an ironing board that is easy to set up and use, as well as convenient to store. You must consider the following points to get a perfect choice.
Size- Size is the foremost consideration before choosing an ironing board. If you often iron with a lot of large sized items, you must buy an ironing board with the bigger surface. And if you iron rarely and need a board for just occasional touch-ups, smaller sized ironing boards are perfect.
Type- Various types of ironing boards are available in the market including folding ironing boards, built-in ironing boards, or hanging ironing boards. You can select one on the basis of your preference.
Cover- Choose the ironing board with heatproof cover. The cover should also be non-staining, smooth, and recommended for your iron.
Features- The most important features you must consider for an ironing board includes its frame, adjustability, and the type of the board. Ironing boards with durable frames and lightweight are best for easy storage and transportation.
Height-adjustable ironing boards are preferably great and work well in spaces with more than one user.
Ironing Boards with wooden tops are quite robust, but the wood adds excess weight and tends to trap heat. A breathable top board with vent holes is an ideal choice, as this type of surface lets steam escape to promote efficient ironing.
Best Ironing Boards Reviews
1. Bathla X-Press Ace Ironing Board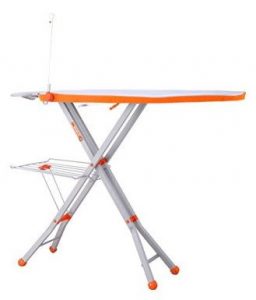 This ironing board from Bathla is our top pick amongst the other ironing boards. It is built from high-quality, durable steel and is designed with a host of innovative features for your ease and convenience of ironing. This ironing board is endowed with nickel chromium plating and special silicone rubber that not only offers a stylish look but also makes it durable.
It's stepless height adjustment system lets you regulate the height according to your convenience. Also, it comes with a multi-functional tray where you can keep your ironed clothes to prevent crease. And its innovative wire management feature ensures that the cable does not get tangles while ironing.
Key Features
Built from high-grade steel
Precision molded plastic parts for maximum durability
Proprietary aluminized cloth cover for heat transfer efficiency
Anti-skid PVC shoes for high stability
Multi-functional tray to stack clothes and more
Innovative wire manager
Buyers Feedback
The Good
Very comfortable and adjustable iron board
Surface cloth is sensitive to hotness so makes it good choice for ironing
Very heavy and sturdy
Adjustments available with it make it easy to iron clothes
View on Amazon View on Flipkart
2. Bathla X-Press Lite Ironing Board
Featuring the most innovative features, the Bathla X-Press Lite Ironing Board is the best buy for your home. It is complemented by a convenient iron stand that not only looks cool and funky but also highly functional as well.
This ironing board is also equipped with stepless height adjustment facility that lets you adjust the height as per your convenience. In addition to this, it comes with an innovative wire manager that ensures the cable does not get entangled while you iron the clothes.
This attractive iron board from Bathla offers smooth ironing since the board is covered with foam and felt backed cloth that refracts heat.
Key Features
Build from high-grade steel
Adjustable height
Ironing surface is layered with foam and felt backed cloth for smooth ironing
Innovative wire manager
Multi-functional tray for stacking clothes
Buyers Feedback
The Good
Well designed
Very stable and solid
Height adjustment feature is good
Cloth stand, iron holder, and cable manager is a good addition
The Bad
The size of the board is small
View on Amazon View on Flipkart
3. Paffy Folding Ironing Board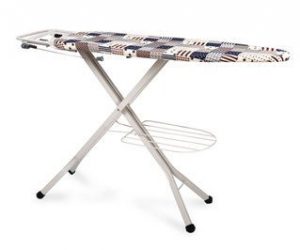 This attractive ironing board from Paffy is highly efficient and an ideal buy for your home. It is made up of high-grade steel that ensures the durability of this ironing board. This one model is constructed with a height adjustment facility letting you adjust its height as per your requirement.
This ironing board helps you effortlessly iron your clothes and also gives you neat and crisp looking clothes for the day. You can utilize it for ironing all kinds of outfits with ease.
Key Features
Built from high-grade steel and plastic material
Aluminized cloth cover for heat transfer efficiency
Large multi-functional tray to stack clothes
Large extendable height adjustment
Foldable for easy storage
Buyers Feedback
The Good
Good material quality of the board
Easy height adjustment
Strong and durable
Broad table
4. TruGood Folding Ironing Board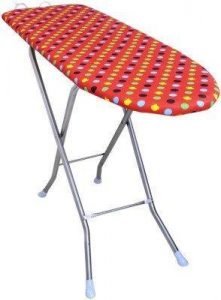 This ironing board is designed with a host of functional features that lets you iron your clothes effortlessly. It comes with a contemporary design and fabric upholstery. You can iron all sorts of outfits on this ironing board most easily.
The height adjustment facility of this ironing board lets you adjust the height according to your convenience. It also comes with a locking mechanism to ensure extra safety.
Key Features
Adjustable height
Hot steam iron stand
Shockproof wooden board
Strong and durable frame with rubber grips
Buyers Feedback
The Good
Nice board in this price range
A very sturdy and long lasting item
Easy to lay out and store
Height adjustment feature is awesome
5. Synergy Large Ironing Board (SY-PT2)
This highly efficient ironing board from Synergy is an ideal buy for your home. This uniquely designed press table is furnished with a contoured cover made of 100% cotton and underneath there, is a foam pad that offers an elegant and stylish look along with durability.
This ironing board is also featured with different levels of height adjustment system that helps you in regulating the height according to your convenience. It also has the robust, fascinated, and durable metal leg that provides rigidity while you are using the board. The legs are powerful enough to take all the human pressure while ironing. This ironing board comes with a patented leg lock design that makes it easily collapsible and transferable when not in use.
Key Features
Sturdy and safe
Large Ironing Surface
Protective non-slip caps on each of the feet of the board
Safety lock
Extra Stable Leg Design
Adjustable height
Foam+Felt Padding for adequate cushioning
Buyers Feedback
The Good
Sleek design and aesthetic appeal
Sturdy and strong construction
The cloth on the ironing board is made up of high quality cotton
The stands are made with sturdy pipes, and so the ironing board is stable
Height adjustable feature is pretty good
Conclusion
Designed to make the ironing easy and convenient, ironing boards are the best household accessories that also work well in commercial settings as well. Because of their spacious tops, you can iron most types of fabrics easily and comfortably. Their frames are robust, durable, and have safety features that make them ideal day-to-day accessories. The above-mentioned models are some of the top rated Ironing Boards that you can buy. Hope, the list will help you in picking the right Iron table for your home.
Check More
The Prime Minister's Ironing Board and Other ...
44%
Is That My Ironing Board?
Tales From the Ironing Board: Hillary Clinton...