Our physical appearance is the first point of impression for people. And it is a true saying that our first impression always goes a long way. So, wearing a clean and crisp outfit is the best way to create the best impression on others. An iron box is the best tool to achieve that, but what about convenience and comfort? Here comes the role of a very vital gadget for your home, the Ironing Board.
An ironing board allows you to iron your clothes perfectly and easily in a fast and efficient way.
However, traditionally most of us always lay out a folded towel on a table to iron drip-dry shirts, trousers, etc. from the laundry basket that needs pressing. But, a best ironing board comes with many benefits as compared to your regular table.
What is an Ironing Board?
An ironing board is a large and flat board surface enveloped with heat-safe cotton padding on which you can iron your clothing or linens. It includes a flatbed for ironing and collapsible legs hinged at the bottom of the bed that can be foldable for easy storage.
It has a metal construction with an adjustable height mechanism, so you can easily set it for either standing or sitting position as per your comfort for ironing.
But how to choose the best ironing board is quite tricky. We recommend you to read our comprehensive Buying Guide on it, so that you can buy buy the high-quality and best ironing board for your needs.
Top 10 Best Iron Tables in India
Best Ironing Board in India – Reviews
1. Bathla X-Press Ace Ironing Board (Best Overall)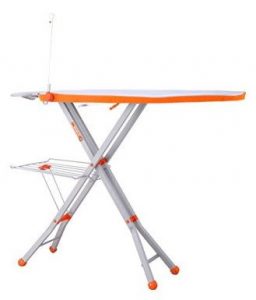 This ironing board from Bathla is our top pick for its super impressive features as well as the ease and convenience it offers while ironing. It is built from high-quality, durable steel and is designed with a host of innovative features to offer you the best ironing experience.
The large ironing surface with thick padding ensures you can comfortably iron your clothes, no matter how large or small it is. This ironing board is also endowed with nickel chromium plating and special silicone rubber that not only offers a stylish look but also makes it durable.
It's stepless height adjustment system lets you regulate the height according to your convenience. Also, it comes with a multi-functional tray where you can keep your ironed clothes to prevent crease. And its innovative wire management feature ensures that the cable does not get tangles while ironing.
Key Features
Built from high-grade steel
Precision molded plastic parts for maximum durability
Proprietary aluminized cloth cover for heat transfer efficiency
Anti-skid PVC shoes for high stability
Multi-functional tray to stack clothes and more
Innovative wire manager
Pros
Very comfortable and adjustable iron board
Surface cloth is sensitive to hotness so makes it good choice for ironing
Very heavy and sturdy
Adjustments available with it make it easy to iron clothes
Cons
View on Amazon View on Flipkart
2. Flipzon Wooden Folding Ironing Board (Runner Up)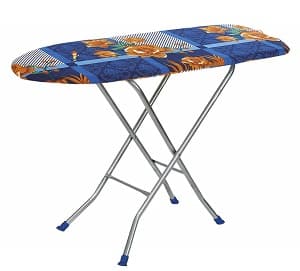 Flipzon is another best choice to get quality and comfortable ironing experience. This wooden ironing board comes with all the features you need for an easy and hassle-free ironing session.
It includes a great quality cotton cover padded with the thick polyester that offers a firmer ironing surface. Stability is also very important in an iron board while you iron on it. And so this one features a durable iron body and anti-skid shoes that offer ultimate stability while you are using it.
This iron table also features three different height level adjustments so that you can set the preferred height position; you feel comfortable for ironing. Setting the height is also very easy as it comes with a lever, allowing you to easily pull up the board or press to push it down. With an easy folding option, the product offers easy and convenient storage also.
Key Features
Wooden ironing board
Superior quality cotton cover with thick polyester padding
Iron stand
Durable legs with anti-skid shoes for stability
Three levels of height adjustment
Folding for easy storage
Pros
Sturdy construction
Looks good
Dimensions of the iron table are sufficient enough for ironing a variety of clothes
No wobbling of legs while you are using it
The top cover is washable and replaceable
Cons
View on Amazon View on Flipkart
3. Peng Essentials Tabletop Ironing Board (Best Budget Pick)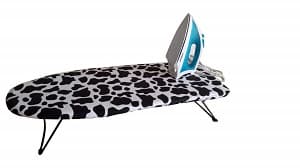 If you are searching for a budget-freindly as well as quality iron table, this one from Peng Essentials is a great buy.
This ironing board is an excellent buy for the ones living in dorm rooms or hostels or short spaces. Being compact in size, this tabletop model gives you a superb ironing experience.
It comes in an eye-catching design with appealing print on the top cotton cover. The design also includes a metal mesh that creates a better ironing surface. Plus, the vented holes on it allows hot air to pass through the garment to remove creases and wrinkles very fast.
It comes with the steel legs having anti-skid protectors that provide stability while ironing. You can also fold these legs flat for easy and compact storage anywhere like behind doors, under beds, and in closets. All these features, make it a best ironing board at a pocket-friendly price tag.
Key Features
Compact design
Durable steel mesh top
Vented holes to enhance steam flow for faster wrinkle removing
Retractable hook for easy hanging
Foldable steel legs
Anti-skid protection
Heat-resistant cotton cover
Pros
Lightweight design
Easy to set up on the table or on the floor
Firm ironing surface
Portable and easy to carry anywhere
Compact to store neatly
Cons
Not ideal for ironing large and wide clothes
No iron holder
4. Benesta Classic T-Leg Wood Ironing Board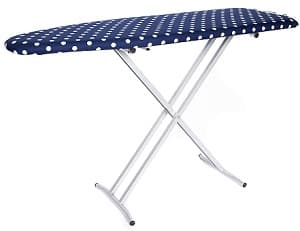 This iron table from the brand Benesta is outstanding in terms of design, performance, and durability all. Even this is an excellent choice for those who have a slippery floor in their home.
The iron table features a great wooden top having a cotton cover and thick polyester padding. It offers a firm surface so you can iron very comfortably on it. The wooden top also ensures a shockproof ironing experience.
The solid four leg frame combines the protective non-slip caps on each foot to provide ultimate stability so that the iron board can't shake when you iron on it.
It also comes with an iron stand at one corner of the wooden top that ensures easy placement of the iron in between the usage.
The stepless height adjustment feature of this ironing board is again a great feature that lets you lock the most comfortable height position for ironing. It also comes with an innovative wire manager that avoids the messy tangling of cords while doing iron.
Key Features
Cotton cover with thick padding
Stable iron legs
Adjustable height option
Iron holder
Metal mesh surface
Safety lock prevents the ironing board from collapsing
Wire manager
Pros
Sturdy and durable
Looks stylish and appealing
Easy height adjustment
Iron holder with silicon bush to protect the iron
Foldable legs for easy storage
Cons
Lacks multi-functional tray at the bottom to keep the ironed clothes
5. Sasimo Self Standing Ironing Board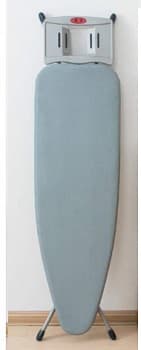 Get a better and comfortable ironing experience by bringing home this quality ironing board from the brand Sasimo. This wooden iron table comes with outstanding durability at such a pocket-friendly price tag.
The top of the model includes a cotton cover with thick polyester padding that makes it firm for easy and perfect ironing. Its legs are also very durable, featuring the rubber feet cap that makes it stable while your iron on it. Plus the extra-wide design offers enough space to iron even wide and long clothes very easily.
At one corner of the ironing board, it includes an iron rest, so you keep the iron on it while folding or draping the ironed clothes. The best part is that it comes with three levels of height adjustments. It allows you to lock your favorite height so that you can iron comfortably. Storing has also never been an issue with this ironing board as it comes with foldable legs. It lets you keep the board very neatly anywhere in your home.
Key Features
Wooden ironing board
Iron holder
Three levels of height adjustment
Four legs stand
Foldable legs for easy storage and transportation
Cotton cover with thick polyester padding
Rubber feet caps at legs for stability
Three years warranty
Pros
Looks good and sturdy
The top cover is of good quality
Heavy metal body at the bottom offers durability
Iron holder is a nice addition
Fair length and width of the board provides easy ironing of variable clothes
Three levels of height adjustment is a nice feature
Cons
6. Arrison Folding Iron Table
The Arrison ironing board is another decent quality product on our list. Its top surface is absolutely flat and covered with the finest cotton cloth having the line prints on it. It makes the table not only good looking but also very convenient and easy to use.
The top fabric is of good quality and heat resistant, so absolutely safe to use, and there is no chance of burning. When it comes to its leg stand, they are also very sturdy and make the table stable when you iron on it.
This iron table also includes an iron holder where you can rest the iron in between use. Four levels of height adjustments is one of the nicest features of this ironing board. It lets you adjust the preferable height position that is convenient for ironing.
Key Features
Shockproof wooden board
Beautiful line prints on the top cotton cover
Sturdy steel iron legs
Iron holder
Four levels of height adjustment
Foldable legs for compact storage
Pros
Nice quality and design
Sufficient length and width
Sturdy and durable
Foldable for easy storage
Cons
The leg stand is a bit shaky
7. Bathla X-Pres Ace Pro – Extra Large Foldable Ironing Board
Another a great product from Bathla, with spacious ironing surface that provides you ultimate convenience while ironing. Featuring the most innovative features, the Bathla X-Press Ace Pro Ironing Board is the best buy for your home. It is complemented by a convenient iron stand that not only looks cool and funky but also highly functional as well.
Another best feature is its aluminised ironing surface that utilises the latest in heat-transfer material technology to reflect heat. And thus it saves up to 40% electricity and time.
This ironing board is also equipped with stepless height adjustment facility that lets you adjust the height as per your convenience. In addition to this, it comes with an innovative wire manager that ensures the cable does not get entangled while you iron the clothes.
This attractive iron board from Bathla offers smooth ironing since the board is covered with foam and felt backed cloth that refracts heat.
Key Features
Build from high-grade steel
Aluminised cloth surface absorbs and reflects heat, thus saves time and electricity both
Adjustable height
Ironing surface is layered with foam and felt backed cloth for smooth ironing
Innovative wire manager
Multi-functional tray for stacking clothes
Pros
Well designed
Very stable and solid
Height adjustment feature is good
Cloth stand, iron holder, and cable manager is a good addition
Cons
Height adjustment is not very smooth
8. Paffy Folding Ironing Board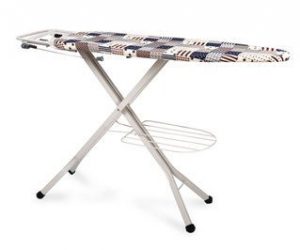 This attractive ironing board from Paffy is highly efficient and an ideal buy for your home. It is made up of high-grade steel that ensures the durability of this ironing board. This one model is constructed with a height adjustment facility letting you adjust its height as per your requirement.
The model helps you effortlessly iron your clothes and also gives you neat and crisp looking clothes for the day. You can utilize it for ironing all kinds of outfits with ease.
Key Features
Built from high-grade steel and plastic material
Aluminized cloth cover for heat transfer efficiency
Large multi-functional tray to stack clothes
Large extendable height adjustment
Foldable for easy storage
Pros
Good material quality of the board
Easy height adjustment
Strong and durable
Broad table
Cons
9. TruGood Folding Ironing Board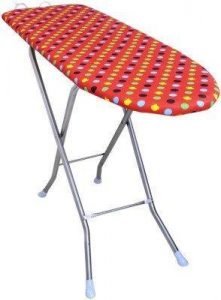 This ironing board is designed with a host of functional features that lets you iron your clothes effortlessly. It comes with a contemporary design and fabric upholstery. You can iron all sorts of outfits on this ironing board most easily.
The height adjustment facility of this ironing board lets you adjust the height according to your convenience. It also comes with a locking mechanism to ensure extra safety.
Key Features
Adjustable height
Hot steam iron stand
Shockproof wooden board
Strong and durable frame with rubber grips
Pros
Nice board in this price range
A very sturdy and long lasting item
Easy to lay out and store
Height adjustment feature is awesome
Cons
10. Magna Homewares Extra Large Foldable Ironing Board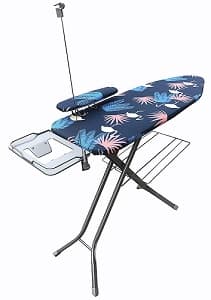 This highly efficient ironing board from Magna is an ideal buy for your home. This uniquely designed press table is furnished with a contoured cover made of 100% cotton and underneath there, is a foam pad that offers an elegant and stylish look along with durability.
This ironing board is also featured with different levels of height adjustment system that helps you in regulating the height according to your convenience. It also has the robust, fascinated, and durable metal leg that provides rigidity while you are using the board. The legs are powerful enough to take all the human pressure while ironing. This ironing board comes with a patented leg lock design that makes it easily collapsible and transferable when not in use.
Key Features
Sturdy and safe
Large Ironing Surface
Sleeve board to iron narrow area of clothes
Wire Manager to manage cord while ironing
Protective non-slip caps on each of the feet of the board
Safety lock
Extra Stable Leg Design
Adjustable height
Foam+Felt Padding for adequate cushioning
Pros
Sleek design and aesthetic appeal
Sturdy and strong construction
The cloth on the ironing board is made up of high quality cotton
The stands are made with sturdy pipes, and so the ironing board is stable
Height adjustable feature is pretty good
Cons
How to Choose an Ironing Boards? (Buying Guide)
Types of Ironing Boards
1. Built-in Ironing Boards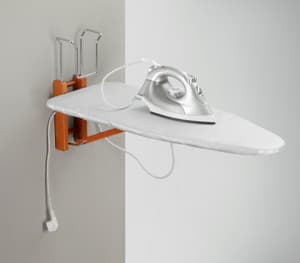 The built-in ironing boards are also known as wall-mounted iron boards. These boards require fixed installation on your room's wall. It does not have foldable legs, though the board is foldable that fixes directly to the wall. Thus, these are great space savers if you have a lack of space in your home.
The only downside with these ironing boards is that these are not portable. So, you can only install them if you are the permanent resident to your home.
2. Portable Table-top Ironing Boards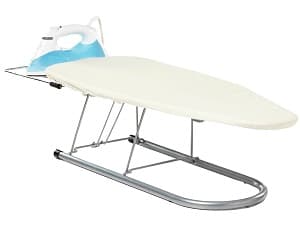 Table-top ironing boards are much similar like the traditional method of ironing on the table. These are also known as free-standing ironing boards. It comes in a lightweight construction and is easily portable from one place to another. Thus, offering you the flexibility to use in any of your rooms or space. With the adjustable legs, you can easily set them to the height; you feel convenient for ironing.
The portable table-top ironing boards usually come in two sizes:
Full-Size Ironing Board- The full-size ironing boards come in size from 15 by 54 inches up to 20 by 63 inches. It comes with the impressive build quality and is light in weight and easy to carry.
Compact Ironing Board- These tabletop boards are ideal if you have less space in your house or living in a dorm room or hostel. The build quality is somewhat really not impressive and is ideal only for occasional use.
Things to Consider Before Buying an Ironing Board
Ironing boards, as the most household accessories, come in an array of designs. If you iron regularly, you will require an ironing board that is easy to set up and use, as well as convenient to store. You must consider the following points to make the perfect choice.
1. Size
Size is the foremost consideration before buying an ironing board. Choosing the right size of the ironing board depends upon how frequently you use it, or which type of clothes you iron frequently? So, keep some points in mind while choosing the right size.
It is better to buy the board not too large, not too small, instead, go for the medium-sized one.
If you often iron with a lot of large-sized items, you must buy an ironing board with a bigger surface. And if you iron rarely and need a board for just occasional touch-ups, smaller sized ironing boards are perfect.
Also, choose the one that comes with a broader platform, as the narrow platform creates some uncomfort while pressing the wider clothes.
2. Adjustable Height Option
To provide you more convenience while ironing, the iron board must come with the height-adjustable feature. It ensures different users of different heights can use it more conveniently. Generally, the common height adjustment includes the range from 28 inches to 36 inches. Even, some are also adjustable to the height, making you use it in sitting position also.
3. Build Quality
The build quality of the ironing board determines its strength and durability. So, before buying, you must check the material of construction, supports legs, frame, and padding, etc.
Ironing Boards with wooden tops are quite robust, but the wood adds excess weight and tends to trap heat.
A breathable top board with vent holes is an ideal choice, as this type of surface lets steam escapes to promote efficient ironing.
Heavy-duty models with 4 legged frames or 4 cross-legged frames are considered to be the best choice.
However, the price of these models is quite expensive, but in terms of durability and longevity, it will justify the price range.
4. Weight and Portability
There comes various types of pressing boards for different needs. Some are heavy-duty, some are wall-mountable, and some are compact. You can choose the one depending upon your needs. But if you want the portable one, heavy-duty ironing boards and wall mountable ironing boards are not the choice.
Opting for compact boards will ensure high portability and also saves a lot of space too. Some portable models include over-the-door, standard, and tabletop models that you can choose from. These iron boards are both budget-friendly and travel-friendly.
5. Top Cover
The board cover is also as important to ensure its strength and durability. Even it can make you feel comfortable to iron the fabrics better and efficiently. Go for the one that comes with thicker padding and allows the fabric to rest well on the surface. Also, choose the ironing board with a heatproof cover. The cover should also be non-staining, smooth, and recommended for your iron.
6. Some Extra Features and Add-ons
Multi-purpose shelf or tray- Some ironing boards come with a built-in tray or shelf that lets you keep the stack of clothes while ironing.
Iron Rest or Iron Holder- An iron holder is there at the end of the board, allowing you to keep the iron box aside or at rest. It is a great safety feature that protects you from getting burnt while folding or changing the clothes in between.
Cord Management Wire- Some models also come with a wire manager for your comfort. It keeps the annoying wires away from you while you are ironing.
Sleeve Attachment- This add-on feature offers an extra area to iron the sleeves of shirts or some smaller clothes conveniently.
Hanging Hook for Clothes- Some models include a hanging rack to hang the ironed clothes neatly and in an organized way.
Benefits of Ironing Board
It provides you smooth and comfortable base so that you can iron a heap with more ease and convenience.
You can fold it compactly and also it is easy to store in a small apartment or laundry room.
It also looks cool in your house and prevents fabrics from sticking.
The fiber of the ironing boards is specially designed for hold and heat reflection that reduces the ironing time and also saves electricity.
The conical front of the ironing surface lets you press out the wrinkles in button-down shirts and slacks more effectively
Ironing boards are the better platform for draping your clothes as well.
Since the ironing boards are designed that reaches to your waist height, so now you don't need to bend over it as you do while ironing on a normal table.
Conclusion
Designed to make the ironing easy and convenient, ironing boards are the best household accessories that also work well in commercial settings as well. Because of their spacious tops, you can iron most types of fabrics easily and comfortably. Their frames are robust, durable, and have safety features that make them ideal day-to-day accessories. The above-mentioned models are some of the top rated and best Ironing Boards that you can buy. Hope, the list will help you in picking the right Iron table for your home. As our personal recommendation, we suggest you to go with Bathla Express Ace Iron Board that is great in terms of features, convenience, durability, and price all.
Read Related Reviews
Buy Best Iron Board Online
Ironing Board/Table ; Zemic Full-Size Ironing...
55%
Ironing Board-Lifewit International Quality I...
72%
Amazon Brand - Solimo Wooden Ironing Board/Ta...
53%
Bathla X-Pres Ace - Large Foldable Ironing Bo...
53%
Amazon Brand - Solimo Wooden Ironing Board/Ta...
54%
Ikea Steel Jall Tabletop Ironing Board Size 2...
46%
Parasnath Heavy Folding Large Ironing Board T...
58%
Amazon Brand - Solimo Wooden Ironing Board/Ta...
46%