Most of us have the quality walking routine to stay healthy and fit. The daily walking routine not only offers the significant positive impact on our health but also increases the level of fitness and overall happiness. Here come the most useful tool Pedometers for walking that accurately track your every steps, miles, kilometers, as well as calories.
What are Pedometers?
Pedometers are one of the most useful step counting gadgets that counts your every step by detecting your movement. This one gadget is a great way to measure your daily activity. When the pedometers were actually introduced, they were only used for measuring the footsteps. But the modern pedometers can do much more. You can easily calculate the aerobic and walking distances, your calories intake and expenditure, and some other advanced measurements with this useful gadget.
To know more about Pedometers, please check our Buying Guide Section.
7 Best Pedometers for Walking in India
Pedometers are now becoming an integral part of many people's daily exercise routines. But with so many popular step trackers available in the market, which pedometer is best is quite daunting. To help you out, we have compiled here the latest and modern pieces so that you have only the best one. Just have a quick look at our list of best pedometers in India
Pedometers
Sensing Technology
Functions
HealthSense PD-102 Smart 3D Pedometer Watch
Read Review
3D Technology
Step count/Walking Time/Distance Travelled/Calories Burnt
CHECK PRICE
3DFitBud Simple Step Counter Walking 3D Pedometer
Read Review
3D Sensor Technology
Step Count, Calorie Count, Distance Miles/Km & Daily Target Monitor
CHECK PRICE
Fitbit Inspire Health and Fitness Tracker
Read Review
-
Step Count/Distance Travelled/Calories Burnt
CHECK PRICE
Omron HJA-313 Pedometer
Read Review
Active Engine 2 Technology
Step Count/Distance Travelled/Calories Burnt
CHECK PRICE
Omron HJ-321 Pedometer
Read Review
3D Sensor Technology with 3D Sensor
Step Count/Distance Travelled/Calories Burnt
CHECK PRICE
Digi 1st P-520 Pedometer
Read Review
-
Step count/Walking Time/Distance Travelled/Calories Burnt
CHECK PRICE
Omron HJ-325 Pedometer
Read Review
3D Sensor Technology
Step Count/Distance Travelled/Calories Burnt
CHECK PRICE
Best Pedometers for Walking – Reviews
Now, let's have a look at the full review of each of our mentioned models to fairly decide which one suits your need.
1. HealthSense PD-102 Smart 3D Pedometer Watch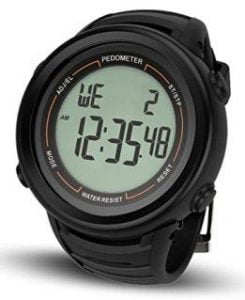 HealthSense PD 102 is one of the most advanced 3D pedometer watches that utilizes the latest generation in Tri-Axis technology to provide superior accuracy in any position. It keeps track of every step and also providing a Calorie Counter, Exercise timer, Daily Alarm, Speed, Distance, Timer, Stopwatch, and Backlight functions.
This pedometer also utilizes a Digital 3D Acceleration Sensor which is far more accurate than mechanical sensors used in other pedometers. It comes with a delayed step counter feature that differentiates between the auxiliary movements and the actual steps. This feature provides the users with the most accurate results.
Key Features
Smart 3D Tri-Axis Technology
Counts Steps, Distance, Calories Burnt, Speed, Activity Time, Goal%, Stopwatch, Timer, Alarm
7 days memory feature
Option to switch Pedometer On/OFF
Option to shuffle between RUN/WALK
Pros
Decent for health-conscious person
Quite accurate in most of the conditions
Battery life is good
Interfaces and modes are quite simple
Cons
The only downside is that if you are walking inside a moving vehicle, the recorded steps may not be very accurate
2. 3DFitBud Simple Step Counter Walking 3D Pedometer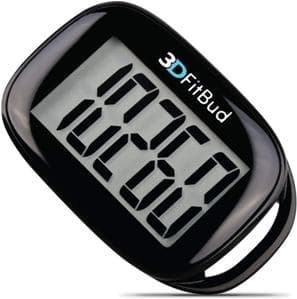 This sleek, small and feature-packed pedometer is a must-have device for those who wish to keep an ongoing count of steps through their daily hectic schedules. It records daily steps of walking or running, distance traveled, calories burned, and activity duration. The device comes with a silent 3D tri-axis sensor technology that provides superior accuracy. This one pedometer works accurately whether it is placed horizontally or vertically. It comes with a large LCD screen that makes the readability of stats very clear. Also, it has the memory of 30 days, means you can record the stats of 30 days of your daily activity for future use.
Key Features
Attractive design
Accurate 3D tri-axis sensor technology
Accurate step and calorie counter, distance tracker, daily target monitor
10 steps smart delay
Large digit easy to read display
Automatic reset at midnight
30 days memory
Pros
Quality of the device is very good
The set up is relatively simple
Perfect for tracking steps, distance taken, and calories burned
Simple and accurate
Good value for money
Cons
3. Fitbit Inspire Health and Fitness Tracker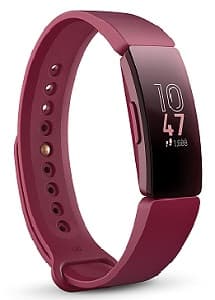 The Fitbit Inspire Health and Fitness Tracker is one of the best wireless activity trackers that tracks your all-day activity including the steps taken, distance covered as well as the calories burned. Its wireless syncing feature lets you sync your daily stats to your computer and more than two hundred leading devices, and shows your progress in easy to read charts and graphs. You can easily see your daily stats and time of day by just simply tapping the display.
Whether online or through the Fitbit pedometer app, you can set your goals and stay motivated to keep on your path of fitness with graphs, badges, and friendly competitions.
Key Features
Track steps, distance, and calories burned
Large tap display to see your daily stats easily and quickly
Wireless syncing
Discreet and versatile to wear
Free iPhone and Android app
Sweat, rain and splash proof
Pros
Excellent gadget and worth every penny
Pretty accurate
Works well with the Fitbit app where you can keep track of your steps, distance, food intake, weight and much more
Nice and small and so easy to carry in your pocket
Cons
Battery issues with this pedometer. The lifespan of the battery is less than the six months as it claims
4. Omron HJA-313 Pedometer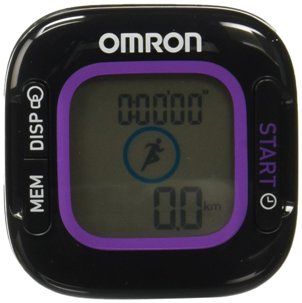 The next comes a model from the brand Omron. When it comes to the best pedometer for walking, this device never fails to offer you great performance at the most reasonable price. This pedometer lets you live a healthy and active lifestyle. You can easily track your progress continually in a more organized way using this pedometer. The device comes with the advanced functionalities including workout jogging mode and weekly diet support that allow the users to set weight reduction target to lose in a prescribed time phase. Plus, it is featured with average pace calculator, fat burnt and calorie meter, distance traveled, steps taken as well as time.
The best is its slim and lightweight construction making the device convenient to carry along with you. Moreover, its large LCD display with backlight ensures the easy readability of the measures even in the dark also.
Key Features
Active engine 2 technology
Measures time, distance, steps taken, and calories
Achievement level indicator
Weekly diet support display
7 days history storage
Large LCD display with backlight
Pros
Nice build quality
Very useful pedometer for walking and jogging
Easy to use
Nice device to keep you motivated on your planned target
Small and sleek design makes it to get fit properly
Cons
5. Omron HJ-321 Pedometer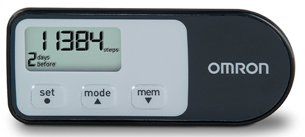 The Omron HJ-321 is another best pedometers for walking. This one is specially designed for power walking and aerobic exercise. The device counts your moderate steps separately from your normal walking steps. It can also count the distance traveled and time taken and thus giving you more information about your all activity level.
This pedometer is featured with an advanced accelerometer technology that helps in counting every step accurately, whether the device is positioned flat, or even in vertical or horizontal position. The device comes with the memory of 7 days that lets you access the previous data to review your statistics. Plus the sleek design of this functional pocket pedometer allows you to carry it anywhere.
Key Features
Tracks steps, aerobic steps, steps per minute (pitch), distance and calories burned
Tri-Axis technology to keep an accurate count
Displays 7 days activity on display
Includes holder so you can clip it anywhere
LCD display
Reset function
Pros
Great in terms of quality and performance
Good fitness motivator tool
Offer accurate readings
Cost-effective
Calibration of the pedometer is very easy
Cons
6. Digi 1st P-520 Pedometer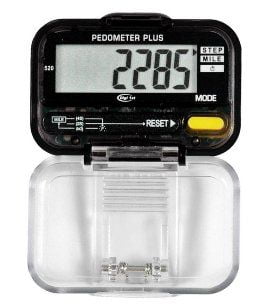 Here comes the next best and smart choice for the pedometers for walking from the brand Digi 1st. With such an affordable price point and improved activity tracking functions, this walking pedometer is an ideal choice for various fitness programs. The device accurately tracks your steps, time taken and distance covered. Besides, it also records exercising time for walking and distance traveled in miles.
It comes with a durable belt clip that you can tuck it in your belt while walking or running for tracking the stats. Moreover, its slim fit case, larger LCD display, and smart design make it the best choice for all your fitness tracking needs.
Key Features
Step counter records the number of steps taken to 999,999 steps
Measures distance traveled in miles up to 9,999.99 miles
Activity time runs automatically whenever steps are being recorded
Irregular movement filter for higher accuracy
Comes with a free safety leash
Pros
Good pedometer in such a price range
Smart design
Compact and lightweight
Easy to use
Cons
Build quality is not too good
7. Omron HJ-325 Pedometer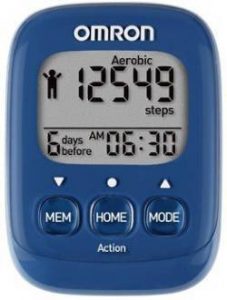 The Omron HJ-325 Pedometer is featuring an advanced 3D Smart Sensor Technology, and so it knows exactly when you are taking a step. It also has four activity modes to track steps, calories, and distance. This pedometer uses the tri-axis technology to count more accurately and quietly. It comes with a weekly log to store data for seven days in the memory so that you can keep track of your regular activities to reach your fitness goals.
Key Features
4 activity modes: tracks steps, aerobic steps, distance and calories
Tri-axis technology counts steps accurately and quietly
Easy setup
Weekly log stores up to 7 days of information in memory
Easy-to-replace battery
Includes pedometer, holder, strap with clip, lithium battery and instruction manual
Pros
Awesome build quality
Gives accurate results
It is lightweight and can be clipped easily to your vest and trouser pocket
Easy to operate
Cons
You can't stop the step counts. It only resets at midnight 12
It requires careful handling as it is not waterproof, dustproof, and shockproof
Pedometers For Walking Buying Guide
Benefits of Pedometers
Pedometers are a great tool to measure common activities like step counting while walking at schools or workplace, distance traveled, time taken, and calories burned
These are quite easy to use by wearing on the wrist or waist belts
A good motivational tool towards all your fitness needs
The advanced pedometers also provide heart rate monitoring
Affordable and reliable
Both children and adults can use it
How does it work?
The main technological piece through which a pedometer works is an accelerometer. This mechanism can be used to sense the forward, backward as well as side-to-side steps. And whenever you take a step, the accelerometer senses the movement in the same way likewise you sense a movement in a moving car. The accelerometers determine the force and direction you move and give you the information into steps, speed, distance and active minutes.
Features to consider before buying a Pedometer
1. Type
It is very much important to consider which type of pedometer you want. Whether you need a basic step counter device or need a more feature packed fitness tracker. The smart fitness tracker comes with capabilities like sports and sleep tracking as well as heart-rate monitoring. They can also upload the data they record to apps and websites so that you can monitor your progress over time. So the choice depends on you.
2. Design
Pedometers come in various designs so you can choose the most convenient one according to your fitness preferences. The most popular types of pedometers are wrist-style watches and clip-style counters that you can attach to your clothing. Pedometers also have a waterproof or water resistant feature. So, if you have regular swimming routine, you can choose a water-resistant pedometer.
3. Display Screen
It is also very important to consider how you want to interact with your pedometer. For this, you have both the display screen and no screen choices. Pedometers with display screen enable you to view your stats whereas no screen and a connected app pedometers enable you to view your daily totals. If you want instant feedback, Pedometers with the screen are very useful. On the other hand bracelet style devices without screens are easier and more fashionable to wear.
4. Battery Life
Also check for the battery life of the pedometer and typically which kind of battery it comes with. Most of the pedometers for walking come with the replaceable battery or rechargeable battery.
5. Memory
Most of the advanced pedometers come with the log feature allowing you to see your progress. It can record your stats in its memory that you can use further to reach your fitness goals.
Conclusion
This is all about the best pedometers for walking to stay fit and healthy. We all know that being healthy and fit is one of the great experiences. And for this, you need a health gadget as your companion to actively watch your every move. For serving this purpose, pedometers are devised. And I am sure the above-mentioned pedometers in the blog will surely help you in picking out the best piece.
Related Reviews on Health & Fitness Equipment
Buy Fitness Tracker Online
Amazfit Band 7 Activity Fitness Tracker, Alwa...
30%
Redmi Smart Band Pro SportsWatch- 3.73 cm (1....
67%
SONATA GOLD Smart Band Wireless Sweatproof Fi...
80%
Noise ColorFit Pulse Grand Smart Watch with 1...
68%
Fitbit Inspire 2 Health & Fitness Tracker wit...
26%
SONATA GOLD Smart Band Wireless Sweatproof Fi...
80%
PunnkFunnk M5 Smart Band, Activity Tracker Fi...
75%
Muvit® Smart Band 5 - Fitness Band, 1.1" (2....
78%