Non Contact Infrared Thermometer is gaining much more popularity these days (during the peak of COVID-19) because of its major advantage of touchless temperature measurement of people.
You all know that Novel Coronavirus (COVID-19) has frightened the whole world from the last few months with its deadly impact and the death rate is increasing day by day. So, we all are now compelled to follow social distancing to reduce the risk of infection.
Even we are also forced to rely on various non-contact products like soap, alcohol-based hand sanitizers, touchless soap and sanitizer dispensers, etc. as a precautionary measure to fight against COVID-19. Amongst various non-contact products, an infrared thermometer is also one such essential and most demanding product during this pandemic situation of COVID-19.
As you know, fever, cough, and breathing problems are the most common symptoms of infection with the deadly Coronavirus. This made the routine temperature checkup an essential job.
Using a digital contact thermometer that is placed inside your mouth, ear, and armpit for measuring the temperature is quite risky. For this reason, you surely need a non contact thermometer to get accurate body temperature measurement without any contact.
What is a Non Contact Infrared Thermometer?
Non Contact Thermometer also known as infrared thermometer, or forehead thermometer. These are used to detect the body temperature by sensing the infrared energy radiated by the body.
It takes the body temperature with minimal or no contact with the person that is the biggest benefit. You only need to point out the thermometer at the patient's forehead and press the button. And it will quickly show the temperature on its small LED display in both Celsius and Fahrenheit.
This touchless body temperature measurement ensures no or minimal disinfection between the patients and reduces the risk of cross-contamination. It also allows easy and fast temperature measurements when screening large numbers of people in areas like offices, airports, shopping malls, or hotels, etc.
These thermometers typically resemble the shape of a gun so that they can be easily pointed at an object to offer accurate measurement. Infrared thermometers give you quick but accurate body temperature and are considered better than mercury thermometers.
Check more detailed Information on Non Contact Infrared Thermometers/ Forehead Thermometers by heading to our Comprehensive Buying Guide Section.
7 Best Non Contact Infrared Thermometer in India
Best Non Contact Infrared Thermometer Reviews
Now get the detailed reviews of all the above listed models along with their full specifications and buyers' feedback, to choose the preferred one.
1. Dr. Trust (USA) Forehead Digital Infrared Thermometer
This forehead digital thermometer from the brand Dr. Trust comes to the top of our list for its top-notch performance, quality, and accuracy.
Featuring innovative infrared technology, the model always offers accurate measurements without touching the body or object. That's why the device is absolutely safe to prevent any contagious disease.
It includes two measurement modes- the body mode and the object mode. You can easily choose your desired mode for taking the temperature of either the human body or object like baby milk bottles, water, etc. You just need to place the device 2 inches away from the forehead or object to get accurate results.
What is best is its quick measurement in just three seconds. Even more, many convenient features of this device make it the most ideal choice.
Either you prefer temperature reading in degree celsius or degree fahrenheit, no worry. The thermometer comes with easy conversion of °C to °F and vice versa. It lets you get the temperature measurement in the unit you prefer most.
Another best feature of this IR thermometer is its memory function. It makes the device to store up to 30 readings so that you can easily track the fever pattern for further assistance.
The big LCD screen is the most appreciating part that offers clear and easily readable figures of temperature measurements. And the color-coded backlight adds more convenience to know the temperature levels of your body. It flashes green in case of a normal temperature. And if it detects the high temperature, it alerts you by flashing the red color.
Easy to use operation, handy grip, low battery indicator, and automatic shut off are some other impressive features of this device. It all makes this IR thermometer a great buy.
Key Features
Two measurement modes: object mode and body mode
Infrared temperature probe
Measuring distance 5-10 cm
Displays results in 2 seconds
Large and easily readable LCD
Intelligent color-coded results with fever alarm
Switching mode: degree celsius to degree fahrenheit
Memory for 30 readings
Auto power off
6 months warranty
Pros
Sleek and stylish design
Lightweight body
Easy to hold
Reliable and accurate
Safe and hygienic because of non-contact operation
Comes with smart carry case
Cons
Must be come with extended warranty
2. Dr. Odin Non Contact Infrared Thermometer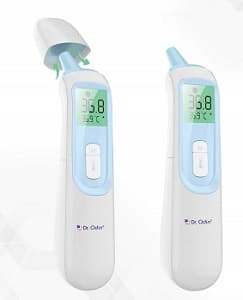 It is again a high-quality infrared thermometer in our list from the brand Dr. Odin. With non contact detection from 5-12 cm away, this is absolutely safe to use and avoids the risk of cross-infection. The best is that it can be used on both forehead and ear to get the accurate temperature measurements.
The device comes in an ergonomic design making it very easy to use and handle while taking the temperatures. Plus, the BPA and latex-free body construction make it absolutely safe to use on anyone.
The thermometer offers rapid temperature measurements only in one second without letting you wait for long. The best part is that you always get precise and accurate temperature readings.
This non contact infrared thermometer can recall forty last temperature readings, that is very helpful in tracking the fever stats, in case of persistent fever.
It combines a unique LCD display with four color changing screens, including white, green, orange, and red. These different colors notify you about the different temperature levels of the body or any object.
Key Features
Ear and Forehead mode for easy temperature measurements
Object mode to take the temperature of cooked food, baby bottles, hot bathtub, etc.
Superfast reading in one second only
Large LCD display shows the results with clarity
4 color LCD display for different temperature levels
Fever alert
Detachable probe for taking temperature through the ear canal
Easy switch between degree celsius and degree fahrenheit
Auto shut off
40 memory recall
1 year warranty
Pros
Both ear and forehead mode for taking temperatures is very convenient
Absolutely safe for kids
Even good for elders and adults too
Reliable and accurate
Non contact detection avoids the risk of infection
Easy to use
Cons
3. MCP Infrared Forehead Thermometer Gun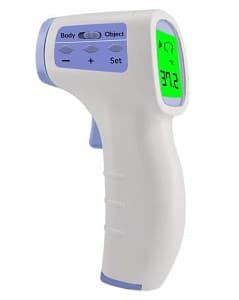 Affordable and accurate, this forehead thermometer from the brand MCP can also be the best choice for getting easy temperature measurements. It works on the infrared technology, thereby providing reading without coming in direct contact. Therefore, there is no risk of cross infection.
The simple mode selection for a person or object allows you to take the selected mode's temperature. You can take the temperatures from 5-10 cm away, pointing on the patient's forehead or any object. Plus, you also have the option of changing the unit from celsius to fahrenheit.
The best feature of this infrared thermometer is its mute mode, proving to be very beneficial while taking your sleeping child's temperature. Thus, it creates no disturbance in their peaceful sleep.
The LCD screen with bigger figures ensures clarity in reading the measurements. Plus, it also comes with three color backlight functions. The color green for normal, yellow for slight, and red for high fever is ideal to know the various temperature levels very conveniently.
The thermometer allows you to store 32 readings with its memory function to keep an eye on your fever status. Overall, the nice and compact design, lightweight and ergonomic grip ensures easy use of this thermometer.
Key Features
Measuring Distance 5-10 cm
Measuring time is less than 0.5 seconds
Low battery consumption
Auto shut off in 7 seconds
Backlit LCD screen
3 color backlight
Sound alarm for high fever alert
Quiet mode
Memory for 32 measurements
1 year warranty
Pros
User-friendly design
Nice grip
Big and bright digital screen for easy visibility of the readings
No body contact, therefore, no need to disinfect after every use
Very easy to operate
Cons
Issue with accuracy. Sometimes shows the variance in readings
4. Dr. Morepen Non-Contact Infrared Thermometer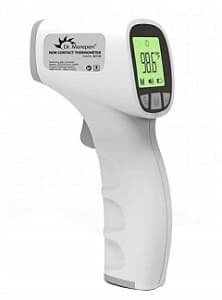 Now, this forehead thermometer from the brand Dr. Morepen comes with all the features you need in a quality device. Its ergonomic gun-style design makes it easy to handle for getting accurate temperature measurements all the time.
With non contact infrared technology, this thermometer can measure a person's body temperature from 5-15 cm away. Thus, it helps in minimizing the risk of infection among people. Moreover, it is also ideal for taking the temperatures of baby bottles, bathing water, or even any object, making it a multi-functional device.
The thermometer offers the reading results in less than two seconds with high accuracy, that is the biggest benefit. It also features a large LED backlight display that allows you to read the figures in clarity even when there is dark or no light.
The thermometer offers the option of easy conversion of units from celsius to fahrenheit and vice versa. So, you can get the temperature results in the preferred unit you like.
It also comes with a unique fever alert option that lets you know using its three-color backlight. If the temperature is normal, it will flash the green light, orange for high, and red if the temperature is above normal with the sound alarm.
The thermometer has twenty memory recalls, which lets you compare your fever status from the previous readings. Even the auto switch-off function, mute function, and low battery alert are some more convenient features of this smart thermometer.
Key Features
Non-contact measurement from 5-15 cm
Body and object temperature measurement
Easily switches between degree Celsius and degree Fahrenheit
Easy mute option
20 memory recall
Low battery alert
Automatic shut off
Auditory and visual fever alert
Three colors LCD
1 year warranty
Pros
Ergonomic design for easy and hassle-free operation
Offers accurate and precise measurements very quickly
Suitable to use on all age group people
Very ideal for kids
Safe and convenient to use
Cons
No ear mode measurement option
5. Rossmax HA500 Temple Thermometer Non Contact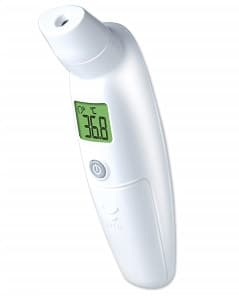 Rossmax HA500 temple thermometer is another top-rated product in our list for safe and non-contact temperature measurement. Its advanced infrared measuring technology offers safe, accurate, precise, and reliable readings of any person or object.
You will surely love its sleek design that makes the handling of the device very easy while using it. Even the body is designed with BPA and latex-free material, ensuring full safety standards.
It also has the opinion for easy unit conversion from celsius to fahrenheit, making you get the readings in the preferred unit. Plus, its quick one-second reading is another beneficial feature.
You can use its Object Mode to measure the temperature of hot water or milk or any object., that is again a very handy feature.
The thermometer also comes with a built-in fever alert that alerts you if the patient has a very high temperature of over 37.5 degree celsius. Moreover, having a memory recall feature for up to 9 readings makes it suitable for you to compare the temperature to see any noticeable changes.
Key Features
Non contact forehead temperature measurement
Measurement distance within 5-10 cm
Quick one-second measurement
Object for taking any object temperature
9 memories
Fever Alarm
Easy switching from degree celsius to degree fahrenheit
Backlight LCD
Auto shut off
Low battery indicator
Self-diagnosis for malfunction
2 years warranty
Pros
Easy for both the user and the patient
Safe and convenient to use
Very ideal for measuring the temperature of the child while they are sleeping
Cons
Sometimes shows inconsistent measurements
6. BPL Medical Technologies F2 Non Contact Infrared Thermometer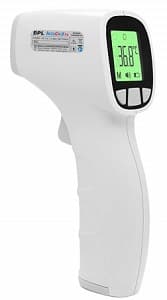 The brand BPL is not very popular for its medical equipment, but this model comes with all the useful features as well as performance that you need in a quality IR thermometer. This multi-functional thermometer can measure the temperature of both the body and object with high accuracy.
The forehead scanning with a push of a button allows you to take instant temperature measurement of infants, toddlers, and older age people. The best part is that with an easy quiet mode, it shows the temperature without beeping. So, no more disturbance of your sleeping kids at all.
Like other IR thermometers we have mentioned, this one also comes with a large LCD screen with readable figures. Moreover, the backlit option lets you easily read the measurements in dark mode or no light option.
Featuring three-color backlights, it shows the status of your fever in three different colors. In case, if it detects a high temperature of a body or object, it flashes the red backlight along with a sound alarm function.
There also comes an intuitive button for easy switching of Celsius and Fahrenheit. Moreover, the auto shut off feature of this thermometer switches off the device automatically if it remains idle. Thereby reduces the battery power consumption.
Key Features
Multifunctional Industrial grade Non-Contact Thermometer
Measuring distance 5-10 cm
Switchable to degree celsius and degree fahrenheit
Memory for 32 readings
Fever alert
Three backlights to alert temperatures (green, orange, and red)
Auto switch-off
Quiet mode
LCD screen
Pros
Contactless, healthy and safe to use
Intelligent fever alarm is very useful
Very handy device
Cons
Complaints of inconsistent readings
7. Quantum QHM-500 Infrared Forehead Thermometer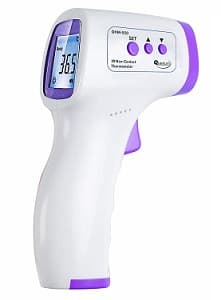 Now last but not least, even very affordable and smart non contact thermometer from the brand Quantum. Featuring an infrared temperature sensor probe, it offers more precise results. And the non-contact operation of this IR thermometer between 3 cm to 5 cm makes it totally safe for the users.
The thermometer is suitable for all age groups, including adults and older, especially newborn babies and infants. It also ensures easy operation with single-button measurement. Even the gun style lightweight design provides easy grip and handling of the thermometer.
Featuring a large and clear LCD digital screen and the large buttons for operation makes using the thermometer absolutely hassle-free. Plus, the multi-color LCD backlight, including red, orange, and green, indicates high, low, and normal temperature along with beep alert.
Equipped with the memory function, the thermometer can store up to 32 previous temperature readings for your convenience. Moreover, an intelligent shutdown feature ensures the battery saving of the device.
Key Features
High accuracy sensor
Measuring distance 3-5 cm
Measuring time 1 second
Large screen LCD display
Fever alert
Intelligent shut down
Low power consumption
Low power reminder
Memory feature for 32 sets of readings
1 year warranty
Pros
Great in terms of accuracy
Easy to hold and use
High-temperature beep alert is a nice feature
LCD color indication helps a lot
Very budget-friendly product
Cons
Fragile body, so chances of breaking
Non Contact Infrared Thermometer Buyer's Guide
With various types, models, features, and specifications of infrared thermometer, choosing the right one will be quite difficult. To ease your buying decision, we have detailed some of the major points on it. It will surely help you out in picking the right one.
Different Types of Non Contact Infrared Thermometer
Non Contact Forehead Thermometers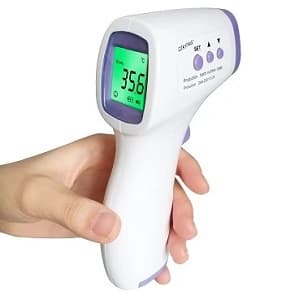 These thermometers measure the body temperature by pointing the device at least 5-15 cm away on to your forehead or temple. For this reason, these are also called forehead thermometers.
Tympanic thermometers or Ear thermometers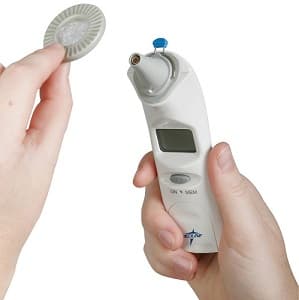 These are also small hand-held thermometers that can measure the body temperature by inserting the device into the patient's ear canal from the tympanic membrane. The ear thermometers are great for persons of any age, and especially best for kids.
Handheld Thermal Scanners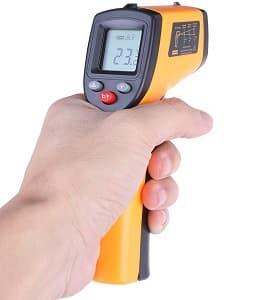 These non contact thermometers are the most ideal choice for mass screening situations and are great to use at the place like airports, corporate buildings, shopping malls, etc. It can detect the human body temperature within the range of 3-10 meters with no-contact measurement at the same time.
Pros and Cons of Non Contact Infrared Thermometer
Pros
The infrared thermometer can measure the human body temperature from a distance without any physical contact.
Non-contact measurement of the device reduces the risk of infection between people.
These thermometers are very easy to check the temperatures of infants or toddlers.
With these thermometers, you can also take the temperature of moving objects.
Compact, lightweight, and easy to use.
Temperature measurement is available in both Fahrenheit and Celsius, so no need for conversion.
Easy to clean and disinfect.
Gives temperature measurements accurately and quickly.
You can also retake the temperature instantly.
Radiations of these temperatures are not harmful.
Not only body temperature, but these thermometers are also used for a variety of applications like checking food storage temperatures, detecting room temperature, soil temperatures, etc.
Cons
Infrared thermometers only measure the surface temperatures and not the food or other materials' internal temperature.
Sometimes, these thermometers do not provide accurate measurements in case of frost, moisture, dust, fog, smoke, or the other particles in the air.
How to use a Non Contact Infrared Thermometer?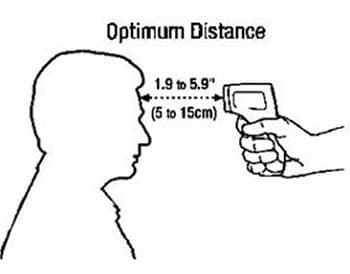 Before using a non contact infrared thermometer, it is advised to follow strictly the manufacturers guidelines and instructions for use. However, it is very simple to use. You need to follow these simple steps to use it correctly:-
Turn on the infrared/forehead thermometer and aim it towards the forehead perpendicularly.
Now, keep it at the distance of 5 cm from the forehead of the person for whom you're going to measure the temperature. Since the distance between the NCIT and forehead is specific for each model, it is best to check the instructions before use.
As soon as you point it towards a person's forehead, it emits a laser to find a precise target to measure.
Once the laser is emitted, press the measuring button. The infrared thermometer then measures the thermal radiation coming off the forehead.
Then, with a beep sound, it quickly displays the temperature reading on the screen.
Switch off the device after using it.
Some Important Tips for Proper Use of Non Contact Infrared Thermometers
For the first use, or while inserting new batteries to the infrared thermometers, wait for at least ten minutes for the device to warm up.
Before taking the temperature, ensure that there is no hair, sweat, or cosmetics on the forehead.
Ensure that the forehead area is clean and dry before taking measurements.
Place the thermometer in an environment having a temperature between 60.8-104 ºF (16-40 ºC) for 10-30 minutes prior to use.
Also, ensure to keep it in the environment with the humidity below 85 percent.
Always use the thermometer in an ambient temperature range between 10 and 40 degree Celsius.
Use it away from direct sunlight to get the accurate measurements.
Do not use the device if it is damaged.
Features to Consider Before Buying a Non Contact Infrared Thermometer
1. Accuracy
Accuracy is the most important factor of consideration before buying any type of thermometers. Whatever model you choose, it must determine the correct and accurate temperature measurements, so that you can get the right diagnosis of the health condition.
In case of infrared thermometers or forehead thermometers, it uses infrared sensors to provide you accurate temperature measurements. However, you should also keep certain things in mind to get the accurate temperature readings. Ensure the correct positioning of the forehead thermometer while taking measurements, ambient environment temperature, clean and dry forehead area before taking measurements, etc.
But still, if you feel that the measurement you find is incorrect, there comes a Memory Function in these Infrared Thermometers. It lets you store multiple temperature records at the same time. Simply you can compare them to check the accuracy of the thermometer.
2. Read Speed
It is also very much important to go for a device that is not only accurate but also fast. Choose the model that can offer precise measurements in a fraction of seconds. Speedy results matter a lot in case if you are looking for a thermometer for your infant or older age group. For these reasons, an infrared thermometer is ideally great for children that refuse to sit long enough like they need to do for a traditional mercury thermometer.
3. Temperature Range
Knowing the temperature range of the infrared thermometer is also important to ensure whether it will work in the respective environment or not. Well, the temperature range of each model of the infrared thermometer is mentioned in the details.
If you are willing to buy the infrared thermometer for domestic use, it is better to go for the one having the temperature range of -50 to 550 degrees Celsius. For industrial applications, you need to for the professional one that can have the maximum temperature range of up to 800 degrees Celsius.
4. Fahrenheit or Celsius
In which unit do you like the measurement results (Celsius or Fahrenheit). It is the best bet to go for a model that can give accurate measurements in both the units with a simple conversion. So you can easily choose the preferred unit you want the readings in.
5. Age Suitability
You must also consider the specific age for which you are going to buy the infrared thermometer. However, almost all the non contact infrared forehead thermometers are suitable for all age groups; some are designed specifically for infants and toddlers too. Check before buying that the thermometer can measure the temperature of all age groups.
Some latest forehead thermometers also allow you to first input the user's age before taking the temperature. This feature ensures that the temperature for that particular person is in a dangerous range or normal.
6. Distance to measure the temperature
Usually, the distance of 6 inches from the forehead to the thermometer is considered ideal for measuring the accurate and precise body temperature. However, this distance range differs from model to model. You must read the instructions carefully before using them to get the correct and accurate temperature measurements.
7. Memory Function
Many latest models of the infrared thermometers come with the memory function to record the last few temperatures of one or more people. It lets you easily track the temperature records for future reference. Many models can also store up to 40 sets of readings to better track the changes in body temperatures.
8. Silent Mode
With all the digital thermometers, you listen to a beep sound that ensures the thermometer is ready to take or show the temperature. Though this beep sound is very useful and convenient, sometimes this is annoying too, especially if you are going to measure the temperature of a sleeping child. For your convenience, many advanced models of infrared thermometers come with a silent mode or mute operation that allows you to take the temperature of your baby without disturbing him/her.
9. Backlit Display
A thermometer having a large display with easy to read numbers is very convenient. In addition, the backlit display feature allows you to see the readings very conveniently in the dark or dim lighting. Ensure to choose a thermometer having a backlit display to ensure proper illumination so that you can easily see the readings on it.
10. Auto Shut Off Feature
The non contact infrared thermometer or forehead thermometer works on batteries. In case you forgot to switch off the device after using it, the battery gets exhausted for further use. To resolve this issue, many latest models come with the auto shut off feature that automatically switches off the device that saves the battery.
11. Brand
While choosing an infrared or forehead thermometer, it is best to always go with the branded model. Well-known brands always ensure durability, longevity, and affordability all, than the non-branded models. We have listed only the best and latest models of non contact infrared thermometer from the well-known brands that will surely assure quality, reliability, and durability.
12. Budget
Before purchasing any product, determining your budget is the very important. The cheap ones will surely lack some features than the pricey models. So, before defining your budget, first, assess what features you actually want in the forehead thermometers. Once you have decided on the features, you will easily get your preferred model in your budget range.
13. Warranty and After-Sales service
Checking the warranty along with its terms and condition before buying an infrared thermometer is very important to ensure durability and quality. Most of the models of IR thermometers offer the warranty from 6 months to 2 years. But it is better to invest in the one that comes with a minimum of 1 year warranty.
Cleaning and Maintenance of Infrared Thermometers
Keep the device away from direct sunlight, dust, water, or other liquid.
Always store the infrared thermometers in a dry place.
Clean the thermometer with a cotton bud lightly moistened with 70% alcohol or water.
First, wipe out the lens and then the body of the device.
Allow the lens to dry thoroughly before using it.
The protective glass over the lens is very fragile, so you must take great care of it.
Frequently Asked Question (FAQ)
1. Are infrared thermometers safe to use?

Yes, infrared thermometers are absolutely safe to use for all, including adults, older, kids, and infants. Most of you think that the infrared radiation coming from it is harmful. But actually, the excellent quality infrared thermometer absorbs that radiation causing no harm to the body. But ensure to check the safety cautions offered by the manufacturer before using any model.

2. How do Infrared Thermometers work?

An infrared thermometer comes with a lens that focuses the infrared rays from a body or object onto a detector called a thermopile. The thermopile then converts this infrared radiation into an electrical signal, which is then displayed on to the screen as the unit of temperature for the body or object, the thermometer is pointed at.

3. What is the benefit of using an infrared thermometer?

The biggest benefit of an infrared thermometer is its non-contact operation. The touchless temperature measurement ensures no risk of cross infection or transfer of germs from people to people. Another advantage of a forehead thermometer is that it is very easy to measure newborn babies' temperature and toddlers, even when they are sleeping. Also, this thermometer is very safe to use.

4. Can you use forehead thermometers on other body parts?

No, Forehead thermometers are designed to give temperature measurements only by pointing the device on a person's forehead. You can't use it on other parts of the body for taking temperature measurements.

5. What is the ideal distance for using the infrared thermometer?

Generally, 6 inches is considered the ideal distance for getting the accurate temperature by using an infrared thermometer. But this range varies from model to model. You must check the instruction manual to know better about the appropriate measuring distance of that particular model.
Conclusion
Non contact infrared thermometers, sometimes called laser thermometers or temperature guns, are able to measure temperature from a distance. That's all on our gathered information on best non contact infrared thermometers for the absolutely touchless measurement of body temperature.
Non contact infrared thermometer is now a must-have device for every home, offices, shopping malls, etc. as the best personal protection equipment (during COVID-19). So, I am sure you all are searching for the best models of it.
Hope the review of the best-rated models and buying guide we have covered on it will help you in making an informed purchase decision.
For any queries, suggestions, or feedback regarding our blog, please do share your thoughts in the below comment section.
Read Related Reviews
Buy Forhead Thermometer Online
HealthSense Thermometer For Fever, Digital In...
41%
Omron MC 720 Non Contact Digital Infrared For...
49%
Carent HTD8813C Digital Non Contact Infrared ...
90%
Vandelay Infrared Thermometer CQR-T800 - Made...
52%
Docbel TH 300 Dual Mode (Forehead and Ear) No...
11%
Vandelay xiTix Infrared Thermometer - Digital...
67%
yuwell Infrared IR Non-Contact Forehead Therm...
47%
DETELPRO DT09+ C and F Digital Non Contact In...
35%