Keeping a tab on your body weight is one of the important things if you are health and fitness conscious. And if you are overweight, then it is very much essential to monitor your weight at regular intervals. Since without knowing how much weight you are reducing through your diet or exercise, you are just wasting your valuable time and effort.For any health enthusiast, checking weight weekly or monthly is a great practice. That's why the Digital Weighing Machines are the great tool for you if you are in the process of weight management.
The best digital weighing machines can help you accessing your progress at any point when you need. It also aids you to figure out whether you are making efforts for losing weight in the right direction or not.
Nowadays Electronic Digital Weighing Machines are very popular to get the accurate measurements of your body weight. These are simply different from the tradition weighing scales and gives correct measurements in decimals. You just need to stand on the weighing machine, and it will show your accurate weight practically in no time. Even some of the latest bathroom scales come with more smart features that not only tracks your weight, but also tracks your body fat, body water, bone weight, body weight, and muscle mass, etc.
But choosing the right weighing scale requires a lot more considerations. We recommend you to read our Buying Guide on it, so that you may choose the best one.
10 Best Digital Weighing Machines in India
Here is the quick list of the latest and best digital weighing machines that will let you keep an eye on your body weight.
Best Digital Weighing Machines – Reviews
Now let's have the full review of all these digital weighing machines along with the buyer's feedback so that you can have the best one only.
1. Dr. Trust Electronic Rechargeable Digital Weighing Scale (Best Overall)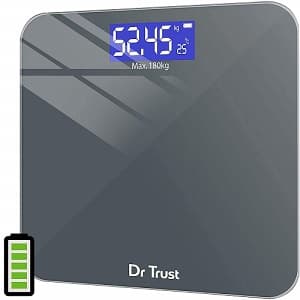 Featured with unmatched accuracy and easy accessibility, Dr. Trust Electronic Platinum Rechargeable Digital weighing scale is the best pick in our search list. You can achieve fitness goals with Dr. Trust platinum recharge personal scale.
The design of the device is sleek and has a smooth finish that is especially designed to add the grace to your room. Additionally, it is made with well-built 6mm tempered glass with an amazing grey finish. It provides exact results in no time as it is based on original Accu-gauge sensors technology.
The digital display comes with a blue LED backlight and an easy-to-read LCD display. It has a built-in temperature sensor too that records and displays the room temperature whenever you want. It can measure up to 180 kg weight with the help of high precision strain gauge sensors. Moreover, there is an overload indication in the device that warns you if you weigh the excess load.
Additionally, the device is powered by a 500 mah battery, which is rechargeable. You can use it for months once fully charged. Besides, it has a longer life span than other weighing scales. The device comprises a small size portable USB cable for easy charging.
It is manufactured with safety concerns, too, as it has no sharp edges. Its corners are absolutely smooth and round to put off any mishap during usage. The best thing about this weighing scale is that you can carry it with you everywhere with zero hassle as it is ultra-slim and sleek.
Key Features
Ultra-slim and portable
An instant walk over platform that gives you accurate measurements
Measures up to 400 lb/180 kg in pounds or Kg
Room temperature display and micro-USB port for easy charging
Auto-off system
Overload and low battery indication
Strong and durable unit with LCD display
Rechargeable Battery: 500 MAH
No-sharp edges
Package includes: Weighing Scale (1 Unit), User manual, Warranty card & measurement tape
Pros
Clearly visible LCD screen backed by blue backlight provides no difficulty in reading the measurements even in the dim lights
Portable USB cable provides easy charging
Low battery indication gives you a signal about low battery.
Overload indication warns you when weight enhances its capacity
Round and smooth corners provide safety to prevent accidents during usage
Being slim and sleek, you can carry it from one place to another without any inconvenience
Cons
It needs to be calibrated every time for precise results
2. Healthgenie Digital Personal Weighing Scale – Fibre HD-331 (Runner Up)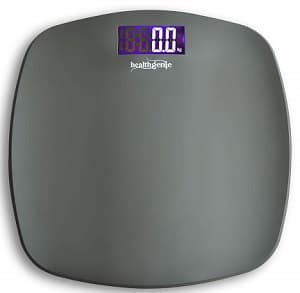 Monitor your health and get precise measurements from our second best pick, and that is Healthgenie Digital Personal Weighing Scale for Body Weight. It is a budget-friendly choice with extraordinary features. The design of the weighing scale is very attractive and is made with high-quality ABS material. You will get a perfect foot space as it has the platform size of 31 x 31 cm.
This digital weighing scale has an auto On/OFF feature and is based on step-on technology. After placing your feet on the platform, it will reflect your weight in a moment. The LCD display of 73.5 x 29.5 mm will help you read the results clearly on the weighing scale.
It comes with a removable 2 AAA batteries, which is not rechargeable. The battery needs to be changed if it gets completely discharged. There is a low battery indicator in the device that keeps you informed about the battery level. It has a load capacity of 150 kg with an anti-skid platform and smooth edges for better safety.
For initial use, you need to calibrate it first. And while weighing, you have to step on the scale and step off immediately. As soon as the 0.0 kg will appear on display, wait for the scale to turn off. This way, you can attune the device. Standardize the weighing scale whenever you moved from its previous place. The first reading should be ignored for further more exact reading. The company also provides 12 months Warranty on manufacturing defects.
Key Features
High precision gauge sensors provide more accuracy
Beautifully designed scale with high-quality ABS material
Based on step on technology with auto On/OFF feature
Calibration required for further accuracy
Maximum load capacity: 150 kg
Replaceable 2 x AAA battery
LCD with backlight
Anti-skid platform with smooth round edges
Low battery indicator
Pros
Economical with amazing features
Round edges make it harmless and protected
The anti-skid platform provides safety to the users
Light-weighted and easy to use device make it handy and portable
Cons
Non-rechargeable device. It needs to replace the battery time after time.
3. Hoffen (India) Electronic Digital Weighing Scale (Best Budget Pick)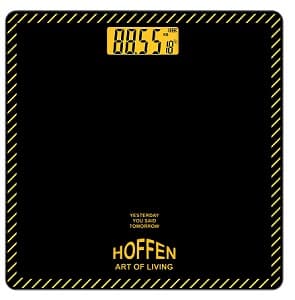 Another best pick based on our top search list is absolutely a great buy. It's a Made in India product, and you can blindly rely on its performance and endurance. Hoffen presents a 20 mm slim & sleek weighing scale that consists of a 28 x 28 cm glass platform. The upper surface of glass gives this scale a premium look. It has a large LCD display for better visibility with a dark grey backlight & white font for easy reading.
The scale has automatic On/Off with Sense On technology. There is a G sensor for high accuracy in your measurement. Being light-weighted and thin, you can easily shift it from one place to another. You need not any user manual for its usage. It's a completely user-friendly device that tells you about your body weight, room temperature with precise results.
The maximum load capacity of this weighing scale is 180 Kg, which is good enough to track the body weight of the whole family. The base is made with proper safety measurement as it is skid-proof and smooth to avoid slips & harm.
There is no need to charge the device as it requires AAA battery for operation. Just replace the battery once it gets discharged. The weighing scale also tells you about the battery level, and it will be very useful for users to avoid any inconvenience while weighing.
As a precautionary, you must ensure that the four punctures are placed properly. It will affect the results if not fitted as it should be. For lifelong endurance, keep it away from water and moisture.
Key Features
Light-weighted and handy
Strain Gauge sensors for high precision
Tempered glass 260 x 260 mm
Maximum load capacity 180 Kg
Low battery indicator
White font with dark grey backlight for better visibility
LCD Display Size: 30 x 75 mm
Auto On/ Off with overload indication
Removable AAA battery required
Temperature indicator
Pros
Being light-weighted and handy, you can easily move it from one place to another
The upper surface is made of glass that gives a very premium look
Quick reading
Automatic On/Off with step-on technology
Cons
4. HealthSense Fitdays BS 171 Smart Bluetooth Body Weighing Scale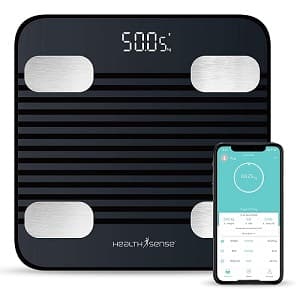 If you are looking for an advanced weighing scale, then nothing can be better than HealthSense Fitdays BS 171 smart weighing scale. It's a registered Indian manufacturer that offers quality health products with innovative features.
The scale BS 171 is basically conceptualized for Indian folks. The product features with integrated smart apps. These ready apps allow easy set up on Apple devices or Android phones. It facilitates you to set goals and track monthly progress through synchronization & pair up with popular fitness apps.
Undoubtedly, it's a one scale for the entire family unit. The well-built scale allows you to calculate different measurements. Apart from body weight, it can measure Body Mass Index, Fat percentage, Visceral fat, Muscle mass, Bone mass, Protein percentage, Basal Metabolic age, Metabolic body age, Skeletal Muscle percentage, Body water percentage, etc.
It is designed with advanced BIA technology with 4 precision sensors and 4 receptive electrodes for accurateness. It allows you a complete fitness analysis for family and friends. You can set, store and track data for 24 different users. The best thing it provides accurate results at a glance. The scale displays graphical data, and you can track & monitor your health progress weekly, monthly or yearly basis.
The top features of this weighing scale consist of high precision G sensors, BIA Technology for more accurate results, Bright white LED, 50gm Graduation accuracy, anti-slip rubberized sensors, toughened glass, etc. It can measure in 3 different units and i.e. Kg/Lb/St. Moreover, it is included with 2x AAA batteries that run for longer.
Key Features
High quality & High Precision in readings with 4 gauge sensors and sensitive electrodes
It offers full body analysis that is calculated with topmost BIA technology
Integrated smart app features
Track records of 24 different users and also keep the data isolated
The data can be synchronized with other Android or Apple apps: FitBit App, Google Fit & Apple Health.
Provides 1 year service warranty on manufacturing defects
Pros
The weighing scale provides 13 body composition readings
It has compatible with different fitness apps. Simply adapts to smartphones with Android (6.0), iOS (8.0), & Bluetooth 4.0 versions or higher
You are good to go with simple setups. Just download the app and register yourself. Step on the scale and open the home page; you are all set
Bright white LED provides better visibility to the display
Skid-proof Rubberized sensors ensure safety
Cons
The scale is not water-resistant
5. AGARO WS 501 Ultra-Lite Digital Weighing Scale with Step-On Technology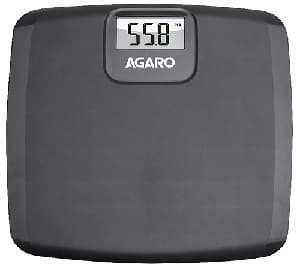 Agaro digital weighing scale is specially designed for personal use. It is featured with 4 high precision sensors and provides accuracy in weight up to 180 kg. It consists of a user-friendly interface with an Ultra-slim design and anti-skid fiber top. The top cover is made of non-slippery plastic for better protection. The scale has a thickness of just about 29 mm, and it can measure up to 5 to 150 kgs of body weight.
This weighing scale features step-on technology, which turns On when you put your feet on the platform. For precise results, place the scale on a flat solid surface rather than the carpeted or uneven surface. After placing the scale appropriately on the surface, just step on it, and the results will be displayed in seconds. It is advisable to calibrate the scale first for precise results. It shuts off automatically once you are done with your body weight measurement.
It is included with 2 AAA battery that is non-rechargeable. The life span of a 3V Lithium battery (CR2032) is excellent, but once it dies, you need to replace it. The scale has a graduation increase of 100g/0.2lb/0.01 st. The scale shows results in 3 different units. You can set the unit as per your convenience from Kilogram, Stone, or Pound. All in all, it is a durable weighing scale with one year warranty from the manufacturer.
Key Features
Ultra-slim design with anti-skid fiber top
Accuracy in weight up to 180 kgs with 4 high precision sensors
Backlit LCD display
Displays weight in 3 different Units: Kilogram, Stone, or Pound
Highly safe and secured scale with round edges
It has graduation increase of 100 g/0.2 lb/ 0.01 st
3V lithium battery (CR2032)
Pros
The round edges and anti-skid fiber top of the weighing scale is highly safe and secured
Ultra-slim design and the stylish base looks very elegant
Illuminated visible display
It turns on automatically once you step on the scale
It can display weight in kilogram, pound, or stone
Apart from adding a stylish touch, the round corners are meant for protection
Cons
Charger is not provided with the unit. But, the battery runs for longer. It is only replaced once it is discharged.
6. Omron HN-286 Digital Weighing Machine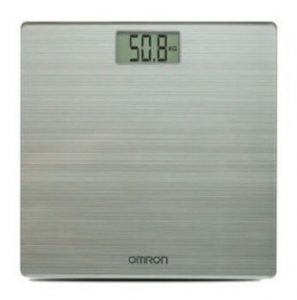 If you are a health conscious person, this Omron digital weighing machine is the best buy. Track your everyday workout with this weighing machine and feel motivated. It provides accurate information on weight loss.
This weighing machine has a silver coated safety glass that is tempered for extra toughness. The design is ultra slim and sleek. Also, it is very light in weight so you can easily carry it from one place to another. It is equipped with 4-sensor technology for high precision that makes it a best digital weighing machine out there.
Key Features
Ultra slim design
4 sensor accuracy technology
Automatic On/Off function
Tempered glass for safety
Precise body weight management
Precision display to the closest 100g
Pros
Nice and slim design
Lightweight
Quite accurate
Automatic on/off function makes it easy to use
Cons
7. HealthSense PS 126 Ultra-Lite Digital Weighing Machine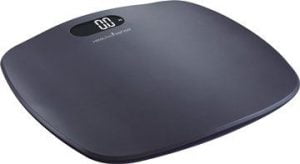 This digital weighing scale from HealthSense is an affordable solution to keep up with your weight management goals. This one is consistently reliable and motivates you to meet your health goals. It comes with four precision sensors that ensure accuracy.
Also, it is featured with Step-on technology that gives you quick and easy-to-understand results. The scale features a large 3.5-inch display that is illuminated by a cool black backlit with the white digit for easy viewing even in the dimmest light areas.
Key Features
Super Light-Weight and Non-Fragile
G Sensor for high accuracy
Step- On Technology
Skid-proof and custom built feet
Dark Grey Backlight with White fonts for easy readings
Weigh range 5-180 Kg; Unit can be changed to KG/LB/ST
Pros
Nice and stylish look
Elegant display
Light Weight
Consistent with results
Smooth contours
Cons
View on Amazon View on Flipkart
8. Omron HN-289 Digital Weighing Scale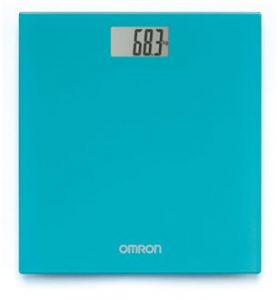 If you are fitness conscious, then this digital weighing machine from Omron is surely the best buy. The sleek and ultra-thin design of this weighing scale makes it more stylish. It is equipped with the four sensor accuracy technology that ensures accurate measurements every time. Also, the automatic on and off function is the nice feature.
Key Features
High grade tempered glass panel
Sleek ultra-thin design
4 sensor accuracy technology
Automatic on / off function
Display accuracy: 5 – 150 kg
Pros
Excellent function
Weight results are perfect
Accurate and precise measurements
Cons
The readings are getting disappeared immediately. So, it must display at least 10 seconds
View on Amazon View on Flipkart
9. Venus EPS 2001 Electronic Digital Weighing Scale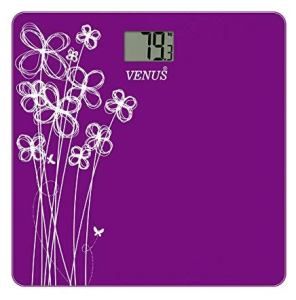 If you want to keep check your weight whenever you want in the comfort of your home, bring this weighing scale from Venus. This weighing machine is an extremely stylish addition to your home because of its tempered glass body. Featuring four precision sensors, it gives your accurate weight measurements in no time. Also, equipped with auto on/off function, it is the battery saver.
Key Features
High precision strain gauge sensor system
Tempered glass platform
Capacity is 180 kg
Large LCD display
Low battery indicator
Pros
Nice and stylish look
Measures the body weight accurately
Easy to use
Handy weighing machine
Cons
10. Equinox EQ-EB-9300 Digital Personal Weighing Scale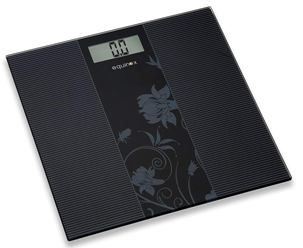 Now again a best digital weighing machine from Equinox, that is perfect in all manner. This is a perfect weighing machine for the health conscious who would like to know where they stand after every jog or workout. The device comes with a very sleek and futuristic design, which is very appealing.
This scale also features a strain gauge sensor, so all the readings are highly accurate. Besides displaying the body fat, this weighing machine also displays body water, bone weight, body weight, and muscle mass that makes this device even more useful. The graduations for body fat display are 100 gm.
Key Features
Strain Guage Sensor
Determines body weight, body fat, bone weight, water, and muscle mass
Display body fat, water, and muscle mass in 0.1 percent interval
Safe bioelectrical impedance-analysis thanks to optimized contact areas
Auto zero-auto off
Pros
Very lightweight product
Works well and gives consistent results
Build quality is great
Easy to use
Cons
The weight meter is accurate, but for fat analyzer, it is completely randomized
How to Choose the Best Digital Weighing Machine? (Buying Guide)
Types of Digital Weighing Machine
Despite the ordinary weighing machine we used in our early days, let's know the types of weighing machine existing nowadays.
1. Baby Weight Scales
Everyone is concerned for their baby these days, and those who want to track the expected growth of their baby can buy a baby weighing scale. It helps in limiting your doctor's visit also.
The baby weight scales show the exact weight of the baby (in decimals). For taking the measurement, you need to lay down the baby on the bowl, and within a moment, you will get the exact weight of your baby. Keep tracking your baby's growth with the baby's weight scales and give the proper diet to make them healthy and in good physical shape.
2. BMI and Bluetooth Weighing Machine
The digital weighing machine is available in a more modern version, and it has further connectivity options. Additionally, the digital weighing machine comes up with a mobile app feature through which you can examine your health movement with the mobile app's stored data.
The weighing scale can connect to your Wi-Fi or Bluetooth to facilitate you collect all your health records into a health app.
The built-in sensors can measure BMI, heart rate, bone, and muscle mass in smart scaling devices. Most of the digital weighing machines can switched-on themselves just by placing feet and switched-off by feet down. It becomes a more energy-efficient and well turned-out device.
3. Smart Weighing Scale
Smart weighing scale can connect with your Smartphone through Wi fi connection or Bluetooth. It can easily pair up with fitness apps on your mobile phone to record your data automatically. It facilitates you tracking your progress in real-time, just by keeping data of your metrics.
Digital v/s Analog weighing machine
When compared to analog weight scales, the digital version is more advanced and accurate. The digital weighing scales generally use more than three G-sensors to provide exact results. It gives you a choice to regulate it accordingly, which is not possible in analog weighing scales.
Scaling exact body weight is only done by digital weighing machines, but it will not give you perfect results if not placed properly. So, always put it on a flat surface while measuring your weight.
High-end Models for Body fat and other Vital Measurements
Digital weighing scales are more advanced now, so you get other important information about your body with this scale's help. Rather than measuring body weight, the high-end weighing scales can calculate your body fat percentage, lean muscle mass, and tracking body weight.
Body Fat Percentage: The advanced weighing scales use bioelectrical impedance and other assembled data to analyze your body fat proportion. It is helpful if you are conscious about your body composition or expecting weight loss or muscle gain in your body.
Weight tracking: In order to give you precise measured results, some digital weighing scales are capable of stocking up assorted data that you measured daily, weekly, or monthly.
Lean Muscle Mass: With this feature in the digital weighing scale, you can modify your body strength and shape.
Things to Consider While Choosing a Digital Weighing Scale
In this buying guide for digital weighing scales, we have covered up the full information required to get the best as per your requirement. An ideal digital weighing machine helps you measure your exact weight repeatedly. It is essential to know more about the different digital weighing scales as this will help you understand your necessities. So, here come to know the basic elements you need to check to get the best for your needs in your specific budget.
1. Types
We have already discussed the types of Digital weighing scales. All you need to know your requirement first, then choose accordingly to measure your weight and further other health measurements.
2. Accuracy
Precise results are always noticeable. To track your weight and other health conditions perfectly, the weighing scale you choose must show accurate results. A digital weighing scale always provides you precise results only if they have functioning batteries.
It is good to weigh anything with a predetermined weight, like a bag of 10 kg, to check the preferred weighing machine's accuracy. As you put down the 10 kg sac, the weighing scale should return to zero. This way, you can cross-check the precision of the weighing scale.
Another important thing to get the accurate result is to keep them on an even surface for your convenience. This way, you can get error-free results.
3. Weight Capacity
Every weighing scale has its corresponding weighing capacity. In India, most of the weighing scales' standard weight capacity ranges from 120 to 150 kg. It is ideal for those who regularly track their weight, and the measurements vary in the middle of the standard weight capacities.
On the other hand, some high-end weighing scales capably show accurate results up to 250 kg. It is completely based on your preference to choose the model having standard weight capacity or a heavy-duty unit. High-end scales can measure more than 250 kg, and so you can select the machine as per your weight capacity requirement.
4. Built-material and Durability
It is the most important aspect to consider before taking one. The built quality of a weighing scale assures its durability and comfort. The digital weighing scales made of plastic material are definitely cost-effective but not durable that much. It is advisable not to prefer the cheaper plastic scales as these can easily crack.
It is better to go for metal, wooden, or tempered weighing scales as these can be considered a hard-hitting model and a feasible option to choose from. Amongst all, the tempered glass scales provide the further benefit of moisture resistance over metal surfaces, and that's why it has been the most preferred material.
The Humid-resistance feature provides safety since dampness may be risky or make the top slippery. Hence, better to choose a durable and comfy weighing scale.
5. Display Size
Display size is another important thing that you need to take into consideration. Digital weighing scales come in different sizes, so it is essential to check the display size based on your requirements. The display's size should be large enough so that you can see the readings without bending your knees or giving any stress to your eyes.
It should be like this to display weight while standing straight on the scale without bowing down. The digital weighing scales with modern features have an electronic voice as well. You can also go for this model but always make sure the model you select has large screens with big display numbers. They help you to get the readings in dim lights or less ventilated rooms.
6. Electronic Voice
This feature is highly admired as it is very convenient and easy. However, this feature is missing in most other digital weighing scale models, but you can go for Etekcity that comprises an electronic voice feature. Rather than looking down at the display while weighing, it tells you the measured weight very expediently.
7. Skid-Proof
When looking for the best weighing machine, you don't have to compromise with the safety and durability. After all, it's a matter of safeguard and well being. Skid-proof design is always recommended because it helps to provide proper grip while weighing. It prevents the user from falling or losing their balance from the machine, especially if you are using it in your bathroom. A proper rubber grip at the base provides good hold. Hence, always prefer a skid-proof design if you have aged people or kids at your home
8. Backlit Display
Without backlit, it may be difficult to read the measurement, especially in dim lights. Hence, if you are using a digital weighing scale for your personal use, we recommend you to prefer the scale with a backlit display.
The backlit display makes the readings easily visible and helps the user read the measurements even in dark lighting areas.
9. Battery Life
Another important factor that you need to think about while purchasing a digital weighing scale is its battery life. Some of the weighing scales consist of lithium batteries, as they run for longer but difficult to change once they discharge.
On the other hand, weighing scales using AA or AAA batteries is easy to replace and cost-effective, but they have a shorter life span. Hence, better to evaluate first as per your convenience before taking one.
10. Low Battery Warning
Battery indication helps the user to operate the device without any interruption. It ensures you a lasting battery level and keeps you notified if it has a low battery. It helps the user to prevent any stoppage while in operation, and so you can easily replace the batteries within time if it shows low battery indication.
11. Functioning
Everyone looks for the smooth functioning of the scale when it comes to weighing body measurements. Some weighing scale need a click or tap, some of them require manual On/Off to operate the device. Alternatively, some scales automatically turn on when the user puts their feet up on the weighing scale.
The automatic ON / Off option is convenient and helpful as it saves battery life as well. All in all, the choice is yours; if you are comfortable with manual On/Off or tapping the scale for functioning, you can surely go for that model.
12. Shape
Basically, the digital weighing machines are available in two different shapes with some twist in their design and, i.e., Round and Rectangle. However, the shape of a weighing scale never fluctuates the readings or accuracy. It's all about your choice and liking. You can select the shape according to your preference.
13. Multi-user feature
Typically, traditional models show just a single user's weight. If your entire family unit uses the same weighing scale, prefer the model with a multi-user feature. It helps you track the weight and other data individually. The modern weighing scales have cloud-based memory or enough internal memory, which facilitates tracking the measured data for single or multiple users. So, it is recommended to check the multi-user feature before getting the best weighing scale, just for your convenience.
14. Portability
Choose a weighing scale that is handy and easily moveable. Avoid a large weighing scale if you move frequently. Smaller scales are an ideal choice, as it is easy to carry and move from one place to another.
15. Extra Measurements
Ordinary weighing scales can measure only weight. But, you are now blessed with some high-end models to choose from. The advanced weighing scales not only measure weight but offer some different measurements. Such as:
Body Mass Index (BMI): People, who are conscious about their health and want to track their body fat, can go for such a weighing machine that provides extra measurements. Yes, the advanced weighing scale can measure the body fat proportion of the user. It is beneficial if you are trying to lose your weight and increasing muscle mass.
Weight tracking: The high-end models are capable of tracking measurement over a fixed period. You can track the changes as per daily, weekly, and monthly data status.
Lean Muscle Mass: The latest weighing scales are also featured with this measurement. People who want to improve their body shape may prefer the weighing scale that calculates lean muscle. It encourages you to execute strength workouts to get better your body shape.
16. Cost
The cost of a weighing machine fluctuates with the size and functionality. The expensive scales offer durability and high quality built constructions. Moreover, it lasts longer without compromising its functioning.
Alternatively, cheap weighing scales can save your pocket but creates a problem in their functioning. It has less life span too. It is advised to carefully read the features, reviews, and specifications before purchasing the digital weighing machine for personal use. Make sure you don't get fooled by the price and quality.
Benefits of Digital Weighing Machine
The digital weighing machine has numerous features that make it very functional over analog weighing machines. The best thing about digital weighing scales is that they operate with batteries and helps you track your body weight precisely. It helps in losing or gaining weight accordingly. Moreover, you can store the measured data of more than one person.
Some modern digital weighing machines have extraordinary features that also display your BMI (Body Mass Index), body fat, and water. Moreover, it calculates your muscle mass, metabolic age, bone mass, etc.
Digital weighing machines with up to date features make them not only handy but very useful as well. Besides your weight, it can help you track other health conditions properly by taking extra measurements.
The Utility of Digital Weighing Machines
Excluding personal usage, the digital weighing scales are very beneficial for production and selling businesses. Some of the common platforms where these scales are useful are:
For usage in supermarkets, retail shops, mutton shops, etc.
Manufacturing industries
Shipping and logistics business
Laboratory and research testing
Quality assurance and testing in various industries
Digital Weighing Machine Frequently Asked Questions (FAQs)
1. Which is better, Analog or Digital weighing machine?

The key factor of a weighing machine is its accuracy. It is better to prefer a digital weighing scale than analog scales as they are more precise and display your exact measurement in decimals.

2. Can weighing machines be incorrect?

Frankly, No!! Weight scales can never be inaccurate. In fact, they are meant to give accurate results. But, most of the time, you get faulty results just because of any mechanical issues. It would give you accurate results if you place it on an even surface all the time while weighing. With digital weighing scales, there are rare chances of getting out of order the device. But, if it happened, you should be resolved it by professional only.

3. What are the common weighing tips to get the exact weight of your body?

If you want to know the exact body weight, then you need to follow a particular time for weighing. Reading may rise or fall before and after a meal, and it is quite normal. So it is better to weigh yourself during the morning when your body feels fresh and recharged.
Actually, the point behind this is that the leftovers get discharged from your body, and the bladder remains clear and pure. Moreover, you wear simple light clothes in the morning time. In these ways, you will get the precise results. Otherwise, you may get varied results after taking a heavy meal.
It would be best if you keep the weighing scale on an even surface. Make sure it is not a carpet or tilted area. While weighing your body weight or other extra measurements, you should stand straight barefooted on the machine.
The above tips will surely help you get the exact bodyweight if you prefer a digital weighing machine for your personal use.

4. How to know your Body Mass Index (BMI) with a digital weighing machine?

Digital weighing scale has its particular criteria, and you will get advanced measurements with a smart weighing scale only. A digital smart weighing scale is based on Bio Impedance Analysis. There are various sensors in the smart weighing scales, and these sensors send signals through your body while weighing. The signal speed and resistance they come upon transmits data to the scale. The smart weighing scale measures the metrics by an inbuilt algorithm into the system.

5. How to pair the weighing scale with fitness apps?

Pairing smart scale with fitness apps in Android and Apple network is very simple. You can pair with the apps, and these will store your measured data in the app. You can track your metrics with popular android or Apple network apps such as Google Fit, Nokia Health Mate, Under Armour Record, Fit Bit, Apple Health, Garmin connect, etc.

6. Which weighing machine is best for personal use that fits in your bathroom as well?

It ultimately favors your taste and usefulness. If your requirement is only measuring weight, then simple analog scales are the ideal choice. On the other hand, you should prefer digital weighing scales with modern features for more advanced measurements. A smart weighing scale can track your body mass index, body fat, bone mass, etc., that simply connect with your Smartphone through Bluetooth and Wi-Fi connections.
If our recommendation matters and you are comfortable spending extra, then a digital weighing scale with advanced features is undoubtedly a good option.
Furthermore, you can choose a design that goes well with your bathroom aesthetics and, of course, give satisfaction to your eyes with its design and style.

7. How do you adjust a digital weighing scale with no weights?

All you need to do is Press on and hold the regulator. The regulator is marked as "CAL" on the scale. As soon as the CAL is displayed on the LCD screen, it will read the zero point, "0.0". Press and hold the CAL key once more for 2-3 seconds. After a second, the scale adjusted to the zero point and displays the full capacity.

8. How to authenticate the function of your digital weighing scale?

Although the digital scale displays accurate weight, if you want to check its authenticity, you need to find an item with a specific weight. For instance, a 10 kg of flour bag, if tested again, then it will be displayed the same rather than any rise and fall in their weight. This way, you can test the accuracy of your digital weighing scale. You need to reset its calibration mechanism as well from time to time so that you get the exact result.
Conclusion
Choosing the best digital weighing machine totally depends on your requirements and convenience. There are ranges of styles you choose from, and if you are confused about further features, you can read the above buying guide and reviews of top-rated models. This will help you choose the best from many models of weighing scales available in the market, as you get detailed information about every feature, which helps you a lot.
Each weighing machine uses different technologies and innovative features. Above all, we suggest you go for the advanced models so that you can not only weigh yourself but measure other extra measurements too. And, it can be helpful for your whole family!!!
Read Related Reviews
Buy Best Digital Weighing Machine Online
GLUN Bolt Electronic Portable Fishing Hook Ty...
68%
Hoffen Digital Electronic LCD Personal Body F...
74%
beatXP Kitchen Scale Multipurpose Portable El...
88%
beatXP Gravity Elite Digital Weighing Scale f...
88%
GoTrippin Metal Luggage Weighing Scale Digita...
42%
Glun Multipurpose Portable Electronic Digital...
67%
beatXP Actifit Flare Digital Weighing Scale w...
88%
Healthgenie Weight Machine for Body Weight Th...
54%