For every health enthusiasts, keeping track of their body weight on a regular basis is one of the essential health chores. Digital weighing scales are the most appropriate one for this job but what if you get more than just weighing your body weight only. Isn't it awesome? Yes! Thanks to the best Digital Bathroom Scales that not only keep tracks of your body weight but is also loaded with a lot more features. From body mass index to the bone mass as well as with special connected apps and fitness trackers, these smart digital bathroom scales are proving to be a great tool towards your fitness goals.
To know how to choose a digital weighing scale read our detail buying guide.
7 Best Digital Bathroom Scales in India
Now when it comes to choosing a best digital bathroom scale to keep track of your weight records, it becomes quite confusing which one to choose. Lots of brands and models are there with some distinct features. So, to make your buying decision easier, we came with this blog post, where we have covered the reviews of some latest and best digital bathroom scales for you.
These smart digital bathroom scales are very easy to use, offers accurate results, and also have the aesthetic design and promise to match your health and fitness goals perfectly. So have a look on our listed models and pick the one of your choice.
Best Digital Bathroom Scales Reviews
Now, let's have the detailed review of each of our best picked models of smart digital bathroom scales to have only the best one.
1. Nokia Body Cardio Wi-Fi Smart Bathroom Scale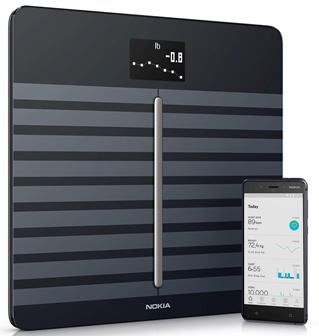 This advanced and smart scale from Nokia comes at the top of our list because of its awesome features. And it will surely be your smart choice towards all your health and fitness goals. The Nokia Body Cardio smart bathroom scale not only tracks your weight but also other factors including body composition (body, fat, water percentage, bone mass, and muscle), BMI, as well as the standard heart rate.
In terms of design, it is aesthetically appealing. It comes in white and black glossy finish along with a sophisticated glass top and aluminum base. There is an LCD on the top of the scale that displays all your measurement records. A USB port is also there along the bottom edge to charge its rechargeable batteries.
This scale is also enabled with the Wi-Fi feature that syncs your health records automatically to the Nokia Health Mate App via Wi-Fi where you can view your trends, set goals and get extra motivation for your fitness needs.
Key Features
Ultra-thin and sturdy design
Tracks weight, body fat, water%, muscle & bone mass, and standing heart rate
Highly accurate measurements via position control TM technology
Multi-user friendly
Easy to use
Pregnancy and Baby Tracker Mode
Automatically syncs data to the Nokia Health Mate app over Wi-Fi
Pros
Really easy to set up and use
It works very well on any surface from hard floor to thick carpet
You can also get a localized weather forecast during weigh-in on the display
Accurate measurements every time
Cons
2. Eufy Wireless Digital Bathroom Scale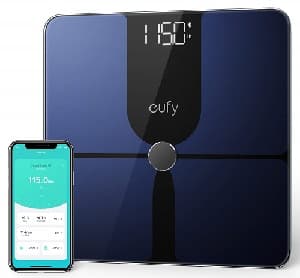 Whether you want to lose a few of your pounds or want to achieve some other health goals, this best digital bathroom scale from Eufy is an ideal choice. It effortlessly tracks your body weight, body fat, bone density, water%, heart rate and other health stats, therefore an all-in-one solution towards your fitness goals.
It comes with a simple yet attractive design. This square shaped scale is grey and black in color as well as an LED on the top of the surface to show your measurements
It also has the Bluetooth and Wi-Fi connectivity support that effortlessly syncs your health information with the fitness app. The another best part of this smart scale is that it comes with 16 users tracking management, means it can automatically recognize up to 16 users.
Key Features
Sturdy and stylish design
Durable tempered glass and ABS construction
12 Precision Body Measurements (Weight, BMI, body fat, lean mass, bone mass, total body water, BMR, and Visceral fat
Bluetooth and Wi-Fi Connectivity
Free Fitness App
20 Users automatic recognition
Baby weighing function
Pros
Measurements are quick and easy to read
Accurate and precise measurements
Wi-Fi connectivity
It can log data up to 20 users that is really very nice
Decent app with comprehensive logs
Baby weighing mode is a nice add-on
Cons
The Wi-Fi set up is somehow complex
3. Dr Trust (USA) Digital Smart Electronic Rechargeable Bluetooth Scale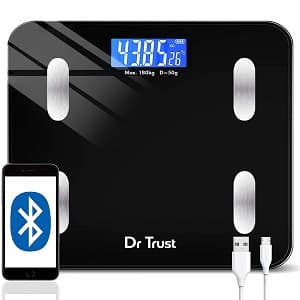 It is one of the smartest and versatile digital bathroom scales offering you and your family the highly customizable features suiting your health and fitness needs. It comes with a bundle of health measurement features including body weight, BMI, body fat%, water %, muscles and bone mass.
If we talk about its design, it's really awesome. With all-black and square in shape, it comes with a stylish glass-covered top. And there is an LCD screen that shows off your weight and other information using the red pixels.
This smart electronic bathroom scale also has the Wi-Fi connectivity feature and has the app compatibility that can send the measurements to your phone whenever you step on the scale. Also, it syncs the data for unlimited users, so no matter how many members in your family, each can have their own account.
Key Features
Wireless smart scale
Tracks body weight, BMI, and changes in your body composition
Smart feedback by replacing the numbers with smileys
Bluetooth and wifi sync
4 High Precision Sensors Assure 2- Digit Accuracy
Goal setting
Set up reminders
Pros
Sleek and attractive design
Accurate and consistent digital bathroom scale
Smart visual feedback showing a happy face, sad face, or a neutral face is a nice feature
Easy to set up and use
Using the app via Wi-Fi connectivity is really very nice
Cons
The user interface design is not up to the mark
4. Fitbit Aria Wi-Fi Smart Scale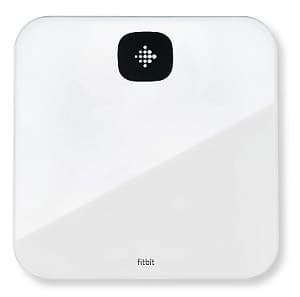 With smart technology, this bathroom scale is absolutely different from the traditional needle scale to pinpoint your weight. Get fulfilled with all your health and fitness goals with this smart scale that not only tracks your body weight, but also calculates your body fat percentage, body mass index, and lean mass, etc.
When it comes to design, this element is extremely eye-catching. Its platform's all-glass construction gives an aesthetic appeal to this bathroom scale. A silvery metal ring is there on the center of its top with a backlit LCD that displays a wide variety of health records.
The very best part is that the Fitbit Aria digital bathroom scale is enabled with the Wi-Fi feature that automatically and wirelessly syncs to your Fitbit dashboard using your home Wi-Fi network. And this helps you to track your progress 24/7 without worrying about the records to remember.
Whenever you step-on this advanced digital scale, it recognizes who you are and then displays your data and sends your weight stats straight to your Fitbit account while keeping your results private. And the plus point is that it can recognize up to eight individual users, so it is an ideal option for the whole family.
Key Features
Sleek and attractive design with the polished glass surface
It tracks weight, lean mass, body fat %, & BMI
Automatically and wirelessly syncs to your Fitbit dashboard
Easy to set up
Recognize up to eight users
Also helpful to track exercise, set goals, food logs, and measure hydration
Pros
A very perfect buy to monitor your health records
Shows accurate results
Wi-fi connectivity to automatically and wirelessly syncing data through your home Wi-Fi network is a nice feature
Cons
5. Zaap Fit-1 Digital Personal Bathroom Scale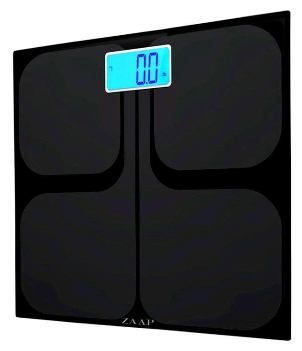 The Zaap Fit-1 is one of the smartest digital bathroom scales and body analyzers in our list. It combines some of the most intelligent features, intuitive user experience and an attractive design letting you get to know your fitness insights. Its durable ultra slim design with tempered glass top protects it from getting been damaged.
It comes with a smart high precision strain gauge sensor that offers precise and accurate measurements every time you step-on. The digital LCD on the top of the surface gives your weight measurement that is easy to read. The scale also comes with auto on/off feature ensuring that the battery charge does not get wasted.
Key Features
Durable and sturdy design
Easy operation
Auto recognition technology
High precision sensors
Digital LCD display
Auto shut down and low battery sensor
Pros
It offers a pretty easy operation
The step on/off technology and long stand-by feature saves a lot of power
Provides consistent and precise measurements
The four load sensors on the scale provide you with the utmost accuracy
Cons
6. Powermax Smart Body Composition Analyzer BCA-130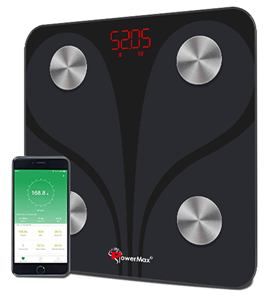 The Powermax Smart Body Composition Analyzer is another great purchase for all the health conscious people. When it comes to design, this smart digital bathroom scale comes with the 6 mm tempered glass along with ABS integrated durable body. Plus the clear crisp LED display aids you to read the figures more clearly.
This bathroom scale not only provides you the measurement of your weight but other key measurements too. Here comes the four stainless steel electrodes that by using bio-impedance method can calculate the thirteen key body compositions. These include BMI, body fat, fat-free body weight, subcutaneous fat, visceral fat, body water, skeletal muscle, muscle mass, bone mass, protein, BMR, and metabolic age.
This smart scale has the ability to sync with the fitness app like Apple Health, Google Fit, Fitbit App, and more. And the app is featured with weighing reminder, capability for unlimited users, auto recognition of family members, auto lb/kg/st recognition, and cloud-based data storage for ensuring safety and security, and much more. You can also connect this smart scale via Bluetooth 4.0 to Android and iOS app.
Key Features
Bluetooth Smart Scale to measure, calculate, and analyze essential body composition like Weight, Body Fat, Bone Mass, BMR and more
13 Key Body Composition Analysis
Clear crisp LED Display
ABS integrated durable body
6 mm tempered glass
Sync with fitness app like apple health, google fit, fit bit app and more
Wireless connectivity via Bluetooth 4.0 to Android and iOS app
Step Power On
Auto Power Off
Pros
Smartly designed
Strong and sturdy construction
Bluetooth works perfectly
Compact and lightweight
Offers accurate measurements
The app even shows what is the normal range of all the readings, so it is easy to read and understand your readings
Cons
7. Actofit Body Fat Analyser Smart Scale with Bluetooth connectivity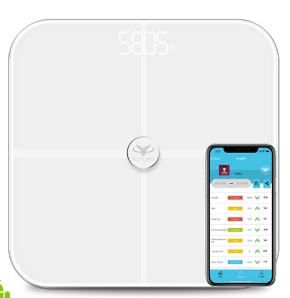 This solid, sleek, easy to use and affordable smart scale from the brand Actofit is a perfect addition to your home for all your health and fitness goals. This Bluetooth scale pairs effortlessly with the Actofit's app for iOS and Android and displays your weight on screen. Not only it calculates the weight, but other parameters too like BMI, BMR, Body Fat, Body Water, Bone Mass, Fat-Free Weight, Muscle Mass, Protein, Skeletal Muscle, Subcutaneous Fat, Visceral Fat, Weight, Physique Rating, and Metabolic Age.
This smart scale is also featured with dual frequency BIA technology to offer unmatched precision, increased accuracy, and reliability. The machine can record the stats for up to 16 users and offers the progress graphs for each user individually.
Key Features
Advanced AI Powered technology
Measures 15 body composition metrics such as muscle mass, fat, BMI, protein, water, etc. for effective weight management
Dual frequency BIA technology for increased accuracy and reliability
Multi-user database
Graphical analysis
Historic progress
Pros
Build quality is very good
Sleek and smart design
The app works very nicely
Very easy to set up
The scanning is very fast, and it takes just a few seconds to measure everything
Accurate and precise
Cons
8. Lenovo HS10 Smart Scale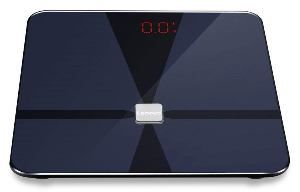 The Lenovo HS 10 smart scale is yet another smart choice for all fitness enthusiasts. With a stylish design, tempered glass body, and bright LED display, and it can take care of all your health and fitness goals. This one comes with many sensors that can calculate your weight, BMI, Body fat/water, muscle mass/bone mass, visceral fat, and BMR. And these sensors enable stable and consistent weighing.
The Lenovo smart scale is compatible with iOS 8.0 or plus, Android 5.0 or plus, Bluetooth 4.2 or plus, and thus can be connected to the app. This feature lets the machine to send the body measurements instantly to your smartphone each time when you step on it. And this way, the scale makes it easy to track weight loss and your health progress.
Key Features
Seamless design
Smart body fat scale with app support
Specific hidden LED display, clearly and brilliant light-emitting technology
Tempered glass
Bio-electrical Impedance Analysis, which support precise 8 body measurements
Cloud data storage and anti-lost setting
Auto power off after 30 seconds no operation
Pros
Beautiful and elegant design
Superb quality smart bathroom scale
It connects to your mobile via Bluetooth and keeps track of your weight
The machine can create multiple profiles of your family members for tracking their weights
Cons
Sometimes shows inconsistent results
9. Sansui Smart Connect Glass Bluetooth Body Fat Analyser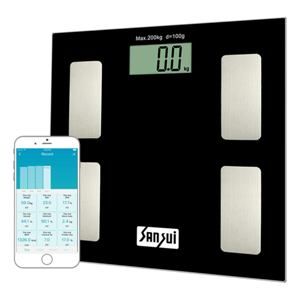 So, stepping on to the next, this smart digital bathroom scale from the brand Sansui is a great buy to attain your fitness needs and goals. The scale is equipped with smart BIA (Bio-Electrical Impedance Analysis) technology ensuring that you will get only accurate and precise results. It not only tracks your weight but also calculates other metrics like BMI, Muscle, Moisture, Bone Mass, BMR, Protein Rate, Body Age, Visceral Fat, Standard Weight, Weight Control, Body Fat, Weight without Fat, Muscle Weight, Amount of Protein, Degree of Obesity, and Body Type.
The best part of this bathroom scale is that it can syncs your body data to top health and fitness apps like AiFit, Fitbit and Google Fit. This smart scale also allows fitness management for multiple users. It means up to 8 users can track their records in one app and can also access their personal histories. You can even set the reminders for your upcoming fitness goals with this digital bathroom scale.
Key Features
Automatic Bluetooth Synchronization
6mm tempered safety glass platform
Bio-electrical Impedance Analysis technology for accuracy
Full Body composition
Overload Indicator
Low Battery indication
Step On/Off technology
Fitness Management for 8 users
Pros
Sleek and stylish design
Good build quality
Provides accurate and inconsistent results
Reasonably priced
The app works perfectly
Cons
10. Omron HBF 224 Digital Full Body Composition Monitor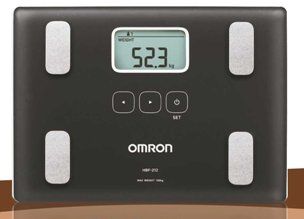 Now last but not the least, the Omron HBF 224 smart digital bathroom scale with great performance and awesome features. Its sleek and slim design makes the scale to get fit anywhere in your room. Moreover, the smart and elegant design of this machine makes it very easy to operate. The scale comes with a large LCD with a detailed description so you can easily understand the figures without any hassle.
The machine not only calculates your body weight but also tracks other body composition including visceral fat level, body fat, body fat percentage, skeletal muscle percentage, and subcutaneous fat percentage. It also has four memory presets, so you don't need to remember the previous stats, as this can store the previous records for you.
Key Features
Scratch-proof LCD display screen
Flat footing surface
Sensors for accuracy
Compact size
Simple algorithm
Calculates BMI, Body fat percentage, visceral fat, and skeletal fat
Multi-user capability
Pros
Very compact yet powerful body fat analyzer
The readings are very accurate
It is easy to use
Functions can be understood easily
Large LCD display
Cons
Not supports Bluetooth connectivity
Benefits of Digital Bathroom Scales
The latest advanced digital bathroom scales are incredibly different from the standard versions as they offer some more added insights into your health. And these digital bathroom scales are one of the best health indicator tools than weight alone.
These are capable of calculating a multitude of other measurement too including body fat percentage, water percentage, bone mass, BMI (Body Mass Index), muscle percentage, protein, and BMR (Basal Metabolic Rate- the minimum number of calories the body needs to function at rest).
The smart digital bathroom scales are also very useful in tracking your weight history, estimating the body-fat percentage, and recording weights for multiple people as well. Some of the advanced models also have the feature of smart connectivity with Bluetooth & Wi-Fi that can stream your weight results to your phone or smartwatch. This makes you track your results and detect your trends for all your health and fitness goals.
Some Smart Features of Digital Bathroom Scales
Digital Bathroom Scales are best for training. For every regular trainer or athlete, who needs to keep track of their number of steps as well as body weight; smart scales featuring health and fitness tracker apps are an excellent choice.
For tracking your regular fitness stats, the smart digital bathroom scales are very useful. The more advanced models are compatible with the fitness trackers that is a smart feature. And the best part is that these digital bathroom scales are pretty good to keep track of the weight records and other stats of different people separately.
Bluetooth and Wi-fi Feature is also an impressive feature in the latest digital bathroom scales. The scales enabled with this feature tracks your weight record and other stats and sends it to your Smartphone via an app.
Pregnancy Mode in digital Bathroom scales is another impressive feature for pregnant women. Some advanced models come with a full pregnancy-tracking mode. For those who are more concerned about their increasing weight during pregnancy, this is an awesome feature. When this mode is on impedance gets shut off automatically, and the screen flashes a happy face when you step on it, except of showing your weight in numbers.
Conclusion
This is all about the best digital bathroom scales with smart features that will surely meet your needs towards health and fitness goals. All these models are very efficient in doing their job perfectly. So, choose the one according to your needs and budget preferences. And if you want to share any of your comments and suggestions, don't forget to pen down to us in the below comment section.
Read Related Reviews
Buy Best Smart Bathroom Scales Online
RENPHO Scales for Body Weight, RENPHO Smart B...
58%
Ant Esports Flora Smart Scale for Body Weight...
85%
ActiveX (Australia) Savvy Smart Bluetooth Dig...
76%
RENPHO Bluetooth Body Fat Smart Scale BMI Sca...
48%
Equal Smart Bluetooth Digital BMI Weight Scal...
64%
PowerMax Fitness® BCA-150 Smart Bluetooth B...
82%
Lifetrons Thin Plus BMI Bluetooth Digital Bod...
49%
Bluetooth Body Fat Scale, FITINDEX Smart Wire...
50%