Nowadays most of the people are suffering from hypertension which is one of the most common health problems and the major factor of heart strokes. But due to the regular hectic schedules, it is not possible every time to visit the doctor's clinic to get the measurements of your blood pressure numbers. Here comes the very useful gadget Blood Pressure Monitor. With them you can easily track your actual blood pressure numbers from the comfort of your home without going anywhere.
Knowing your blood pressure numbers, you can change your diet and lifestyle and also take the proper medication for a healthy life. Blood Pressure Monitors can give you the timely supervision of your blood pressure and heart rate and thus tends to live a healthy and tension-free life.
Modern blood pressure monitors are of the digital type and very convenient to use. Some of the latest models are also featured with the Bluetooth connection that transmits data to your smartphone for easier health trend tracking.
To get an in-depth information on Blood Pressure Monitors, please head to our Buying Guide Section.
10 Best Blood Pressure Monitors for Home in India
We have listed here some of the latest and best digital Blood Pressure Monitors for home use from the well-known brands like Omron, Dr. Morepen, Panasonic, etc. These models are accurate, compact, and lightweight and also very easy to use at home.
Best Blood Pressure Monitors for Home – Reviews
1. Omron HEM 7361T Bluetooth Digital Blood Pressure Monitor (Overall Best)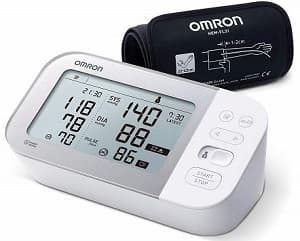 Omron is one of the reputed brands for selling healthcare products. And this BP monitor model comes at the top of our list for its top notch features, performance, and most importantly the accuracy it delivers. In terms of conevenience along with the new technology, this product is surely a good selection.
The model provides you with the basic upper arm blood pressure measurement. Even more, it can also scan Atrial Fibrillation (AFIB) at the same time, making it worth for every penny.
The best part is that, this device allows two users to measure their blood pressures at the same time. And it displays and store the data separately makig it very convenient to track the records. This dual user function also allows both the users to store and transmits their measurement data over their smartphones easily.
The model is also compatible with Bluetooth Wireless Connectivity that allows the users to sync their daily blood pressure readings from the device to the OMRON Connect App in an easiest way. This way, you can keep track on your health status anytime and anywhere.
Another best feature of the device is its one-touch operation that makes taking readings very convenient. Plus, the device works best for all age groups, making it a good choice for any home.
Key Features
Advanced Atrial Fibrillation (AFIB) screening technology
Hypertension Indicator
Irregular Heartbeat indicator
Enhanced IntelliSense technology
Body movement detection
360° Accuracy IntelliWrap Cuff
Allows two users to take readings at the same time
Bluetooth wireless connectivity
Easy one-touch operation
3 Years Warranty
Pros
Nice and useful product
Easy to carry anywhere
AFib feature works great
Hassle free and easy to use
The charts are excellent giving you a clear picture over the past month.
Cons
2. Omron HEM-7120 Automatic Blood Pressure Monitor (Runner Up)
The next on our list of best blood pressure monitor is Omron HEM-7120 that is again a worth value for your money with all the impressive features it offers.
This multi-purpose and multi-utility device from Omron aids you in keeping a proper and regular check up on your blood pressure levels.
One of the best features is its IntelliSense technology that assists in applying the appropriate amount of pressure automatically. So, you can get speedy and accurate measurements each time you use the device. Even more, it is a digital blood pressure monitor, so takes all the hassles away by offering you fully automatic operation for all your ease and convenience.
The model features body movement detection that detects error due to body movement while taking measurements. It also has irregular heart beat detection that detects the heart beat due to body movement. Plus, the hypertension indicator is a bonus feature that notifies you by blinking, if your blood pressure is above the normal range.
This BP machine comes with a large display to show your vitals clearly and accurately. Moreover the ease of use and convenience makes this a must have device for your home use.
Key Features
Easy one-touch operation
Body Movement Detection
Irregular heartbeat detection
Hypertension Indicator
Memory for last reading
Simultaneous display of systolic, diastolic and heartbeat
3 Years Warranty
Pros
Nice device in this price range and worth value for money
User Friendly
Accuracy is very good
The best thing is its battery life that lasts for more than a year even if used daily
Cons
3. Dr. Morepen BP09 Fully Automatic Blood Pressure Monitor (Best Budget Pick)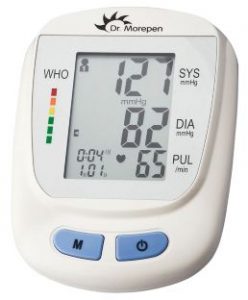 If you are seraching for the budget model of a BP monitor with all the high-end features, this one from Dr. Morepen is a great buy. The model is fully automated blood pressure machine and is an ideal choice for its accuracy and reliability.
This Blood Pressure Monitor helps you to measure systolic and diastolic blood pressure as well as the pulse rate using the oscillometric method. It comes with an upper-arm cuff which is used to take BP measurements. This hand cuff includes an anti-allergen material construction making it safe even for sensitive skin.
It features a unique WHO classification indicator that allows the users to easily understand their BP range. Its memory function with four user interface is another convenient feature that allows you to store last few readings of your blood pressure to monitor the trends.
The model also comes with a low battery indicator that notifies you when the battery is about to drain. Even more, the device switches off automatically when not in use and thus saving the battery power.
Key Features
User Interface for 4 users
WHO Classification Indicator
Averages the last 3 readings
Irregular heartbeat detection
Low battery detection
Pros
Great performance
Shows accurate results
Easy to use
Cons
4. Dr Trust Smart Dual Talking Automatic Digital Blood Pressure Monitor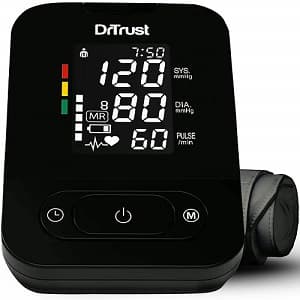 Measuring your blood pressure level more precisely and accurately is now getting very easy with this smart and best blood pressure monitor from the brand Dr. Trust. It comes with the dual talking feature in both Hindi and English language for those who have weak eyesight.
The device lets you measure systolic BP, Diastolic BP, and pulse rate with an ease. Plus, its universal conical cuff for the arms provide you the accurate results every time. The device also provides you the facility to save data of unlimited users in its memory, so no worry about to record the data manually.
This blood pressure monitor works with the Dr. Trust app that lets you connect the device to your iOS and Android phone for easy usage. Moreover, you can also easily share your BP measurements right to your family members or doctor by email with a simple one-touch button.
Key Features
Dual talking (Hindi and English) with micro USB port feature
Powered through Micro USB or 4 AAA batteries
Free friendly Dr. Trust BP connect app for multi-users
Large LCD display
3 color hypertension backlight indicators
Conical cuff for accurate results
Store records for various users
1 Year Warranty
Pros
Nice build quality
Voice announcement is a nice feature
Works with the micro USB port which eliminates to purchase adapter or batteries
Lightweight and handy to use
Accurate and consistent readings
The result is displayed in the red background, and the talking message tells you when your blood pressure is above normal. High or severe alert is also shown in the smartphone. In normal conditions, the result is displayed in green
Good product for the price and specification
Cons
5. Dr.Morepen BP-02 Blood Pressure Monitor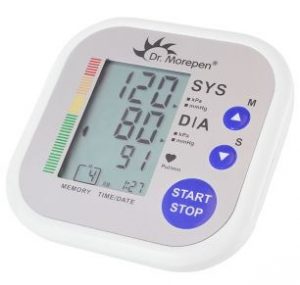 This is another best blood pressure monitor for home use from the brand Dr. Morepen. It provides an easy way to get the measurement of your pulse and blood pressure levels. This device accommodates consumers with even larger sized arms.
It also features the irregular heartbeat detection that provides the accurate measurement of pulse rate and blood pressure levels even when an irregular heartbeat occurs.
It comes with a large display and also larger buttons for easy operation and thus making it a reliable, speedy and convenient device to use at home.
Key Features
Irregular heartbeat detection
WHO Blood Pressure Indication
Memory Storage: Averaging of three readings
1 Year Warranty
Pros
Awesome quality product
Convenient and easy to use
Gives accurate results
Cons
No AC Adapter and DC plug
6. HealthSense Heart-Mate BP 100 Fully Automatic Upper Arm Digital BP Monitor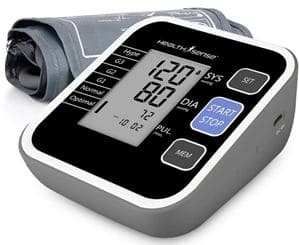 This is one of the unique and stylish blood pressure monitors for home from HealthSense. It comes with a host of unique features. The device has a large LCD screen with latest oscillometric technology that helps to give accurate measurements.
This blood pressure monitor also features irregular heartbeat detection, body movement detection, WHO compliance in voice command, alarm function for BP check Reminder, error and low battery indicator. This is the first Indian digital blood pressure monitors with unique Talking function.
Key Features
Latest and improved oscillometric technology
BP Level voice command
Body Movement Indicator
Talking Function (English Voice)
2 User memory with 90 individual records
Calculates and displays average of 3 consecutive readings
1 Year Warranty
Pros
Nice build quality
Easy to use
Readings are quite accurate
Talking function is awesome
Cons
7. MCP Digital Blood Pressure Monitor BP112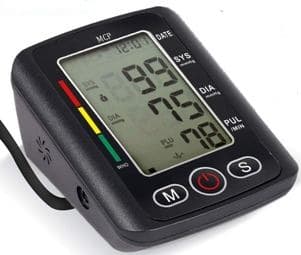 The next comes this advanced and best blood pressure monitor from the brand MCP. The device offers highly accurate hypertension monitoring as well as also aids in detecting irregular heartbeat.
It has a large screen for easy readings. Even you don't need to keep the manual records for readings, as this BP monitor can store two user memory that is capable to record 90 readings each.
The device responds quickly to your inputs and displays accurate information only. It is also equipped with the latest and improved oscillometric technology. To remind you for the blood pressure checking, the device also comes with the alarm function.
Key Features
Latest and improved oscillometric technology
Body Movement Indicator
Irregular heartbeat indicator
Alarm function for BP checking reminder
Compatible with multiple peripheral USB devices including laptop, desktop, Powerbank, etc
USB Charging Port
Pros
Build quality is extremely great
Superb accuracy
Wide Display ensures easy readings
Works very nicely
Cons
8. Beurer Automatic Upper Arm Blood Pressure Monitor (BM35)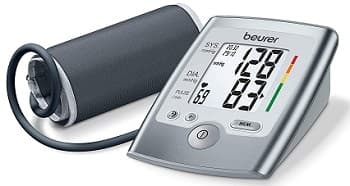 This wrist blood pressure monitor is yet another smart choice to monitor your blood pressure from the comfort of home. This one measures directly at heart level and therefore offering you the precise and accurate measurements. Its ergonomic design and easy to use touch screen operation makes the device an awesome one.
It comes with the two user capacity and sixty memories spaces per user. Plus, its XL LCD screen shows you the real-time measurements with its blue backlit display and therefore making the readability more clear.
Key Features
Upper Arm Blood Pressure Monitor
Extremely Large and easy to read black display
Fully automatic blood pressure and pulse measurement
2X60 memory spaces
Illuminated Start/Stop button
Risk Indicator with LEDs
Incorrect usage message
Low Battery Indicator
Date/Time Automatic Switch off
Pros
Great in terms of quality and performance
Accurate and precise measurements
Easy to use
Touch Screen operation
Large display makes the readability of the measurements more clear
Convenient to carry it along with you
Cons
9. Mievida Mi Heart 101 Blood Pressure Monitor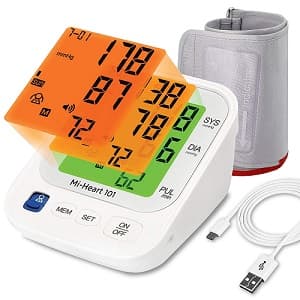 In terms of accuracy, this blood pressure monitor from Mievida is the best one. This upper arm blood pressure monitor is clinically tested for measuring accuracy. It provides the convenience of keeping track of your blood pressure levels and also detects the body movements.
This Blood Pressure Monitor also features a warning function to indicate arrhythmia, an irregular pulse, incorrect movements during measurement and high pressure. It also features a large LCD Display that has optimum legibility. It comes with an option to save up to 192 readings at any time for future references.
Key Features
Irregular heartbeat detection
Large LCD display
Comfortable pre-formed cuff
192 memory measurements and storage box
1 Year Warranty
Pros
Easy to handle
Perfect for regular checkup
Gives accurate measurements
Easy to carry it anywhere and anytime
Cons
10. Citizen CH-432 Blood Pressure Monitor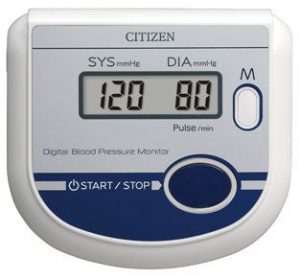 This Automatic Blood Pressure Monitor from Citizen perfectly combines the features like ease of use, comfort, and precision that could keep your blood pressure in a track on a daily basis. Clinically certified, this Blood Pressure Monitor displays genuine and precise measurement readings.
It also incorporates automatic measuring feature that helps in obtaining quick and accurate blood pressure measurements. It is also equipped with an auto shut-off feature that enhances the battery life as it automatically turns off when not in use.
Key Features
One touch fully automatic operation
Average for last 30 readings and 90 memory functions
Low battery consumption
Auto shut-off function
Auto measuring system
Pros
Simple and easy to use
Easy to replace batteries
The sound is very low
The readings are very consistent and accurate
Cons
No downside of this BP Monitor
How to Choose a Best Blood Pressure Monitors? (Buying Guide)
Lets find out how to choose the best Blood pressure monitors.
Different Types of Blood Pressure Monitors
1. Manual Blood Pressure Monitor or Aneroid Sphygmomanometer
This standard Blood pressure measurement tool is normally used in hospitals and clinics. It comes with a cuff that is inflated by squeezing a rubber bulb, a dial gauge along with a needle, and a stethoscope to get the blood pressure numbers.
The aneroid sphygmomanometer takes blood pressures manually. A gauge shows your blood pressure with the pointer. Using this device requires knowledge with the medical field and an in-depth tutorial. Manual blood pressure monitors are relatively cheaper compared to digital blood pressure monitors.
On the downside, Manual blood pressure monitors do not come with a memory function, so you will have to write it down manually. Also, squeezing the rubber bulb requires a lot of force, so that's another reason for the elderly and disabled people to require assistance. For those with impaired-hearing, this model proves to be difficult as you will need to listen to your own heartbeat if you don't have anyone to assist you.
Pros:
Cheapest type of blood pressure monitor
If done correctly, it offers the most accurate readings
Cons:
Users need to have a medical background or an in-depth tutorial to understand how to use a manual blood pressure monitor
The elderly, hard of hearing, and disabled people will require assistance in manipulating this blood pressure monitor
These are easily broken or damaged
2. Digital Blood Pressure Monitor
Digital BP monitors, are battery operated and have a cuff, a valve, and a pressure transducer that transforms the pressure to electrical signals. These monitors show your blood pressure levels on the screen and are available as fully automatic versions with a cuff that rises at the press of a button. This one is best to use at home and gives the accurate results.
These BP monitors are combined with both the stethoscope and the gauge in one unit, making the process easier. Another welcomed feature that makes it so convenient is its error indicator. The small screen enables the user to track their blood pressure and restart the process when an error takes place.
There are even automatic home monitors that print out the results, making documentation effortless.
A digital home monitor's cuff will inflate and deflate automatically. Older people may be subject to hearing loss, and so digital home blood pressure monitors are great. This is because it eliminates the need for a stethoscope to listen to the patient's heartbeat. A person does not need a nurse or family member to assist them in monitoring their blood pressure.
Digital blood pressure monitors do have some disadvantages too. Irregular heart rates can affect the accuracy of your blood pressure. Second, some models require you to only use your left arm while taking your blood pressure.
Pros:
Easy interface
Fully automatic inflation and deflation of the cuff, not requiring a person to squeeze the air out. That makes it perfect for elderly and disabled people
Combines the stethoscope and gauge in one unit, removing the need to listen to a patient's heartbeat and need for assistance
It is best for people without a medical background
Cons:
An irregular heartbeat affects accuracy
Most models require using the left arm
Expensive than the manual ones
3. Arm Blood Pressure Monitors / Brachial Sphygmomanometer
An arm blood pressure monitor or brachial blood pressure monitor depends solely on the brachial artery. This type of blood pressure monitor wraps around the upper arm, where the cuff inflates and deflates. The arm monitor comes in three sizes; small, medium, and large. While the medium size can accommodate most people, there are still those who have small or large arms.
Hence, it is essential to consider the size of your arms. The 2017 High Blood Pressure Clinical Practice Guidelines recommends these sizes:
| Cuff Measurement | Cuff Size |
| --- | --- |
| 35-44 cm (13.5-17 in) | Large |
| 27-34 cm (10.5-13 in) | Medium |
| 22-26 cm (8.5-10 in) | Small |
The most important point to keep in mind is that the arm cuff should fit correctly. Otherwise, it gives inaccurate readings when the band is to loose or too tight and will cause the user discomfort.
Pros:
Arm monitors are the most used type of sphygmomanometers in the medical field due to its high accuracy
Not as sensitive as the wrist monitors in terms of body position
Cons:
One size does not cater to all types of arms
Some models may not be portable
4. Wrist Blood Pressure Monitors
Wrist monitors are the most convenient types of blood pressure machines as it is fully automatic. It is a light, compact, and portable device that wraps around the wrist. It also fits most hands and does not require the same measurements that brachial blood pressure monitors have. Wrist monitors are more comfortable as the cuff does not inflate or deflate.
However, some doctors discourage people from buying wrist blood pressure monitors. The wrist is delicate, and the body should be in perfect position when taking your blood pressure. The wrist and arm cuffs must be taken at heart level. This task may be difficult for people to get right measurements.
Pros:
Wrist monitors are convenient, and are fully automatic
It does not inflate or deflate the way brachial sphygmomanometers do, not causing discomfort for many patients
The wrist cuffs can fit easily most wrist sizes
Cons:
It is a delicate type of blood pressure monitor. Proper posture and no body movement are required when taking blood pressure
It is not recommended for people over the age of fifty
The table below will give you a clear idea on all the above mentioned different types of blood pressure monitors.
| | Arm Blood Pressure Monitor | Wrist Blood Pressure Monitor | Digital Blood Pressure Monitor | Manual Blood Pressure Monitor |
| --- | --- | --- | --- | --- |
| Accuracy | Most accurate type of blood pressure monitor | Position and activity can affect the accuracy | Has an error indicator to help accuracy | Widely used in the medical field, and is accurate |
| Ease of Use | Easy | Quite easy | Very Easy | Need to have a medical background to understand how to use it |
| Portability | Portable | Easily Portable | Easily Portable | Portable |
| Age Group | For 50 and above | 50 and below | All age group | All age group |
Medical Terms Used when Monitoring Blood Pressure
Blood Pressure: Blood pressure is defined as the force of blood that goes against the artery.
Hypertension: Hypertension pertains to high blood pressure.
Hypotension: Hypotension is the opposite of hypertension, which is low blood pressure.
Brachial Artery: The brachial artery is the artery that you measure your blood pressure from. The brachial artery is the blood vessel that goes from your shoulder to below your elbow.
Systolic Pressure: Systolic pressure is the highest pressure in an artery when your heart is pumping blood, or in other words, active.
Diastolic Pressure: Diastolic pressure is the lowest pressure, taken when your heart is at rest.
Features to Consider Before Buying a Blood Pressure Monitor for Home
Look upon the following features while searching for the best blood pressure monitor for home use.
1. Accuracy
Accuracy is the most vital part you need to consider when buying a blood pressure monitor. To check if the blood pressure monitor is accurate, compare the first data to the pharmacy or store's model. If it is exact or 10mmHg to the monitor, then that model is accurate.
The second step to check that the blood pressure monitor you bought is accurate is to compare the readings taken from the doctor's clinic. Again, if the reading is 10mmHg or exact to the reading, then the model you bought can give accurate readings.
Most models work for 2-3 years before it deteriorates. If your blood pressure monitor stops working correctly before that and it is still under the period of warranty, you can contact customer service. They will replace the model for you. To make sure that your blood pressure monitor works fine, keep it under good maintenance.
2. Ease of Use
Like most of the health gadgets, blood pressure monitors can range from the simple to fairly complex operation. As different types are there, go for the one that you can easily operate to take the blood pressure measurements from the comfort of your home.
3. Manual or Digital
We have already discussed about different types of blood pressure monitors for home. So you can easily choose between automatic/digital or manual machine. Digital Blood Pressure Monitors are the most fair choice as they require only the simple press of a button to record measurements. On the other side manual blood pressure monitors must be pumped by hand using a rubber bulb which is fairly difficult to use.
When buying a blood pressure monitor, you should consider your level of expertise. For example, do you have a medical background? If not, a digital blood pressure monitor may work out fine for you. A digital blood pressure monitor is the easiest type of bp machine that you can avail of. The reason being that it is fully automatic.
Most digital blood pressure monitors have memory storage. There is a screen that shows you the reading accurately. There is no need to listen to your own heartbeat. Also, you can use this type of blood pressure machine on your own without assistance.
If you have a medical background, then the aneroid blood pressure machine will work out just fine for you. It is the cheapest option available, but can be challenging to understand at first. However, in-depth tutorials and observing doctors in the hospital can teach you how to use one. Another reason to consider aneroid blood pressure monitors is that they are the most widely used blood pressure monitor. Therefore, you cannot argue that this type of blood pressure machine can give you the most accurate reading with the right fit.
4. Wrist or Upper Arm Blood Pressure Monitors
Even the consideration of these two types in a digital blood pressure monitor is also very much important. Wrist type blood pressure monitors are smaller, lighter, and portable. And also provides you with the ultimate level of comfort. But in order to get the more consistent results, upper arm blood pressure monitors are considered to be the best choice.
These models cater to two specific age groups. Arm blood pressure monitors are recommended for people over the age of fifty, while wrist blood pressure monitors are encouraged for those under fifty.
Arm blood pressure monitors are widely used in the medical field, and people are more familiar with this type of blood pressure monitor. However, it may be inconvenient for people under fifty as they mostly belong in the working class. For health monitoring purposes, they'd need something convenient and portable. That is where the wrist blood pressure monitor comes in.
However, it should be noted that a wrist blood pressure monitor's accuracy is easily influenced by motion and body position. First, you need to take a five-minute rest. Then, your wrist should be at heart level when taking your blood pressure. This process may be time-consuming for some.
Arm blood pressure monitors are more suitable for home use. Since it relies on your brachial artery, you only need to keep your arm at rest, in contrast to the need to be in a specific posture. It also depends on the model if you need assistance or not.
Arm blood pressure monitors do not take that much time in comparison to wrist blood pressure monitors that require you to take a five-minute rest.
So, when deciding to buy a blood pressure machine, this is something you should keep in mind.
5. Readings
Go for the blood pressure monitor that can record both systolic and diastolic pressure. These numbers are the records that come together when the pressure is checked (for exp. Like 120 over 80). Pus, you may also consider the device that can measures your pulse rate too.
6. Cuff Size
Appropriate cuff size is very much important for the most precise readings. All upper arm blood pressure monitors require cuff for measuring the blood pressure. Although they are adjustable, you must consider the one that fits your arm or wrist perfectly.
Errors in measurement take place even when the cuff size difference is small. Miscuffing is the most common error by many outpatients who use blood pressure monitors at home.
If the cuff size is too large for the patient, the reading will result in falsely low readings. When the cuff size is too small, then the reading will come out as extremely high.
The easiest way to measure the cuff size that's right for you is to pick a cuff that covers two-thirds of the distance between your elbow and your shoulder. The cuff size also ensures that you will be comfortable because if the cuff is too tight, it will give inaccurate readings as well.
You should check the cuff's size not only by trying it on but also taking your blood pressure for the first time to see if it truly fits.
7. User-Friendly Interface
A user-friendly-interface is important when you are considering to purchase a blood pressure monitor. You need to weigh the options on what you want to have in your BP monitor. Do you want big buttons? Do you need an error indicator? Assess if you have the capabilities to manipulate an actual manual blood pressure monitor. Are you above fifty and cannot push the pump or hear that well anymore? Consider even the smallest things such as the size of your bag that you will put your blood pressure monitor in. Think of the type of screen or features that you want your blood pressure monitor to have. A user-friendly interface is important so that you can use it with ease.
8. Budget
Considering the price of the model you are going for is again an important aspect. High price does not mean great quality at all times. Contemplate on buying from brands that are proven to have good blood pressure monitors and assure accurate readings. However, a good quality blood pressure monitor from the trusted brands range from Rs 2000 to Rs 20,000, depending upon the type and features presentin it. You may go for the one fitting your budget and feature requirements.
9. FDA Approval
The Food and Drug Administration in India is extremely meticulous when it comes to medical devices. Therefore, it is no surprise that they took the blood pressure monitor into consideration. Since blood pressure monitors are becoming a household machine, the FDA screens the monitors manufactured in India. Each machine is tested to make sure that it reaches the set standards.
The guidelines ensure that the product that reaches your home will provide accurate readings.
Having an FDA approved BP machine gives you security and warranty. You can trust that the product really went under inspection. When you are looking for a blood pressure monitor, always look for the FDA approval stamp. If it does not have approval, then you are at risk of a substandard machine.
10. Portability
Many blood pressure monitors in the market are portable. If a doctor advised that you monitor your blood pressure regularly, then you should consider getting a compact and lightweight model. It is necessary to get a compact one, especially when you already have a pre-existing health condition.
A portable blood pressure monitor makes it easier for you to take your BP anytime and at any given place. Having a portable blood pressure monitor will also make things easier for your hands as it is not heavy to carry from room to room when used by multiple family members.
11. Warranty
Warranty ensures that how much the product is durable. All types of blood pressure machines start to deteriorate after three years of constant use. Most blood pressure machines come with one to two-year warranties. That will be helpful in the long run when the blood pressure machine starts to malfunction before the warranty is up.
As long as the blood pressure monitors malfunctions due to internal factors, the company will have to reimburse the payment or repair it free of cost. However, the warranty will not work if the blood pressure machine started to malfunction, such as being dropped.
12. Some Other Smart Features
Most of the advanced models of blood pressure monitors come with other smart features too like track and graph your data, restore the readings for further use, connect via your smartphone or tablet, talking function, and even can track the records of multiple users. More are:-
Blood Pressure Risk Indicator:
The risk indicator in a blood pressure machine notifies you whether the blood pressure reading taken is within the normal range or not. Thus, becomes a handy feature, so you can take precuationary measures ASAP.
Memory Function:
The memory function is perfect for elder people who are prone to dementia. The memory function displays the last readings for you to compare your current blood pressure reading. If the blood pressure monitor cannot be connected to a device, then this can be a useful addition. Memory function is important when you are monitoring your blood pressure due to a health condition. There are models that can store up to one hundred readings. This will come in handy for consultations.
Display:
When it comes to buying a digital blood pressure machine, purchase one that has a good display screen. Do not buy one with a small and dark screen. Always opt for a screen with adjustable brightness and readable fonts.
There are blood pressure monitors that come with three-inch touchscreen displays, which make it much easier to use.
Smart Tips to get Accurate Readings with BP Monitors
BP monitors are good way to check your readings from time to time. But if not used properly, it didn't give you the precise reading. There are some tips to use BP monitors appropriately. To take your BP precisely, all you have to do is:
Adjust the BP handcuff on top of your upper arm and keep it locked. Make sure it bends comfortably directly above your elbow.
If you are using manual device, you need to press the hand pump to bloat the cuff. And with the automatic model, just press the button to inflate the cuff.
Afterwards, the air will automatically flow back out.
Later, get your blood pressure reading from the screen and that's done!!
If you would like to measure again, wait for few minutes and repeat the process again.
Useful Tips to Consider Before Using Blood Pressure Monitors at Home
Proceed with a precise in-home BP reading by following these simple steps that can be helpful to you:
Before you check your readings, make sure you don't drink caffeine, alcohol, or even smoke at least half-an hour earlier to your readings.
Keep calm and relaxed before taking the reading. Go to the bathroom if necessary. Your mind needs to be cool and peaceful, or else the reading may fluctuates.
Make sure the handcuff is secured tightly and there are no stuffs between the cuff and your hands. Not even a single layer of fabric.
Always sit on a flat solid chair while taking the reading, rather than preferring cozy sofa, couch or even bed. To relax your arms, place it on an even and plane surface. Ensure that your feet are also placed on a uniform floor.
Take readings at least 3 times in a gap of a minimum one minute. Calculate the average of all readings. If the calculated reading is too high, don't worry. Stay calm for some time and take the readings again.
Do not talk or speak while taking the Blood Pressure measurement.
Avoid interrupting the reading before you hear a long beep. The beep-beep sound means the BP measurement is finished.
Blood Pressure Chart (Category depending on the BP Range)
| Category on the basis of your Blood Pressure Range | Systolic Pressure (First Number) in mm Hg | Diastolic Pressure (Last Number) in mm Hg |
| --- | --- | --- |
| Hypotension | Less than 90 | Less than 70 |
| Normal | Less than 120 | Less than 80 |
| Prehypertension | 120-129 | Less than 80 |
| Hypertension Stage 1 | 130-139 | 80-89 |
| Hypertension Stage 2 | 140 or higher | 90 or higher |
Blood Pressure Monitors Frequently Asked Questions (FAQs)
1. Who needs blood pressure monitors?

Every household should have blood pressure monitors to track every family member's health in this era of unhealthy lifestyle.

2. Why do I need to monitor my blood pressure when I'm young?

It is a common misconception that young people are immune to hypertension and hypotension. That is false. There are instances when you have these illnesses, but it has not yet manifested. A blood pressure monitor can help you get an early diagnosis.

3. How often should I take my blood pressure?

If you are tracking your blood pressure because of a health condition, consult your doctor about how many times you should take your blood pressure in a day. If you are only doing this to monitor your health, doing it twice a day is fine.

4. The blood pressure monitor I purchased has a multiple user function. What does it do?

A multiple user function or mode in a blood pressure monitor is a feature that allows multiple users to save their readings. There are blood pressure monitors that can save up to 100 readings. Those models mostly have multiple user modes that store individual readings separately for each use, making tracking easier.

5. When should I visit a doctor?

Visit a doctor when your blood pressure reading is consistently not within the normal range, and you exhibit symptoms. When talking about consistency, that's about 3-4 readings. However, if you're already exhibiting symptoms, visit a doctor immediately. Call an ambulance when you feel aggressive symptoms as both hypotension and hypertension can lead to stroke.

6. Why do I need to buy a blood pressure monitor when there's a mobile app for it?

Mobile smart apps often claim that their blood pressure monitor apps are accurate. Steer clear of these kinds of apps. None of these are accurate. All have been medically tested and have been found to be inadequate. They take the readings through pulse wave velocity, which essentially looks at the waveform in the artery of your finger. That gives a false reading.

7. Do blood pressure monitors also monitor heart rate?

For models such as wrist, and digital brachial blood pressure monitors, these do monitor heart rate. Some of the newer models of monitors with memory function also store the heart rate.
Conclusion
This is all about the best blood pressure monitors for home that you can use effortlessly and easily. Now you don't need to visit the doctor's clinic every time as this device does it all from the comfort of home. Get your blood pressure and pulse rate readings on your own with this effective gadget.
All the blood pressure monitors for home mentioned in the blog are from the well-known brands. So, quality and performance is completely assured. Even more, the buyers guide we have detailed is pretty enough to finalize your decision.
Check More Related Reviews and Buying Guide
Buy Blood Pressure Monitor Online
Omron HEM 7120 Fully Automatic Digital Blood ...
10%
Dr. Morepen Blood Pressure Monitor Model BP-0...
1%
Dr Trust Smart Automatic Digital Blood Pressu...
49%
Omron HEM 7124 Fully Automatic Digital Blood ...
19%
AccuSure AS Series Automatic and Advance Feat...
30%
Control D Fully Automatic Oscillometric Digit...
56%
Dr. Morepen Blood Pressure Monitor Model BP-1...
23%
Omron HEM 7140T1 Bluetooth Digital Blood Pres...
22%