Nowadays most of the people are suffering from hypertension which is one of the most common health problems and the major factor of heart strokes. But due to the regular hectic schedules, it is not possible every time to visit the doctor's clinic to get the measurements of your blood pressure numbers. Here comes the very useful gadget Blood Pressure Monitor. So, welcome to the blog which is all about best Blood Pressure Monitors for home use. With them you can easily track your actual blood pressure numbers from the comfort of your home without going anywhere.
Knowing your blood pressure numbers, you can change your diet and lifestyle and also take the proper medication for a healthy life. Blood Pressure Monitors can give you the timely supervision of your blood pressure and heart rate and thus tends to live a healthy and tension-free life.
Modern blood pressure monitors are of the digital type and very convenient to use.Some of the latest models are also featured with the Bluetooth connection that transmits data to your smartphone for easier health trend tracking.
To get an in-depth information on Blood Pressure Monitors, please head to our Buying Guide Section.
Our Best Picks of Blood Pressure Monitors for Home
In this blog post, we have covered the latest and best digital Blood Pressure Monitors for home use from the well-known brands like Omron, Dr. Morepen, Panasonic, etc. These models are accurate, compact, and lightweight and also very easy to use at home. Just have a quick look on all these best blood pressure monitors for home listed in the table.
Explore More On, Health Gadgets
Best Blood Pressure Monitors for home Reviews
Here we have detailed the full review of all these models of blood pressure monitors for home along with their specifications and buyers feedback so that you can choose the best one.
1. Omron HEM-7120 Automatic Blood Pressure Monitor
Omron is one of the reputed brands for selling healthcare products. And this multi-purpose and multi-utility device from Omron aids you in keeping a proper and regular check up on your blood pressure levels.
This device lets you measure your blood pressure level and pulse rate very simply and quickly. It comes with a large display to show your vitals clearly and accurately. The device is easy to use and gives correct and accurate measurement every time.
Key Features
Easy one-touch operation
Body Movement Detection
Irregular heartbeat detection
Hypertension Indicator
Memory for last reading
Simultaneous display of systolic, diastolic and heartbeat
Buyers Feedback
The Good
Nice device in this price range and worth value for money
User Friendly
Accuracy is very good
The best thing is its battery life that lasts for more than a year even if used daily
View on Amazon View on Flipkart
2. Omron HEM-7113 Automatic Blood Pressure Monitor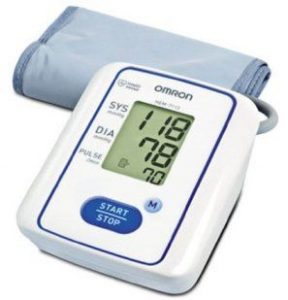 The Omron HEM7113 Automatic Blood Pressure Monitor provides you with the basic upper arm blood pressure measurement. The device is designed to be extremely simple and easy to use even for elder people. Its one-touch operation makes taking readings convenient. This BP monitor can record up to 14 sets of readings. And this lets you track your health referring to the previous readings.
Key Features
Hypertension Indicator
Irregular Heartbeat indicator
Memory: 14 sets readings
Easy one-touch operation
Buyers Feedback
The Good
Nice and useful product
Easy to carry anywhere
The memory button is extremely helpful
Hassle free and easy to use
View on Amazon View on Flipkart
3. Dr. Morepen BP09 Fully Automatic Blood Pressure Monitor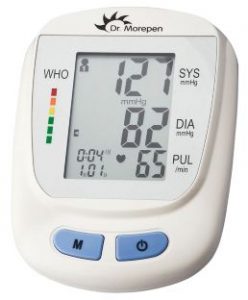 This Blood Pressure Monitor from Dr. Morepen helps you to measure systolic and diastolic blood pressure as well as the pulse rate using the oscillometric method. It comes with an upper-arm cuff which is used to take BP measurements.
Its memory function allows you to store last few readings of your blood pressure to monitor the trends. The very best part of this device is that it automatically switches off when not in use and thus saving the battery power.
Key Features
User Interface for 4 users
WHO Classification Indicator
Averages the last 3 readings
Irregular heartbeat detection
Low battery detection
Buyers Feedback
The Good
Great performance
Shows accurate results
Easy to use
View on Amazon View on Flipkart
4. Dr.Morepen BP-02 Blood Pressure Monitor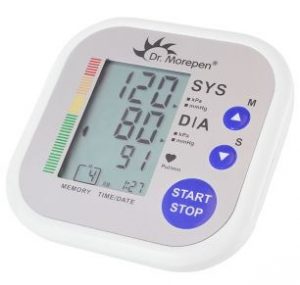 This is another best blood pressure monitors for home use from the brand Dr. Morepen. It provides an easy way to get the measurement of your pulse and blood pressure levels. This device accommodates consumers with even larger sized arms. It also features the irregular heartbeat detection that provides the accurate measurement of pulse rate and blood pressure levels even when an irregular heartbeat occurs.
It comes with a large display and also larger buttons for easy operation and thus making it a reliable, speedy and convenient device to use at home.
Key Features
Irregular heartbeat detection
WHO Blood Pressure Indication
Memory Storage: Averaging of three readings
Buyers Feedback
The Good
Awesome quality product
Convenient and easy to use
Gives accurate results
The Bad
No AC Adapter and DC plug
View on Amazon View on Flipkart
5. HealthSense Heart-Mate BP 120 Classic Fully Automatic Upper Arm Digital BP Monitor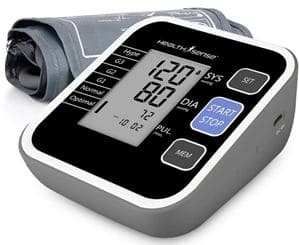 This is one of the unique and stylish blood pressure monitors for home from HealthSense. It comes with a host of unique features. The device has a large LCD screen with latest oscillometric technology that helps to give accurate measurements.
This blood pressure monitor also features irregular heartbeat detection, body movement detection, WHO compliance in voice command, alarm function for BP check Reminder, error and low battery indicator. This is the first Indian digital blood pressure monitors with unique Talking function.
Key Features
Latest and improved oscillometric technology
BP Level voice command
Body Movement Indicator
Talking Function (English Voice)
2 User memory with 120 individual records
Calculates and displays average of 3 consecutive readings
Buyers Feedback
The Good
Nice build quality
Easy to use
Readings are quite accurate
Talking function is awesome
View on Amazon View on Flipkart
6. Citizen CH-432 Blood Pressure Monitor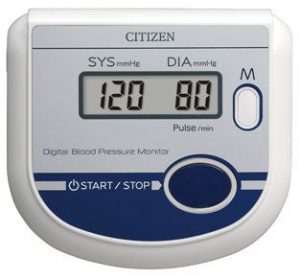 This Automatic Blood Pressure Monitor from Citizen perfectly combines the features like ease of use, comfort, and precision that could keep your blood pressure in a track on a daily basis. Clinically certified, this Blood Pressure Monitor displays genuine and precise measurement readings.
It also incorporates automatic measuring feature that helps in obtaining quick and accurate blood pressure measurements. It is also equipped with an auto shut-off feature that enhances the battery life as it automatically turns off when not in use.
Key Features
One touch fully automatic operation
Average for last 30 readings and 90 memory functions
Low battery consumption
Auto shut-off function
Auto measuring system
Buyers Feedback
The Good
Simple and easy to use
Easy to replace batteries
The sound is very low
The readings are very consistent and accurate
The Bad
No downside of this BP Monitor
View on Amazon View on Flipkart
7. Dr. Trust USA BP A-One Max Digital Blood Pressure Monitor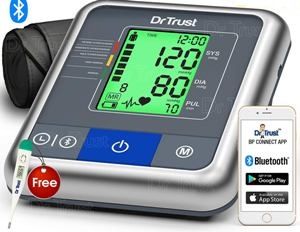 Measuring your blood pressure level more precisely and accurately is now getting very easy with this smart blood pressure monitor from the brand Dr. Trust. It comes with the dual talking feature in both Hindi and English language for those who have weak eyesight. The device lets you measure systolic BP, Diastolic BP, and pulse rate with an ease. Plus, its universal conical cuff for the arms provide you the accurate results every time. The device also provides you the facility to save data of unlimited users in its memory, so no worry about to record the data manually.
This blood pressure monitor works with the Dr. Trust app that lets you connect the device to your iOS and Android phone for easy usage. Moreover, you can also easily share your BP measurements right to your family members or doctor by email with a simple one-touch button.
Key Features
Dual talking (Hindi and English) with micro USB port feature
Powered through Micro USB or 4 AAA batteries
Free friendly Dr. Trust BP connect app for multi-users
Large LCD display
3 color hypertension backlight indicators
Conical cuff for accurate results
Store records for various users
Buyers Feedback
The Good
Nice build quality
Voice announcement is a nice feature
Works with the micro USB port which eliminates to purchase adapter or batteries
Lightweight and handy to use
Accurate and consistent readings
The result is displayed in the red background, and the talking message tells you when your blood pressure is above normal. High or severe alert is also shown in the smartphone. In normal conditions, the result is displayed in green
Good product for the price and specification
View on Amazon View on Flipkart
8. MCP Digital Blood Pressure Monitor BP112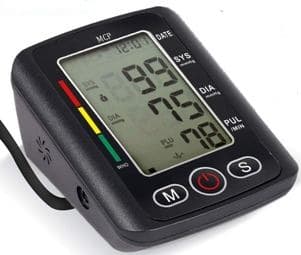 The next comes this advanced digital blood pressure monitor from the brand MCP. The device offers highly accurate hypertension monitoring as well as also aids in detecting irregular heartbeat. It has a large screen for easy readings. Even you don't need to keep the manual records for readings, as this BP monitor can store two user memory that is capable to record 90 readings each. The device responds quickly to your inputs and displays accurate information only. It is also equipped with the latest and improved oscillometric technology. To remind you for the blood pressure checking, the device also comes with the alarm function.
Key Features
Latest and improved oscillometric technology
Body Movement Indicator
Irregular heartbeat indicator
Alarm function for BP checking reminder
Compatible with multiple peripheral USB devices including laptop, desktop, Powerbank, etc
USB Charging Port
Buyers Feedback
The Good
Build quality is extremely great
Superb accuracy
Wide Display ensures easy readings
Works very nicely
View on Amazon View on Flipkart
9. Beurer Wrist Blood Pressure Monitor BC-58 Touchscreen
This wrist blood pressure monitor is yet another smart choice to monitor your blood pressure from the comfort of home. This one measures directly at heart level and therefore offering you the precise and accurate measurements. Its ergonomic design and easy to use touch screen operation makes the device an awesome one. It comes with the two user capacity and sixty memories spaces per user. Plus, its XL LCD screen shows you the real-time measurements with its blue backlit display and therefore making the readability more clear.
Key Features
Wrist Blood Pressure Monitor
Extremely Large and easy to read black display
Fully automatic blood pressure and pulse measurement
2X60 memory spaces
Illuminated Start/Stop button
Risk Indicator with LEDs
Incorrect usage message
Low Battery Indicator
Date/Time Automatic Switch off
Buyers Feedback
The Good
Great in terms of quality and performance
Accurate and precise measurements
Easy to use
Touch Screen operation
Large display makes the readability of the measurements more clear
Convenient to carry it along with you
10. Panasonic EW3109W Portable Upper Arm Blood Pressure Monitor
In terms of accuracy, this blood pressure monitor from Panasonic is the best one. This upper arm blood pressure monitor is clinically tested for measuring accuracy. It provides the convenience of keeping track of your blood pressure levels and also detects the body movements.
This Blood Pressure Monitor also features a warning function to indicate arrhythmia, an irregular pulse, incorrect movements during measurement and high pressure. It also features a large LCD Display that has optimum legibility. It comes with an option to save up to 90 readings at any time for future references.
Key Features
Irregular heartbeat detection
Large LCD display
Comfortable pre-formed cuff
90 memory measurements and storage box
Buyers Feedback
The Good
Easy to handle
Perfect for regular checkup
Gives accurate measurements
Easy to carry it anywhere and anytime
Blood Pressure Monitors Buying Guide
Types of Blood Pressure Monitors
Generally, there are 2 types of Blood Pressure Monitors which are described as here:
Manual or Sphygmomanometer- This standard Blood pressure measurement tool is normally used in hospitals and clinics. It comes with a cuff that is inflated by squeezing a rubber bulb, a dial gauge along with a needle, and a stethoscope to get the blood pressure numbers.
Digital- Digital BP monitors, are battery operated and have a cuff, a valve, and a pressure transducer that transforms the pressure to electrical signals. These monitors show your blood pressure levels on the screen and are available as fully automatic versions with a cuff that rises at the press of a button. Digital Blood Pressure Monitors are available in different types including arm-type, wrist-type, and finger-type. This one is best to use at home and gives the accurate results.
Features to Consider Before Buying a Blood Pressure Monitor for Home
Look upon the following features while searching for the best blood pressure monitor for home use.
Ease of Use
Like most of the health gadgets, blood pressure monitors can range from the simple to fairly complex operation. Go for the one that you can easily operate to take the blood pressure measurements from the comfort of your home.
Blood Pressure Monitor Type
We have already discussed about different types of blood pressure monitors for home. So you can easily choose between automatic/digital or manual machine. Digital Blood Pressure Monitors are the most fair choice as they require only the simple press of a button to record measurements. On the other side manual blood pressure monitors must be pumped by hand using a rubber bulb which is fairly difficult to use.
Wrist versus Upper Arm Blood Pressure Monitors
Even the consideration of these two types in a digital blood pressure monitor is also very much important. Wrist type blood pressure monitors are smaller, lighter, and portable. And also provides you with the ultimate level of comfort. But in order to get the more consistent results, upper arm blood pressure monitors are considered to be the best choice.
Readings
Go for the blood pressure monitor that can record both systolic and diastolic pressure. These numbers are the records that come together when the pressure is checked (for exp. Like 120 over 80). Pus, you may also consider the device that can measures your pulse rate too.
Cuff Size
Appropriate cuff size is very much important for the most precise readings. All upper arm blood pressure monitors require cuff for measuring the blood pressure. Although they are adjustable, you must consider the one that fits your arm perfectly. If the cuff size is too large or too small, you will not get the accurate readings.
Some other smart features
Most of the advanced models of blood pressure monitors come with other smart features too like track and graph your data, restore the readings for further use, connect via your smartphone or tablet, talking function, and even can track the records of multiple users.
Conclusion
This is all about the best blood pressure monitors for home that you can use effortlessly and easily. Now you don't need to visit the doctor's clinic every time as this device does it all from the comfort of home. Get your blood pressure and pulse rate readings on your own with this effective gadget. All the blood pressure monitors for home mentioned in the blog are from the well-known brands. So get your best pick now…