Thermometers are one of the must-have medical equipment in your first aid kit to take accurate body temperature measurements. Whether it is for home use or professional use, a medical thermometer will always assist you in taking out unusual body temperatures. Even the pandemic has forced us to use this tool on a regular basis as fever is one of the common symptoms of COVID-19.
Gone are the days when people were using mercury thermometers that are very difficult to understand the accurate readings. The latest Digital Thermometers are now very popular in the market, providing you accurate and instant body temperature measurements without any hassle. Also, they are very easy to use, making it the best choice for all of us.
Before buying a digital thermometer for home use, it is very beneficial to distinguish every feature carefully. Constant monitoring of body temperature with the best digital thermometer can save you from deadly disease or other medical complications.
Keep reading the article; our Buying Guide will offer more material to help you choose the best digital thermometer.
7 Best Digital Thermometers in India
Digital Thermometers come in varying price ranges and also have varying degrees of features that differentiate them from each other. We have shortlisted here some of the best digital thermometers that you can choose for taking quick and accurate body temperature measurements at home.
Best Digital Thermometers in India Reviews
Now let's have a look at the full review of all our best picked models of digital thermometers to choose the best one meeting your needs.
1. Omron MC-246 Digital Thermometer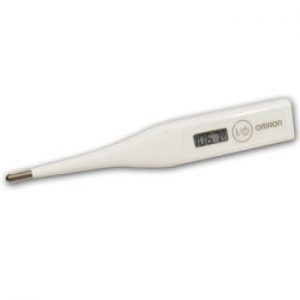 Among various digital thermometers, this model is our best pick because of its tremendous features and precise measurement. The Omron MC-246 digital thermometer is very safe to use and offers accurate results within a few seconds.
The measurement accuracy of this device is 32.0 to 42.0 degrees Celsius and measures in both units Fahrenheit or Celsius. It can be used within underarm, oral or rectal. If you have kids in your house, you can simply place the thermometer in the oral cavity or rectal area. In just a few seconds, you will be free and your baby too. No disturbance or annoyance at all.
Not like regular mercury thermometers, you have to hold the thermometer for minutes to get the result. Place it suitably whichever the body part you prefer; it beeps when the measurement is completed. The measurement timing fluctuates with the different body parts you use. The quick measurement timing for oral is 80 seconds, 60 seconds for rectal, and 120 seconds for underarm.
It also has a memory feature that recalls the last reading, which is useful when you would like to tally with the current reading or past few readings.
This thermometer has an Auto-Off function that usually turns off after 3 minutes when not been used. The water-resistant feature of this thermometer is very functional for easy cleaning. You can wash the tip portion of the thermometer after every use. It makes your digital thermometer hygienic every time.
A replaceable battery is another plus point of this model. You don't need to replace the whole unit when not giving proper measurements. All you need to change the battery and enjoy quick temperature measurement in no time.
Key Features
Accurate measurement – measures actual temperature in deg C and deg F
Fast actual measurement – 80 sec. for oral, 60 sec. for rectal and 120 sec. for underarm temperature measurement
Water resistant for easy cleaning
Memory recalls last reading
Replaceable battery
It comes with a buzzer that beeps when the measurement is completed
Pros
Readings are very accurate
Easy to switch between Fahrenheit and Celsius
Battery replacement is also very easy
The unit comes with a plastic case to store it after use
The unit beeps, once the temperature is ascertained, that is fairly audible
Cons
2. Dr.Morepen MT 222 Digiclassic Digital Thermometer

Dr. Morepen is all time trustworthy brand that manufactures medical items on a large scale. The model MT 222 digital thermometer is found second best in our list because of its reliability and cost-effective ranges. If you want to replace your traditional mercury thermometer or buy a new one, this model is completely reliable.
It is clinically tested and 100% safe. It provides fast results, but accuracy never fluctuates. The best part of this unit is that it can measure in both units, i.e., Celsius or Fahrenheit. Now you don't need to show your skills in mathematics. The display of the unit is big enough, which shows the temperature with large clear numbers.
It is a battery-operated device that requires 1 CR123A battery. This mercury-free thermometer comes with low battery indication and beeper alert too. You can simply use this thermometer by placing it under-arm or under the tongue. Its soft tip portion fits perfectly and causes no harm or any discomfort. To maintain its hygiene, wipe it with damp tissue or cotton, or else use an alcohol solution to sanitize it.
It has an auto switch-off feature when not in use. The feature saves the unnecessary battery usage if you forget to turn off the thermometer after use. The memory function facilitates you with previous readings so that you can maneuver your health condition and get proper treatment accordingly.
This digital thermometer is best for every age group person. You can blindly trust on the manufacturer and purchase for your use without a doubt.
Key Features
Quick Measurement
Auto Switch Off
Measurement in degree Fahrenheit and degree Celsius
Memory function
Low battery indication
Fever alarm
Beep alert
Easy to read
Pros
Shows the temperature accurately
Nice and sleek
Easy to use
Cons
3. Omron MC-720 Forehead Non-Contact Thermometer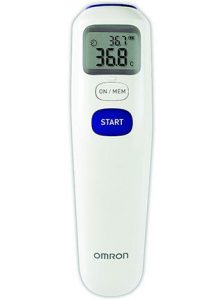 Facing this pandemic, a Non-contact thermometer is best suitable when all fails to take measurement rapidly and safely. Omron MC-720 Forehead Non-Contact thermometer is a single tool that measures temperature in 3 modes. The three measurement modes include: Body temperature using forehead with no contact, Room Temperature, and Surface temperature.
It provides rapid results in just 1 or 2 seconds. Non-contact temperature measurement is solely a unique feature that makes this model a popular choice. It can easily switch between Fahrenheit and Celsius. So, you don't need to be concerned about the calculations. If you want measurement in Fahrenheit or Celsius, set it accordingly.
Talking about the design and ease of holding, the device is quite modern and very easy to hold. In fact, most of the offices, malls, shops, and other public places rely on this device in this pandemic. It has a backlight too, which eases visibility in the night.
The model comes with memory feature also to store the previous few readings. For easy comparison of temperature readings, the last reading is also displayed on the same screen with the existing reading. The thermometer is suitable for all aged persons, including small babies to young ones.
Key Features
3 in 1 measurement- Forehead /Surface/Room Temperature
One Second Reading
Easily switch between Fahrenheit and Celsius
Backlight for visibility in the dark
25 memories
Pros
Easy to hold design
Backlight provides visibility in the dark
Memory feature is the great option to recall previous few readings
Last reading displayed on the same screen as the current reading for easy comparison
Cons
Have some issues with lower temperature
4. Dr. Trust (USA) Waterproof Flexible Tip Digital Thermometer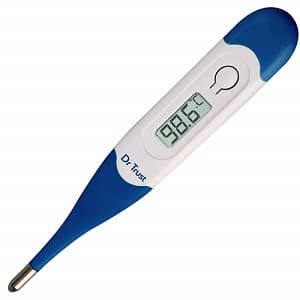 When looking for a digital thermometer that suits your needs, you can rely on the most trusted brand Dr. Trust (USA). The manufacturer has introduced this thermometer that proves beneficial for home use and value for money as well. It is a digital thermometer that has a flexible tip and comes in a sleek design with a white color base unit. Talking about the feature of this model, it provides accuracy in measurement all the time.
And the measurement takes about 8-10 seconds only. All you need to press the button for temperature measurement, and that's it. After measurement completion, a buzzer will beep once done.
The thermometer has a bendable tip, which is quite sleek and smooth, and this is an added advantage. The tip fits naturally under the oral cavity or underarm. Before taking the measurement, you have to put the tip portion to your preferred place of your body and get the result in a few seconds. It is very safe to use and no risky at all… like usual mercury thermometers. The waterproof feature makes this thermometer more exceptional. You can clean it after every use without any hassle.
It is a battery-operated device, and there is a battery cap at the other end. Once it gets discharged, you can change the battery effortlessly. It has a clear display in the center of the device, which makes readability easy and understandable. With a simple touch of a button, you can also convert the unit of the given result. It can be changed from Fahrenheit to Celsius or Celsius to Fahrenheit. You will definitely get years of service with this reliable unit.
Key Features
Flexible tip
Light-weighted and sleek design
Battery operated unit
Measurement in Celsius or Fahrenheit
Measurement timing 10-12 seconds
Easy readability
Waterproof
Pros
The lightweight and sleek design makes it easy to hold and measure fever
With a single touch of a button, you can convert the unit from F to C or vice versa
It's a waterproof unit, so cleaning is quite easy
Result timing in few seconds, need not to wait longer
Flexible soft tip fits naturally to your oral cavity or underarm
Cons
5. MeeMee Accurate Flexible Digital Thermometer

Mee Mee is a flexible digital thermometer that authenticates to international standards. It's a sleek and stylish unit that anyone wants to have. It is made of premium quality material that ensures safety and hygiene. Although every aged people can use it, it is quite safe and sound for small babies too.
Like usual mercury thermometers, it is not typical to measure the body temperature with this device because the process is rather simple and hassle-free. For temperature measurement, you just need to hold the strip against the skin, and that's done. You will get the reading in a few seconds.
The best is that you may get the result with the color-changing feature that is quite unique and very logical. The timing of temperature measurement is pretty fast and obvious. It only holds for 3-5 seconds to change color and declare the body temperature. It facilitates to read the body temperature of your kids accurately and quickly. If you need to measure your body temperature on a regular basis, you may trust this product without a doubt. The thermometer is quite reasonable, too, and it requires no batteries. It can be used multiple times.
Key Features
Flexible thermometer with quick reading of the temperature
Easy insertion into mouth or rectum with flexible tip
Premium quality material used that is safe and non-toxic
It conforms to International standards of hygiene and safety
Pros
Reasonably priced unit and the quality of the product is up to mark
No batteries required and can be used multiple times
There are thin strips with temperature indicators in both units, i.e., Fahrenheit and Celsius
Quick reading time with color changing feature
Cons
The whole unit is not waterproof
6. Dr. Trust (USA) Forehead Digital Infrared Thermometer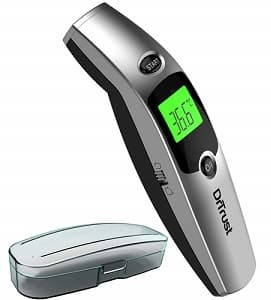 The Dr. Trust Infrared Thermometer is a trustworthy medical device that ensures wellness and good health. It is designed with revolutionary technology to take the temperature of different surfaces with no impact from nearby. Basically, it is a digital forehead thermometer that measures the temperature from a distance of 2 inches. It can evaluate the warmth of room, human body as well as other surfaces.
It is very easy to operate and best for both kids and adults. As this is a non-contact infrared thermometer, so it is the simplest way to measure temperature without any direct contact with the body. You can get quick results in 3 seconds or less. The thermometer stores previous 30 readings in its memory. You can tally the current reading with the past one anytime you want. And the best thing is its Unit alteration. It can be switched between Fahrenheit and Celsius, as stated by your preference.
Moreover, the thermometer has two color-coded backlight. The large LCD screen with backlight shows color-coded results. If it shows green light, then you should be relaxed and cheerful because it indicates normal body temperature. On the other hand, if it shows a red light, then it indicates a high temperature that is obviously serious. Last but not least, it turns off automatically when not in use.
Key Features
3-in-1 non-touch infrared technology
Accuracy in reading than rectal thermometers
Instant results in 3 sec or less
Large LCD screen & Buzzer with beep sound
Two color-coded backlight
Dual-mode: measures in Fahrenheit & Celsius
Switch between person and object mode
30 results memory with fever alarm
Battery operated device: 2 AAA batteries required
Pros
The result timing is relatively very fast than other models. It just takes 3 seconds to display the result
Battery operated unit so that you can replace it anytime if needed. 2AAA batteries required
Object mode is very functional for measuring milk bottles of small kids
It has 30 results memory feature so that you can compare with previous readings if required
It can be used to evaluate the room or other surface temperature accurately with human body temperature as well
Based on Non-touch infrared technology
Cons
Relatively expensive than other thermometers
7. AccuSure MT402S Digital Thermometer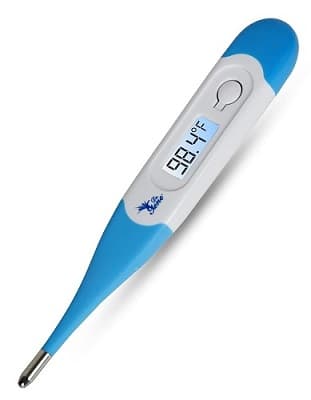 AccuSure MT402S Digital Thermometer is a clinically tested unit that is pretty safe to use and reliable as well. It provides quick measurement with accuracy in reading.
The temperature reading time is not protracted but requires 20 seconds or less. The product is really good and accurate that anyone can trust in for their personal use. It displays the temperature digitally on a mini screen sets on the top of the device. Counting the features of the unit, it has been unfailing and consistent with the quick measurement.
You may get a Fever alert feature with this unit. The digital thermometer provides a low battery indication when it gets exhausted with time. The auto shut off feature doubles its significance.
It comes with a one-year warranty that is pretty considerable as a plus point. Moreover, with lots of feature in a single unit is quite worthy to have in reasonable priced too.
Key Features
Quick measurement
Accuracy in reading and reliable
Digital display of temperature
Fever alert with low battery indication
Auto shut off
One year warranty
Pros
The reading displays digitally on a small screen, which is easily understandable
Rapid measurement saves extra time and effort
Accuracy never fluctuates. Shows exact result all the time
Result in less than 20 seconds
Reasonably priced that anyone can buy
Completely mercury-free unit which is very safe to use
Auto shut off feature when not in use for battery saving
Cons
Digital Thermometers Buying Guide
What is a Digital Thermometer and how it works?
Digital Thermometers are the compact temperature measurement device that comes with a digital display and gives out a beep once the temperature has been recorded. Some of the models have additional features like fever alarm with a special sound, low battery indicator, etc. Some of the expensive models even give fever alarms according to age ranges.
Now the question comes How a Digital Thermometer works? A digital thermometer uses a component known as a Thermistor to take the temperature measurements. This component is basically an electrical resistor metal whose resistance to electricity increases with the increase in temperature. Depending on how much the resistance increases, the temperature is measured and then displayed on a small digital display on the thermometer.
Digital Thermometer VS Mercury Thermometers
Traditional mercury thermometers were quite hassled to use as it was quite tough to spot the mercury level in the thermometer to get readings. The temperature measurement process was also time taking and requires a lot of attention to identifying the point.
On the other hand, a Digital thermometer is the best way to measure body temperature without giving eye strain. It records temperature electronically and gives you accurate results. Hence, it is very beneficial to have digital thermometers rather than using the same mercury thermometers.
Talking about the coronavirus pandemic situation, it is not possible to measure temperatures using a mercury thermometer on a large scale. And for this, a digital Non-Contact Infrared Thermometer makes this task very easy and safe.
Types of Digital Thermometer
We are not living in an era where only a mercury thermometer exists to detect body temperature. We have many more alternatives to choose from. Let's have a look at thermometer variants.
1. Digital Stick Thermometers
This is the most common type of thermometer usually found in every home. These types of thermometer can be used orally, rectally and under the arm as well and give the accurate measurements every time. These are relatively very easy to use and also come in budget-friendly price ranges.
2. Digital Forehead Thermometer
It is the latest model and is also known as Infrared Thermometer. During this pandemic, it is the best way to check body temperature with the 'no contact' process. These thermometers test out the fever by sensing the infrared energy emitted by the body. You just need to slide the thermometer across the forehead, and it will give you accurate measurements within seconds.
Check here for the reviews of Best Non Contact Infrared Thermometer in India
3. Digital Ear Thermometer
It is the best thermometer for home use, especially for kids. Parents can simply check out their child's body temperature without even disturbing them. The thermometer can easily get fitted into the ear with no harm to the gentle ear. And you will get the measurements in a few seconds.
4. Pacifier Thermometer
As compared to other thermometers, Pacifier Thermometer is a cool choice for kids. These are like a baby pacifier. It will give you accurate results like others do, but it has some drawbacks. Their accuracy fluctuates with the kid's reactions. As small babies move a lot, and they don't sit appropriately at a place for a longer time, it will affect the result.
Note: Whichever the model you choose to measure your body temperature, you need to follow the basic temperature reading method. Each and every model has a definite method to take the reading from different parts of the body.
Features to Consider while Purchasing a Digital Thermometer
A digital thermometer records the temperature electronically and gives you accurate results. No doubt, it's a better option for you to measure Fever. But, before buying one, don't neglect these features:
1. Accuracy and Precision of Result
Accuracy in measurement is the foremost thing while buying digital thermometers. For your information, these thermometers are most accurate, which is used orally or through the rectum. Still, you need to be very careful for this point. You must go for the one that comes with high level of accuracy and reliablity.
2. Quick Measurement
Don't overlook the reading time of a thermometer. It is also very vital because fever becomes very serious sometimes. The quickly you measure the temperature, the earliest you can get the treatment. Hence, don't rely on mercury thermometer so far, because it takes too long to measure the temperature. Digital thermometers are far better to choose due to its fast reading time, user-friendliness, and accuracy.
3. Temperature Warning Color Changes
Most of the digital thermometers have a color-changing feature, and are bit expensive over the normal ones. This feature changes the color in the display if the temperature is over the certain number to indicate the higher temperature. It basically changes the color to red if the measured temperature is too high. You have to count this feature too before purchasing a digital thermometer.
4. Alert Signal
Most of the digital thermometers has an alert signal feature that jogs your memory to remove the thermometer when the fixed time has gone by. It will help you get the precise body temperature and you can check the reading from the display after beep sound.
5. Unit (Fahrenheit or Celsius)
Unit calculations are relatively uninteresting maybe for someone who doesn't like math. To make your task easier, some digital thermometers have an easy conversion feature of both the units i.e. Fahrenheit or Celsius. So, you can choose your preferred unit you want the measurement results. Hence, don't make your job tricky….consider this feature too before purchasing a digital thermometer.
6. Backlit Display
Some of the models also come with backlit display screen letting you check the readings even in the dark.
7. Built-in-memories
This feature lets you check the last several temperature readings if you want to keep track how the progression is going. You can track the last 10-15 measurement history. This will facilitate if you are taking any medication.
8. Long Battery Life
The digital thermometers come using button cell batteries, standard AA batteries, and AAA batteries based on their type. Whatever type you choose, all of them comes with good battery life and also lasts for a long time.
Digital Thermometers Frequently Asked Questions (FAQs)
1. Like conventional thermometers, does mercury used in digital thermometers?

No, mercury is not used in digital thermometers.

2. For accurate readings, which place of the body gives the best result?

Rectal measurement is the most accurate and safest method of temperature measurement. A curved, short, and smoothed tip thermometer is inserted anally to take the temperature. It is best suitable for young children, newborns, and toddlers.

3. Does the digital thermometer need to be store at a cool place?

Like mercury thermometers, it is not imperative to store digital thermometers in the refrigerator. Digital thermometers with advanced features do not require refrigeration. In fact, it is specially designed to be stored at room temperature.

4. How to keep digital thermometer safe and protected?

Almost every thermometer comes with a protective cover. To make it secured, it is recommended that you put it in the case or cover always. Avoid direct sunlight or extreme temperatures, as it may distress its performance.

5. How to sanitize a digital thermometer?

To measure body temperature, a thermometer is placed in the oral cavity, or underarm. Hence, it is required to clean them thoroughly after every single use.
To make it clean, all you need to wipe the thermometer end with a soapy cotton ball or with a damp cloth or tissue.

6. Can you wash a digital thermometer?

Yes, you can!! But make sure you wash only the tip of the thermometer. You may use a soap solution to wash it. Or else, you can wipe the thermometer end with a clean cloth or alcohol.

7. Which one is better to have- Digital Thermometer or Mercury Thermometer?

It is not easy to read mercury levels in a mercury thermometer. And so, it is now been replaced by the Digital thermometer. Just because giving accurate results and records temperature electronically, it has become most trusted and popular.
Conclusion
Health and safety of yours and your loved ones are all your primary concern. To measure the accurate body temperature, digital thermometers have come a long way over the last few years, with some improved features than the older mercury models. And these new features make them more reliable and accurate.
Before buying a digital thermometer, make sure it has sufficient memory storage, fever alerts, big and clear display options, different view mode (Fahrenheit or Celsius), etc. If you want to have a double benefit from your digital thermometer, you can also consider its body or surface mode. With this feature, you may able to measure the temperature of any sizzling solid surface too.
After all, it's completely your choice because it's you who have to spend money for this gadget. Cost-effective digital thermometers are also there in the market if you have a tight budget. Otherwise, you can spend on infrared digital thermometers with more features.
Check More Health Care Devices Reviews
Buy Best Digital Thermometers Online
Dr Trust (USA) Waterproof Flexible Tip Digita...
13%
Omron MC 246 Digital Thermometer With Quick M...
17%
DR VAKU® Infrared Digital Thermometer For Fe...
70%
Dr Trust Waterproof Flexible Tip Digital Ther...
45%
Vandelay Infrared Thermometer CQR-T800 - Made...
52%
Carent HTD8813C Digital Non Contact Infrared ...
90%
Omron Digital Thermometer - MC – 246 Pack
11%
AccuSure MT-1027 Mercury-Free Digital Thermom...
18%