When it comes to taking the body temperature of yours or your loved ones during fever, you need something that is going to be accurate and comfortable even for your child to handle. Here comes the very useful device Thermometer. And nowadays digital thermometers are very popular for measuring the body temperature.
The older mercury models were difficult to read the accurate measurements and also very inconvenient to use. But the new Digital Thermometers have made it possible to check the accurate readings conveniently. They offer the most consistent readings in the least time along with the least amount of discomfort. Even the latest Non contact infrared thermometers are very popular for its non contact temperature measurements. These are also very ideal for kids and infants.
What is a Digital Thermometer and how it works?
Digital Thermometers are the device that comes with a digital display and gives out a beep once the temperature has been recorded. Some of the models have additional features like fever alarm with a special sound, low battery indicator, etc. Some of the expensive models even give fever alarms according to age ranges.
Now the question comes How a Digital Thermometer works? A digital thermometer uses a component known as a Thermistor to take the temperature measurements. This component is basically an electrical resistor metal whose resistance to electricity increases with the increase in temperature. Depending on how much the resistance increases, the temperature is measured and then displayed on a small digital display on the thermometer.
Our Best Picks of Digital Thermometers
Digital Thermometers come in varying price ranges and also have varying degrees of features that differentiate them from each other. In this blog, we have covered the list of best digital thermometers along with their full specifications. Here is the quick list of all these 7 best digital thermometers chosen by us.
For the detailed review of each model, please check our Review Section.
Also, Check
Types of Digital Thermometers
Basically, there are three types of digital thermometers. Each type has its own benefits and downsides. Let's have a quick look at all the three types:
Digital Stick Thermometers- This is the most common type of thermometer usually found in every home. These types of thermometer can be used orally, rectally and under the arm as well and give the accurate measurements every time. These are relatively very easy to use and also come in budget-friendly price ranges.
Digital Forehead Thermometer- These are the newest models and very comfortable to use to monitor your child's temperature. You can easily use it while your child is sleeping. Just gently slide the thermometer across their forehead, and it will give the accurate measurements within seconds.
Digital Ear Thermometer- This is also one of the comfortable models for parents to check out their child's body temperature. You can easily use it on your child without even disturbing them. It can easily get fitted in the ear of your child and gives the measurements in few seconds.
Features to consider while purchasing a Digital Thermometer
Here are some of the common features that most of the digital thermometers have.
Alert Signal- A beeping sound will come off it when the allotted time has gone by, allowing the user to check the reading from the display of the thermometer.
Backlit Display- Some of the models also come with backlit display screen letting you check the readings even in the dark.
Built-in-memories- This feature lets you check the last several temperature readings if you want to keep track how the progression is going.
Temperature Warning Color Changes- Most of the digital temperatures with high price ranges has equipped with this feature. This feature changes the color in the display if the temperature is over the certain number to indicate the higher temperature. The backlit part of the display screen will turn red for higher temperatures.
Long Battery Life- The digital thermometers come using button cell batteries, standard AA batteries, and AAA batteries based on their type. Whatever type you choose, all of them comes with good battery life and also lasts for a long time.
Best Digital Thermometers Reviews
Now let's have a look at the full review of all our best picked models of digital thermometers to choose the best one meeting your needs.
1. Omron MC-246 Digital Thermometer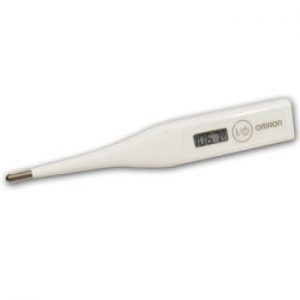 The Omron MC-246 digital thermometer offers you the safe and accurate measurement of the body temperature within few seconds. This one is waterproof and can be used in the child's mouth, arm, or posterior.
Key Features
Accurate measurement – measures actual temperature in deg C and deg F
Fast actual measurement – 80 sec. for oral, 60 sec. for rectal and 120 sec. for underarm temperature measurement
Water resistant for easy cleaning
Memory recalls last reading
Replaceable battery
It comes with a buzzer that beeps when the measurement is completed
Buyers Feedback
The Good
Readings are very accurate
Easy to switch between Fahrenheit and Celsius
Battery replacement is also very easy
The unit comes with a plastic case to store it after use
The unit beeps, once the temperature is ascertained, that is fairly audible
View on Amazon View on Flipkart
2. Dr.Morepen MT 111 Digiclassic Digital Thermometer
This digital thermometer from Dr. Morepen is also the safe and accurate way to measure the body temperature. This mercury-free thermometer comes with low battery indication and beep alert.
Key Features
Quick Measurement
Auto Switch Off
Measurement in degree Fahrenheit and degree Celsius
Memory function
Low battery indication
Fever alarm
Beep alert
Easy to read
Buyers Feedback
The Good
Shows the temperature accurately
Nice and sleek
Easy to use
View on Amazon View on Flipkart
3. Dr.Morepen Digiclassic MT101 Hardtip Thermometer
Get the more accurate measurements of body temperature with this Digiclassic hardtip thermometer from Dr. Morepen. It comes with an LCD that is clear and easy to read and also shows accurate body temperature. This thermometer also has the feature to store the value of the last measurement and thus helping you to monitor the trend of the fever.
Key Features
Dual scale measurement of Celsius and Fahrenheit
Fast Response
Alarm Signal
High Accuracy
Auto Switch Off
Break Resistance
Mercury-free
Hard Tip
Buyers Feedback
The Good
High precision and easy to read
Unbreakable
Measurements are accurate
Easy to use and very handy
View on Amazon View on Flipkart
4. Omron TH-839S Digital Ear Thermometer
The Omron TH839S digital ear thermometer is one of the best devices to get near-perfect body temperatures without causing any discomfort to your baby. Its one-second quick measurement technique displays the body temperature within seconds.
This ear thermometer also has an ergonomic design that helps in easy handling. Its advanced infrared and ambient temperature compensation technology aids in taking the accurate temperature readings very quickly and easily.
Key Features
1-second quick measurement
9 sets memory
Reading display
Fever alarm with beeper
Selectable degree C and degree F mode
Ergonomic design for easy handling
Buyers Feedback
The Good
Pretty handy and convenient to use
Displays the reading within seconds
Best for infant kids and adults
The Bad
Not good for high-temperature readings
View on Amazon View on Flipkart
5. Agaro DT-555 Digital Thermometer
This digital thermometer from Agaro helps you in taking out the correct temperature measurement of your family members and will help to treat fever on time. It comes with an LCD so that you can read the temperature easily. And if you don't know how long it will take to read the temperature, it will automatically make a beep sound to indicate that the measurement is complete.
Key Features
Measurement in degree Fahrenheit and degree Celsius
Low Battery Indicator
Fever Alarm
Reading display
Easy to use
Buyers Feedback
The Good
Clear display
Gives accurate readings
Easy to use
Gives a beep sound after recording the temperature
6. Omron MC-720 Forehead Non-Contact Thermometer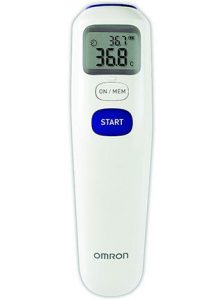 Get the fast forehead temperature measurement very easily with this non-contact forehead thermometer from Omron. It comes with three measurement modes including forehead (body) temperature, surface temperature, and room temperature. Also, it is suitable for all ages including infants, and young children.
Key Features
3 in 1 measurement- Forehead /Surface/Room Temperature
One Second Reading
Easily switch between Fahrenheit and Celsius
Backlight for visibility in the dark
25 memories
Buyers Feedback
The Good
Easy to hold design
Backlight provides visibility in the dark
Memory feature is the great option to recall previous few readings
Last reading displayed on the same screen as the current reading for easy comparison
The Bad
Have some issues with lower temperature
View on Amazon View on Flipkart
7. Rossmax TG100 Fever Alarm Thermometer
Get the more accurate reading with this Rossamx fever alarm thermometer. This superior quality digital thermometer comes with an easy to read display and takes just only 60 seconds to measure the body temperature accurately. This one fever alarm thermometer is environment-friendly and also safer for your family.
Key Features
Fever alarm
Self-diagnosis when device is abnormal
Low battery indicator
Auto shut-off and 60 seconds measurement
Buyers Feedback
The Good
Easy to take temperature measurements
Works well
Very lightweight and easy to use
Long battery life
The Bad
Don't support Fahrenheit to Celsius switching
View on Amazon View on Flipkart
Conclusion
Health and safety of yours and your loved ones are all your primary concern. To measure the accurate body temperature, digital thermometers have come a long way over the last few years, with some improved features than the older mercury models. And these new features make them more reliable and accurate. I am sure the above listed digital thermometers will help you in picking out the favorable one.
Related Items
Dr Trust (Usa) Waterproof Flexible Tip Digita...
8%
Smile Mom Digital Infrared Forehead Thermomet...
76%
Omron MC 246 Digital Thermometer With Quick M...
R-tek (DEVICE) Digital Thermometer with LCD f...
61%
K-Life KLT-100 Digital Thermometer with stora...
12%
atongm Infrared Thermometer Non-Contact Digit...
57%