Elliptical machines are one of the great pieces of cardio workout equipment whether to exercise at your home gym or at commercial fitness centers. With different types are available, Magnetic Elliptical Trainers are now becoming the most preferred choice for every health enthusiast. However, the magnetic cross trainers are quite expensive but are supposed to be more beneficial over the belt resistance type or air resistance type elliptical machines.
So, we are here with our reviews of best magnetic elliptical trainers, so that you can choose the right one.
To get the more clear idea on Magnetic Elliptical Trainers, check our Buying Guide Section.
Best Magnetic Elliptical Trainers in India
Best Magnetic Elliptical Trainers Reviews
1. Cosco Magnetic Elliptical Cross Trainer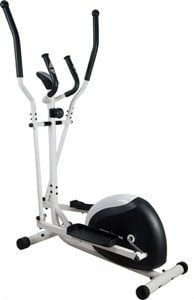 With an affordable price range, this is one of the best magnetic elliptical trainers for an effective cardio workout at home. Not only comfortable and easy to use but also packed with a lot of awesome features that anyone can use it very comfortably. It comes with a double direction 8 Kg flywheel as well as 8 level of tension control. The handlebars are equipped with hand pulse feature to measure your pulse rate while doing exercise on it. The belt-driven non-skid pedals are there that can easily accommodate your feet size for the comfortable and safe exercising experience.
This magnetic cross trainer also comes with a big LCD display that shows your speed, distance, time, calories burned, and pulse rate. And this way you can track your stats and then increase or decrease your aerobic capacity accordingly.
Key Features
Magnetic Elliptical Trainer
8 Kg flywheel
8 level of tension control
Max User Weight 100 Kg
Big LCD display
Belt driven non-skid pedals
Handheld pulse sensing technology
Pros
Material quality is excellent
Strong and sturdy construction
It works well for people up to 5 feet
Comfortable foot pedals and longer stride length
Cons
Not ideal for taller people having the height above 5 feet
2. Cockatoo CE03ADVANCE Smart Series Elliptical Cross Trainer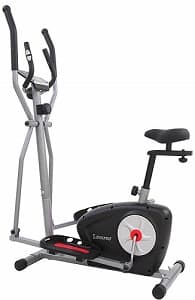 If you are looking out for an elliptical trainer that can easily accommodate in a limited space and even without compromising the quality and performance, then this one is an ideal choice. The Cockatoo CE03ADVANCE Elliptical Trainer comes with a lot of smart features for a great workout from the comfort of your home. Featuring a precision balanced flywheel and V-belt drive, this cross trainer offers the most smooth and quiet operation. With its 8 level of magnetic resistance control, you can easily change your workout level accordingly to meet all your fitness goals.
The smart LCD digital monitor of 6-inch is also equipped with this cross trainer that lets you track your fitness stats like distance, time, scan, calories burned, and speed, and target zone heart rate. For those who are highly concerned about fat burning and ultimate cardiovascular endurance, this one has a built-in hand pulse sensors to monitor and maintain a steady target heart rate.
For comfortable workout experience, this magnetic elliptical trainer comes with a big non-slip pedal that increases stability and comfort. Even the stride length of 15.75-inches provides you a non-impact and smooth full body workout.
Key Features
Smooth and quiet operation
21 programs including heart rate control, hill, interval, or fat burning
8 levels of magnetic resistance
4 Kg flywheel
Maximum User Weight 120 Kg
Stride Length 15.75 inches
Pulse pads on the stationary handlebars for heart rate monitoring
Large window LCD display
Big non-slip pedal
Pros
Awesome build quality
Great performance
Smooth and quiet operation
Easy to read large LCD display
Stable and comfortable handlebars
Comfortable big non-slip pedal
Cons
3. Viva Fitness KH-80201 Magnetic Elliptical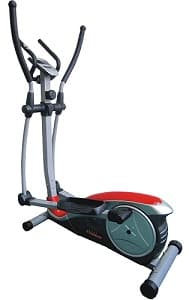 This multifunctional exercising machine from Viva Fitness is another best choice for a magnetic elliptical trainer at best price. This magnetic orbitrek comes with no chain and offers four types of exercising at the same time including air walking, stepping, cycling, and swimming. The machine is equipped with a digital meter to show your speed, distance, time, calories, and pulse rate. It also allows the easy adjustment of resistance through the tension control knob and is features with 8 levels of tension control for a smooth whole body workout.
This model is a little bit heavy and great for commercial uses like gyms, and fitness centers. But also if you have enough space, you can keep this great piece for your home gym also. The other smart features include anti-slip foot pads, both forward and backward pedaling support, and low-high resistance settings and a lot more.
Key Features
6 Kg flywheel
Magnetic orbitrek without chain
Maximum User Weight 100 Kg
Digital Meter to show speed, distance, time, calories and pulse rate
8 level of tension control
Anti-slip foot pedals
Pros
Great for both commercial use and home use
Performance is very nice
Assembly is very easy
Easy to use for great cardiovascular workout
Build quality is extremely good
Cons
4. Stunner Fitness SCX-595 Elliptical Cross Trainer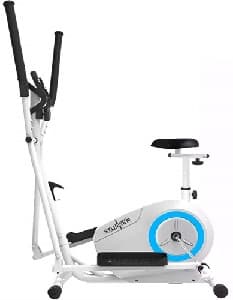 For an incredible cardio workout results from the comfort of your home, this magnetic cross trainer from Stunner is one of the best choice. It comes with 5 kg flywheel for the most smooth and quiet operation. For a number of lower and upper body workouts, this elliptical machine is absolutely a great buy. It comes with a smooth and silent belt transmission system and micro-adjustable tension control knob. Also, it is driven by the fan wheel chain mechanism along with a two-way one-piece crank system.
This magnetic cross trainer is also equipped with a large LCD display showing your vital readings including speed, distance, time, and calories burnt. The adjustable seat option provides you with a soft and comfortable feel. Even the foot pedals come with the anti-slip feature. In terms of safety, this machine comes with convenient knobs to stop the machine in case of emergency. So, bring this machine to your home gym and ensure a great aerobic fitness and efficient fat burning for a perfect workout.
Key Features
5 Kg Stainless Steel Flywheel
Micro-tension Control Adjustable Mechanical Resistance
Clear LCD display to show scan, speed, time, distance, calories, and pulse
Max User Weight 90kg
Adjustable seat height
Comfortable Anti-Slip Pedals
1 Piece Crank System with Front Wheel Chain Drivetrain
Forward and Reverse motion with the Stride length of 12inch
Wheels for easy transportation
Pros
Great in terms of quality and performance
Strong and sturdy construction
Easy to assemble and use
Cons
5. Propel HX111 Magnetic Elliptical Cross Trainer
This magnetic elliptical trainer from the brand Propel is an excellent buy to accelerate weight loss and burn more calories. With a lot of decent features, this magnetic cross trainer offers you an effective full body workout. The machine features a large LED with Matrix Display that lets you track your progress and shows your fitness stats like speed, distance, time, calories, burnt, and pulse. Even there comes the built-in workout program that lets you meet your fitness goals.
This exercise machine comes with 8 levels of resistance that you can adjust accordingly for the different type of workouts at different levels. The stride length is 18 inch that is pretty good enough for the most comfortable and smooth workout experience. It comes with the stainless steel handlebars featuring foam grip and heart rate sensor to calculate your heart rate while exercising. The pedal features anti-skid hard fiber material for comfortable movement of legs.
Key Features
5.5 Kg flywheel 2 Ways
3 Piece crank for a smooth workout
8 levels of resistance
Stride Length 18 inches
Maximum User weight 110 Kg
Rear drive motor
Heart rate sensor on handlebars
LED to show speed, time, distance, calorie count, and heart rate
Anti-slip foot pedals
Pros
Sturdy and strong built
Quality of the product is very nice
Easy assembly
Best for whole body workout
Wheels for easy transportation
Cons
Magnetic Elliptical Trainers Buying Guide
What are Magnetic Elliptical Trainers?
Magnetic Elliptical trainers or cross trainers are the most qualitative fitness equipment that comes with two types of magnetic resistance. The Standard Magnetic Resistance and The Electromagnetic Resistance.
Magnetic Elliptical Trainers that uses standard magnetic resistance comes with a very powerful magnet that creates resistance while moving away from or towards a flywheel. The amount of current generated increases as the magnet gets closer to the flywheel and this creates resistance.
On the other hand, the magnetic elliptical trainers that use an electromagnet are positioned near a flywheel to provide resistance. Electromagnetic brake systems allow the users to control the resistance by simply pressing buttons on the console or handlebars. It means with just the simple touch of a button; the machine can direct more current to the magnet for more resistance. And also reduces the current for less resistance. This mechanism is also known as eddy current resistance or eddy current braking. Magnetic Elliptical Trainers are the most common and even the smoothest type of brake and resistance system.
How Magnetic Elliptical Trainers work?
Magnetic Elliptical Trainers or cross trainers are the stationary piece of exercising machine that comes with two long handles and foot pedals. You can experience the same movement pattern when walking, running, and climbing stairs while doing exercise on it. And thus, this great piece offers a full body workout at the same time.
Magnetic Elliptical Trainers, also known as Silent Magnetic resistance because of their quiet and noiseless working operation. The working mechanism of magnetic elliptical machines involves a magnetic field that creates magnetic currents and produces friction by pushing it against the flywheel. You can increase the level of resistance by exerting more energy to the foot pedals and this way the magnetic field is getting stronger.
Pros and Cons of Magnetic Elliptical Trainers
Pros
Magnetic cross trainers require less maintenance as there are few to no moving parts
These machines provide quiet operation with less annoyances
You can change the resistances more quickly
Magnetic Elliptical Trainers provide more precise control on resistance
Provides greater safety and comfort
Low electricity is required to operate these machines
Offers a variety of workouts including reverse action
It increases the muscle tone and lets you achieve optimal calorie burn
Cons
The only downside with these elliptical trainers is that these are expensive units
Factors to consider before buying a Magnetic Elliptical Cross Trainer
1. Space
Thinking about the machine for a better cardio workout? Yes, magnetic elliptical trainers are the best choice. But think what if you haven't enough space for its storage. So before buying an elliptical for your home, it is very much important to consider the actual space in your room so that you can use it comfortably. Even check for the ceiling too, as the elliptical trainers add a few feet to your height. And so the high-ceiled rooms are ideal to keep the elliptical.
2. Quality
Quality is yet another important factor of consideration. Go for the branded ones always. The sturdy and strong magnetic elliptical cross trainers are the best choice to use the machine for long run.
3. Stride Length
For average height people, it is better to go for the machine with 18-inch stride length. Although, if you are over 6 ft, you must opt for the 20-21 inches stride length machine. The elliptical trainers for commercial use come with 21 inches stride length that can easily accommodate all height people.
4. Foot Pedals
Choose the machine with non-slippery foot pedals with raised edges and can easily accommodate your foot size for a comfortable workout.
5. Maximum User Weight
Go for the magnetic cross trainer that can bear a maximum weight load.
6. Size and weight of the flywheel
For a smoother and steadier workout experience, it is better to opt for the machine with large and heavy flywheel.
7. Some Extra Features
The advanced models of magnetic elliptical cross trainer come with a built-in heart rate monitor. Even some of the machines also have integrated programs based on your heart rate that lets you exercise at the right level. Some also have Wi-Fi feature, fitness tracker apps and various motivational software that makes your workout fun.
Conclusion
Well, this is all about the best magnetic elliptical trainers in India that you can buy online for an effective cardio workout. These pieces are surely a great buy whether it is fitness centers, commercial gyms, or even for your home use also. So, why don't you invest in one of the best pieces that we have mentioned in the blog? Pick your favorite one right now and meet all your fitness needs.
Read Related Reviews
Buy Magnetic Elliptical Cross Trainer Online
Elliptical Machine Cross Trainer for Home Use...
32%
BulbHead BluTiger Seated Elliptical Machine 8...
Dolphy Elliptical Cross Trainer Machine for H...
55%
PowerMax Fitness EH-760 Elliptical Cross Trai...
57%
REACH CF-200 EM Electro Magnetic Resistance E...
3%
Reach Evolve Elliptical Cross Trainer for Hom...
22%
REACH C-500 Elliptical Cross Trainer Machine ...
27%
Durafit - Sturdy, Stable and Strong Elliptica...
42%