Water heating appliances are the necessary ones during winters that do a lot more for your hot water-related needs. Whether to get a bath or washing clothes and utensils, the water heating appliances play an important role. There are a lot of appliances available for the purpose of heating water, but the immersion rods are the popular choice among the Indians.
Some of the common ways to get hot water are heating water on stoves, installing gas geysers, and using green solutions like solar water heaters. But using the immersion rods to get hot water in the winters is quick and inexpensive methods than the other ones. So, if you are on a tight budget, just go for a best immersion rod to fulfill all your hot water-related needs.
We recommend you to read our Comprehensive Buying Guide to know better how to choose the best immersion rod for your needs.
Top 10 Best immersion Rods in India
Best Immersion Rods in India- Reviews
1. Bajaj 1500-Watt Immersion Rod
If you want quick and instant hot water at a cheap price and also with great efficiency, this immersion rod from Bajaj is the best option to buy. Being compact in size, this immersion rod can easily be accommodated in cabinets or other storing places.
The best part about Bajaj products is that they come with the best power usage and even at low price tags. This Bajaj immersion rod is the classy example of the same. It consumes only 1500 Watts of power and heats water very quickly, and thus proving to be the energy-efficient.
It is designed with hairpin tubular elements that facilitate optimum heat transfer for the enhanced performance. Also, it is made from anti-corrosive plastic material and copper with nickel plating ensuring its durability and efficiently functional for long.
Key Features
Anti-corrosive material
Low-cost water heating
Hairpin tubular elements
Consumes less energy
Energy efficient immersion rod
Pros
Faster heating
It comes with a hook for hanging
Easy and safe to use
Heatproof plastic handles offering you a comfortable grip
Cons
It does not come with a LED display for temperature indicator
View on Amazon View on Flipkart
2. Usha IH2415 1500-Watt Immersion Rod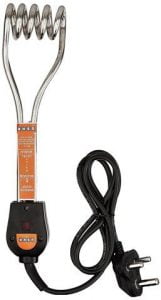 Heating water using an immersion rod is easy but getting it balanced so that it does not dip beyond the maximum level is somehow difficult. Get rid of this problem by bringing this immersion rod from Usha. It comes with a hook on one side that allows you to clip the immersion rod to the side of the bucket. And the opposite side, it has a water level indicator to dip the rod exactly at the maximum marked point.
This immersion rod has a specially designed heating element that ensures quick heating of water within 10-15 minutes. Also, the bakelite cover ensuring complete protection against electric shock.
Key Features
Copper tube element with long-lasting nickel plating for longer element life
Specially designed heating element for quick heating
Metal hook for safe operation
Neon indicator for power on
Pros
Excellent build quality
Good quality of cable and plug
Water gets heated very quickly
The red light indicator is very convenient letting you know the water gets heated
Cons
View on Amazon View on Flipkart
3. Crompton ACGIH-IHL102 Immersion Rod
This immersion water heater from Crompton is here to compete and win from the spine-chilling winters. It is also an economical solution for those who cannot spend much on getting an electric geyser. With a power consumption of 1000 W, it is specifically designed to meet the heating requirements of small to medium-sized families.
This immersion rod includes the wire circuit that consumes less power and also saves energy. The metal coating of this corrosion free immersion water heater makes it free from rusting and also helps to heat quickly. This feature packed immersion rod is an economical product with the indicator to alert the user when the water gets heated.
Key Features
Energy efficient immersion rod
Water level indicator
ISI marked product
Corrosion free water heater
Pros
Heats water instantly
The power indicator is a nice add-on
Very less power consumption
The metal part cools up very quickly after use
Cons
View on Amazon View on Flipkart
4. Eveready Immersion Rod IH403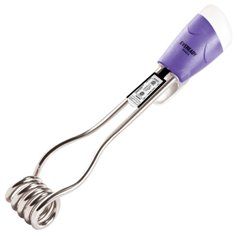 With an economic and cost-effective option rather than geysers and water heaters, this is another best immersion rod choice for getting hot water in winters. This Eveready immersion rod comes with a stylish plastic body as well as a powerful heating element that makes the water heating a breeze. When it comes to quality, this one is absolutely a top-notch product. This immersion water heater with the power of 1500 W, heats a bucket full of water in no time, and also saves a great on your pocket while paying the electricity bills.
This one also comes with the minimum and maximum water level, so makes it easy to fill the water accordingly. Also, its water resistant shock proof body makes the handling of it very easy. With its long cord, you can conveniently plug it into the nearest socket.
Key Features
Copper tube heating element
Hanger loop cord protector
Max and min water level indication
Water resistant, shockproof body
Rust Resistant
Pros
Nice and sturdy built
Great aesthetic look and design
Heating is extremely very fast
Consumes less power
Great in terms of performance
Cons
5. Starvin Immersion Heater Rod

With great style and appealing design, this is another best immersion rod water heater from Starvin that fulfills all your water heating needs in a simple way. It has been certified by ISI Mark that ensures it is the superior quality product. It comes with the copper element coated with nickel plating that makes it even more durable.
This immersion rod has a compact design making it easy to carry around. Equipped with heat-proof plastic handles, this rod offers you a comfortable and firm grip during use. Also, it has a hook to tie at the edge of the bucket while heating water. So, enjoy a warm water bath in the winters very effortlessly with this immersion water heater.
Key Features
1500 W Power
Super fast heating
Rustproof and shockproof
Copper element with nickel plating
Waterproof
Convenient bucket handle
Pros
Build quality is awesome
Easy to use
Heats water very quickly
Affordable and economical option
Cons
6. Crompton CG-IHL 152 Immersion Rod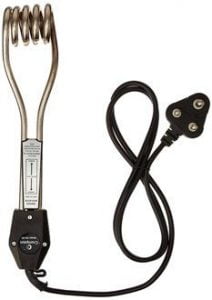 Again a best immersion rod from the house of Crompton that comes with all unique and safety features to fulfill your water heating needs. With a power consumption of 1500 W, it efficiently heats water full of a bucket in a jiffy. And since it is very compact in size, you can easily store it in the drawer and cabinets without any hassle.
There is a hook on one side of this immersion rod that lets you clip it in the bucket without dipping the rod fully in the water. Also, there is a water level mark on another side that helps you to put the rod exactly at the maximum level.
Key Features
Water level indicator
Anti-corrosive water heater
Energy efficient immersion rod
Metal hook for safe operation
Pros
Nice build quality
Safe and easy to use
Automatic cut-off once the water gets heated
The light indicator option is great
Cons
7. Bajaj Vacco Electric Immersion Water Heater Rod
This immersion water heater from the brand Bajaj comes the next in our list with awesome performance and safety features. It can be simply described as Quick, Fast, Shockproof, Compact, and Convenient. Its heatproof plastic handle provides you the comfortable grip while handling.
It is made up of anti-corrosive plastic material and copper with nickel plating that makes this immersion rod a durable one. When it comes to power consumption, this 1500 W immersion heater proves to be more energy efficient and facilitates optimum heat transfer for enhanced performance.
Key Features
1500 W Power
Compact and convenient
Rustproof
Insulated copper rod
Hanger loop cord protector
Max and min water level indication
Water resistant, shockproof body
Pros
Nice and sturdy built
Good performing immersion water heater
Quick and fast heating
Insulated copper rods for easy, fast, and long-lasting use
Cons
The length of the cord is small
8. Hytec Copper Epoxy Immersion Rod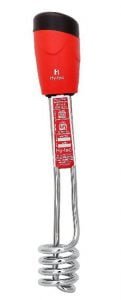 This immersion rod from Hytec is a must have product for your home to get instant hot water. It heats water quickly consuming 2000W and thus proving to be energy-efficient. It also facilitates optimum heat transfer for the enhanced performance. To get hot water, you just need to simply dip it in a bucket or tub of water and switch on the rod.
This water heater ensures its durability because it is made from anti-corrosive plastic material and stainless steel. It is safe to use at home and even outdoors. Also, its heat-proof plastic handles offer you a comfortable grip during use.
Key Features
100% copper rod and ISI marked
Shock-proof and cool touch handle
Easy to hanging strip
Heavy power cord
Pros
Nice quality product
Heating is really fast
Easy to clean and maintain
Safe and easy to use
Best immersion rod in budget
Cons
No indicator that the water gets heated
9. Singer IR-10 Immersion Rod

This is also one of the best immersion rods with a reasonable price out there. This immersion rod from Singer is perfect to get hot water within few minutes. It consumes 1500 W of power and also facilitates optimum heat transfer for enhanced performance. Equipped with safety features and ease of use, this one is a must-have appliance for all your water heating needs.
Key Features
Sealed plastic body
Superior copper element to ensure heat conduction and rust prevention
Specially designed heating element for faster heating
Water level indicator
Pros
Nice and elegant look
Heats water very well in few minutes only
Power cord is thick and of good quality
Heat resistant handle
Cons
View on Amazon View on Flipkart
10. V-Guard VIH 151 Immersion Rod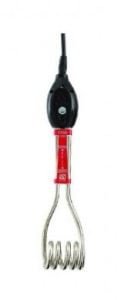 This V-Guard immersion rod from the VIH series has an elegant, hairpin tubular design with a nickel plated copper tube for instant heating. It has a water level indicator as well as power indicator to enhance its functionality.
This immersion rod is an economical product with a power consumption of 1500 W and thus proving energy-efficient too. Also, the safety features make it easy to use anytime whenever you need the hot water.
Key Features
Copper tube heating element with nickel plating
Water level indicator
Power Indicator
Energy efficient immersion water heater
Long life heating element
Pros
It takes very less time to heat a bucket full of water
Water level indicator and power indicator are nice features
Easy to use and handle
Cons
Power plug is so large and is not compatible to use in normal sockets or switch boards
View on Amazon View on Flipkart
How To Choose the Best Immersion Rod? (Buying Guide)
What is an Immersion Rod and how it works?
Immersion rods or immersion water heaters are extremely useful and a convenient way for heating water. This electric appliance is quite light in weight and heats a water bucket in less than 15 minutes.
Immersion rods come with a heating coil and also have a cord which is plugged into the electric socket. To get hot water using an immersion rod just put the rod into a bucket full of water and then connect the plug into the socket and switch it on. It will take only 10-15 minutes and then you can enjoy ready to use hot water.
Normally, it comprises a power capacity of 1000 or 1500W. But, most of the other manufacturers dispense 2000 W rods as well.
The immersion rods are an energy-efficient device that hardly consumes 1.5 Units in an hour. Due to its portability, it is best for small families, bachelors, and the people who can't afford the water geysers.
Common Features of Immersion Rod Water Heaters
Immersion rods give you immediate hot water in the safest and most energy-efficient way.
These rods are composed of a metallic base, and for quick heating, it is coated together with Magnesium Oxide.
The metallic coating protects against corrosion.
Depending on different design and manufacturing concept, immersion rods are tubular, flat, long, or hairpin shaped.
Most of the models also have a temperature controlling mechanism, which is included in the device. And this way, you can regulate the temperature as per your requirement.
Immersion water heaters are put up with a Bakelite handle for heat protection.
Factors to Consider Before Buying an Immersion Rod
1. Power
A powerful immersion water heater can provide hot water more rapidly, but it consumes more electricity as well. The rods are available in different power watts such as 1000W, 1500W, and 2000W. The higher the power, the more rapid is its heating time.
But, you can go with 1000W power consumption as well if not want to compromise with the quality. These may be lower in power watt but works fine. All in all, you can choose the power according to your need.
2. Heating Element
While buying an immersion heater, ensure that it has a top-quality heating element. The heating element is responsible for rapid heating. The copper element in the immersion rods heats water more quickly than the element made of aluminum. Aluminum heating elements are usually cheap, and for the further inconvenience, you should avoid buying this option.
The copper heating element with nickel plating also comprises anti-corrosion properties. So, always prefer copper heating element rather than cheap material options.
3. Heating Time
In this busy life, no one wants to wait so long for hot water. So, you need to find an immersion rod with a rapid heating feature that is energy-efficient too.
4. Rust-resistance
If you want your immersion rod to run life-long, then you must check if it is rust-free or not. The heating rod becomes rusting after some use if it has coated with cheap quality material. You can avoid the risk of rusting from your immersion rod just by choosing stainless steel plating or nickel plating rods.
5. Bucket handle
It is an essential feature to consider if you have plastic buckets in your bathroom. A proper bucket handle provides easy gripping. Moreover, you can use the rod at the same time when hot. Go for the models that have enclosed with heat-proof plastic material.
The bucket handle also prevents your bucket from getting damaged or burn up accidentally. You can securely fix the handle on the edge of the bucket while operating.
6. Hanging hook
Hanging hook can save you from electric shocks or damage. It provides stability to the rod while the rod is being placed in the container. Throughout the heating process, the rod stays in the same place with the help of this hook. Hence, it is good to think about hanging hooks while purchasing immersion water heaters.
7. Level Indicator
Most of the local immersion rods don't have proper level indicators, but it is good to consider this feature for your convenience. An immersion water heater should have pointers for the minimum and maximum water levels.
These level indicators are beneficial while heating water. You can put water in the bucket as per the level Indicator to avoid damage to the immersion rod and plastic bucket.
8. LED Indicator
An LED indicator is a feature which you should count on before buying an immersion rod. It will tell you whether the power is on or off. It makes you attentive while touching the rod when switched on. Though the feature is present only in high-end models, you may surely invest for safety.
9. Cord's Length
A perfect length's cord is always an ideal choice. Too short cables will be very inconvenient to use, and very lengthy cords can get stuck to your legs, and you might get injured. Hence, always check the length of the cable to avoid any further bother.
10. Brand
The top-most brands always promise premium products. When buying any electrical product, you should think about brands. After all, it's a matter of safety, performance, and convenience. Choosing a branded product will also grant you good customer service and after-sales service. This way, you can save your further expenses for at least a warranty period if there is any issue with the product.
11. Warranty
If you prefer brands, you must check its warranty to get the best once-over. Branded immersion rods come with a warranty of 1-2 years. You can quickly get repair or replacement service in the warranty period if there are any issues. So, don't forget to check about the warranty on the product.
12. Price
Immersion rods are not very costly. Anyone can easily buy this without spending too much money. You can get it in various price ranges, from low to high. It could be Rs 300 to Rs 1000. Choose it accordingly!!
13. ISI certification
Last but not least,….you should check whether the Immersion rod you are going to use has ISI certification or not. It shows that the product has been tested as per the Indian Standard. This is the most recognized certification that reflects it is safe to be used by Indian customers.
How are immersion rods different from Geyser?
Over Geyser's, immersion water heaters are most popular as it is very cost-effective and convenient. The mechanism of both the immersion rods and Geyser is the same and, i.e., heating. But there are some variations in its functionality and practicality. Let's talk about its common points:
1. Price
If evaluating the price of Immersion rods over Geyser's, then you found immersion rods very profitable. These are quite affordable that anyone can buy. The average costing of immersion water heaters can be roughly Rs. 300 to Rs. 1000. But, Geyser's can cost you about Rs. 3000 to 20,000.
2. Portability
If you are moving houses, immersion rods can help you take it with you anywhere. Even if you want hot water for washing the dishes in the kitchen, you can make a bucket full of hot water in the kitchen as well. But, with Geyser's, you can't get that portability.
3. Safety
Talking about safety, then it can't be deniable that immersion water heaters are not that safe as Geysers. There is a probability of getting an electric shock if not using carefully. On the flip side, there are zero chances of getting shocks while using geysers, as these are safe and sound to use.
4. Convenience
Geysers are quite convenient when compared to immersion water heaters. With immersion rods, you need to set up a bucket with water and plug the rod. But, with Geyser's, you just need to switch on the device.
5. Heating Time
Immersion rods take 10-15 minutes to heat a bucket full of water, whereas; geysers take less time to heat water.
Important Safety Measures to Follow While Using Immersion Rods
To avoid electric shocks, don't use metal or iron buckets. It is good to prefer synthetic buckets rather than a metal container.
Keep heating in a safe place. Make sure your children or pets can't arrive at that place.
Don't Switch On the rod before putting it in water. Switch it On only after placing the rods properly in the bucket.
Without switching off the power, don't touch the water directly by hand. It can give you a shock. Hence, better to Off the switch first.
Be cautious of burn-in in case the water gets to boil.
Keep the hot rod in a safe place after use and let it become cold.
Ensure that you turn on the switch only when it has sufficient water. Keeping the hot rods in an empty bucket or inadequate water levels can destroy both the bucket and the heater.
Immersion Water Heaters Frequently Asked Questions (FAQs)
1. What are the benefits of using an Immersion water heater?

It is very easy to use and cost-effective too. You can manage it more comfortably than any other water heater as it is portable so that you can carry it anywhere needed. An immersion rod also consumes less energy and gives rapid heating of water. What else is needed if you get hot water in minutes in a cost-effective way!!!

2. Is immersion water heating rods shockproof?

The immersion heaters are designed to be shockproof. It is made of shockproof materials like Bakelite or others. But, it is still not recommended to handle the metal part of the rod bare-handedly.

3. How much time is required to heat water by using an immersion rod?

It depends on the quantity of water. A normal-sized bucket full of water takes 15-20 minutes to heat up properly. For an instant heating time, you should prefer an immersion rod with a higher wattage.

4. How much unit an immersion water heater consumes?

The power consumption of most of the popular immersion rods is something like 1000W to 1500W. It consumes 1 Unit/hour if it has 1000 W power consumption whereas, 1500 W consumes approximately 1.5 – 2 Units/hour.

5. Are immersion rods user-friendly and safe?

Yes, it is safe and protected if appropriately used. These can be very easy to operate without any extra effort. The high-quality immersion rod ensures the safety and fast heating.

6. Are immersion water heaters affordable?

An immersion water heating rod ranges from Rs 200-Rs 1000. Even branded products are available in cost-effective ranges. You can also go for attractive offers at online portals and get them at discounted prices.

7. What will happen if the heating coil touches the plastic bucket while the water heating process?

There are chances that the bucket might soften down due to excess heating on edge. Although, there is a hook provided at the handle to remain the heater at the fixed position. But, if accidentally the coil touches the bucket directly while in operation, the plastic might lose its shape, and the bucket burns due to heat.
Conclusion
When looking for water heaters, immersion rods are the best option. It provides you amazing features in economic ranges. They are the most fortunate thing in winters as immersion rods are portable to use and store. You can conveniently use it anywhere, whether in the bathroom or kitchen. For basic uses in our daily lives, compare from the above buying guide and get a worthy product for your personal use. Also, we hope that our reviews of best immersion rod water heaters will offer you the most viable choice. So, happy shopping!
Read More Reviews On Water Heaters
Buy Best Immersion Water Heaters Online
Bajaj Immersion Rod Water Heater 1500 Watts, ...
14%
Havells Water Proof Immersion Water Heater HB...
22%
Crompton ACGIH-IHL102 1000-Watt Immersion Wat...
35%
Havells Zella Flap Auto Immersion Rod 1500 Wa...
13%
Usha IH 3810 1000W Shock Proof Immersion Rod ...
32%
Bajaj Waterproof 1500 Watts Immersion Rod Hea...
30%
Orient electric Arc Plus|Immersion heater|pow...
39%
Rico IRPRO 1500w Japanese Technology Electric...
21%