PNG gas geyser is water heater with natural gas as its primary fuel resource. If you need hot water in your kitchen or bathroom, you should consider using it.
Gas geysers mostly come with LPG fuel support and are a popular choice in Indian cities. PNG (Piped Natural Gas) are alternatives to LPG and can be used as fuel in gas geysers to get the constant supply of hot water. PNG is more economical, safer to use and pollution-free.
Unlike LPG, PNG has an uninterrupted supply in most of the houses. It is supplied 24 hours via a pipeline. You don't have to book and store them like LPG in cylinders.
Those who have PNG supplies in their house prefer to use PNG gas geyser in their bathroom or kitchen. In this post, we have reviewed the best PNG gas geysers, which are reliable, best rated and popular. Also, we have covered buying guide and safety tips for gas geysers.
5 Best PNG Gas Geyser in India
PNG Gas Geysers
Safety Features
Capacity
Warranty
Bajaj Majesty Duetto
Read Review
Child Lock
Auto shutoff
Overheat protection
Dry heat
6 Liters
2 Years
CHECK PRICE
Havells Flagro
Read Review
Overheating safety
Auto shuts off
Child lock
6 Liters
2 Years
CHECK PRICE
Orient Vento PNG
Read Review
Flame failure protection
child lock
Auto-shutoff
6 Liters
2 Years
CHECK PRICE
Racold LED PNG
Read Review
Auto shutoff
built-in gas leak protection
Child lock
6 Liters
2 Years
CHECK PRICE
Benchmark Topez PNG
Read Review
Auto shutoff
Overheat protection
Child Lock
6 Liters
2 Years
CHECK PRICE
Best PNG Gas Geyser – Reviews
We have done reviews and research on best PNG gas geyser. Read the below reviews and select your model according to your need.
1. Bajaj Majesty Duetto Gas 6 LTR Water Heater (PNG)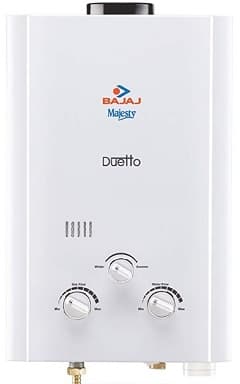 Majesty Duetto from the bajaj is one of the best available PNG gas geysers in India which delivers top-quality performance.
It has a capacity of 6 liters, which is enough for daily usage. Duetto is not a storage type of gas geyser, rather it supplies hot water continuously and instantly.
Duetto is also suitable for high rise buildings and apartments because of the pressure rating of 7.5 bar.
This model comes with a 2-year warranty and installation is provided by Bajaj on request. This product is 47cms high, 29.5cms wide and 13cms thick that means it takes less space
The build quality of Majesty Duetto is excellent; it is made with anti-rust steel and powder coated. It has high thermal efficiency due to its superior and better combustion technology.
You should be aware that this model does require electrical power. It also needs two heavy-duty dry cells.
You get a small knob in the middle to adjust the temperature of the water and other 2 to regulate the flow of water and gas flow. You can modify it to work with LPG also.
If you have low water pressure on the top floor, avoid buying it. You need to buy a regulator, pipes and fitting clamps for installation on your own. Again as a warning, install it in a place with proper ventilation.
Key Features
Thick Copper heat exchanger means better heat retention.
Powder-coated outer body
Made with anti-corrosive steel
20 minutes auto cut timer for safety
Child Lock Switch
Anti Freeze
Flame Failure Protection
Overheat protection feature
Advanced combustion technology
Dry heat protection
Autoignition
Oxygen depletion sensor
Sensor for low water
Filter at the inlet to avoid water blockage
Pros
Its vertical shape takes less size in small wall
High pressure rating makes it suitable for high rise flat, home or building
Adjustable Thermostat
Works on PNG gas pipeline direct
LPG Variate is also available
Installation provided by Bajaj (Call their customer care)
Cons
Auto cut-off on low pressure
Purchase accessories separately(No PVC pipes or gas pipes is provided)
2. Havells Flagro PNG Gas geyser (6L) with Steel Connection Pipe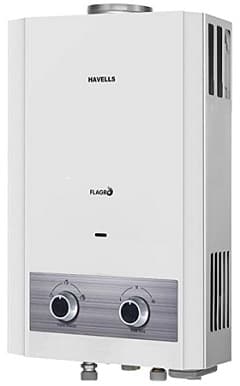 Havells is a well-known brand for Fast Moving Electrical Goods. It introduces Flagro, a popular and best PNG gas geyser that is a perfect water heater for day to day needs.
Havells Flagro water heater saves you from many dangers due to its built-in safety mechanism like auto cut off the gas supply if the temperature rises above 95 °C or dry burning happens. It also automatically shuts off after 20 minutes and has a child lock safety device.
It requires no power supply. You will need two heavy-duty batteries(1.5 volts) for ignition. It also works well with low water pressure which is a common problem in the Indian house
The capacity of Havells Flagro is 6 liters. Its dimensions are 45cms high, 12cms thick and 30cms wide. It weighs around 3KG and its pressure rating is 8 bar, which is excellent for multi-story buildings.
This device comes with 2-year of a comprehensive warranty. The inner body is made of good quality steel and the heat exchanger is 1.2Kg, which makes it durable and reliable.
Note that this comes in 2 variants one is LPG and the other is PNG. When you place an order, ask the seller to ship the required variant.
Key Features
Heavy-duty heat exchanger for durability
Protection from overheating
Auto shuts off after 20 minutes
Low water pressure to startup
Child lock safety
Dual solenoid(electromagnetic) valve
LED display to show temperature
Flameout protection
Protection form dry burning
Dry heat protection
Requires two battery
Pros
No electricity required
Suitable for high rise buildings
Work in low water pressure
Cons
Relatively expensive
No heating indicator
3. Orient Electric 6 liters Gas Water Geyser – Vento-PNG (GWVN06WPMW)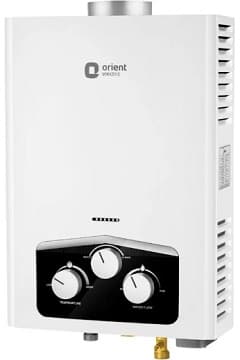 Orient electric Vento is another best PNG gas geyser that is available in the market. It comes with two different models, one for LPG and other for PNG. The model number of the PNG variant is GWVN06WPMW – Vento. So make sure you buy the correct one before placing your order.
This model is perfect for flats or houses at high altitude since it has a pressure rating of 8 bar. The working pressure range is from 0.1bar to 8bar, which makes it compatible with the variable pressure supply.
It has all the necessary safety like an auto-shutoff timer after 20 minutes, Overheat protection and flame failure protection.
Orient Vento has a capacity of 6liters, which is enough for a small family. Dimension of this product is 44 cms(Height) x 31cms(Width) x 12 cms(Depth) and it can be mounted vertically on your wall (caution: proper ventilation is required)
This water heater is equipped with mesh on gas and water inlet to avoid blockage, impurities and dry heating. It has controls for water leakage and protection from over pressure too.
In the package, you will get a water heater, warranty card, manual, and clamps for fitting. The warranty is for 2-year.
Key Features
6L capacity
8bar pressure rating
Adjustable temperature knob
Powder-coated outer body
Flame failure protection
Low battery indicator
Copper heat exchanger
Double ignition
3-row burners
Pros
Suitable for high rise flats and buildings
Work well in cold places
High-quality SPCC steel body
Comes with all major safety features
Cons
No indicator for power or temperature
4. Racold Gas Eco Ng Vertical Water Heater(White)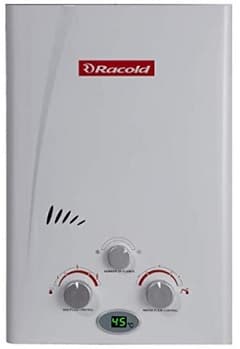 The Racold PNG gas water heater is a popular choice and one of the top brands In India. This model storage capacity is 6 liters. It comes with LED indicators showing water temperature. An LPG variation is also available for this model if you need a Racold gas water heater, but with LPG support, you can select it during purchase.
This geyser is suitable for hard water if you get hard water supply from your municipal or development authority. It has auto-ignition, which starts automatically as soon as you open the tap.
Heat exchange is made of copper for the best result. Weight is around 5.6KG and It comes with a 2-year warranty on the product.
Key Features
Solenoid valves for better safety
Accident protection feature for children
Adjust according to weather conditions (Winter or Summer)
Suitable for low water pressure
Security built-in against gas leak
High heating efficiency (85%)
Auto-off after 20 minutes
Pros
Built quality is best
LED temperature indicator
No water pressure issue
Easy to install
Finishing is good
Price is affordable
Easy to operate
Cons
Bigger size variant is not available
You have to install yourself (It's easy)
Will not work with zero pressure
5. Benchmark PNG Gas Water Geyser Topaz (White)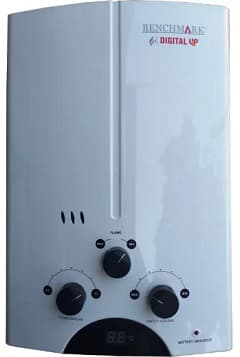 Benchmark is a leading company providing hot water solutions in India. They have a lot of variants ranging from 6 liters to 16 liters. Topez is their leading model and has a good rating.
It has an automatic IC ignition system, which helps you save on gas. You can mount it vertically, which makes it suitable for home, office and apartments. A 20 minutes timer makes it safe from accidents due to overheating if someone forgets to turn off.
It has three knobs. First is a gas regulator to control the gas inflow, second is a water regulator to control the water flow and the last one is for setting summer or winter mode. Summer and winter mode helps in saving gas consumption based on weather conditions.
As in other models mentioned above, this also has many safety features, including flame failure protection and child lock.
Key Features
6L capacity
Pressure rating 6bar
Control the temperature
Power indicator
Auto power cut off after 20 minutes
2 Copper burners
Copper heat exchanger
ISI Mark
Pros
Copper build
6 L/min water flow rate
Easy to handle
Adjustable Thermostat
Cons
Other Variant from Benchmark
Benchmark 6 liters PNG Gas Water Geyser (Digital)
PNG Gas Geyser Buyer's Guide and Safety Features
PNG gas geysers, just like any gas geyser, have its drawback too. So you should be aware of what you should look before making the final purchase. Below we have mentioned a few important points while purchasing gas geysers in general.
Look for ISI Mark
ISI mark on a gas geyser means it is safe to use and is of good quality. Bureau of Indian Standards (BIS) has made it compulsory for electrical and industrial items to have an ISI mark to meet the safety and quality norms set by the Indian Government. So when you plan to buy a gas geyser, make sure it has an ISI mark.
Safety Features
Nowadays, gas geysers come with lots of safety features. When you plan to buy one for your kitchen or bathroom, you should check if the device has standard safety measures. Few of them are:
Flame Failure Protection: One of the essential protection features which you must check in gas geysers.
Child Lock Safety: This is important if you have a child in your home. It protects kids from an accident that may happen due to a mistake while operating or playing with geysers. Basically, It shut down gas geyser completely and you child can not start it without knowing how to turn off child lock.
Oxygen Depletion Sensor: This is an advanced feature and very few models have built-in. Whenever oxygen supply drops below a certain point, it automatically turns off.
Protection Against Gas Leakage: Gas leakage in a gas geyser may cause serious accidents. It may catch fire and your whole house may soon be in the grip of huge flames. So this safety feature turns off the water heater if the geyser fails to ignite within a certain amount of time (5-10 seconds), which generally happens due to gas leakage.
Auto turns off: This is a very basic safety feature among all gas geysers. It ensures that the geyser automatically turns off after not in use for a certain amount of time. In most gas geysers, this time is 20 minutes.
These are some important features; apart from it, you should also look for fault indicators, thermostat and dry burning.
Water capacity
Most of the gas geyser(PNG or LPG) comes in 6 liters capacity, which is enough for the kitchen. In some cases, you can also use it in the bathroom. The hot water flow is about 6 liters per minute, which we think is sufficient for a normal family for daily use. But if you have bigger requirements, then 6 liters is not enough.
Some companies have started offering 8 liters, 12 liters and 16 liters gas geysers in both variants.
Installation area and ventilation
Install the gas geysers in a place where proper ventilation is available. Though PNG is less harmful compared to LPG because it is lighter than air and quickly disperses. But it is still flammable and can catch fire.
Exposure to Natural gases for longer duration may cause suffocation and choking due to carbon mono-oxide poisoning. It is called asphyxiation. So proper venting is necessary when installing a gas geyser.
You can also install a carbon mono-oxide detector or indicator in your bathroom or kitchen. Though these are costly, in case you want to buy online, you can check these two popular models
Why is PNG Gas Geyser better than LPG gas geyser?
Geysers comes in 3 variants; electric geyser, LPG gas geyser and PNG Gas geyser. Out of these, PNG gas geyser is a better option because of several benefits of Natural Gas (NG) over LPG and Electricity.
1. Economical
In general, PNG is cheaper compared to any other liquid fuel, like LPG. No upfront payment and you pay for what you use. Billing usually is after a cycle of a month's usage. So PNG is economical and saves money in the long run.
2. Safe
PNG is mainly methane gas (compressed to store) and if it is very high or very low in the air, it does not catch fire. Also, being lighter than air, it gets diffused in the atmosphere if there is any leakage. Pressure supply is low and therefore, it has no chance of blast.
3. Continuous Supply
Unlike LPG, PNG is supplied in your home through pipe 24×7. It means there is no interruption of gas supply in your kitchen, bathroom or any other part of the house.
4. Convenience
You don't have to book or wait to reach PNG in your home; it enters your home through the pipeline supply. You don't need storage space and need not worry about handling and managing stock, inventory or equipment.
5. Eco-friendly
Natural gas is environmentally friendly. They do not produce any toxic gases after burning and hence one of the cleanest fuels.
Why is PNG Gas Geyser Better Than an Electric Geyser?
PNG gas geyser has few advantages over electric geyser in particular
The cost of a gas geyser, in general, is cheaper than the electric geyser of the same capacity.
They take less time to heat the water. In general, it is 3 to 4 times faster.
The average cost per liter to heat water is less.
Problems with Gas Geysers
Gas geysers are not flawless; they have some disadvantages too.
Gas Geysers are not safe, especially LPG
It needs more space and proper ventilation. Lack of proper ventilation causes carbon monoxide poisoning
Gas burners need frequent replacement
Not available as a stored geyser in India
Installations step is difficult compared to electric geyser installation
Conclusion
PNG gas geysers are less popular due to limited supply of PNG in all over India. Only few metros have PNG supply in their house and therefore demand is less. But if you have PNG supply in your house you should buy a PNG water heater.
When you make an order please ask the seller to send you PNG variant only, since most sellers provide both LPG and PNG variants it could cause confusion and you may get LPG gas heater instead of PNG gas heater.
Hope this blog helps you to choose the right gas water heater for your needs.
Read Related Reviews
Buy PNG water heater Online
Surya PNG Instant Water Heater (Gas Geyser) 1...
25%
Surya PNG Instant Water Heater (Gas Geyser) 1...
25%
Racold 6L ODS ECO+ LPG Gas Water Heater With ...
21%
BLOWHOT Gas Geyser 6 Litres | Auto CUT-OFF | ...
22%
Sameer ATG2 7L Instant Gas Water Heater (Whit...
24%
GRINISH 1 L Instant Water Heater Geyser, Elec...
69%
Bajaj Majesty Duetto Gas 6 Ltr Vertical Water...
45%
Sun Water Heater 1L Instant Water Heater/Geys...
43%