In this technological era, numerous advanced and innovative beauty care devices are there, so no more worry about aging, wrinkles and all other things that spoil your facial beauty. And the best one amongst them is the face massager machines that rejuvenate your facial beauty after every use. When it comes to pick the face massager machines, three different choices are available including roller face massagers, electric face massagers, and ultrasonic face massagers, each having their own benefits. Here in this blog, we are going to discuss about the best Ultrasonic Face Massager Machines that are very effective to remove wrinkles and offers only the tight and firm skin.
To get more detailed information on Ultrasonic Face Massagers, please check our Buying Guide Section.
7 Best Ultrasonic Face Massagers in India
You all must want to invest your money in the right product for getting incredible results. And when it comes to picking the best ultrasonic face massager, it is really quite confusing to choose from the various brands with distinct features. To ease your buying decision, we have compiled here the list of best ultrasonic face massagers that you can use comfortably at your home for an effective ultrasonic skin treatment. Let's have a quick look on our top picks:
Best Ultrasonic Face Massager (Reviews)
Here is the detailed review of our best picked models, so that you can have the best one only.
1. Shopwell 4 in 1 Photon LED Light Ultrasonic Face Massager Machine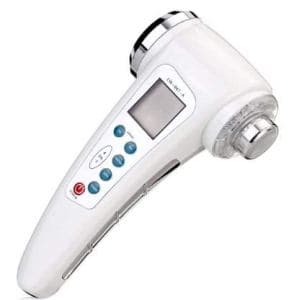 This one comes in the top of our list of best ultrasonic face massagers. This ionic face massager from Shopwell is a great device to recover the elasticity of your skin making it wrinkle free and perfectly firmer and tighter. It combines with physical vibration massage and ionic releasing technology. The ion cleaning function including both positive and negative ions offers deep and comfortable cleaning.
This ultrasonic face massager machine combines four functions in a single device. These functions include massage, ultrasonic, photon, and ion importing/exporting for full relaxation on your face. Moreover, it also comes with three LED lights of different colors including red, green, and blue for different functions.
With the positive ion cleaning function, the magnetic head generates the powerful positive ions to remove the dirt from the skin surface. Again, when the negative ion mode is on, the device generates a large quantity of negative ions that nourishes the skin surface cells directly providing deep care of the skin.
The device aids in relaxing muscles, relieving pain, stimulating blood circulation, and removing blackheads, dirt, scars, and toxins from the facial skin. Not only this, but it also offers skin firmness, maintains its flexibility, prevents allergies, and other problems. Also, it shrinks the pores, locks moisture, and reduce wrinkles. Thus, the device offers only deep clear and clean skin.
Key Features
Unique, stylish design
4 in 1 massager for massage, ultrasonic, photon, and ion importing/exporting
Ion cleaning function
Three color LCD Display; Red, Green, and Blue for different function
Auto Power off Function
Multiple efficiencies to shrink pores, promotes blood circulation, and release fatigue
Easy to operate and convenient for daily skin care
Pros
It is a multifunctional device with ultrasonic sound wave frequency to massage not only your face but other parts of your body too
Easy to use
It is a portable unit, so you can use it anytime and anywhere
Suitable for all skin types
The infrared heat therapy is excellent to reduce wrinkles and signs of aging
Cons
2. Anself Ultrasonic Electric Face Massager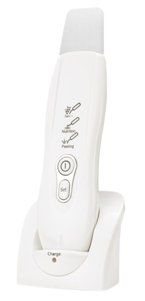 The Anself ultrasonic ionic face massager is an all-in-one solution for a flawless, smooth, and healthy looking skin at the press of a button. It comes with three optional modes including peel mode, nutrition mode, and ion mode that you can choose accordingly for all your beauty needs. The device offers deep cleansing and gentle exfoliation massage. It has a stainless steel shovel that removes dead skin cells and offering you the fair complexion.
This ultrasonic face massager is also featured with an automatic timer setting to avoid over-scrubbing. An inductive charging base is also there to hold this facial massager without clutter.
Key Features
Fast vibration to enhance skin cells regeneration ability
3 optional modes: Peel Mode, Nutrition Mode, and Ion Mode
Super thin and portable
Stainless steel shovel
USB charge and wireless induction charging
Pros
Easy to use
Nice stylish design
Superb performance
Offers a gentle massage without any side effects
Cons
No downsides for the product
3. Generic Ultrasonic Ion Face Lift Massager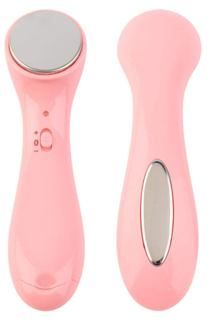 The Generic Ultrasonic ion face lift massager is one of the best ultrasonic face massagers that make your skin smooth and firm without any side effects. The device use high-level ultrasonic wave frequency that penetrates deeply below your skin surface to remove out wrinkles, fine lines and giving a smoother and tighter skin.
The physical vibration massage along with ionic releasing technology offers more deeper and intense cleaning of your facial skin. It functions on both positive and negative ion cleaning that maintains the elasticity and firmness on your skin.
Key Features
Unique stylish design
Physical vibration massage with ionic releasing technology
Offers facelift and remove wrinkles
Ion cleaning function
Cleans very deeply
Pros
Very gentle on your face
Easy to operate
Offers a great job in eradicating signs of aging
Easy to carry anywhere
Cons
4. Generic Ivory Ultrasonic Ionic Massager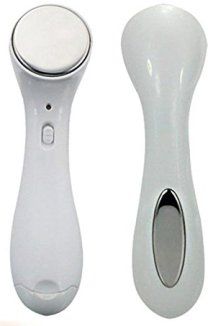 This is another ultrasonic ionic massager from the brand Generic that uses ionic releasing technology to deeply cleanse your skin pores and make it firmer and tighter. With the function of positive ions, the device cleanses your skin accompanied by skin care products more deeply and thoroughly. And with the negative ion mode, it nourishes the skin cells to maintain its flexibility.
With its powerful ultrasonic vibration massage, you will feel an excellent skin relaxation. It also accelerates the blood circulation, promotes metabolism, diminishes fine lines and wrinkles, and makes your skin look glossy and shiny.
Key Features
Made with ABS material
Works on ultrasonic sound wave frequency
Ion cleaning function
Strong vibration massage
Improves signs of aging, fine lines, wrinkles, puffy eyes, etc
Completely waterproof
Pros
Easy to use
Very effective for massage and relaxation
The ultrasonic soundwave frequency used in it offers a gentle massage all over your facial skin and other parts of body
The device is portable so you can carry it anywhere
Cons
5. Generic CkeyiN Ultrasonic 7 LED Photon Lights Facial Massager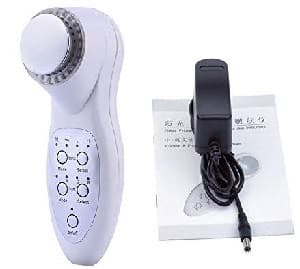 This model from Genereic is yet another best ultrasonic facial massager machine for all your facial care routine. It cleans up all the dirt, scars, and toxins to make your facial skin healthy, shiny and smooth. The device comes with four different modes including peel, tone, clean, and lift for an effective facial massage. And you can easily adjust these modes, their working time and intensity according to your preferences.
This ultrasonic face massager effectively works to lighten the dark spots, eliminates the wrinkles, relaxing your facial skin, improves blood circulation and lymph metabolism, cure and prevent acne and blackheads, etc. And the smart one-touch operation makes the device very convenient and easy to use.
Key Features
Ultrasonic ion facial massager
Unique, stylish design
4 different modes for peeling, toning, cleaning, and lifting
Deep skin cleansing
Waterproof
Pros
Great for skin massage and relaxation
No signs of harshness on your skin
Easy to use
Compact size makes it easily portable everywhere
Cons
6. Agam Ultrasonic Beauty Massager

This new and improved ultrasonic facial massager machine from the brand Agam is all the great way to improve your skin tone from the comfort of your home. The device produces high-frequency ultrasonic vibration through its stainless steel shovel head to clean blackheads, dead skin cells and improves metabolism that in result offering you the shiny, glowing, and healthy skin.
You can easily use the device with its smart on/off switch that ensures smart one-touch operation. Plus, the compact and portable size of it makes you use the device anytime and anywhere.
Key Features
Ultrasonic refreshing skin beauty instrument
Positive and negative ion cleaning function
Deeply cleanses your skin pores
Acne and blackheads removal
Skin peeling
One-touch operation
Pros
Offers good facial skin treatment at home
Sturdy built
Handy to use
Portable size for easy carrying
Cons
View on Amazon View on Flipkart
7. Belvon Ultrasonic and LED Photon Facial Massager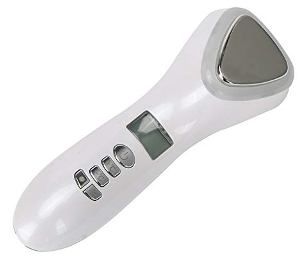 This ultrasonic LED photon facial massager is the best way to fight signs of aging. It works perfectly using physical vibration massage and ionic releasing technology. The best part of this ultrasonic face massage machine is its hot and cold massage effect. The hot mode makes you feel warm and comfortable, relaxes your muscles, relieves from pain and fatigue, stimulates the blood circulation and removes blackheads, dirt, oil, and other impurities very effectively. And the cold mode offers you the soothing and calming effect, reduces the skin redness, offers firmness to the skin, locks moisture, reduces wrinkles and offers you only the deep and clear skin. Plus, the device is very convenient to operate with its smart one-touch button operation.
Key Features
Ultrasonic photon facial massager
Ion cleaning function
Hot and cold mode
LED display
Deeply cleanses your skin
Remove wrinkles
Pros
Unique, stylish design
Very nice build quality
Compact and portable
Easy to use
Suitable for all skin types
Cons
Ultrasonic Face Massagers Buying Guide
What is Ultrasonic Face Massagers?
The ultrasonic face massagers are the electrical massager machines that run on battery and use a low-frequency ultrasonic vibration to massage your face very gently. The massage using ultrasonic face massagers goes deeply into your facial skin resulting in your skin lift and promotes collagen for firmer and tighter skin. These machines are however more expensive than the roller massagers and mechanical massagers, but its benefits for the skin makes the price reasonable.
Ultrasonic face massagers can effectively help you in getting rid of the aging skin and retaining its youthfulness. The very best part is that these face massagers are so handy that you can efficiently use at your home. And thus, it saves a lot on your pocket that you spend on expensive spa treatments.
How does Ultrasonic Face Massagers work?
The ultrasonic face massagers use high-level sound wave frequency that penetrates deeply below your skin surface. It gently cleanses and massages your skin that maximizes the muscle relaxation and opens your skin pores. With this machine, you can massage different parts of your body including face, the neck area, arms, stomach, waist, and legs.
Some advanced models offer varying treatment modes of sound wave frequency. It means, "The lower the setting of ultrasonic wave frequency, the deeper the sound waves will penetrate below your skin surface." The different ultrasonic sound wave frequency modes include 1MHz, 3MHz, and 5MHz. Generally, the frequency mode of 1MHz offers treatment for the body area where the muscles and tissues are thicker. The frequency mode of 3 MHz is designed to massage over the facial area including cheeks, forehead, and chin. And, the frequency mode of 5 MHz is appropriate for massage over the delicate eye areas.
The Ultrasonic Face Massagers works in the following steps:
In the first step, the machine effectively removes the dead skin cells from your face
The next step is the peeling process where the device pulses water and steam on to your face that penetrates deeply into your skin flushing out the dirt trapped out in your skin pores
After that, you need to apply a natural vitamin serum to your face and then use the ultrasonic face massager to penetrate it more deeply into your skin
In the final step, this face massager machine massages your face gently to tone up and lift the face that increases the collage production making it more glowing and revitalized
Here is the video demonstrating how to use ultrasonic face massager at home.
Benefits of Ultrasonic Face Massagers
Here are some of the awesome benefits that will surely make you love the ultrasonic face massager machines to use at home regularly.
It stimulates the blood circulation
Gently exfoliates away the dead skin cells
It promotes the facial cells renewal
Encourages the lymphatic drainage
Cleanses away the toxins from the facial skin
Increases cell metabolism
Improves up and tone the skin texture
Reduce wrinkles and fine lines
Tightens and tones up the facial skin, neck area, and body
Combats puffiness
Lightens dark circles under your eye
Enhance skin care product performance
Diminishes age spots, redness, and scars
Conclusion
With an excellent and immense cleansing power, ultrasonic facial massagers are now becoming very popular for various skin treatments. It deeply penetrates your skin offering more effective cleansing, face lifting, and removing wrinkles. I am sure the list of best ultrasonic face massagers that we have mentioned in the blog as well the buying guide will surely help you in picking out the favorable one. Further, if anything is missing or for any of your suggestions and feedback, do share with us in the comment section below.
Read Related Reviews
Buy Best Ultrasonic Face Massager Online
Veentus Ultrasound Face Lift Machine Led Ligh...
51%
Dealsure Ultrasonic Shovel Machine for Facial...
62%
Welocity Professional Ultrasonic Face Massage...
57%
Shraddha skin solution Handheld Ultrasonic Io...
60%
Generic Ultrasonic Ion Face Lift Facial Beaut...
65%
PIARA 5 in 1 Face Facial Exfoliator Electric ...
71%
beatXP Deep Heal Shiatsu Massager with Infrar...
75%
R A Products 4beauty Facial Professional Ultr...
61%