This time the OneReview team put its effort to find the best ultrasonic cleaning machine for various cleaning requirements, especially in your home for items like jewelry or other precious metals.
In our search, we reviewed almost 30 plus ultrasonic cleaners and listed the top 7 for you along with their key features, pros, and cons.
The flexibility of these cleaning devices makes them ideal for a variety of applications, from households to personal needs or from small companies to top industrial factories. It is used in aerospace, food production, Medical, electronic devices, food processing, repairment sectors. Many industries and companies are getting on board with ultrasonic machines for their highest demands for cleaning purposes.
Key Takeaways
If you don't have enough time to read the entire post, here is our quick summaries(TL;DR Version).
If you want us to pick one for you, it's SWISSO KJT-UC6300 due to its overall feature and capacity. Magnasonic MGUC500 is equally good if you can manage with it's less capacity.
SMILEDRIVE Ultrasonic cleaner is a budget-friendly but equally powerful device.
You can use ultrasonic cleaner for cleaning Jewelry, Eyewear, Dental Appliances and many more items. To learn how to select the best ultrasonic cleaning machine and other details, please read the buying guide below.
7 Best Ultrasonic Cleaner Machine in India
Here is the list of the best ultrasonic cleaning machine that offers multiple features with an elegant body design and long durability.

The Best Ultrasonic Cleaning Machine – Reviews
Let's cover each of the above models in our detailed review.
1. SWISSO KJT-CD4820 2.5L Ultrasonic Cleaning Machine (Overall Best)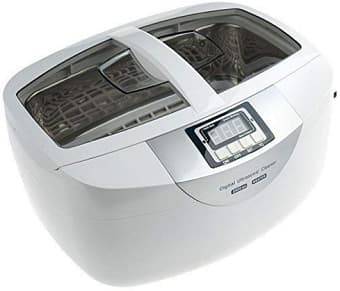 This SWISSO cleaner is a powerful device to clean large items effectively. If you are a dentist and continuously seek a good cleaner, look no further, it is the best ultrasonic cleaner for dental instruments. Its best benefits are not limited to only dental tools but also to a wide variety of instruments and mechanical parts.
Key Features
With its large capacity(2.5L), you can fit various items into it for removing contamination, and it can clean all stuff in a single go.
The best quality we noticed that was missing in other cleaning machines was its ability to automatically shut down when it overheats.
It is suitable for both home and commercial use. Use it for jewelry, gun parts, circuit board, personal care items, lab items, coins, eyeglasses, and many such items.
5 timer settings(90, 180, 280, 380, 480 seconds) and 3 color indicators make it easy to operate as it displays the working status.
It cleans effectively in tap water alone, but you can use detergent or cleaning solution for better results in some cases.
It is made with high-quality ABS material, and the inner tank is made with stainless steel. Therefore, it is a durable and robust device for prolonged use.
Pros
degas option.
60W high power transducer.
Heating function for effective cleaning.
3-color indicator.
Power consumption 165W.
It generates an ultrasonic frequency of 40 kHz.
Cons
2. Magnasonic Professional Ultrasonic Cleaning Machine MGUC500 (Runner Up)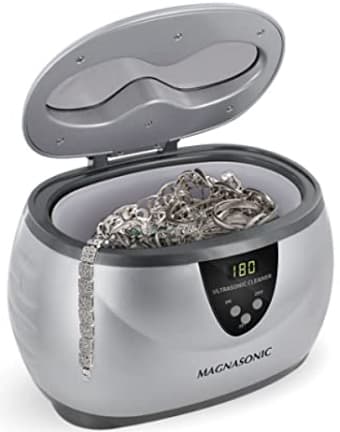 Given the price, Magnasonic MGUC500 is the best ultrasonic cleaner for jewelry.
Key Features
You can use clean tap water as a cleaner, and it works great for most of the items. You can also use a cleaning solution like iSonic or detergent for enhanced cleaning.
It can clean eyeglasses, coins, watches, small instruments, along with jewelry.
It provides 5 preset cleaning cycles of 90, 180, 280, 380, & 480 seconds, enough for the items to clean. You can custom set the cycle duration if you need more sophisticated cleaning.
It generates 42 kHz of ultrasonic energy waves, which create millions of cleansing bubbles. Useful to remove stubborn contaminants for powerful but yet gentle cleaning.
It also has an auto shut off feature. Set once and then you can do other works without taking the tension to switch off it manually.
The cleaning basket capacity is 600ml. You can fully submerge small or large jewelry to clean thoroughly.
Pros
Small size and lightweight.
42 kHz ultrasonic sound waves.
Digital display.
5 preset cleaning cycles.
Inexpensive.
Stainless steel basket.
Cons
It is not possible to clean large items.
3. SMILEDRIVE Ultrasonic Sterilizer Cleaner Machine (Budget Friendly)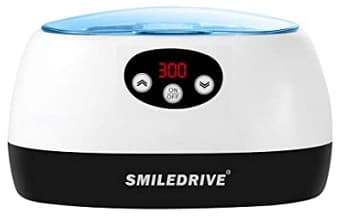 This small and compact ultrasonic cleaner machine is ideal for cleaning jewelry and other objects. It's an inexpensive device and easily fits in your budget. It is simple to use, fill the tank with clean water and submerge the item that you want to clean and press the on button.
Key Features
It has a tank with 600ml of filling capacity, perfect for jewelry, coins, eyeglasses, watches, dentures, baby pacifiers, rings, and many similar items.
It produces 42 kHz frequency waves in plain water, enough to remove dirt, dust, grime, oil, wax, and other unwanted pollutants.
Portability is not an issue with this ultrasonic cleaner; it's less than 1 Kg in weight, and it takes less space due to its compact design.
With 5 preset time settings, you can control the cleaning time as per your requirement. The 5 setting modes are 60, 120, 180, 240, 300 seconds.
The internal tank is made of SUS304 stainless steel material, while the outer body is made by robust ABS injection molding material good for the environment. It is the right choice for a durable cleaner that lasts longer.
Highly in demand with a 5-star rating, it makes your life easy by keeping things germs free.
Pros
Digital display.
Small and portable.
Made with high-quality material.
5 preset time setting mode.
Power consumption 50W.
Cons
It is not possible to clean large items.
4. Verilux 800mL Mini Ultrasonic Cleaning Machine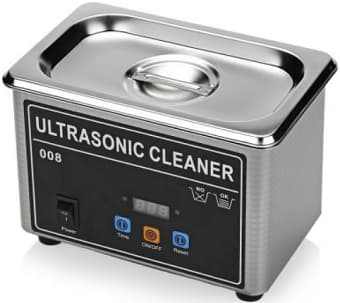 Verilux mini Ultrasonic cleaner is a perfect miniature of large industrial grade ultrasonic cleaner. It has a similar cuboid shape and stainless body inside out. Clean invisible germs and smudges thoroughly using it.
Key Features
High-quality stainless steel with fingerprint-resistance property is used to make the exterior. The interior is made of SUS303 stainless steel.
With 42 kHz powerful frequency, it can clean various items, including jewelry, eyeglasses, cutlery, office supply, and even fruits and vegetables.
The advanced functions like temperature adjustment, time setting mode from 0 to 30 minutes, and auto power-off make it perfect for different cleaning needs in an easy way.
It has 2 working modes, continuous working mode and periodic degas mode. By default, it works in continuous mode. To make it work in degas mode, you need to press the degas button. To stop the degas mode, press the degas button again.
Due to its 0.8L capacity, it is small in size and very portable. You can carry it from one place to another without hassles.
Pros
ultrasonic vibration treatment and strong penetrating power.
Microcomputer control panel.
Automatic shut-off.
2 working mode
Portable design
0 to 30 minutes time control with 18 settings.
35W ultrasound's power.
Cons
It produces 70dB sound, which few people find annoying.
5. Digital Ultrasonic Cleaner 1.2Ltr by mLabs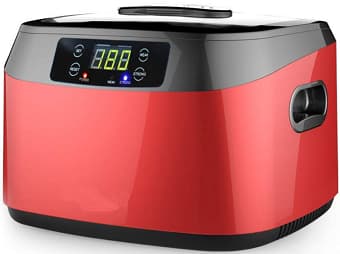 mLabs is well a known brand and they make industrial-grade best ultrasonic cleaning machine. This 1.2ltr model is an excellent fit for a home or a small shop. Let's look at the key features that make it one of the best ultrasonic cleaning machines in our review.
Key Features
Like other top models in this ultrasonic cleaner review, this one also has a 42 kHz ultrasonic frequency. So, you can effectively clean jewelry, goggles, watches, and personal care items.
Not only household items, but you can also clean edibles like fruits and vegetables by removing pesticide residues. It prevents oxidation, removes dirt, and sterilize them.
1.2ltr capacity makes it big enough to clean large quantities in one go. The watch holder lets you clean every part and hole of a watch profoundly and effectively.
The digital display unit allows you to select the time with 5 preset (90, 180, 280, 380, and 480 seconds) modes for the desired interval.
The degassing function is also available in this model, working for 9 seconds and then stop for 6 seconds. So, its benefit is that your item doesn't get oxidized during the cleaning process.
It has an auto shut-off and compact cover to reduce the noise, thus providing you an easy and convenient cleaning experience.
Pros
2 ultrasonic power mode. Weak mode consumes 35W and Power mode takes 70W.
ABS body with portable design.
Large capacity of 1200ml.
Watch holder.
Automatically shut off.
42000Hz ultrasonic wave.
Noise reduction up to 60dB.
Cons
Produces noise when in operation.
6. TIDY UP Ultrasonic Jewellery and Spectacles Cleaner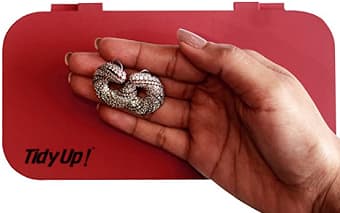 TidyUp is a perfect small home tool for cleaning jewelry using ultrasonic technology to make them shine again in minutes. It is the smallest of all the listed models here.
Key Features
The feature that we like most about this ultrasonic cleaner is its small and portable design. Its length is just over one hand span, and you can easily carry it in your purse or carry bag.
Don't estimate its capability by seeing its small size. It is a powerful cleaner for jewelry, spectacles, and other reflective accessories due to its capability of producing 45kHz ultrasonic wave frequency.
To sparkle your jewelry and remove dirt and smudges, TidyUp also provides an exclusive cleaning solution, which you can add in the water when cleaning.
Though it lacks a display screen and time setting, it has an automatic turn-off function after 5 minutes. If you want to turn-off earlier, you can press the power button.
It can clean a variety of jewelry like diamond, ruby, gold, sapphire, platinum, amethyst, agate, silver, peridot, and crystal. But the manufacturer doesn't recommend cleaning pearls, natural stones, soft gemstones, lacquer, watches, jewelry with scratches or cracks.
Pros
Smallest of all models.
Come with a cleaning solution.
Perfect for in-house jewelry and spectacles.
Simple on and off button with auto shut-off.
Carry it anywhere.
Cons
Make noise when in operation.
No display.
No time setting.
7. mLabs 10.8Ltr High Capacity Ultrasonic Cleaning Machine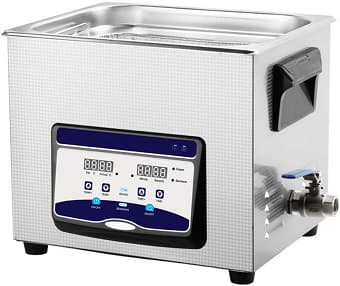 All above-listed models are small and suitable for homes and shops for cleaning small to medium size items. But what if you need a big size cleaner for cleaning a bigger object like carburetors? Or cleaning items in large quantities? With 10.8Ltr, this Ultrasonic cleaning machine comes with multiple functions and makes your life super easy.
Key Features
With its 40,000 Hz ultrasonic frequency, it will remove every strain and contamination in no time.
Ultrasonic cleaning machine comes with an adjustable timer(0-30 minutes) and a digital display. You can adjust the time to whatever you think is suitable to clean the object.
To get the desired heating effect, you can change the temperature from 0 to 80℃, perfectly good for grease removal and sticky things.
Generally, we use tap water for cleaning, but you can also use industrial alcohol and solvent cleaner to get better results from your cleaning effort.
Its entire body is made of high-quality stainless steel for long life. Also, the container basket is stainless steel.
It can be used in cleaning jewelry, carburetors, dentures, dental instrument, cutleries, and circuit boards in bulk quantities. Industries and organizations(Hospitals, Restaurants, etc.) can save time during the cleaning process.
Pros
Large capacity.
It has all advanced functions, including the degas option.
Adjustable timer and temperature.
Control chip with the microcontroller.
Cons
The big size makes it less portable.
Not suitable for home and a small shop.
How to Choose the Best Ultrasonic Cleaning Machine? (Buying Guide)
If you're on a mission to buy the best ultrasonic cleaning device, then you need to spare some time from your busy schedule to research and read about it. An ultrasonic device is not your everyday household machine. Therefore there is little to no information around you about it. To solve this problem, our team has mentioned all the necessary information so that you can read, understand and then buy a perfect ultrasonic cleaning machine for your needs.
What is Ultrasonic?
Ultrasonic is a science that includes the spectrum of sound waves above the limits of human audibility. The sound wave's frequencies define its pitch and tone. High frequencies create high or triplex tones, while low frequencies produce bass and low tone. Ultrasonic is an echo with a very high pitch so that a human ear cannot hear. Usually, ultrasonic frequencies are above 20 kHz.
What is the Ultrasonic Cleaning Machine?
An ultrasonic cleaner is a device or machine that uses high-frequency sound waves that pass-through cleaning solvents to scrub and remove the contamination from the surface.
Ultrasonic cleaning is an efficient modern procedure that helps you get good cleaning results in a short interval of time. They loosen and eliminate deposits, adhesives, and lubricants from the surface to be cleaned, which would be hard to reach by hand. Due to its advantages over ordinary cleaning methods, it is a preferred choice in the medical industry, food processing industry, laboratory, and more.
Ultrasonic cleaners are a fast and effective way to clean the surface of immersed parts. Ultrasonic machines for cleaning used frequencies range from 15 to 400 kHz. For industrial cleaning, the most commonly used frequencies are from 20 kHz to 50 kHz.
All cleaners are not built to be equal. There are two types of Ultrasonic cleaners: an industrial ultrasonic machine and a portable ultrasonic cleaner.
Industrial-grade machines are very effective and well equipped with high wattage generators. However, portable ultrasonic cleaners use less powerful generators, and it is used for small items like jewelry, food, and toys. These are small and are easily transportable.
How Does an Ultrasonic Cleaner Work?
The ultrasonic cleaner machine consists of an ultrasonic generator. When in use, it produces ultrasonic vibrations inside the liquid cleaning solution at a frequency of around 20 – 50 kHz. These vibrations create microscopic bubbles trapped in the liquid, known as the cavitation process.
A large implosion of energy causes bubbles to grow their size rapidly before they implode at the object's surface and generate acoustic shock energy. This process removes the most entrenched contaminant that traditional cleaning methods can't do.
Below are the major features present in an ultrasonic cleaner that performs most of the ultrasonic cleaner tasks.
Tank: It is used to keep the items you need to clean along with the cleaning solutions.
Ultrasonic Generator: It has a supersonic generator that converts electric power to ultrasonic frequency.
Ultrasonic Transducer: the ultrasonic electric signal is transformed into automated energy by the supersonic transducer.
How to Use an Ultrasonic Machine?
Using an ultrasonic cleaning machine is always the same for any product that requires cleaning. But, factors like processing time, cleaning solution, and warming up can differ depending on the product. Below are the steps required to use an ultrasonic machine.
Fill the ultrasonic tank with a cleaning solution up to filling level, or about 2/3 of the full tank capacity. If possible, minimize the volume of objects you want to clean in the machine.
Plug the machine cable in the wall socket and switch on the device.
To bring the cleaning solution to the right temperature, switch on the heater if required.
To degas the solution, use the provided switch on the cleaner for 5 – 10 minutes or use a degas feature inside the cleaner.
If you are going to clean very dusty products, then first wipe or scrub them. Doing this will remove most of the dust on them and will speed up the cleaning procedure.
Place the items in the machine's basket which you want to clean. After placing it, close the cleaner cover or lid.
Run the ultrasonic machine for the required duration for the particular item you are cleaning.
Remove the objects from the cleaner.
As the last step, rinse the objects by taking a sponge in distilled water and drying them with a towel.
Features to Consider Before Buying an Ultrasonic Cleaner
For many cleaning services, these ultrasonic cleaners are the better choice. It cleans effectively and deeply as compared to regular cleaners.
When you buy an ultrasonic machine, important things to remember are its frequency, cleaning solutions, temperature stability, energy, and rational speed. Let's discuss some of them in more depth.
1. Frequency of Ultrasonic Cleaner
Mostly an ultrasonic machine operates between the frequency range of 28 to 128 kHz.
Frequencies on lower levels create greater cavitation bubbles, which are good abradant when cleaning. The lower frequencies are suggested for removing the grinding compounds from steel surfaces.
Higher frequencies will be more fitting for cleaning up fragile objects like jewelry or precious stones with coating on its surface.
Industrial or commercial appliances use frequencies between 38 to 48 kHz for cleaning them via ultrasonic cleaner.
2. Tank Size of Ultrasonic Cleaner
The cleaning machine's tank size is important because the things to be washed in a cleaning solution must be immersed. Many ultrasonic cleaners provide tanks that can be extended for long items. You will find the tank capacity range from 1 to 20 Litre in the market. It is recommended to assess the size of items before purchasing an ultrasonic cleaner.
3. Power of Ultrasonic Cleaner
Depending on the amount of cleaning solution in the tank, an ultrasonic should consume power between 50 to 100 watts.
An ultrasonic cleaning machine must generate sufficient electromagnetic waves to fill the cleaning tank with bubbles produced due to the cavitation process.
If the power wattage is low, It may form dark spots on the cleaning object, or some areas are not evenly cleaned.
In an ultrasonic cleaning machine, the turnkey system has sufficient power capacity, but if you are buying a transducer, storage tank, and ultrasonic generator separately, make sure the power is satisfactory for tank size because it is essential for cleaning.
4. The Heat Used in an Ultrasonic Cleaner
Experts recommend using heat for tough cleaning jobs like hardened wax, oil, grease, and tough carbon deposits. By using a heated cleaning solution, the contaminants get softened and become easier to extract.
Not every item requires heat when cleaning it into an ultrasonic cleaner. You should check the manufacture's recommendations.
The tank must be suitable for the boiler. It must be strong enough to sustain the temperature of the items themselves.
The Benefits of Ultrasonic Cleaning Machine
1. Multiple Items Deep Clean at Once
We know that washing cutlery items in a dishwasher are very convenient as compared to washing bare hand. Similarly, new ultrasonic cleaners can clean multiple tools altogether. Unlike dishwashers, ultrasonic cleaners clean parts, hollows, and holes that receive the same cleaning actions as received to the surface.
2. Versatile Contaminant Removal
Ultrasonic machines can remove many contaminants from the object's surface, including dust, oil, dirt, grease, wax, clay, shavings, oxidation, and deep down to microscopic particle size. No other cleaning organization offers that level of versatility.
3. Environment Friendly
In an ultrasonic machine, either water or environment-friendly cleaning solution is used. As discussed before, fast cleaning time and low power consumption mean less electricity consumption. High-frequency waves help ultrasonic machines to remove contaminants faster than any other type of cleaner.
4. Time Efficiency
Time taken to clean an object in ultrasonic cleaners depend on the machine, contaminants, and part to be cleaned. For most items, the average cleaning time is between 10 to 20 minutes. In some cases, like heavy grease or carbon coat, it may take even longer.
5. Safe to Use
When you use the ultrasonic cleaning machine, there is no risk of being hurt and injured while cleaning tweezers, knives, and other cutting instruments. Unlike the traditional cleaning methods, there is no need to use strong solvents which are harmful to your health.
6. Easy to Deal With
Dealing with ultrasonic machines is not a hard job. It is straightforward to use them. These cleaners do not need a lot of maintenance.
7. Available in Many Sizes
Ultrasonic machines are available in all shapes and sizes, starting from tabletop devices to the big industrial machine. In other words, you can purchase the best possible ultrasonic cleaner for any object.
What Would You Clean in an Ultrasonic Machine?
An ultrasonic machine can clean a wide variety of objects and products. Materials that are non-absorptive and hard, like metals, glass, or plastics, are acceptable.
Jewelry: Jewelry made of gold, Plutonium, silver that contains precious stones like diamond, emerald, rubies, and sapphires can be cleaned with an ultrasonic cleaner. Ultrasonic machine systems are ideal for cleaning necklaces, hairpins, bracelets, rings, and earrings. The best ultrasonic cleaner for jewelry is a 2 Liter Professional Ultrasonic Jewelry Cleaner.
Eyewear and Goggles: As long as your eyeglasses are in good shape, an ultrasonic cleaner is perfect for washing them, unless the polish or coating is not damaged.
Dental Appliances: Dentist uses ultrasonic cleaner machine to clean their dental instruments. Also, dentures sometimes get dirty with tea/coffee stains or tartar, and it must be cleaned regularly.
Designed Circuit Board: Solder dust, flux, and other residues must be removed from circuit boards before placing them into the field.
Acrylic and Painted weapons: One of the strong points of an ultrasonic cleaner is eliminating the old paint. Even though it may not be preferred for all items, it is when washing acrylic and painted spray weapons.
Other items that people prefer to clean using an ultrasonic cleaning machine are instruments, optical items, coins, taps, bike parts, car parts, petrol injectors, music instrument parts, weapons, guns, and drilling parts.
What Would You Not Clean in an Ultrasonic Machine?
You cannot clean every item in the ultrasonic cleaner. Some products and materials will get damaged, so you need to use a different method for washing.
Precious Stones: You should not clean emeralds, pearls, amber, tanzanite, pieces of coral in an ultrasonic cleaner. The same thing is true for gems that have been inseminated and coated with wax, plastic, or oil. Even some gemstone hose colors are enhanced by hot rolling.
Scratched Eyewear: Glasses that have scratches on their coating get damaged easily.
Watch Heads: Do not soak and clean the watch head in an ultrasonic machine. The vibrations of the machine may cause damage to the movement mechanism.
Electric Components based on Ceramic and MEMs: Accelerators, microphones, piezoelectric buzzers, and gyroscopes are micromechanical devices. They must not be exposed to ultrasonic waves. The vibration may destroy or wreck the components. There are many cases where it works in reverse and creates a voltage that can damage the motor circuit.
Painted Products: Ultrasonic cleaners are capable of removing paints. If you want to retain the paint on the item, do not wash it in an ultrasonic machine. It will be better to remove old paint from the thumbnail or with any other tool.
Exploding Products: This could go without mentioning, but do not start cleaning any explosive materials.
Pets: Ultrasonic machines are for cleaning products and items, not pets. So, do not use these cleaners to wash your pets or any animal.
How to Maintain Ultrasonic Cleaners?
Below are some tips for maintenance that will help you to use ultrasonic cleaning machine for a longer time.
Do not use less cleaning solution in the tanker. Fill it in a way that the object you are going to clean get immersed properly. Failing to do so may damage the transducer.
Cleaning the tank from time to time is necessary. Doing so will remove the gunk or dirt settled at the bottom.
Change the filter regularly.
Do not use cleaning solutions having high alkaline or acid levels. Preferably use a water-based cleaning solution.
Clean the instrument for heavy grease, oil, and other contaminants.
For the longer life of the ultrasonic cleaner, always degas the solution. It will reduce the time taken to clean the object.
Don't overload it with parts and objects.
Keep away the ultrasonic cleaner from wet places.
Safety Tips
Do not overfill the cleaner's tank: overflow of the tank will be dangerous. There is no connection between power and water. Try to keep the solution inside the tank.
Don't try to interfere with transducers, transformer, or other electronic control units. You could hurt yourself due to the high voltage flowing in them.
Before extracting the liquid, unplug the switch of cleaner.
Avoid filling the tank with inflammable liquid.
Use goggles and thermal gloves for protection when operating with an ultrasonic cleaner.
Frequently Asked Questions (FAQs)
Do Ultrasonic cleaning machines kill bacteria and Viruses?

The killing of microorganisms like viruses, bacteria, and fungi from the layer of the part depends on the temperature of the solution. To sterilize products properly, purify them in an autoclave just after the ultrasonic cleaning. This method is usually performed for things related to medical and tattoo machinery.

Bleach or acids can be used in an ultrasonic machine or not?

Using bleaches in an ultrasonic cleaner is not a good idea. Steel tanks of cleaner will be damaged by bleach, just as with acidic solutions. Bleach also discharges highly toxic fumes that hurt cavitation procedure.

How long does an ultrasonic cleaner last?

Most manufacturers provide 1 to 2 years of warranty, but if you use it properly and follow the manual carefully, it can last for a longer duration. It also depends on the usage cycle and routine maintenance and service.

Can you touch an ultrasonic cleaning machine when it is on?

It is unsafe to touch the machine when it is on. The cleaning action can be dangerous to body tissue. In addition to this, the cleaning solution can cause burning, itchiness, skin irritation, and uneasiness due to higher temperatures and possibly toxic chemicals present in a cleaning solution.

Does an ultrasonic cleaner can only be used with a lid?

No, it is ok if you use a cleaner without its lid. Although, this will require an ultrasonic cleaner a bit more time to heat and will use more energy to create a solution at its desired goal. Any fumes will be more easily spread across the room. In terms of detergency, using an ultrasonic cleaner without a lid would be the same.

Can an ultrasonic cleaner damage your products?

If you are using the right solution for the right duration at optimum temperature, your item will be safe. Depending upon the object and as per your manual instruction, you should clean it using the suggested cleaning solution for the specified time.

How many times can I use an ultrasonic cleaner in a single day?

You can use an ultrasonic cleaner as often as required. But it is highly recommended that between each cycle permit a 20-minute break.
Conclusion
We hope you can pick the best ultrasonic cleaning machine for your home by reading this review and guide. Keep in mind that you do not have to be a professional while using it. You should be confident about satisfactory results if you have followed the steps correctly for the product you are cleaning.
Read Related Reviews
Buy Best Ultrasonic Cleaning Machine Online
Finaxo Ultra Sonic Jewellery Cleaner, Ultraso...
69%
Clefairy Ultrasonic Cleaner,Ultrasonic Glasse...
55%
HETZON SALES Ultrasonic Jewelry Cleaner Porta...
53%
Ultrasonic Jewelry Cleaner Life Basis Ultraso...
37%
Serplex® Ultrasonic Mini Jewelry Cleaner wit...
36%
Deoxys Ultrasonic Jewelry Cleaner, Portable P...
60%
DENTGIST Waldent Ultrasonic Cleaner Digital M...
55%
FI FIDROXIMPERIA Ultra Sonic Jewellery Cleane...
73%