Have you been fed up with the tedious work of mopping your house floors manually? But wants a clean and tidy floor without putting effort? Are manual vacuum cleaners not good enough for you to clean the dirty rugs and carpets? What if I say a Robot can do it effortlessly, isn't it amazing? Yes, the Best Robot Vacuum Cleaners or robot mops are the perfect solution for this.
A robot mop offers efficient and effortless floors cleaning as per your convenience, making it one of the best home cleaning tools. This innovative cleaning gadget eases the task of floor-sweeping, vacuuming, and mopping by reaching every nook and corner of the room. Thus, It relieves all your stress from the tedious chore of cleaning your home.
Choosing the best robot vacuum cleaner for your home is a difficult job, and it requires a lot of research and time to pick the best one. As with the availability of various brands and models in the market, having confusion is but obvious. So, we have come up with this Comprehensive Buying Guide and reviews to make your job easy in selecting your next best robotic vacuum cleaner.
But, before going in detail, check out some of the Key Deciding Factors in robotic mops selection.
Key Deciding Factors
Your Cleaning Needs

Yes, knowing your cleaning needs is the first step in selecting your robovacs. For example, some robotic mops do not come with vacuuming features; they can only mop. Contrary to this, some perform dry sweeping before mopping. There are some advanced models too that are quite famous as wet and dry robot vacuum cleaners and perform both vacuuming and mopping from the single unit. So, it is very important to assess your cleaning needs and then invest in a suitable model.(Don't worry, our first and best pick have both these features).

Size

If cleaning of the tough to reach areas is your primary concern, it is best to invest in a slimmer model with smaller height which can easily enter even in small passages. So that it can easily reach like under your bed, sofa, or other hard to reach areas for better cleaning.

Run Time

There is no worth to buy a model that exhausts too early before finishing its task. If you are buying the robot vacuum cleaner for a small house, you must consider the one that offers the average run time of 70-80 minutes. Contrary, for a bigger house, the model you must choose has at least a 90 minute run time.
7 Best Robot Vacuum Cleaners in India
We have shortlisted some of the latest and best robot mops with different features and price tags for you. Ranging from multi-surface floor mopping robots to Smartphone controlled devices and robot vacuum mops combo, we have picked everything suiting your needs. So have a look at our smart picks of floor mopping robots.
Best Robot Vacuum Cleaners Reviews
1. iLife A10s Dry & Wet Robotic Vacuum Cleaner (Best Overall)
This robotic mop from iLife comes the top in our list that perfectly combines vacuuming, sweeping, damp mopping- all in a single device. It is an ideal choice for hard floor cleaning whether it is the wooden floor, tile floor, marble floor or laminated floor.
When it comes to design, this robotic mop comes in a super slim and light design with smart sensors to detect where the dirt hides. And so makes the device to reach under beds, sofas, and other hard-to-reach places for efficient cleaning. The upgraded navigation sensor helps the device to adjust the suction strength according to the floor type. Also, it avoids collision around and drop-offs.
Featuring the most powerful motor along with pet hair technology, this mopping robot is capable of cleaning furs, debris, dust, and dirt very easily and efficiently. Even its smart water tank of 0.3 l is capable enough to pull deeper dirt and grimes from the floor.
What is especially best about this mopping robot is its advanced i-dropping technology that makes the mopping of the floor more efficient and reliable. The mop also has the feature to automatically docks, recharge, and then adjust according to the floor types.
Another great feature of this device is smart app control with iLife app allowing you to control it anywhere and anytime (works with Alexa and Google Home).
The model comes with an enhanced battery that can run continuously for up to 140 minutes. Featuring larger road rover wheels, the device can goes freely all over the flooring even over the uneven flooring too. And the best is its anti-scratch tempered glass cover that protects the device. However, if you don't find the device suitable for you, our next option will surely a great buy for you.
Key Features
Vacuuming, sweeping, and damp mopping
Two interchangeable roller brushes; bristle brush for carpets and rubber brush for hardwood floors
Powerful motor
Smart Laser navigation and mapping
Multiple-floor mapping
Pet Hair technology
Small slim and light design
Smart water tank
Advanced i-dropping technology
Automatically docks recharges and adjusts to hard floor types
Enhanced battery
Larger road rover wheels
Pros
Intelligent product for superb floor cleaning
Great for both mopping and vacuuming
Offers pretty clean sweep and mopping
Collects all dirt from hidden corners also
Smooth function without any noise
The timer function really works well
Cons
Battery is not able to retain power for long
2. iRobot Roomba i7+ (i7556) WiFi Connected Robot Vacuum (Runner Up)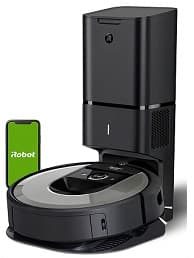 Though the price is a bit high for this robot vacuum, in terms of features and performance, it stands out the best over others. This powerful vacuum cleaning robot comes with a lot more smart features for an effortless cleaning experience of your home.
This robotic mop cum vacuum works perfectly on wood, carpet, tile, and vinyl, etc., and automatically adjusts according to the floor type. Its advanced, patented three-stage cleaning system offers the most efficient cleaning every day.
Moreover, the side brush sweeps along the edge of the walls and into the corners. Further, the two counter-rotating brushes pull out the dirt, hair, and debris into the dustbin. And the powerful vacuum catches the remaining fine particles, dirt, and pet hair.
The iRobot Roomba i7+ (i7556) is a WiFi Connected Robot Vacuum with an automatic dirt disposal feature. The feature allows the device to automatically emptied the dust bin into its Clean Base. As a bonus, the model also includes a special filter making it ideal for pet owners and allergy sufferers.
The device comes equipped with an anti-tangle system that makes the device to avoid getting stuck from obstacles including cords, carpet fringe, etc.
This bot also features iAdapt navigation technology that easily navigates under and around the corner and furniture. Its dirt detect technology lets the robot recognize and focus on high-traffic areas where the dirt collects.
What you will love most is its compatibility with Google Home, and Alexa enabled devices. It makes the device work simply by just following your voice command.
It also comes with an automatic docking and recharge feature that is very convenient. Even it is helpful in scheduled cleaning sessions for cleaning overnight and when you are out.
Key Features
iAdapt Navigation technology
Dirt detect technology
Clean Base Automatic Dirt Disposal
Gets to work with just the press of a button
Avoid stairs and other drop-offs
3 stage cleaning system
Controllable via the smartphone app
Works with Google Assistant and Alexa Enabled devices
Pros
Great for hard floors and carpets
Automatic dirt disposal is a nice feature
Battery backup is very good
Cleaning floor is just a press away
Great in terms of performance
Easy maintenance
Cons
Expensive
Maintenance cost is also high
3. ECOVACS Deebot 500 Robot Vacuum Cleaner (Budget Pick)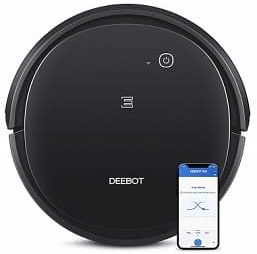 If you are searching for a budget-friendly robot vacuum cleaner, then no model is best, like Ecovacs Deebot 500. It comes with all the high-end features like you find in the expensive robot vacuum cleaners, thus making it a smart and decent purchase for the effortless floor cleaning needs of your home.
When it comes to navigation, this robotic vacuum really stands out. It first scans your home, maps it, and then follows a back and forth cleaning pattern to clean the floors in a methodical way. It easily adjusts according to different floor types like wood, carpet, tile, vinyl, etc. without any human assistance. Even it also easily maneuvers around the articles.
The device lets you toggle between the different cleaning modes- Auto, Spot, and Edge. An optional mopping system is also there that makes the device sweep and mop the floors in a single pass.
Its smart infrared sensors avoid the device to go on the stairs and furniture. Even with the powerful and tangle less vacuum suction features, the device can pick up pet hair, dirt, and debris very easily and efficiently.
Also, it is featured with auto docking and auto charging that makes the device to pause when discharged and then it auto charges and resumes again.
Furthermore, the most convenient features like app control and smart-home compatibility make it a great choice for all your daily cleaning needs.
Key Features
Robotic vacuum cleaner with mop and water tank
Sweeps and vacuums the floor in a single pass
Smart anti-collision sensors protect your furniture
Tangle-free suction
Easy to maintain
High-efficiency filter
Pros
The device cleans very thoroughly, picking up all dirt, debris, and pet hair
The battery is great so far that can runs for at least a couple of hours
Its edge-cleaning mode offers to clean closely the edges and the corners
The dust compartment is very convenient to remove and clean
Vacuum is strong enough to catch dirt, hair, and debris
Cons
The navigation feature not works good
4. iRobot Roomba 900 Series 960 Robot Vacuum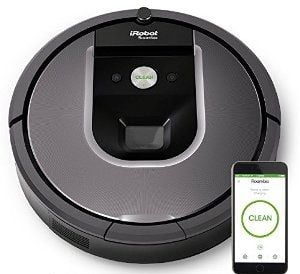 The iRobot Roomba 900 Series 960 Robotic vacuum is equipped with the most high-end features for an efficient and effective home cleaning. It comes with iAdapt 2.0 navigation technology that makes the device to clean an entire level of your home.
The design is very simple and comes in a circular shape with a pair of wheels for traction and a caster wheel for stability. However, this mopping robot has a smaller battery that lasts for only 75 minutes, though it has the feature of pausing itself to recharge the battery and resume afterwards. And that is really a great point.
This vacuum cleaning robot comes with AeroForce 3- Stage cleaning system that offers the more improved cleaning performance with less maintenance. Even its patented tangle-free brushes handle pet hair with ease. It automatically adjusts to clean carpets and hard floors and also sweeps the wall edges and corners very efficiently.
The very best part of this robotic mop vacuum combo is its WiFi connectivity and the ability to get controlled by the iRobot Home App. With this feature, you can set up the scheduled cleaning sessions so that it works overnight or even when you are out. Even the robot also pings you an alert when it gets stuck and also displays the map of the cleaned area for each job. You can also assign a robot name while you are controlling it via Echo or Google Home speakers.
Key Features
iAdapt 2.0 Navigation with Visual Localization
Runs for up to 75 minutes, then automatically recharges and resumes cleaning to complete the entire job
AeroForce Cleaning System offers the loosening, lifting and suctioning of dirt with up to 5x more air power
Patented tangle-free brushes to handle pet hair with ease
WiFi Connectivity
iRobot Home app lets you schedule and customize cleaning via your Smartphone
Compatible with Amazon Alexa and Google Assistant
Pros
Great product with super smart features
Does good job on edges and under furniture
Great on hardwood floors and rugs
Great navigation feature
Hardly ever gets stuck
Alexa and Google Home Integration is a nice feature
Smart connectivity with Wifi
Cons
Price is very high
The bin size should be larger
It doesn't have the most powerful suction
5. iRobot Braava jet 240 Mopping Robot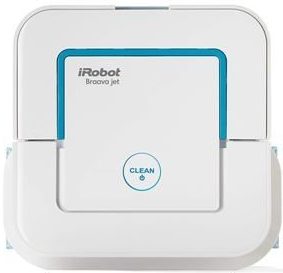 Perfect for mopping and sweeping of hard floor, this floor mopping robot can be your another best and smart pick. Whether to mop hardwood floor, tile floor, stone in the kitchens, and bathrooms or glass surfaces this can do its job perfectly well. Though this bot is only 7 by 7 inch but offers a remarkable thorough cleanup job to help you out in your daily cleaning chores.
It comes in a simple design with appealing white and blue colored plastic case along with two wheels. There is a built-in water tank and a mop on the front side. The top panel of this floor mopping robot comes with a simple backlit button performing two functions- Power and Clean.
This mopping robot comes with three types of cleaning pads-one for wet mopping, one for damp sweeping, and the last one for dry sweeping. It automatically recognizes the pad type you have installed and then adjusts its cleaning method accordingly. Featuring a smart navigation system, the Braava Jet perfectly mops and sweeps hard to reach places like under kitchen cabinets and around toilets.
This robot mop is also featured with precision jet spray and vibrating cleaning in wet mopping and damp sweeping modes that loosens the dirt and sprays very well. And the very best part is that it cleans with care by searching the obstacles in its path and so protecting the rugs, furniture, and walls. Also, you can control this robot through a smartphone app. Even it has the Bluetooth connectivity that can be paired by the smartphone app only.
Key Features
Cleans all hard floor types
Smart navigation to get into hard to reach places like bathrooms, around corners, and below cabinets
Precision Jet Spray and Vibrating cleaning head to tackle hard and dry stains
3 cleaning modes- Wet Mopping, Damp Sweeping, and Dry Sweeping
Automatically adjusts according to the floor type
Pros
Smart design
Great for hard floor surfaces
Performance is absolutely good in all the three cleaning modes
Great to use for cleaning small spaces like under the cabinets, around the corners, bathroom, under the kitchen sinks, etc
Washable and reusable pads that pick up a lot of dirt and hair
Easy to use
Pretty quiet operation
Cons
Lacks program scheduling
Lacks vacuuming
It can't charge itself, though it comes with the removable battery to fit it into an outlet charger
6. iLife Robot V5S Pro Robotic Vacuum Cleaner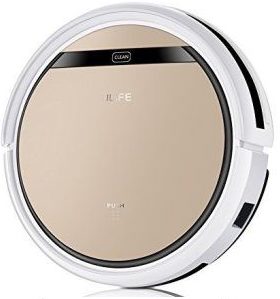 When it comes to an affordable and efficient cleaning bot, this one is really amazing. It means great quality and performance both are there in this robot vacuum mob combo. The iLife V5S Pro intelligent robotic mop cum vacuum cleaner comes with the powerful and intelligent cleaning. It includes wet and dry cleaning as well as multiple cleaning modes that you can use as per your choice.
Also, the advanced anti-collision system sensor protects the device from collision and saves the furniture from damage. Further, its advanced i-dropping technology makes mopping and cleaning more efficient and reliable.
The model features an IR remote letting you select the modes, control, and other functions of the device. The 4 cleaning modes including Auto, Spot, Edge, and Scheduled, each are used for specific cleaning purposes. The Auto cleaning mode lets the robot to clean the floor randomly in any direction. Spot cleaning allows cleaning of specific dirt area like spillages. Edge function allows the device to clean walls of the house as well as the edges. And, the scheduled mode lets you schedule the device at a specific time to do its job.
Now talking about the battery, the V5S Pro can delivers a run time of 140 minutes that is pretty good enough to clean the floor space of 2000-2500 sq ft. And it recharges completely in less than 5 hours. So, for a decent cleaning performance without spending much from your pocket, this robotic mop is worth to consider.
Key Features
Small, slim, and light design
Sweeping, Vacuuming, and damp mopping all in one
Advanced powerful motor with max mode and pet hair technology to pick furs, dust, dirt, and debris easily and efficiently
4 cleaning modes
Adjusts according to the hard floor type
Automatically docks and recharges
Advanced i-dropping technology
Enhanced battery that offers run time of 140 minutes
Larger roadrover wheels with self-rescue technology
Pros
Great cleaning robot at this price range
Remote control with LCD display for easy operation
Great mopping technology that picks up the bigger stuff very efficiently
IR sensors at the bottom detect the high gap and avoid dropping
Daily and schedule cleaning plan is also available for your convenience
This cleaner can also work in the narrow place makes it possible to clean the area under furniture and the corner
Suitable for the floor, cement, ceramic tile, wooden floor, undercoat carpet, etc.
Cons
Navigation feature must be improved
Lacks floor mapping feature
7. Wizzit A335 Robotic Mop
Coming to the next, this robotic mop and vacuum from Wizzit is another great choice for your daily cleaning needs. You can get sweeping, mopping, vacuuming, and UV sterilization all in one with this mopping robot. Its super smart design with extra thin body offers the most efficient cleaning under the bed, sofa, and cabinets, and even around the corners. This one is ideal for various floor types including wood floor, marble, tile, carpet, etc.
The robot also features intelligent crossing that makes the robot to easily pass through the hanging objects. With its anti-collision system, the device avoids collision while running into barriers. The best is its self-recharge system that makes the device to search for the docking station and charges automatically. Even you can use its program scheduling function that lets the robot work automatically at the scheduled time.
Key Features
4 in 1 cleaning- Sweeping, Mopping, Vacuuming, and UV sterilization
Schedule vacuuming
Extremely low noise
Smart isolation to work within certain area
Anti-collision system
Extra thin body for effective cleaning under sofas, beds, and cabinets
Anti-falling system to avoid falling from stairs and tables
Anti-winding system to avoid twining when it runs into electric wires and fringes
Self-recharge
Remote control operation
Pros
Sleek, stylish design
Great performance
Easy to clean the rooms
UV mode makes the more efficient cleaning
Noiseless operation
Cons
How to Choose the Best Robot Vacuum Cleaners? (Buying Guide)
What is a Robot Vacuum Cleaner?
Robotic vacuum cleaner, also known as robot mop or robovac, is a vacuum cleaning device that has an intelligent programming system to clean the house floors, rugs, or carpets without any manual intervention.
You just need to fill the tank, press on, and let them do their job. This simple working mechanism makes them absolutely different and best over the manual vacuum cleaners.
All of the mopping robots come with the vacuuming function. But some advanced versions have added facilities like spinning brushes, mopping, and UV sterilization. Even they also have the feature of vacuuming and sweeping for an effective cleaning of floors and carpets.
The robot vacuum cleaners include smart sensors for navigating any space. Even some can be controlled by your phone and voice.
Some hi-tech models also come with features like security cameras, intercom systems, etc., making them a wonderful addition for all your house cleaning needs.
Types of Robot Mops
There comes the two variants of robot mops:
1. Single Purpose Robot Mops
These robotic mops offer a dry sweep to clean the area before start mopping. However, they lack in vacuuming; its other variant is best for this purpose.
2. Hybrid Robot Mops or Robot Vacuum Mop Combo
If you want mop and vacuum both, the hybrid robotic mops are the ideal choice. It combines both the mopping and vacuuming function. It comes with the attachments for microfiber cloths that you can manually wet with water or cleaning solution before it cleans the floor. Some advanced models come with interchangeable dustbin and tank, so you don't need to presoak the microfiber cloth for cleaning. However, these robot mops are expensive but offer a lot more features that makes the price reasonable.
The Hybrid robot mops have smart features like app control via your phone, voice control via Google Assistant and Amazon Alexa. Even it can also have the ability to connect with other smartphone devices.
Check here for the Best Robotic Vacuum Cleaner and Mop in India
A little more on Robot Vacuum Mop Combo
Robot vacuum mop combo is slightly different from a single robot mop and a robot vacuum. The device come with some extra tools and functions over the robotic mop or vacuum. It has two containers- one is the dustbin, and the other container holds water for wet mopping. It also come with an absorbent mop pad. These combo robots even come with one or more brushes for an effective suction of dirt and debris.
You can easily choose between the mopping as well as vacuuming through the buttons or remote. Some advanced models of robot vacuum mop combo automatically detect the floor type and clean it accordingly.
How does a Robot Vacuum Cleaner Work?
Here is a quick video demonstrating how robot mops work?
Pros and Cons of Robot Vacuum Cleaners
Pros
Robot mops come with various options to suit your different mopping needs, including dry, wet, and damp mopping.
They also have the feature of vacuuming and sweeping for an effective cleaning of floors and carpets.
They have smart built-in sensors for navigating any space.
The robot vacuum cleaners have a scheduled cleaning option that allows you to program it for cleaning on your preferred time or day.
It can easily reach under furniture or tough to reach spots for better cleaning of these areas.
Some models come with the feature of spot cleaning to clean out the spill or mess only in one particular area.
Some models can also be controlled by your phone and voice.
Unlike traditional vacuum cleaners, these are compact in size, so they are easy to store.
Not so noisy like the regular vacuum cleaners.
Cons
Expensive over the normal vacuum cleaners, but for the features they offer, the price is absolutely worth it.
Sometimes they get stuck under the furniture or in tight corners.
Though most of the models return automatically to its charging base, when the battery is about to over, still there are some that can't find it's way home.
The robot vacuums are not stair-friendly. It means they are not able to clean the stairs.
Things to Consider Before Buying a Robot Vacuum Cleaner
1. Flooring Type
This feature is the foremost consideration before buying a robotic mop for all floor cleaning needs. You must check whether the mopping robot is capable to handle different floor types like wooden floor, tile floor, vinyl floor, and laminated floors, etc. So choose the one that preferably suits your need.
However, if you have carpeted areas in your house, it is best to invest in a robotic mop and vacuum combo. The combo offers you both cleaning of the hard floors and vacuuming of the carpets as well.
2. Room Size and Battery life
These two aspects are very much important before you are going to purchase a robotic mop. The battery life of a mopping robot lets you decide which one to pick on the basis of your home size. If you live in a small, cozy home or apartment, you can go for the one with a compact bin and tank as well as a short battery life. And if you want the mopping of a large space, you must go for the one with longer battery life, sizeable tank, and wide coverage area.
3. Size of the Robotic Vacuum Cleaner
This is another important consideration before buying a robotic mop. Check for the furniture you have in your house. For home with lot of furniture, the mopping robot with a narrow diameter is the most preferable choice. It allows the perfect cleaning between and around the obstacles. Even the robotic mop with short height is able to clean underneath your furniture very efficiently.
Since different sizes of robot mops are available in the market, choose wisely according to your need. Also, note that the larger sized robot mops will clean faster than the smaller ones.
4. Bin Size
Considering the size of the bin is also very important as it ensures the cleaning capacity of the robot vacuum. So, if your aim is to keep the bigger area clean, you must consider the one with the higher capacity of the dust bin. It allows the robovac to collect a large amount of dirt and debris in one go. However, if you are choosing the one with the smaller capacity of the dust bin, you will need to empty it frequently. Therefore, it is highly recommended to go for the one with the bigger capacity of the dustbin.
As a bonus, some models also come with the feature of self-emptying dust-bins that requires no manual intervention for emptying the bins. The bin size of a robot vacuum cleaner is measured in liters that ranges from 0.25 l to 1l. So, you may choose the one according to your needs and cleaning preferences.
5. Filters
Dust, pollen, cat, and dog allergens are very common in our homes that result in sneezing attacks, runny nose, watery eyes, and irritation to us. So, choosing the robot mop having the best filters is a great solution to overcome this issue.
You can find different types of filters in robotic vacuums, including classical filters, anti-allergen filters, and the most common and best HEPA filters. It is best for the people having allergies and asthma. But the most important point to keep note is to clean the filter regularly and thoroughly so that your robovac can deliver the best performance always. Even more, the replacement of filters at regular intervals is also essential.
6. Navigation
This feature lets the device to navigate the area for cleaning. The robot mops first use the infrared signals to determine the size of the room. And then it starts moving around. At the same time, its bumper sensor scans around for the obstacles and responds according to the room arrangement. The side sensors of the device let the robot to move very close to the wall without even touching it. This feature lets the robot to clean around the furniture very effectively.
7. Multiple Cleaning Modes
Go for the one that have multiple cleaning modes to tackle different type of messes. Check for the Auto Mode for regular floor cleaning. Some robot mops also come with the jet facilities as well as vibrating cleaning pads for lifting tough stains like dried mud.
8. Auto Charging Feature
Some advanced robot mops get to charge on their own when their battery becomes low. And this function makes them prepare for the next cleaning round. However, these are expensive but worth the price.
9. Programmed Scheduling
This is one of the smartest yet convenient feature for house cleaning. This function lets you set a cleaning schedule according to your comfort that makes the device run even when you are asleep or far away from your house. Even you can pick the time and date also so the device can work automatically on the set time and day.
10. Display and Controls
The high tech robot mops come with a large display to change settings and control. Some come with the one button for auto mode, and some comes with the full touch panel. If you want to control the mop from distance, choose the one having remote-controlled operation. Further, the robotic mop and vacuum combo have smart features like app control via your phone, voice control, and connectivity with other smart devices.
11. Noise
Though robotic vacuum cleaners are not very noisy like the regular vacuum cleaners, you still need to consider this factor as an important note. The robot mops come with an average noise level of 60-70 decibel, some even with the lower noise level of 50 decibels, you can choose the one that fits best for you. But keep in mind that a silent one does not always imply a high performing robot.
12. Price
The price of the robot vacuum cleaners ranges from Rs 15000 to Rs 1,50,000 depending upon the features present and the functionality it offers. It is obvious; the higher range model will come with some more smart and extra features. Features like vacuum quality, noise level, type of programming/navigation, quality of sensors, or even additional functionalities like vocal command, can increase the price. But you must first assess your needs and what features you really want in the robot and then decide to choose the one suiting best to your budget.
13. Warranty
Warranty is also an important aspect to consider as robot vacuum cleaners are the pricey investment. So, if it does not work efficiently or has any issues in just a few days of your purchase, your hard-earned money is all in vain. In this case, a good warranty period will be a lifesaver.
It is recommended to always go for the branded model with good terms of warranty and after-sales service. So, if any malfunction occurs, you can get it serviced or replacement without paying any extra cost. Most of the vacuum cleaners come with a warranty of 1-2 years. Better to choose the model that comes with a long warranty period.
Smart Tips for Using Robot Vacuum Cleaners
Though robot vacuum cleaners are a great tool for home cleaning without lifting your finger, but still require some manual intervention for smooth and efficient operation. There are a few smart tips that will let you get the best home cleaning experience from your robovac.
The first and foremost important thing is to read the operating manual carefully right after purchasing to ensure the correct use of it.
Make sure to charge it for an appropriate interval before using it for the first time.
If your floors or carpets collect a lot of furs or hair of your pet, avoid using the one with a small size bin.
Robot mops work best on the floor cleared of obstacles. So, it is best to keep away the things like pet toys, bags, clothes, etc., to allow your mini companion to move freely to do its job well.
Empty the bin of your robovac on a regular basis so that it can collect more. The one that is full of dirt and debris will not offer effective cleaning.
The regular cleaning and maintenance of your robovac is also very important so that the dust sensors or other electronic parts work efficiently.
Choose an accessible and good charging area for it so that it can easily find its way for the charging dock when the battery is about to get exhausted.
Keep the robotic vacuums away from water spills that can cause damage to its electronic parts.
Cleaning and Maintenance of Robot Vacuum Cleaners
The robot vacuum cleaners are meant for indoor use only for hard floors and carpets. Never use it outside.
Never sit or stand on the device.
These have electrical parts for working. So, never submerge it in water as it will cause damage to your device.
Robot mops come with sensors to detect the obstacles in their way. So cleaning of it is very important. To clean them, use only soft damp cloth. Never use glass cleaners, bleach, or detergent as it will damage the lens.
In case if your robot gets stuck between any obstacle, do not pull it hardly as it will cause damage to the sensors.
Empty and clean the dust bins on a regular basis.
Also, keep the filters of the robot vacuum cleaners at regular intervals. But not with water; use only a dust brush, or hair dryer to clean it properly.
It is also important to clean the brush and wheels of the robovac to ensure the best performance. Remove long hairs, fibers, or string from the brush spindle to avoid the motor from getting damaged. The same way you can clean the wheels by separating it using a screwdriver and clean it up using a dust brush.
Never use the device for cleaning large debris, bleach, paint, or any other chemicals as it may also cause damage to the robovac.
Do not use this device for picking up anything that is burning or smoking.
Charge the battery indoors only.
Always charge and remove the battery from the robot vacuums before long-term storage or transportation.
Conclusion
That's all for our best picks of latest and advanced robot vacuum cleaners for your floor cleaning requirements. I hope the above buying guide and the full reviews of our best picks of robot mops make you choose the appropriate one. These come with the affordable price tags and also versatile in every type of environment. So what are you waiting for? Pick the one and make your life easy….
Read Related Reviews
Buy Best Robot Vacuum Cleaners Online
ILIFE A80 Pro Robotic Vacuum Cleaner, Powerfu...
39%
Haier Robot Vacuum Cleaner with Wet Mopping, ...
39%
MI Xiaomi Robotic Vacuum-Mop 2Pro, Highest Ru...
25%
Eureka Forbes Robo iVac with Powerful Suction...
6%
MI Xiaomi Robot Vacuum-Mop 2i, 2200 Pa Powerf...
24%
Mabron Smart Sweeper, Vacuum Robot Cleaner, A...
50%
ECOVACS DEEBOT U2 PRO 2-in-1 Robotic Vacuum C...
53%
ECOVACS DEEBOT N8 2-in-1 Robotic Vacuum Clean...
29%