A very common saying, "Cleanliness is the key to good health" is absolutely a valid quote. For being healthy, we must maintain the cleanliness not to our body only but also to our surroundings as well. The most important is our home, where we spent most of the time. So, it should be clean and tidy every time. For this, floor-sweeping and mopping are one of the best methods at all. One way where the sweeping can remove the dry and loose dirt and dust from the floor, the other side mopping makes you floor clean and shiny. So, here is the article about the best Floor Cleaning Mops for effortless and easy cleaning of the floors.
For more detailed information on Floor Cleaning Mops, please check our Buying Guide Section.
7 Best Floor Cleaning Mops in India
Best Floor Cleaning Mops Reviews
Now, have a look at the detailed review of each of our best picked models to choose upon the best one.
1. Bissell Powerfresh Steam Mop, 1940A

When it comes to performance, steam mops work best. So, here comes our first pick of the steam mop from the brand Bissell. Its smart design with elegant blue, grey and black color combination is one of the most elegant parts.
It features two washable triangular shaped microfiber mop pads that covers more space for steaming. One of the pad is soft to use on delicate flooring and the other one comes with built-in scrubbing strips to remove the messy and tough stains from the floor.
This steam mop can handle a variety of hard floors including ceramic, tile, vinyl, laminate, marble, stone, and sealed hardwood. With just a simple press of the trigger attached with it, it will automatically release the steam accordingly, and floors will dry in seconds. Even no more chemicals to add, it can kill 99.9% germs and bacteria from the floor.
It has an easy to fill water tank with an in-built water filtering system that helps reducing limescale build-up on the mop. The capacity of the water tank is 500ml, that is pretty good enough for cleaning of the whole house in one go. Plus, the 5m cord length and two micro-fiber pads make it more efficient.
This one has a quick heat-up time of 30 seconds so that you don't need to wait longer for cleaning. With the run time of 7 -14 minutes, it can perfectly clean the floor of the whole house. It also has 180-degree swivel steering that allows easy reach on tight spaces and corners.
Key features
Two washable triangle shaped microfiber mop pads
Safe to use on all sealed floor types
Lift & Reach delta floor head allowing access to the tight corners
Powerful steam flow for deep cleaning of the floor
Variable steam control (low, medium, high) to set the steam flow accordingly
Super-heated steam to dry up the floor very quickly
Removable and easy to fill water tank
180-degree swivel steering for easy maneuvering
Pros
Very nice design
Build quality is very good
Easy to use
Offers super quick and convenient floor cleaning experience
Performs well on tough stains and dirt
Cons
Pricey
Lacks a water level indicator and a carpet glider
Does not handle vertical surfaces
2. Prestige Clean Home Spray Mop

Now again a steam mop, from the brand Prestige. Powerful and smarter cleaning of all the sealed floors is now at your fingertips with this steam mop. This powerful tool makes steam cleaning more easy, quick, and effective. It is great for removing dirt, grease, and grime from the floor without using any chemicals and also don't leave any pesky residue behind.
This steam mop not only cleans the floor but also sanitizes it by removing 99.9% germs and bacteria from the floor. The steam gets ready in just 30 seconds, so you don't need to wait longer for cleaning the floor. The best part is its large water tank that ensures you can clean for more extended periods without any pauses and need for refilling.
This steam mop also has an ultra-thin and compact design making it convenient to store when not in use. Even it enhances the portability too because of its low-profile design. Plus, the upright lock ensures more easy storage of it.
Key Features
Lightweight and compact
Clean and sanitize with just water
Removes grease and grime without chemicals and leaves no residue behind
Easily fill and refill XL removable water tank
On-demand steam ready within 30 seconds
Pros
Smart space-saving and compact design
Sturdy and strong built
Good alternative to clean your hard floors without chemicals
Quiet operation
The wand has a nice length
The washable microfiber pads are incredibly convenient
Cons
Not ideal for heavy duty cleaning
3. Prestige Clean Home PSB 06 Plastic Magic Mop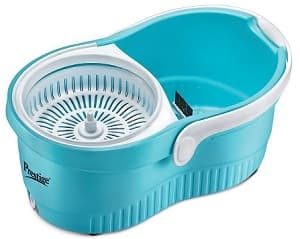 This magic spin mop from Prestige is another great buy for cleaning of hard floors including wood, marble, granite, tiles, mosaic, or vinyl. It offers quick and easy spotless cleaning of floors. Even for the effortless cleaning experience it provides, hence named as a magic mop.
The mop comes with twin bucket design made of high-grade plastic material that is light, durable, and easy to use. There is a 360-degree stainless steel spinner inside it to rinse out the microfiber head with more convenience. Small wheels are also there at the bottom of the bucket to easily move it around while mopping. Plus, a convenient spout system at the bottom of the bucket allows draining of dirty water.
The mop has an inbuilt rinser along with the solution dispenser function. It allows you to use the right amount of water and solution for cleaning without any wastage. This floor mop also comes with a steel rod for height adjustment and easy movement.
Key Features
Twin bucket
Pulling handles and wheels
360-degree stainless steel spinner
Steel rod for easy movement
2 microfiber heads
Solution dispenser
Convenient spout system for easy draining of dirty water
Pros
Nice build quality
The microfiber comes with high water-absorbing quality with no more dripping dirty water on the floor
The mop is machine washable, easily detachable, and dries very quickly
Easy to use and no messy hands
Cons
Pulling handle is very weak
4. Scotch-Brite Jumper Spin Mop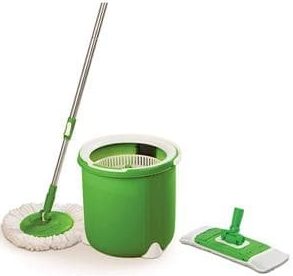 This one is another best floor cleaning mop from Scotch-Brite. It is a great utility product for smooth and effortless cleaning of your home. With a compact design and sturdy ergonomics, it offers the efficient cleaning of all types of floor, including tile, ceramic, wooden, cement, vinyl, laminate, etc.
This spin mop comes with only one bucket that ensures cleaning and wringing in the same bucket. Plus, the bucket is very strong and sturdy in construction. This compact and lightweight bucket is also easy to carry around while cleaning and easy to store as well.
Again it comes with round as well as flat mop head both for superior cleaning. You can use its unique flat head to clean tough and tight spaces as well as various surfaces like furniture etc. The round refill allows easy trapping of dirt and dust for more efficient and proper cleaning. Its unique 360 degree rotating head goes tight and hard to reach areas like under the furniture edges and corners, etc.
The other best thing that makes this spin mop a great product is its microfiber mop head. With super absorbing capacity, it can easily trap the dust and dirt from the floor, ensuring only the spotless and dirt-free floor. Moreover, easy refill removal technique makes floor cleaning a hassle-free task.
Key Features
Unique single bucket spin mop
Compact and space-saving bucket
Cleaning and wringing in the same bucket
Easy water drainage
Microfibre round refill to trap and lift dust and dirt
Unique Flat head refill for better cleaning
360-degree rotating head for cleaning of hard to reach areas
Telescopic handle
Lightweight handle for ease of use
Pros
Strong and sturdy bucket
Twin mop style is too good
Very easy to use
The telescoping handle and 360-degree rotation provides more efficient cleaning of hard to reach areas
Cons
Refill mops are bit expensive
5. Scotch-Brite Flat Mop and Refill Combo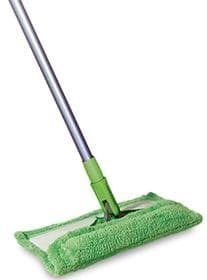 It is a 2-in-1 mop that you can use for both dry mopping and wet mopping as well. Thus, it saves a lot of time to clean your floor even in an effortless manner. The design is very simple and sophisticated. Having a long rod with a flat mop head, it allows an ease of use in floor cleaning. This one is ideal for cleaning all types of floors, including wooden, marble, ceramic, granite, etc.
The mop head of this floor cleaning mop is made up of microfiber material that has the super absorbent capacity. It can easily trap dry dirt, including hairs and fine dust particles while brooming. And when you are using it as a wet mop, it can make your floor very sparkling and shiny.
The best part is its adjustable handle that enhances more comfort while using it. Even you don't need to bend for mopping, thus saves you from back pain too. Another great thing with this mop is its 360-degree spinning head. This feature allows you to clean the areas beyond your reach like underneath the furniture, cobweb from the walls, dirty fan, and the dusty window sills, etc.
This flat mop also comes with the easy to use refills. A scraper is there to remove the dirt and dust from the bottom of the mop which you can further clean under running water. You can also remove the refills very easily and dry it for later use.
Key Features
Supports both dry mopping and wet mopping
Telescopic handle with a 360-degree rotating head
Adjustable handle
Perfect grip and non-slipping handle
Superior microfiber mop head to lift and trap dirt
Easy to change refill mechanism
Refills are machine washable
Durable and long-lasting
Pros
Very quick and effective cleaning
Sturdy construction
360-degree cleaning -cleans every nook and corner of your house
Both dry and wet cleaning features make it a great choice
No need of bucket, just fill water in the bottle, and you are ready to clean
Lightweight and convenient
Less water and more cleaning
Cons
Refills are quite expensive
6. Gala e-Quick Spin Mop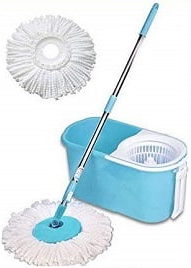 Gala is one of the best brands of house cleaning tools that offer sturdy and convenient products to make cleaning very easy. So, this spin mop is our other best pick for quick and easy mopping of the floor. This cleaning tool includes a bucket with plastic wringer and two 360 degree spin mops.
It is best to use on any type of floor including tiles, wooden, cement, ceramic, marble, granite, or vinyl. This one comes with a deep cleaning microfiber mop head that has the super absorbent capacity. It makes cleaning of dust, dirt, hair, tough stains, etc. from the floor very easy.
The mop also features self-wringing capacity that makes cleaning even more easier and faster. There is a spinner in the bucket that makes easy to squeeze out excess water from the head. So, making it damp enough to wipe out the floor.
The other best part of this floor mop is its pivoting head that offers 360-degree rotation. So, you can easily clean out the edges, corners, underneath the furniture, and other hard to reach places. Plus, the handle is also adjustable in height that allows you to adjust it as per your comfort while cleaning.
Key Features
Bucket with built-in wringer for a comfortable cleaning process
Sturdy stainless steel handle with quick lock
Smooth Wheels on bucket and puller handle for easy transportation
Microfibre mop with super absorbing capacity
Pivoting head with 360-degree rotation
Self-wringing to squeeze out the mop head without touching it
Sturdy and firm grip handle
Pros
Stylish design
Quality of the mop is very good
It allows easy cleaning of all types of floors including hard to reach areas
The bigger bucket allows to clean the whole house in one go
The water outlet on the bucket allows to throw out dirty water without messing the floor
Quick-lock mechanism is very comfortable and quicker
Easy to carry around the house
Cons
No extra mops with the product
7. Spotzero by Milton E-Elite Spin Mop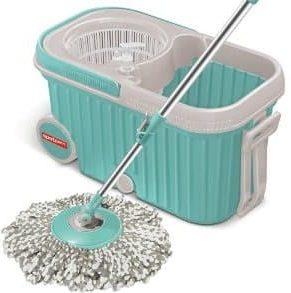 Smart features, outstanding performance, and such a great price range describe this best floor cleaning mop from the brand Spotzero by Milton. The smart aqua green color option gives this mop the more stylish and appealing look. It comes in a twin bucket design with spinner in one bucket for easy wringing of the mop head.
The bucket also comes with large wheels and auto fold carrying handle, making it convenient to easily move it around the house for cleaning. There is also a water outlet in the bucket to drain out the dirty water after mopping is done.
This spin mop features microfiber mop head that is lint-free and also very soft and gentle to use on any type of floor. The microfiber mop has super absorbing power that can mop the floor without leaving any dirt or residue. Moreover, the best part is that it can clean the large area due to its large bucket. The larger bucket can tackle more water so that you can clean the whole house in one go.
It also features an extended mop handle that you can easily adjust as per the height convenience. So, you don't need to bend down while mopping and thus this mop doesn't strain your back. The handle lock system locks the height of the handle securely to that place. Even also, the 360-degree rotation of the handle makes cleaning very efficient as it allows to reach the tight spaces and corners very easily.
Key Features
Microfiber mop head
Superior water absorbency
Non-abrasive and lint-free microfiber cloth
Twin Bucket system
Side bucket handle for easy carrying
360-degree mop handle
Big wheels on the bucket for easy carrying
Extendable mop handle
Handle lock system to lock the handle on the preferred height
Includes two microfiber refills
Pros
Nice design
Build quality is very good
Easy to use
Helps in effortless cleaning of your house
Light in weight, so easy to move around
Separate buckets for cleaning and wringing
Cons
The wheels are of very cheap quality plastic
Floor Cleaning Mops Buying Guide
Why Choose Floor Cleaning Mops?
We all know that damp mopping is the best way to make your floor free from germs and dirt. Even with a proper cleaning solution, it provides deep-down cleaning of the floor by removing tough stains, dirt, and grit from it. But if you have been fed of the traditional sitting and mopping method, there are several new tools to make the task easier.
Vacuum cleaners, Steam cleaners, Robot Mops, Robot vacuum, and mop combos are some of the hi-tech tools. But as an affordable solution and for regular floor mopping needs, there come the normal floor cleaning mops also.
These floor cleaning mops are easy on your hands, knees, and back. Even you don't need to dirty your hands by squeezing the extra water from the mop while mopping. Plus, these will provide you quick, easy, and effortless mopping experience.
Different Types of Floor Cleaning Mops
1. Flat Mops
The flat mops are the most popular types of floor cleaning mops. For daily cleaning routine, of small spaces, these are very ideal. The design includes a flat, elongated, and rectangular head that comes along with the reusable or disposable pads. The best part is that these mops are not very expensive.
2. Dust Mops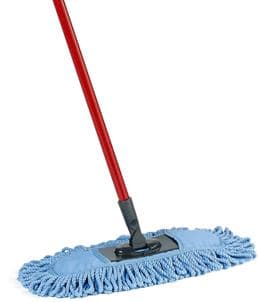 Like the name, the dust mops are the dry mops that can gather dust or other trash from the floor before wet mopping. These mops are also useful in cleaning of walls and ceilings. Having a long handle design, it allows reaching cobwebs, dusty fan, and even the floor corners and edges. These are the ideal replacement against regular brooms for perfect dry dirt collection.
3. String Mops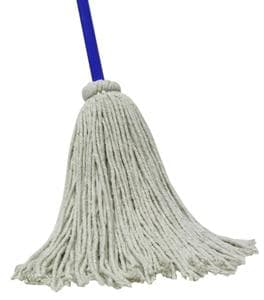 The string mops are the traditional ones with a long handle and looped cotton strings as the cleaning head. These have excellent absorbent capacity and performs very well in cleaning floors. But on the downside cleaning and maintenance of these mops is quite difficult. Washing and drying them is a pain.
4. Strip Mops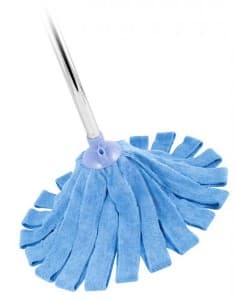 These are very similar to string mops; instead, they have long loops of cloth strips or rags. Also, these are super absorbent that dries out floor quickly and easily without leaving streaks. What is best about them is that they are very convenient and easy to maintain. Some of the strip mop heads are easily removable and can get cleaned in the washing machine for further use. These mop heads also dry up very quickly, so no complaints of stinkiness and smell.
5. Sponge Mops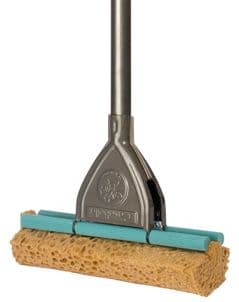 Featuring an extended handle with the sponge cleaning head, these are another great mops for cleaning of floors. The sponge mops are very absorbent and thus great for cleaning any liquid or spills on the floor. These mops come with the removable heads that allow for easier rinsing and easy replacement when necessary. But these floor cleaning mops require proper maintenance. Rinse and dry the mop head properly after every use to avoid the spread of bacteria. Also, when the mop begins to smell or discolor, the replacement of the mop head is very essential.
6. Spin Mops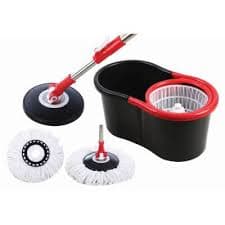 The spin mops are nowadays very common in every household because of its ease of use and excellent cleaning performance. It comes with a convenient bucket and basket for water solution. There is a long rod with a string head that spins to scrub out the tough stains and other dirty spots from the floor. These floor cleaning mops are very convenient to clean out the floors without even scrubbing them hard.
7. Steam Mops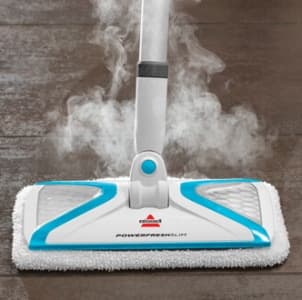 Steam mops are one such advanced floor cleaning mops that not only clean out the floor but also disinfect it. These run out on electricity and come with a refillable water tank. Once the power is on, it starts heating the water that turns out into the steam. The steam is then released by a trigger to remove out the build-up dirt and grime from the floor. You can easily control the steam settings based on dirt cleaning. But these are the expensive ones.
How to Choose the Right Floor Cleaning Mop?
Consider the following factors before buying a floor cleaning mop.
1. Budget
The floor cleaning mops come in various price ranges. Some are cheap, and some are expensive. The expensive mops are surely the best in terms of features and performance. But it doesn't mean that cheap mops are not ideal. So, first set your budget upfront and then decide to search out the mop in between that price range. But remember to choose always the one that is long-lasting, durable and offers the best performance.
2. Flooring Type
Not all the mops are suitable for every type of floor. So it is very important to check the flooring type in your home or office. Have a look at the below points to decide which mop is ideal for which floor type.
Tile Flooring needs a mop that can deeply get down into the grout lines between the tile to remove any dirt or grime. For this, a sponge mop, microfiber mop, spin mop or steam mops are all ideal.
Wooden or laminate flooring needs to get cleaned with a minimal amount of water. So for this type of flooring, a damp microfiber mop is best.
Stone Flooring is very easy to clean with any types of mop we have mentioned.
Steam mopping works well on concrete Flooring.
If there is a vinyl flooring, the microfiber mop as well as sponge mop, or steam mop works best to avoid the stickiness from the floor.
3. Ease of Use
Whichever mop type you choose, it must be easy to use. If you have backache issues, choose the mop that comes with the long handle and a trigger into the handle for wringing the mop head. So you don't need to bend down for squeezing and mopping. The adjustable handle makes it easy to adjust as per your convenient height option for easy mopping. Also, consider the weight of the mop to determine how much comfortable and convenient to use it. If you need faster and efficient cleaning, steam mops are the ideal option.
4. Mop Head Size
It is advisable to choose the mop with a large mop head size. The higher the mop head, the higher is its absorbency and higher cleaning performance.
5. Mop Accessories
The latest floor cleaning mops come with a range of accessories. The bucket mops come with a bucket with built-in wheels to easily move around. Also, there is a drainage outlet to flow out the dirty water without touching your hands. Most of them even come with the replacement parts like batteries and disposable mop heads.
6. Check the Buyers Reviews
Checking out the customer reviews is one of the best ways to decide upon the product is worth buying or not. Search online for the mops you want to buy and then read their reviews. It will give you the more clear picture of the mop from the customers that were actually using it. This way, you can check how easy it would be or how is it in performance.
Some Tips for Maintenance of Floor Cleaning Mops
Keep clean always the dirty mop head by washing it in water with bleach.
Rinse the mop head properly after every wash.
It is also recommended to dry the mop head properly to avoid the bad smell or foul odor.
Some mop heads are removable. So you can also clean them in the washing machine.
Replace the mop head every three months. If you are using it regularly, then replace it every month.
If you are using a bucket mop or steam mop, make sure to empty the reservoir and wipe it down with a dry cloth.
Benefits of Floor Cleaning Mops
Removes the dirt and germs from the floor
Sanitizes the floor
Reduces allergies
Makes the floor clean and shiny
Works well on hard surfaces including wood, laminate, concrete, stone, ceramic, marbles, tiles, etc
Eases the cleaning process over traditional sit and mop
Conclusion
Well, that's all for the latest and best floor cleaning mops with their reviews and full buying guide. So, to avoid the back-aching labor of mopping, pick the one for smooth and fantastic mopping experience. I am sure the above informative guide is pretty enough to finalize your decision. But, if you feel anything is missing in the blog, please do share your feedback or suggestions in the comment section below.
Read Related Reviews
Buy Best Floor Cleaning Mops Online
Zureni Bucket Quick Spin Mop with 2 Microfibe...
30%
Zureni 42-inch Mop Stick Adjustable Rapid-Cha...
7%
Scotch-Brite 2-in-1 Bucket Spin Mop (Green, 2...
40%
Gala Floor T-Mop (143070)
STOIC Clip N Fit Cotton Floor Mop with 4 Feet...
57%
Spotzero by Milton Elite Spin Mop with Bigger...
56%
MEXERRIS Evrum Multifunctional Quick and Easy...
50%
RYLAN Stainless Steel Microfiber Floor Cleani...
46%